Learn how to make the best healthy meatloaf recipe with these cooking tips and tricks! Trust me; nobody will ever know this delicious comfort food is good for them!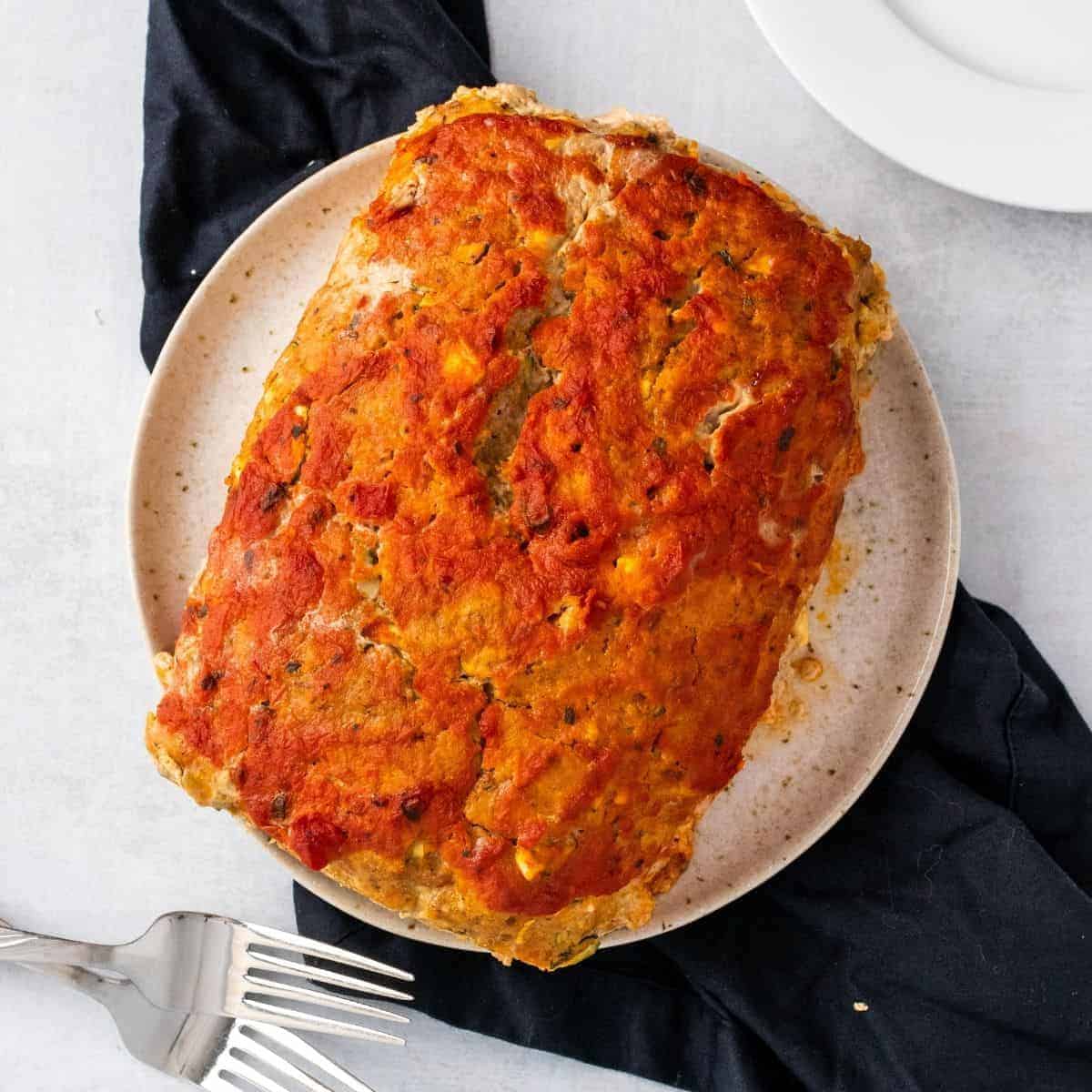 When I started developing recipes for Organize Yourself Skinny, I never dreamed I would become such a meatloaf lover. But that's precisely what happened.
Meatloaf is one of my favorite comfort food recipes and is in a regular dinnertime rotation in our house.
Reasons To Love Meatloaf
The flavor options are endless. You can mix just about any sauce, cheese, or veggies into a meatloaf.
You can make it ahead for the week. Meatloaf is a meal prep superstar. Cook it entirely on Sunday to warm up all week or assemble the ingredients to pop into the oven after work.
It freezes and reheats perfectly. Take a day every month to stock your freezer with different meatloaves for easy dinners throughout the month.
You can lighten up meatloaf without losing flavor. With the right seasonings and sauces, you can create a lean and delicious healthy meatloaf recipe everyone will love.
Over the last year, I've learned a few tricks to create a healthy meatloaf recipe that tastes delicious.
How to Make a Healthy Meatloaf Recipe
Use lean ground turkey, chicken, or poultry sausage.
You can cut the saturated fat and calories in meatloaf recipes in half by using lean ground turkey, chicken, or poultry sausage instead of ground beef, ground pork, or pork sausage.
I've successfully swapped ground turkey for every meatloaf recipe that called for ground beef.
Everyone loved it, and even the manliness of men loved it. Trust me, 99% of the time, people don't even know it's ground turkey or chicken. It's all about the flavor.
Of course, you can use lean ground beef to make a meatloaf healthier, but I recommend using my tips to make it with ground turkey. I know you'll love it!
To get the best results when making meatloaf, I recommend using high-quality organic meats to keep the recipe a part of a clean eating diet and provide the best flavor. Butcher Box is one of my favorite sources to purchase organic meats online. You can see my Butcher Box Review for more information.
Use a panade
Most people struggle using leaner meats to make meatloaf because lean meats tend to result in a dry meatloaf.
The key to a moist and juicy meatloaf is to use a panade. A panade is a slice of bread and milk mashed together to form a paste. You can also use crackers in place of bread.
I use whole wheat bread because I have it on hand, but you can use any bread. I've even used gluten-free bread with success.
I use one slice of bread and 2 -3 tablespoons of milk per 1 pound of ground meat as a general rule. You want the paste to be moist and mushy so add more milk if needed.
After the parade is made, mix it in with the ground meat and other meatloaf ingredients. I'm telling you this simple step is KEY to a moist meatloaf. Using a panade works for turkey meatballs too.
Use seasonings
Another trick for a delicious healthy meatloaf recipe is to spice it up. Lean ground meat doesn't have a lot of fat which means not a lot of flavors, so using salt and seasonings is essential.
Depending on the recipe, I use 1-teaspoon onion powder, one teaspoon granulated garlic, ¼ teaspoon salt, and ¼ teaspoon pepper per 1 lb ground meat. This is my "general" spice mix when cooking with ground turkey or chicken.
Another great way to season meatloaf is to use Worcestershire sauce. A couple of teaspoons adds a meaty flavor to meatloaf made with ground turkey or chicken.
Each recipe is different, so adapt the seasonings you need too.
Add moisture
The panade provides a good amount of moisture, but adding a little more doesn't hurt.
Most recipes call for a sauce of sorts to use in the meatloaf and on top.
Most of my recipes will seem very wet once all the ingredients are mixed but trust me, each one turns out moist and amazing.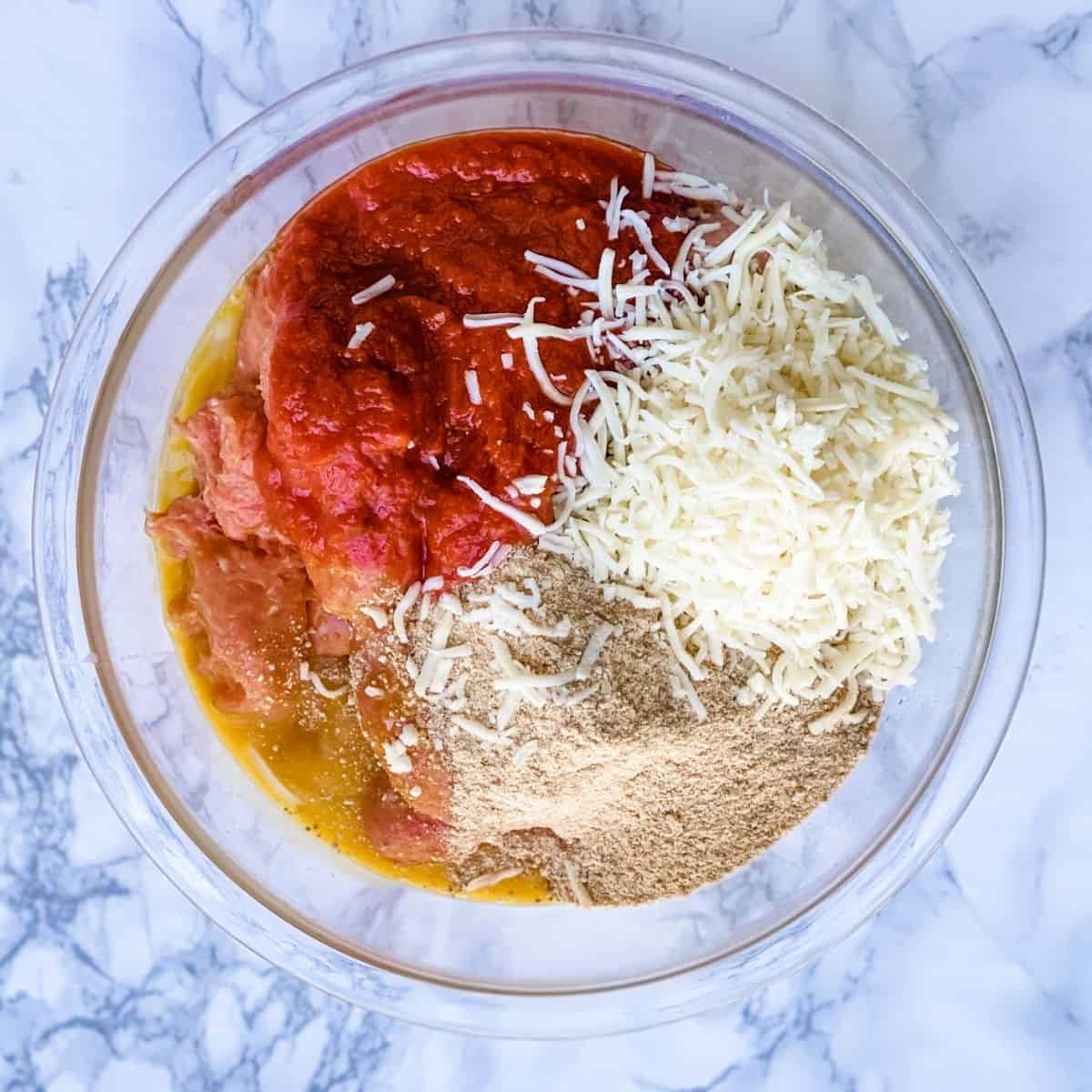 Use a healthy glaze.
Most meatloaves call for a glaze. Try salsa, marinara sauce, pizza sauce, or a low-sugar barbecue sauce instead of sugary ketchup or barbecue sauce. Making these swaps will help to reduce the sugar and carbohydrates in the recipe.
Don't overcook
The easiest way to get a dry meatloaf is to overcook it. Most of my meatloaf recipes cook for 60 – 75 minutes.
You want the internal temperature to be 160 degrees Fahrenheit, so get a thermometer if you get worried about it being undercooked or overcooked.
What Kind of Pan Should I Use?
When I make meatloaf, I use a baking pan and form the loaf right in the pan and bake it.
You can also use a loaf pan if you want or a mini meatloaf pan. These are great for freezing meatloaf into portions.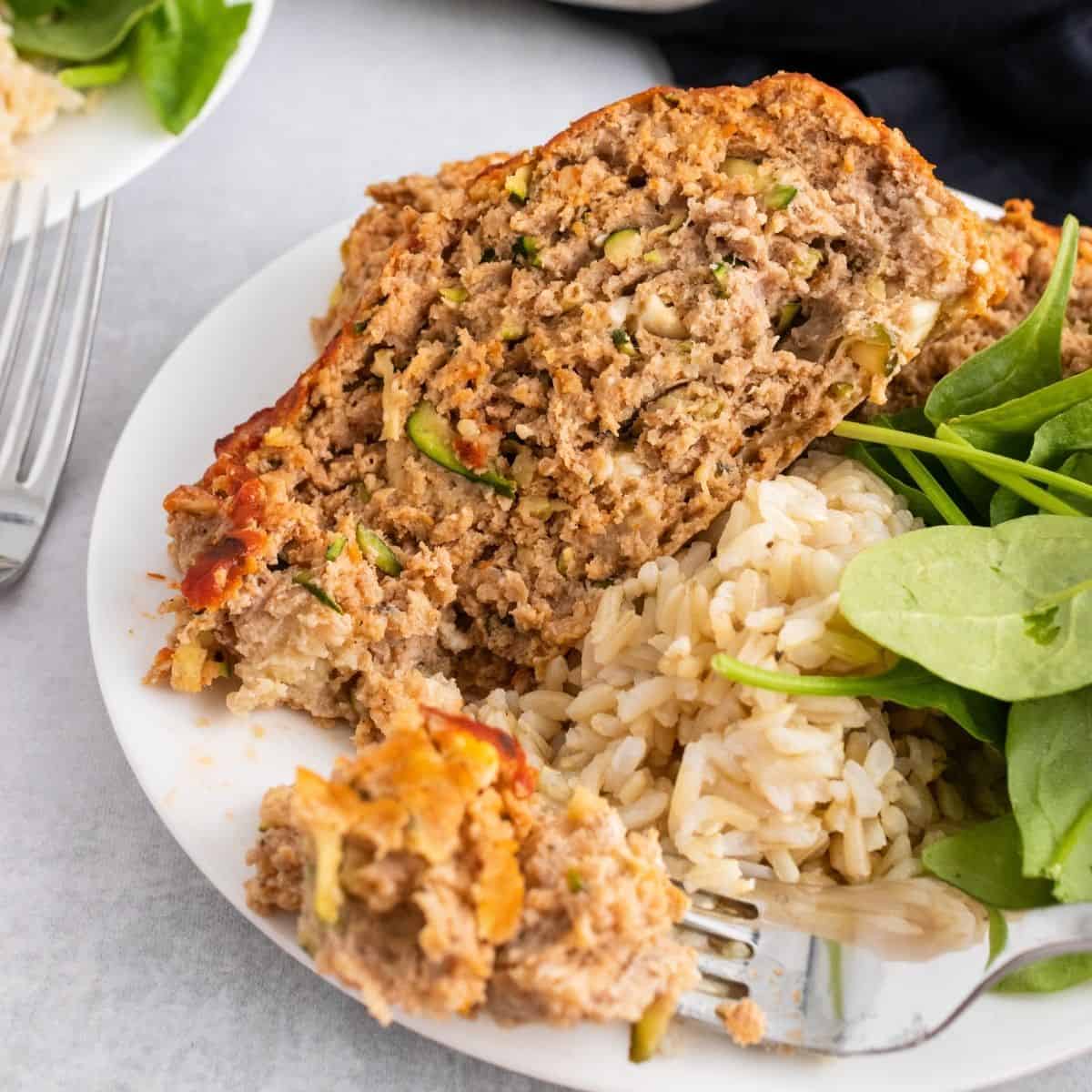 How to Bulk up the Nutrition?
One of the things I love about meatloaf is anything can be mixed in. As long as you can form it into a loaf, then you are good to go.
Here are our favorites:
Beans
Beans add fiber and protein to meatloaf. I use about one can of beans per 1lb of meatloaf. My favorite beans to use are black, but any will work.
Grains
Rice, bulgur, quinoa, or other grains are a great way to prepare a larger meatloaf without adding more meat. It also increases fiber, protein, and other nutrients.
Most of the time, I'll swap the breadcrumbs for whatever grain I'm using. However, keep in mind, grains can take away from the moisture and result in a dry meatloaf. You can also use rolled oats in place of breadcrumbs.
Depending on the recipe, I wouldn't add more than ½ – 1 cup of grains. My favorite grain (which isn't a grain) to add is quinoa. It blends in nicely with any ground meat and adds lots of fiber and protein.
Vegetables
To meatloaf, you can add spinach, kale, peppers, onion, carrots, celery, and pretty much any vegetable under the sun.
Spinach, kale, and other leafy greens can be roughly chopped and thrown in raw.
Peppers, onions, celery, and other "heartier" vegetables I like to sautéed first in olive oil before mixing into a meatloaf recipe. I find that hearty vegetables don't get enough time to cook all the way if you don't sauté in a skillet first. If you like crunchy veggies, then, by all means, mix them into the meatloaf raw.
Carrots I actually grate and then add to the meatloaf mix raw. They cook this way perfectly.
Experiment with a bunch of different vegetables and see which ones you like best.
All of the above
Don't feel limited when preparing a healthy meatloaf recipe. You can add as many meatloaf mix-ins as you want.
As I said, you are good as long as the mixture has enough moisture and you can shape a loaf.
Healthy Side Dish Suggestions
Most sides pair well with meatloaf recipes, but here are our favorites:
Mashed Potatoes or keep it low carb with this loaded cauliflower mash
Marinated tomatoes and cucumbers or a pasta salad
See more healthy meatloaf sides.
Supplies
Large bowl
Loaf pan
Baking sheet
Storage Tips
Meatloaf is a meal prep superstar. Recipes are easy to make ahead of time and reheat nicely.
To meal prep for the week:
Cook the meatloaf entirely and store it in an airtight container in the refrigerator for up to 4 days. I also like to put together meal prep bowls that include a slice of meatloaf, brown rice, and broccoli that keep great in the fridge for up to 4 days, and you can also freeze.
Warm-up in the microwave for 2-3 minutes or until hot.
To freeze:
Freeze it raw. Assemble the meat mixture into a loaf on a pan. Use cooking spray to keep it from sticking.
Flash freeze for 1-2 hours or until solid.
Wrap in plastic wrap and foil, label, and freeze for up to 3 months.
Freeze cooked meatloaf. Wrap cooked meatloaf in plastic wrap or place into containers and freeze.
For more freezing and reheating instructions, please see my tutorial on freezing meatloaf.
Healthy Turkey Meatloaf Recipes
Here's a list of our favorite turkey meatloaf recipes. There's something for everyone!
Italian Meatloaf
This 5-star Italian meatloaf recipe includes ground turkey, poultry sausage, marinara sauce, mozzarella cheese, and Italian seasonings. It's like eating a giant meatball! Truthfully, this might be the best turkey meatloaf you'll ever have! Make it on Sunday for the week or freeze for dinner later on.
Check out this recipe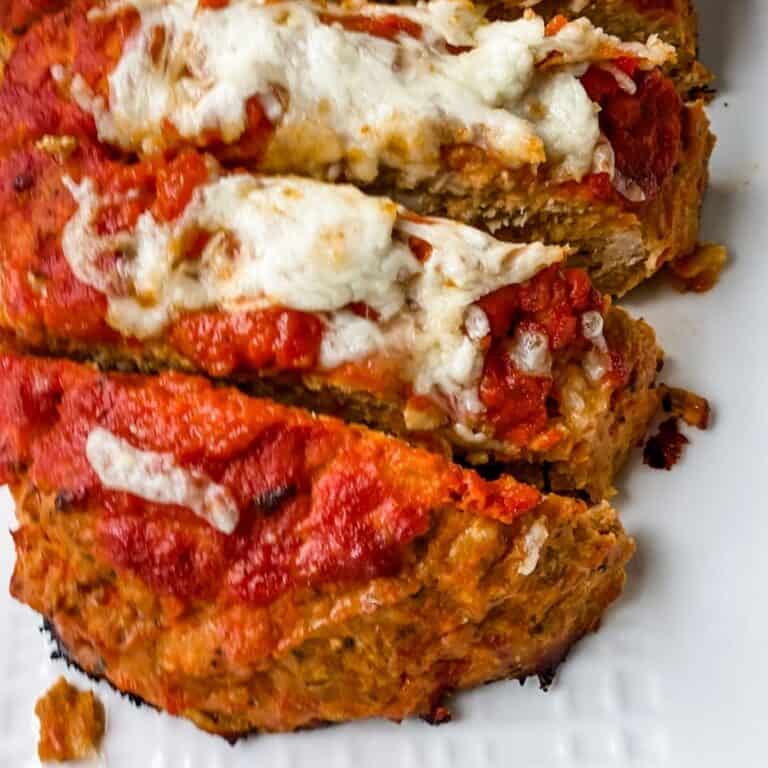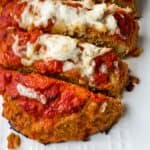 Mexican Meatloaf
This Mexican meatloaf brings taco night to a whole new level. Made with lean ground turkey and flavored with taco seasoning, salsa, green chilis, and taco sauce.
Check out this recipe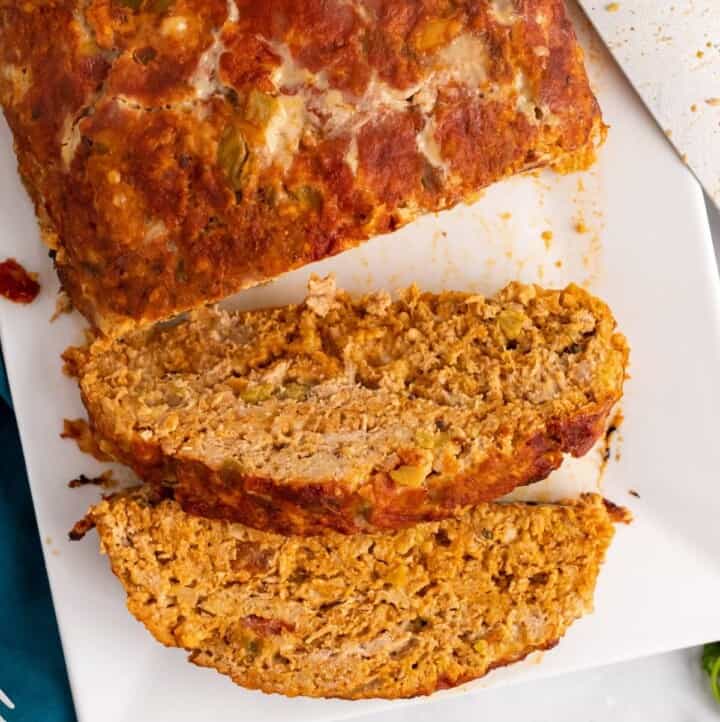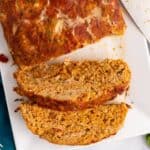 Turkey Zucchini Meatloaf with Feta
Turkey Zucchini Meatloaf with Feta Cheese is moist, flavorful, and will become a family favorite. This healthy meatloaf is secretly filled with veggies and is low carb and high-protein. You can assemble the ingredients ahead of time or cook entirely for a quick weeknight dinner. 
Check out this recipe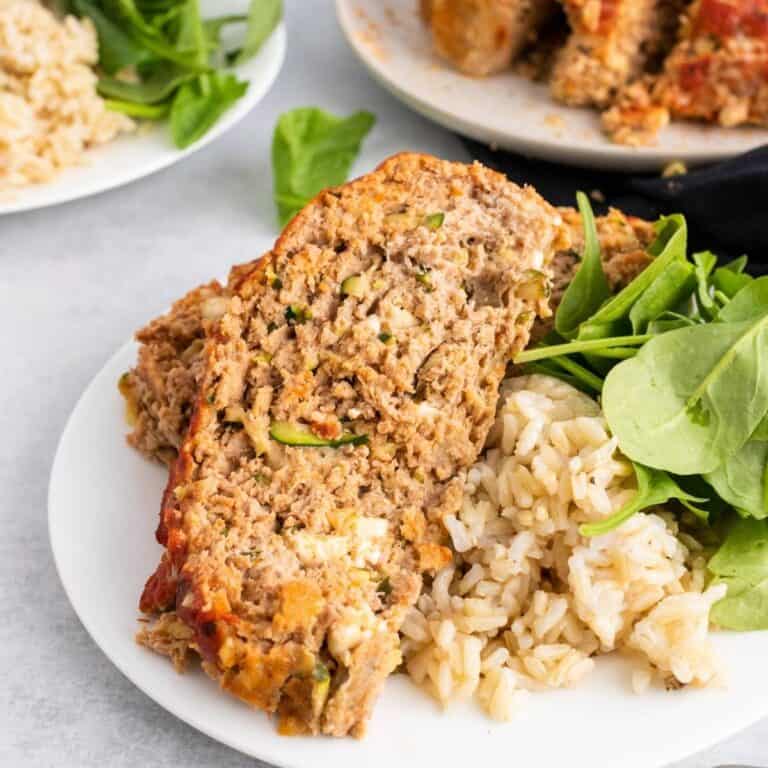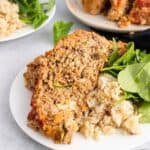 Mini Meatloaf Recipe
This mini meatloaf recipe is baked on a sheet pan alongside potatoes and veggies to make for a quick and delicious weeknight dinner! You can make this mini meatloaf with ground beef or ground turkey- so you have options. Either way, you'll get a healthy filling dinner that's portioned-out for the perfect serving!
Check out this recipe