Italian meatloaf made with ground turkey, sauce, mozzarella cheese, and Italian seasonings may very well be the best turkey meatloaf ever!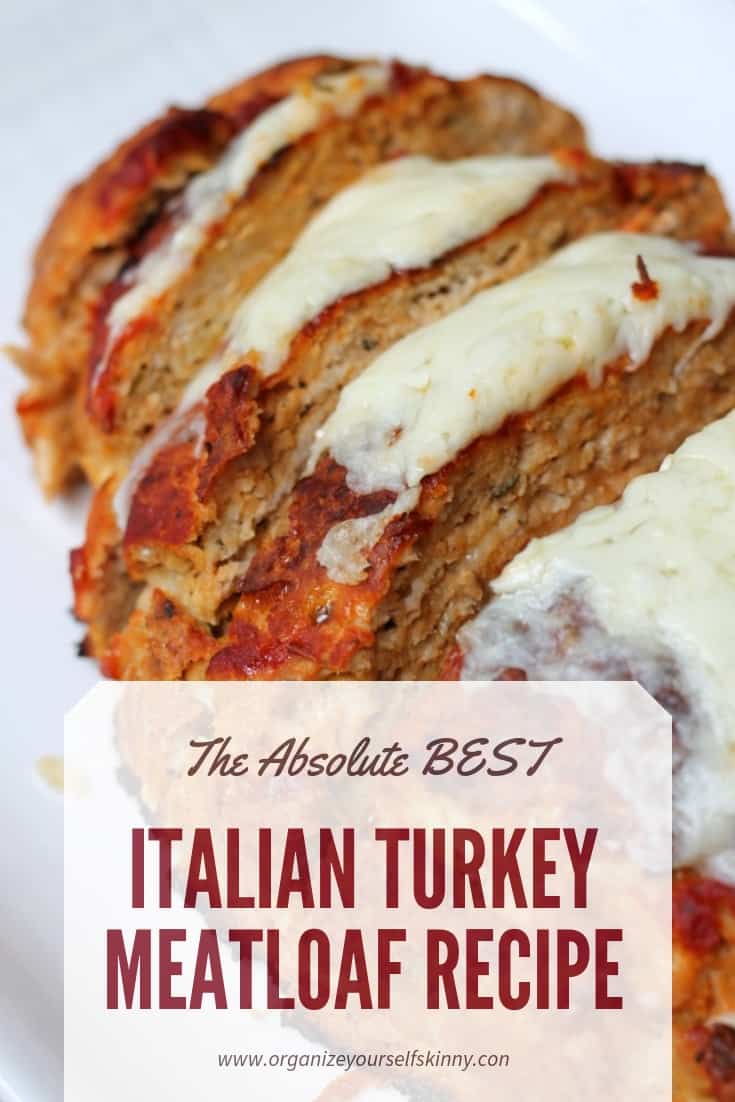 I don't know what your experience was with meatloaf growing up but for me I didn't exactly look forward to meatloaf day. There is just something about the word "meatloaf" this is unappetizing to me. Meat…loaf. Yah I will pass. I guess I was never a meatloaf kind of girl.
Up until now…
This Italian Meatloaf made with ground turkey, sauce, and mozzarella cheese might be one of the best turkey meatloaf recipes of all time. For real! Because of it's deliciousness I am now a meatloaf lover and believer. In fact, after making this Italian Meatloaf recipe I look forward to creating all kinds of new turkey meatloaf recipes.
Not gonna lie I am pretty pumped about this. Mainly because turkey meatloaf recipes are like some of the easiest recipes of all time. Just throw a bunch of ingredients in with some ground turkey, mix around, bake, and BAM you have dinner.
Plus, meatloaf freezes great so you can make a couple loaves, portion them out, and have easy lunches or dinners for the rest of the week or longer. I think it's in every busy parents best interest to find a few good meatloaf recipes for their recipe arsenal.
Like this one. 
Italian Meatloaf
This Italian meatloaf recipe is almost like one giant delicious meatball only it's a meatloaf. So I guess we could also say it's a meatloaf with an Italian twist. Either way it scrumptious. My kids LOVED it. Friends loved it. Family loved it. Everyone that took a bite loved it. Not gonna lie I am pretty proud of this recipe.
I kept it healthy by using lean ground turkey and italian turkey sausage. This way you can enjoy all the goodness without the calories and fat of traditional meatloaf recipes. Don't skip the bread and milk part. This little trick will give you the juiciest meatloaf ever. Trust me, it works every time.
Instead of ketchup I used jarred marinara sauce. Most traditional meatloaf recipe use some type of ketchup mixture for the top. I wanted to keep this Italian meatloaf recipe all Italiano so I stuck with sauce. In my world it's hard to go wrong with a delicious red marinara sauce. I mixed some of the sauce right into the mixture and then put the rest on top after I formed it into a loaf. If you don't have marinara sauce, no worries, any spaghetti sauce will work.
To season the meat I used McCormick Perfect Pinch Italian seasoning along with onion powder, granulated garlic, salt, and pepper. I started using Italian seasoning a few months ago and love it. I prefer using it instead of  just plain dried oregano and basil in my Italian inspired recipes. The spices included in this seasoning blend are marjoram, thyme, rosemary, savory, sage, oregano, and basil. In my opinion, this blend adds much more flavor. It works perfectly in this Italian Meatloaf recipe.
I also flavor the meat with grated parmesan and romano cheese, shredded mozzarella and provolone, and marinara sauce. My favorite shredded cheese blend to use in Italian recipes is Sargento shredded mozzarella and provolone. If you can't find that then plain mozzarella will do.
After I mixed the meats, and all the other ingredients, together I formed it into a loaf (aka a giant meatball), spread the rest of the marinara on top, and baked it for over an hour. When it was done I sprinkled the rest of the cheese over the top and broiled it until the cheese was melted. This step is what makes it parmesan.
Here are some of my other favorite turkey meatloaf recipes
Turkey Meatloaf with Sausage, Onions, and Peppers
Turkey Meatloaf with Zucchini and Feta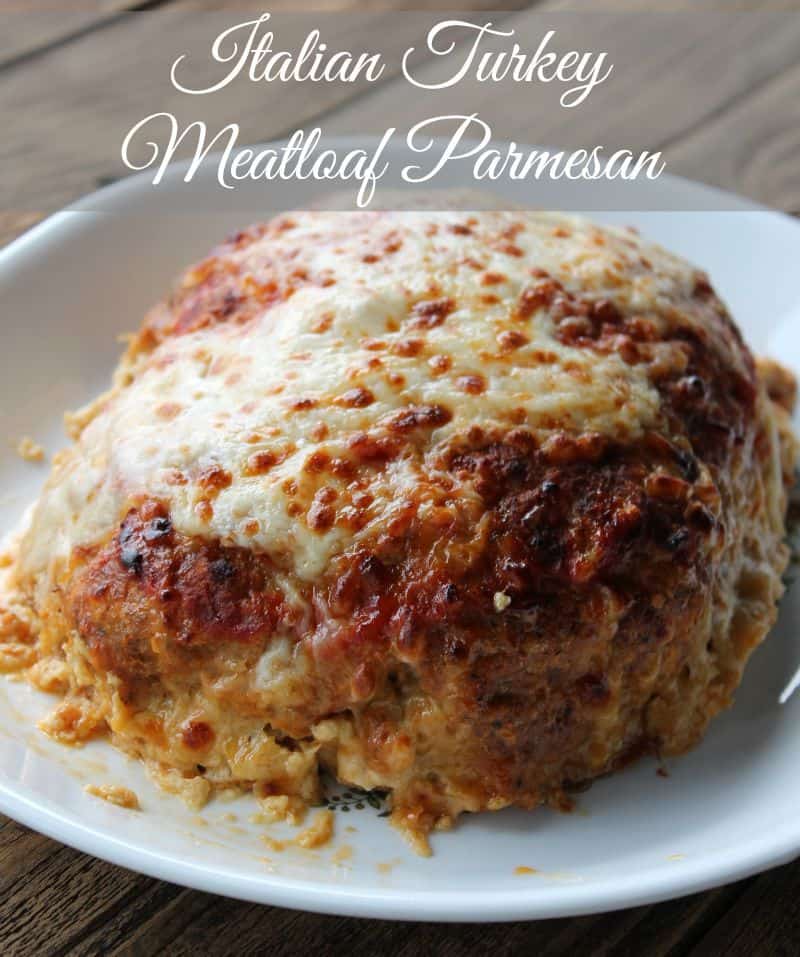 Ingredients
1

slice

wheat bread

2-3

tablespoons

1% milk

1

lb

ground turkey

1/2

lb

pound turkey Italian sausage links

casings removed

2

eggs

½

cup

unseasoned breadcrumbs

1/4

cup

grated parmesan/romano cheese

2

teaspoons

Italian Seasoning

2

teaspoons

onion powder

1.5

teaspoons

granulated garlic

¼

teaspoon

salt

¼

teaspoon

pepper

1

cup

shredded mozzarella and provolone cheese

divided

2

cups

marinara sauce

divided
Instructions
Preheat oven to 350 degrees

In a large bowl mash together the bread and milk until it forms a paste.

Next add in the ground turkey, Italian sausage, eggs, breadcrumbs, grated parmesan/romano cheese, Italian seasoning, onion powder, granulated garlic, salt, pepper, ½ cup of the shredded mozzarella and provolone cheese, and 1 cup of the marinara sauce.

Mix all of the ingredients, using your hands, until everything is evenly distributed.

Spray a 7 x 11 or 9 x 11 baking dish with cooking spray. Place the meat mixture into the dish and form into a loaf.

Spread the remaining marinara sauce over the meatloaf.

Bake for 75 minutes.

Set oven to broil.

Sprinkle the rest of the shredded cheese over top and broil for 2-3 minutes or until the cheese is melted.

Remove meatloaf from the oven, let it sit for about 5 minutes, and then serve.
Notes
Make ahead instructions This recipe can be assembled ahead of time and frozen raw. Thaw in the refrigerator overnight and continue with cooking instructions. You might need to add more cooking time if the meat is still a frozen.
You could also cook the meatloaf completely ahead of time, portion out, and freeze for later lunches and dinners.
Nutrition
Serving:
1
g
|
Calories:
265
kcal
|
Carbohydrates:
13
g
|
Protein:
25
g
|
Fat:
13
g
|
Fiber:
1
g
|
Sugar:
7
g
Oh Mama Mia! This Italian Meatloaf recipe has earned it's place in my regular dinner rotation. Go make this if you are looking for a new twist on meatloaf. Yum!