Turkey meatloaf recipe with lean poultry sausage, ground turkey, peppers, onions, and other delicious flavors to give this classic meatloaf an Italian twist.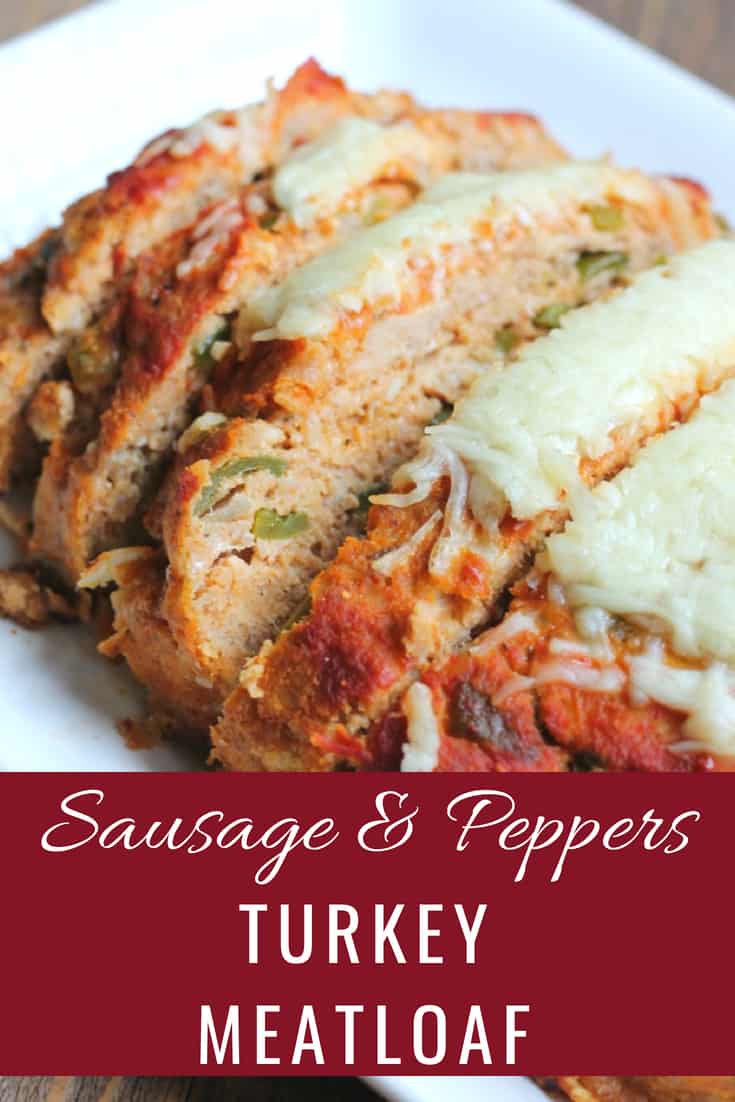 Yes…I have yet another turkey meatloaf recipe for you. I can't help it. There are so many tasty meatloaf recipes floating around in my head. Truly, I would be doing all of you a disservice if I ignored them.
Especially this one! Sausage and peppers in meatloaf form? Yup!
In the Italian American world I grew up in, sausage and peppers found their way to the table at every family party. Everybody loved a crusty hoagie roll filled with sausage, peppers, and onions. Oh mama! This turkey meatloaf recipe takes those flavors and infuses them into an easy make-ahead meatloaf recipe. Yes this is me loving you. xoxo
To be honest this turkey meatloaf recipe did not start out as an Italian sausage and pepper version. My first intention was to make a "philly style" meatloaf with peppers and onions. You might have seen that on Instagram a couple weeks ago. It was good, but I felt (along with some other taste tasters) that it was missing something. Most traditional meatloaf recipes include a sauce of sorts. This didn't have a sauce and it was definitely in need of one. I spun my wheels but couldn't think of a sauce that would work. So I went back to the drawing board and came up with an Italian version. In my opinion, you can't go wrong with anything Italian. Mmmm
Turkey Meatloaf Recipe with Sausage, Peppers, and Onions
Here are the ingredients.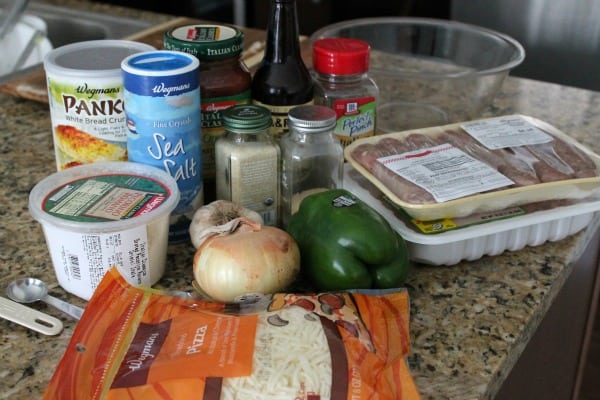 I started by sautéing the onions, green bell peppers, and garlic in a little olive oil. You might be wondering if you could throw the peppers and onions into the recipe without them cooking first. Not sure. You can try it but I love the flavors of sautéed vegetables and I think it gave the recipe more of an authentic "sausage and peppers" taste.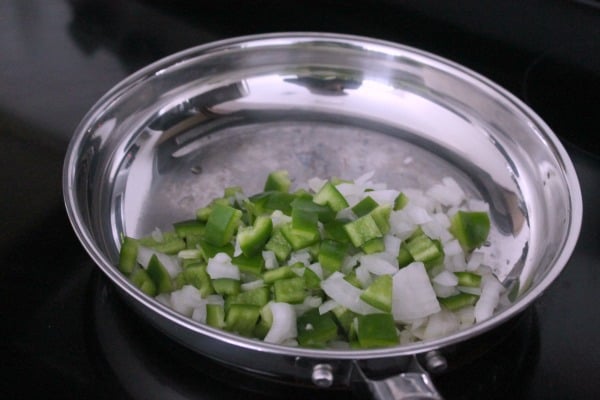 After the vegetables are cooked set them aside to cool.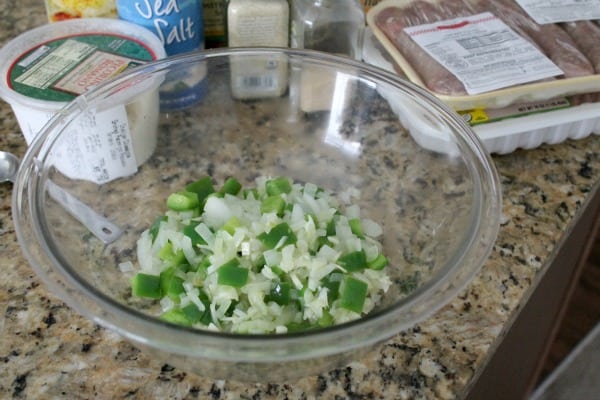 If you are impatient like me try pouring the spaghetti sauce over the vegetables to speed up the cooling process.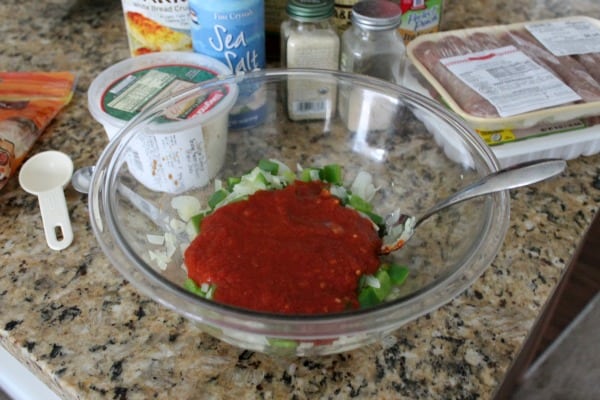 After the vegetables are cooled add the sausage, ground turkey, eggs, cheese, spices, and panko. You can find poultry sausage next to all the other Italian sausage in your grocery store meat section. Typically, it comes in mild, medium, and hot. You might be able to find varieties that include cheese and parsley included. I used medium but use whatever kind you like.
Also, I love using Sargento shredded provolone and mozzarella blend for this recipe. However, if you can't find it then shredded mozzarella will do.
If you didn't add the sauce above then add it in now. Do you like my notebook next to the bowl. Yep that's my high tech recipe development at work.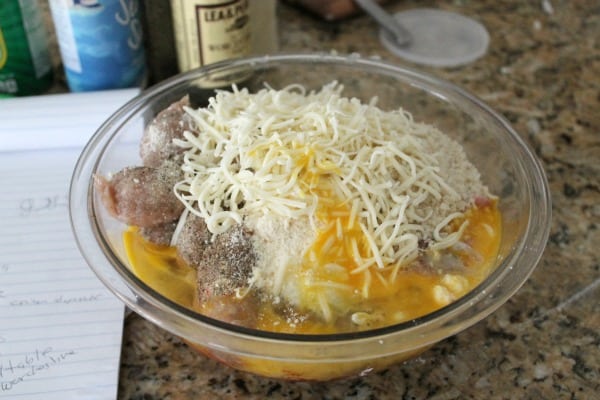 Using your hands, give it a few good mixes. Fyi, this turkey meatloaf recipe is mushy. So mentally prepare yourself before diving in.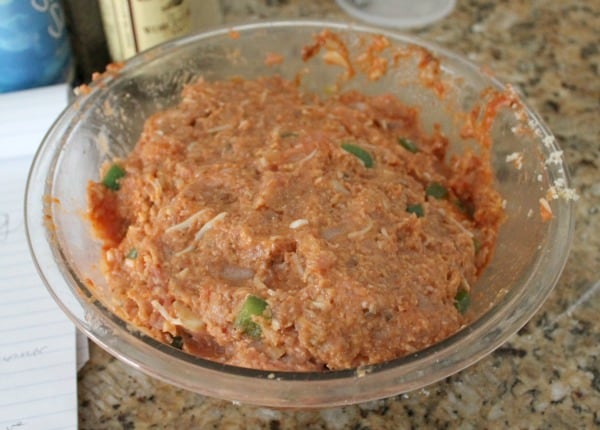 Place the meatloaf mix into a baking pan and form it into a loaf. As you can see I used a basic 9 x 13 baking pan. You could use a loaf pan but, depending on the size of the pan, you might need to make 2 smaller loaves instead of one big one. Cooking time might need to be adjusted slightly.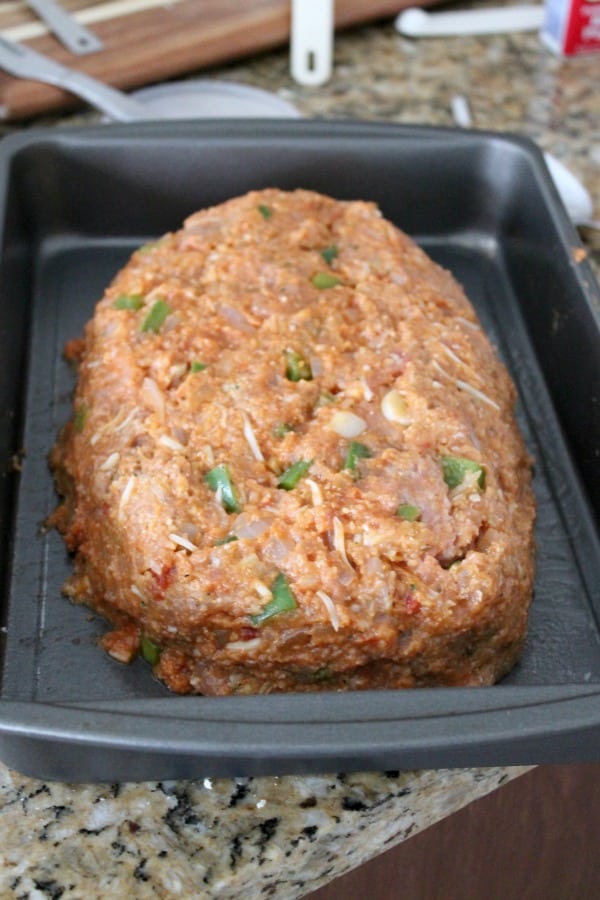 Then spread 1/2 cup of spaghetti sauce over the top and bake at 350 degrees for 1 hour 5 minutes or until the internal temperature reaches 165 degrees. You can use a meat thermometer to make sure.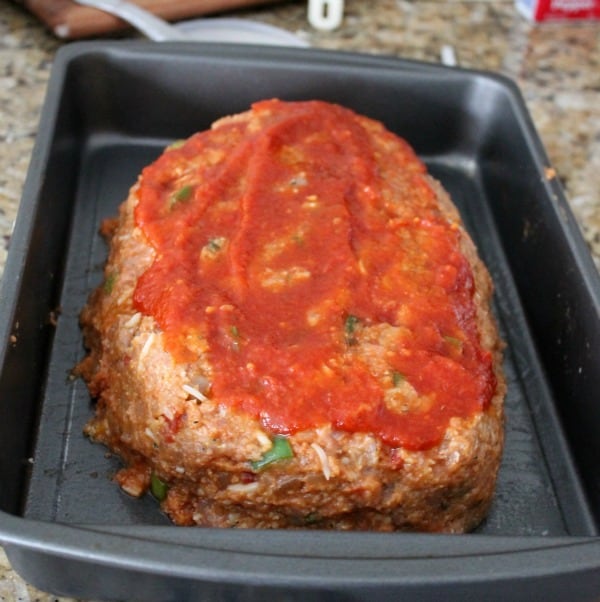 After the turkey meatloaf recipe is cooked, sprinkle 1/2 cup of shredded mozzarella over the top and broil for a couple minutes until it's melted.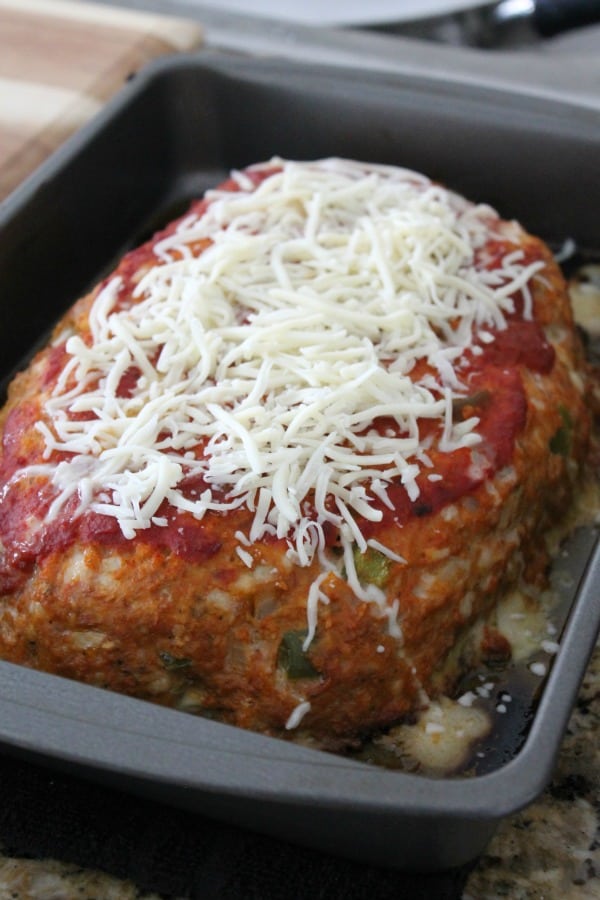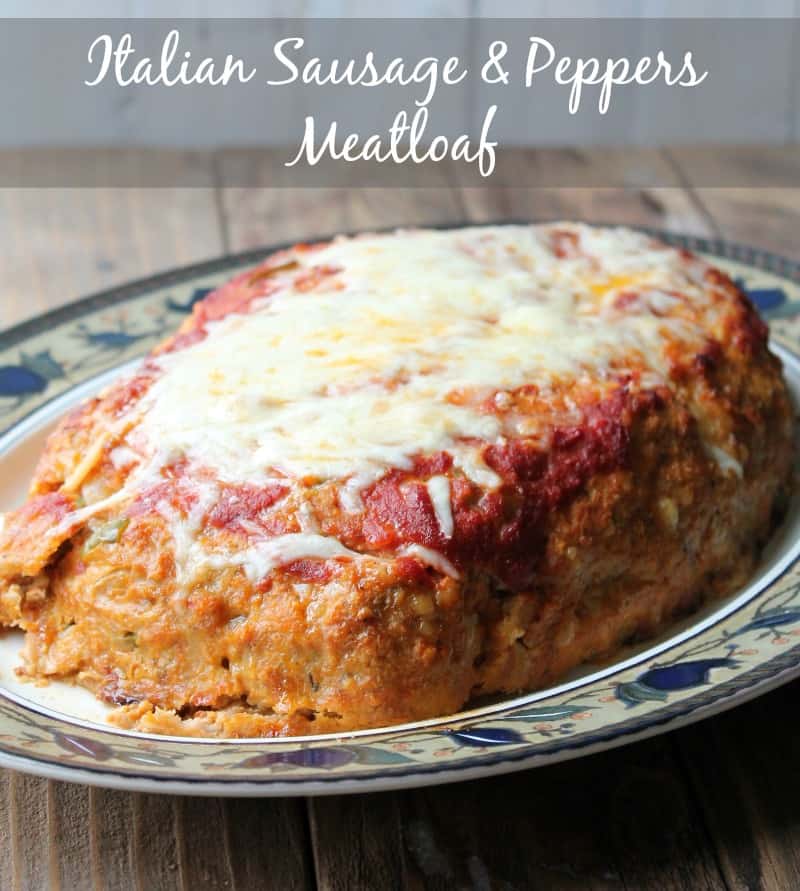 This turkey meatloaf recipe is the perfect make-ahead meal. After it cooked and cooled I portioned it out and stored it in the freezer. I used the meal prep containers you see below. You can find them on Amazon.
I put two slices per container because I plan for my family to eat the meatloaf for dinner. However, you can easily make an individual freezer meal. Just put one slice of meatloaf, a little bit of rice, and some frozen broccoli or vegetables with it. Warm it up in the microwave. Bam! Homemade dinner made easy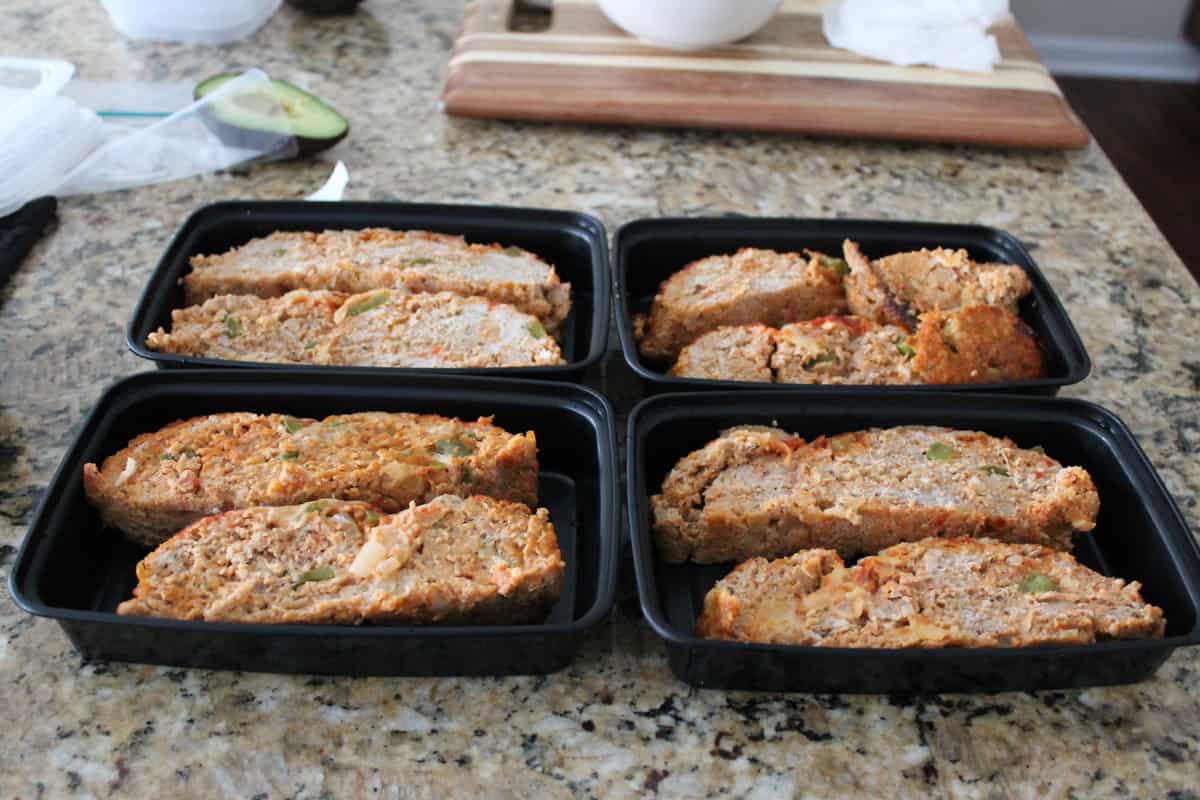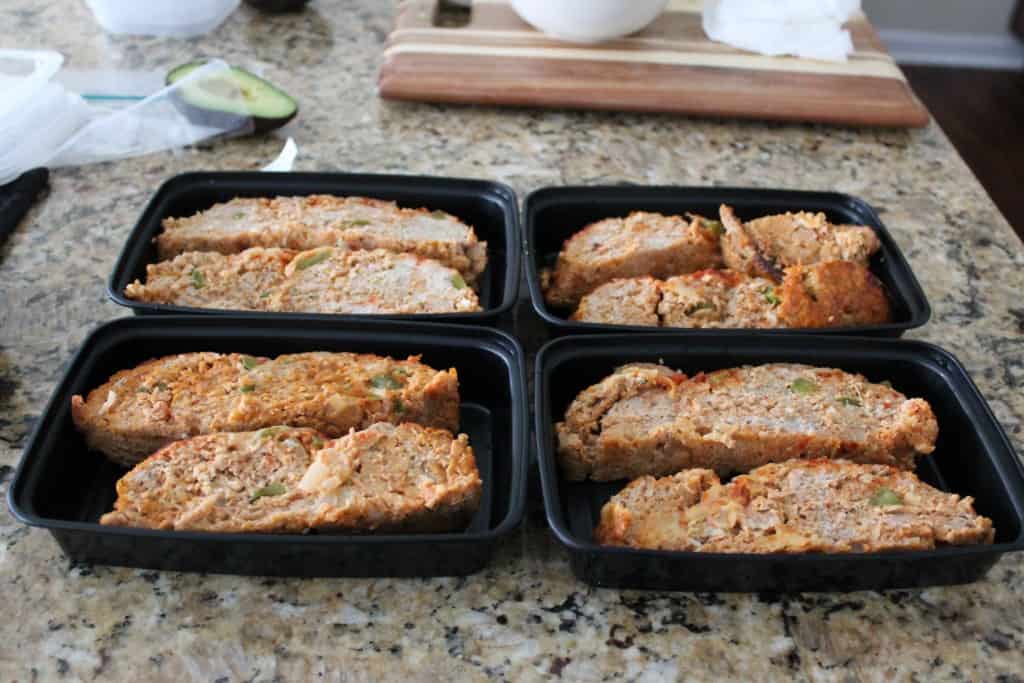 Here are some more turkey meatloaf recipes I love:
Turkey Meatloaf: Bacon Cheeseburger Style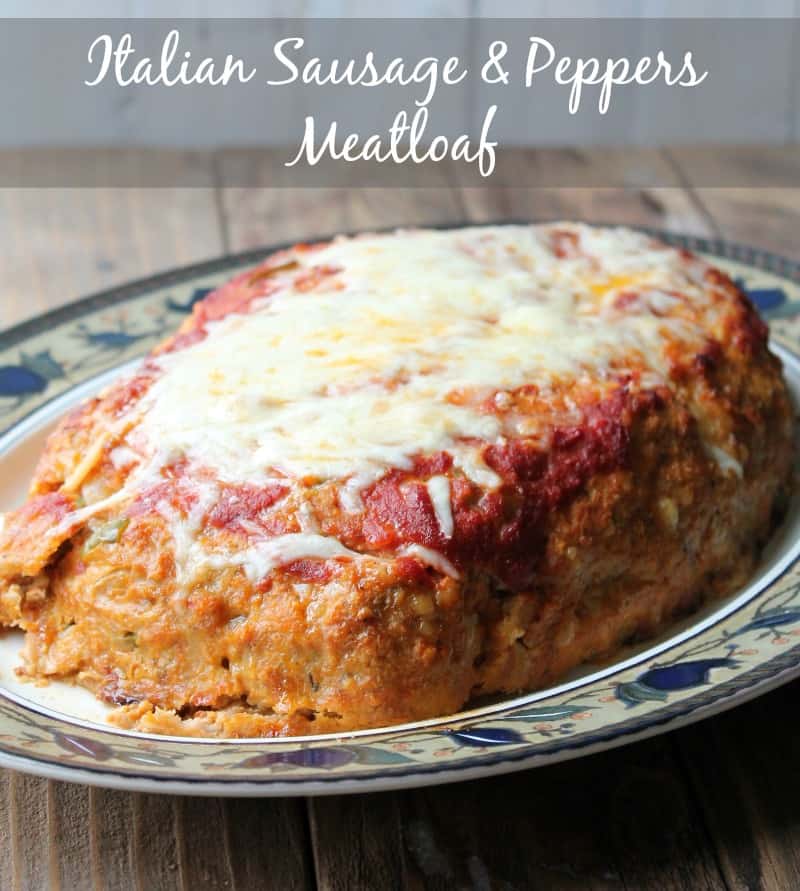 Ingredients
1

green bell pepper

seeded and chopped

½

white onion

chopped

3

cloves

garlic chopped

1

tablespoon

olive oil

1

lb

ground turkey

1

lb

poultry Italian sausage

casings removed

2

eggs

beaten

1

tablespoon

Worcestershire sauce

1

teaspoon

granulated garlic

1

teaspoon

onion poweder

1

teaspoon

Italian seasoning

½

teaspoon

salt

½

teaspoon

ground pepper

1

cup

panko crumbs

¼

cup

grated parmesan cheese

1 ½

cups

shredded mozzarella/provolone blend

divided

1 ½

cup

marinara sauce or any spaghetti sauce
Instructions
Preheat oven to 350 degrees.

In a medium pan sauté the peppers, onions, and garlic in olive oil until the onions are translucent. Place into a bowl and set aside to cool.

In a large bowl mix together sautéed vegetables, ground turkey, sausage, eggs, worcestershire sauce, granulated garlic, onion powder, Italian seasoning, salt, pepper, panko bread crumbs, parmesan cheese, 1 cup of shredded cheese, and 1 cup of sauce.

Place meatloaf mixture into a baking pan coated with cooking spray and form into a loaf.

Spread the rest of the sauce over the top of the meatloaf.

Bake for 65 minutes or until the internal temperature reaches 165 degrees.

Take out of the oven and sprinkle the rest of the cheese over the top. Broil for a couple minutes until the cheese is melted.

Serve hot.
Notes
Make-ahead tips
This recipe can be made completely ahead of time, portioned out, and stored in the freezer. You can wrap in plastic wrap or store in individual plastic containers.
You can also form the loaf ahead of time and store raw up to 2 days in the refrigerator before cooking. You might need to add a few minutes to cooking time.
The loaf can be frozen raw as well. I recommend taking out the day before and letting it thaw overnight in the refrigerator. Again, you will probably need to add cooking time if cold or frozen prior to cooking.
Nutrition
Serving:
1
g
|
Calories:
343
kcal
|
Carbohydrates:
12
g
|
Protein:
29
g
|
Fat:
19
g
|
Saturated Fat:
6
g
|
Fiber:
1
g
|
Sugar:
9
g