If you were looking for something to do this weekend, you should take a look at some of these amazing spaghetti sauces to cook up and add to your freezer meal pile. There's a pasta sauce for everyone- vegans, meat-eaters and even those big seafood lovers! In this post, I'll show you how to freeze spaghetti sauce and share my favorite homemade spaghetti sauce recipes.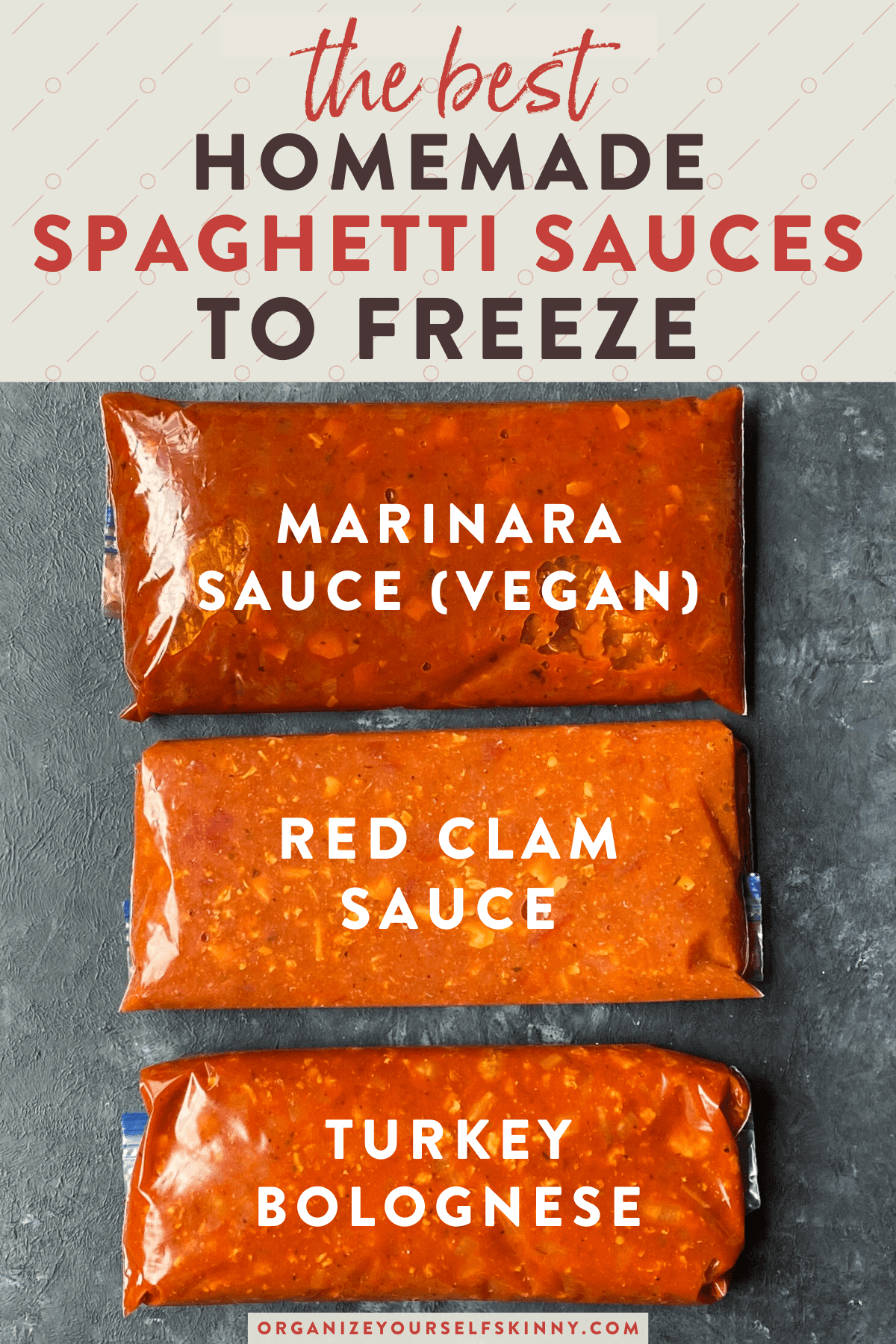 My first experience with freezer meals goes wayyyyy back when I used to watch my mom freeze homemade spaghetti sauces. She used to make a huge pot of sauce and we'd eat it for 3 days straight! Then, she'd freeze the rest in empty Country Crock containers.
Yeah, back then, she didn't have the fancy containers of today nor did she care about hydrogenated oil. Hey, it was the 1970's and 80's!
Anyway, later in that month, she would take out the pasta sauce and throw together some frozen ravioli or make lasagna. We would eat that for about 3 days straight too. Then, a couple of weeks later, she'd make another pot of sauce and repeat the same process.
It was pretty amazing, I won't lie.
Jump to:
Ways To Use Spaghetti Sauce From Scratch
Anyway, when I became an adult and had to cook for my own family, spaghetti sauce was one of the first homemade recipes I ever made and froze. Before I really knew about freezer meals, I'd just freeze everything in big containers and thaw out when we felt like eating sauce again.
But, over time, I learned that making batches of sauce and freezing into recipe-ready portions was really where the power of freezer meals lay. This helps to get more longevity out of the sauce by using it in many different recipes!
I like to call freezer pasta sauce "The Ultimate Meal Starter." You truly can make a huge batch of sauce and get 5-6 different dinners out of it.
Need a few ideas? I have plenty! I usually like to:
Serve it simply with some pasta, salad, and garlic bread for a quick dinner.
Use it to make a homemade lasagna or baked ziti.
Use it with frozen ravioli or stuffed shells for an easy dinner that everyone will think is fancy.
Use it on top of some baked chicken parmesan or eggplant parmesan.
Use it as a pizza sauce when I make homemade pizza!
Jarred Pasta Sauce vs Homemade Pasta Sauce
Even though I'm not above jarred sauce at all, I do like to make homemade pasta sauce when I can. Here's why.
I Control the Ingredients
Many jarred sauces are filled with sugar and other preservatives. When I make my own sauce, I can use all organic high-quality ingredients. I know exactly what's in it.
It's Cheaper
There are some jarred sauces that are very high quality but come with a high price tag. When I make my own homemade sauce, I can use the highest quality canned ingredients and it cost a fraction of the price of high quality jarred.
I can even use organic meats which I've never found a sauce that uses organic grass-fed beef.
I Can Use Easy Pantry Ingredients
Getting the ingredients together for homemade spaghetti sauce is quite easy. The primary ingredient in pasta sauce is canned tomatoes. I don't know about you but I always have canned tomatoes in my pantry so it's easy to throw together a pasta sauce when needed.
Then, all you need is meat (if making a meat sauce), onions, garlic, and seasonings. Oh, and if you have red wine, then that's a bonus!
Which Are Your Favorite Brands Of Canned Tomatoes?
I've used many different brands of tomatoes for my pasta sauce recipes.
My favorite brands to use are these:
Muir Glen Organic Canned Tomatoes
365 Everyday Value Canned Tomatoes (this is the Whole Foods brand)
Tuttorosso Canned Tomatoes
With all of these canned tomatoes, if I can get ones made with San Marzano tomatoes, then I grab those. San Marzano tomatoes are meaty, plump, juicy and absolutely delicious tomatoes that are grown in Italy. They are pricier than other canned tomatoes but I think they're worth it!
Amazing Homemade Spaghetti Sauce Recipes
With that being said, here are my favorite homemade spaghetti sauces to meal prep and freeze for a quick and delicious meal!
This vegan pasta sauce is my go-to sauce for just about everything!
When I want a quick dinner, I'll warm this up and serve with some whole grain spaghetti and a salad. I've also used this in many Italian dishes like this baked chicken parmesan and eggplant parmesan.
It's a great recipe if you're looking to sneak some extra veggies into your sauce. My picky daughter loves this pasta sauce and never complains about the carrots in it.
MOM WIN!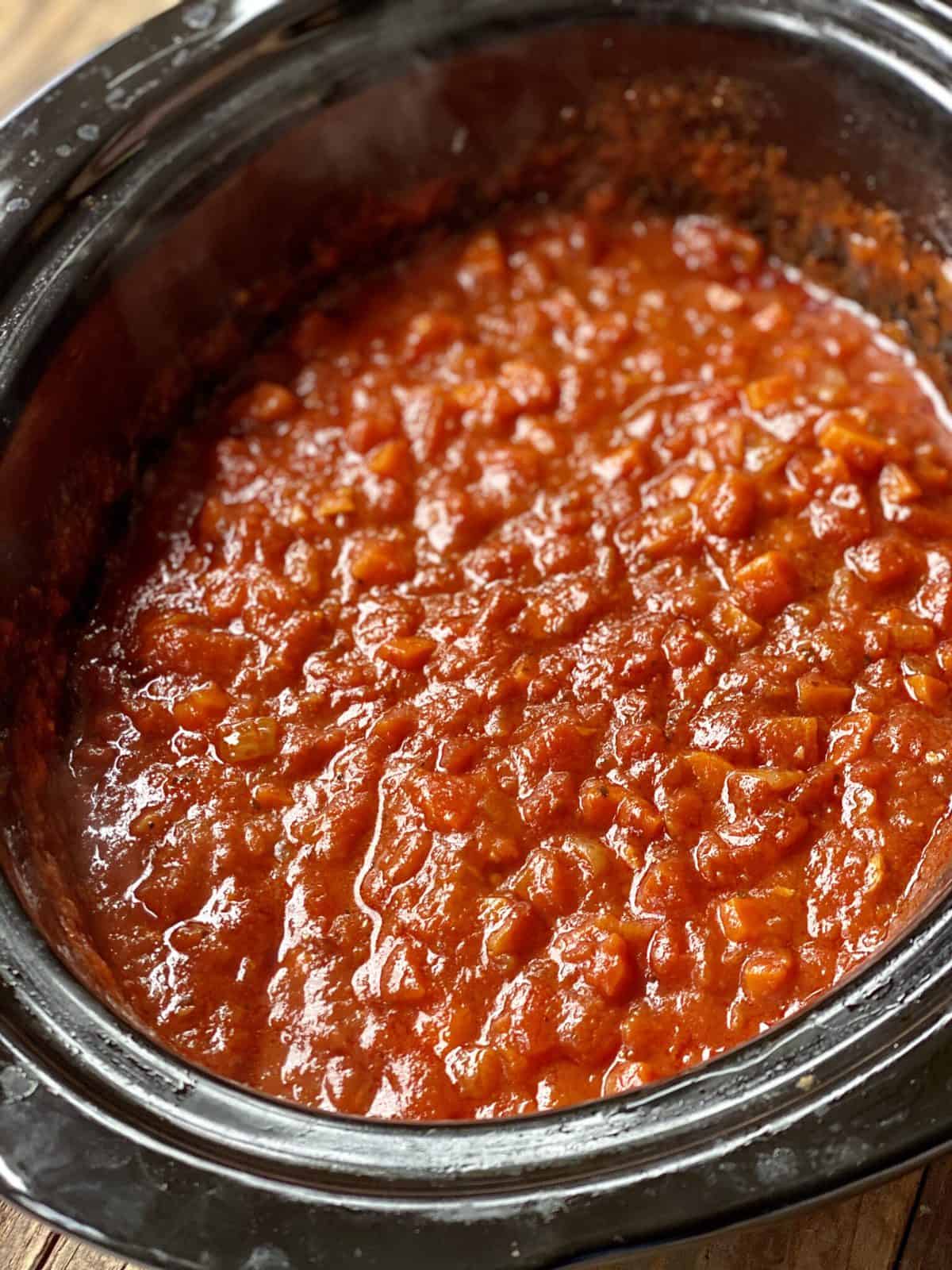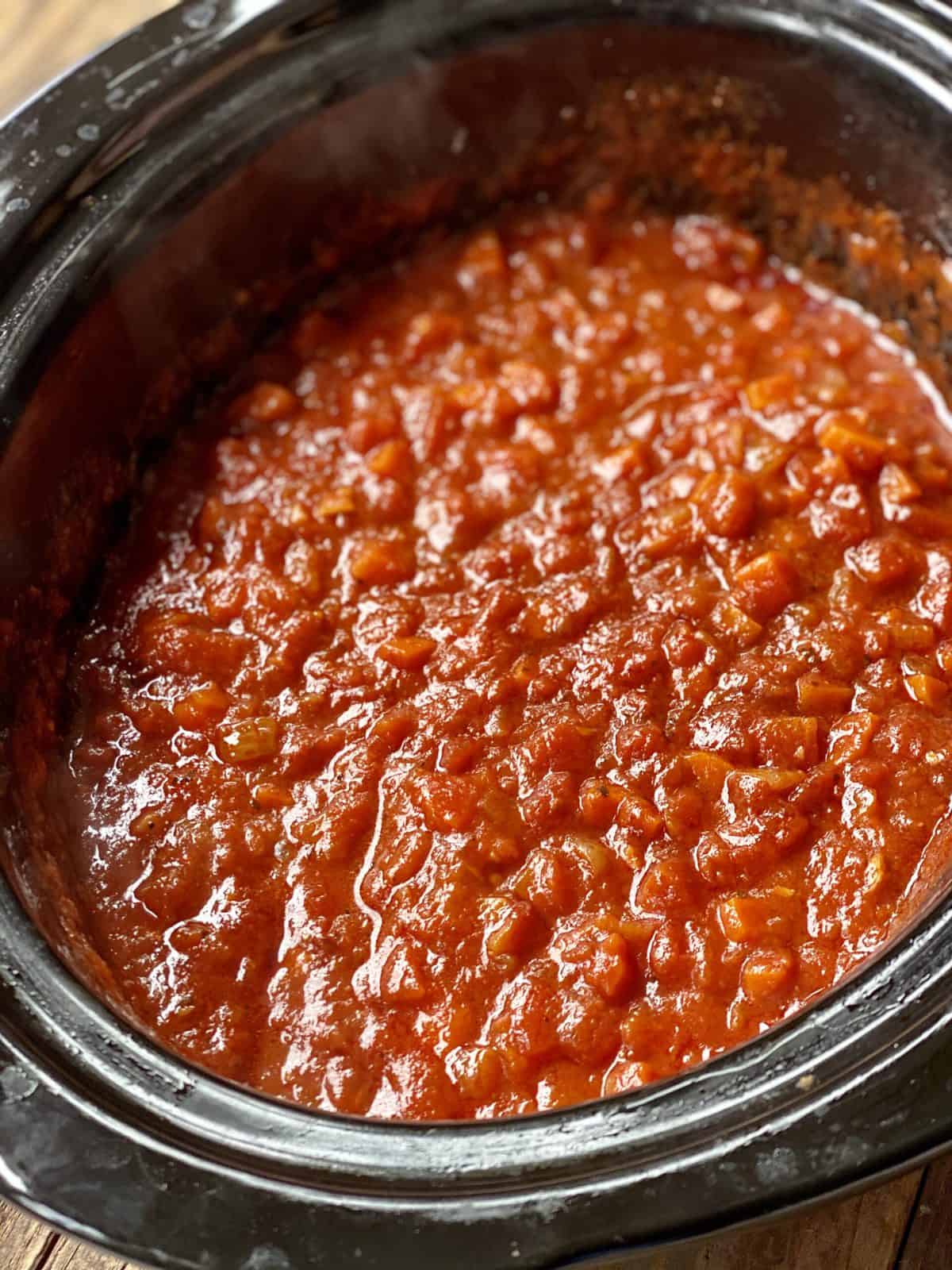 If you're looking for a meatier sauce, then definitely whip up a pot of this turkey bolognese! Again, for a quick dinner, I'll make this with pasta but my favorite way to use this sauce is in lasagna or baked ziti.
For this bolognese, I prefer to use ground turkey to reduce the amount of fat but you can also add in or replace ground beef if you prefer.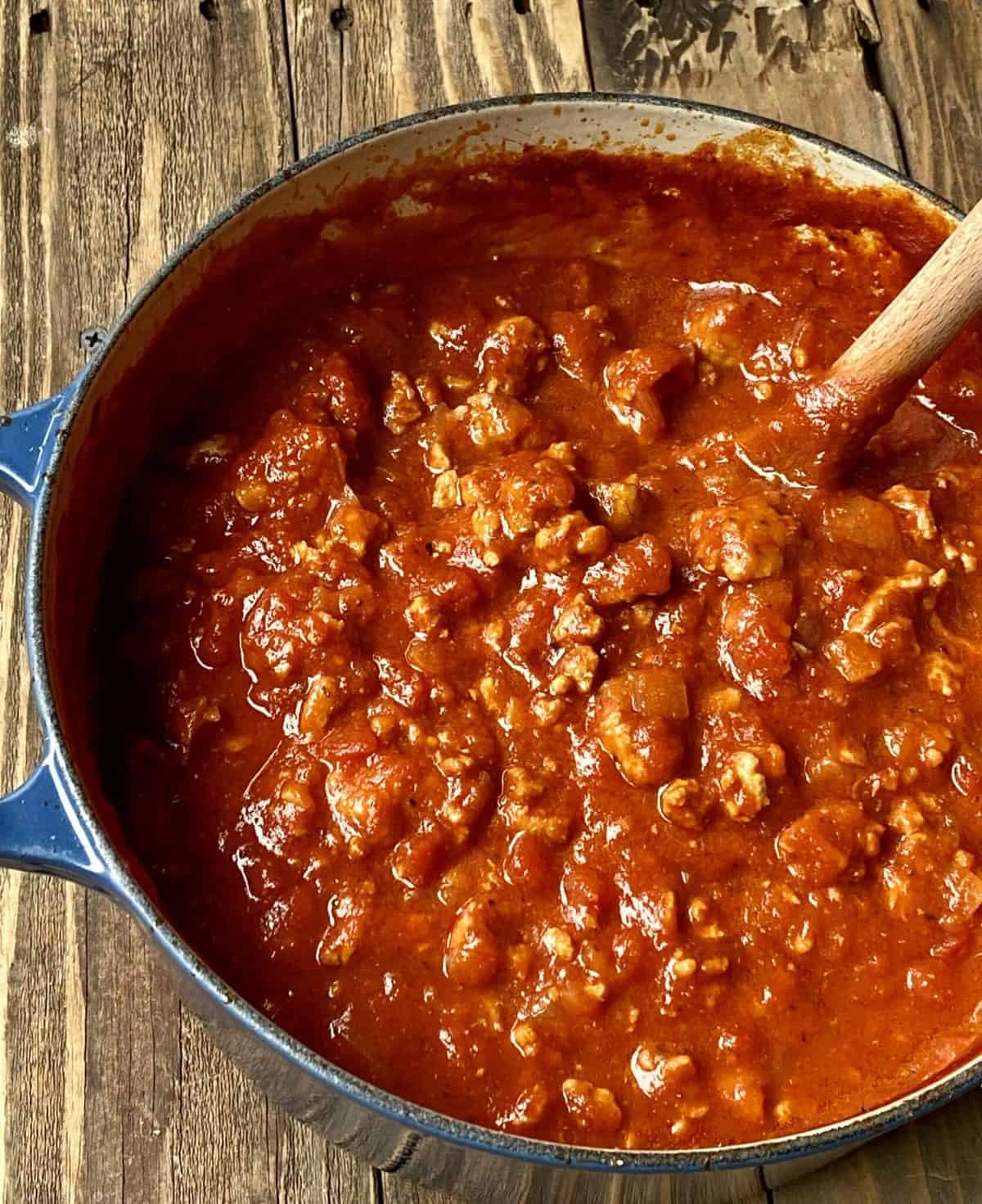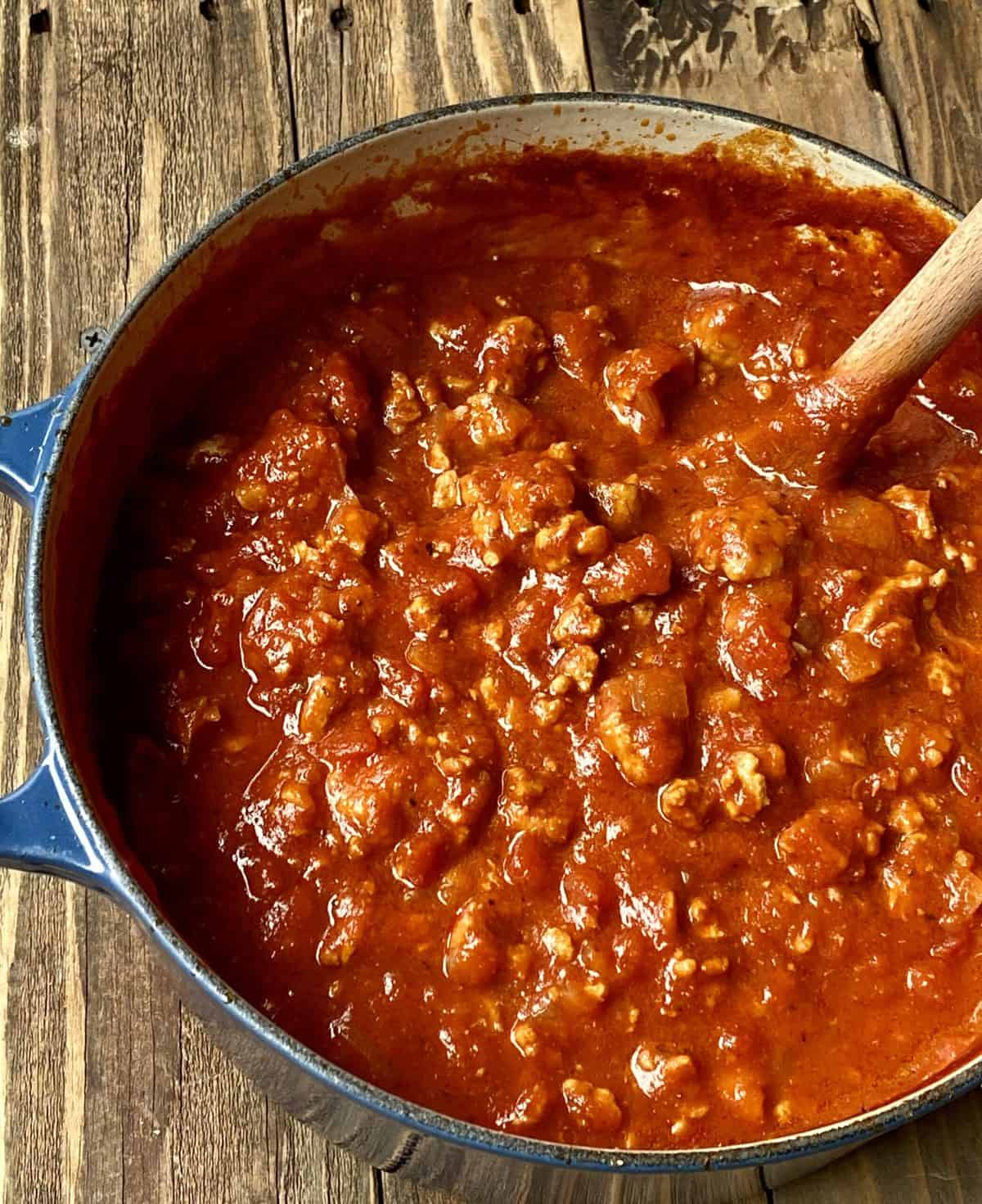 This spaghetti sauce is for all you seafood lovers out there!
One of the first sauces (besides my mom's) that I started to freeze was this red clam sauce. I've been making this for well over 10 years and it's still my absolute favorite. All of the ingredients are ones I typically have on hand in my pantry and it honestly tastes much more sophisticated than it is.
The chopped clams really take this pasta sauce to a whole other level. It's absolutely delicious!
I serve this with linguini, garlic bread, and a big Caesar salad.
How To Freeze Easy Pasta Sauce
Of course, you can freeze pasta sauce into a recipe like baked ziti or lasagna but today, I just want to share how I freeze pasta sauce to be recipe-ready for a future recipe.
1. Freezer Bags
The first way to freeze pasta sauce, and the one I use most often, is using gallon size freezer bags.
After the sauce cools, I put 3 cups into a gallon size freezer bag.
Then, I press the sauce flat into the bag.
I put the bags of sauce onto a small cookie sheet (you can use any size) and place it into the freezer to flash freeze.
After the bags of sauce are frozen, you can place them wherever you want in the freezer.
This is my favorite way to freeze sauce because it takes up less space in the freezer.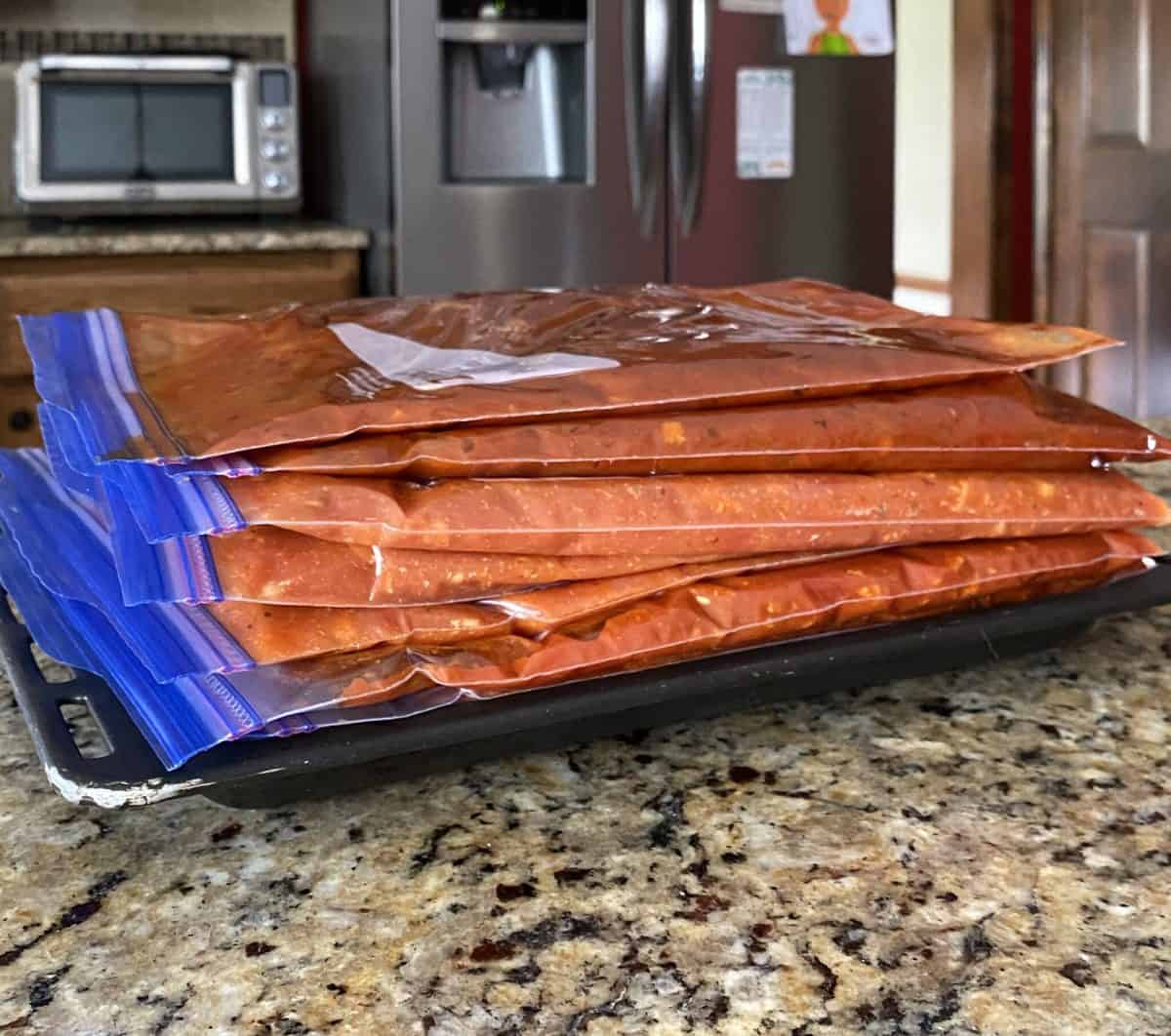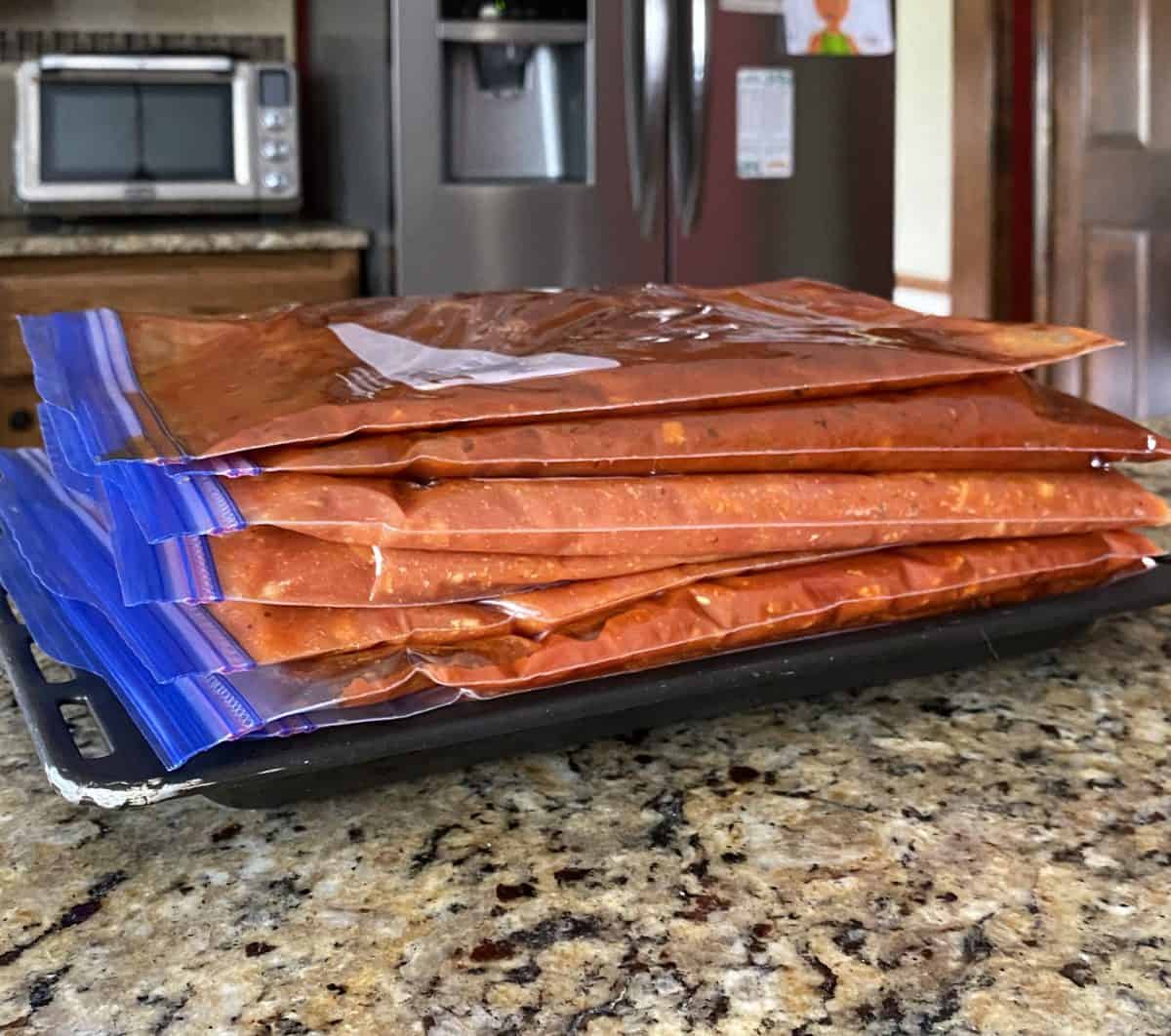 2. Reusable Storage Bags
If you don't want to use plastic bags but still like the idea of freezing the sauce flat, then consider using reusable storage bags! A little warning- These are a bit harder to clean sauce out of but are a good option when you don't want to use plastic.
Here's a pack of 7 reusable gallon size freezer bags on Amazon for under $19 that also have great reviews.
3. Souper Cubes
Another option for freezing sauce is to use Souper Cubes. These recently came onto the market and are a great way to freeze pasta sauce and use minimal plastic. Souper Cubes are silicone freezer trays that come in 1/2 cup, 1-cup, and 2-cup portions.
All you do is freeze the sauce in the trays, pop them out when frozen, and then store all the frozen into a freezer bag. These are really great but in order to freeze a huge pot of sauce, you're going to need a few packs of these and they are a little pricey. However, once you start collecting you'll have them forever and ultimately save money (and the environment) by using less plastic.
Using Souper Cubes a great way to freeze tomato sauce, soup, or any type of liquid using a plastic tray and also taking up minimal space in the freezer.
4. Mason Jars And Glass Containers
The last option for freezing pasta sauce is to use glass mason jars or containers.
This is a great option if you don't want to use plastic to freeze your meals. They also clean up really well so you don't have to worry about the containers turning red from the sauce.
If you use glass containers, I recommend these 16-ounce wide mouth mason jar containers. This will hold about 2-cups of sauce but if you want to freeze more, then you can get 32-ounce wide mouth mason jar containers.
I also like Pyrex Simply Store Glass Containers – you can get those in all sizes!
Tips When Using Glass Containers for Freezer Meals
A few things to keep in mind when freezing in glass containers.
First, you need to allow room for expansion so the glass doesn't break. So, when filling up the container, leave about 1 inch from the top.
Second, it's not as easy to get frozen sauce out of a glass container. My advice is to take it out the night before to thaw in the refrigerator. Or, run it under warm (not hot) water until the sauce easily pops out of the container.
The third thing to keep in mind when using glass containers is that they take up a lot of room in the freezer. So, if you don't have a lot of freezer space, then this might not be your best option.
How To Thaw Out Frozen Spaghetti Sauce
I know some of you might be worried that the spaghetti sauces lose some of their homemade flavors but I promise, you don't have to worry. These sauces freeze and reheat beautifully!
I've made frozen pasta sauces for decades and every time I reheat the pasta sauce, it tastes as if I just made it fresh.
To thaw out the sauce, simply take it out of the freezer and let it thaw overnight in the refrigerator. Then, heat up the sauce on the stove or in the microwave.
You can also use the sauce straight out of the freezer! Place the bag of sauce under warm water to make it easier to remove from the bag. Before taking it out of the bag, break into chunks and then place the sauce into a pan to warm up.
Enjoy!
More Italian Dinner Recipes
Whether you choose the marinara, bolognese or clam sauce, any one of these homemade spaghetti sauces would go perfectly with your pasta dish! If you are struggling to figure out how to serve up these sauces, take a look at some of these Italian themed recipes to try:
You can never go wrong with homemade spaghetti sauce. It's just a fact! Share a picture and tag me on Instagram or Facebook if you decide to make any of these!