If you're looking for the best turkey meatballs then this is the recipe! Make these ahead of time to freeze for healthy dinners throughout the month!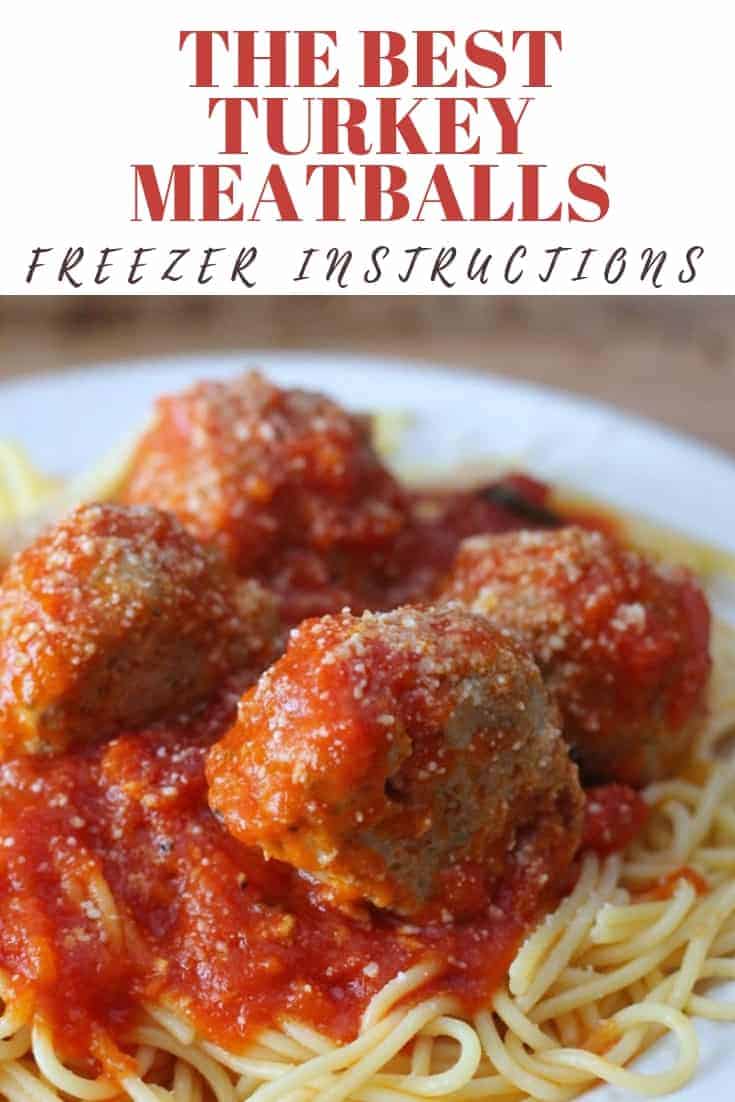 Now I'm not one to say that I'm the best at anything – it's important to be humble. Nobody likes a bragger…just saying. However, these are the best turkey meatballs! Wait, did I just brag!
Okay maybe I did, but it's not just me that says this. I've made these meatballs numerous times for parties over the last year and every time someone blurts out "these are the best meatballs ever" and/or "these are the juiciest meatballs". Even people who are diehard beef meatball lovers rave about the turkey meatballs I make. They can't believe it when I say these are made with ground turkey. Yup!
Hey what can I say? My turkey meatballs are the best!
So, what makes these the best turkey meatballs ever?
First, these turkey meatballs are extremely juicy. I would use the word moist but apparently everyone hates that word! Haha.
One of the biggest complaints I hear from people who try to make meatballs with ground turkey is they turn out dry and grainy. Not mine! I'll give you the secret in a little bit. Trust me, these ground turkey meatballs are anything but dry. Oh, and the overall texture is tender and delicious.
Second, the flavor is outstanding. Many people stick to beef meatballs because of the flavor. Beef has more fat and a different flavor. However, it's all in the seasoning. Believe me, I've had many beef meatballs that were dry and flavorless. This turkey meatball recipe has the perfect seasoning mix to create tasty little flavor bombs.
Third, these ground turkey meatballs are healthy. They are low fat and only 63 calories per meatball. They are low carb and very filling.
Fourth, and not really unique to this turkey meatball recipe, you can make a ton and freeze for future meals. Meatballs are one of my favorite freezer meals.
Okay, let's get to the best turkey meatball recipe.
Best Turkey Meatballs
Listen up.
If you want a juicy meatball then here's my little secret. Of course, you might already know this but every time someone asks me how I make such juicy meatballs I tell this secret and they have no clue. So if you don't know this information then you're welcome, you've now entered the elite group of juicy meatball making mamas. Get ready for the compliments. Haha!
The absolute key to a tender juicy turkey meatball is to start with a panade. A panade is simply bread and milk mashed together. Not rocket science but, trust me, it makes all the difference. I use a panade in meatloaf recipes too.
To make a panade mash together two slices of bread and 1/4 cup of milk.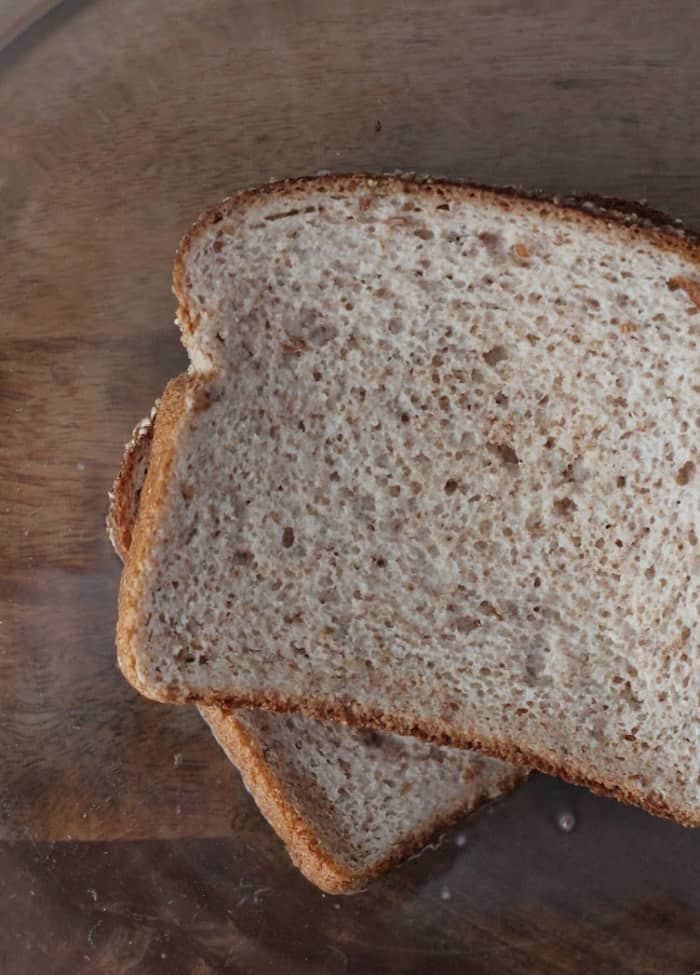 Then mash together. You want the the bread and milk to turn into a paste. If you need to add more milk to get the panade "pasty" then do so. This paste is going to distribute throughout the other ingredients keeping the meat juicy as it bakes.
A note on the bread. I used whole wheat bread because that's what I had available. You can use whatever bread you like. However, keep in mind some bread is healthier than others.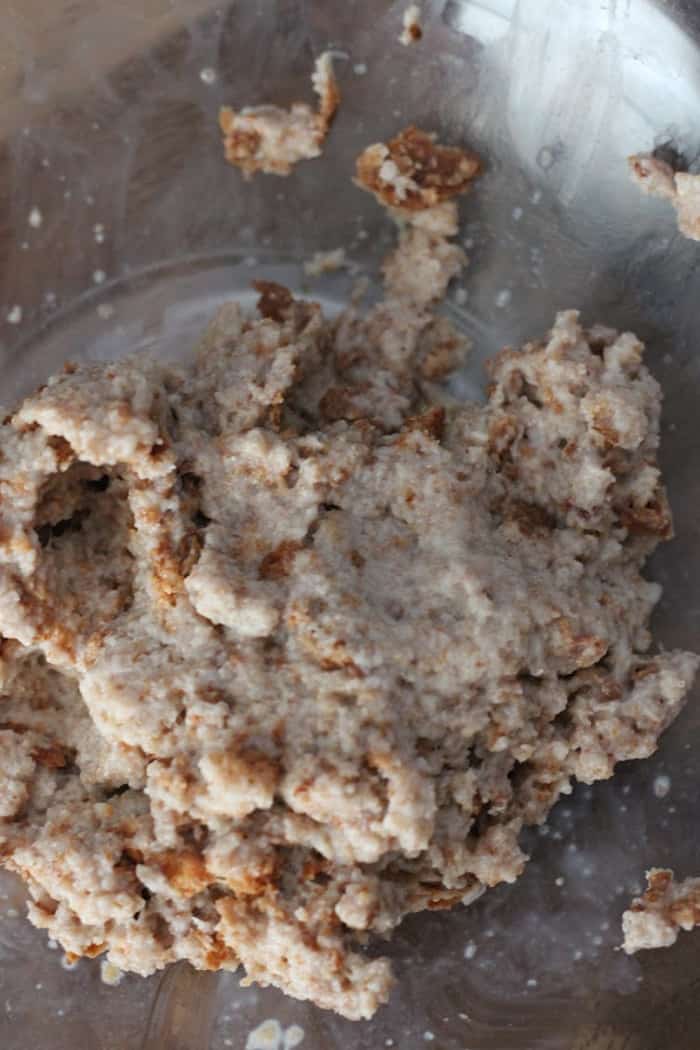 After the panade is made then add in the rest of the ingredients. I should also add that I included 3 links of chicken Italian sausage to this recipe. This gives it even more flavor. Now, I've made it without the sausage and it's just as tasty. If you don't use the sausage then just use 2lbs of ground turkey instead of 1.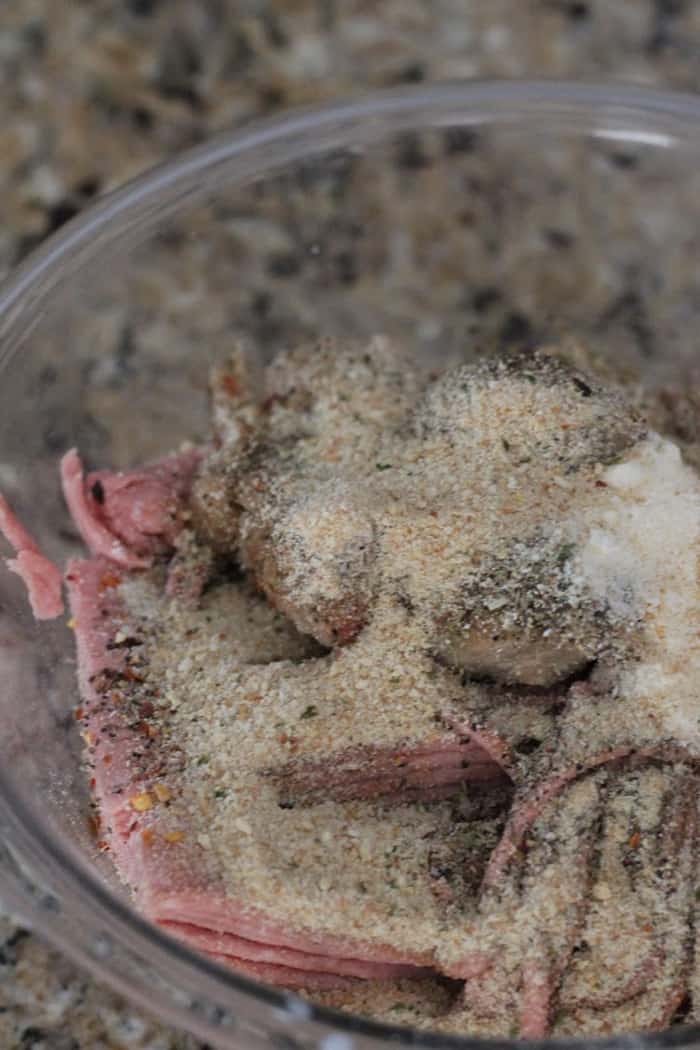 Another tip is to beat the egg before adding it to the meat mixture. You don't want to over mix the meat because this can create a tough meatball so beating the egg first helps it distribute easily without having to do too much mixing.
Let's quickly talk about some of the other ingredients I used to make this the best meatball recipe ever. I already mentioned the Italian sausage. Another thing I'll say about this is you can use any kind of poultry sausage you want. I've used mild, medium, hot, and with cheese. All have been delicious.
Another key ingredient is Worcestershire sauce. If you make a lot of meatball or meatloaf recipes then this needs to be a pantry staple. Worcestershire sauce gives ground turkey recipes a very meaty flavor. Personally, I think this is the reason people can't believe they're made with ground turkey.
The seasoning I use are garlic powder, onion powder, Italian seasoning, salt, and pepper. I also put a pinch of crushed red pepper in when I want some spice.
I use seasoned Italian breadcrumbs. I have used unseasoned but prefer the seasoned instead, it just adds a little more flavor.
Last, I throw in a little grated Romano cheese because what doesn't get better by adding cheese?
When you mix the meatball together you'll see the panade mixed in with the meat, that's what you're supposed to see. So, don't worry about that – remember the panade is the secret to juicy meatballs.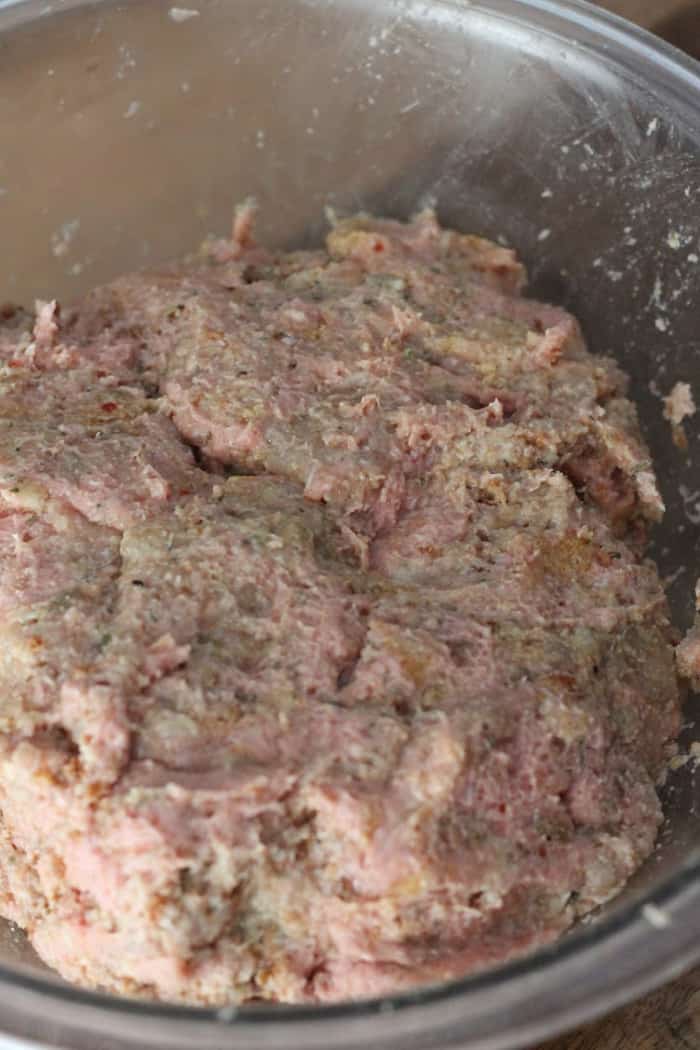 I like using a medium cookie scoop to portion out the meatballs. This just keeps all the meatballs uniform and gives you a general idea on the number of meatballs you'll get. I suggest purchasing a medium cookie scoop to use just for meatballs. Only because I get weirded out using the same scoop for raw meat and cookie dough. You can grab one on Amazon for under $14.
Depending on the size of your meatball you're going to get between 24 and 26 meatballs.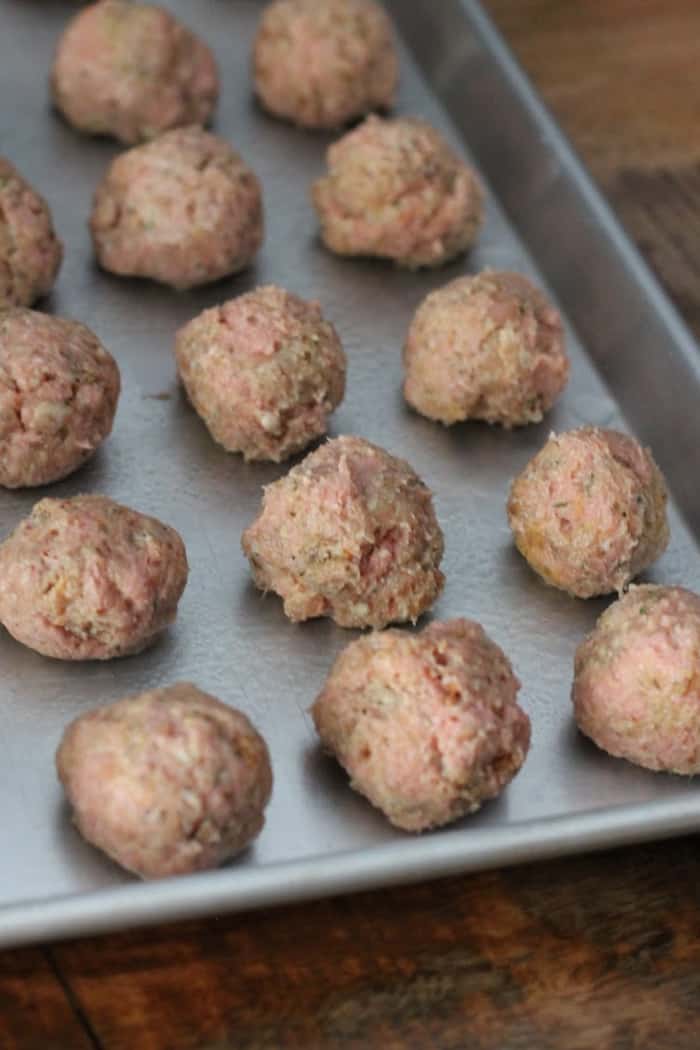 This meatball mix is on the mushy side so having some water nearby to dip your hands in is helpful. Also, spray the baking sheet with cooking spray before adding the meatballs. If you're in the market for a new baking sheet then this large Wilton baking sheet for under $9 off Amazon. I love and use it all the time.
Bake the meatballs for 25 minutes in a 350 degree oven. You don't want to over bake the meatballs. I bake for 25 minutes and then finishes cooking in the sauce. Honestly, the meatballs are pretty much full cooked in this time but letting them simmer in the sauce just adds to the juiciness.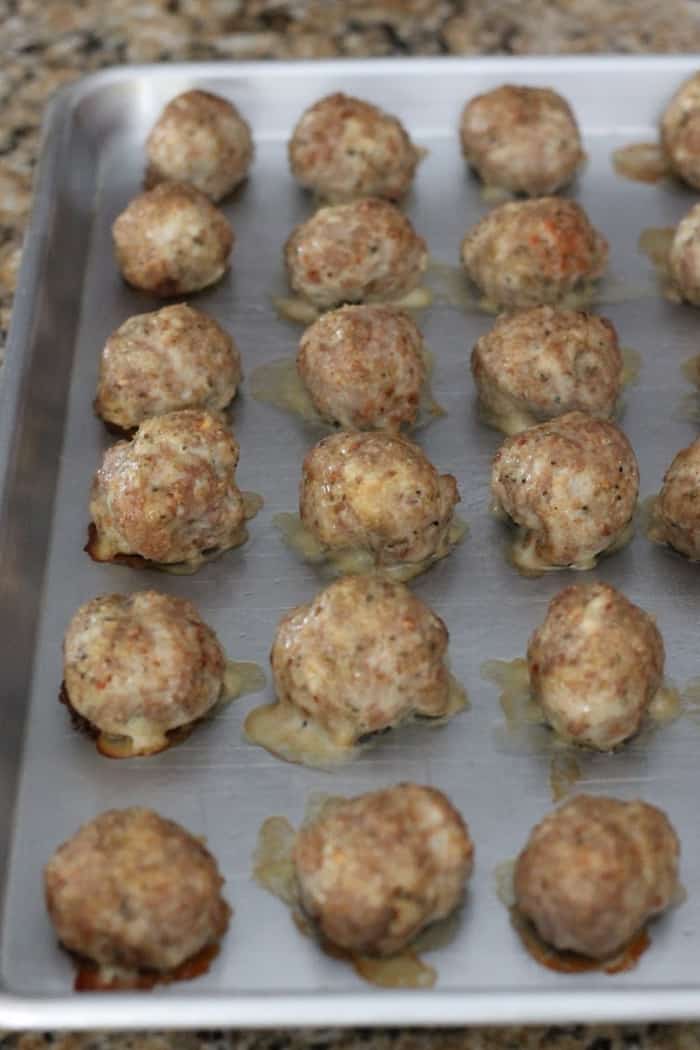 Of course, you can make homemade sauce. However, if you're in a rush or don't feel like making sauce from scratch then simmering these baked turkey meatballs in a high quality jarred sauce will do just fine. My favorite jarred sauce is Rao's marinara sauce.
You can even stick these meatballs in the slow cooker with a jar of sauce and cook on low for 4-5 hours. I do this quite a bit.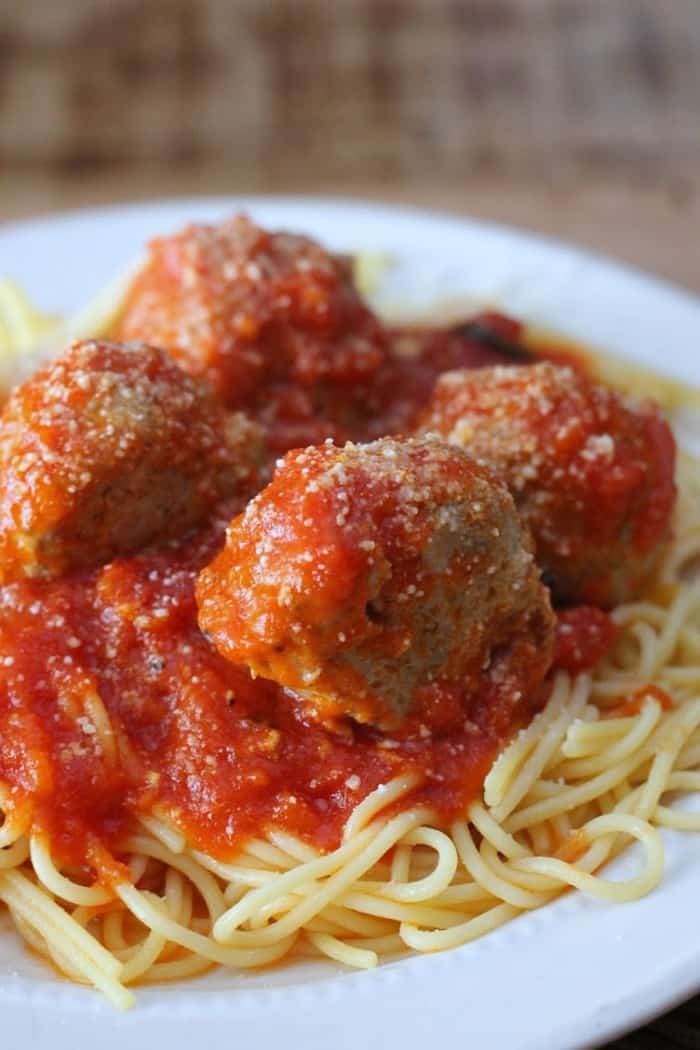 These are truly the best turkey meatballs ever! I make them all the time and everyone loves them!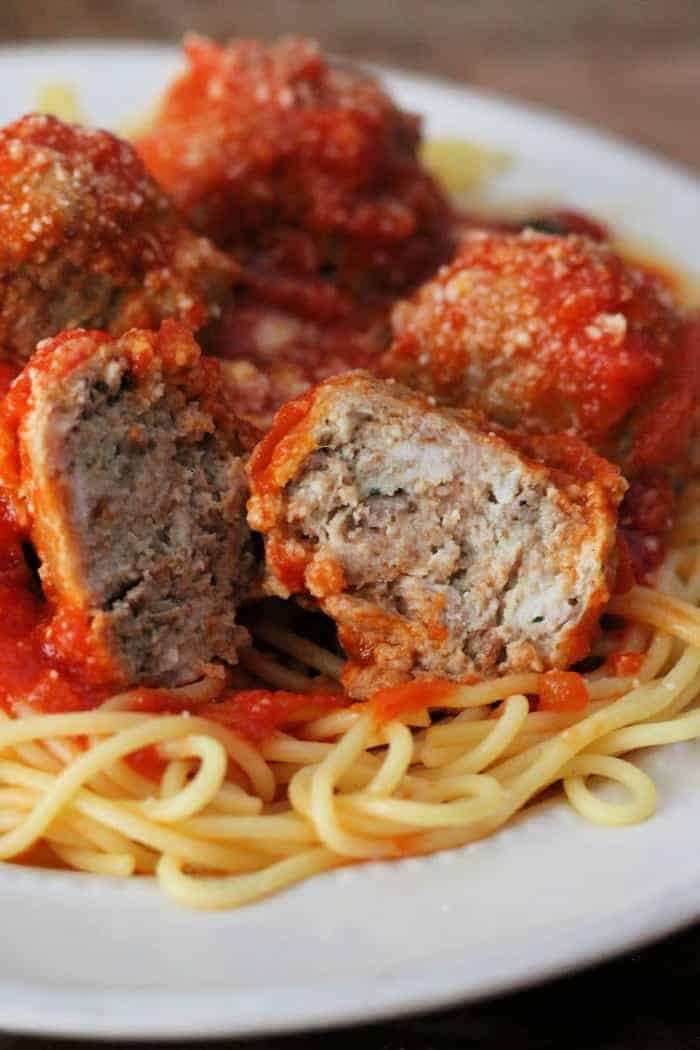 How to Freeze Meatballs
It's super simple to freeze a bunch of meatballs to use for later meals. After you baked the turkey meatballs let them cool. Then put them into a freezer bag and lay flat in the freezer. Once the meatballs are frozen place the bag wherever you want in the freeze. You can also freeze the meatballs in sauce or freeze the sauce and some mozzarella cheese separately to have ready for meatball subs.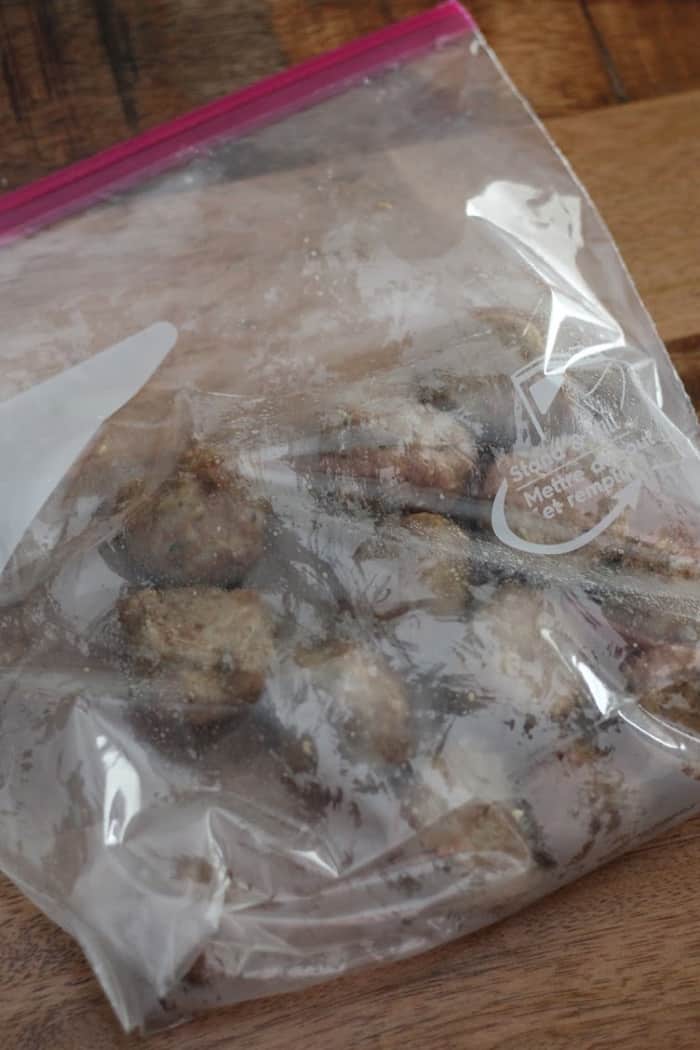 Best Turkey Meatballs
If you're looking for the best turkey meatballs then this is the recipe! Make these ahead of time a freeze for healthy dinners throughout the month!
Print
Pin
Rate
Ingredients
1

lb

ground turkey

.5 lb poultry Italian sausage

2

slices

whole wheat bread

1/4

cup

1% milk

1

egg

beaten

1

tablespoon

Worcestershire sauce

1/4

cup

seasoned Italian breadcrumbs

1/4

cup

grated romano cheese

1

teaspoon

garlic powder

1

teaspoon

onion powder

1/2

teaspoon

salt

1/2

teaspoon

pepper

1/4

teaspoon

crushed red pepper

optional.

1

32-ounce jar of marinara sauce
Instructions
Preheat oven to 350 degrees.

In a large bowl mash together the milk and bread until it forms a paste. Add more milk if needed.

Add to the paste the rest of the ingredients and mix together just until everything is evenly distributed.

On a large baking sheet, sprayed with cooking spray, roll out 24- 26 meatballs.

Bake the meatballs for 25 minutes.

Put meatballs in a 6-quart pot with sauce and bring to a simmer. Cook until hot and meatballs are fully heated through.
Nutrition
Serving:
1
g
|
Calories:
63
kcal
|
Carbohydrates:
3
g
|
Protein:
6
g
|
Fat:
3
g
|
Saturated Fat:
1
g
|
Sugar:
1
g
Here are some other healthy meatball recipes