Shredded zucchini and parmesan cheese mixed into lean ground turkey to create a delicious juicy flavorful meatball.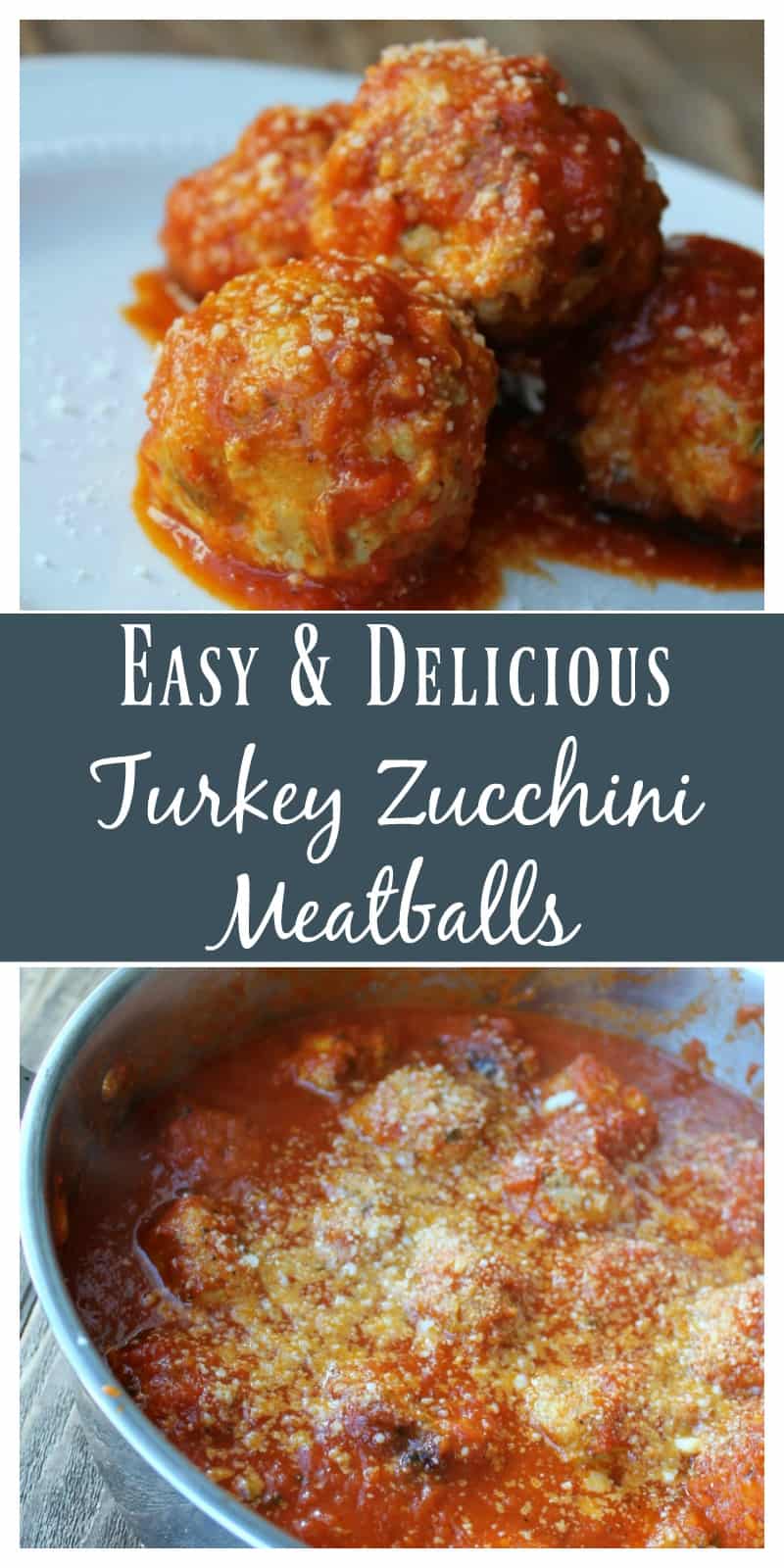 Besides tacos and pizza I would say meatballs are on the rotating list of recipes I know my kids will eat so I make them often. We eat meatballs in subs, on pizza, with pasta, or just enjoy them as is. My go to recipe is this slow cooker one and I also love this one that's stuffed with mozzarella cheese.
For this recipe I was inspired by a large zucchini I inherited from a friends garden. Of course, I thought about making a zucchini bread but decided to go savory with meatballs and this meatloaf. Oh wait I did make these zucchini brownies that were OMG good.
These turkey zucchini meatballs were very easy to make. All I did was combine ground turkey, shredded zucchini, grated parmesan cheese, panko breadcrumbs, egg, and some seasoning.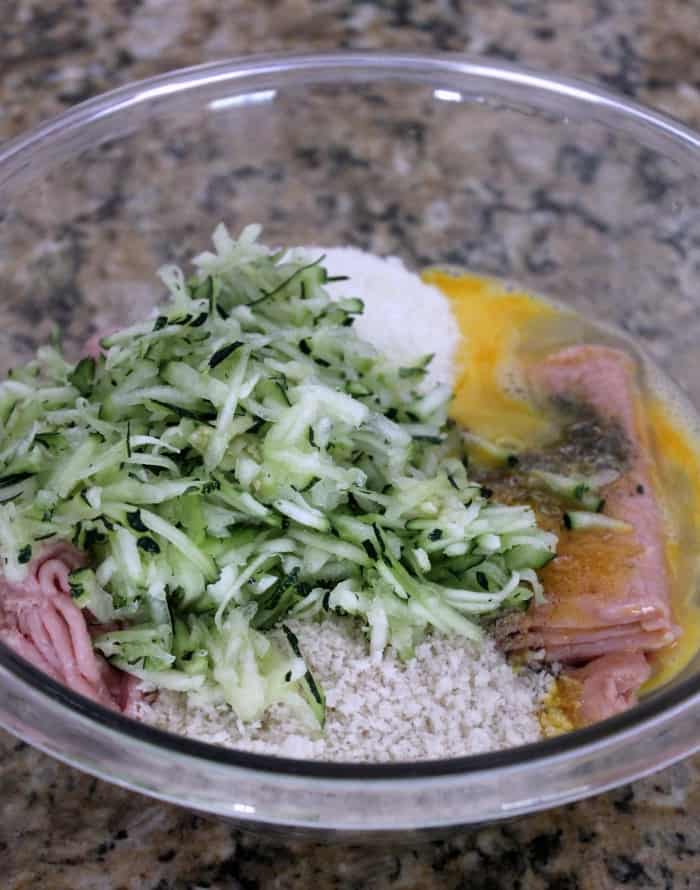 Then I rolled the mixture into 18 meatballs, baked for 20 minutes in a 350 degree oven, and then simmered in marinara sauce for about 30 minutes until the meatballs and sauce are hot and cooked.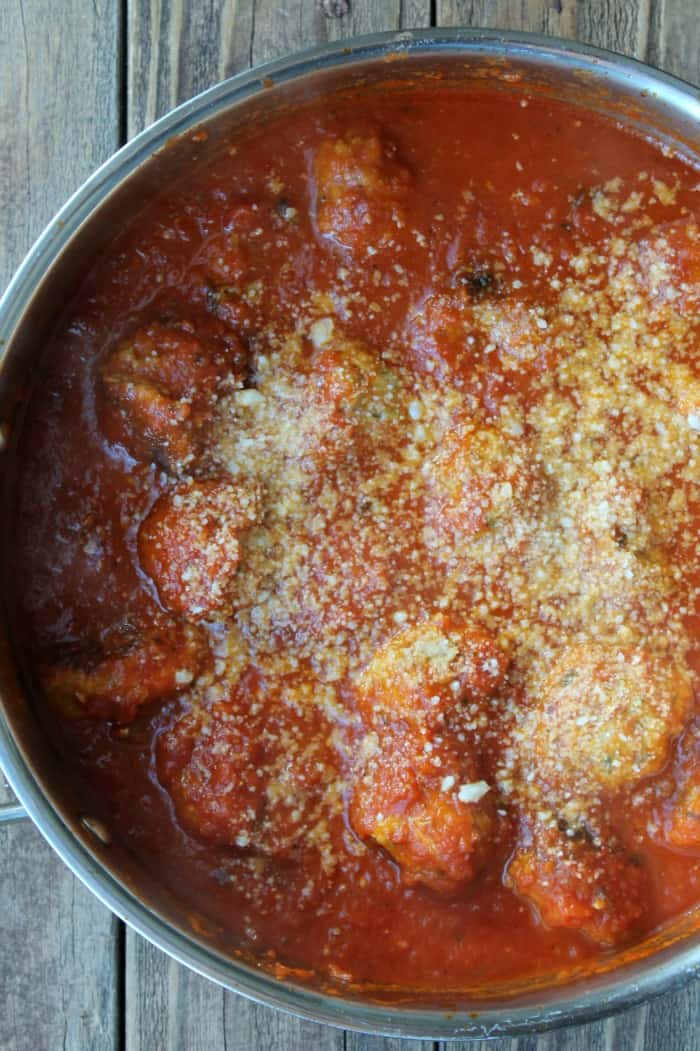 My secret sauce is jarred sauce. I know making my own is easy and with an Italian mom I should make it from scratch. And I can and do when I have the time. But I'm not above purchasing jarred sauce. My only requirement is it needs to be high quality sauce that taste delicious. The two I found that meets my approval are Delallo and Rao sauce. Both are delicious. Rao is a lot pricier than Dellalo but I have found large jars of it at BJ's Wholesale for a good price. Delallo can be bought online and in most grocery stores.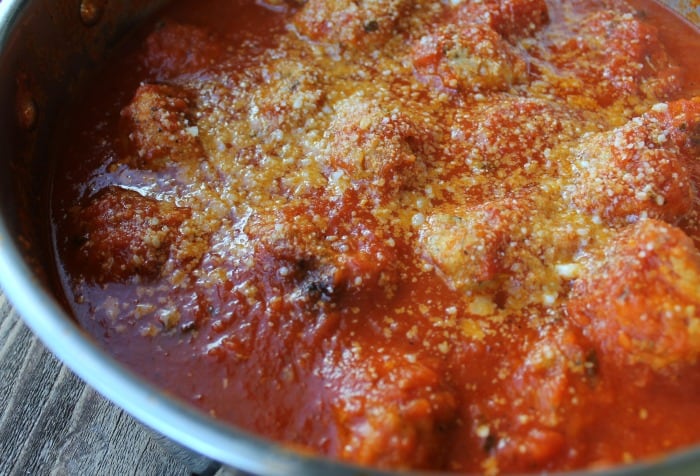 After the sauce and meatballs simmered for about 30 minutes I sprinkled some more grated parmesan on top and then enjoyed!
Personally, I like to enjoy these meatballs on their own with a salad. I try to save pasta for special occasions now. #over40problems.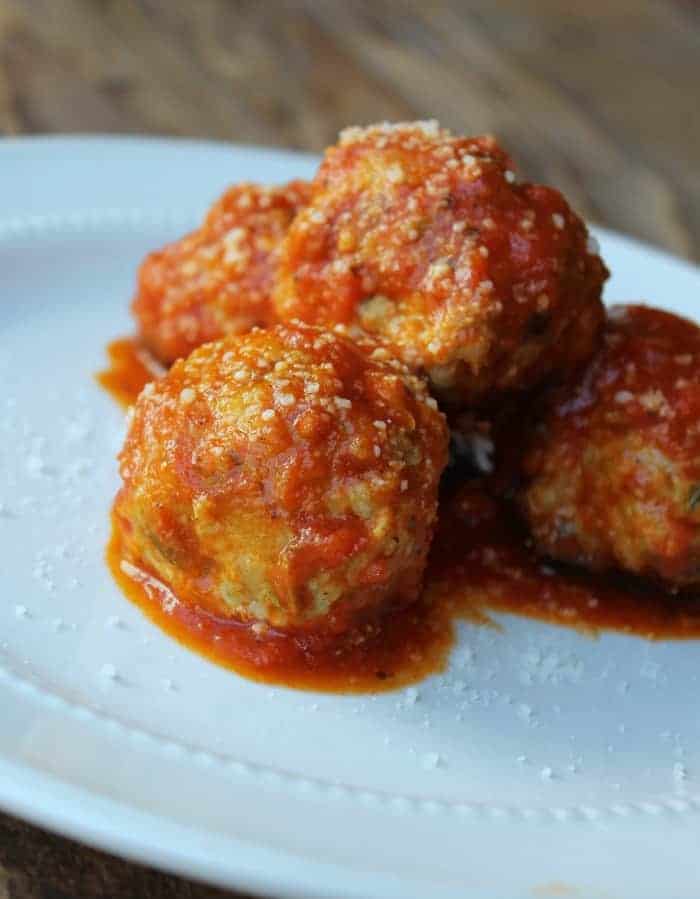 If you have zucchini left from your summer harvest I highly recommend giving these meatballs a try. They are juicy, delicious, and filled with goodness.
Here's a quick "how to" video I put together to bring this recipe to life for you.
Enjoy!

Turkey Zucchini Meatballs
Author:
Organize Yourself Skinny
Ingredients
1lb ground turkey
1 egg, beaten
1 teaspoon granulated garlic
1 teaspoon onion powder
½ teaspoon salt
½ teaspoon pepper
½ teaspoon Italian seasoning
1 tablespoon Worcestershire sauce
½ cup panko breadcrumbs
½ cup grated parmesan cheese
1½ cups shredded zucchini, water squeeze out
1 (25-ounce) jar marinara sauce
Instructions
Preheat oven to 350 degrees.
In a large mixing bowl place the ground turkey, egg, granulated garlic, onion powder, salt, pepper, Italian seasoning, Worcestershire sauce, breadcrumbs, and parmesan cheese.
Mix until all the ingredients are combined.
Form into 18 meatballs, place on a baking sheet sprayed with cooking spray, and bake for 20 minutes.
Combine meatballs and sauce in a saucepan, bring to a boil, and then simmer for 30 minutes.
Enjoy meatballs and sauce with pasta, in a sub, or as is.
Notes
Sugars: 0


Make-ahead instructions


These meatballs can be prepared ahead of time a few ways. You can form into meatballs and freeze prior to baking. Or you can bake the meatballs and freeze to cook in the sauce later on. Last, you can make the recipe completely ahead of time and freeze into portions.
Nutrition Information
Serving size:
3 meatballs and sauce
Calories:
181
Fat:
9
Saturated fat:
3
Carbohydrates:
7
Fiber:
0
Protein:
19
Get Instant Access to My Best Weight Loss Tips & Strategies!
Sign up now for a free step-by-step 7-day email course that I created exclusively for my email subscribers! That's you. I will teach the best habits, strategies, and insider tips so you can enjoy a lifestyle that encourages and supports weight loss! Stop relying on willpower and take control back over your life! You can do this. Let me help!