Heeeelllloooo mozzarella stuffed meatballs! Come to mama! LOOK AT THEM! Ooey gooey mozzarella cheese inside a moist flavorful meatball…ummm okay.
These meatballs came into my life by chance. Well, kinda. I was whipping up a batch of meatballs for meatball sub kits to freeze for back to school. As I was rolling the meatballs I suddenly had this genius idea to cut up mozzarella cheese sticks and stuff a chunk into each ball. Whoa!
Okay maybe this isn't genius like discovering electricity or that peanut butter taste AMAZING with chocolate but I was pretty proud of myself. Friends…this is what happens when you spend lots and lots and lots of time cooking. You get ideas to stuff food into other foods. It's just the way it is.
I wouldn't want it any other way because these meatballs are DA BOMB! Yes I still say DA BOMB. Again, it's just the way it is.
Let's break down this meatball recipe.
I started with a panade. A what? A panade. Basically, a panade is bread and milk mashed together into a paste. Now listen closely. This little tip will give you the most tender and moist meatballs of all time. I also use a panade in meatloaf recipes and many other ground beef or turkey recipes. It works. If you haven't tried this then I suggest tucking this tip away into your brain for a "must do" next time you make meatballs or meatloaf. Do you think meatloaf was created by a person who didn't feel like making meatballs that day? I mean, essentially it's one giant meatball. Anyway, this is the stuff I think about.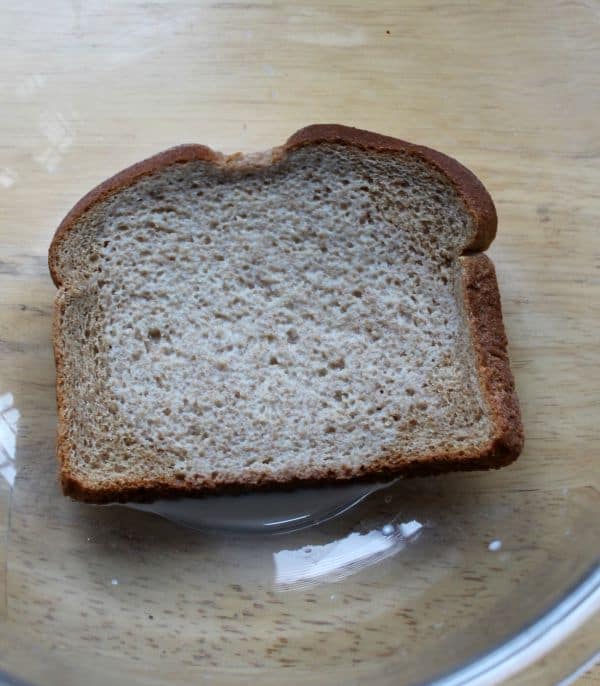 Here is the panade in it's mashed up form.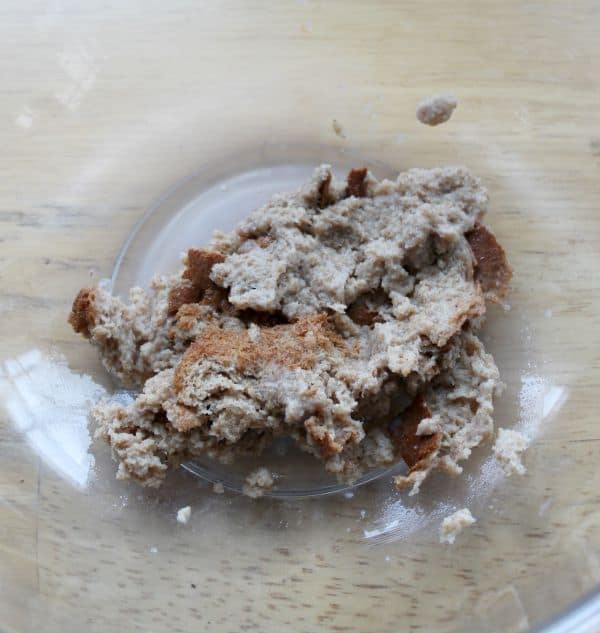 Next I poured in 2 beaten eggs. I think it's easier to beat the eggs before adding to a recipe. This way you don't have to spend extra time mixing the ingredients and trying to get the egg to distribute evenly.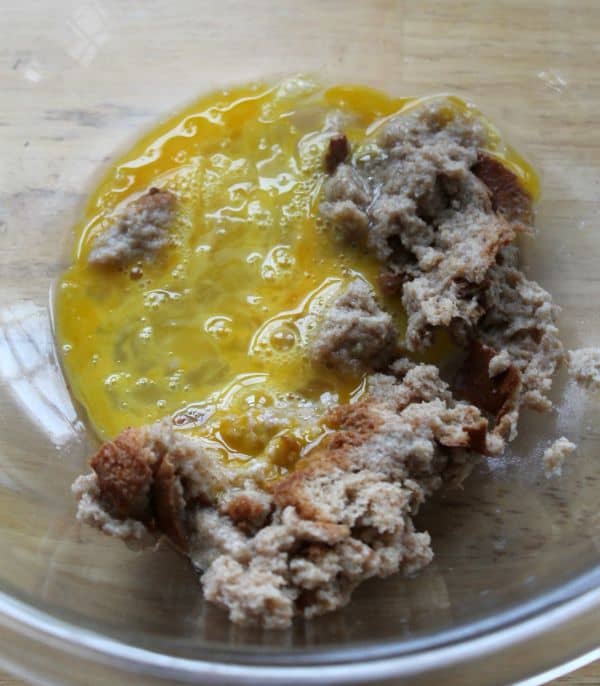 After I mixed the panade and egg I added in the ground turkey and Italian poultry sausage. Sausage in meatballs just brings them to a whole new meatball level. The flavor is great. I purchased 2 poultry Italian sausage links from the meat counter at my local grocery store. This amount equaled about 1 lb. My grocery store offered hot or mild sausages. If you want a spicier meatball then go with the hot sausage.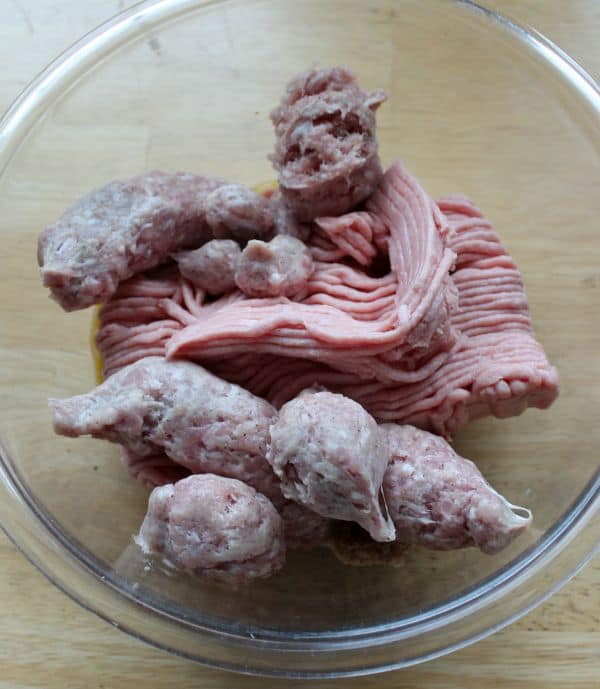 When using ground turkey its all about the seasoning. I always hear people say they hate ground turkey. Well, I am convinced they haven't had ground turkey prepared the right way. I season these meatballs with dried Italian seasoning, onion powder, granulated garlic, red chili flake, grated romano cheese, bread crumbs, and salt and pepper. Ground turkey needs salt and seasoning. Without it the flavors will be bland and beyond boring. However, with the correct amount of seasoning even the biggest turkey hater won't know they are eating turkey.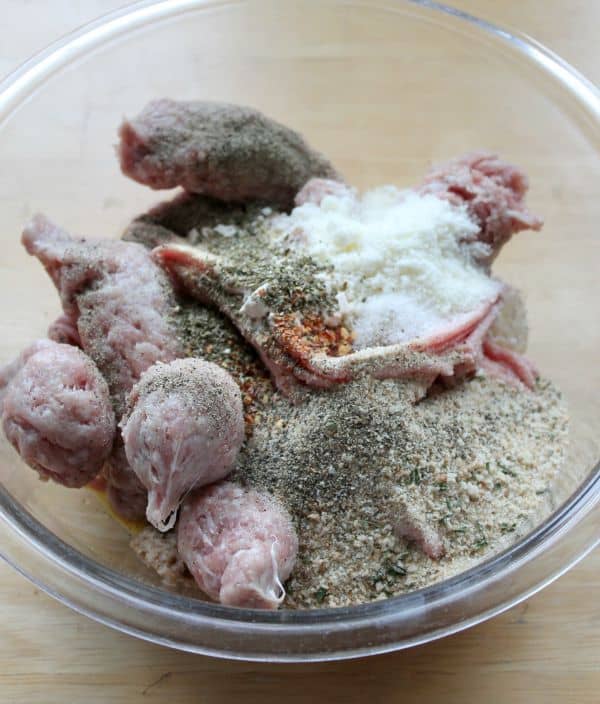 After I mixed all the ingredients together I used a cookie scoop to portion out the meatballs. I got 24 meatballs. Okay now comes my "genius" idea. I took 5 cheese sticks and cut each one into 5 pieces. I stuck one piece into the middle of each meatballs. BAM!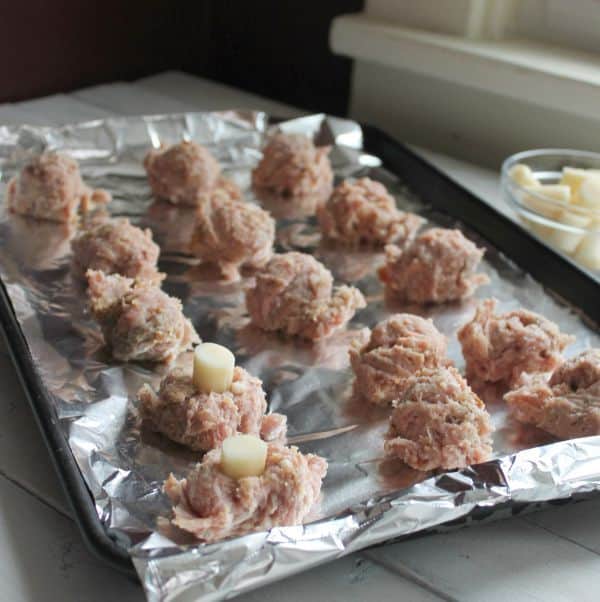 Then, using my hands, I rolled the meatballs until the cheese was covered. Perfectly rolled meatballs. My grandma would be proud.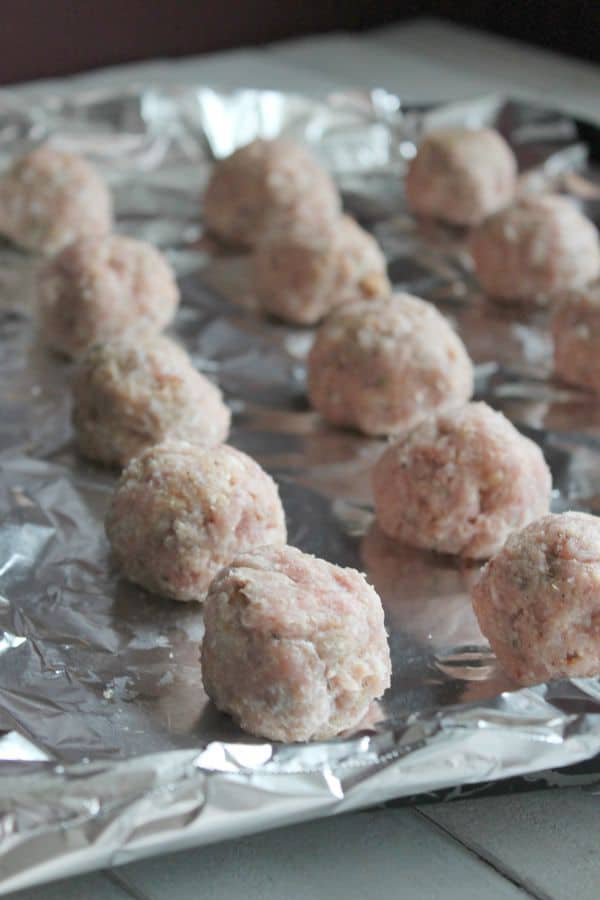 I baked the meatballs in a 350 degree oven for 25 minutes. A few of the meatballs had a little cheese oozing out but the centers were still filled with gooey delicious cheese.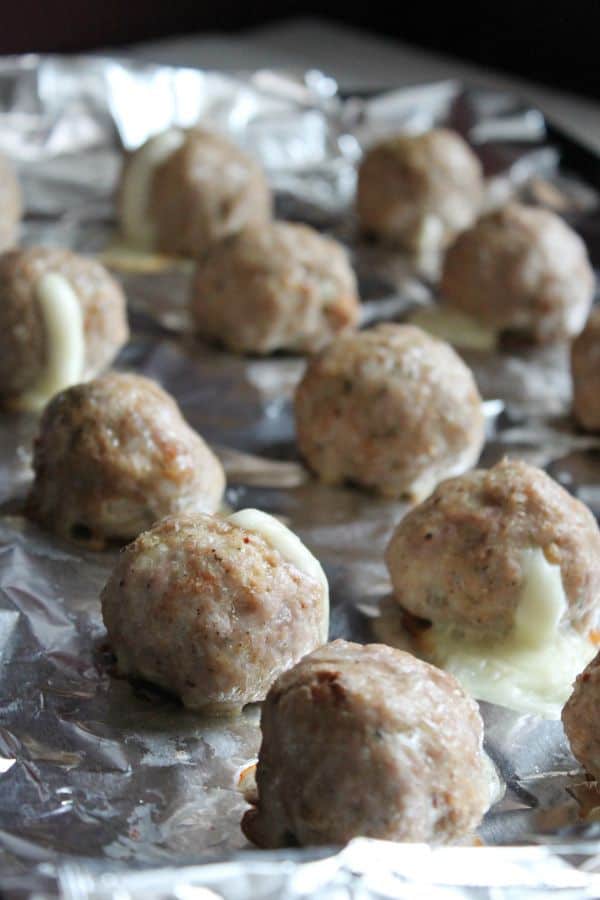 Just look at these meatballs. So delicious.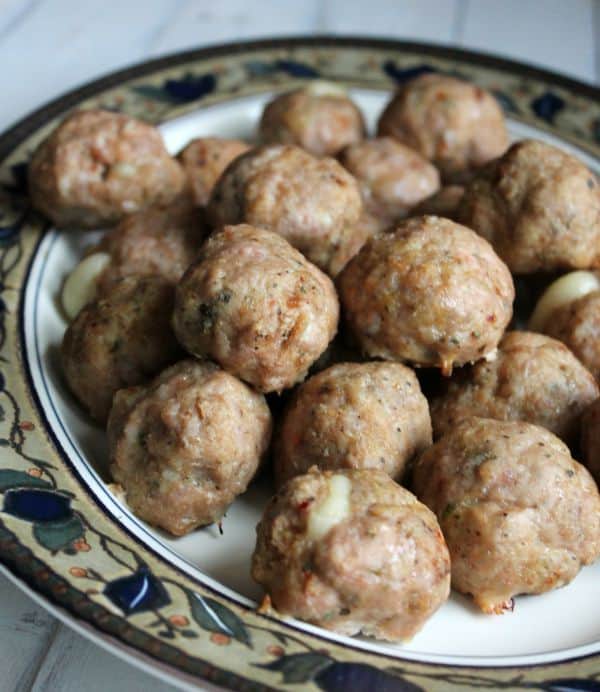 I served these with sauce and pasta one night. Another night we ate them in subs. I also enjoyed a couple on their own because honestly they are that good.
Ingredients
1

slice

whole wheat bread

2-3

tablespoons

1% milk

1

lb

ground turkey

1

lb

Italian poultry sausages

casings removed

2

eggs

beaten

1

teaspoon

Italian seasoning

1

teaspoon

granulated garlic

1

teaspoon

onion powder

½

teaspoon

red chili flakes

½

teaspoon

salt

½

teaspoon

ground black pepper

¼

cup

grated parmesan/romano cheese

1/2

cup

italian seasoned breadcrumbs

5

mozzarella cheese sticks
Instructions
Preheat over to 350 degrees.

In a large bowl mash together the bread and milk until it forms a paste then mix in the egg.

Next add the ground turkey, sausage, italian seasoning, granulated garlic, onion powder, red chili flakes, salt, black pepper, grated parmesan/romano cheese, and breadcrumbs.

Using your hands mix the ingredients until everything is distributed evenly.

Portion out the meat mixture into 24 meatballs. I used a cookie scoop for this but you can also measure out 2 tablespoons of mixture per meatball. Please note this might change the amount of meatballs you end up with.

Cut up the cheese sticks into 5 pieces each. Place one piece into the center of each meatball and then roll it into a ball making sure to cover the cheese completely.

Bake for 25 minutes. Serve hot. If you choose you could place the meatballs in sauce to serve with pasta. The mozzarella will stay put in the meatballs.
Notes
Make ahead tips
These meatballs can be made completely ahead of time. After they are cooled place into a quart size freezer bag and freeze. Reheat in the microwave or in sauce on the stove.
Nutrition
Serving:
1
g
|
Calories:
81
kcal
|
Carbohydrates:
3
g
|
Protein:
8
g
|
Fat:
4
g
|
Sugar:
2
g
Other Healthy Meatball Recipes