Delicious tender chicken meatballs, smothered in sauce and cheese, and baked until bubbly hot. This new twist on an Italian classic is easy to make and will quickly become a family favorite!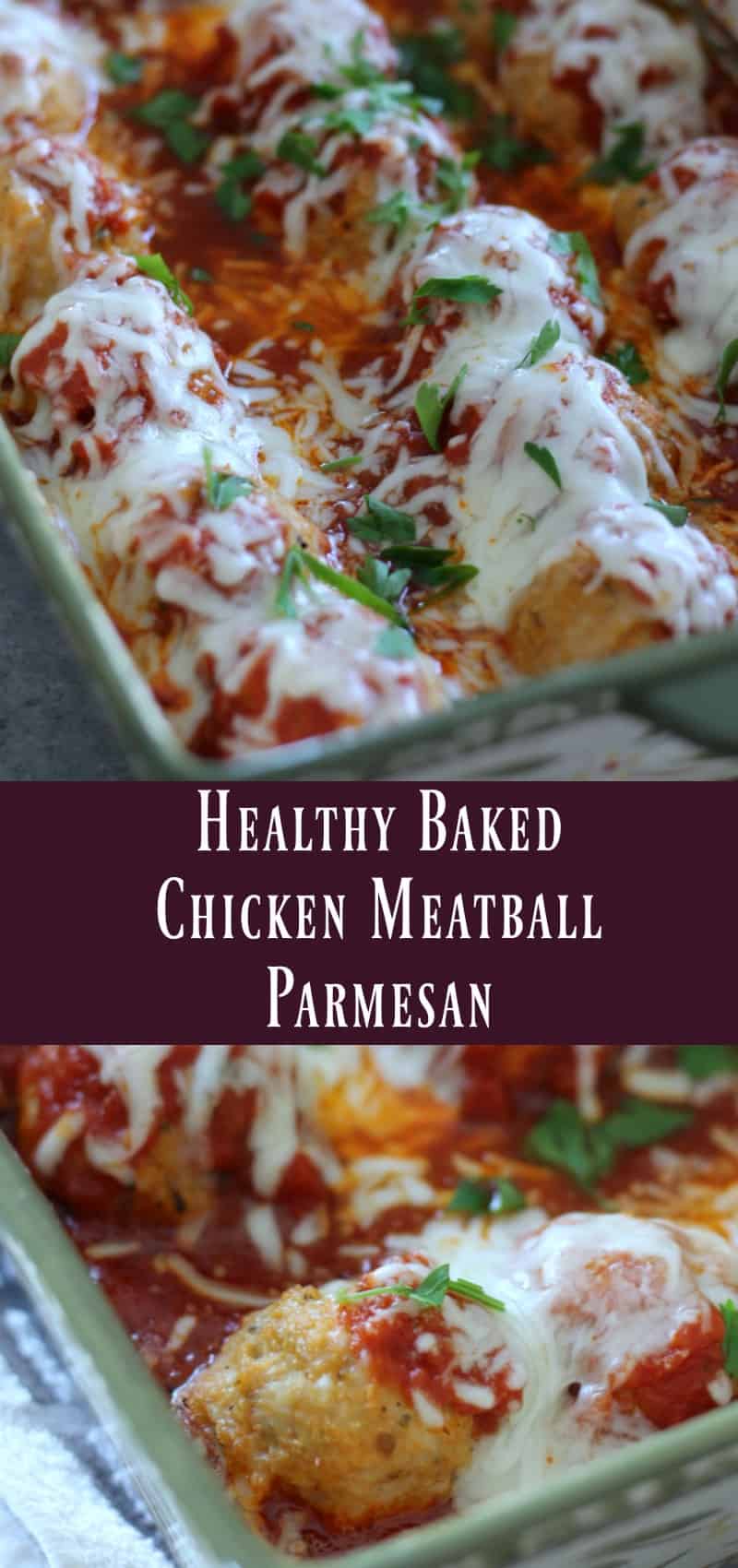 I prepare a lot of recipes. Many make it to the blog, some make it to the garbage, and some find a special place in my heart – this baked chicken meatball parmesan found a place in my heart. I don't know what it is but I'm a sucker for anything smothered in cheese and sauce, maybe because my mom's Italian and I grew up eating Italian food. Who knows? All I know is the smell of anything Italian cooking just brings me to a happy place.
This Baked Chicken Meatball Parmesan has been lurking around in my head for awhile. In general, I'm a big meatball fan. I didn't used to be but over the years I've learned to appreciate meatballs for a variety of reasons.
Meatballs are super easy to make. Mix everything together, roll into balls, and bake. Bam, done!
I can make A TON ahead of time and they freeze great. You know how I feel about meal prep. I live by it and it's been the cornerstone to keeping my healthy lifestyle.
I can get really creative with meatballs. No need to make the same boring meatball over and over again. Anything can be mixed into a meatball.
When made with chicken or turkey meatballs are very healthy and fit nicely into a lower carb lifestyle.
Meatballs are filling! Sure you can eat them with pasta but most of the time I'll enjoy a serving of meatballs with a salad or vegetables. Think beyond spaghetti and meatballs.
Oh and all of these principles apply to meatloaf too.
Anyway, have I converted you to a meatball lover yet?
If not, then I think this Chicken Meatball Parmesan recipe might do the trick. Let's get to it.
I started with 1lb ground chicken, 1 large egg, 1/2 cup unseasoned breadcrumbs, 1/4 cup grated romano or parmesan cheese, 1/4 cup marinara sauce, garlic, worcestershire sauce, and seasonings.
A couple notes about the ingredients. First, adding marinara to the chicken provides moisture and flavor. It's very easy for chicken to dry out because it doesn't have any fat, adding liquid helps with that. Second, I love using worcestershire sauce in any meatball, meatloaf, or burger recipe that uses ground chicken or turkey. It's actually my "secret" ingredient that I guess isn't so secret anymore. Worcestershire sauce gives the chicken or turkey a rich "meaty" flavor.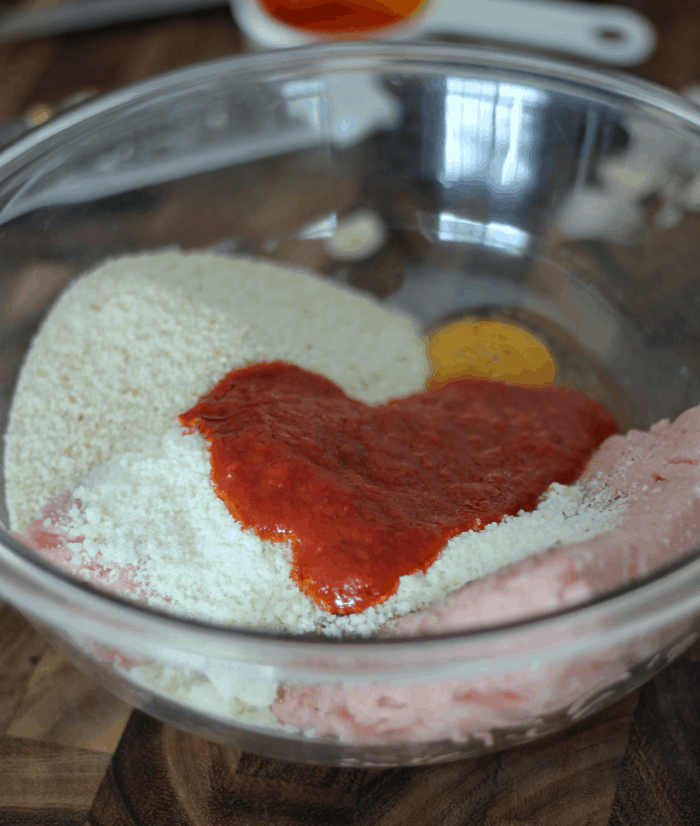 After I mixed all the ingredients together I used a medium cookie scoop to measure out 18 meatballs. Please note this chicken mixture is going to be wet so it's helpful to have some water close by to wet your hands. This keeps the meat from sticking to your hands and helps to roll the meatballs.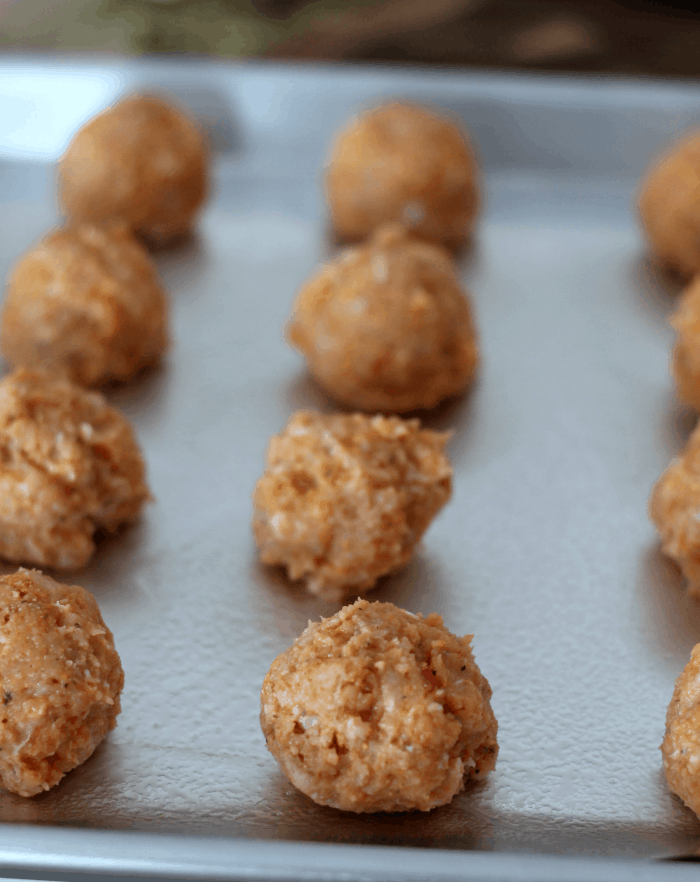 Then I baked the meatballs in a 375 degree oven for 20 minutes. As you can see, they firm right up.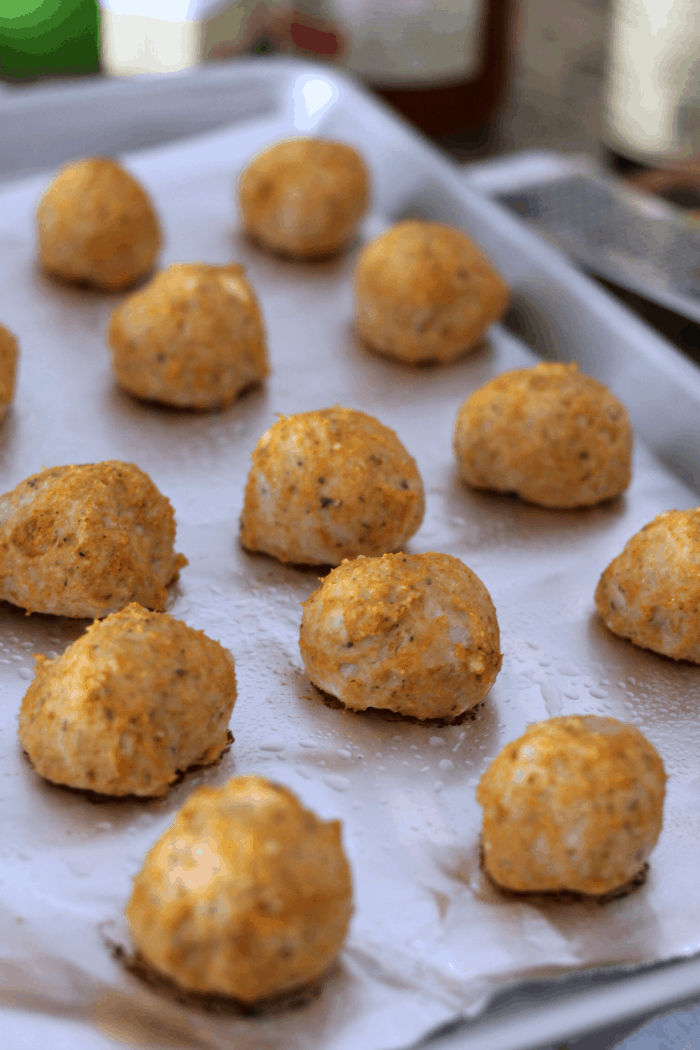 Next, I poured 1/2 cup of spaghetti sauce on the bottom of a 9 x 13 baking dish and then nestled all the meatballs on top of the sauce. I poured another cup of sauce over the meatballs.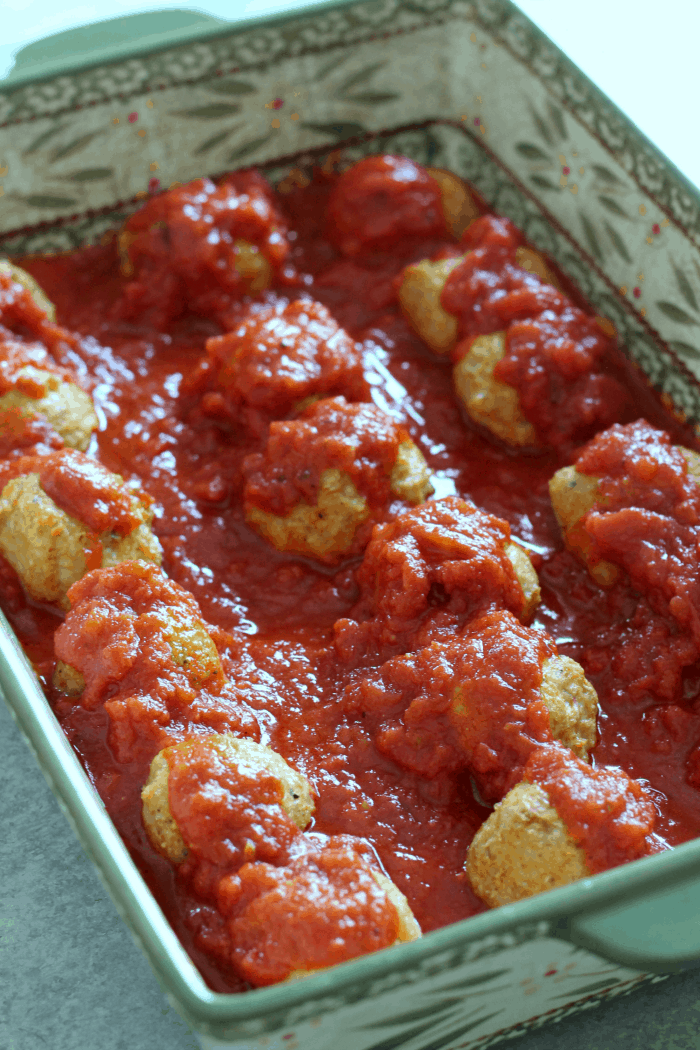 Before putting in the oven I sprinkled 1 cup of shredded mozzarella on the meatballs. Then I covered with foil and baked for another 20 minutes in a 375 degree oven.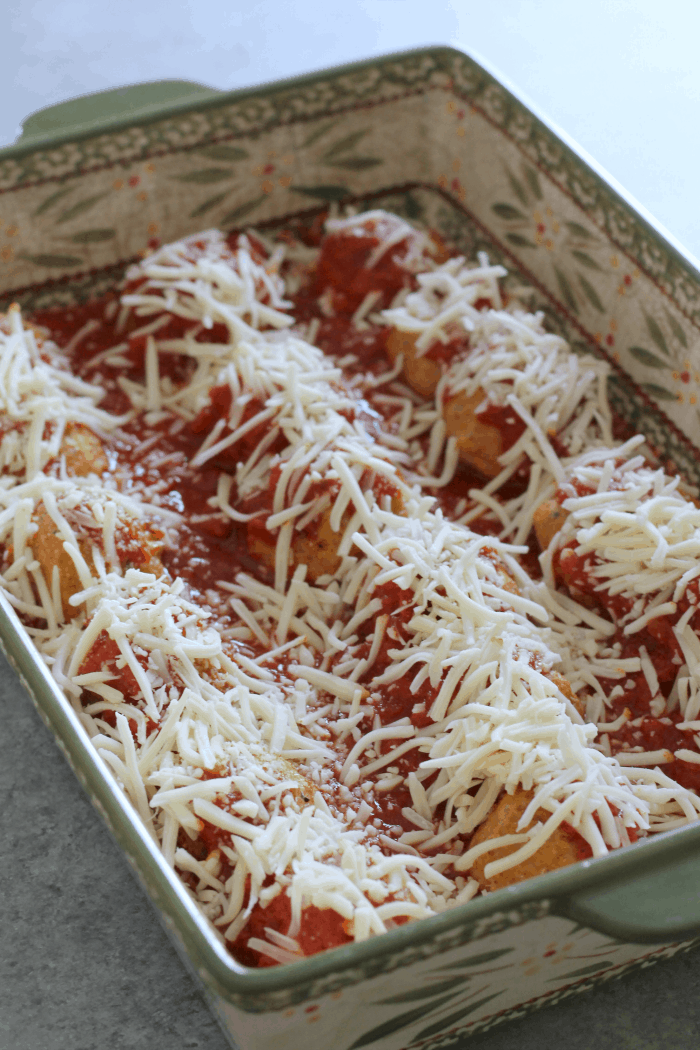 Mama mia the smells coming from my kitchen! Scrumptious!
Lets touch base about the sauce I use. Yes, I used jarred sauce. I'm not ashamed to admit that because heck I need some convenience in my life too and jarred spaghetti sauce is a convenience food I depend on for recipes like this. It works and taste great. Also, I'm willing to spend a little extra to splurge on quality jarred sauce brands like Rao's and Dellalo, both are my favorites.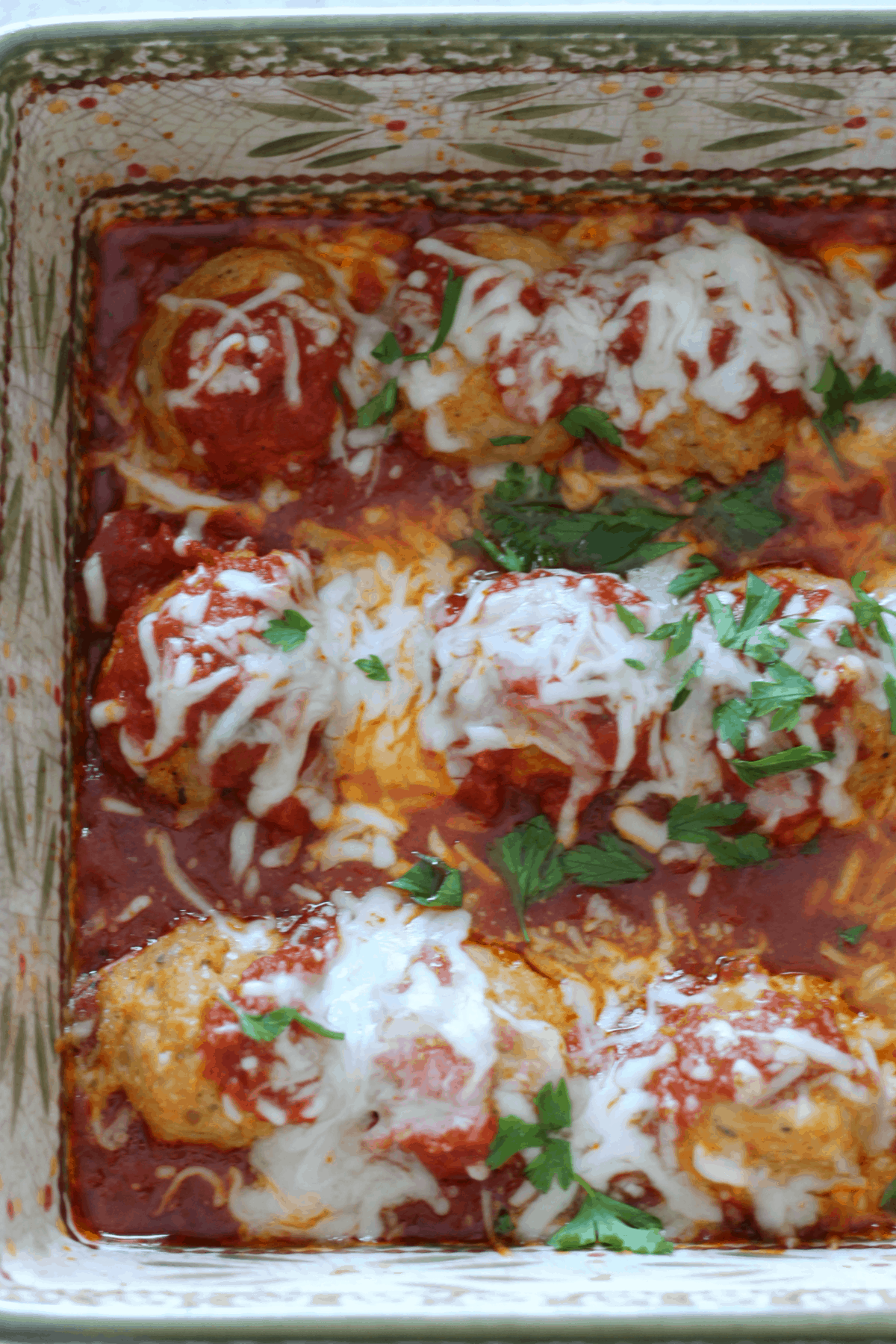 This Chicken Meatball Parmesan is delicious. It's everything you love about chicken parm but rolled into a meatball. Of course, you can eat this with pasta but I recommend keeping it low-carb and enjoy it with zoodles, salad, or a vegetable. I'm telling ya, these meatballs are filling and super tasty so in my opinion pasta just gets in the way.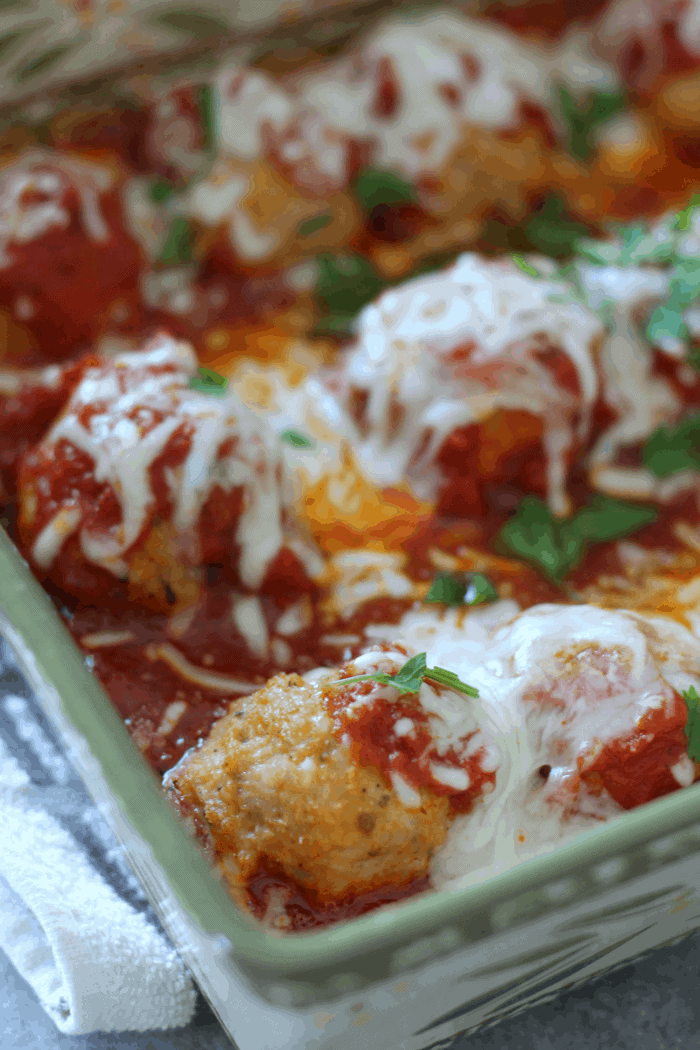 I decided to portion the chicken meatballs out in glass containers to have ready for dinners during the week. You can easily freeze this for a future meal too. The bowls below are simply store glass pyrex bowls.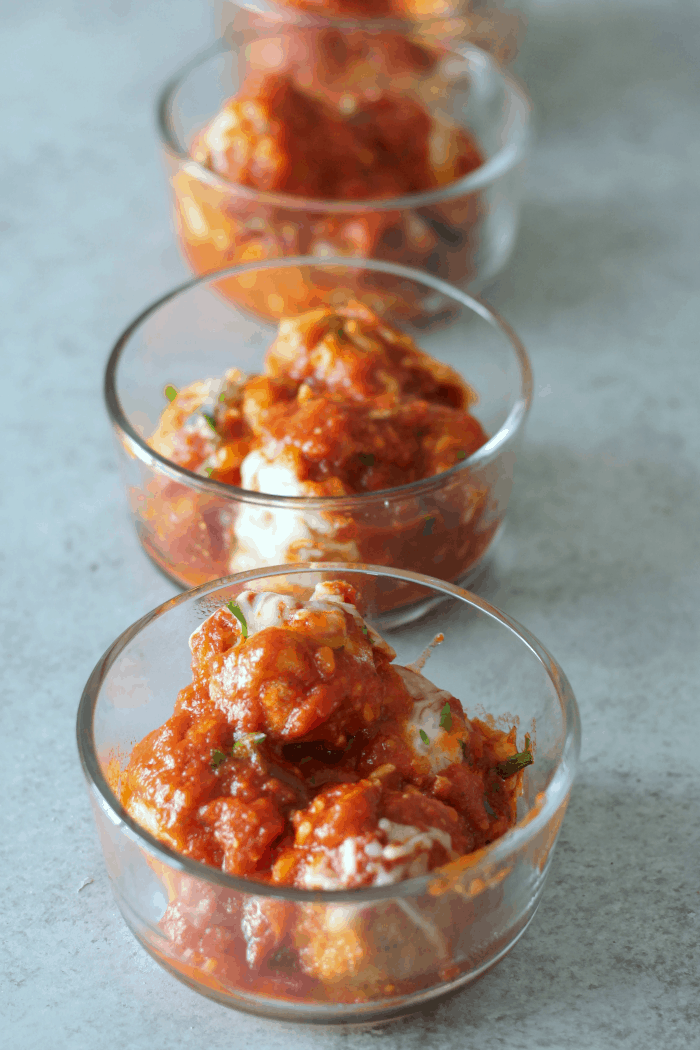 Healthy Baked Chicken Meatball Parmesan
Author:
Organize Yourself Skinny
Ingredients
1 lb ground chicken breast
1 egg
3 garlic cloves, grated or finely chopped
1 teaspoon onion powder
1 teaspoon Italian seasoning
½ teaspoon salt
1 teaspoon ground black pepper
1 tablespoon Worcestershire
¼ grated parmesan or romano cheese
½ cup unseasoned bread crumbs
2 cups spaghetti sauce, divided
1 cup shredded mozzarella cheese
Instructions
Preheat oven to 375 degrees.
In a medium bowl mix together ground chicken, egg, garlic, onion powder, Italian seasoning, salt, black pepper, Worcestershire sauce, grated cheese, breadcrumbs, and ¼ cup of the spaghetti sauce.
Form into 18 meatballs and place onto a baking sheet coated with cooking spray. I lay foil on the sheet to help with clean up.
Bake for 20 minutes.
As the meatballs cook, cover the bottom of a 9 x 13 baking dish with ½ cup of the spaghetti sauce. After the meatballs are done place them in the baking dish. Pour the rest of the spaghetti sauce, and sprinkle the mozzarella cheese, over the top.
Cover the dish with foil and bake for another 20 minutes.
Serve hot.
Notes
sugar: 2


Make-ahead instructions


The meatballs can be made ahead of time a couple different ways. First, you can make the recipe completely, portion out, and store in the refrigerator (up to 5 days) or freeze (up to 3 months). Reheat in the microwave. Second, you can bake the meatballs and then freeze before baking in the sauce. When you're ready to use the meatballs thaw them overnight in the refrigerator and then continue with recipe. Please note you might need to add on a couple minutes if the meatballs weren't thawed all the way.
Nutrition Information
Serving size:
3 meatballs
Calories:
253
Fat:
13
Saturated fat:
5
Carbohydrates:
10
Fiber:
1
Protein:
24
Get Instant Access to My Best Weight Loss Tips & Strategies!
Sign up now for a free step-by-step 7-day email course that I created exclusively for my email subscribers! That's you. I will teach the best habits, strategies, and insider tips so you can enjoy a lifestyle that encourages and supports weight loss! Stop relying on willpower and take control back over your life! You can do this. Let me help!