Delicious turkey meatballs filled with spinach, feta, and red onion served with zoodles make for a delicious low-carb high protein meal prep idea to keep healthy options in the refrigerator all week.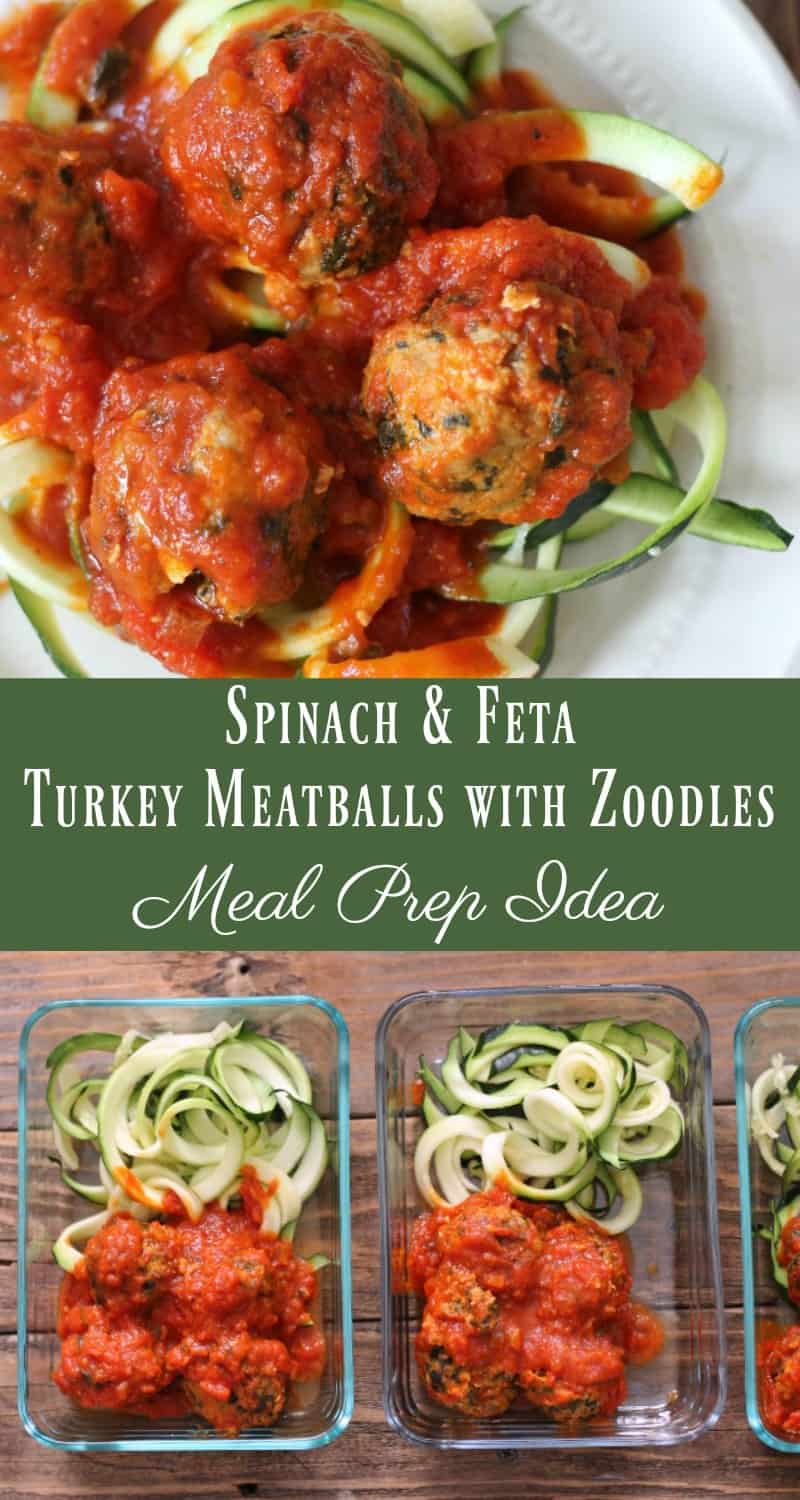 Where do I start with this turkey meatball recipe? Do I start with the delicious ingredients? I mean really how can we go wrong with feta and spinach – those might be 2 of my favorite ingredients to use together. Or maybe I should talk about the simplicity of cooking these meatballs in a slow cooker? Or if you don't want to use the slow cooker then you can prepare this in the oven or on the stovetop? Or just maybe, I should rave about my new love for zoodles? Wait, I know! I can talk about taking all of those things and turning this recipe into the best meal prep idea ever.
I think I'll just cover all of the above. By the way, you can expect to see more meal prep ideas in the future. I know I give make-ahead instructions with all of my recipes but I want to get more specific with how to take recipes and prepare them ahead of time.
Okay let's get to this delicious Spinach and Feta Turkey Meatball Recipe..
The first thing you need to do is create a panade. A panade is simply a paste made out of mashing bread and milk together. I use whole wheat bread but any bread will work. I've talked about the importance of panades and meatball recipes before. Basically, it keeps the meatballs juicy. I use panades in meatloaf recipes too which makes sense considering a meatloaf is basically one giant meatball.
After you make the panade then place the ground turkey, spinach, feta, chopped onion, spices, Worcestershire sauce, and breadcrumbs on top. Let's talk a little bit about the spinach. I use a 10-ounce package of frozen spinach for this recipe. To thaw the frozen spinach, I removed it from the package and placed it into a microwave-safe bowl and then cooked it on high for 4 minutes. I broke it up a bit and then cooked it for another 3 minutes or so. Then I let it sit for about 5 minutes. Please note the spinach is super hot when you take it out of the microwave so that's why it needs to sit.
Now this is the very important part. After the spinach cools you need to drain the water. And I mean drain it good. Frozen spinach works great in recipes but if you don't adequately drain it then it's going to add too much moisture to the recipe and most likely ruin it. I used a mesh strainer to squeeze the water out of the spinach. If you don't have a mesh strainer I reccomend getting one because this kitchen tool comes in very handy. You can get 3 different sizes for less that $12 on Amazon.
Okay, that was a lot of talk about frozen spinach – lets move on.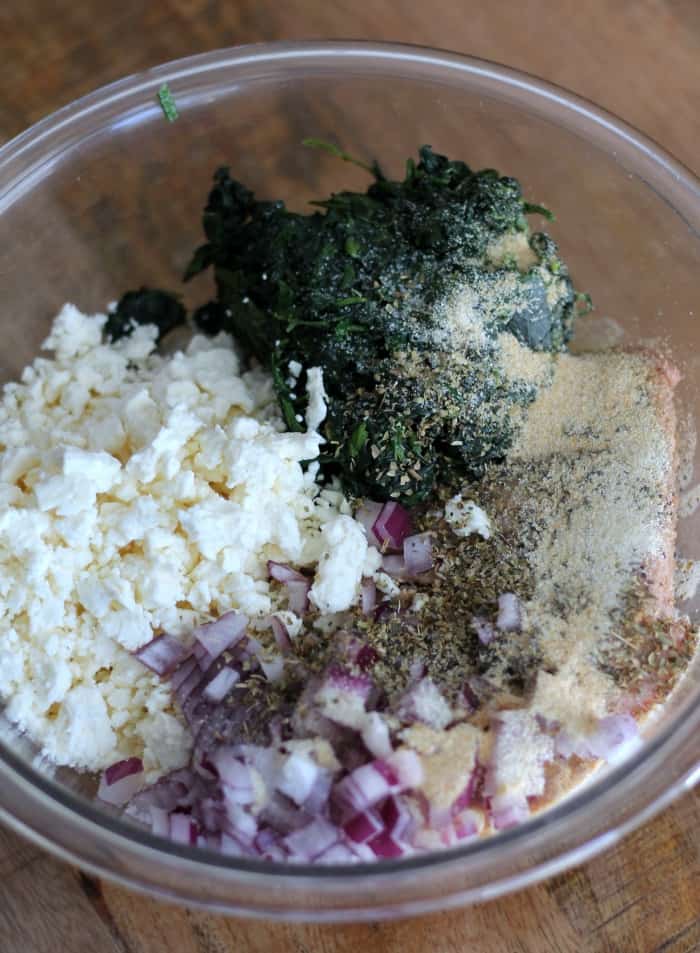 Mix all the ingredients together until everything is evenly distributed among the ground turkey. Then use a medium cookie scoop to make around 18 – 20 meatballs. I have 2 cookie scoops – one for baked goods and one for meatballs. You can purchase a medium cookie scoop on Amazon too.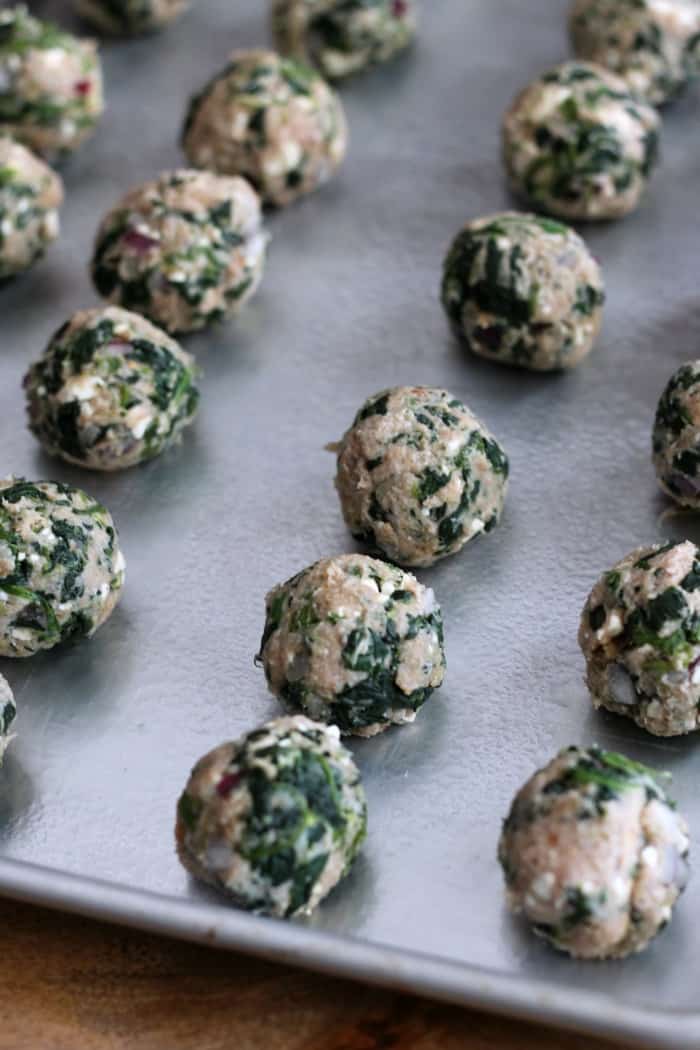 Place the meatballs into a 350 degree oven for 20 minutes. You're not looking to bake the meatballs completely but just firm them up so they don't fall apart in the slow cooker. Now…if you don't want to cook in the slow cooker then cook the meatballs for a total of 30 minutes and then serve with warm sauce or however you wish. I like cooking my meatballs for a few hours in sauce because it creates a juicy flavorful meatball and also brings an extra layer of flavor to the sauce.
Also, if you want to cook the meatballs in the slow cooker at later time then you can easily make a slow cooker freezer kit. Simply cook the meatballs for 20 minutes, let cool, and then place in a large freezer bag with the sauce. Lay the bag flat in the freezer for a couple hours, or until the meatballs and sauce are frozen. Then move to wherever it needs to be in the freezer. When you're ready to make it place the meatballs and sauce into the slower cooker. If it's still frozen add on 1-2 hours to cooking time.
As you can see this recipe is very versatile.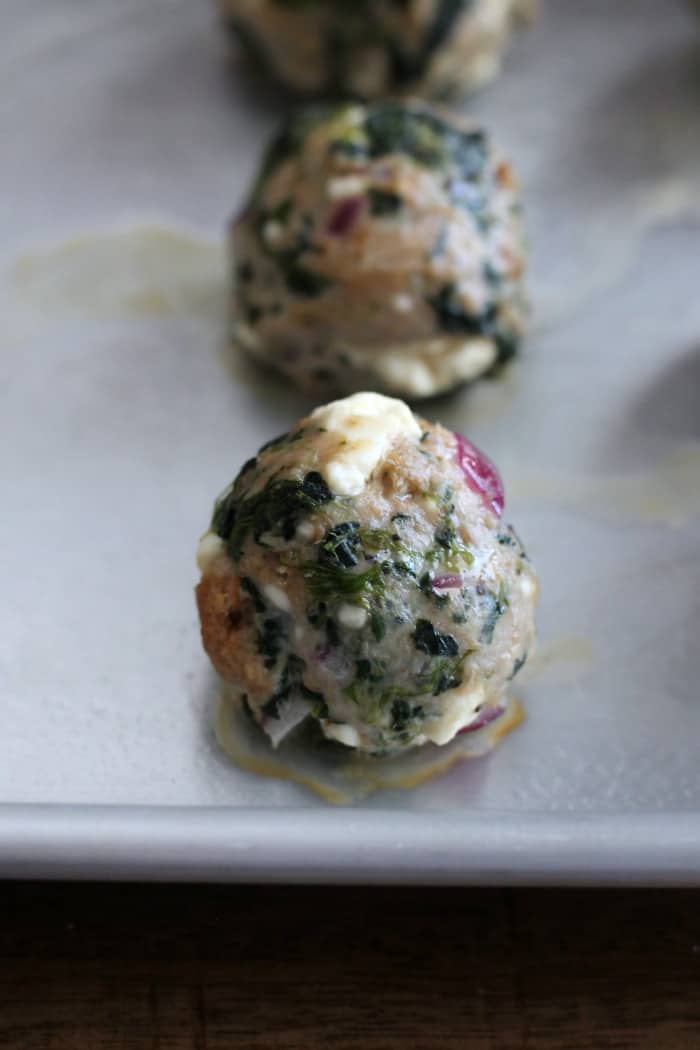 Let's continue on with making the recipe.
After the meatballs are done place them all into the slow cooker. Don't these look tasty?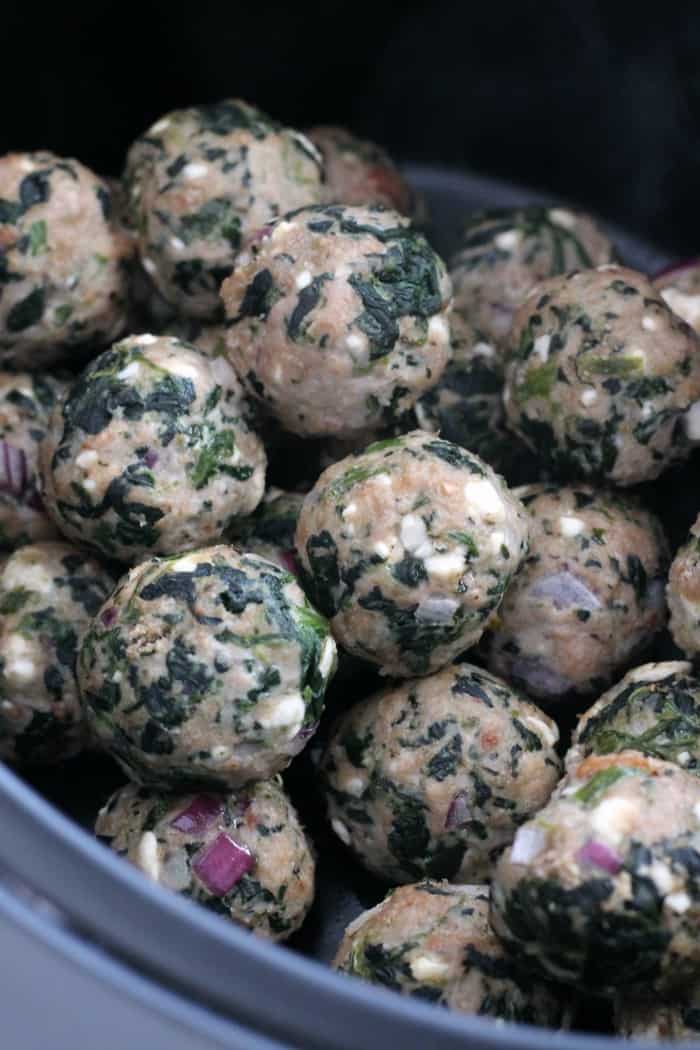 Then pour about 3 cups of marinara sauce over top. Hands down, my favorite sauce is Rao's Homemade Marinara. It's a little on the pricey side but it's the closest to homemade you'll find. I get it at a great price at BJ's Wholesale but if you don't have access to a Wholesale club, or your local store doesn't carry it, then you can find it for a good price at Thrive Market (Here's 20% off your first 3 orders).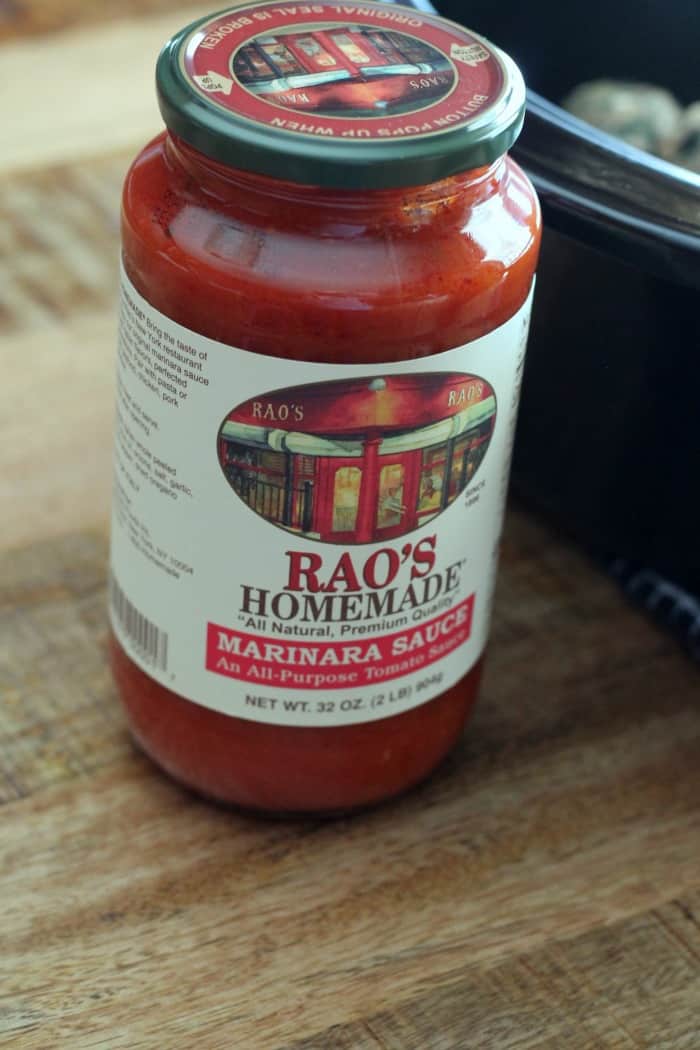 Set the slow cooker to cook on low for 4-5 hours. In the past, I would serve this with pasta or in rolls but I'm trying to stick to a lower carb lifestyle during the week so I decided to enjoy these meatballs with zoodles. Have you tried zoodles yet? Zoodles are just zucchini noodles spiralized into noodles. I have this Hamilton Beach electronic spiralizer that makes it very easy.
For the zoodles you can saute them with garlic and olive oil, boil for a couple minutes, steam, or just serve raw. I kept them raw with this recipe. The heat from the sauce warmed up the zoodles nicely.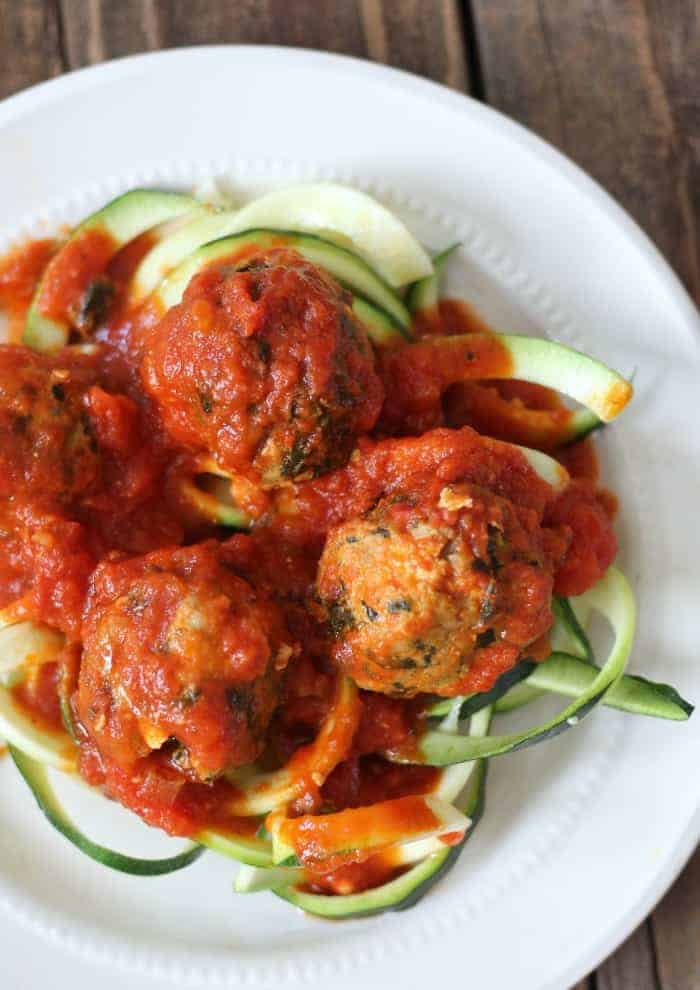 Now, let's talk about my fancy meal prep idea. Okay, it's not very fancy but it's definitely helpful during the week when you want to eat healthy but have zero time.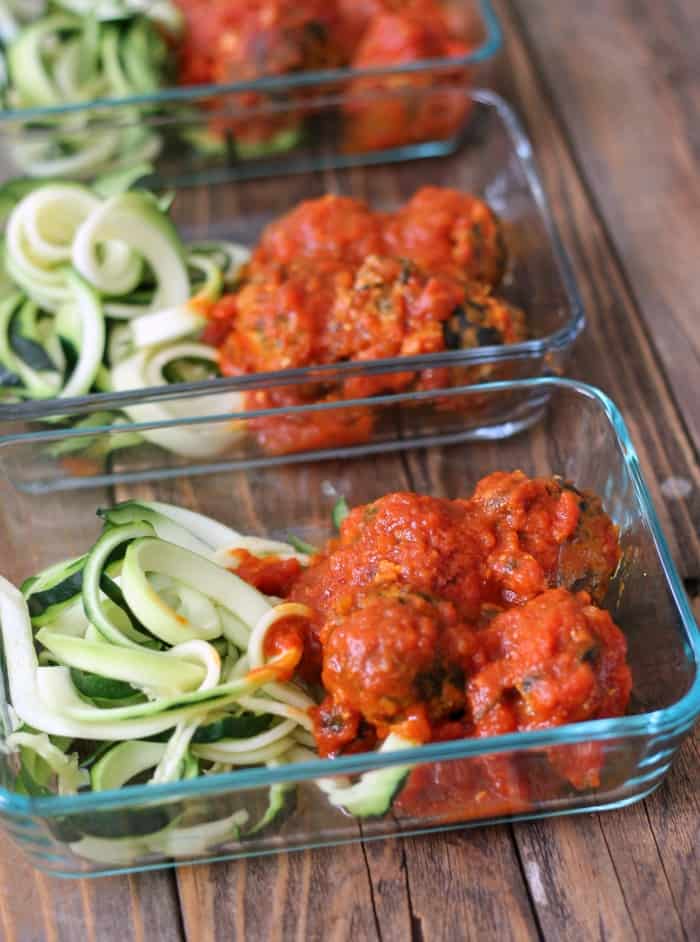 One reason I kept the zoodles raw was I planned on warming this recipe up in the microwave throughout the week – I knew that would soften up the zoodles. I was right. The turkey meatballs and zoodles warmed up perfectly.
Also, this is one of the tastiest meatballs ever. Now, I don't mean to toot my own meatball horn but I've become quite the meatball maker over the years. My chicken parmesan meatballs and turkey pesto meatballs are two of my favorites buuuut this spinach and feta meatball recipe is up there as a top contender. The spinach keeps these meatballs super juicy while feta cheese does it job at making it super tasty.
This Spinach and Feta Turkey Meatball recipe with Zoodles is the perfect meal prep idea if you're looking for a low-carb healthy meal that's delicious and will fill you up.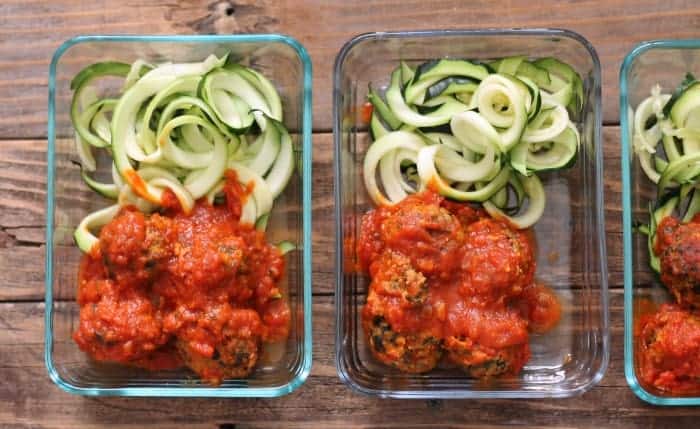 Other healthy meatball recipes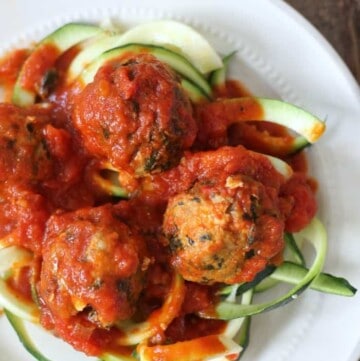 Meal Prep Idea: Spinach and Feta Turkey Meatballs with Zoodles
Print
Pin
Rate
Ingredients
1

slice

whole wheat bread

2-3

tablespoons

milk

1

lb

ground turkey

10-

ounce

package frozen chopped spinach

thawed and completely drained

6-

ounce

container crumbled feta cheese

1/2

medium red onion

finely chopped

1

tablespoon

Worcestershire sauce

1

teaspoon

salt

1/2

teaspoon

ground black pepper

1

teaspoon

dried oregano

1

teaspoon

granulated garlic

1

teaspoon

onion powder

1/4

cup

unseasoned bread crumbs

3

cups

marinara sauce

2

medium to large zucchini

prepared into zoodles
Instructions
Preheat oven to 350 degrees.

In a large bowl mix together bread and milk until it forms a paste.

On top of the paste, place the ground turkey, spinach, feta, red onion, Worcestershire sauce, salt, pepper, oregano, garlic, onion powder, and bread crumbs.

Carefully mix together until all of the ingredients are distributed throughout the meat.

Form meatball mixture into 18 – 20 meatballs and place on a baking sheet sprayed with cooking spray.

Bake for 20 minutes.

Place meatballs into the slow cooker with 3 cups of marinara sauce.

Cook on low for 4-5 hours.

Serve zucchini noodles.
Notes
Make-ahead tips
This recipe can be made ahead a few different ways. First, you can make it completely ahead of time (like I did in this post) and portion it out into servings to enjoy for dinner during the week. You can also, prep the slow cooker the night before to make the meatballs for dinner the next day. Last, you can freeze the meatballs after they are baked and create a slow cooker freezer kit to use at a later time. This is a very versatile recipe that can be prepped ahead many different ways.
Nutrition
Serving:
3
g
|
Calories:
326
kcal
|
Carbohydrates:
19
g
|
Protein:
22
g
|
Fat:
19
g
|
Saturated Fat:
5
g
|
Fiber:
2
g
|
Sugar:
7
g