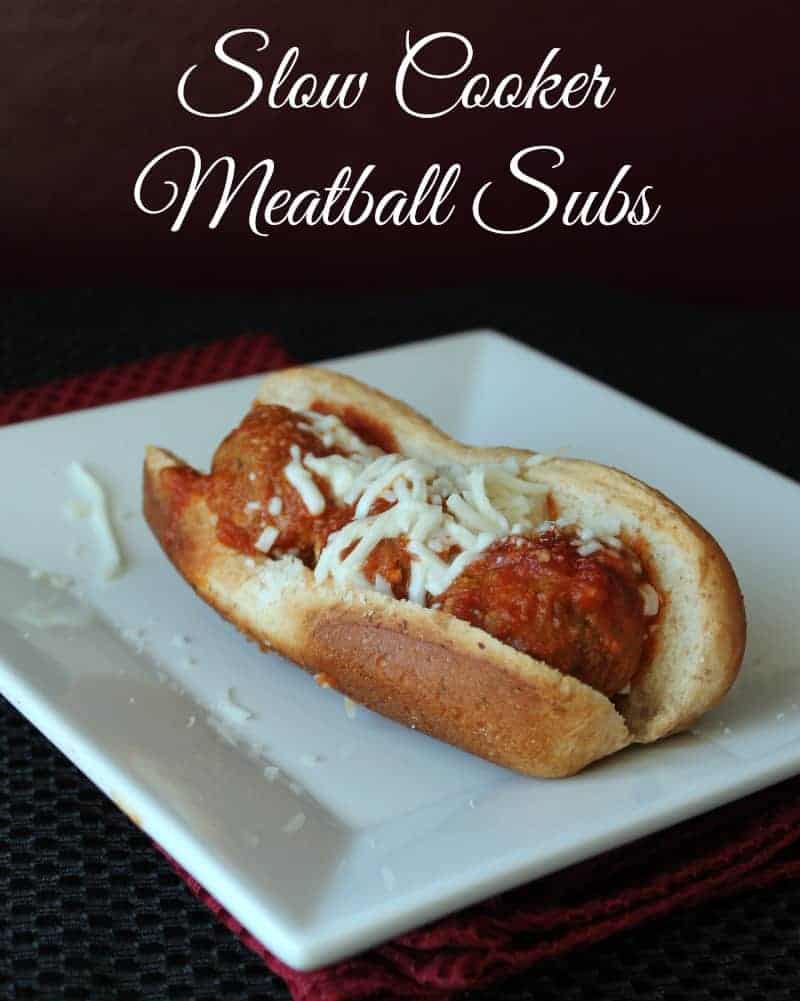 I find it funny the things that excite me at almost 40 years old. A new paint job on the house, a new set of windows installed, gutters fixed, clutter cleaned up and organized, and so on. Basically, anything that makes my home clean and cared for causes me to get giddy like a teenager. I know I am not the only one. And if I am don't tell me.
Something else that makes me happy is when I find a recipe my entire family loves, is incredibly easy to make, AND can cook all day in the slow cooker. Yep those three things will send me floating on cloud 9.
This new slow cooker meatball sub recipe is all those things and more. It is delicious, has minimum prep, and can easily be made ahead of time. Seriously, you guys will love this recipe.
In the past, I made meatball subs but baking the meatballs in the oven then simmering them in a sauce. Then I would place the meatballs in a roll, sprinkle mozzarella cheese on top, and broil until melted. Now this did not take a lot of time and was quite easy to do. But this slow cooker recipe is way easier and results in a super moist and tender meatball.
For this slow cooker recipe you don't have to cook the meatballs ahead of time. At first, I was going to, but decided to make it first without that step. I wanted simple. I was a little nervous but I went for it anyway. I roll each meatball and place in the bottom of the slow cooker.
I used a bread and water "paste" when making these meatballs. I learned this trick from the America's Test Kitchen Slow Cooker Cookbook. In the paste, I mixed in the seasonings and bread crumbs so I did not have to mix the meatballs too much. It will look a little wet but don't worry this paste will create a very moist meatball.
Once the meatballs were in, I poured a jar of pasta sauce over the top. I used a 25.5-ounce jar of Wegmans Organic Roasted Garlic Pasta Sauce. It comes to about 2 ½ cups of sauce. You can use any sauce you like.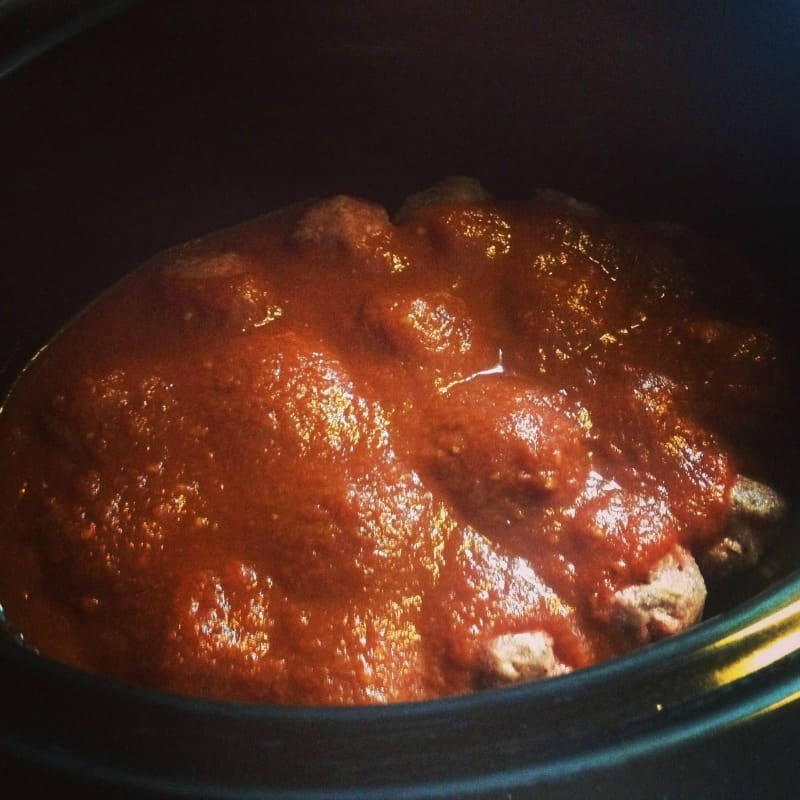 Then I set the slow cooker to low and let it do it's magic for 7 hours on low. If you are at work all day these should be fine on warm for an hour or so until you get home.
After the meatballs are done, I placed 3 on a bun, and sprinkled some mozzarella cheese on top. The cheese melted on its own so no need to place in broiler. So easy! It was the perfect weeknight recipe.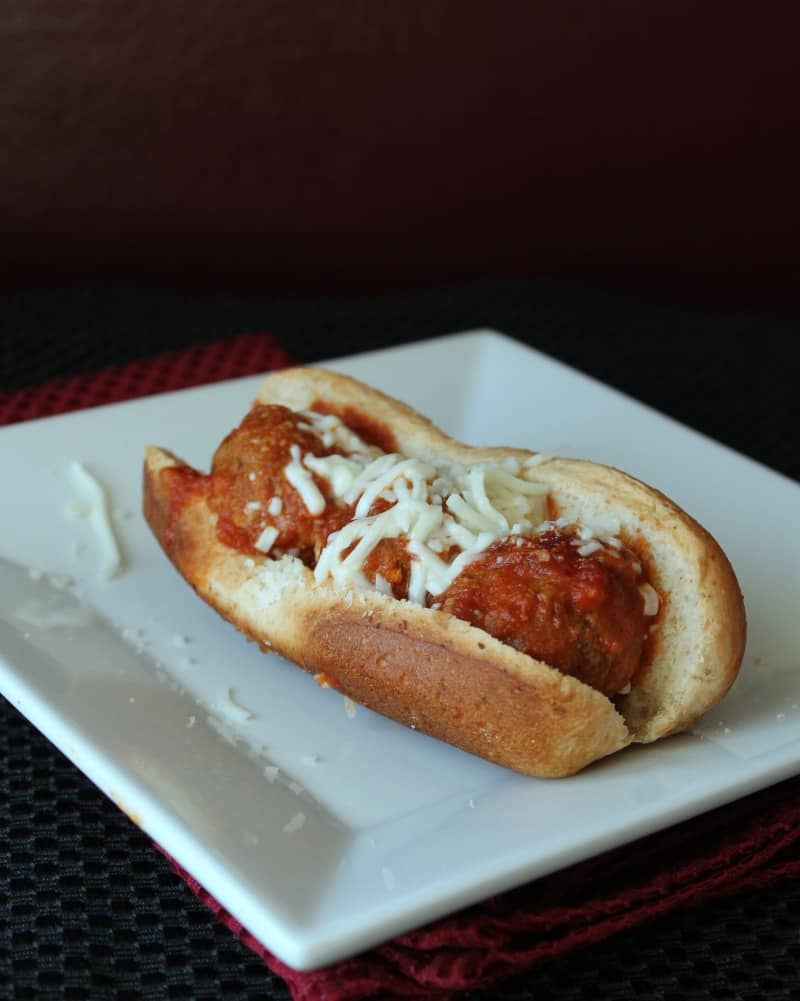 My kids LOVED these meatball subs. Loved them!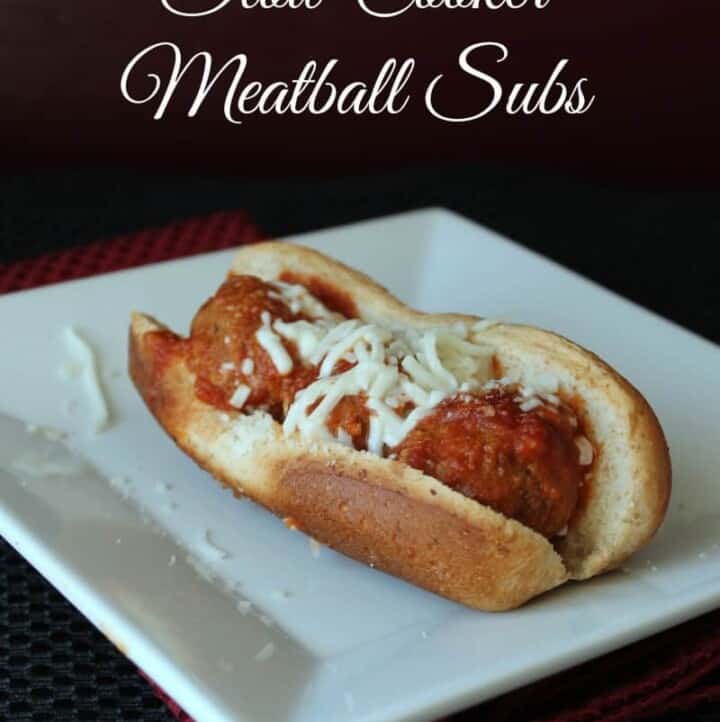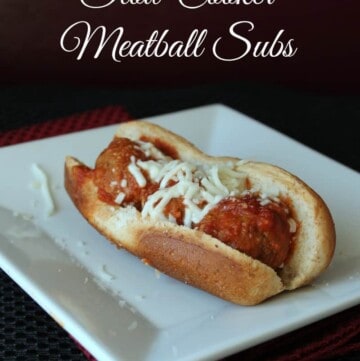 Ingredients
1

lb

95% lean ground beef

I used Wegmans organic grass-fed beef. You can also use ground turkey

1

slice

whole wheat bread

3

tablespoons

1% milk

1

large egg

1

tablespoon

Worchestire sauce

1

teaspoon

dried basil

1

teaspoon

dried oregano

1

teaspoon

granulated garlic

1

teaspoon

onion powder

1/4

teaspoon

salt

1/4

teaspoon

pepper

1/4

cup

unseasoned italian bread crumbs

1/4

cup

grated romano cheese

1

25.5 ounce jar of spaghetti sauce (or 2 1/2 cups homemade)

6

whole wheat hotdog buns

1/2

cup

shredded mozzarella cheese
Instructions
In a medium bowl combine the bread and milk together until combined and it forms a "paste".

Add in egg, worchestire sauce, basil, oregano, garlic, granulated onion powder, salt, pepper, breadcrumbs, and romano cheese. Mix until completely combined.

Mix in the ground beef until the paste mixture is evenly distributed.

Roll into 18 meatballs and place on the bottom of the slow cooker.

Pour sauce of top.

Cook for 7 hours on low in slow cooker.

Place 3 meatballs in a roll, sprinkle1 1/2 tablespoons cheese on top, and enjoy.
Notes
**You can reduce the fat, calories, and points by using ground turkey instead of beef. Also, make this low carb by leaving out the bun.
Make ahead instructions
This can be made ahead of time by prepping meatballs, flash freezing, then storing in a bag in the freezer. Place meatballs in the slow cooker frozen and continue with recipe. You might need to add some extra time if meatballs are added frozen. You can also make the recipe completely ahead of time and freeze in portions. Warm up on stove or microwave.
Nutrition
Serving:
1
g
|
Calories:
376
kcal
|
Carbohydrates:
43
g
|
Protein:
28
g
|
Fat:
12
g
|
Fiber:
4
g
|
Sugar:
10
g