It's time to shut down those old rumors and let everyone know that it IS possible to make a delicious burger out of ground turkey. No more dried up, flavorless burger patties. Trust me, these will be the best turkey burgers you have ever tasted!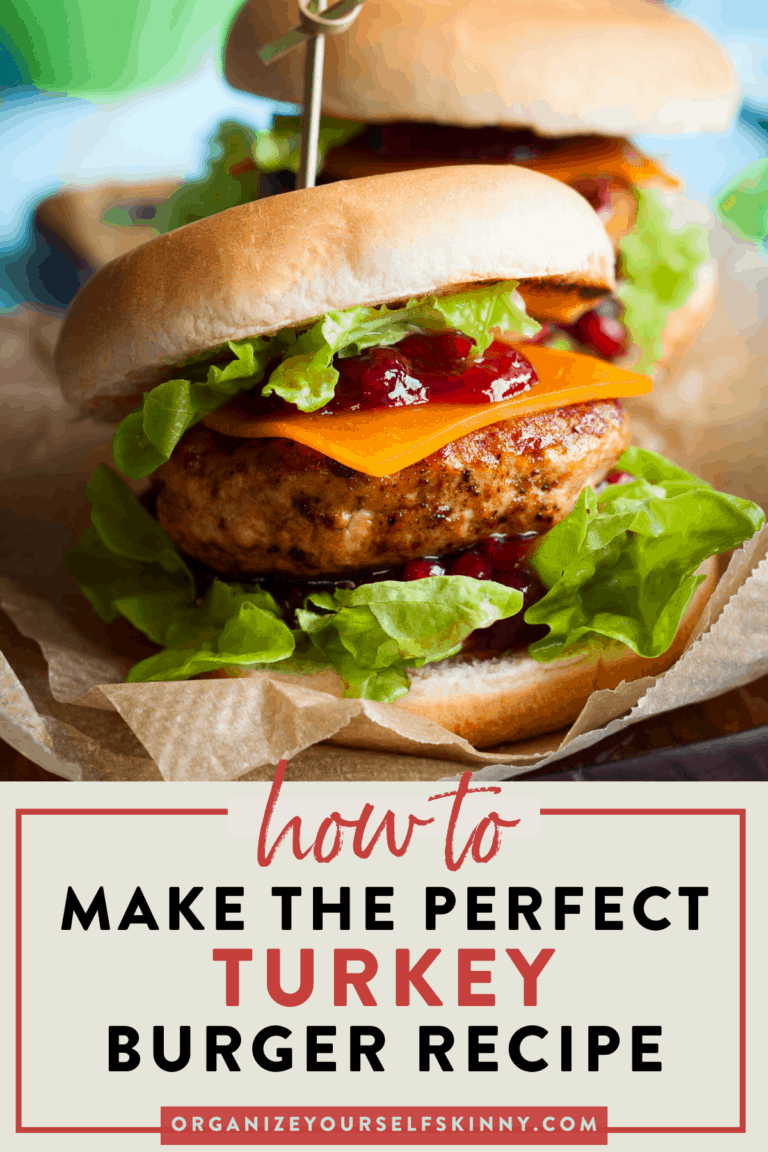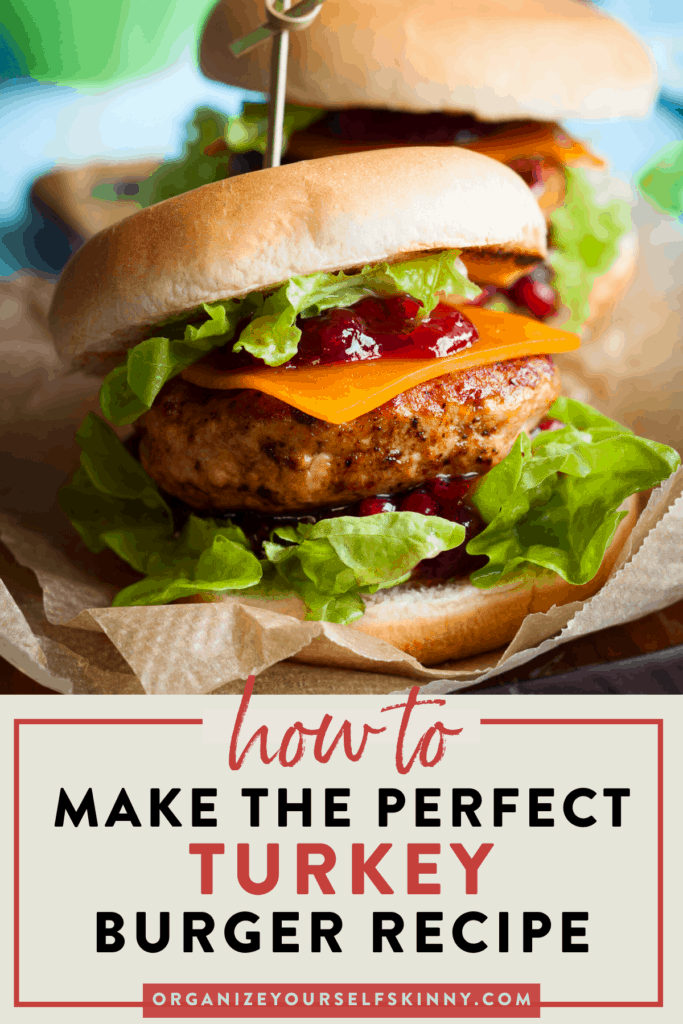 I don't mean to brag or anything but I can make some mean turkey burgers! I first started my weight-loss journey back in 2010 and one of the first things I did to start lowering my fat and calories was swapping out ground beef for ground turkey.
In the beginning, I wasn't always as successful with making that swap. Often times, I was left with dried out meat, no flavor, and nobody in my household that would eat it.
However, over the years, I have learned many tips and tricks for getting the juiciest, most flavorful ground turkey recipes.
Today, I use ground turkey in everything from meatballs to meatloaf to burgers (we're currently obsessed with this Buffalo Turkey Burger). Everyone always raves about them and ask for the recipes. You can even see some of my overall ground turkey tips in this post!
Since we are in the summer months, I want to share with you how I prepare turkey burgers that are full of flavor and super juicy.
If you've struggled with dry flavorless turkey burgers, then this post is for you! Trust me, you'll never go back to beef after eating these.
Okay, maybe "never" isn't realistic but you'll definitely find new love with these turkey burgers.
Benefits of Turkey Burgers
If you have a turkey burger skeptic on your hands, then definitely make this recipe and I bet you can change their mind! If you are still struggling to convince them, here are a couple of more reasons why to make turkey burgers.
Low carb, low fat, and high protein. Turkey burgers fill me up and keep me full. And, they taste great on their own without any bread. So, they are great options for a low carb or keto diet.
Versatile. Turkey burgers are literally a blank canvas. You can add just about any flavor or ingredient to ground turkey and have endless recipe creations. It's a great way to use up leftover sauces or other ingredients in the refrigerator and pantry.
Easy to meal prep. Turkey burgers only take about 5 minutes to mix up. You can make the patties ahead of time and keep them in the refrigerator until you're ready to grill or freeze to have ready for a future dinner. One of my favorite ways to meal prep turkey burgers is to make them completely ahead of time and keep them in the refrigerator for a quick heat and eat dinner.
The Best Type Of Turkey To Use
Before we get into any cooking techniques or seasonings, let's start with the type of ground turkey that works best for making the best turkey burger recipes.
Again, I have been making turkey burgers for years, if not decades, so I have tried many different brands and types of ground turkey.
Fat To Lean Turkey Ratio
First, let's go over the fat content. When I choose ground turkey, I always look for the ground turkey that has higher fat content so that it will most likely be 90% lean and 10% fat. So that the burger is a mixture of white meat and dark meat.
The higher the fat ratio, the juicier and more flavorful the turkey burgers will be. The leaner the meat, the less fat it has which means the drier the burger is going to be.
When you're making a turkey burger, you want there to be more fat because you have to cook it completely through. You can't cook turkey burgers medium or medium-rare so it's really important to have higher fat content or to add fat into the ground turkey to make sure that it stays moist.
I'll get into my secret tips for a super juicy turkey burger next.
Grind And Texture You Need
The next thing that I have learned from making turkey burgers is you want to choose a ground turkey that has a coarse grind, not a finer one.
A coarser grind makes the burgers easier to handle when putting the mixture together and forming the patties. Ground turkey that has a finer grind tends to have more liquid and is a lot mushier. Not saying you can't use this type of ground turkey for burgers but the mixture will tend to be a lot mushier and you might need to add a binder like eggs or breadcrumbs to form the patties.
I personally don't like using a binder when making burgers so I stay away from a finer grind.
Go For Organic If You Can
My last touch to making a perfect turkey burger recipe is purchasing organic ground turkey when I can.
In my experience, organic ground turkey meets all of the specifications that I listed above. It has amazing flavor, great texture, and all the organic brands I've purchased come in a larger grind.
My favorite brands to purchase are Nature's Rancher that I get from Whole Foods, Wegman's organic turkey breast, and Butcher Box Meat Delivery. Butcher Box doesn't always have ground turkey available but when they do, I snatch up 3-4 packages!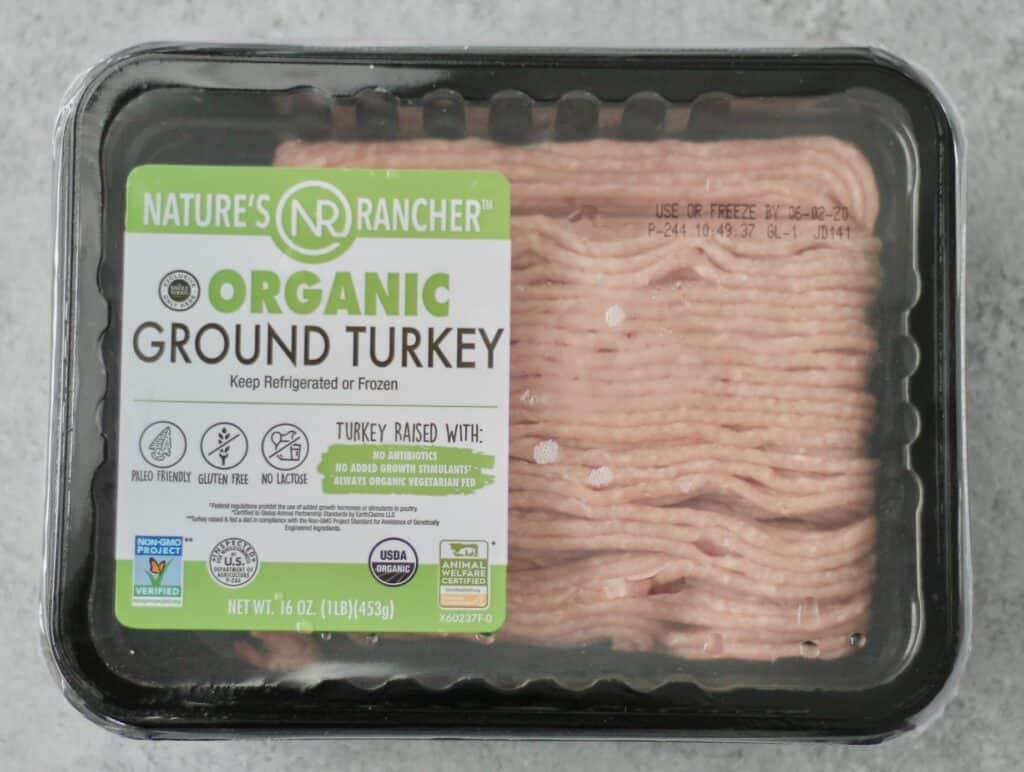 How To Keep Ground Turkey Burgers Moist
This is the million-dollar question. The number one reason people say they don't like turkey burgers is that they're too dry.
Well, no worries cause I have a simple secret that'll make sure you never eat a dry turkey burger again.
Here it is: Add 2 tablespoons of milk, half and half, or cream. I've used all three and each one works great to add moisture to the burgers.
Also, any type of sauce you add to the turkey burger will add more flavor and moisture. So, if a burger recipe calls for a sauce like in this Buffalo turkey burger recipe, you don't need to use the milk or just a small amount.
The Best Turkey Burger Recipe
Now that I have shown you how to make a healthy beef burger recipe, I want to share with you my turkey burger recipe.
To make these turkey burgers, you are going to need 1lb of ground turkey.
As for the seasonings, ground turkey can be really boring on its own but the great thing is its a blank canvas and will soak up any spices or flavorings you add. You can add any type of barbecue sauce, hot sauce, or even a teriyaki or soy sauce. The sky is the limit!
My go-to favorite seasoning blend is:
Garlic powder
Onion powder
Salt
Pepper
Worcestershire sauce
Milk or cream
It's really the perfect flavor combo!
How To Cook The Perfect Turkey Burger
My favorite way to cook turkey burgers is indoors with my Lodge Cast Iron grill pan. I live in Buffalo, NY so I don't grill outside year round so having a grill pan is essential. I have this Lodge Cast Iron Grill pan and quite honestly, it was some of the best $20 I ever spent. I've used this grill pan for a long time and it makes it very easy to cook turkey burgers along with recipes like wraps, quesadillas, vegetables, and even steaks.
Of course, I will use my outdoor grill during the summer months but I often find myself grabbing my indoor grill when I just need quick and easy.
To make these turkey burgers, add and mix together the ground turkey, seasonings, and milk in a large bowl.
Divide the turkey meat into 4 sections and then form them into patties.
Heat the grill to medium-high heat and let it heat up for 5 minutes.
Place the patties on the grill and cook for 5 minutes on each side. Let the turkey burgers sit for 1-2 minutes and then enjoy!
Cooking Tips
Never push down on the burgers. This will squeeze all the juices out of the burger and you'll end up with a dry turkey burger.
Try to only flip the burgers once. Again, you don't want to overcook the turkey burgers.
Let the burgers rest for a minute or so. This helps lock in all of the juices.
Use a meat thermometer. I highly recommend grabbing a meat thermometer to help get to the right temperature without overcooking. Turkey burgers need to have an internal temp of 165 to be safe to eat.
Don't skip out on the Worcestershire sauce. This is hands down my secret ingredient to flavorful turkey burgers. I've been using this for YEARS and it's the best way to get a meaty rich flavor.
How To Make Turkey Burgers Ahead Of Time
I always love to have a couple of turkey burger patties meal prepped for a quick and easy meal.
The meal prep I do most often is to make them completely ahead of time and then store them in the refrigerator using a glass container. Then, I just heat them up and eat the burgers throughout the week.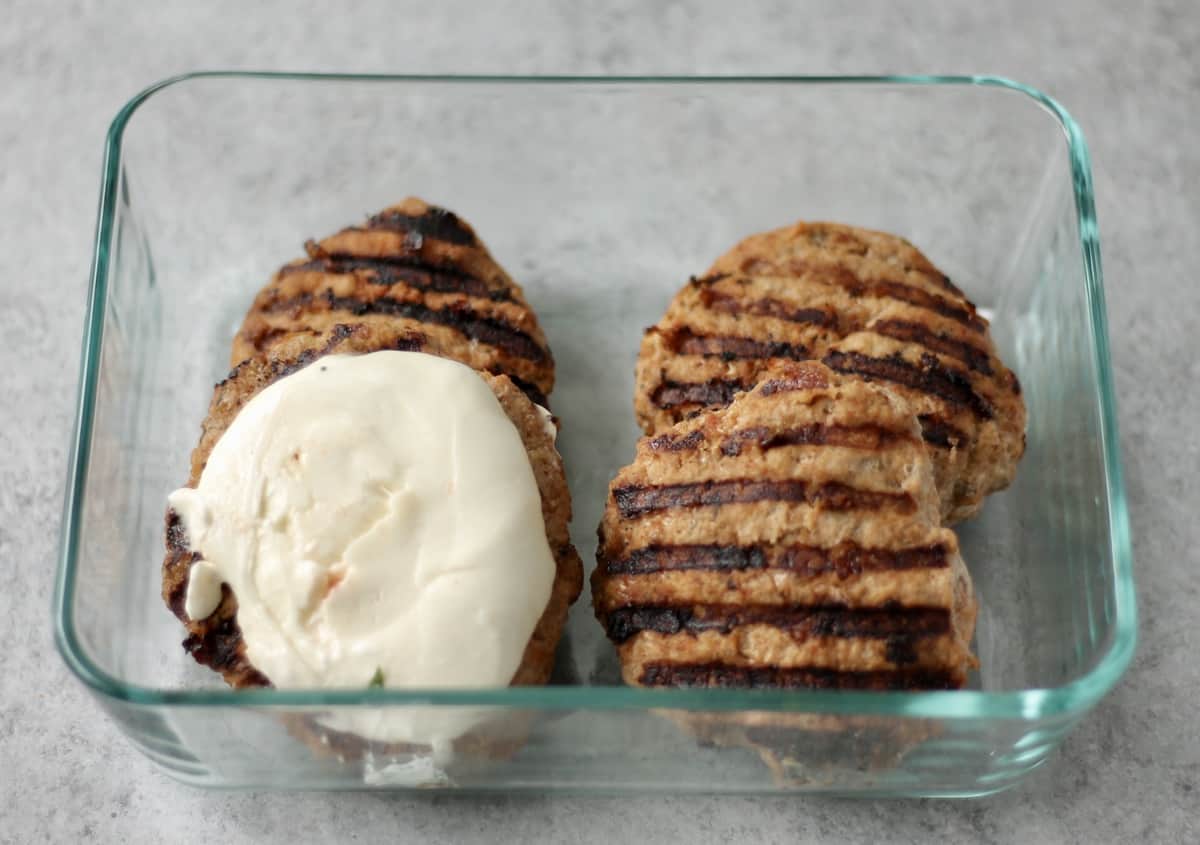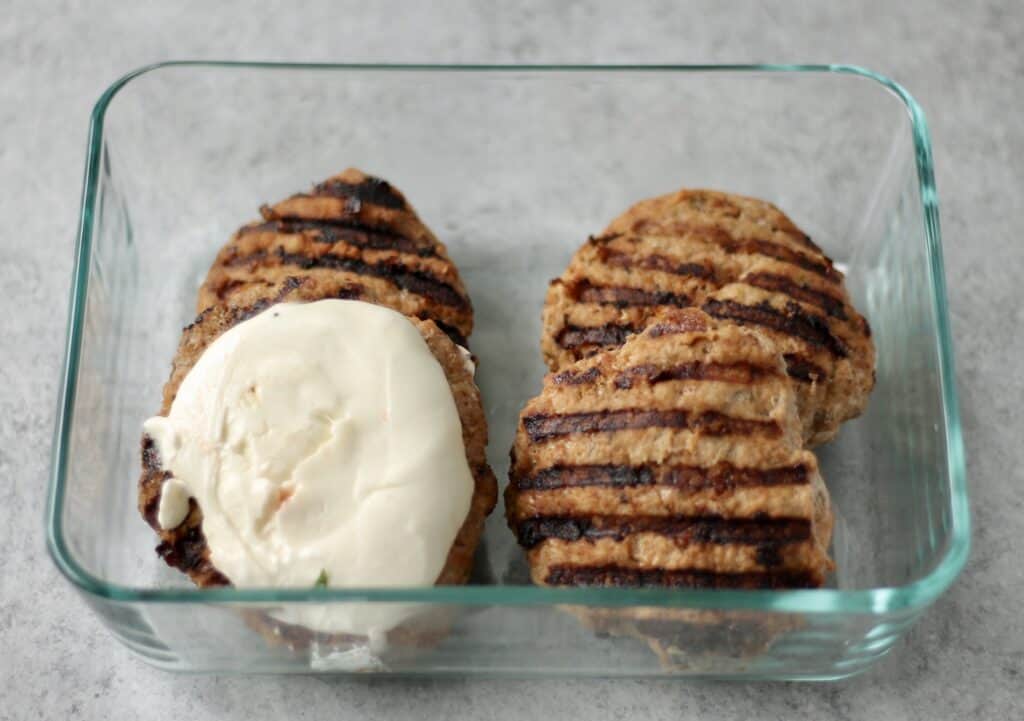 You can also make the patties ahead of time and store in the refrigerator for 1-3 days and then just cook them when ready to eat. I recommend putting parchment paper between the patties so they don't stick together and are easier to handle.
Last, you can freeze turkey burger patties raw. Simply make the patties and then place between parchment paper and flash freeze them on a baking sheet or pan. Then, put the patties into a freezer bag and freeze. My advice is to thaw the patties completely prior to cooking on the grill so they cook evenly.
There you have it! My best tips and tricks to making the best most juicy turkey burgers.
Share a picture and tag me on Instagram or Facebook if you decide to make this!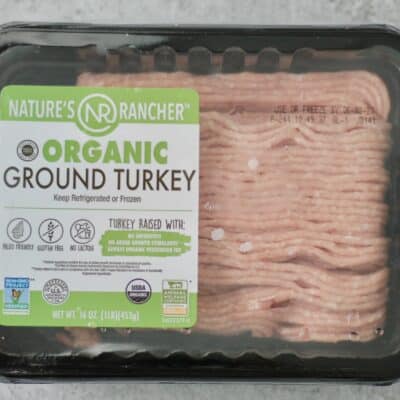 Ingredients
1

lb

ground turkey

85% or 90% lean

1

teaspoon

garlic powder

1

teaspoon

onion powder

½

teaspoon

salt

½

teaspoon

pepper

2

teaspoons

Worcestershire sauce

1

tablespoon

milk or cream
Instructions
In a large bowl mix together the ground turkey, seasonings, and milk.

Divide into 4 sections and then form into patties.

Heat grill to medium-high heat and let it heat up for 5 minutes.

Place the patties on the grill and cook for 5 minutes on each side. The internal temperature should be 165 degrees when cooked completely.

Let the turkey burgers sit for 1-2 minutes and then enjoy.