Spinach and feta cheese make for a delicious Greek Turkey Burger! This turkey burger recipe is full of flavor and still healthy all at the same time. You are definitely going to want to make this greek burger over the summer! 
I don't think there are many flavor combinations that I love more than the popular Greek combo of feta and spinach. Well, maybe chocolate and peanut butter but that's for dessert!
When I was thinking up turkey burger recipes for this summer, I immediately put a Greek turkey burger on the plan. I thought to put all kinds of Greek ingredients in there like chopped olives or artichokes but I decided to keep it easy peasy with my two favorite Greek ingredients – spinach and feta.
But, the glorious thing about turkey burgers is that they are literally a blank canvas for whatever flavor combination you want to dream up. Don't forget to check out all of my healthy ground turkey recipes.
Ingredients
Here is the list of ingredients you'll need to prep these burgers:
Ground turkey
Worcestershire sauce
Milk
Fresh baby spinach (chopped)
Feta cheese (crumbled)
Garlic powder
Onion powder
Oregano
How to Make Greek Turkey Burgers
In a medium bowl, mix together the ground turkey, chopped spinach, feta, Worchesthire sauce, milk, and seasonings.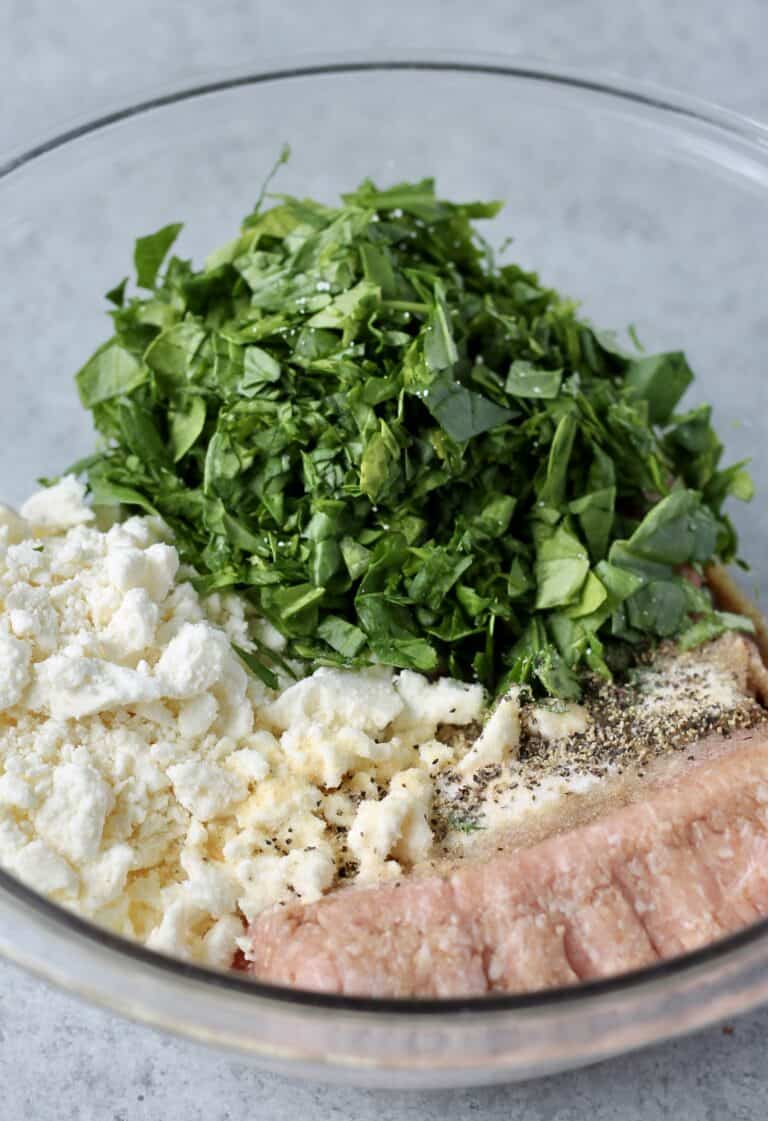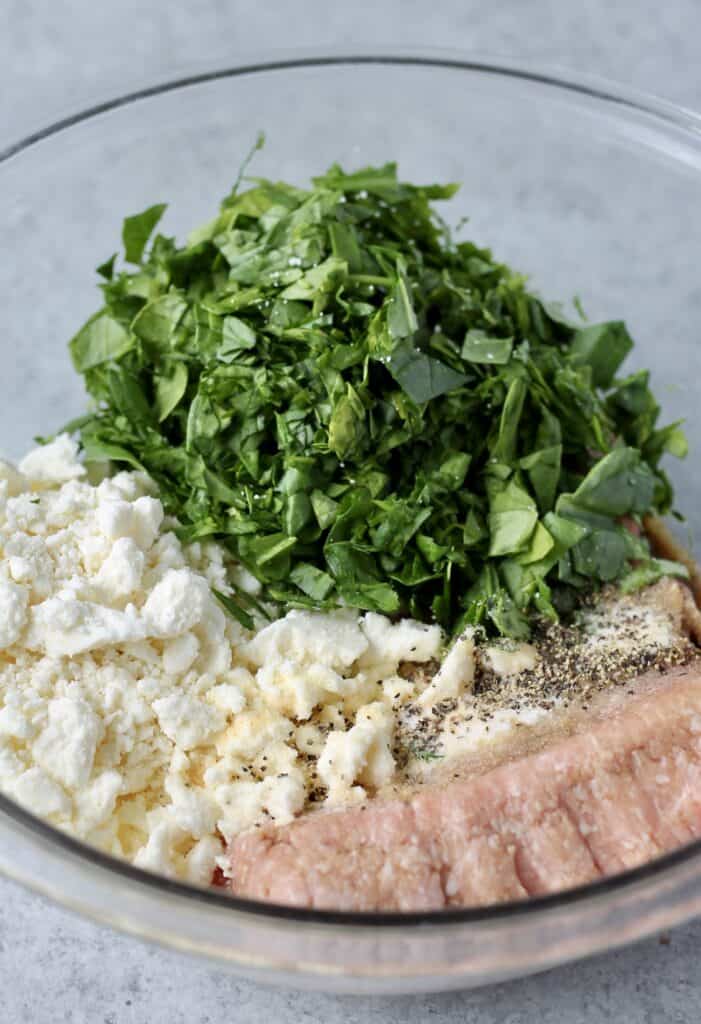 After the ingredients are all mixed together, let it sit for a few minutes. This gives the spinach time to soften up.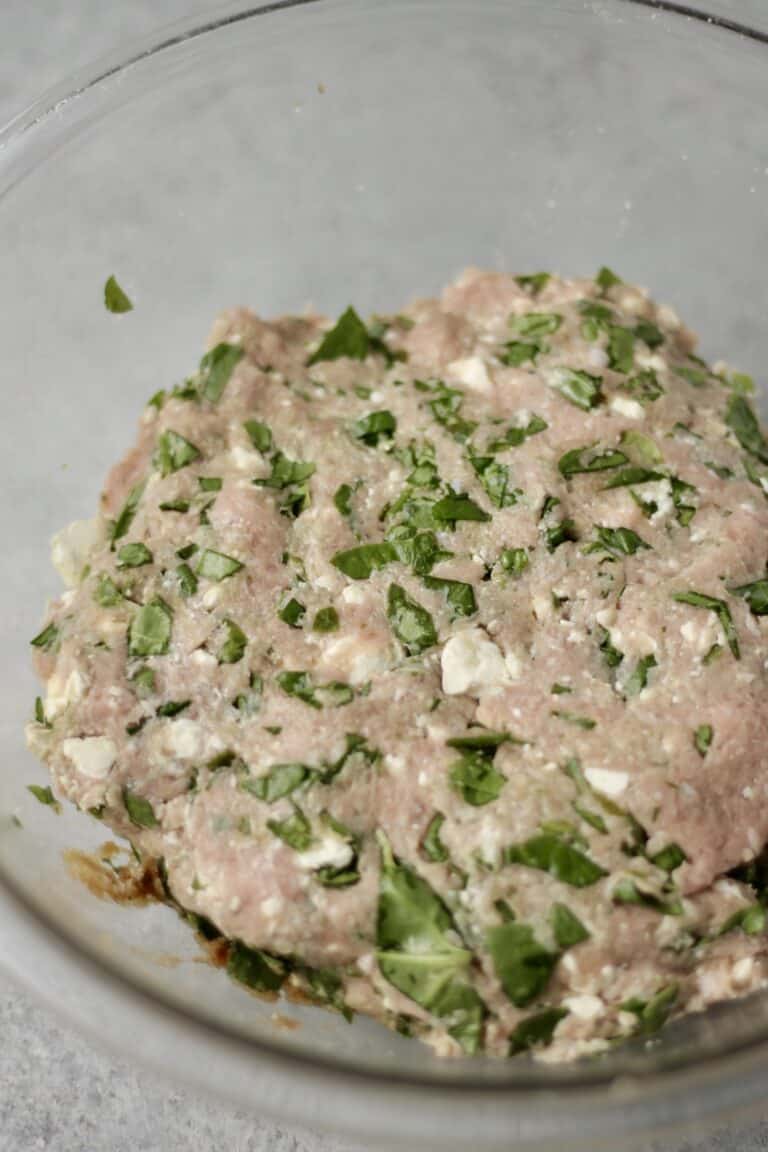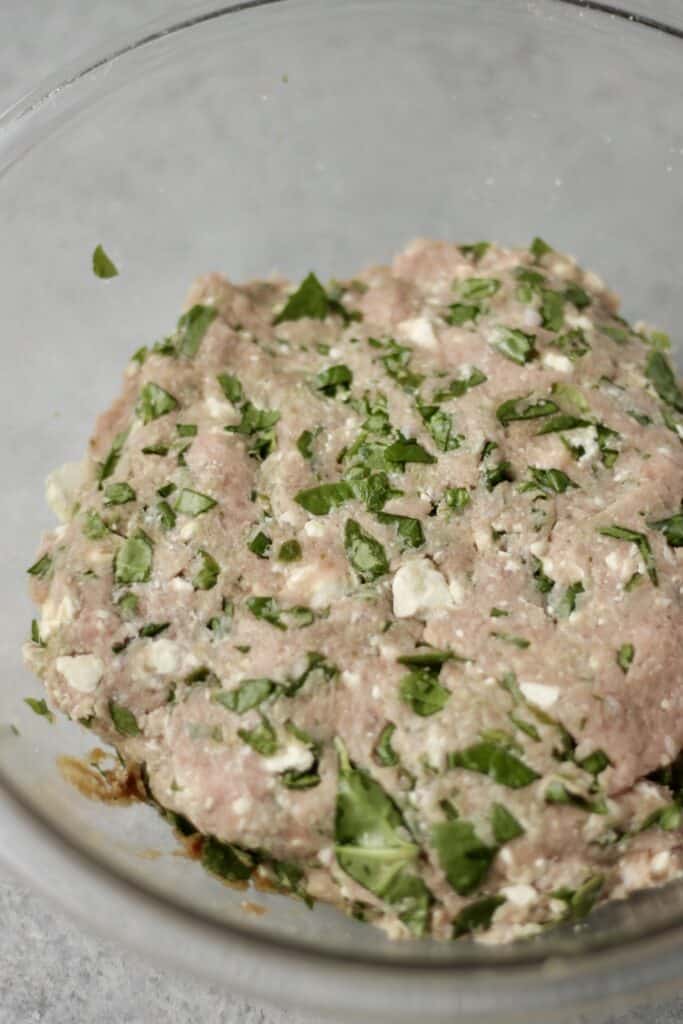 Next, divide the turkey into 4 sections and form them into 4 burger patties.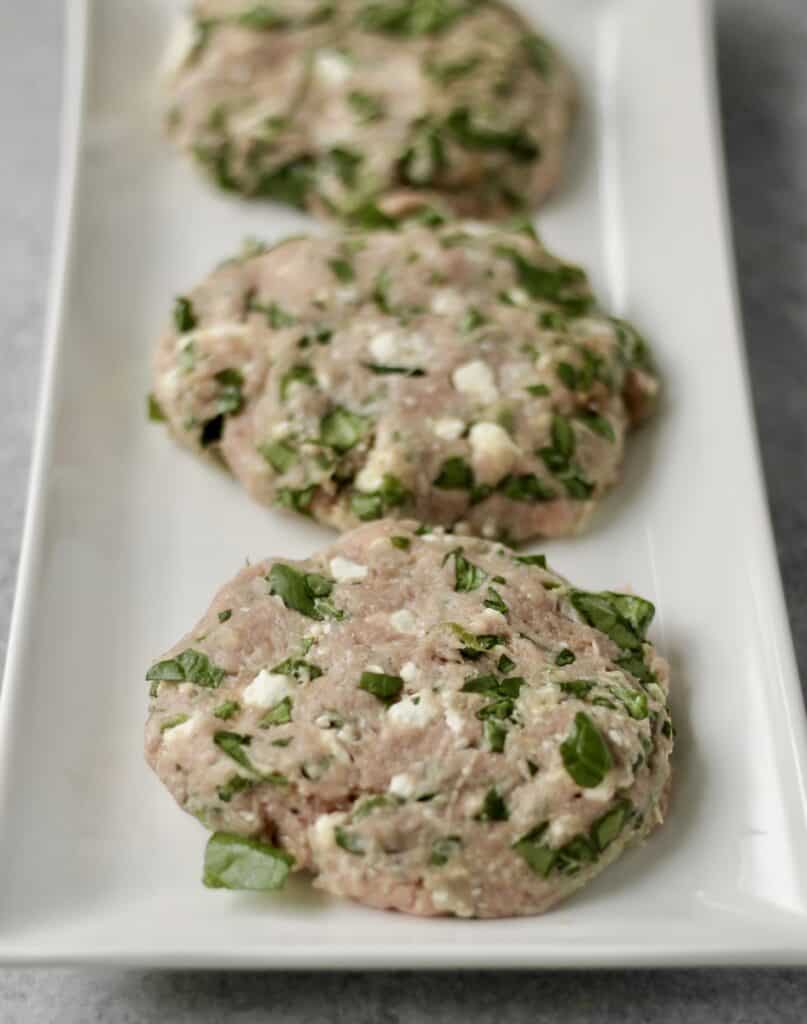 Heat the grill over medium-high heat until hot, about 5 minutes or so. Place the turkey burgers on the grill and cook each side for 5-6 minutes. The internal temperature should read 165 degrees.
Let the burgers sit for about 1-2 minutes as this helps to lock the juices in.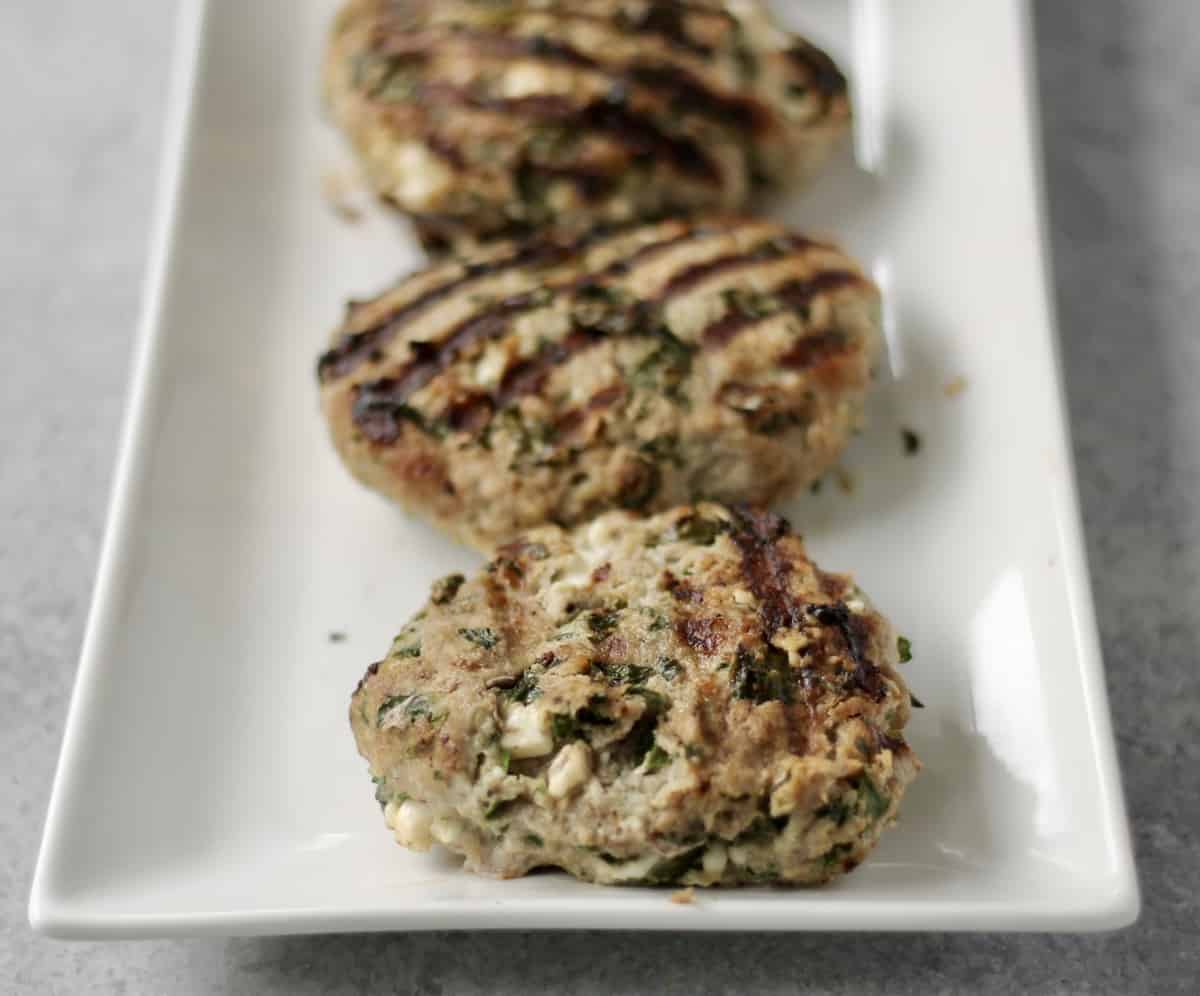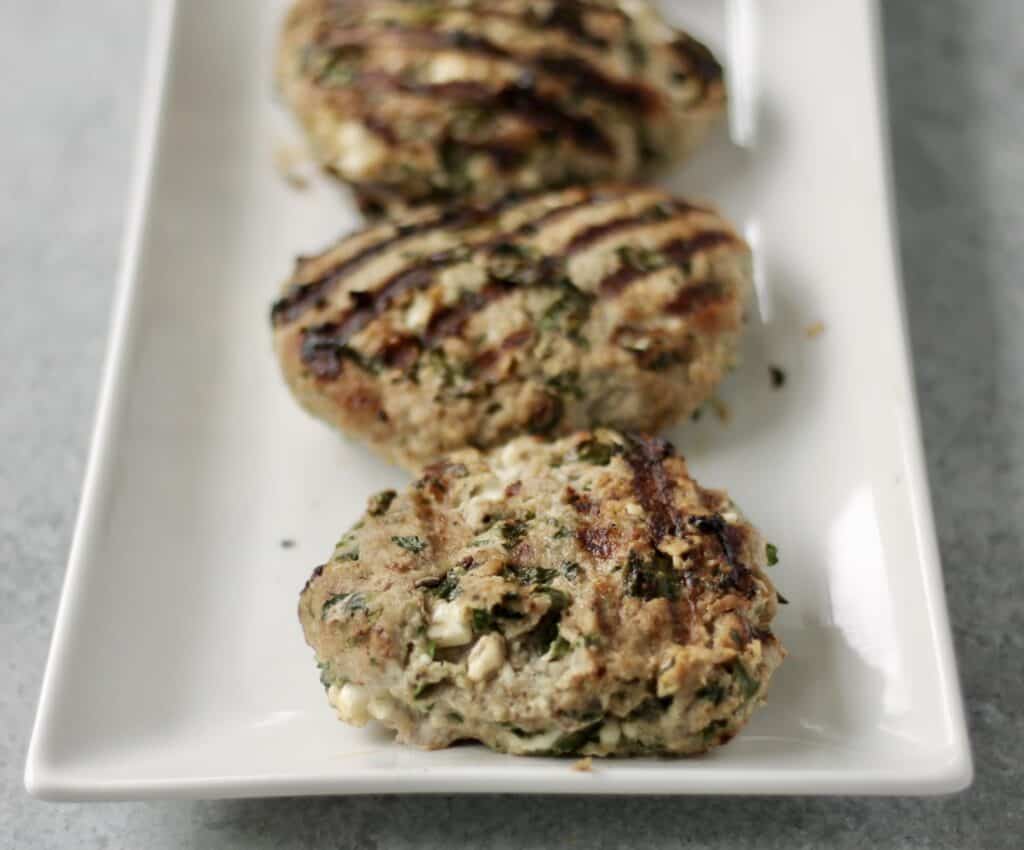 Then, serve with favorite toppings and condiments.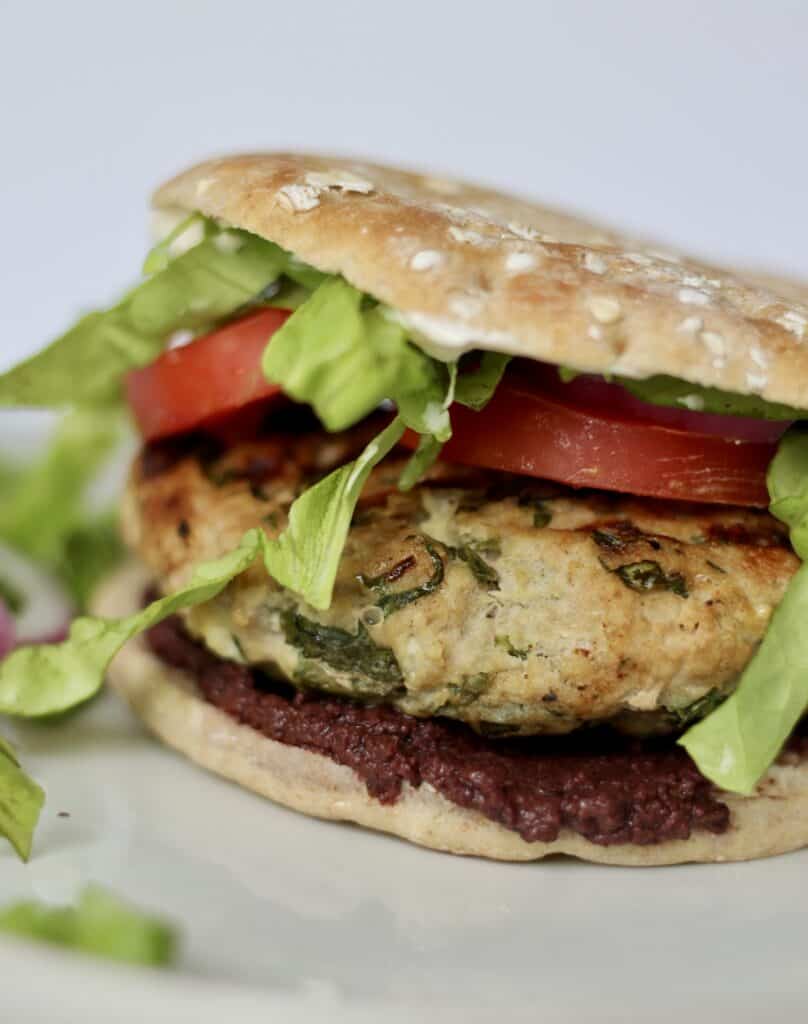 Cooking Tips
I recommend using fresh spinach over frozen. Frozen spinach has a lot of moisture that could make the turkey burger to wet to handle.
I prefer to use organic turkey, that's about 90% lean, and has a course ground. The fine ground is too mush and liquidy to handle. Whole foods, Wegmans, or Butcher Box Meat Delivery are my favorite places to purchase organic ground turkey breast.
Don't skip the milk. This gives the turkey much-needed moisture.
Also, don't skip the Worchestire sauce. This gives the turkey a delicious meaty flavor.
My Best Tips For Making The Perfect Greek Burger
These Greek turkey burgers are outstanding. Not only are they super flavorful but they are perfect for a low carb or keto diet. Of course, you just need to leave off the bread and be intentional about the condiments you use.
But, if you need to switch up your boring turkey burgers, then I think this is one healthy burger recipe you need to try.
Unless you are going low carb or keto, then you will definitely need to figure out which bread is going to work best for this Greek burger. However, if you do want to keep this turkey burger low carb or keto-friendly then I will recommend some options for you to do that too
Basic Hamburger Roll
Of course, this burger would go great with just a basic hamburger bun. So, if you're not looking to get fancy and you're going to feed a crowd, definitely having just a basic hamburger roll is a good option.
Mutli-Grain Sandwich Thins
This is a great option if you are wanting to have bread with your burger but you don't want all the carbs or you're looking to reduce carbs. These often have half the carbs of a standard roll and definitely satisfy a craving when you want a roll to go with your burger.
Sandwich thins can be found at any grocery store. I usually go for the Whole Foods brand but Arnold Sandwich Thins are great too and those can be found at just about any store.
Lettuce Wraps
Lettuce wraps make a great vessel for burgers and even sandwiches. They offer a great crunch and keep all of the condiments and other toppings together into one burger without having to worry about any of the carbs. So, if you are trying to eat a keto/paleo/low-carb diet, then using lettuce wraps is a great option.
Portobello Mushrooms
Another keto or low carb option for the Greek turkey burgers is to use grilled portobello mushrooms!
Portobello mushrooms are low-calorie, low fat, and low carb. I usually will grill up portobello mushrooms with a little olive oil, salt, and pepper and then serve those alongside the other condiments or toppings like lettuce, onions, and tomatoes.
If you are serving these to a crowd and people want that low-carb option, they can simply grab one of the grilled portobello mushrooms as a burger roll substitute.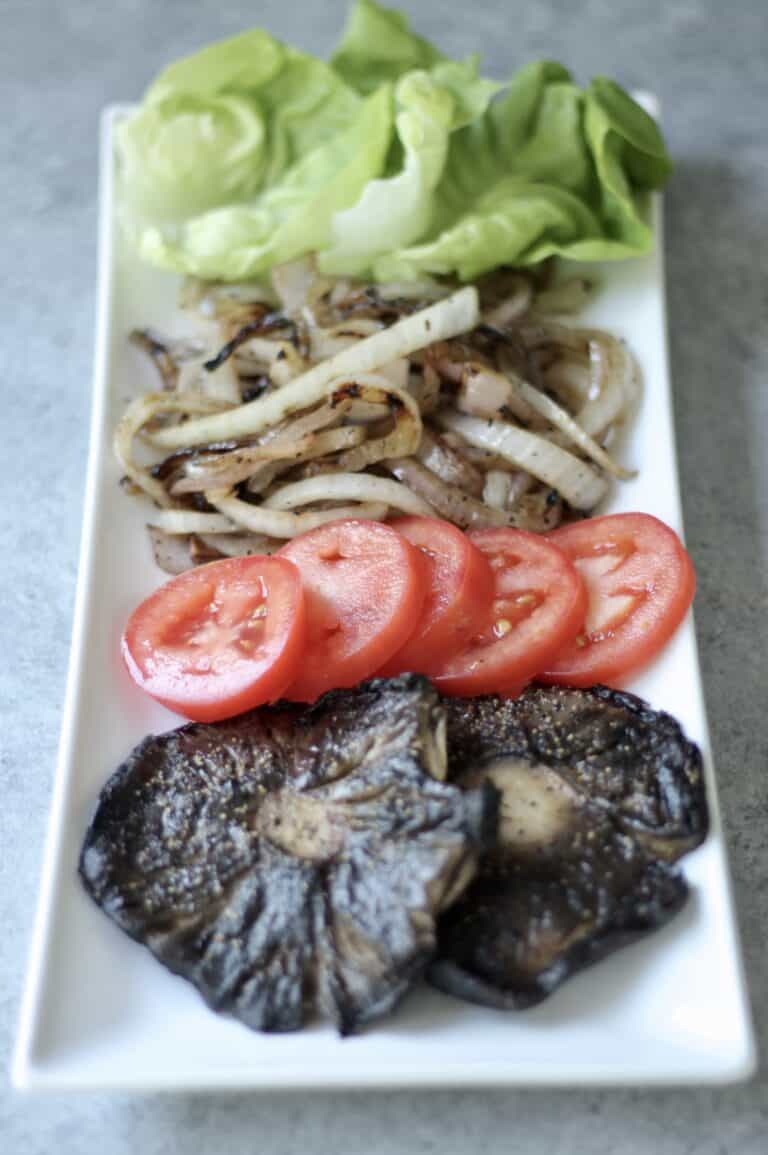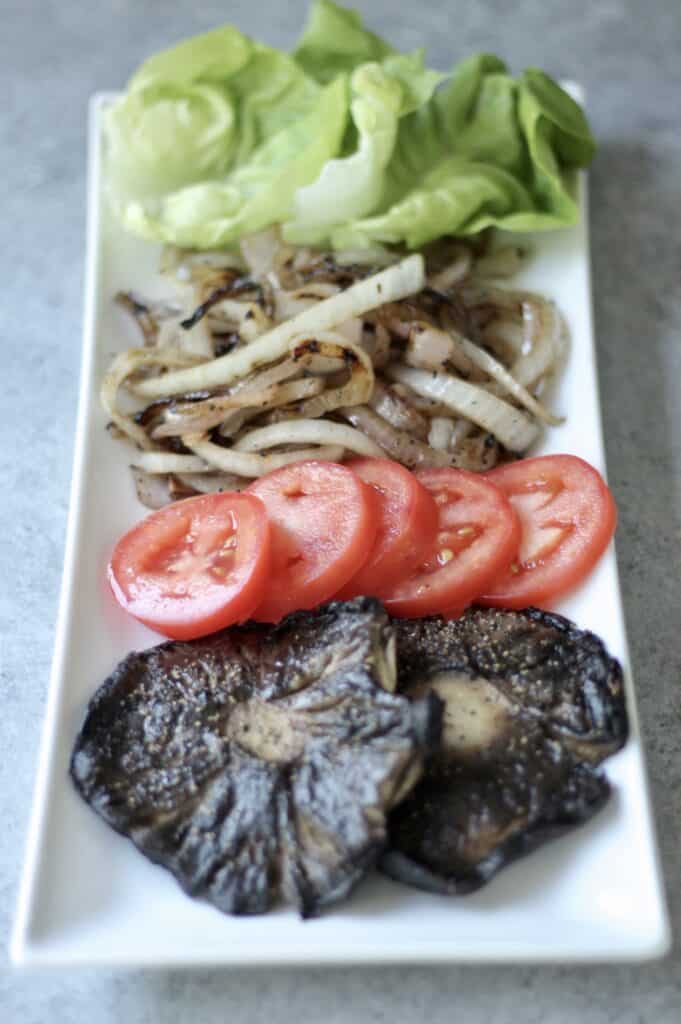 Best Toppings And Condiments
I kept this Greek burger relatively simple by just using spinach and feta and that's because you can really boost up the Greek flavors with all of the different toppings and condiments.
Different Sauces To Use
Of course, you can simply use mayo or even a garlic aioli to go with this Greek burger and it would be so delicious, but to really enhance the Greek flavors, you can use tzatziki sauce, hummus, or a Greek olive tapenade.
Delicious Toppings
Again, if you just want to keep the toppings simple, you can use tomatoes, onions, and lettuce. If you're looking to keep with the Greek theme with these burgers, that I definitely recommend serving these Greek turkey burgers with toppings like artichokes, red onions, cucumbers, olives, and even maybe some extra feta cheese to sprinkle on top.
Dried Tomatoes or roasted red peppers would be delicious on this burger too!
Serving suggestions
Now, if you're wondering what to serve with these Greek turkey burgers, you can serve these sides to make it a delicious summer meal.
Meal Prep Tips
Just like all my turkey burger and beef burger recipes, these can be made ahead of time.
The first way you can do this is by simply preparing the burgers in advance putting some parchment paper in between them and storing them in glass containers in the refrigerator for up to 3 days. When you're ready to grill the burgers, continue with the recipe.
You can also make a big batch of these burgers to freeze ahead of time. Simply make the patties and layer parchment paper in between the patties, place them into a container or freezer bag, and then freeze. You can see my tutorial on freezing hamburger patties for more tips.
Another way to make the Greek turkey burgers ahead of time is to cook them completely on Sunday or in advance to have ready for the week to just heat and eat.
This is actually one of my favorite ways to make these turkey burgers. I like to make them a part of my meal prep day on Sunday get them prepared in advance and then I just store them in a glass container in my refrigerator. When I'm ready to eat them, I will pop them in the microwave warm them up and eat them for either lunch or dinner.
When I do it this way, I will typically eat them alongside some roasted vegetables or a side salad.
More Turkey Burger Recipes
If you loved this Greek Turkey Burger recipe, you HAVE to try some of these other turkey burger recipes!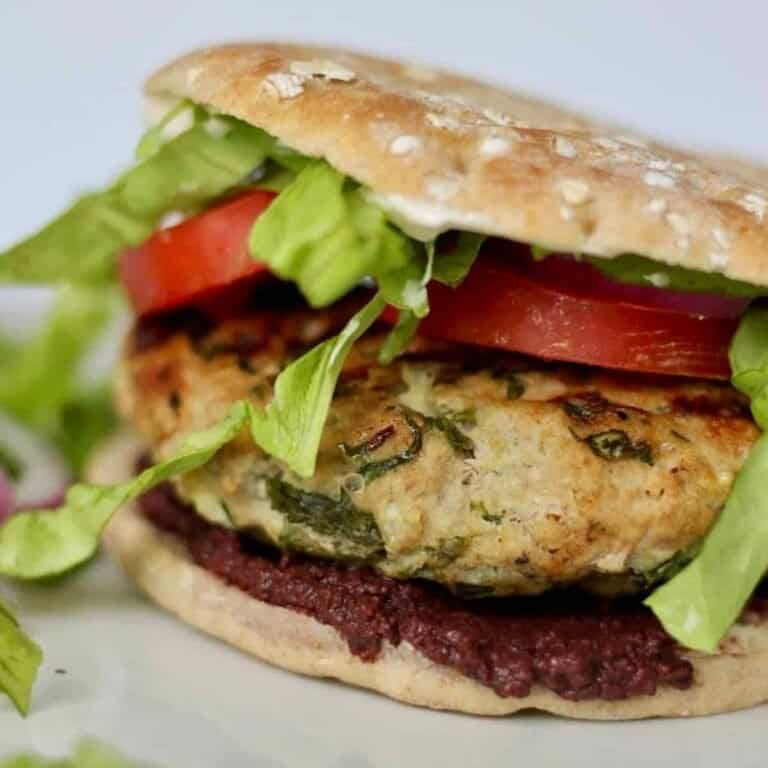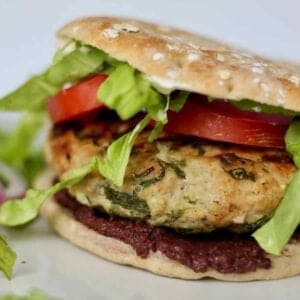 Greek Turkey Burger
This Greek turkey burger recipe is a healthy, flavorful way to grill a burger! Each patty has spinach, feta, and garlic seasoning grilled within a turkey patty.
Print
Pin
Rate
Ingredients
1

lb

ground turkey

2

teaspoons

Worcestershire sauce

1

tablespoon

milk

1

cup

chopped fresh baby spinach

1

cup

crumbled feta cheese

1

teaspoon

garlic powder

1

teaspoon

onion powder

1

teaspoon

oregano
Instructions
In a medium bowl mix together all ingredients. Divide into 4 sections and form into patties.

Heat grill over medium-high until hot, about 5 minutes or so.

Place turkey burgers on the grill and cook each side for 6 minutes. The internal temperature should read 165 degrees.

Let the burgers sit for about 1-2 minutes and then serve with favorite toppings and condiments.
Nutrition
Serving:
1
g
|
Calories:
281
kcal
|
Carbohydrates:
7
g
|
Protein:
29
g
|
Fat:
15
g
|
Sugar:
3
g