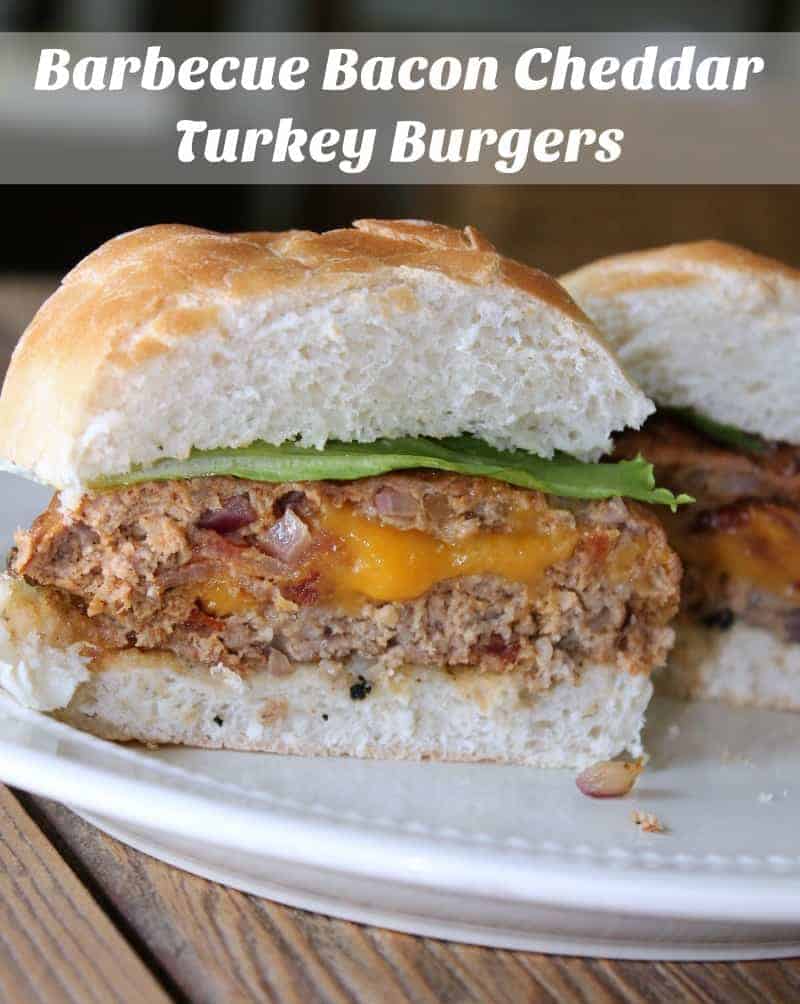 This is a sponsored post written by me on behalf of Tyson Foods, Inc. All opinions are entirely my own.. You can find Jimmy Dean® Bacon at Walmart.
---
Did someone say bacon!? How about burgers? Honestly, I think Jimmy Dean® was reading my mind when they asked me to create a recipe using their brand new Jimmy Dean® Hickory Smoked Bacon (they offer Applewood bacon too). Ummm where has this bacon been my whole life. YUUUM!
This Barbecue Bacon Cheddar Turkey Burger recipe has been lurking around in my brain for about 2 months. 2 months!! Actually, I tried making it one time and it was a total disaster. I think I used to much barbecue sauce because it was so gloppy and wouldn't even hold the shape of a burger. Anyway, I guess it's meant to be because when I got the opportunity to create a recipe using Jimmy Dean® Hickory Smoked Bacon I knew EXACTLY the recipe I would make.
Let me introduce you to the super delicious and juicy Barbecue Bacon Cheddar Burger! Seriously, you know just the sound of bacon + cheddar has you excited!
I started with these ingredients. Seasoning is everything with turkey burgers so I always use Worcestershire, granulated garlic, onion powder, salt, and pepper. Then I added a bomb of flavor with Jimmy Dean® Hickory Smoked Bacon, barbecue sauce, red onion, and sharp cheddar cheese. Oh baby!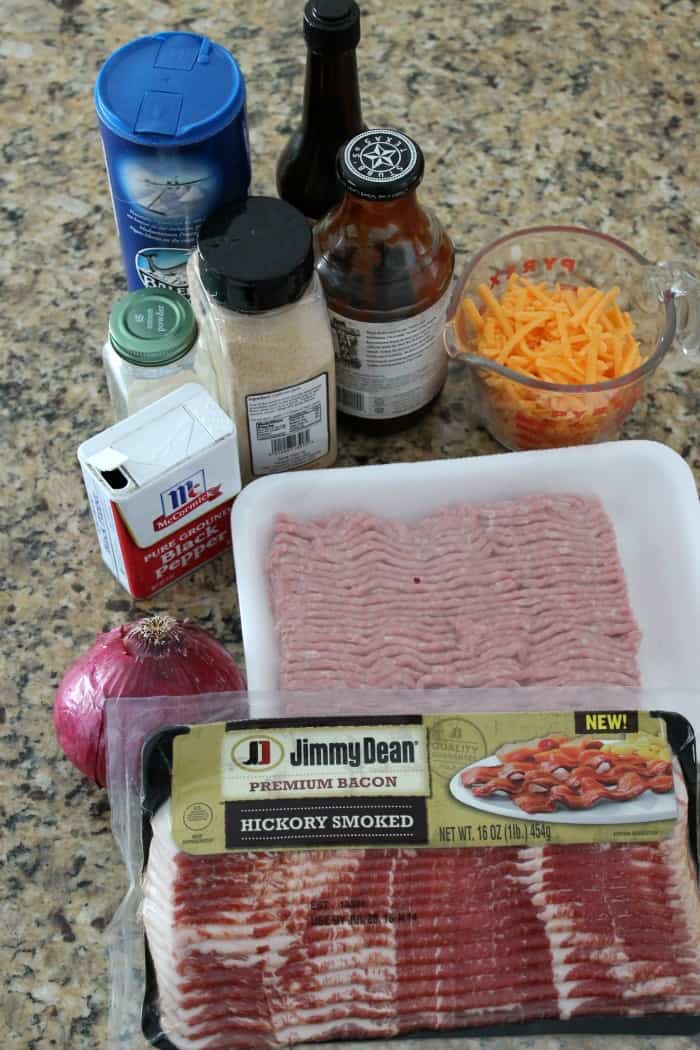 You can find Jimmy Dean® Hickory Smoked Bacon at Walmart.
The first thing I did was cook up 4 slices of Jimmy Dean® Hickory Smoked Bacon in the oven. The slices were thick and each one cooked evenly and crisp.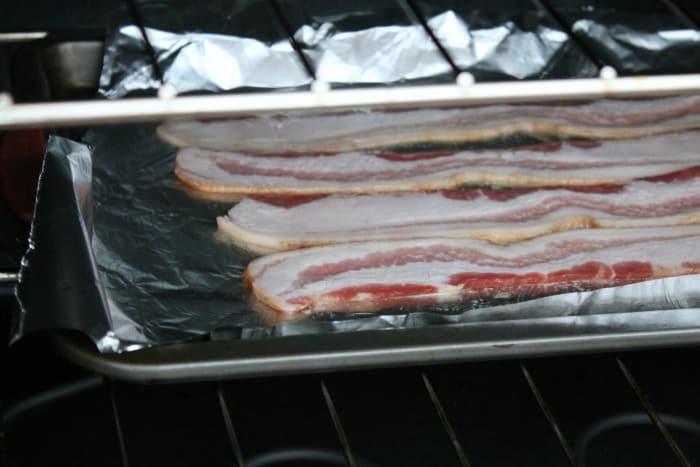 Then I mixed all the ingredients into a bowl. I set aside some of the cheese and bacon to stuff in the burgers.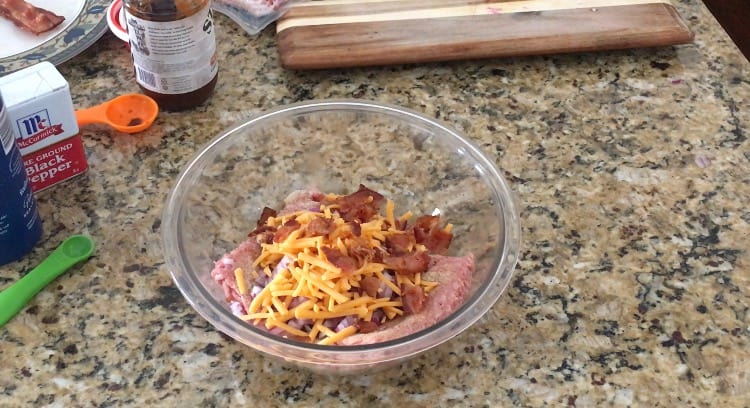 Here's everything mixed together.
Next I divided the mixture into 4's. Then I took broke each of those sections in half and made 2 patties. On the bottom patty I placed 1 tablespoon or so of the crumbled bacon along with 1-2 tablespoons of cheddar cheese.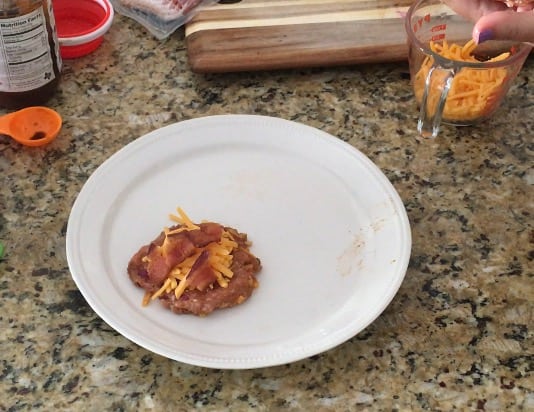 Then I place the other half on top and sealed the edges. I did the same thing with the rest of the burger mixture. I made 4 burgers total.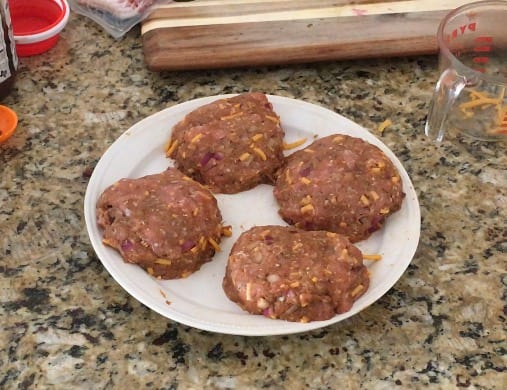 Onto the grill the burgers went. I cooked each side for about 7-8 minutes or until the burger was cooked through or reached an internal temperature of 165 degrees.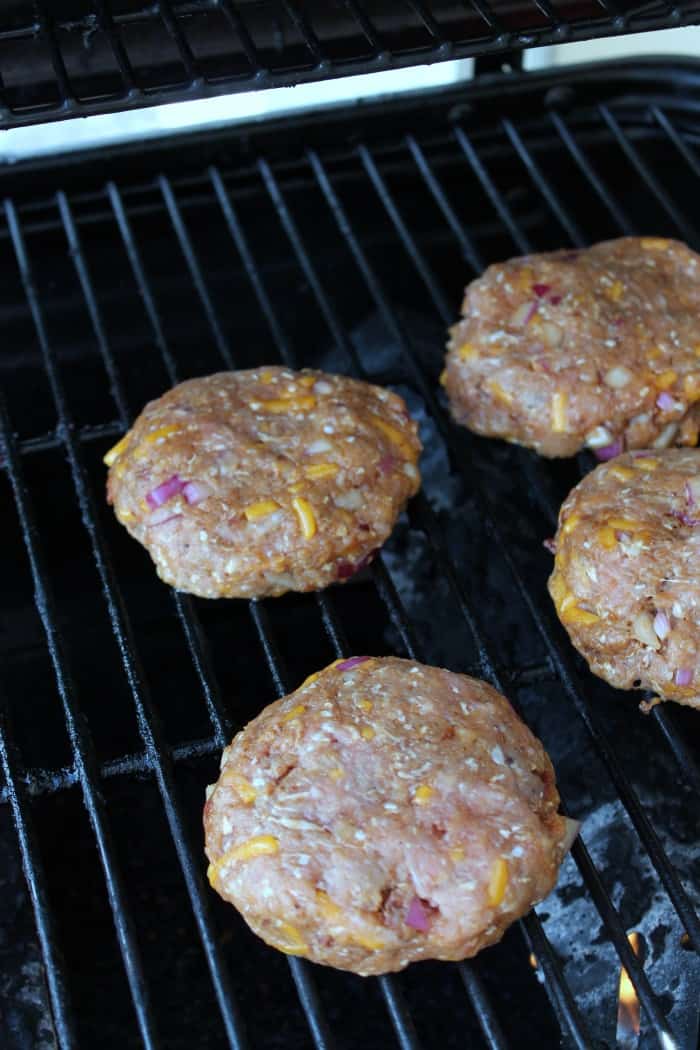 Look at these burgers! They are juicy and filled with flavor! I love the sweetness of the barbecue sauce and the smokiness of the Jimmy Dean® Hickory Smoked Bacon together. It's like those two flavors are meant to be.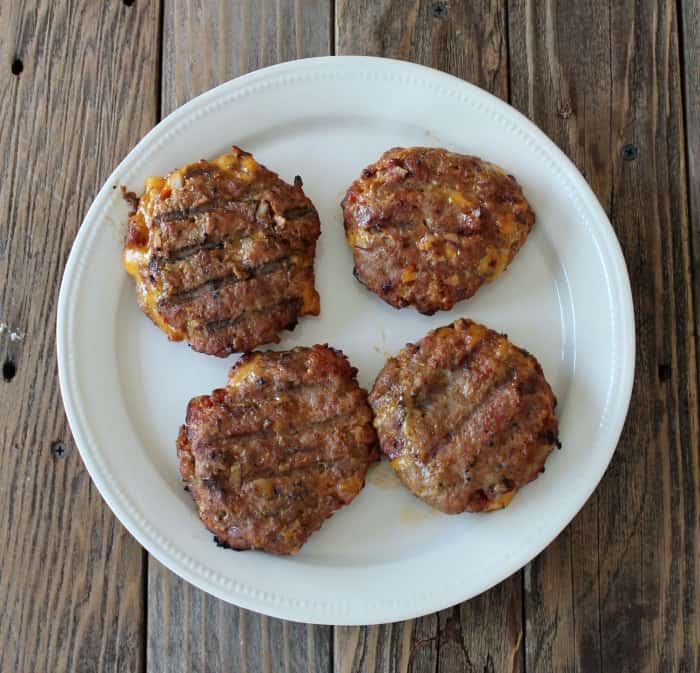 I have to say I'm mighty proud of these burgers. They are delicious. I mean, how can I go wrong with bacon and cheese. I'm pretty sure it's impossible. Look at that cheese. And bacon. And cheese.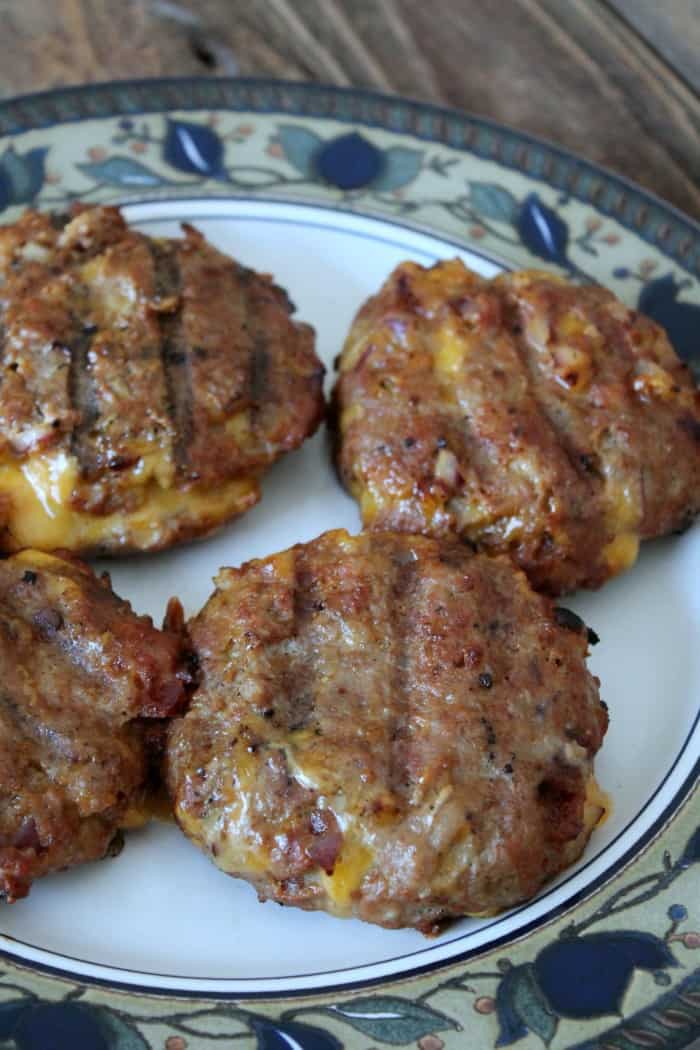 Please make these because I want you to feel the happiness I did when I took these burgers off the grill. Pure joy.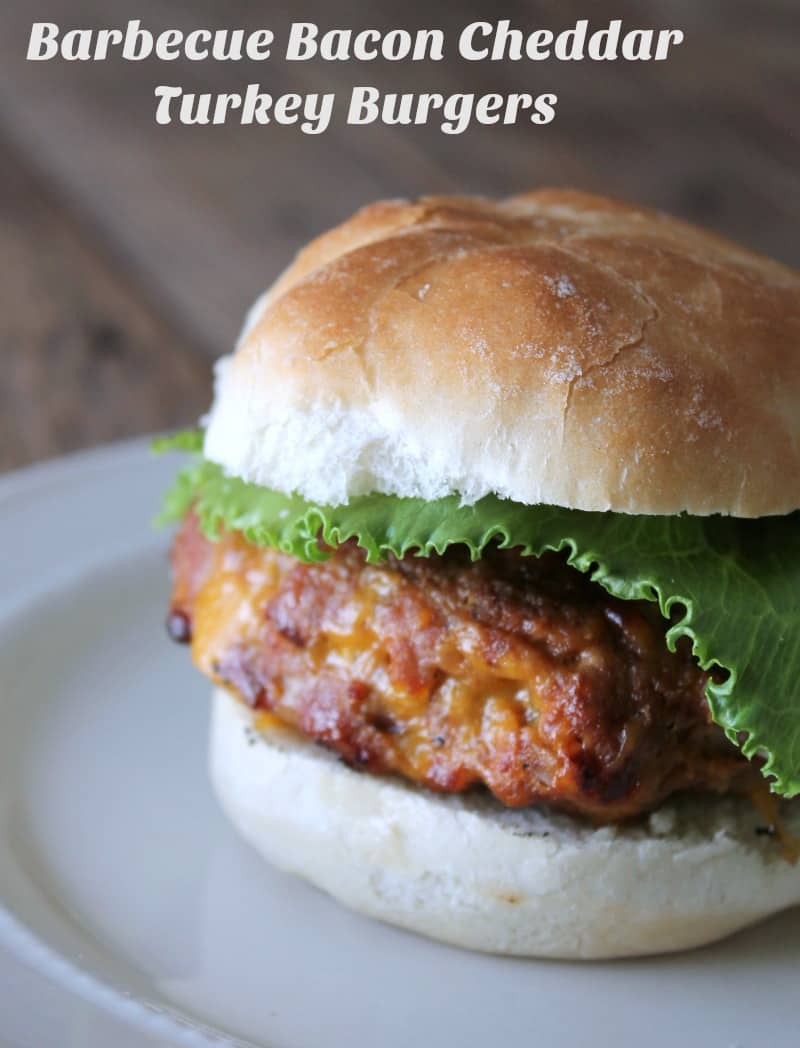 Of course, it's not mandatory to stuff these burgers. You can easily just mix all the ingredients together, form patties, and grill em' up. But I love the sight of oozing bacon and cheese coming out of my burger. It makes me feel all gourmet and fancy.
Also, these burgers can be frozen ahead of time. Just put on a sheet pan in the freezer. Once the burger are frozen toss them into a freezer bag. I recommend thawing in the refrigerator a day in advance.
I enjoyed my Barbecue Bacon Cheddar Turkey Burger open-faced but you can eat it on a bun or by itself with a salad. Anyway you decide I know you will love it.
Here's a quick video I put together to bring this recipe to life.
We loved the Jimmy Dean® Hickory Smoked Bacon. It made our burgers yummy!

Barbecue Bacon Cheddar Turkey Burgers #JimmyDeanBacon
Author:
Organize Yourself Skinny
Ingredients
1lb ground turkey
4 slices Jimmy Dean® Hickory Smoked Bacon, cooked and crumbled, divided
1 teaspoon granulated garlic
1 teaspoon onion powder
½ teaspoon salt
½ teaspoon ground pepper
¼ cup barbecue sauce (use your favorite)
½ red onion, diced
1 cup shredded sharp cheddar cheese, divided
Instructions
Set grill to medium high
In a large bowl mix together half the bacon crumbles, spices, barbecue sauce, red onion, and half the cheese.
Divide the meat mixture into four sections. Take each section and create 2 burger patties. On one patty put a tablespoon of bacon crumbles and 1-2 tablespoons of cheese. Place the other patty on top and seal the edges. Repeat that with the rest of the burger mixture until you get a total of 4 stuffed turkey burgers.
Place the burgers on the grill and grill on each side for 7-8 minutes or until cooked through and the internal temperature reads 165 degrees.
Enjoy on bun or with a salad.
.
Get Instant Access to My Best Weight Loss Tips & Strategies!
Sign up now for a free step-by-step 7-day email course that I created exclusively for my email subscribers! That's you. I will teach the best habits, strategies, and insider tips so you can enjoy a lifestyle that encourages and supports weight loss! Stop relying on willpower and take control back over your life! You can do this. Let me help!