Italian burgers made with ground turkey (or ground beef), marinara sauce, Italian spices, and topped with fresh mozzarella. Fire up the grill because this juicy burger is going to be a summer party favorite!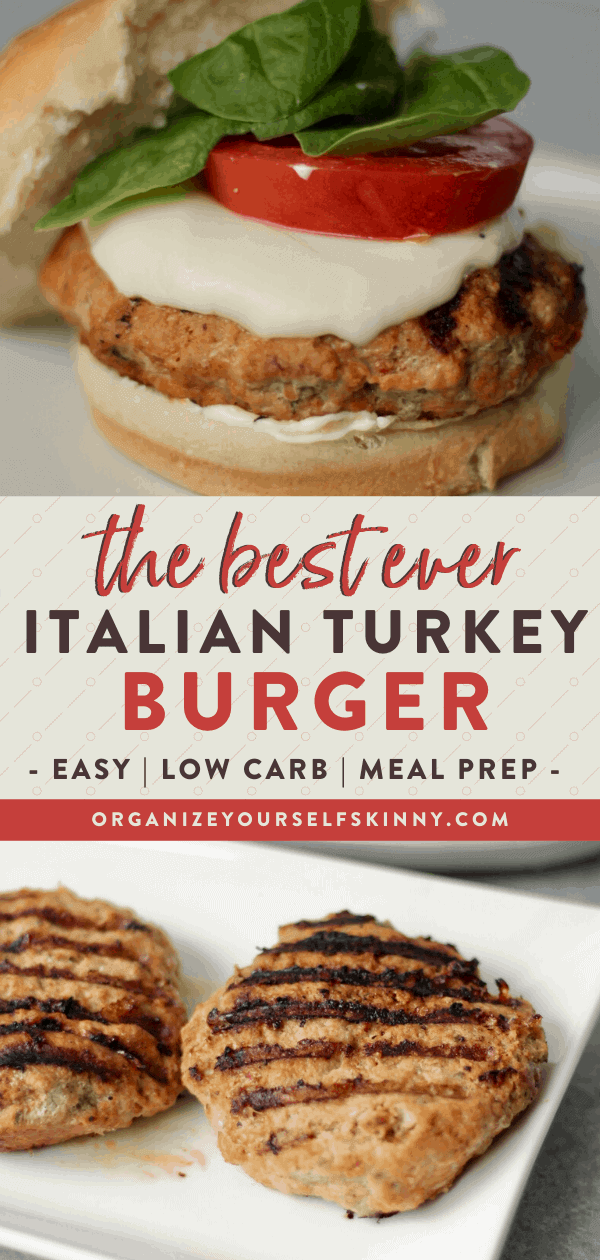 I love Italian food! Most of the time that means a big ole plate of pasta with some spaghetti sauce and meatballs. Mamma mia! Yum!
However, I've been known to infuse Italian flavors into just about every type of food. I mean can you blame me? What food couldn't be enhanced by garlic and marinara sauce? In my opinion, very little.
Well, burgers are not safe from my Italian food transformation touch. 😉
One of the things I love about turkey burgers (or any burger) is you can really get creative. It's so easy to mix in a little of this and little of that to put together a delicious burger recipe.
Now, let's get to this Italian burger recipe. I used ground turkey but you can definitely use ground beef if you prefer. I like using ground turkey because I'm able to keep the fat and calories on the lower side. Plus it has great flavor on its own and really soaks up all the Italian flavors in this recipe.
Frequently Asked Questions About Italian Burgers
Before I share how to make these Italian burgers, here are a few questions I have gotten from my readers:
Where Can I Buy Ground Turkey?
In my opinion, not all ground turkey is created equal. For burgers, I prefer a coarser ground texture because I feel this type of turkey is easier to handle and makes the best burger patties. Ground turkey that's finely ground tends to have a lot more liquid and is mushier but that's just my experience.
Also, I prefer a high-quality ground turkey that's 90 – 95% lean. I can usually find an organic ground turkey at Whole Foods, and Wegmans. I also purchase from Butcher Box Meat Delivery which, in my opinion, has some of THE BEST organic ground turkey.
What If I Don't Have Italian Seasoning?
No worries, you can easily use 1 teaspoon oregano and 1 teaspoon of basil.
Can I Substitute the Cheese?
Yep! You can use any type of grated or shredded Italian cheese in the burgers.
I personally like to use:
Parmesan
Romano
Asiago
Provolone
For the cheese on top, you can use whatever you like. I love fresh mozzarella but provolone or fontina would be delicious. My advice is to keep the cheese Italian. I wouldn't necessarily put cheddar or swiss on this burger as the flavors might not work as well together.
What Kind Of Bread Should I Use?
Honestly, any hamburger roll will work just fine. Of course, you can get fancy and use focaccia or some other type of Italian bread or roll.
Can I Make These Italian Burgers Low Carb?
Yes, just ditch the bread and you've got a great low-carb meal.
These burgers are great with:
A salad
In a lettuce wrap
Alongside some vegetables
Personally, I mostly eat these burgers on their own without any bread.
If you really want to have some bread, then I recommend enjoying these opened faced or with a low carb flatbread sandwich thin.
Can I Meal Prep These Italian Turkey Burgers?
You sure can!
You can prep ahead of time and store in the refrigerator for 2-3 days and then continue with grilling them.
Another option is to freeze the patties to use down the road. To freeze, make the patties and then place between parchment paper and then put into a plastic bag and freeze. You can see my how-to freeze burgers tutorial.
You can also cook up some burgers to heat and eat the entire week. These Italian burgers reheat perfectly, thanks to the marinara sauce. They are not dry at all! All I do is cook the patties, let them cool, and then I'll store in glass containers in the refrigerator.
Note: If you freeze turkey burgers raw then make sure the patties are completely thawed before continuing with the recipe.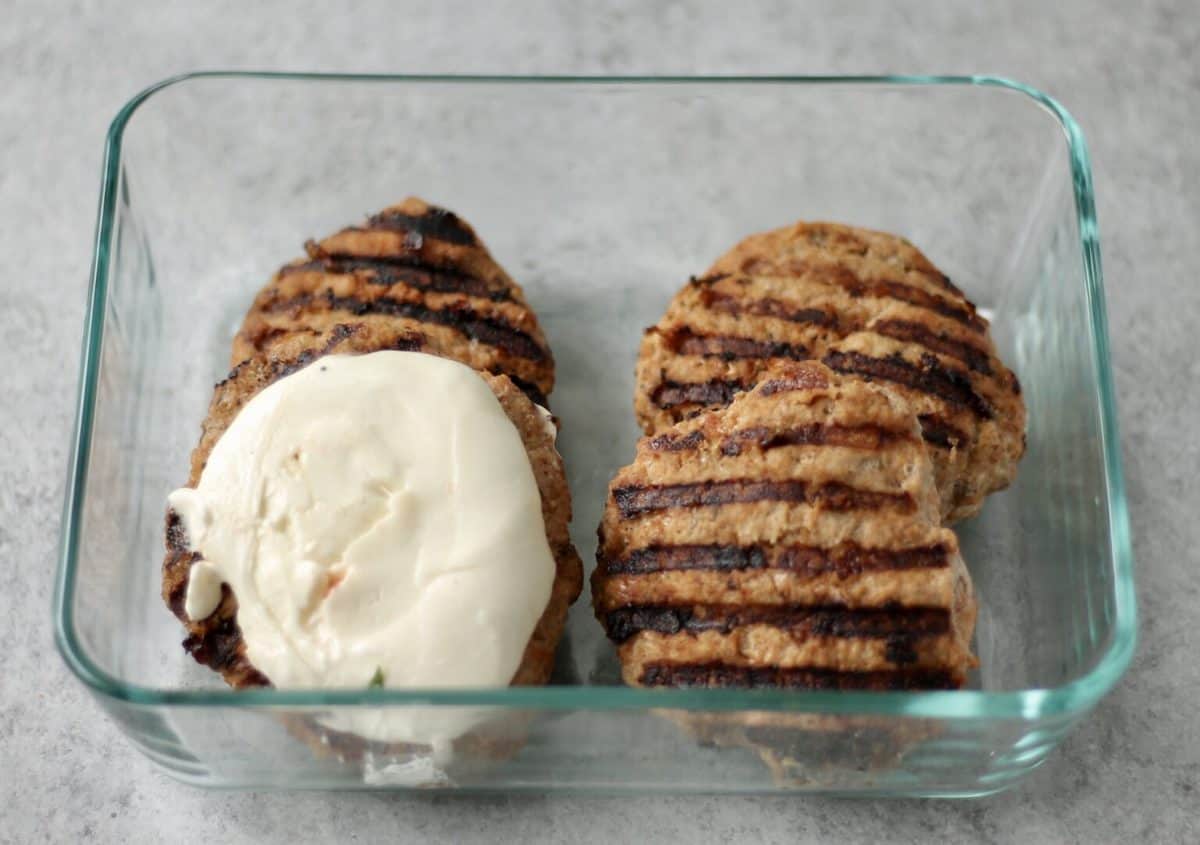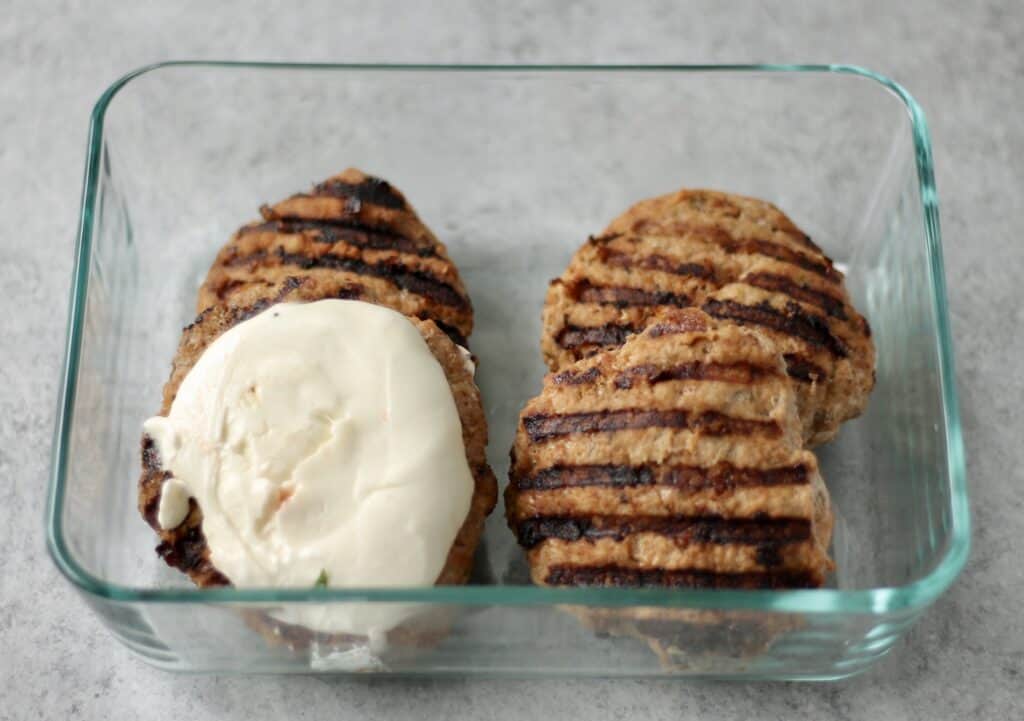 The Best Italian Burgers
Alright, let's get to the recipe! Here is the list of ingredients you need to make these delicious turkey burgers:
Ground turkey
Marinara sauce
Worcestershire sauce
Parmesan cheese (grated)
Garlic powder
Italian seasoning
Salt
Pepper
Fresh mozzarella
Hamburger rolls (optional)
Mayonnaise, pesto, or Italian dressing
Tomato slices
Onions
Lettuce, baby spinach, or arugula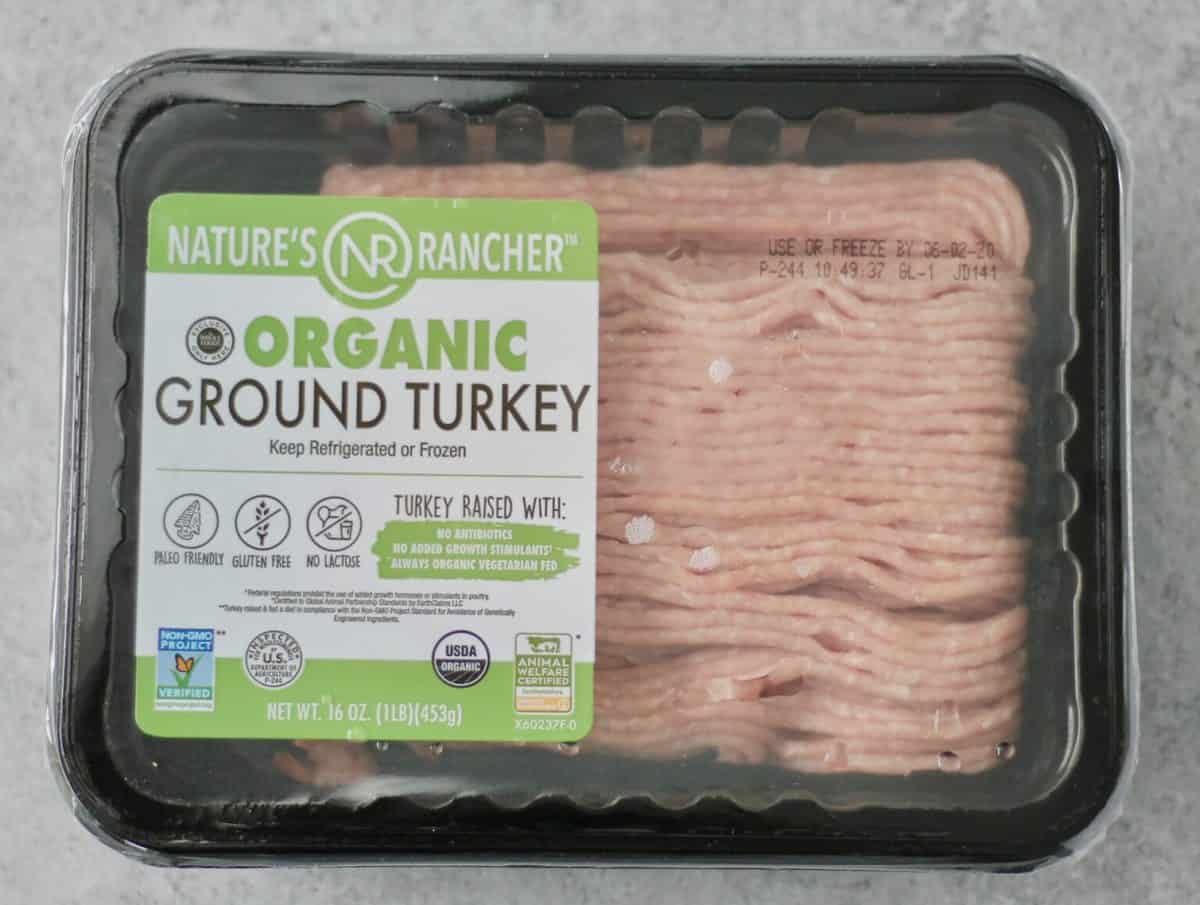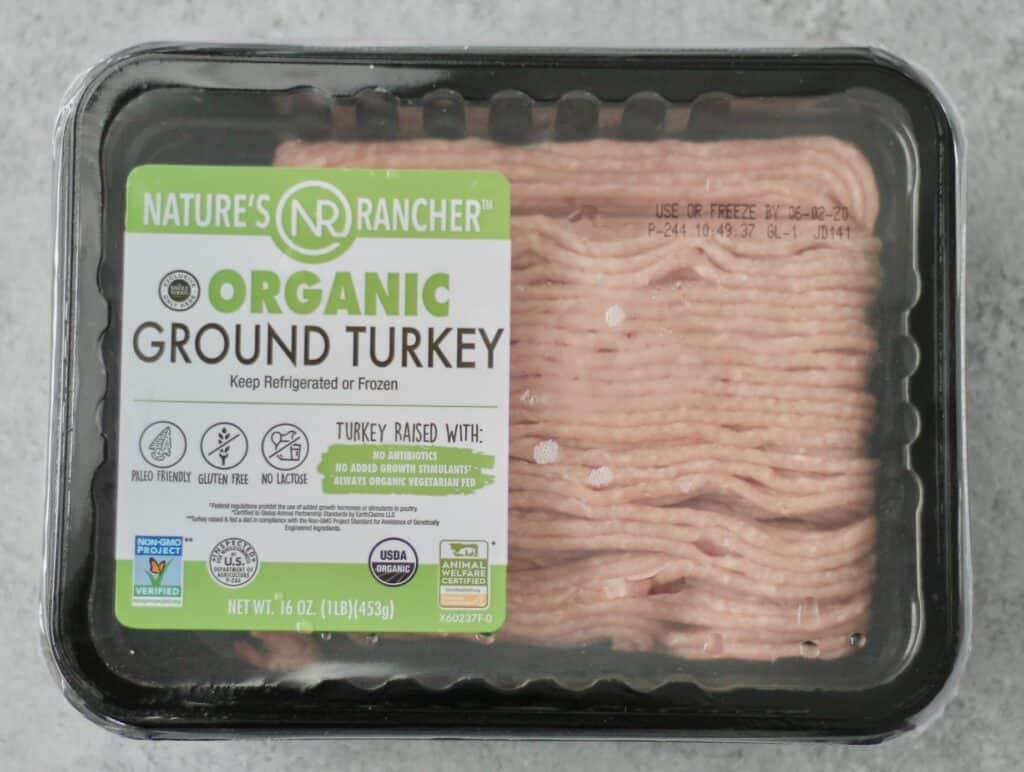 How To Make Homemade Italian Burgers
Start with combining the ground turkey, marinara sauce shredded parmesan, Italian seasoning, garlic powder, onion powder, Worcestershire sauce, salt, and pepper in a bowl.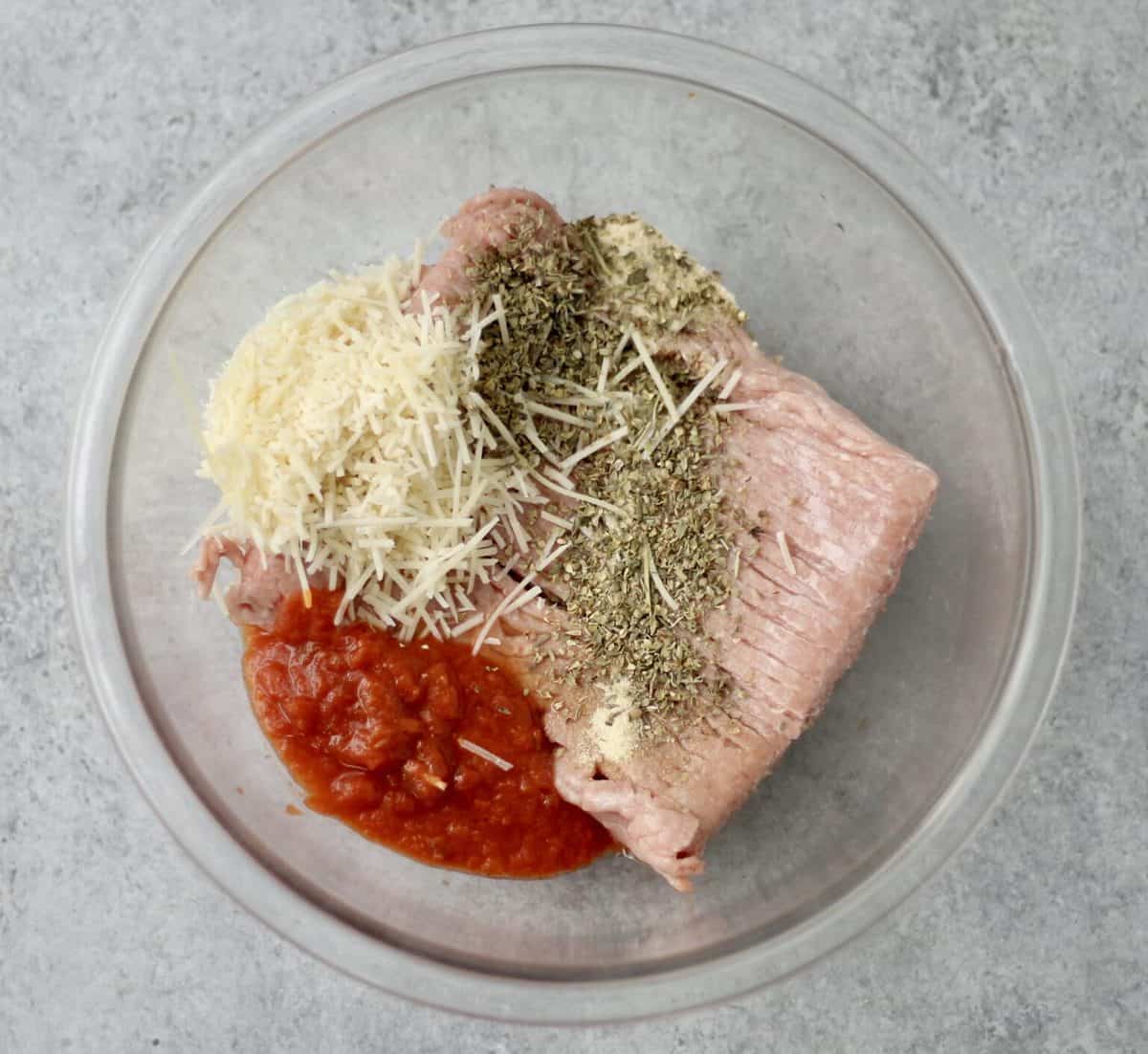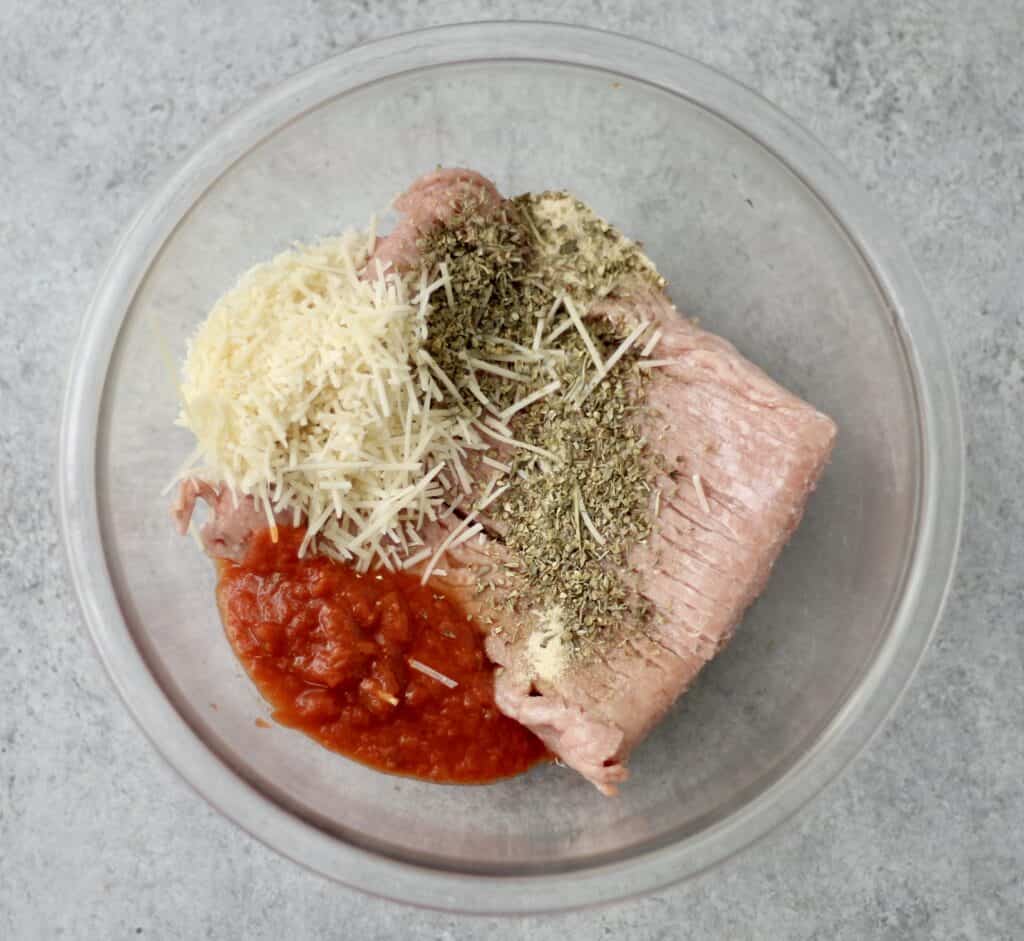 Mix everything until all of the ingredients are combined.
Cooking Note: You can easily double or triple this recipe if you're making some for a party or stocking your freezer with burgers for the summer.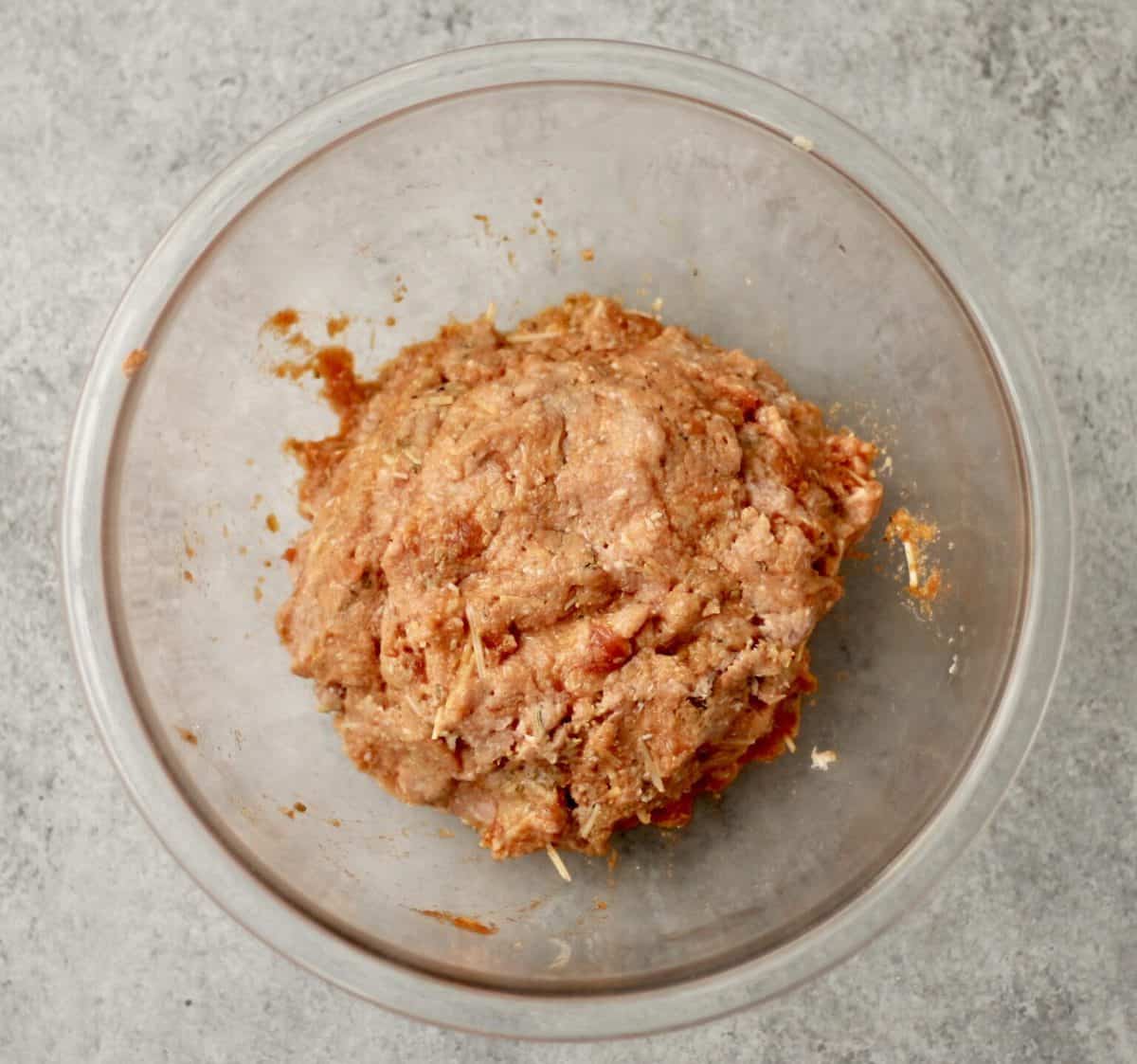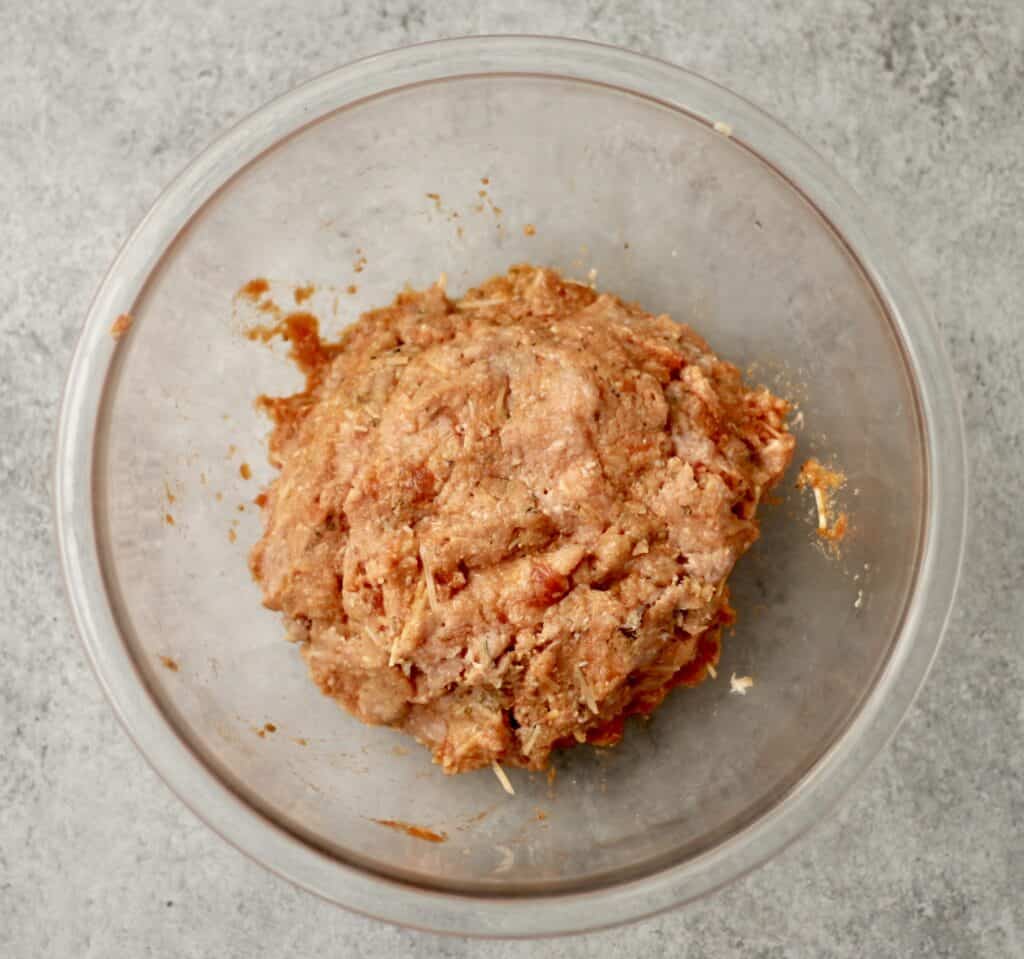 Then, you'll divide the mixture into 4 patties.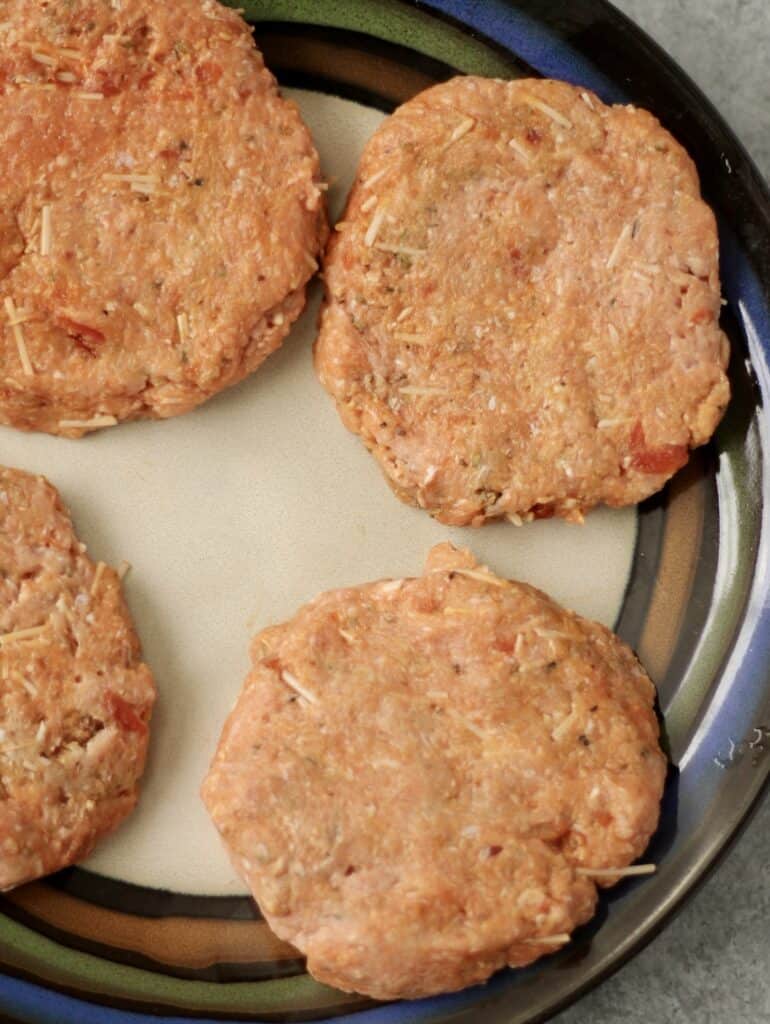 Now It's Grill Time!
Turn your grill on to medium-high and give it a few minutes to eat up. Then, put the burgers on the grill and cook for 5-6 minutes on each side.
Cooking Note: Make sure to not push down on the burger as it cooks. When you do this, you push the juices right out. I highly recommend getting a meat thermometer so you know exactly when the turkey burgers are done so you don't overcook them.
If you're using cheese, add a slice of fresh mozzarella to each burger. Let the burgers cook for another minute until the cheese melts.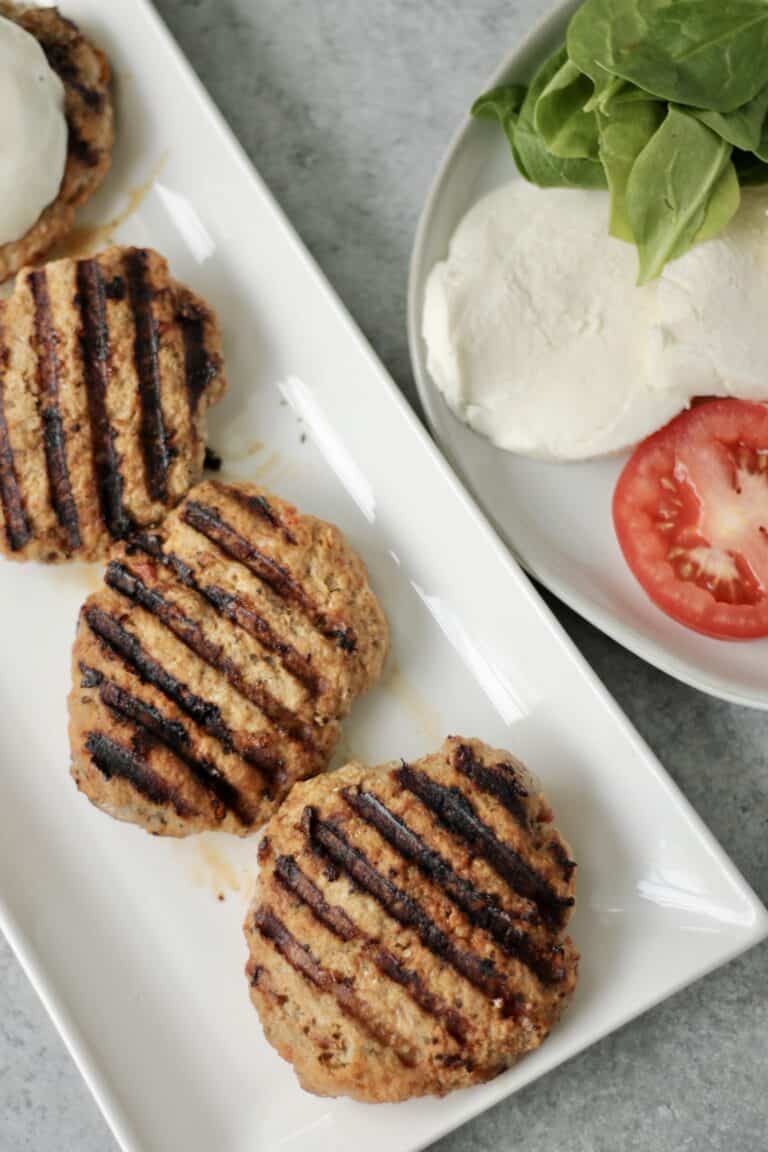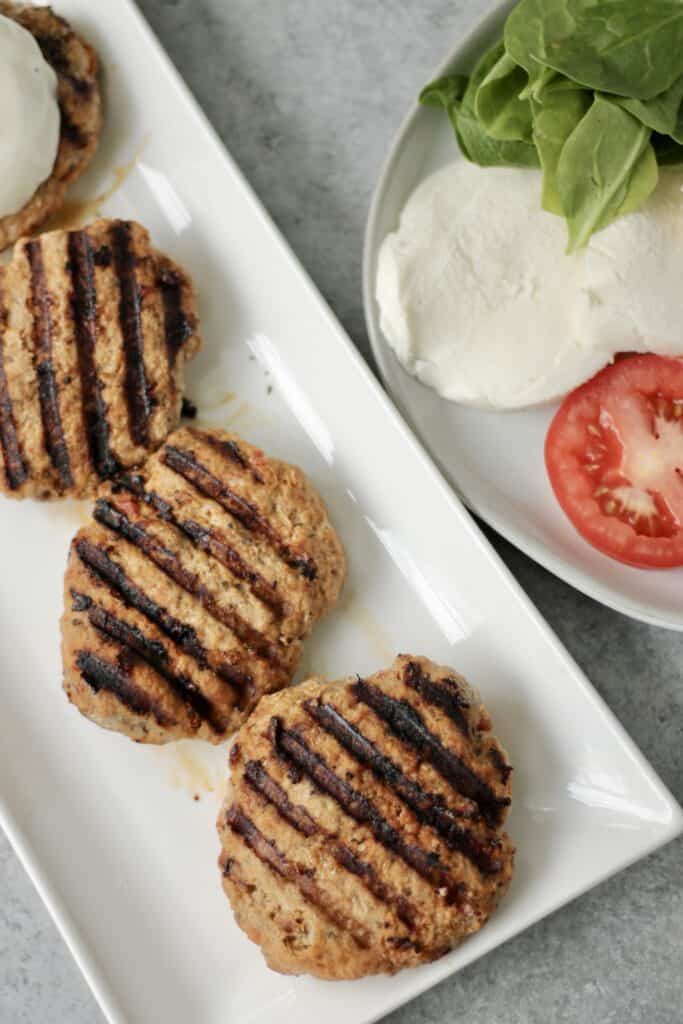 Remove all the burgers from the grill and let the burgers sit for a minute as this gives the juices a chance to settle in the burger. If you cut it or bite into it right away, the juices will come out leaving you with a dry turkey burger.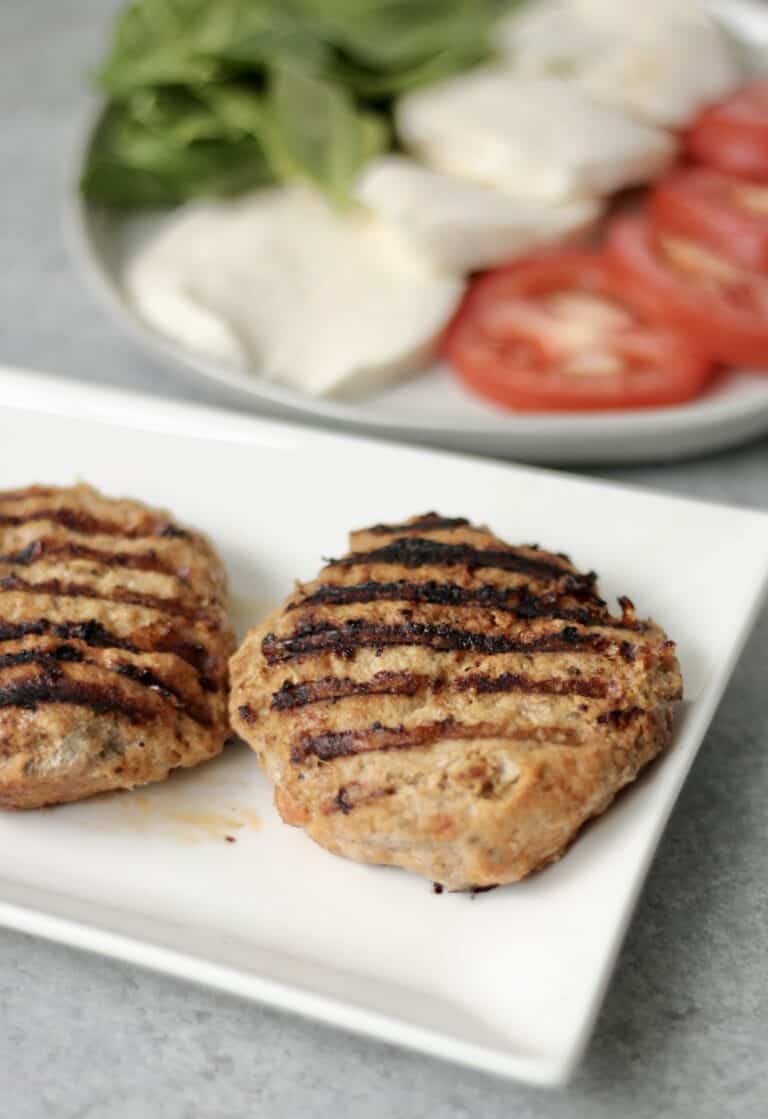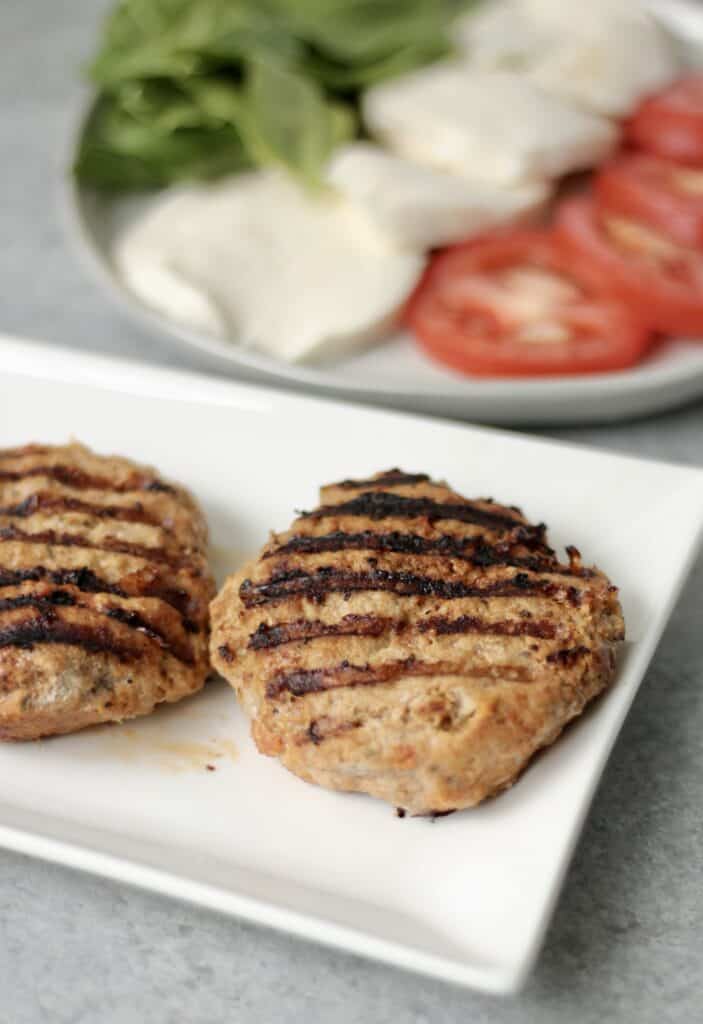 Assemble Your Dream Italian Burger
Now it's time to eat!
If you're using a bun, then put a little mayonnaise or light mayo on there. If you're feeling super fancy, then pick up one of those mayos flavored with garlic or something Italian flavored.
You can even use pesto or Italian dressing to give it even more flavor. Get creative!
If you're not using a bun, then add those condiments right onto the turkey burger with all the other burger extras. Trust me, you won't even miss the bun!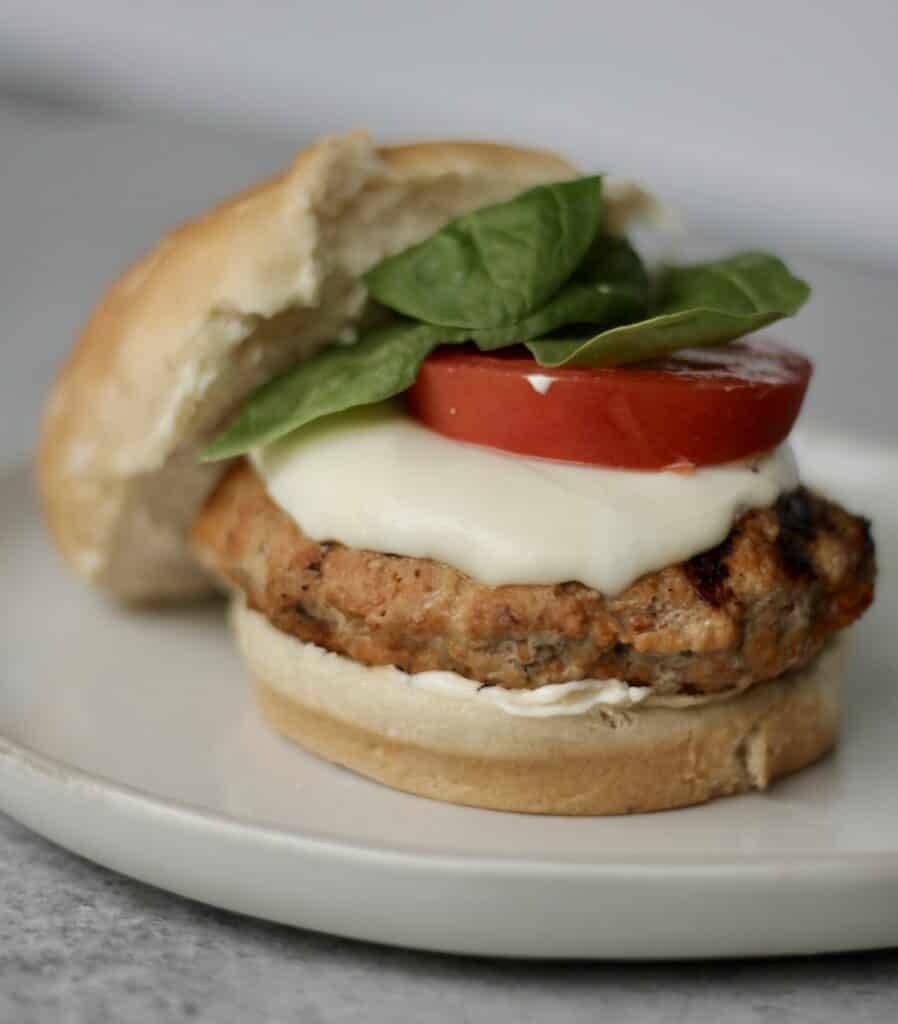 More Burger Recipes
If you loved this Italian Burger recipe, you HAVE to try some of these other burger recipes!
Craving Italian food AND burgers? You have to try these Italian burgers at your next summer party. Share a picture and tag me on Instagram or Facebook if you decide to make this!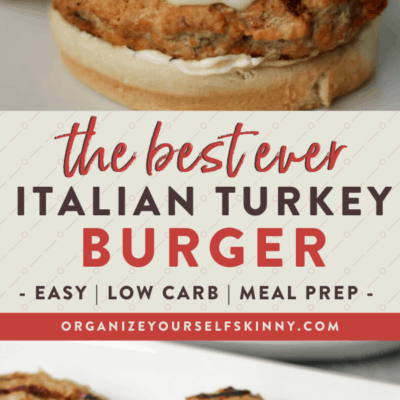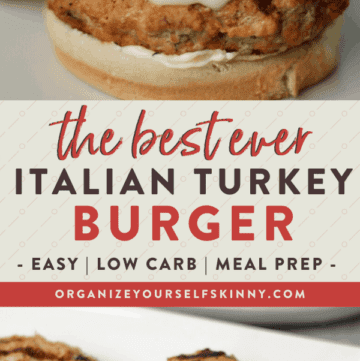 Italian Turkey Burger
This incredible Italian turkey burger is filled with your favorite Italian flavors - basil, parmesan, mozzarella, tomato, and more!
Print
Pin
Rate
Ingredients
1

lb

ground turkey

¼

cup

marinara sauce

½

tablespoon

Worcestershire sauce

¼

cup

grated parmesan cheese

1

teaspoon

garlic powder

2

teaspoons

Italian seasoning

1/4

teaspoon

salt

1/4

teaspoon

pepper

4

slices

fresh mozzarella

4

rolls

if using

Mayonnaise

pesto, or Italian dressing

Tomato slices

Onions

Lettuce

baby spinach, or arugula
Instructions
In a medium to large bowl combine ground turkey, marinara sauce, Worchester sauce, parmesan cheese, garlic powder, Italian seasoning, salt, and pepper. Mix until all of the ingredients are combined,

Form mixture into 4 burger patties.

Heat grill to medium-high and give it a few minutes to heat up.

Add the burgers to the grill and cook 5 minutes on each side.

Add a slice of fresh mozzarella and cook another minute until the cheese is melted.

Remove from grill and let the burgers sit for a minute.

Build your burgers using rolls and the rest of the ingredients.
Nutrition
Serving:
1
g
|
Calories:
245
kcal
|
Carbohydrates:
5
g
|
Protein:
23
g
|
Fat:
15
g
|
Sugar:
1
g