Tender turkey meatballs mixed with pesto and baked in a marinara sauce. Skip the pasta and enjoy this as a low-carb meal!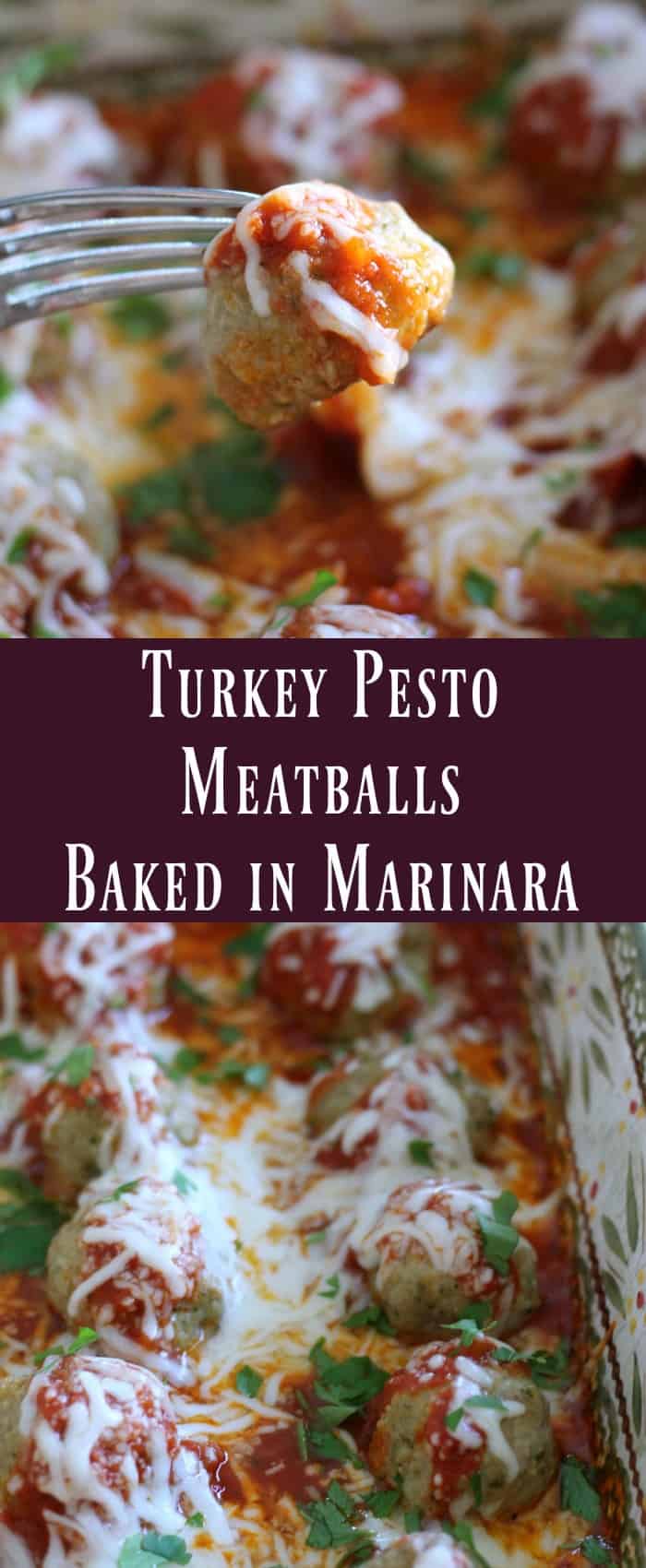 Never in a million years did I ever think I would describe my eating style as "on the lower carb side". I'm a pasta and pizza loving girl and early on in my weight loss journey I learned to fit these foods in while still managing to lose weight. It was all about portion control.
However, now that I'm into my 40s, and hormones are becoming a factor, carbs seem to effect me differently than they once did. I become bloated almost immediately and whatever I eat sits like a brick in my stomach for about 2 days. Not to mention, carbs have really put a cramp in my weight loss goals – it just not like it was 5-6 years ago. Now, I'm not saying I've completely given up carbs. Umm, no that's never happening. But I need to keep carbs under control and to a minimum. It's just the way it is.
To be honest, this hasn't been as hard as I thought. I can still enjoy Italian favorites like baked chicken parmesan or garlic shrimp but now I skip the pasta and eat it alongside a salad or vegetable. Guess what? I still love it.
With that said, I still prepare Italian-inspired recipes like this new Turkey Pesto Meatball recipe I'm sharing today.
I never thought about stirring pesto into meatballs until Hello Fresh sent me a turkey pesto meatball recipe. Mmmm it was good but it included tossing the meatballs with pasta and adding in more pesto. I wanted to leave out the pasta and lighten it up a bit.
This is what I did.
I mixed together 1 lb ground turkey, 6 tablespoons pesto (I used Wegmans brand), grated parmesan cheese, 1/4 cup unseasoned breadcrumbs, garlic, worcestershire sauce, and seasoning. Pesto is very easy to make homemade but I typically just pick up a jar from the store – that's even easier! My favorite jarred pesto brands are Wegmans and Dellalo.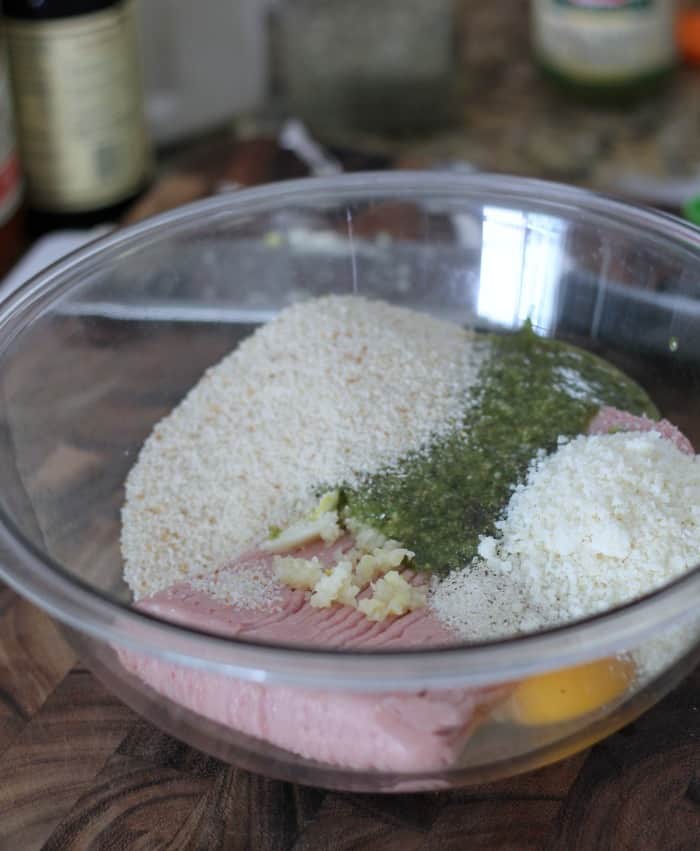 Then I used a medium cookie scoop to portion out 18 meatballs.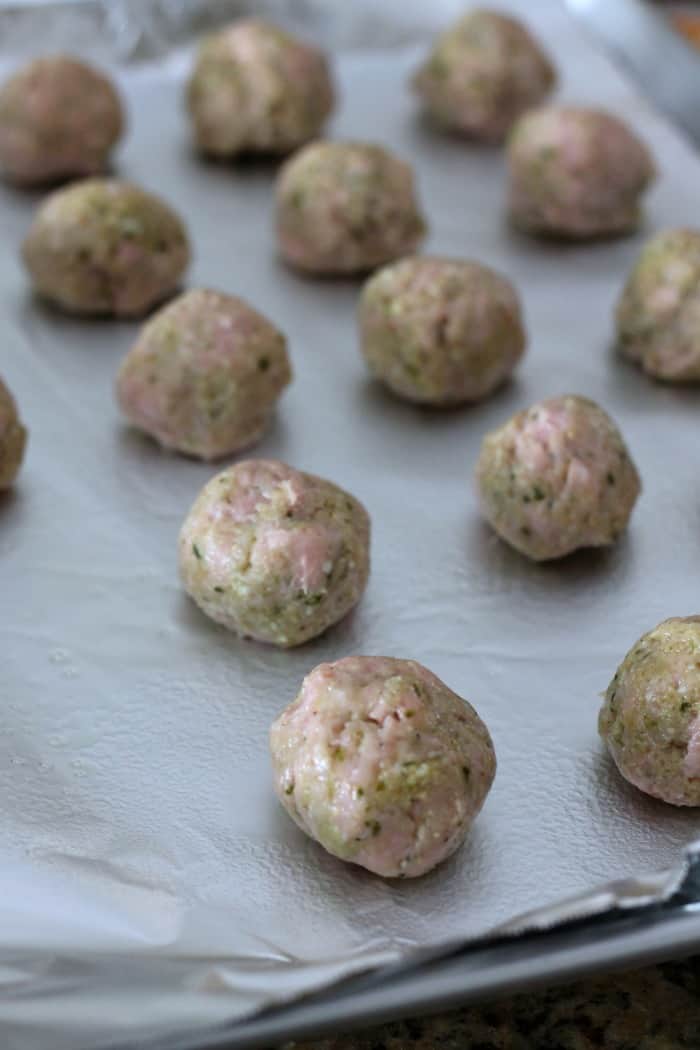 After I rolled the meatballs out I baked them for 15 minutes in a 370 degree oven. I spread 1/2 cup sauce on the bottom of a 9 x 13 baking dish. Then I place the meatballs on top of the sauce and poured the rest of the sauce over the meatballs.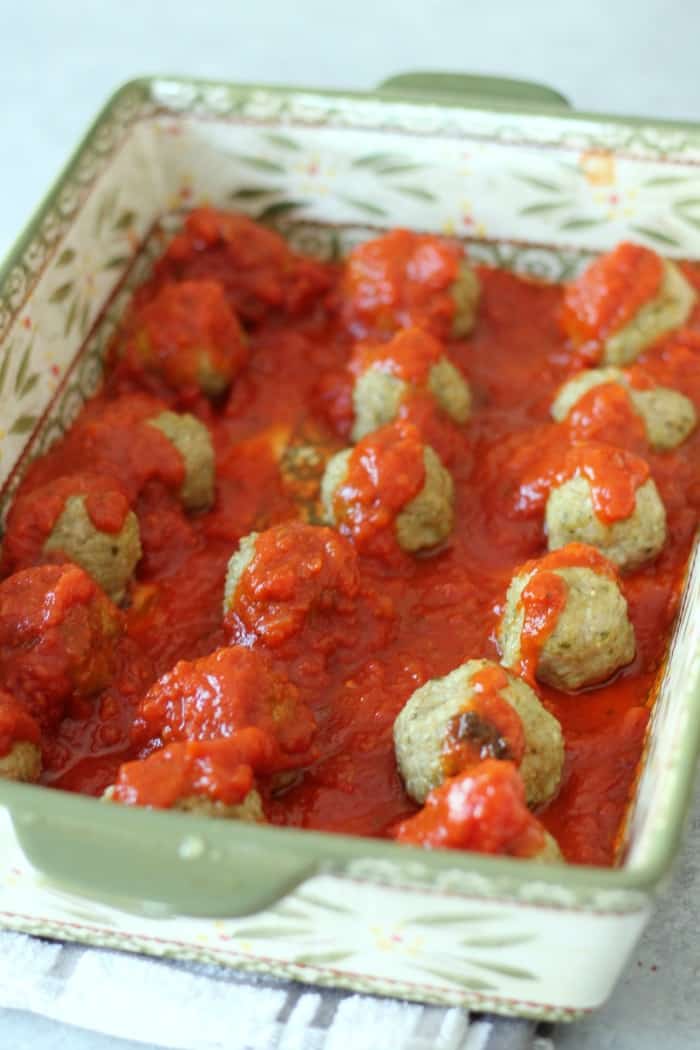 Before putting the meatballs into the oven, I sprinkle them with 1 cup of shredded mozzarella and covered with foil. Then I baked the meatballs for another 20 minutes.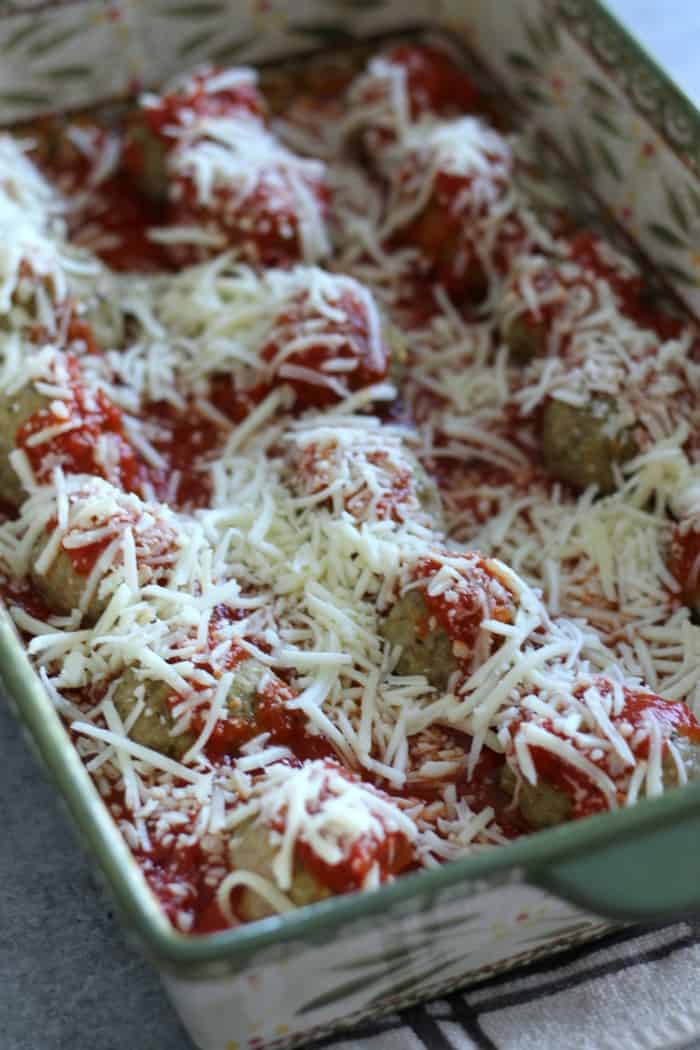 These Turkey Pesto Meatballs are scrumptious! They are tender and full of flavor. Trust me, you won't even miss the pasta.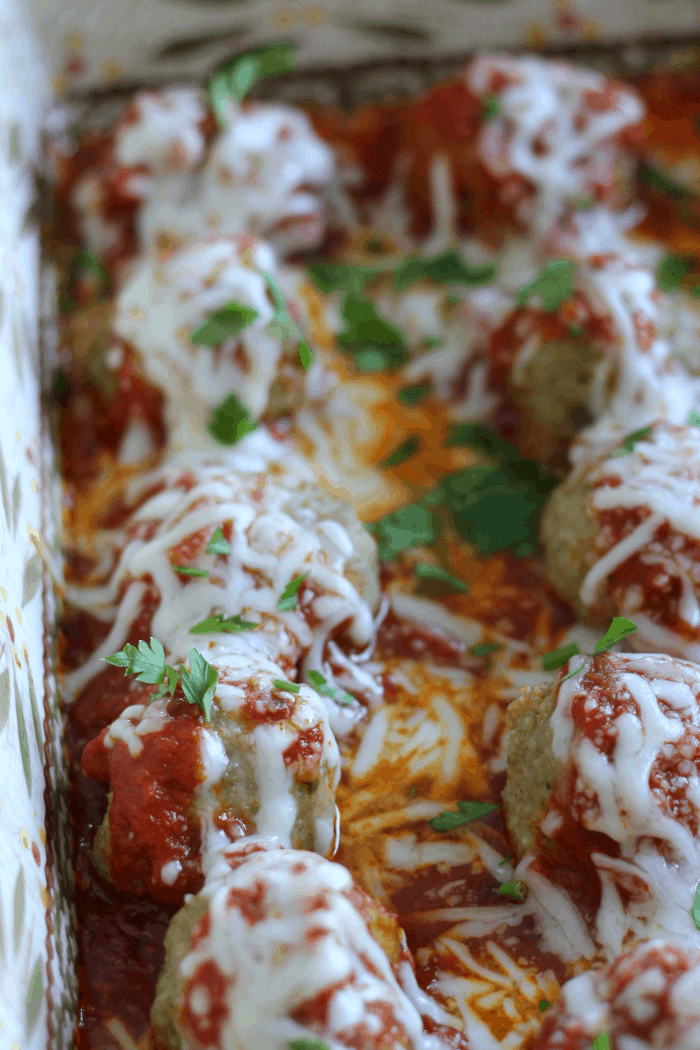 Like I said, I try to keep on the low carb side of life so I enjoy these meatballs with zoodles, other vegetables, or a salad. They keep and reheat well so you can make these ahead of time and store in the refrigerator or freezer. Reheat on the stove or in the microwave.
You don't need to give up Italian favorites, just learn to enjoy them minus the carbs. Believe me, if this carb-loving girl doesn't miss the pasta neither will you. Try it!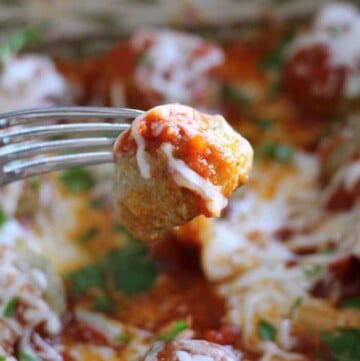 Ingredients
1

lb

ground turkey

6

tablespoons

pesto

1

egg

2

cloves

garlic

grated or finely chopped

1

tablespoon

Worcestershire

1

teaspoon

onion powder

1

teaspoon

salt

1/2

teaspoon

ground black pepper

1/4

cup

unseasoned breadcrumbs

1/4

cup

grated parmesan or romano cheese

1 1/2

cups

marinara sauce

1

cup

shredded mozzarella
Instructions
Preheat oven to 370 degrees.

In a medium bowl mix together ground turkey, pesto, egg, garlic, worcestershire, onion powder, salt, pepper, breadcrumbs, and grated cheese.

Roll into 18 meatballs and place onto a baking sheet coated with cooking spray. I lined the sheet with foil to help with cleanup.

Bake for 15 minutes.

As the meatballs bake spread 1/2 cup of marinara sauce onto the bottom of a 9 x13 baking dish.

Place the cooked meatballs on top of the sauce and pour the rest of the sauce over top.

Sprinkle mozzarella cheese on the meatballs, cover with foil, and bake for 15 – 20 minutes or until sauce is bubbly.

Serve hot.
Notes
Make-ahead instructions
These meatballs can be made completely ahead of time and stored in the refrigerator up to 5 days and freezer up to 3 months.
Nutrition
Serving:
3
g
|
Calories:
351
kcal
|
Carbohydrates:
8
g
|
Protein:
28
g
|
Fat:
23
g
|
Saturated Fat:
8
g
|
Fiber:
1
g
|
Sugar:
2
g
Other Healthy Meatball Recipes
Turkey Zucchini Meatballs