Zucchini is the secret ingredient to incredibly rich ooey gooey chocolate brownies! Who knew?!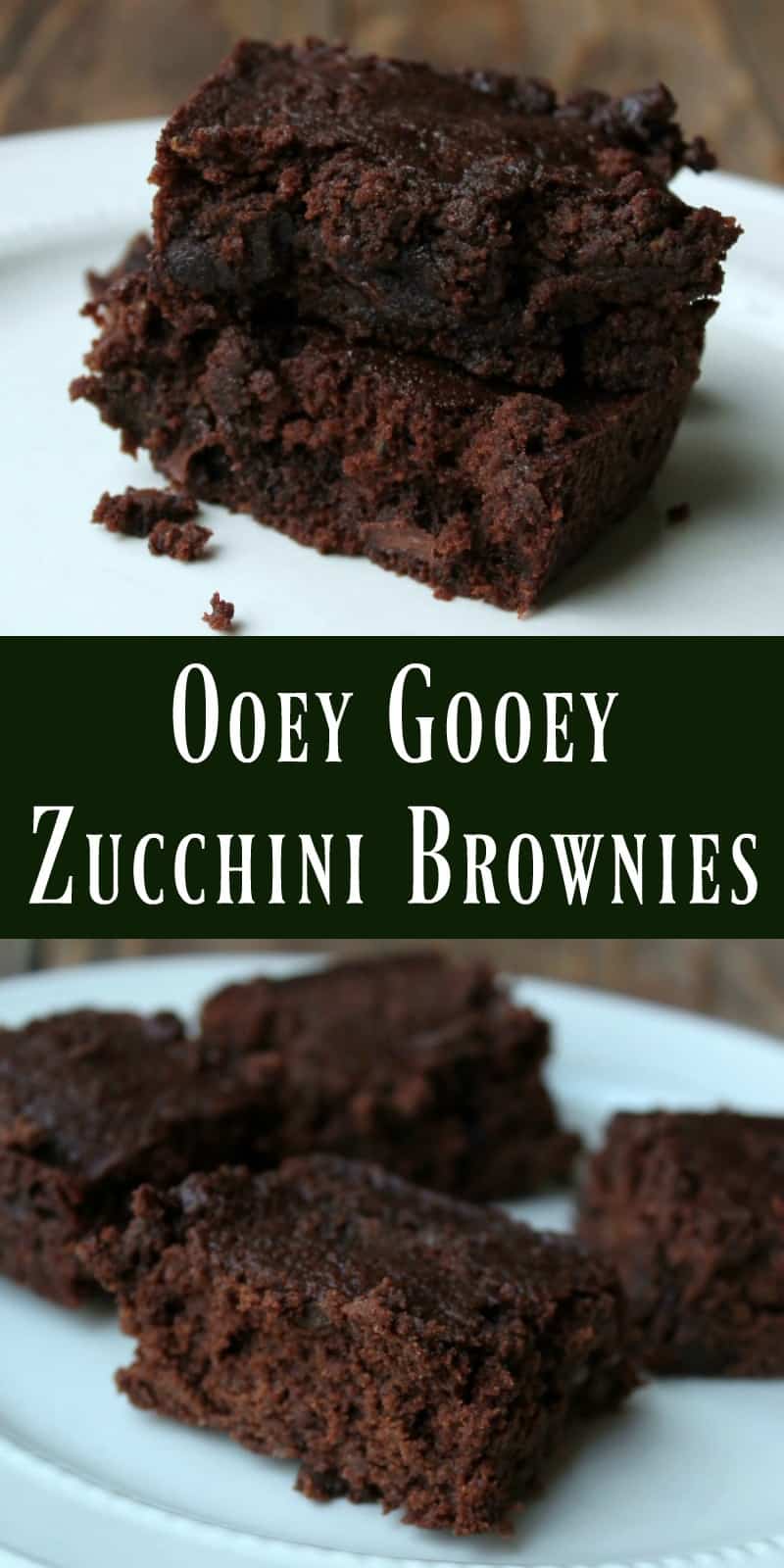 A week or so I was gifted with 2 incredible huge zucchinis! Like enormous! I was pretty pumped – slightly scared – but excited to create a bunch of new recipes using these abnormally sized zucchini.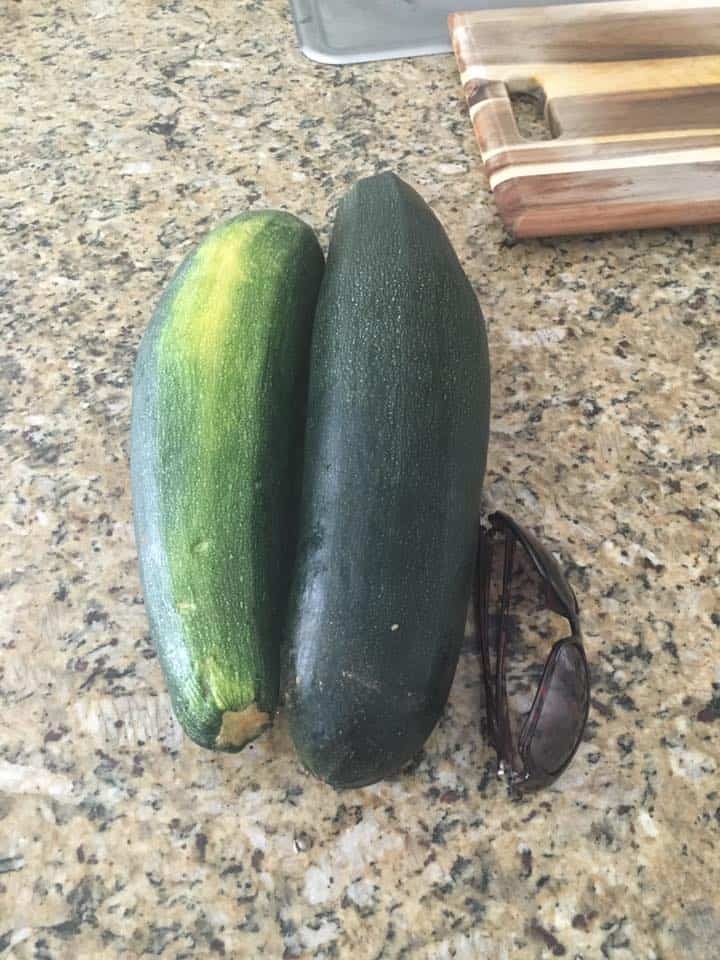 Of course, I started with throwing a couple slices on the grill to go with some chicken sausage I was making. I say "of course" because isn't that what we all think to do with the first zucchini of the season? Or is it just me?
Anyway, I wanted to get more creative than just grilled zucchini so I decided to venture out a bit and throw some zucchini in brownies. Whoa!
Now if you are on Pinterest for a second, and looked up zucchini recipes even just one time, then I'm confident you're not surprised by the notion of putting zucchini in a brownie recipe. If this does surprise you please let me ease your fears because I am not kidding when I say this is probably one of the most delicious brownie recipes I ever tasted.
A couple things to keep in mind. When I first started to prep the zucchini for recipes I decided to grate the zucchini using the large holes of my OXO box grater. Now grated zucchini goes well in recipes where you don't mind seeing or eating pieces of zucchini. For exampling, turkey meatloaf or meatballs are recipes I would use largely grated zucchini in. Even zucchini bread I think grated zucchini works fine.
Now with brownies my gut was telling me different. I almost used the grated zucchini but at the last minute I decided to put the grated zucchini in my food processor and give it a couple pulses until it was very finely chopped/grated. You could just grate the zucchini using the small holes of the box grater too. I did this last year with my double chocolate zucchini muffins. The point is you don't want chunks or long strands of zucchini in your brownies. If you don't care then do whatever you like but I recommend keeping it small and hidden.
I also kept this recipe wholesome by using white-whole wheat flour instead of all white. This gives it more fiber and is less processed. The moisture from the zucchini keep the flour from drying out or feeling too "whole grain". Honestly, you won't even notice. I did use 1.5 cups of sugar because 1 cup just wasn't enough. You could probably get away with 1 1/4 cups but I was happier with use 1.5 cups of sugar. Remember this is a treat not lunch. After all is said and done this zucchini brownie recipe makes 16 squares and is only 150 calories per serving. Plus it's homemade with love. Not processed from a box.
Also, you will be happy to know that this is a one-bowl brownie recipe. Yay! I mixed all the wet ingredients together first then put the dry ingredients on top and slowly stirred until everything was combined and super chocolately.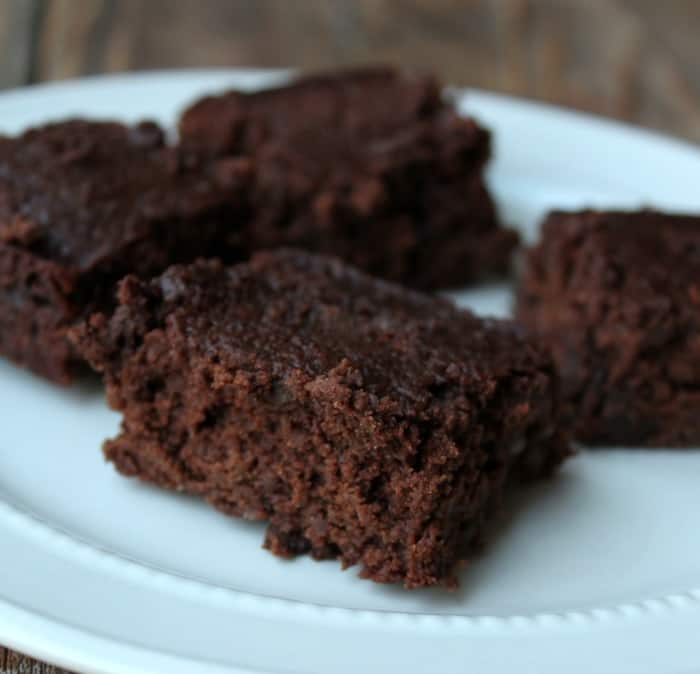 One tip with this zucchini brownie recipe is try to wait a half hour or so before cutting into squares. I even stuck my brownies in the refrigerator to help them set. Personally, I love cold brownies because they taste like a cross between fudge and brownies.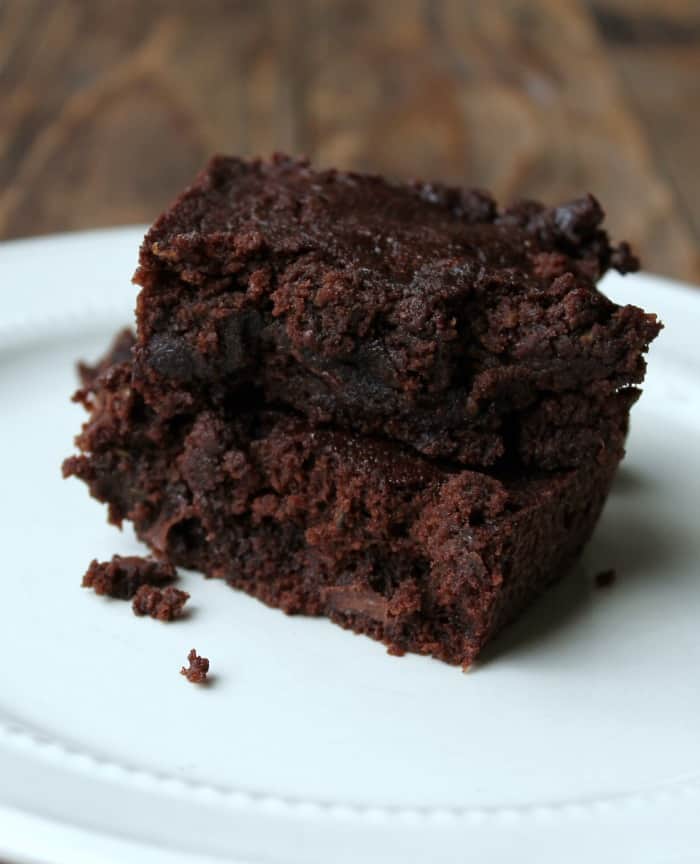 As I said before, these zucchini brownies are easily one of the best brownies recipes I ever made. Because the zucchini is so fine you don't even know it's there but it helps to bring a ton of moisture and creates a super rich chocolate brownie that truly melts in your mouth.
Oh one more thing to keep in mind, make sure to squeeze any excess water out of the zucchini before putting into the batter. Zucchini produces a lot of water and too much water will not be good for any recipe, especially this brownie recipe.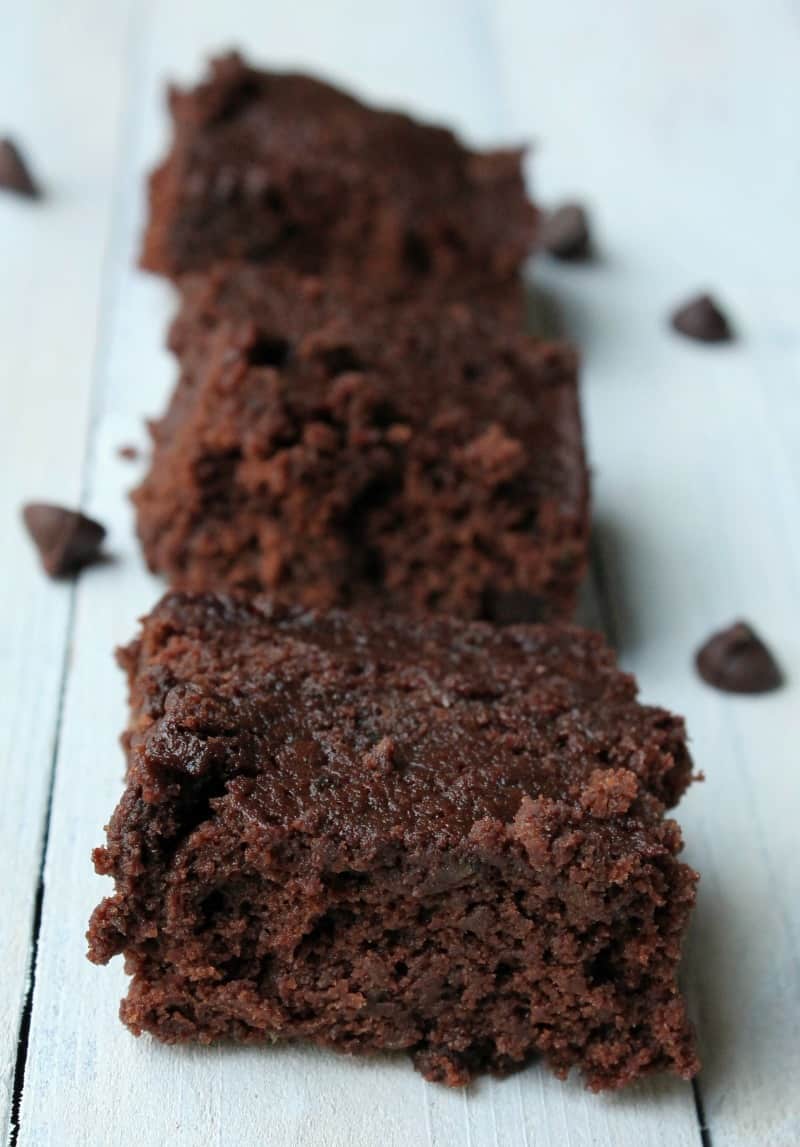 Are you excited to make these zucchini brownies? I hope you are and truly hope you do. If you make them please tag me on Instagram and use the hashtag #organizeyourselfskinny.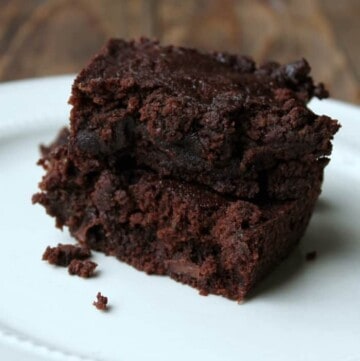 Zucchini Brownies
Grated zucchini is the secret ingredient to incredibly rich ooey gooey chocolate brownies! Who knew?!
Print
Pin
Rate
Ingredients
¼

cup

unsalted butter

softened

1 ¼

cup

granulated sugar

2

beaten eggs

1-

teaspoon

pure vanilla extract

1

cup

finely grated zucchini

water squeezed out

½

cup

cocoa powder

¾

cup

white whole-wheat flour

¼

teaspoon

salt

½

teaspoon

baking powder

¼

cup

semi-sweet chocolate chips
Instructions
Preheat oven to 350 degrees.

In a medium to large mixing bowl mix together the sugar and butter until combined. Mix in the eggs until mixture is creamy and blended.

Stir in the vanilla and zucchini.

On top of the wet ingredients place the cocoa powder, flour, salt, and baking powder. Stir until all the ingredients are combined and batter is rich and chocolately.

Slowly stir in the chocolate chips.

Pour into a 9-inch baking pan and bake for 23 – 25 minutes or until you can insert a toothpick and crumbs stick to it. You don't want to overcook the brownies or they will be dry. My brownies cook perfect at 24 minutes but it depends on your oven.

Take out of the oven and let sit for 1/2 hour to 1-hour. Cut into 16 squares and enjoy.
Notes
sugar: 21 grams.
Make-ahead instructions
These brownies can be made ahead of time and kept in the refrigerator up to 5 – 7 days and frozen up to 3 months. I recommend freezing into portions so you can grab a little treat when you want.
Nutrition
Serving:
1
g
|
Calories:
150
kcal
|
Carbohydrates:
27
g
|
Protein:
2
g
|
Fat:
5
g
|
Saturated Fat:
3
g
|
Fiber:
2
g