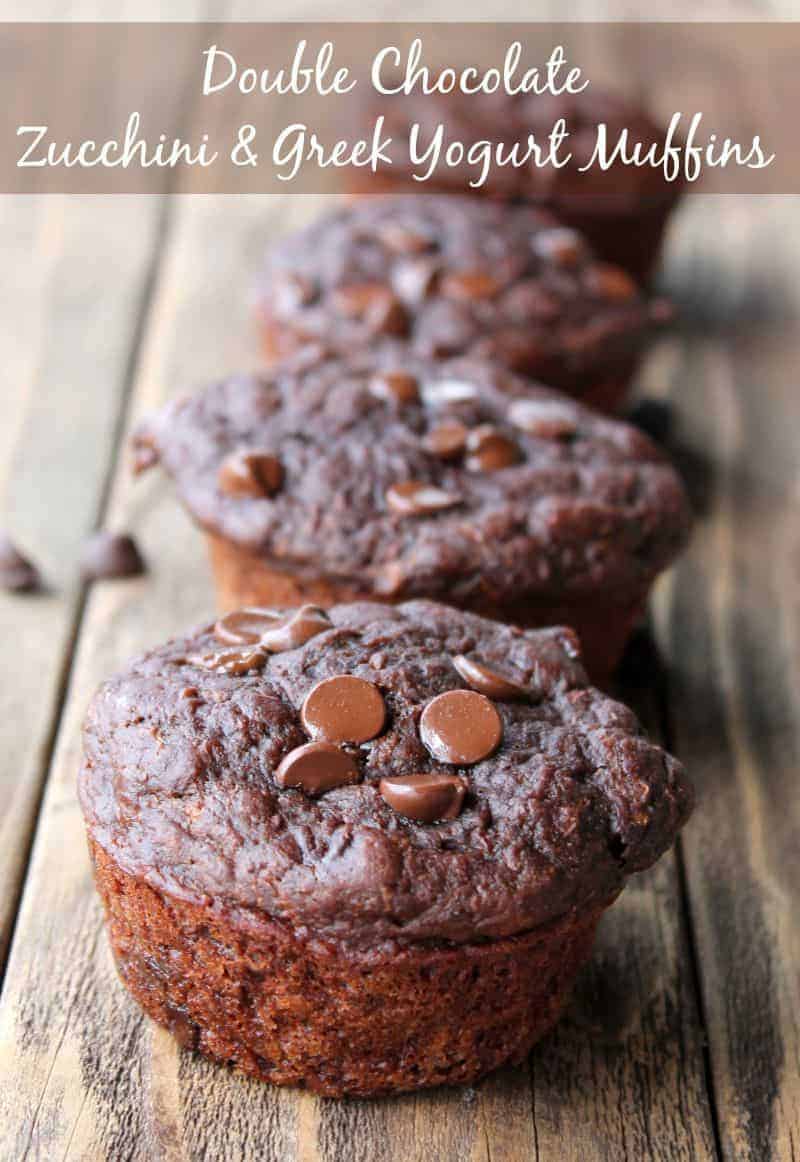 Chocolate + chocolate + greek yogurt + zucchini = the most delicious chocolate muffin of all time. Who knew? Not me! Of course, anything with double chocolate in the title is bound to be amazing but I was not expecting these muffins to rock my world the way they did. Not to mention my kids housed them and had no idea zucchini was involved. It was a beautiful sight to see nothing but crumbs left on their little faces. #momwin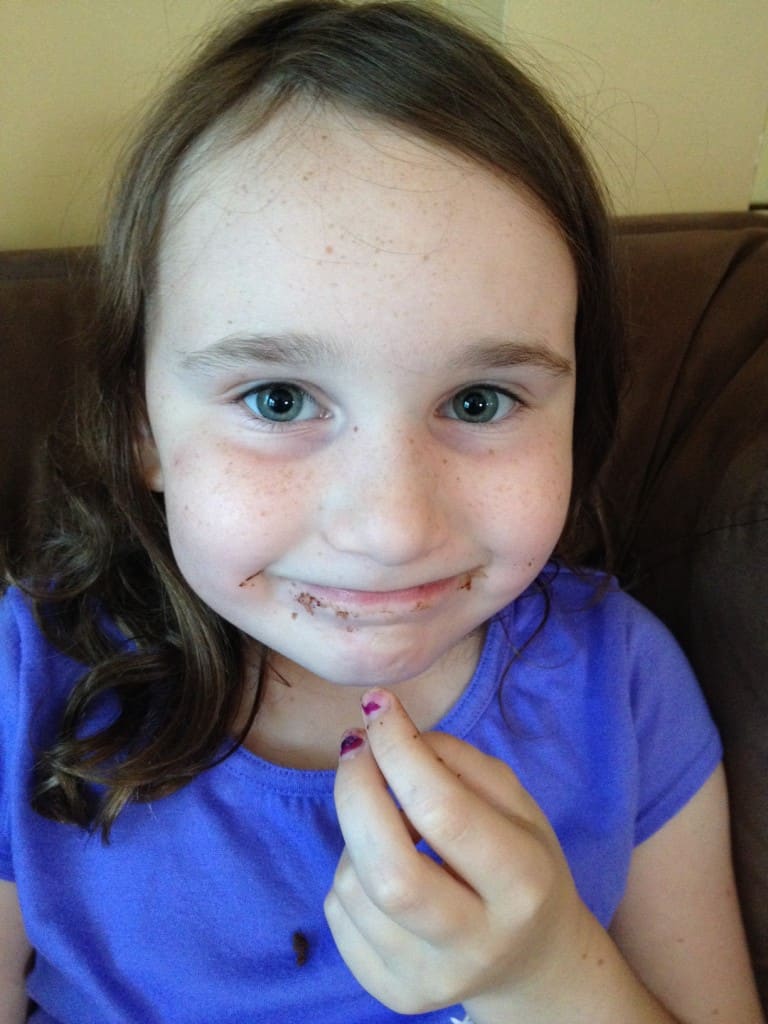 My kitchen is overflowing with zucchini. The last few weeks I have received zucchini from my farm share, friend's gardens, and even my dad gave me a few enormous ones that a customer gave him. It's incredible the amount of zucchini I have collected. Anyway…last week I shredded a bunch and froze it for future recipes. I figured I could throw it into meatloaf, meatballs, breads, and other recipes. As I was shredding I didn't have any recipes ideas yet. Apparently, my brain can't function with that much zucchini.
This past weekend I received 2 more beautiful zucchinis and for some reason my brain went immediately to chocolate. Typically, chocolate is a normal thing for me to think about but I wasn't really expecting it with zucchini. But I didn't question it because using zucchini in a chocolate muffin recipe is the right thing to do. So delicious!
I did learn a couple things with using zucchini in a muffin recipe.
First, you want to grate the zucchini, instead of shredding it, for this recipe. This helps to blend the zucchini right into the batter so you don't get any crunchy zucchini pieces.
Second, you will need to squeeze the excess liquid out. There was A LOT of zucchini juice with the ones I grated. I used a fine mesh strainer to get as much out as possible. This is what the zucchini looks like grated and strained.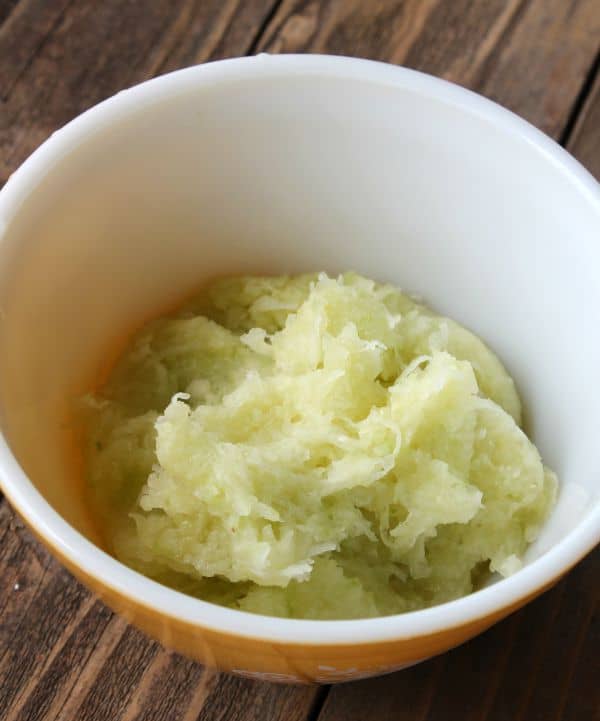 To keep these muffins on the wholesome side I used white whole-wheat flour. Another #momwin. To begin the chocolate goodness I used unsweetened cocoa powered. I also added a little cinnamon because I always add cinnamon when I can. Love cinnamon. The white in this bowl is the baking powder, baking soda, and salt. Those are boring ingredients but necessary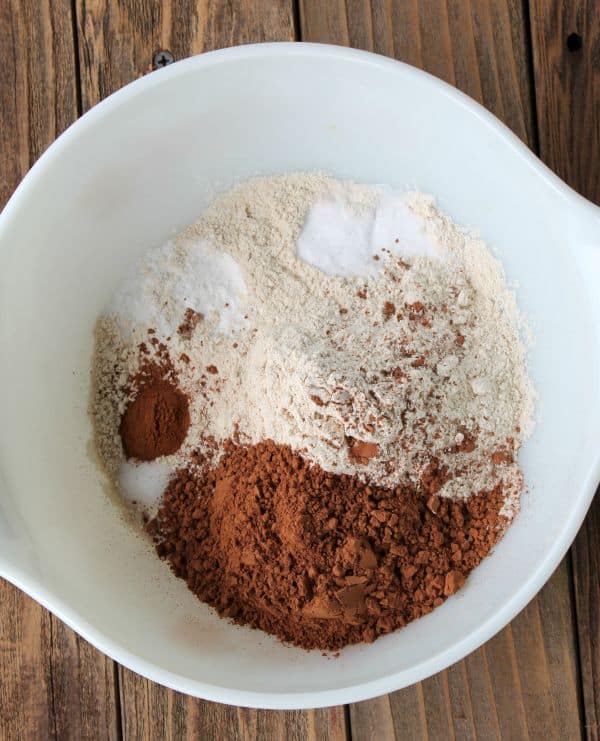 Next is the liquid part. I started with mixing together the egg and sugar. Then I stirred in greek yogurt, vanilla extract, melted coconut oil, and coconut milk. The yogurt gives these muffins a beautiful texture and flavor. Yum! I want one right now!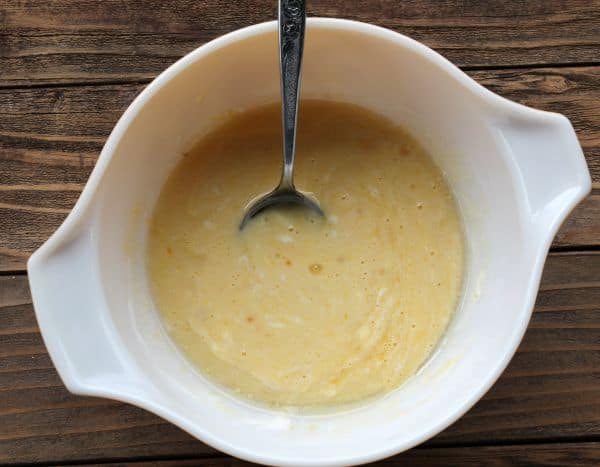 Next I stirred the liquid ingredients into the dry ingredients. I gave that a few stirs and then slowly stirred in the grated zucchini.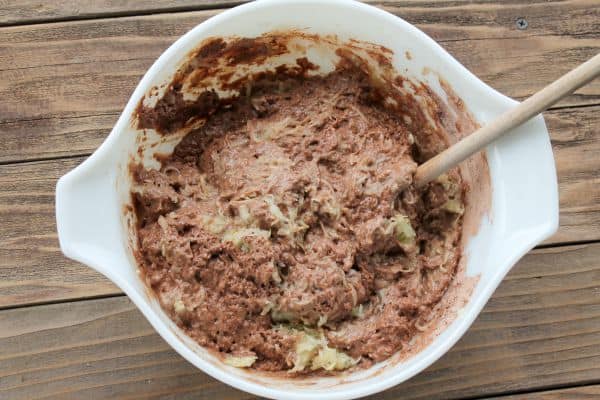 Then I stirred in some of the chocolate chips. This is the second part to the chocolate goodness. I saved about 1/4 cup of the chocolate chips to put on top of the muffins. This was a good choice. Trust me you will thank me when you take that first bit and get a bite of chocolate. Doesn't this batter look amazing. I am not gonna lie I was pretty pumped when I saw this. I thought it was fluffy and beautiful. I new an awesome muffin would soon be in a my future.
I divided the batter evenly among muffin pan. See don't the chocolate chips look great sprinkled on top?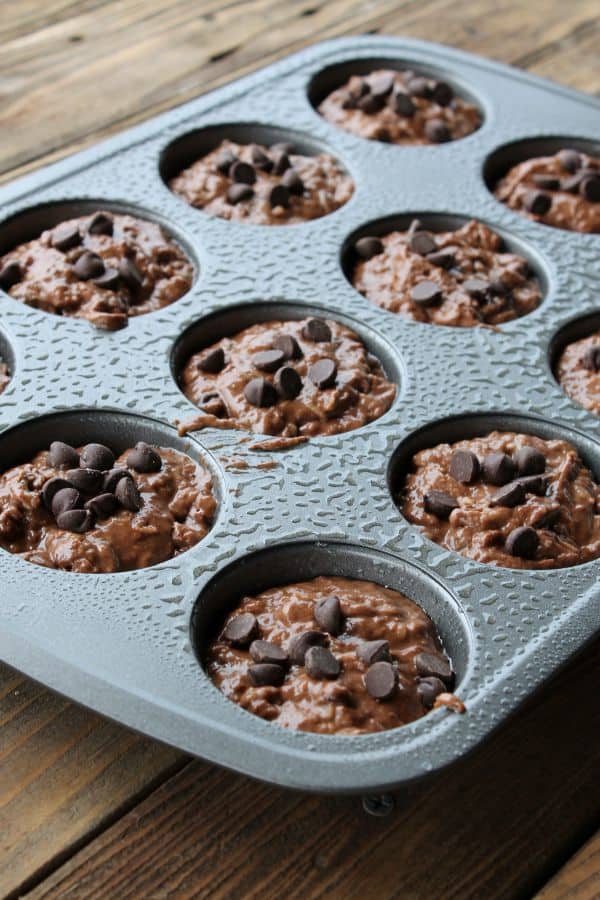 Then I popped the pan into a 350 degree oven and let them bake for about 18 minutes. The excitement I felt watching these muffins rise is almost embarrassing to admit. They looked amazing! I mean seriously look at that muffin.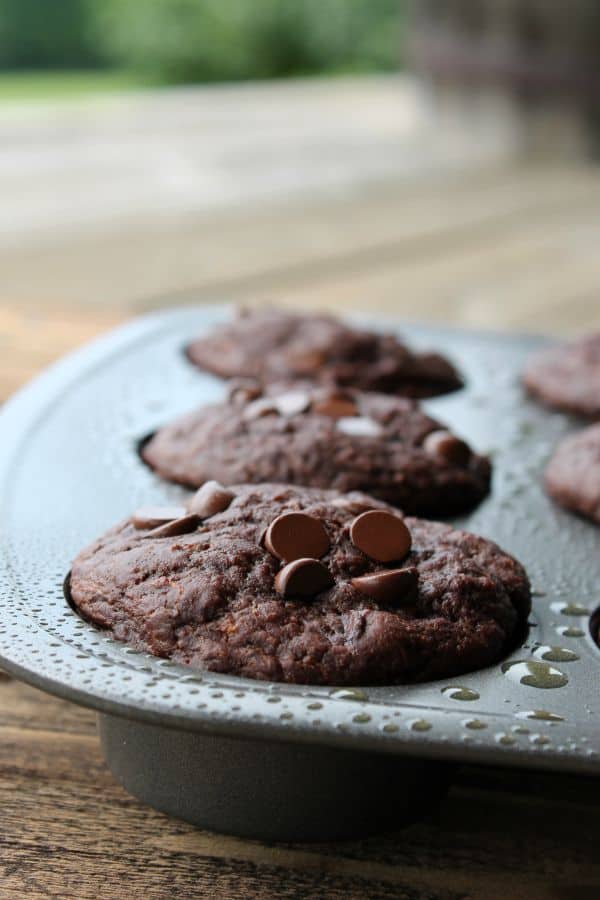 I am pretty sure this is the first time in my muffin making career I prepared uniform looking muffins. Usually, my batter distribution is all screwed up but this time it looks like I kind of new what I was doing. #foodbloggerwin
Okay. maybe a couple are smaller than the others but that's what home cooking is all about. The little imperfections are just symbols of love 🙂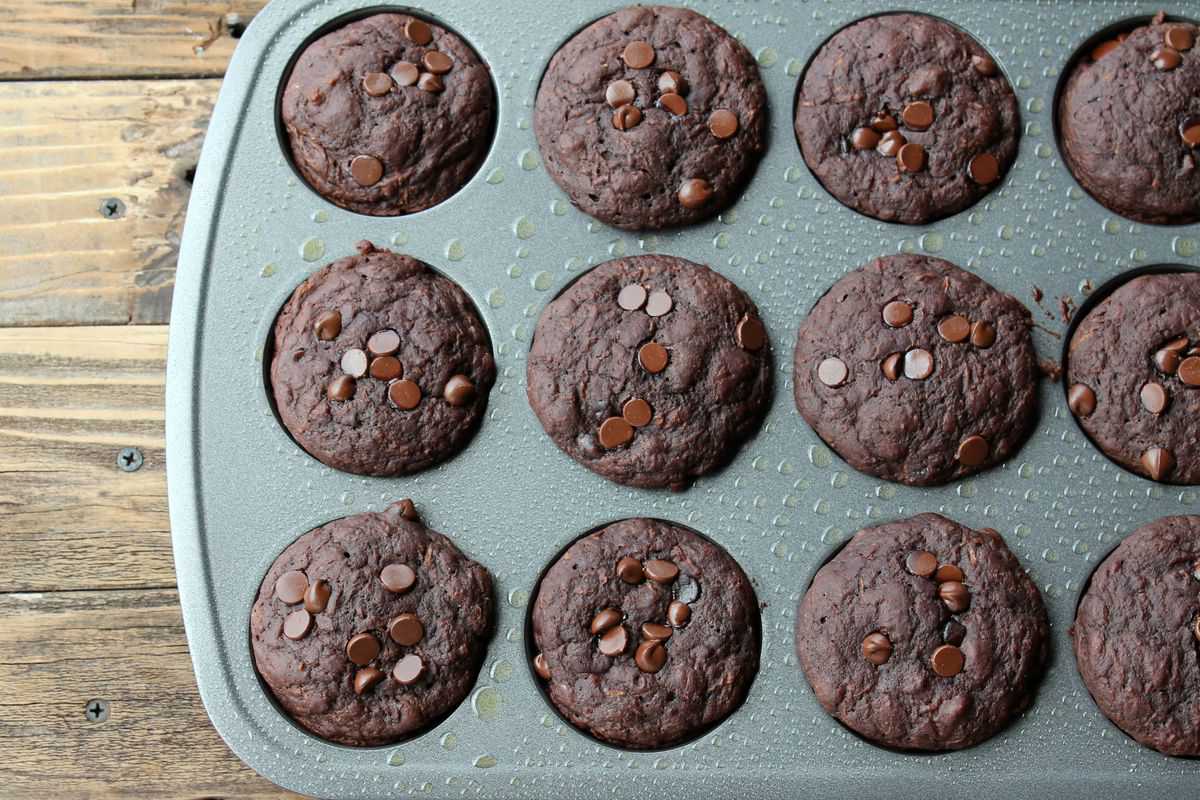 And here they are in a nice perfectly placed photo shoot row. These muffins are up there as one of my favorites. The double chocolate keeps them guilty pleasurish while the white whole-wheat flour and zucchini keeps them good for you. If you have a bunch of zucchini then make these muffins immediately. Oh and they freeze great so I recommend freezing them so you are not tempted to eat the entire batch before bed. Just saying..it could happen.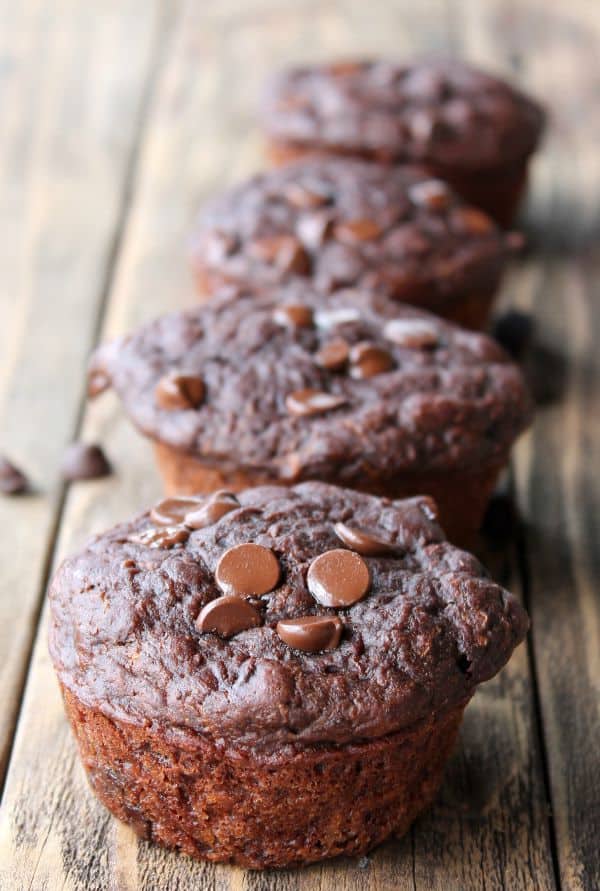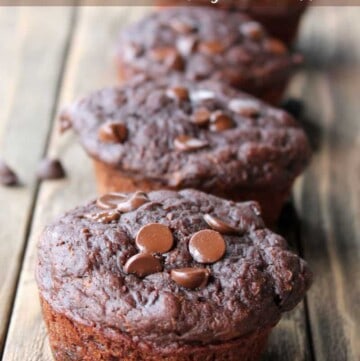 Ingredients
2

cups

white whole wheat flour

1

teaspoon

baking powder

1

teaspoon

baking soda

¼

teaspoon

salt

½

cup

unsweetened cocoa powder

½

teaspoon

cinnamon

1

egg

½

cup

sugar

1

5.3 ounce container vanilla greek yogurt

1

teaspoon

vanilla

2

tablespoons

melted coconut oil

1

cup

unsweetened coconut milk

1 ½

cups

grated zucchini

about 2 medium zucchinis

¾

cup

chocolate chips

divided
Instructions
Preheat oven to 350 degrees.

In a medium bowl combine flour, baking powder, baking soda, cocoa powder, and cinnamon. Give it a couple stirs until the ingredients are evenly combined.

In another medium bowl, using a fork or spoon, mix together the egg and sugar. Then stir in the vanilla greek yogurt, vanilla extract, coconut oil, and coconut milk.

Add the wet ingredients into the dry ingredients. Stir until all the ingredients are combined. Don't over mix the batter.

Slowly stir in the grated zucchini and 1/2 cup of the chocolate chips.

Spray a 12-cup muffin pan with cooking spray. Divide the batter among the 12 cups.

Sprinkle the remaining chocolate chips over the top of the batter.

Bake for 18 - 20 minutes. Cool in pan for 3 minutes then finish cooling on a wire rack.
Notes
Make-ahead Instructions
These muffins can be cooked ahead of time and frozen. Let them cool completely then wrap in plastic wrap and place in the freezer. Remove the day before or morning you would like to eat. Let it thaw on the counter or in the refrigerator.
Nutrition
Serving:
1
g
|
Calories:
205
kcal
|
Carbohydrates:
32
g
|
Protein:
6
g
|
Fat:
7
g
|
Fiber:
4
g
|
Sugar:
6
g