Easy make ahead freezer meals to keep the work week sane!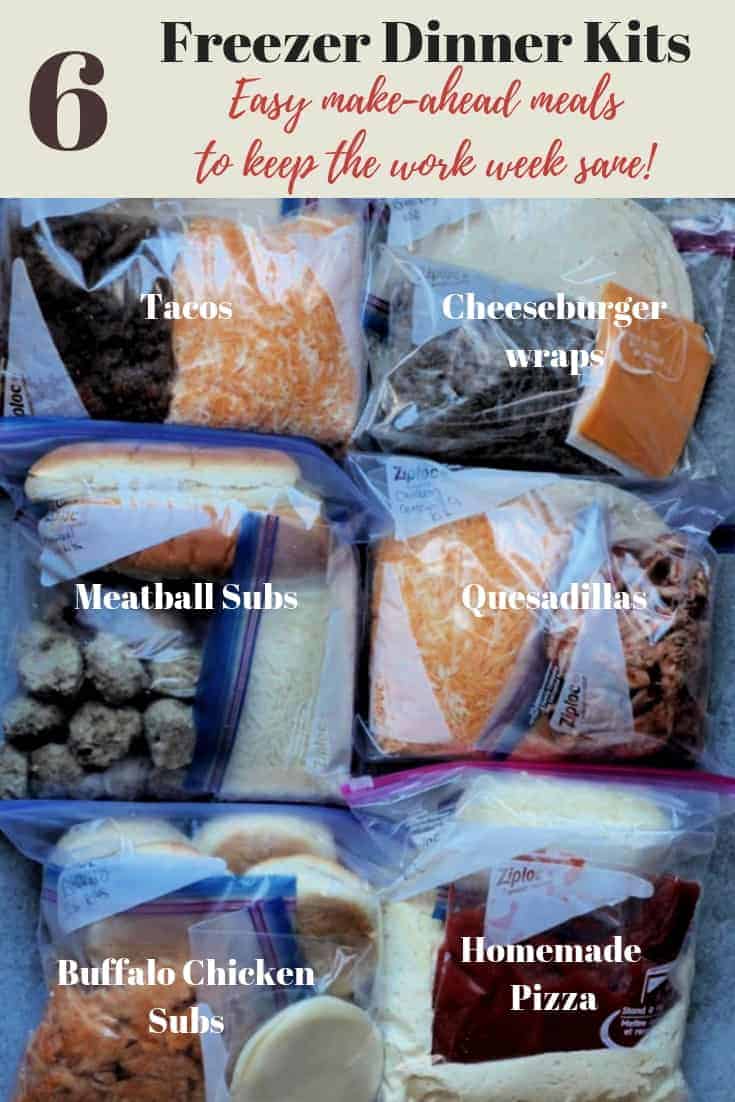 How are freezer kits different from other make ahead freezer meals?
A freezer meal kit is when the meal is frozen into components. Those components are then put together to create a dinner when you're ready to eat. Most (if not all) of the components are cooked ahead of time making it super easy to assemble and finish the recipe. Depending on the recipe, a freezer kit can come together into a dinner in under 20 minutes.
Even for dinners that still need to be cooked, such as pizza kits, the recipe comes together quickly. Freezer meal kits significantly reduce cooking time and this is essentially during busy weeks.
Another great thing about make ahead freezer meals, specifically freezer meal kits, is they make weekly meal prep so much easier. How's that?
When you stock your freezer with a bunch of different dinner recipes you only need to worry about breakfast, lunch, and snacks on meal prep day. And honestly, if you take time once a month to stock your freezer with breakfast and snacks then it's likely all you need to prepare are lunches.
That's not to say you won't make any dinners during the week but it's much easier, and less stressful, to worry about making 2 dinners instead of 5.
Doesn't it sound amazing to simply grab a dinner out of the freezer instead of preparing an entire meal from scratch? It does to me. Trust me, this is a huge lifesaver on busy weeks.
Today I want to share my favorite freezer kit recipes. These are the kits I make most often. Basically, whenever I take a couple days to stock my freezer with make ahead freezer meals you can guarantee you'll find all 6 of these recipes.
Here are 3 reasons these make ahead freezer meals are my favorite.
All of these recipes are approved by my kids. So, when I put one of these recipes on our dinner menu I know there'll be zero fighting and/or negotiating for something else. There's nothing that can send me over the edge faster than my kids whining their STARVING but then whining some more when they don't want what I made. I don't have that problem with these recipes.
Once the meat is cooked all of these freezer meal kits come together quickly. I'll give some cooking tips below to make the process even easier.
The recipes are portion-controlled and healthy. This means I can enjoy them too! I do need to make some adjustments but nothing too crazy. I'll go over the changes I make for myself when I talk about each of the recipes.
Freezer kits assures I have all the ingredients necessary to make that dinner. How many times did you want to make tacos but didn't have cheese or shells? Or you want to make pizza but no sauce or pepperoni. Or buffalo chicken subs but no rolls? Freezer kits have all the essential components of the recipe right there. You don't have to worry about running out of anything because it's in the kit. Sure, you might need to grab some condiments but you won't have to cook anything or need anything that's essential.
My favorite make ahead freezer meals.
Let's start with the taco freezer kit. Yes, I know tacos are easy to make. But you know what's even easier? Warming up the meat in the microwave. If you don't like the microwave then use the stove. Either way dinner can be ready within 15 minutes.
I put soft shells in the freezer meal kit so I have the taco vessel there. If you like hard taco shells create the kit with just the cheese and beef but then put a note on the bag to purchase hard shells.
My kits have 1 1/2 pounds of beef per bag. Of course you can use ground turkey too. My soon to be husband is a beast and my teenage girls eat like football players so we need more than 1lb of beef. If we have leftovers I'll throw it in a salad or put it on a pizza later in the week.
I made the taco meat the morning I made these kits. Of course, I waited until the meat cooled before putting the kits together because I don't want the cheese to melt.
I use Simply Organic Southwest Taco Seasoning but use whatever you like. I also use shredded Mexican cheese but I also love shredded pepper jack or Monterey jack.
To put these kits together I placed the tortilla shells into a gallon size freezer bag. Then I put the cooked taco meat into a quart size freezer bag and the shredded cheese into another quart size freezer bag. I placed both of those bags in with the tortilla shells. Then I closed and labeled.
When these go on the menu just make sure to have salsa, sour cream, an other taco condiments available.
I purchase low-carb wraps for me or I'll eat the meat and cheese in a salad.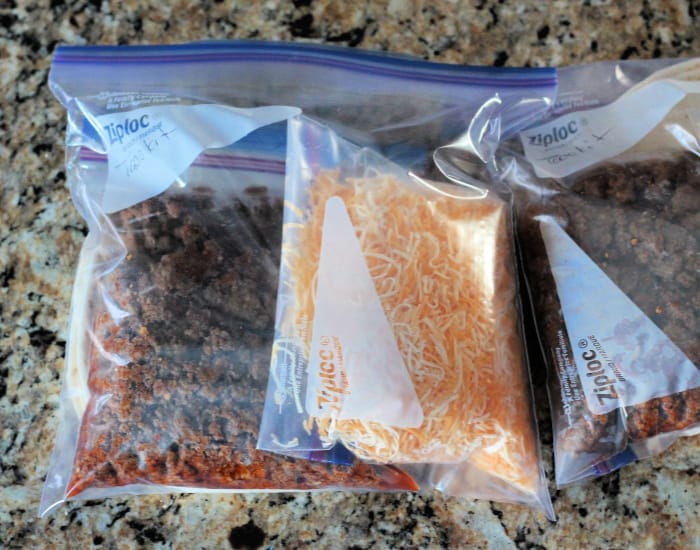 The next freezer meal kit is my cheeseburger wrap kit. This is another super easy one to throw together. It's also another kit that will get dinner on the table in less than 20 minutes. All you need to do is warm up the meat and put the wraps together
As the taco meat was cooking I also cooked the cheeseburger meat in another pan. After it was cooked and cooled I placed it into a quart size freezer bag and put it into the gallon size freezer bag alongside the tortillas and sliced cheese.
Normally, I don't freeze sliced cheese but this cheese will end up melting slightly on the warm beef so it works out fine.
The only thing you'll need to worry about is purchasing, or having on hand, the condiments, that go with this kit. You'll need shredded lettuce, tomato, onion, and mayonnaise if using.
Again, I purchase low-carb wraps for me. I like the Father Sam's brand.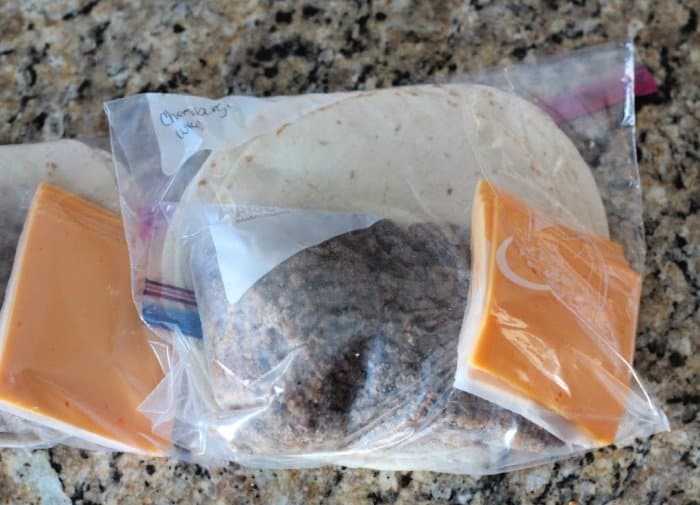 Meatballs are up there as one of the easiest make ahead freezer meals. They freeze great and are super versatile. I love making meatball subs because it's easy and everyone loves them. Plus, believe it or not, my kids are not big pasta lovers. Seriously, I don't even know how they are my kids sometimes.
Anyway, they love meatballs so I'll overlook the pasta issue and just make subs.
For these kits I used my best turkey meatballs recipe. I made the meatballs on Saturday in between exercising, cleaning, and going to a party. I knew I had to make the ground beef recipes on Sunday morning so I didn't want to worry about meatballs too.
Once they were cooked I just put them in the refrigerator until I was ready to put the kits together.
This meatball sub kits make 5 subs. I put 15 meatballs into a quart size freezer bag, 1 1/2 cups of mozzarella cheese into another quart size bag, and a 24-ounce jar of sauce into another quart size bag.
I placed those bags into a gallon size bag with 5 hot dog rolls. I used hot dog rolls because they are small and not high in calories. If you use larger rolls you'll need to put those in another bag and then place next to the meatball kit in the freezer.
If you use homemade sauce I'd place 2-3 cups of sauce into a bag. I love using Rao's marinara sauce or Wegman's Organic Roasted Garlic sauce. I think both of those jarred sauces are great.
When you're ready to cook this kit you can do one of two things. Warm the sauce and meatballs together on the stove or you can throw the sauce and meatballs into a small slow cooker to have hot and ready for when you get home from work.
After the meatballs are heated through just put 3 into a bun, spoon a little sauce over top, and then place some cheese on and broil until the cheese is melted.
These meatball subs will be ready in about 15 – 20 minutes.
Chicken quesadilla freezer kits are another family favorite. For this recipe I used slow cooker salsa chicken. I made a double batch of chicken on Thursday night and then stored it in the refrigerator until Sunday when I made the kits.
I find it much easier to make slow cooker meat recipes a couple days beforehand. Only because then I'm not waiting around for 4-5 hours to put these kits together. I make it during the week when I'm focused on other things.
These freezer kits include 3 cups or so of shredded salsa chicken, 2 cups of shredded Mexican cheese, and tortillas. Typically, I get 6-8 quesadillas out of each kit. I also add a little more cheese to the kit because my youngest likes to have plain cheese quesadillas.
Again, I use low carb tortillas for me.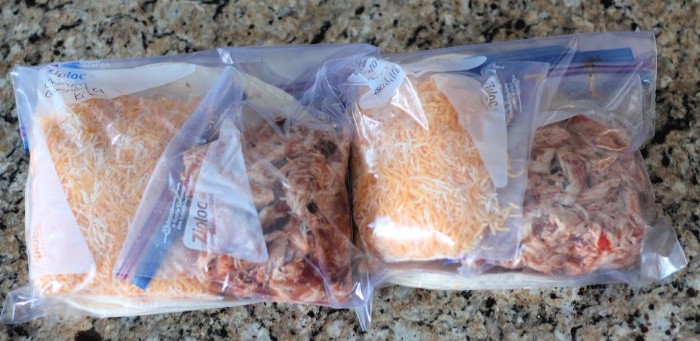 My kids are obsessed with Buffalo chicken subs so I make these kits quite often. I used this slow cooker buffalo chicken recipe x 2. If by any chance there's leftovers then I'll whip up a batch of buffalo chicken macaroni and cheese.
Again, just like with the salsa chicken, I made this recipe ahead of time. I put it in the slow cooker on Friday night while I had some running around to do. When we got home I put it in containers and then stuck in the refrigerator until Sunday.
For the kits I put about 3-4 cups of chicken in a quart size freezer bag, provolone slices in another quart size bag, and then put both of those bags into a gallon size bag with the rolls. Each kit makes about 6 small subs.
When you're ready to eat the subs warm up the buffalo chicken in the microwave and then place the chicken on the bottom half of the sub roll. Put onion, tomato, and 1 slice of provolone cheese on top and broil until it's melted. Add shredded lettuce. Then spread a little blue cheese ( or yogurt blue cheese) on the on the other half of the roll, place on top, and enjoy.
I eat my subs open-faced to reduce the calories and carbs.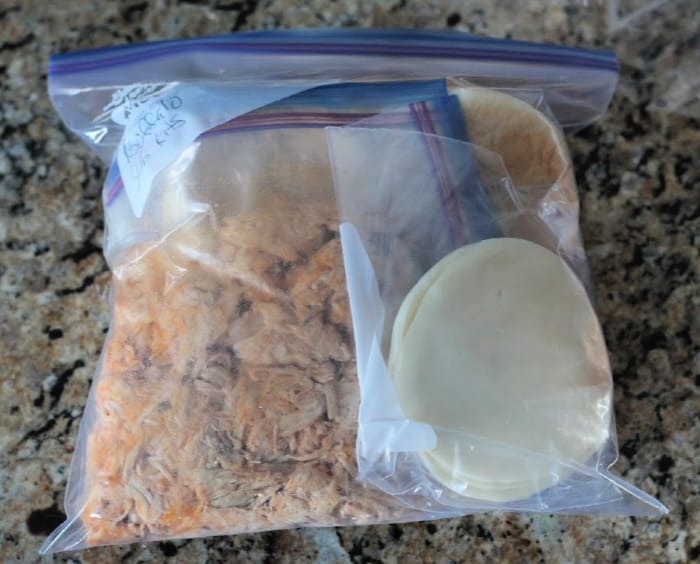 There's so much I love about homemade pizza kits. First of all, it saves TONS of money. When we order a pizza it easily costs $24 fo a basic cheese and pepperoni. Homemade pizza cost about $7.
Second, homemade pizza is DELICIOUS! Last, homemade pizza is super easy to make! So pizza night in our house is cheap and easy.
I make pizza dough in my bread machine using the recipe in this post. Then I place it in a bag with a quart size bag of pizza sauce (about 1 cup) , quart size bag of shredded mozzarella cheese (about 2 cups) and a quart size bag of pepperoni (about 1 cup).
It's important to take this bag out the night before so the dough has time to completely thaw out. You don't want to thaw this out in the microwave because it will get hard in some spots.
If you don't have a bread machine, or don't want to make homemade dough, you can purchase fresh pizza dough at any grocery store. If you live near a Wegmans their dough is delicious. I purchase fresh pizza sauce from Wegmans but you can make it homemade if you choose.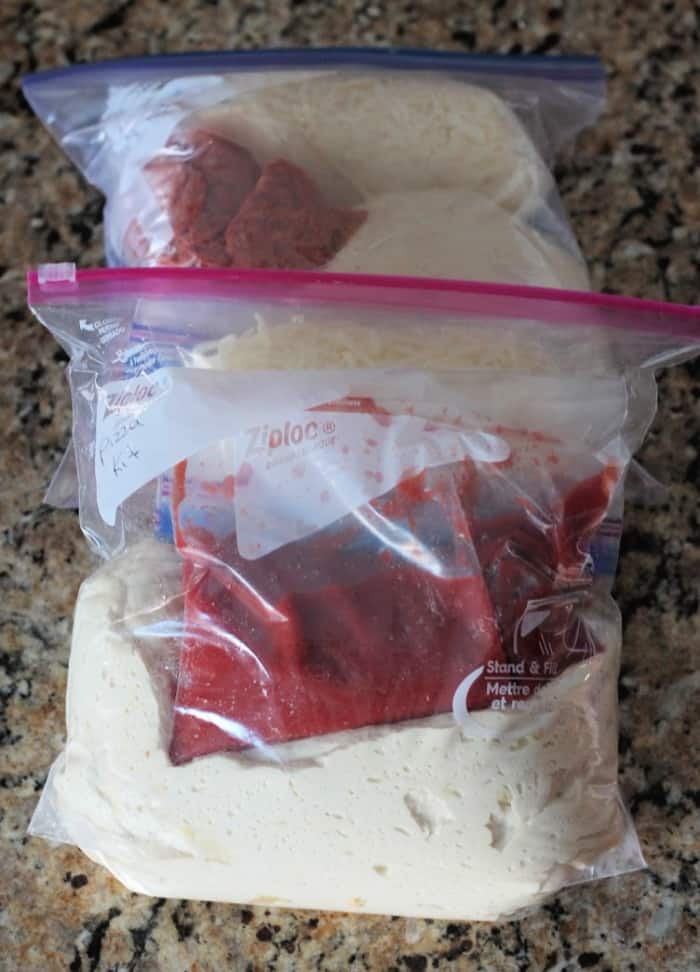 Those are my favorite make ahead freezer meals. I have other kits that I make and I'll share those in another post but I know everyone is looking for simple family favorites so I wanted to share mine.
Here are links to the recipes I used in these kits.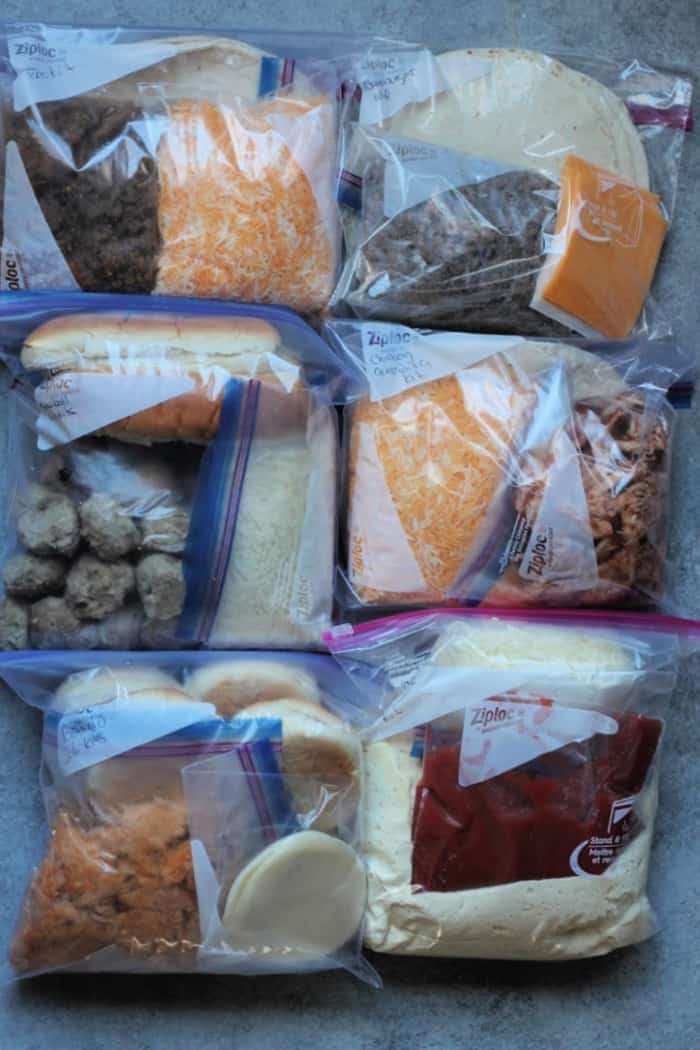 Freezer meal kit tips
Cook the slow cooker meals a day or two beforehand. Even try to cook the ground beef ahead of time if you could. Once the meat is cooked the kits come together very quickly.
Use convenience items when you can. I used jarred sauce for the subs and pizza. This saved me a ton of time. Like I said, you can also purchase fresh pizza dough for the pizza kits.
Purchase items in bulk. Whenever I'm going to stock my freezer with meals I always purchase as much as I could from my local wholesale store. I get big bags of shredded cheese, tortillas, rolls, and even my meat. This saves tons of money.
Reuse plastic bags when you can. Anytime I share these kits I get comments/questions about the amount of plastic bags. You can definitely reuse some of these bags – specifically the ones without sauce or meat. Also, this is just the way I make my kits you can certainly use less bags or another containers. Whatever works for your lifestyle.
Make enough for your family. The kits I shared with you are made to feed my family. I know how much they eat so I prepare them accordingly. If your a smaller (or bigger) family then prepare the kits with enough food to feed your family.
Take bags out the night before. The meat warms up faster when taken out the night before so make a note to thaw bags overnight in the refrigerator. If you forget no worries you can still heat it up in the microwave it'll just take a little longer.
Don't forget to get condiments. Most of these recipe require some type of condiment. For example, salsa or sour cream for quesadillas and tacos. Or lettuce, tomatoes, onion, and blue cheese for buffalo chicken subs. Make note of what you need and write it on the bags if needed.
Label each bag so you know what's in your freezer. This is also helpful if you need hubby or kids to grab dinner out of the freezer.
Serve with salad or vegetables. I like to serve most of these freezer kits with a side of roasted vegetables or a salad.
Freezer meal kits can be a total game changer when you're trying to fit healthy dinners into a very busy week. These make ahead freezer meals are so simple to put together and help you get dinner on the table within 20 minutes or so.
Trust me, once you have these kits in the freezer you'll be singing it's praises every time you remember dinner is ready in the freezer.
Freezer Kit Supplies
Here are some other make ahead freezer meals from other bloggers
10 Easy Freezer Meal Starters, Hundreds of Dinner Ideas
How I stocked My Freezer Before Baby
12 Healthy Freezer Meals You'll Actually Eat
Do you have any freezer meal kit questions? Or any freezer meal general questions? Expect to see a lot more freezer meal posts in the future.