All the flavors of a classic reuben sandwich mix together and baked into a delicious juicy meatloaf! This is a perfect recipe for St. Patty's day!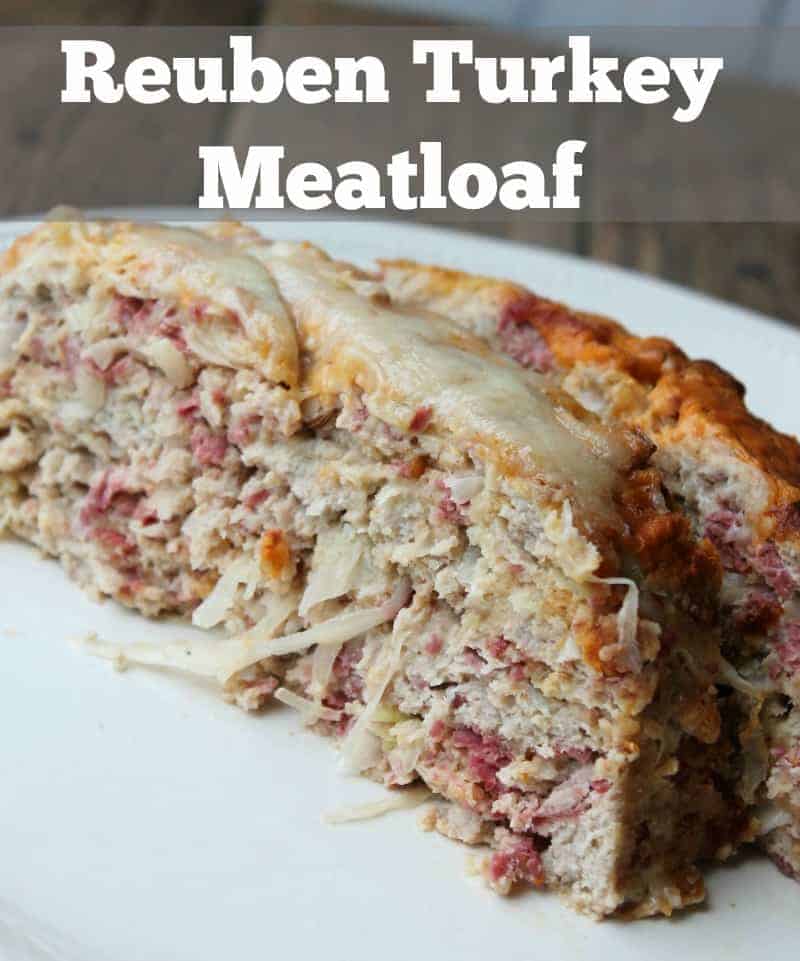 I didn't grow up with corned beef or sauerkraut. The only time I ever enjoyed corned beef and cabbage was on St. Patty's day at a friends house. My mom, being the Italian lady she is, NEVER made anything with corned beef or cabbage. So if I wanted Irish inspired food I needed to find it once a year at my friends house.
This meatloaf recipe is inspired by those St. Patty's day dinners as a kid but also by the classic reuben sandwich. I learned of reubens years ago when I started watching the Food Network. Seriously, if it wasn't for the Food Network I wouldn't know about half the foods I cook with. Anyway, the reuben looked tasty and the next time I was at a restaurant where it was on the menu I ordered it. OMG! It was delicious! All of it. I don't have one favorite thing about a reuben I love all the flavors together.
Anyway, with St. Patty's day this week I wanted to create a "reuben inspired" meatloaf that channels my inner Irish girl. I have a reuben mac n cheese coming your way too. Look for that tomorrow 🙂
I turned to meatloaf for my "reuben inspired" vessel because meatloaf can be transformed into anything. If you can mix it and form it into a loaf then you can make a meatloaf. I shared my tips on creating healthy meatloaf recipes here.
I started with 2 slices of rye bread for the panade. I suggest using a high quality rye bread. I added 3-4 tablespoons of milk till it formed a mushy paste.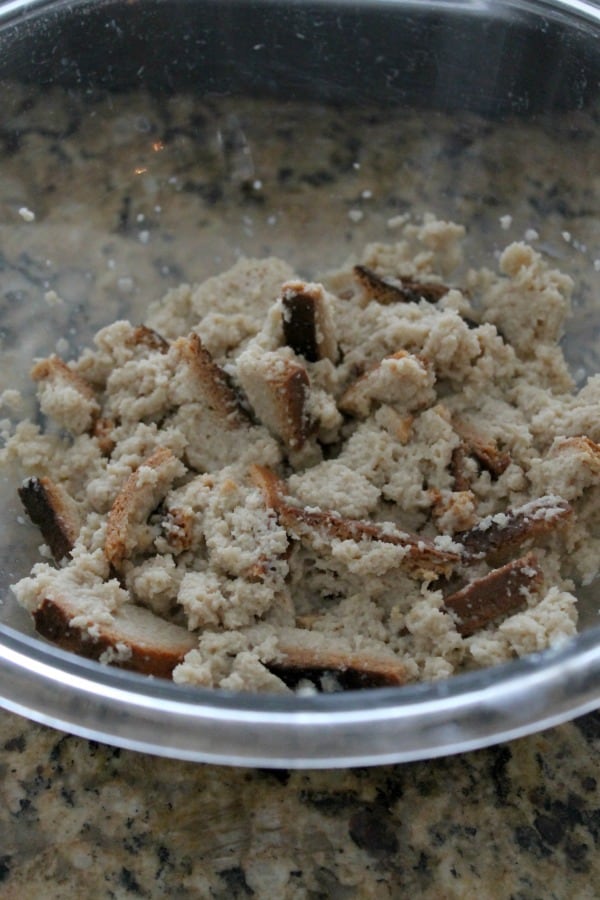 Then I whisked in 2 eggs. I whisked the eggs right into the bread. I like to keep things simple.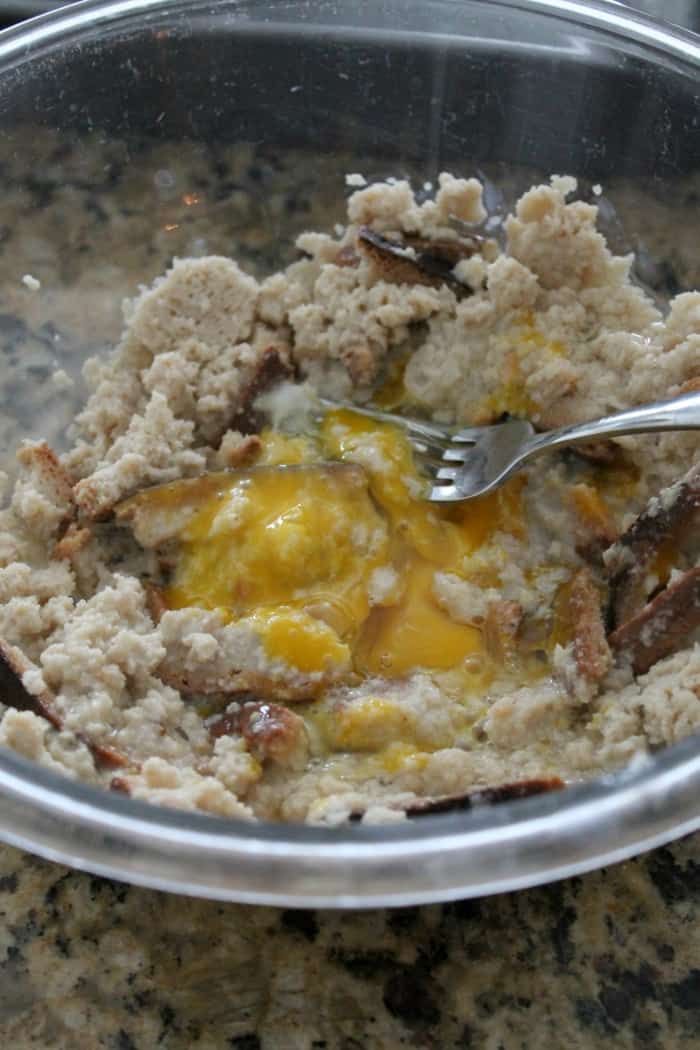 After the panade and eggs are mixed together you can add in the rest of the ingredients however you wish. Make sure you have a big bowl because this is a big meatloaf.
Next I added in the sauerkraut. I love sauerkraut. Mmmmmm! I used 1lb of drained Silverfloss sauerkraut. You usually can find this in the meat section. It needs to be refrigerated.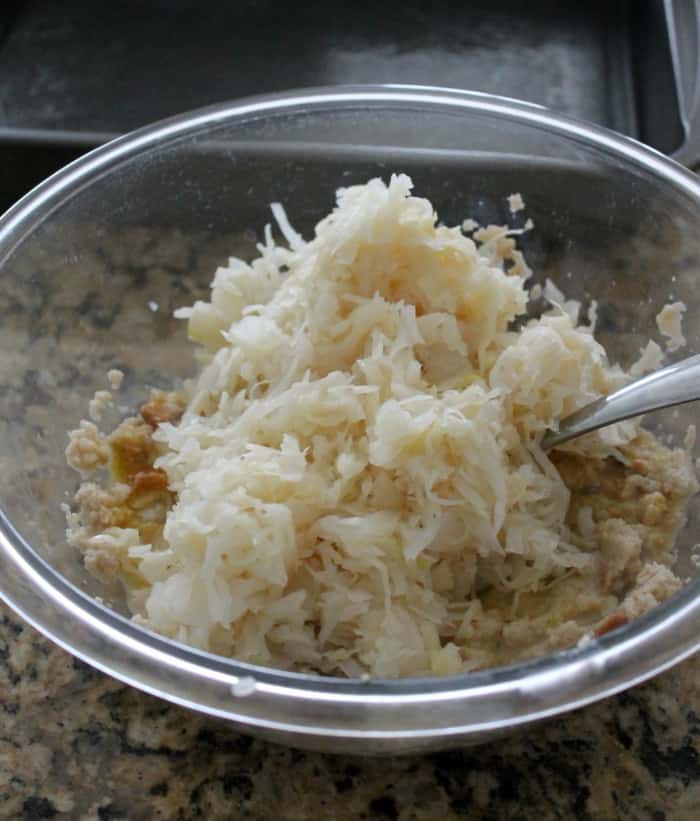 Then I added in the corned beef and 3/4 of the thousand island and mustard sauce. To keep things on the lighter side I used a yogurt based thousand island dressing. You can find this in the produce section. I mixed the yogurt and mustard together and kept 1/4 cup to spread over the top of the meatloaf.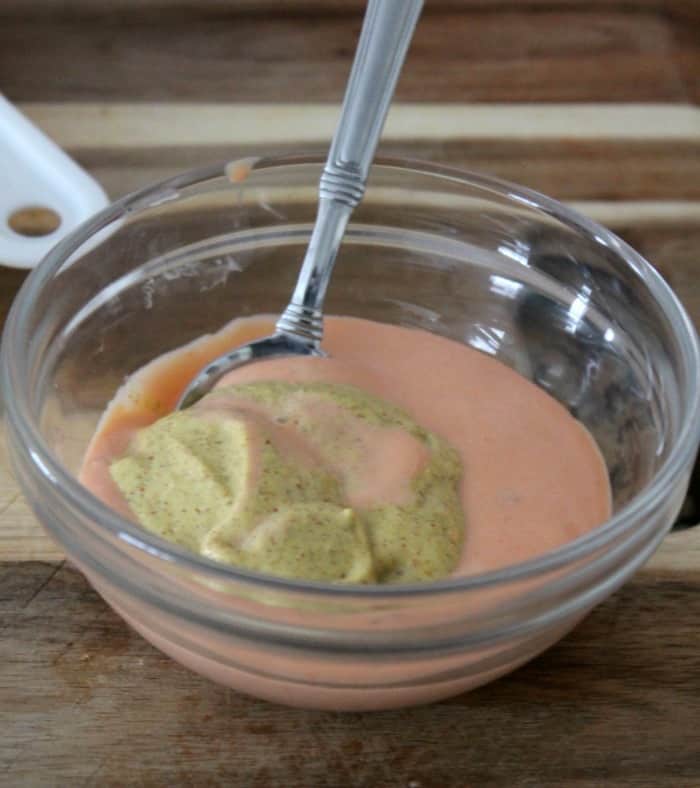 I purchased sliced corned beef from the deli. Then I chopped it up before I mixed it into the meatloaf.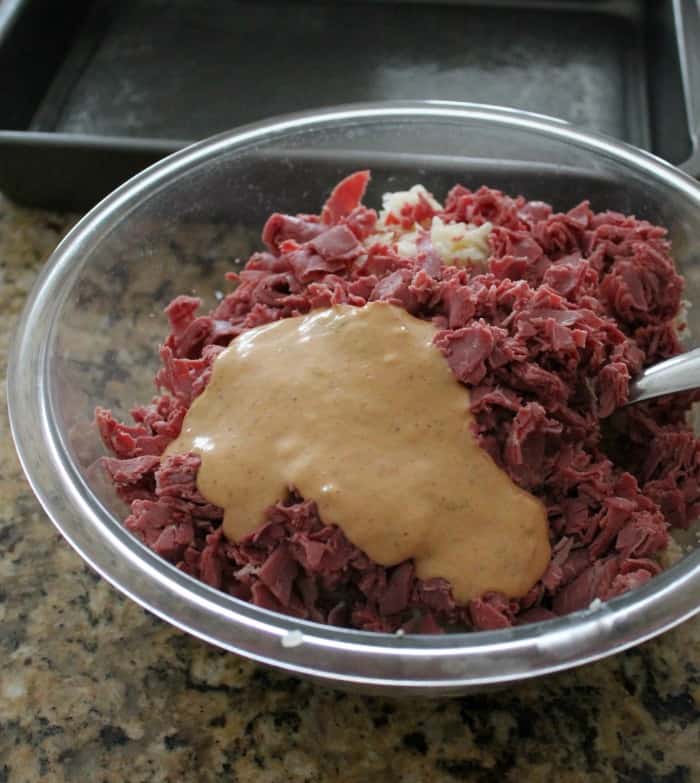 Next up was the ground turkey, spices, shredded swiss cheese, and breadcrumbs. I know this looks like a lot more than 1 cup but I swear it's just one cup. The bag I purchase only had 1 1/2 cups in it and I save 1/2 cup for the top.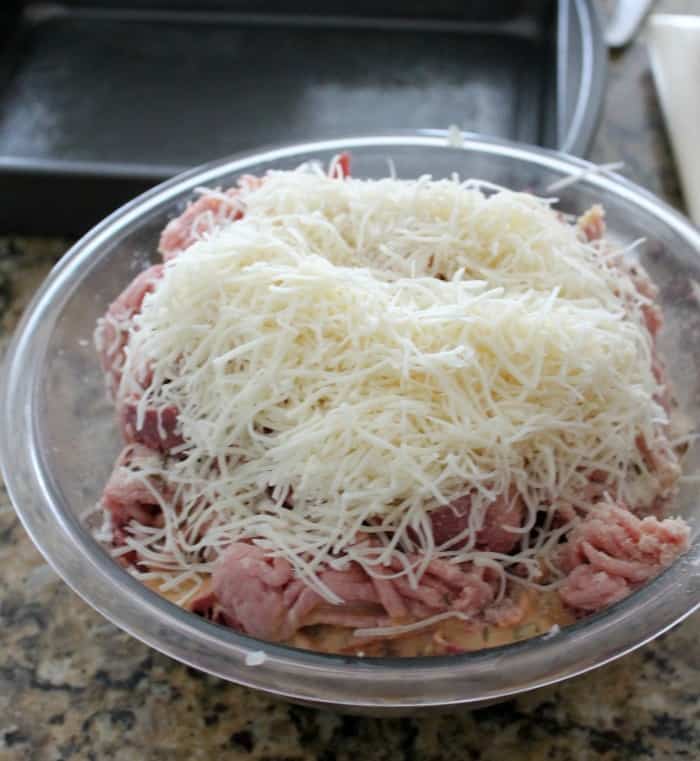 For the spices I used 2 teaspoons of onion powder, 2 teaspoons granulated garlic, 1 teaspoon salt, and 1 teaspoon caraway seeds. I LOVE the caraway in this recipe. It gives it great genuine flavor. A quick note when pouring the spices in. I recommend sprinkling the spices in a little at a time. So mix, then sprinkle, mix again, and then sprinkle again. This helps to distribute the spices evenly throughout the meatloaf.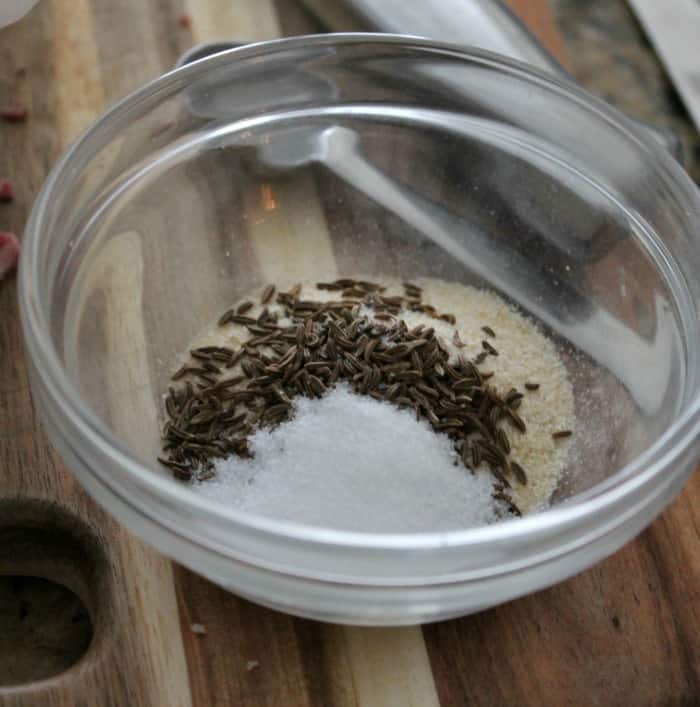 Spray a 9 x 13 baking pan with cooking spray and then form the meat mixture into a loaf. Spread the rest of the dressing/mustard mixture over the top. This meatloaf is a BEAST! I figured the nutritional information for 10 people but you could probably get more out of it.
Cook in a 350 degree oven for 60 – 65 minutes or until the internal temperature reads 160 degree. You can use a meat thermometer for that.
And here you go!! The most delicious reuben meatloaf you will ever taste. Honestly, this might be my favorite meatloaf recipe. It is full of flavor.
Look at the corned beef and sauerkraut! I'm telling ya this meatloaf will be the star at a St. Patty's day party. If you have a lot leftover then portion out and freeze. These are my favorite containers to freeze meatloaf in. They are perfect for a grab and go lunch.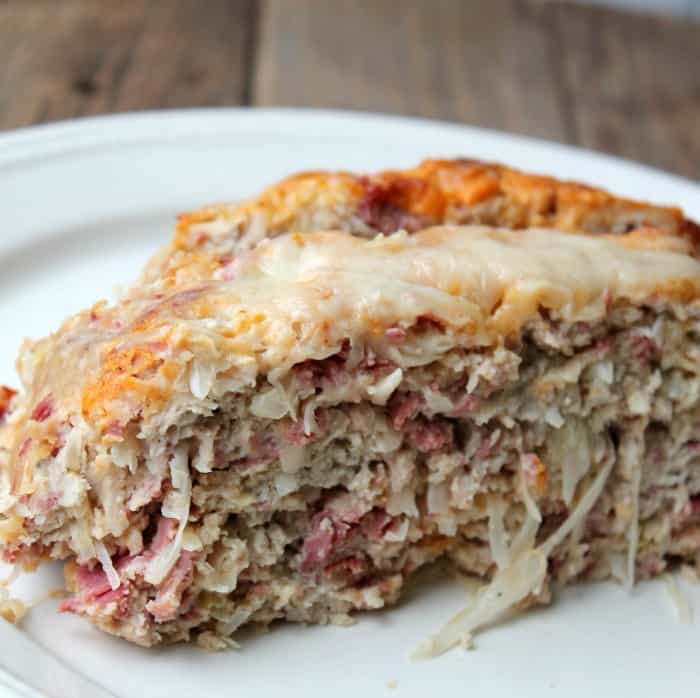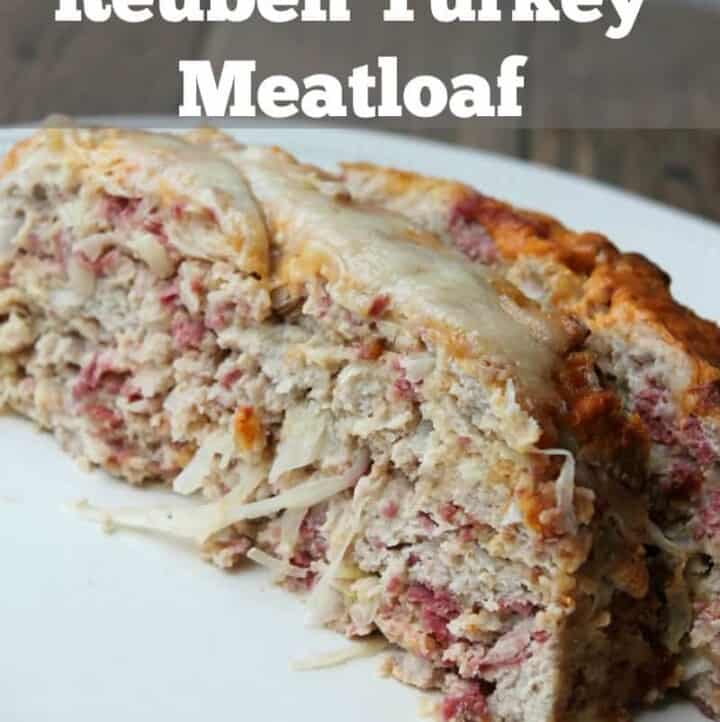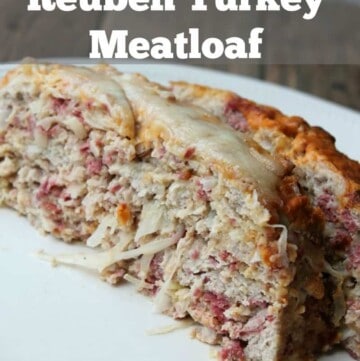 Ingredients
½

cup

thousand island yogurt dressing

¼

cup

spicy mustard

2

slices

high quality rye bread

2-3

tablespoons

1% milk

2

large eggs

1

lb

package fresh sauerkraut

drained

½

lb

deli corned beef

sliced thin and chopped

2

lbs

ground turkey

½

cup

unseasoned whole wheat breadcrumbs.

1 1/2

cups

shredded swiss cheese

2

teaspoons

onion powder

2

teaspoons

granulated garlic

1

teaspoon

caraway seeds

1

teaspoon

salt
Instructions
Preheat over to 350 degrees.

In a small bowl stir together the dressing and mustard. Set aside.

In a large bowl mash together bread and milk. Whisk in the eggs.

Add to the bread mixture the sauerkraut, corned beef, ground turkey, bread crumbs, 3/4 of the dressing mixture, and 1-cup swiss cheese.

Mix the spices together and sprinkle into the meatloaf mixture as you mix. Mix the meat mixture just until all of the ingredients are combined.

Spray a 9 x13 baking pan with cooking spray and pour the meatloaf mixture into the pan. Form into a loaf and spread the remaining dressing mixture over the top.

Cook for 60 – 65 minutes or until the internal temperature is 160 degrees.

Sprinkle the rest of the swiss cheese over the top of the meatloaf and broil for 2-3 minutes or until the cheese is melted.
Notes
sugar is 2
Make ahead tips
This meatloaf can be cooked completely and frozen into portions for up to 6 months.
Nutrition
Serving:
1
g
|
Calories:
258
kcal
|
Carbohydrates:
9
g
|
Protein:
24
g
|
Fat:
13
g
|
Saturated Fat:
3
g
|
Fiber:
2
g