Bacon cheeseburger meatloaf lightened up with ground turkey is one of the best meatloaf recipes you'll ever make! I'm not kidding – you need this in your life!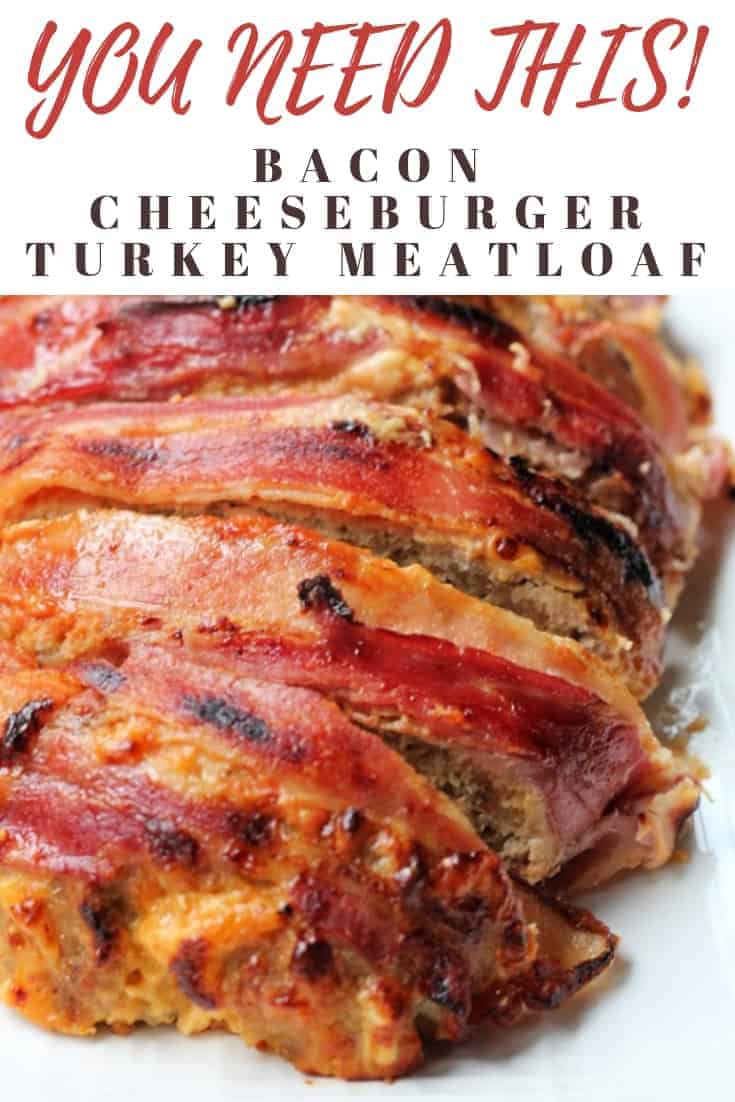 Prior to my food blogging days a cheeseburger was a cheeseburger. Meaning a burger, with a slice of cheese, on a bun. That's it.
Now I've become cheeseburger obsessed. Well, maybe not obsessed but I certainly have discovered new ways to infuse the deliciousness of cheeseburgers into different recipes. It all started with this cheeseburger wrap. That recipe was created 4 years ago and is still one of the most popular recipes on my blog.
Next came stuffed peppers – cheeseburger style! This is a perfect way to get in a little extra veggie with your burger.
Then we have cheeseburger lettuce wraps for all the low carb peeps out there. You're welcome 🙂
And I can't leave out my turkey cheeseburger quinoa casserole. This one is a favorite of mine. I love quinoa! Baking it in a creamy cheeseburger casserole just takes it right over the top. You're welcome again.
Okay, so with those recipes you think I would be done with cheeseburger creations. Nope.
A couple weeks ago I had a bacon cheeseburger meatloaf vision. Don't ask me why I think of meatloaf in my spare time – I just do.
As you can imagine a bacon cheeseburger meatloaf taste just as good as it sounds. I kept the recipe lean by using ground turkey. You can use ground beef – or a mixture of the two – just keep in mind this will change the nutritional information.
The cheeseburger flavor was achieved by using hamburger seasoning, a mixture of ketchup and mustard, worcestershire sauce, grated parmesan/romano cheese, and shredded sharp cheddar cheese. This bacon cheeseburger meatloaf is all cheeseburger!
To bring this turkey meatloaf recipe to the next level I decided to throw some bacon on top. Yes, bacon!
I thought for a brief second to use turkey bacon but then I decided to go with the real stuff. I used Applegate organic bacon. This is good bacon, not as fatty in my opinion, and a few pieces of bacon never hurt a recipe.
But…if you'd rather use turkey bacon then go for it. I'm not sure if it would crisp up the same but give it a try. Or if you really want you can leave the bacon off completely. Sniff sniff. I know that is sad but if you must I support and love you anyway.
THIS BACON CHEESEBURGER MEATLOAF IS AMAZING! If you're a cheeseburger fan you will love this. Heck, if you're a food person you will love it.

And….wanna know what else is awesome about this recipe. It freezes great. You can freeze this one of two ways. First you can prep all the ingredients, form it into a loaf, and freeze it raw. Thaw for a day or so in the refrigerator before you are ready to cook it. Obviously, if it's still a little frozen it will need to cook longer.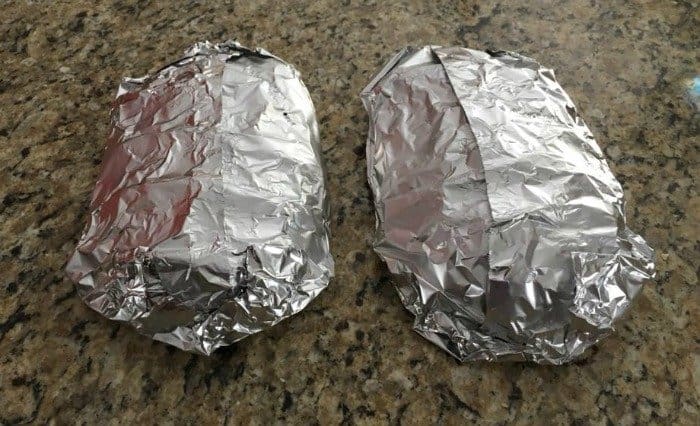 My favorite way to freeze this meatloaf is to cook it completely, let it cool, then portion it out into single servings for super easy lunches or dinners. It reheats perfectly. The last couple times I made it I paired it with macaroni and cheese but it would be tasty on its own or with some mash potatoes. You could also throw some broccoli or green beans into the freezer meal. Ya know, to round it out and all.
This is a picture of my pizza meatloaf recipe, I just wanted to show you another way I freeze meatloaf. The meal prep containers you see here I get from Amazon. You can get a 16 pack for under $20!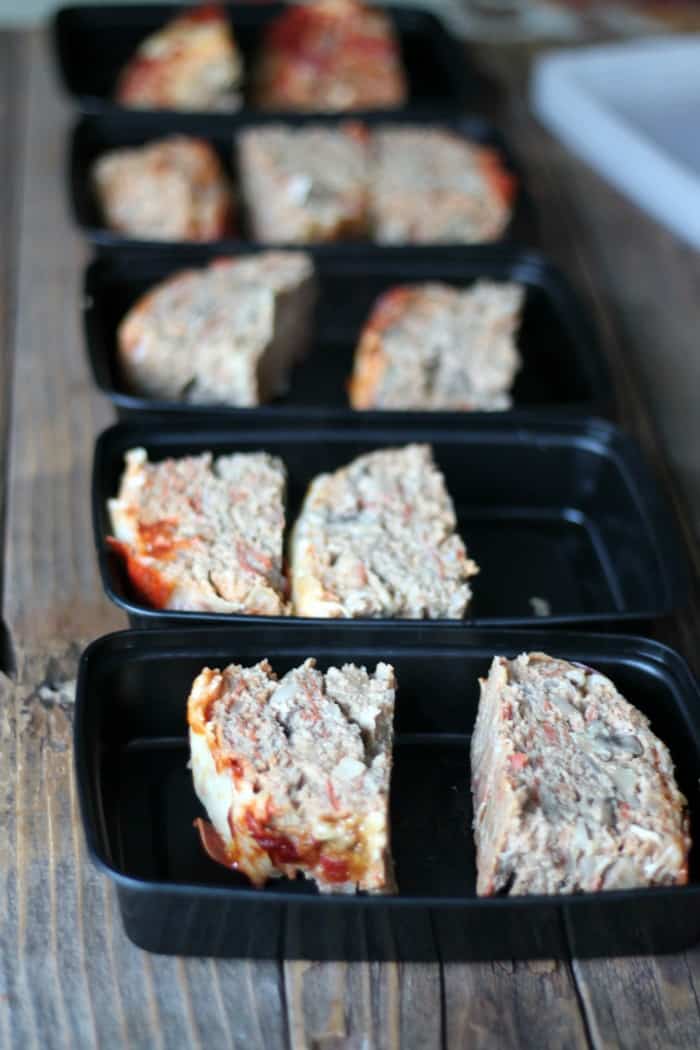 Here are some of my other ground turkey meatloaf recipes.
Pizza meatloaf everything pizza but meatloaf style!
Italian Meatloaf <– this one might go down as the best meatloaf recipe ever! I know I said that about the cheeseburger but this one is also delicious!
Sausage and Peppers Meatloaf. Another amazing turkey meatloaf recipe.
Okay, here is the recipe. Go make it and enjoy life!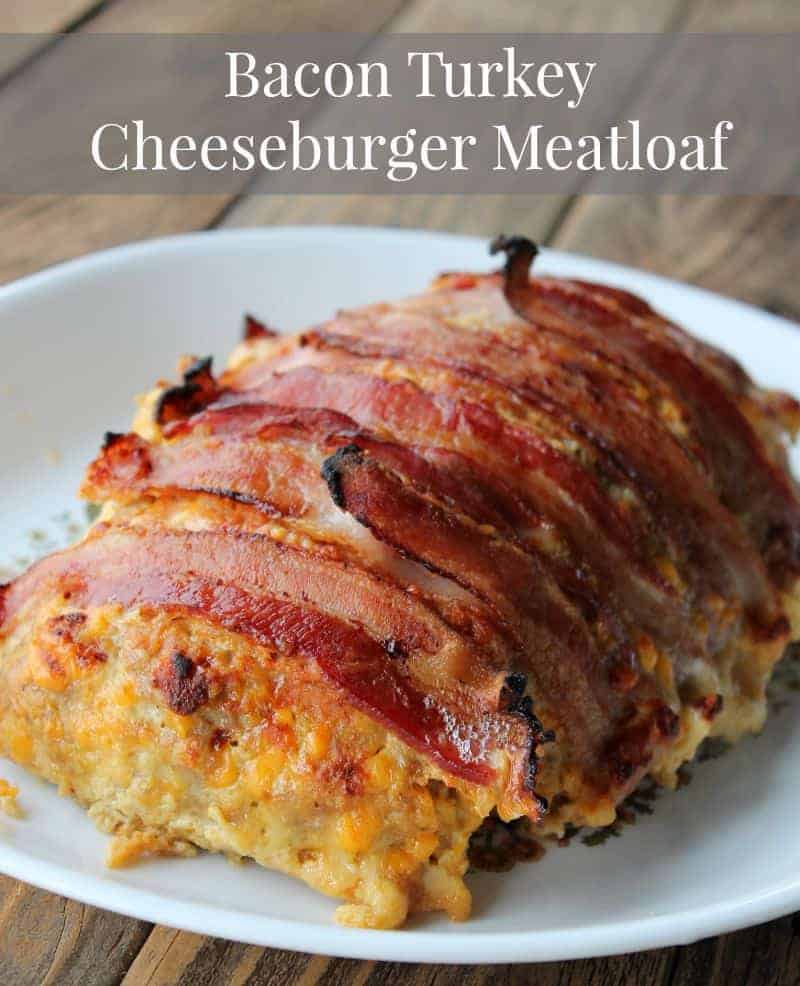 Ingredients
1

slice

whole wheat bread

2

tablespoons

milk

2

lbs

ground turkey

1

teaspoon

hamburger seasoning

1

teaspoon

garlic powder

1

teaspoon

onion powder

¼

salt

¼

pepper

1

tablespoon

worchestshire sauce

¼

cup

grated parmesan/romano cheese

2

eggs

slightly beaten

¼

cup

panko breadcrumbs or regular bread crumbs

¼

cup

ketchup

2

tablespoons

mustard

1

cup

shredded sharp cheddar cheese

6

slices

bacon
Instructions
Preheat oven to 350 degrees

In a small bowl, mix together the mustard and ketchup. Set aside ½ of the mixture.

In a large bowl mix together the bread and milk until it forms a paste. Then add in the ground turkey, hamburger seasoning, salt, pepper, onion powder, granulated garlic, worchestshire sauce, grated parmesan/romano, eggs, breadcrumbs, ½ of the ketchup mixture, and shredded sharp cheddar cheese.

Using your hands mix together all the ingredients until they are distributed evenly.

Place the meat mixture into a 7 x11 or 9 x 11 baking dish sprayed with cooking spray and form it into a loaf.

Spread the rest of the ketchup mixture on top of the loaf then lay the 6 slices of bacon over the loaf, tucking underneath if needed.

Place meatloaf into the oven and cook for 55 minutes or until cooked through. Mine cooked perfectly at 55 minutes.

Turn the oven to broil and broil the meatloaf for 3-5 minutes or until the bacon is crispy.

Remove meatloaf from the oven and let it sit for about 5 minutes. Serve hot.
Notes
Make-ahead instructions
Cook meatloaf completely, cool, and then cut into portions. Place into containers and freeze. Reheat in the microwave or oven.
Nutrition
Serving:
1
g
|
Calories:
251
kcal
|
Carbohydrates:
6
g
|
Protein:
22
g
|
Fat:
16
g
|
Sugar:
7
g