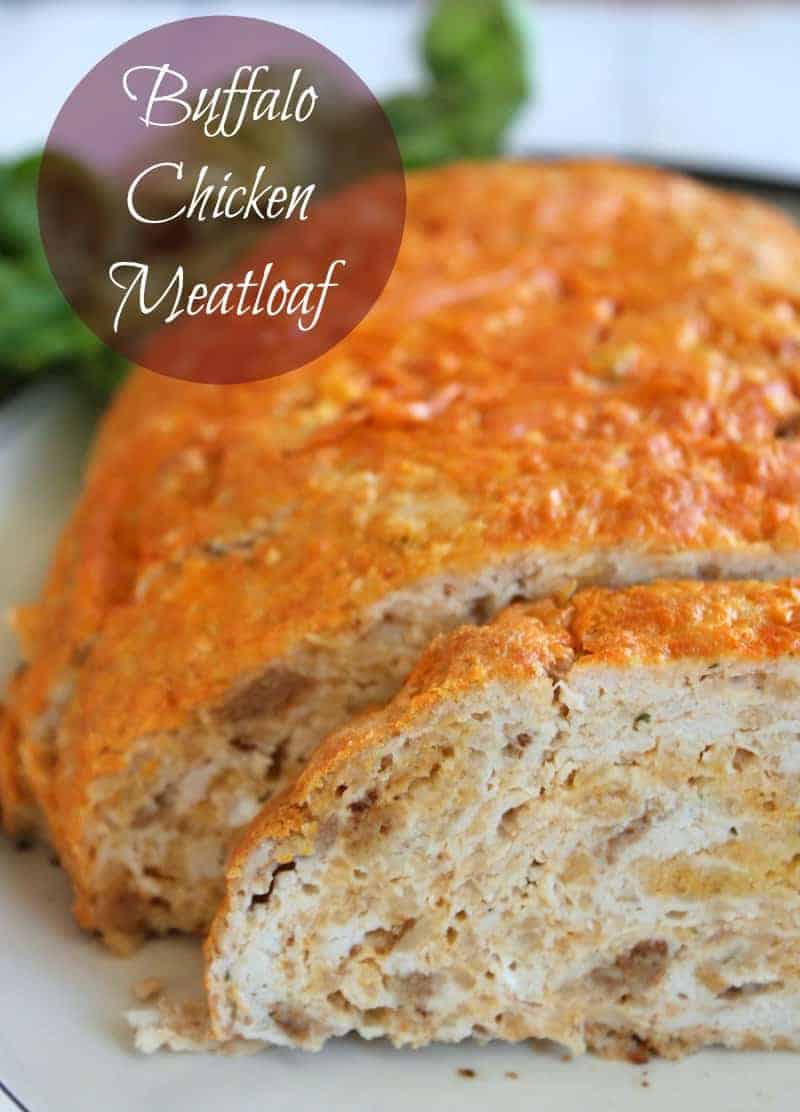 Helloooooo Buffalo chicken meatloaf! Where've you been my entire life?
Is it me or does adding hot sauce and blue cheese to a recipe always make it better? Well maybe not always but I bet 98.7% of most savory recipes could benefit from a little blue cheese and hot sauce. At least that's what my daughter says. She puts hot sauce ON EVERYTHING. She is hot sauce obsessed. Oh well, I guess I will chalk it up to being buffalonians. Hot sauce and blue cheese runs through our veins.
This recipe was actually inspired by watching my daughter put hot sauce on the cheeseburger meatloaf I made a month or so ago. Immediately, I thought hot sauce + meatloaf = something special I bet. So I thought a little more… Hot sauce + blue cheese + ground chicken = Buffalo chicken meatloaf which then = OMG!!!
I know you love my scientific strategy for coming up with recipes. I can't help it…it's truly a gift. Ha!
Okay, let's go over this new scrumptious buffalo chicken meatloaf recipe.
I started with a panade. In case you forgot a panade is just bread and milk. Are you sick of me harping on the panade? Sorry, but this little tip is key for a juicy meatloaf. It's even more important with a chicken meatloaf. If you thought overcooking ground turkey results in a dry meatloaf try ground chicken. So don't skip the panade.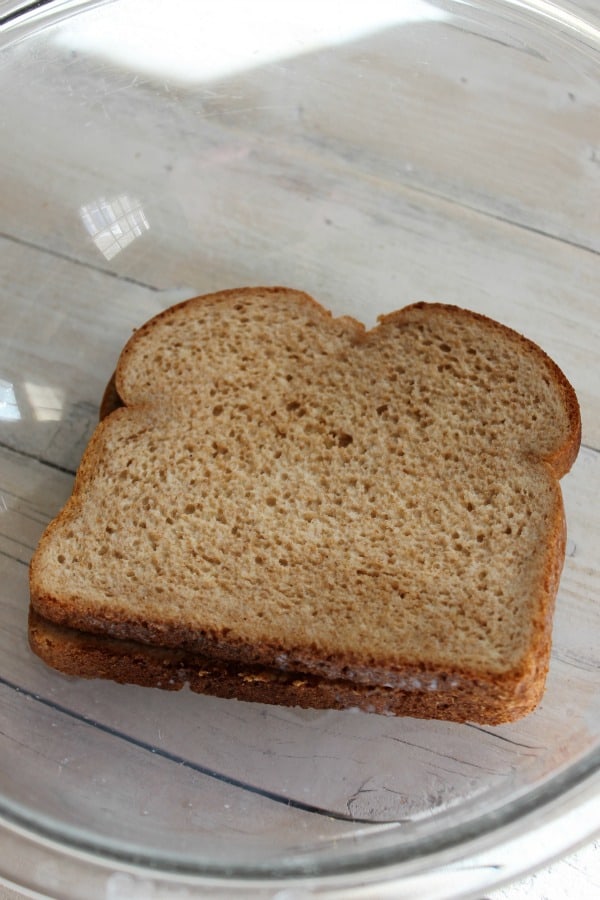 After the panade was ready I added the ground chicken, spice packet, eggs, and breadcrumbs. The second round of inspiration came from my slow cooker buffalo chicken which is why I used a Simply Organic ranch dressing packet. I wanted this meatloaf recipe to be easy. Like "throw in a bowl and cook easy" so that's why I used a seasoning packet. And let me tell you the seasoning is perfect and created a delicious meatloaf.
Don't mix it up just yet. Next we are going to make the hot sauce and blue cheese mixture.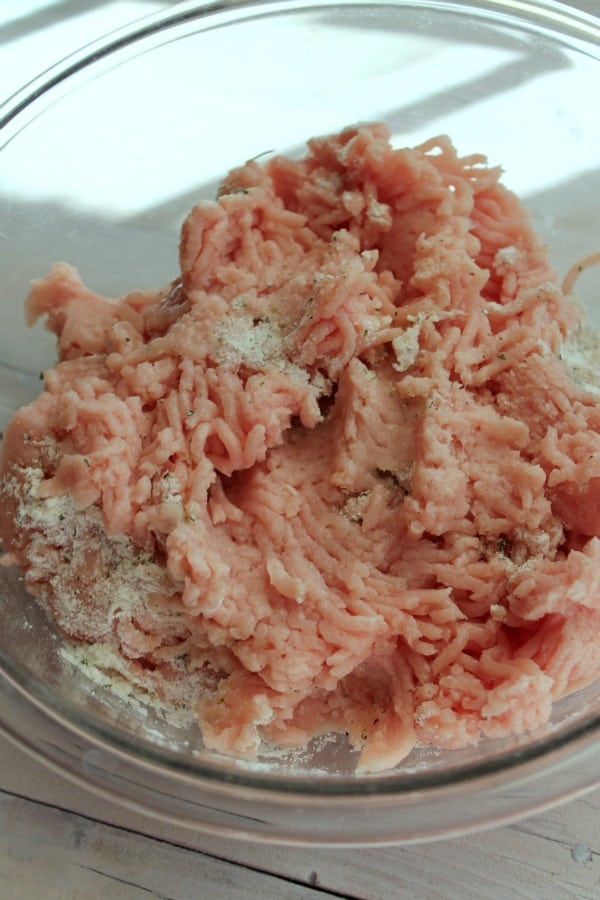 I poured 1/2 cup blue cheese yogurt dressing into a small glass bowl. Yogurt dressing is amazing. It's a great way to keep all the flavor of blue cheese dressing without the fat and calories. I use it all the time and my kids love it.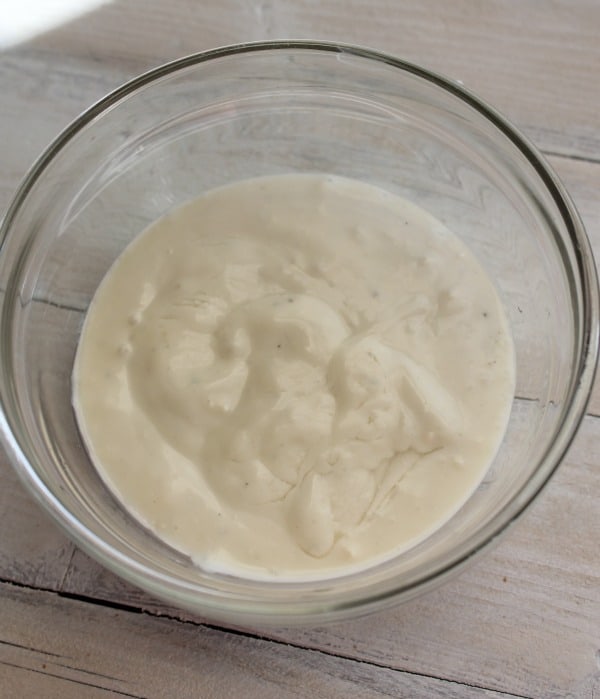 Then I stirred in 1/2 cup of Franks original hot sauce. In my opinion, Franks is the only hot sauce but use whatever you want. I won't judge.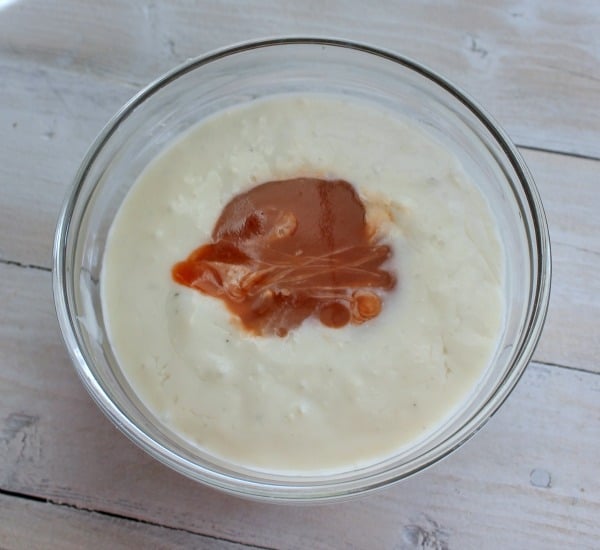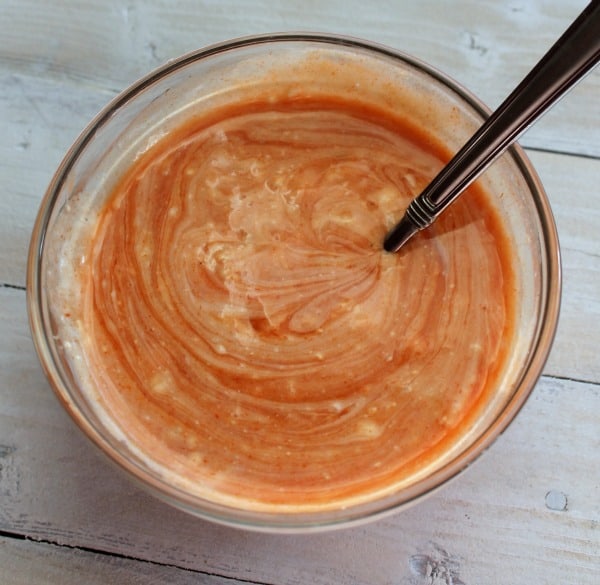 After the blue cheese and hot sauce heaven mixture was created I saved 1/4 cup for the top of the meatloaf and I poured the recipe into the meat mixture. Okay, obviously that looks gross. But don't hate on the looks cause in the end it will be beautiful.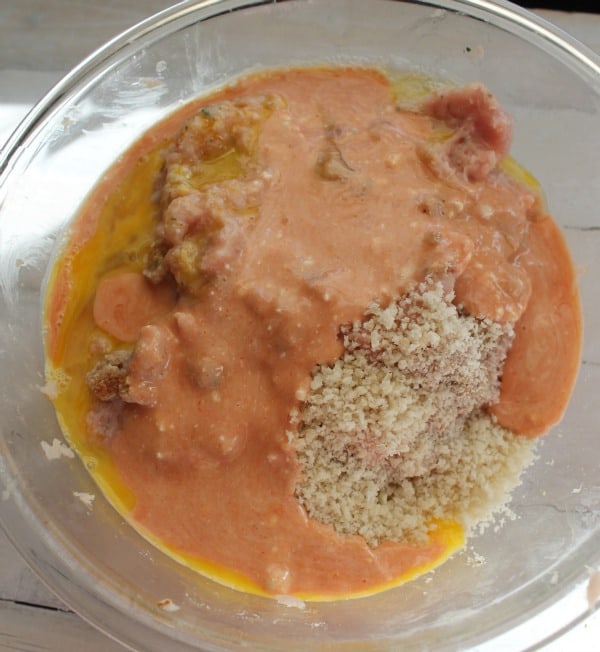 Almost there.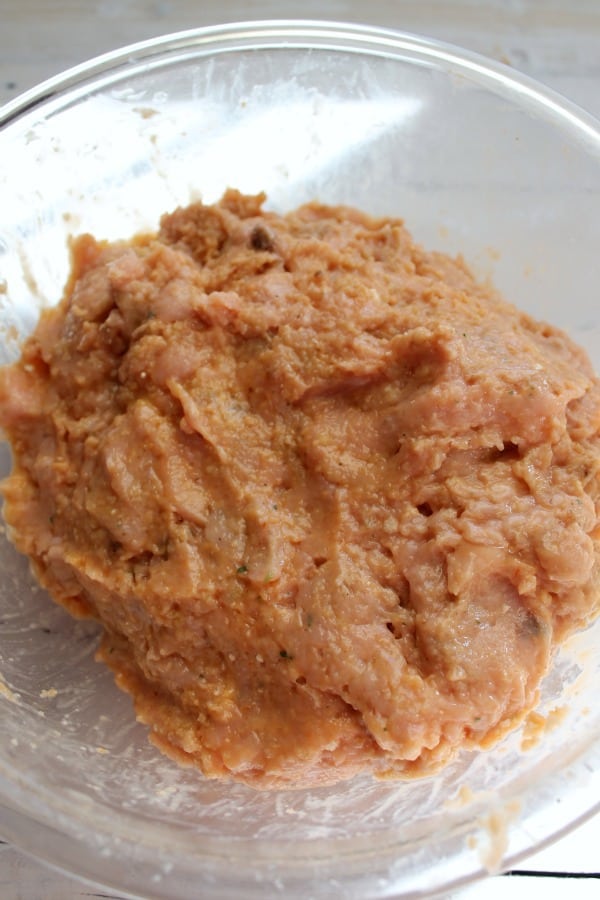 Plop the buffalo meatloaf mixture into a baking pan and form it into a loaf. See, it's already starting to look puuurty.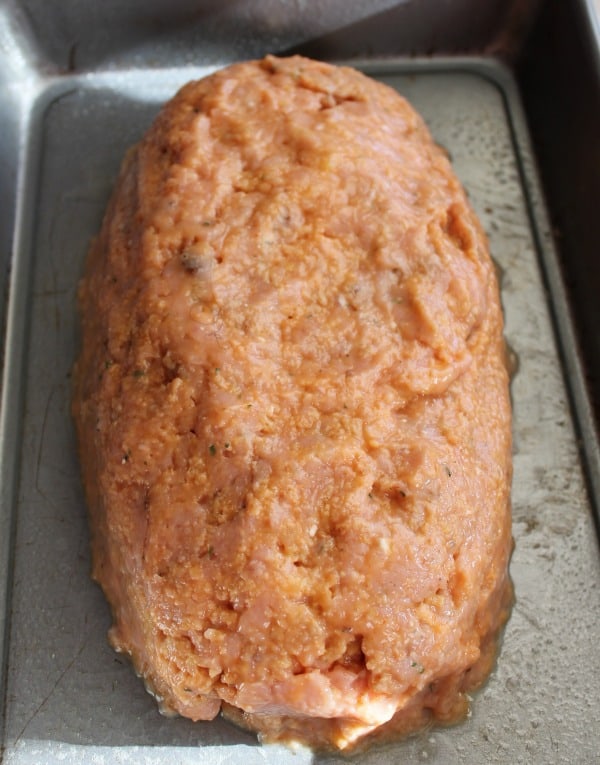 Pour the remaining yogurt/hot sauce mixture over the top. Mine went a little all over the place but no biggie it still came out wonderful.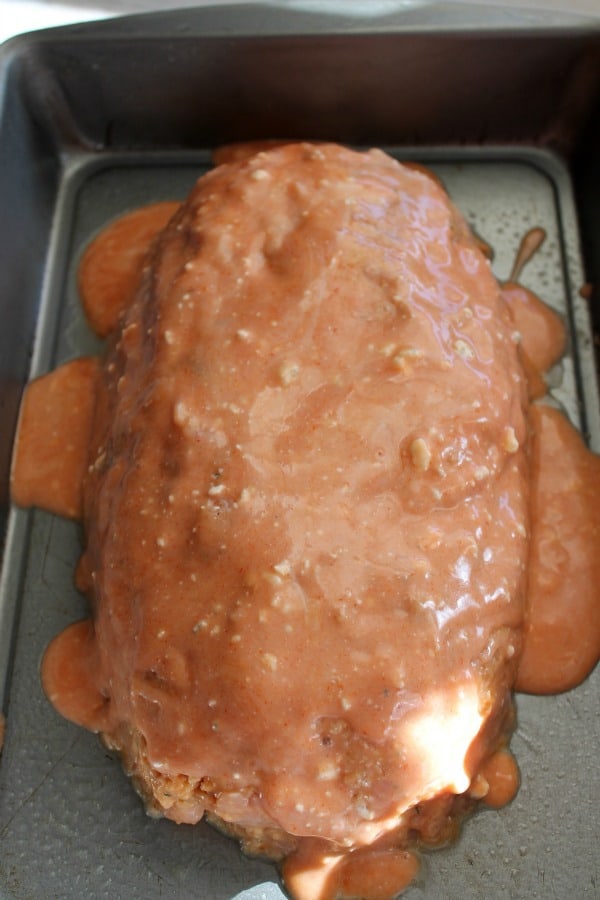 Now cook for an hour at 350 degrees or until the internal temperature reads 165 degrees. If you do not own a meat thermometer I highly suggest you get one. I know they seem fancy and all but meat thermometers do come in quite handy.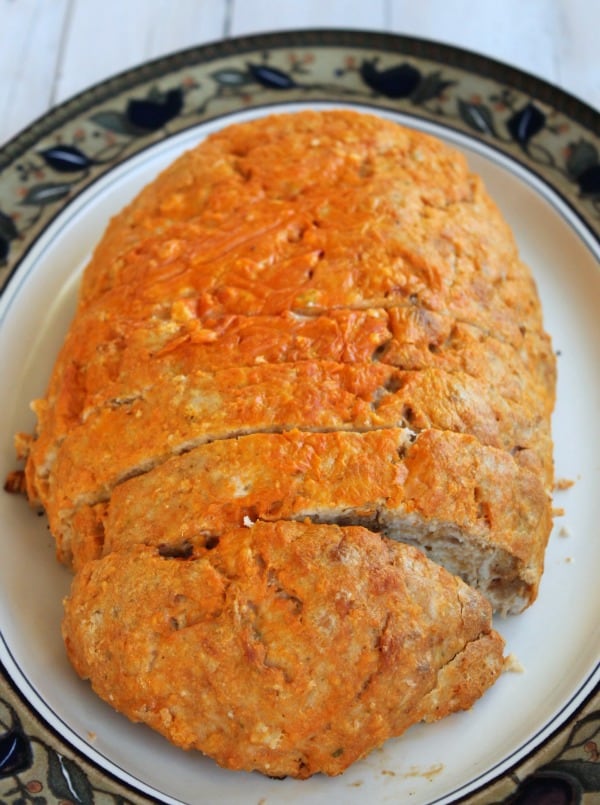 I give you Buffalo chicken meatloaf my friends. Oh boy! It is sooooo good and everything you imagine a buffalo chicken meatloaf would taste like. And get this…it's only 119 calories and 3 weight watchers points per serving. I enjoyed a slice with a salad but you can easily put this on a roll or eat with a baked potato or veggie.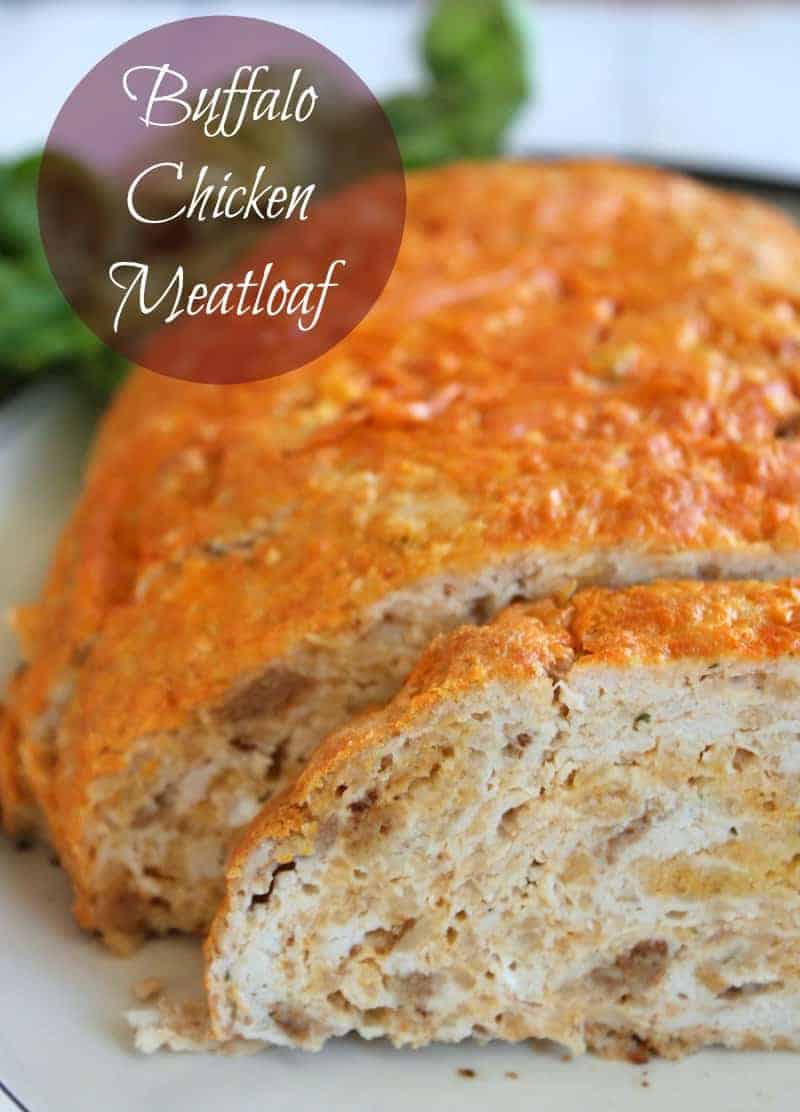 Ingredients
2

slices

whole grain bread

¼

cup

1% milk

2

lbs

organic ground chicken

1

1-ounce packet Simply Organic Ranch Dressing Mix

2

large eggs

beaten

1-

cup

panko breadcrumbs

½

cup

franks hot sauce

½

cup

yogurt blue cheese dressing
Instructions
Preheat oven to 350 degrees.

In a large bowl mix together the bread and milk until it forms a paste.

Add to the bread paste the chicken, seasoning packet, eggs, and bread crumbs. Set aside.

In a small bowl mix together the hot sauce and blue cheese dressing. Reserve 1/4 cup of the dressing.

Pour the rest of the dressing into the chicken mixture. Mix all the ingredients together until combined.

Place chicken mixture onto a baking pan and form into a loaf.

Spread the remaining hot sauce/blue cheese mixture over top of the meatloaf.

Cook for 60 minutes or until the internal temperature reaches 165 degree.

Serve hot.
Notes
Make ahead tips
Cook meatloaf completely, let cool, and then cut into portions. You can store in the refrigerator up to 4-5 days or freeze up to 3 months. Reheat in the microwave.
Nutrition
Serving:
1
g
|
Calories:
119
kcal
|
Carbohydrates:
14
g
|
Protein:
6
g
|
Fat:
4
g
|
Fiber:
1
g
|
Sugar:
3
g