This is the best meatloaf idea ever! Did you know that you can make ahead and freeze meatloaf? Yep! Meatloaf is actually one of my favorite freezer meal recipes – particularly when it's a healthy turkey meatloaf! Today, I'm going to share some super simple tips to make ahead and freeze meatloaf so you can stock up on healthy freezer meals.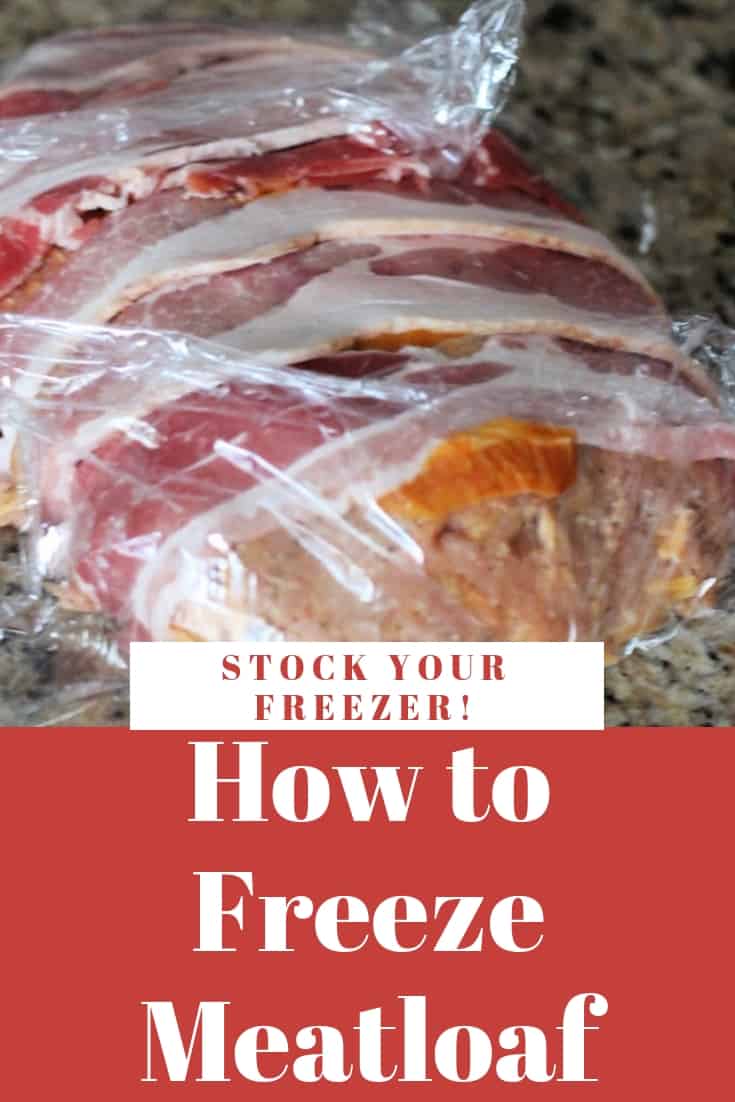 If you would've said to me 7-8 years ago that I'd be a huge meatloaf fan I'd think you're crazy. When I was growing up meatloaf was my least favorite meal. Seriously, I hated it! I mean, just the word "meatloaf" sounded gross.
Anyway, as I grew up, matured, and searched for healthy recipes to add to our meal plan meatloaf recipes kept popping up. So, I decided to give meatloaf another shot.
Holy cow, meatloaf has come a long way baby! The recipes of the 1970s don't even come close to the deliciousness of modern meatloaf recipes. Especially my turkey meatloaf.
Haha…but seriously! I don't like to brag but I make a mean meatloaf—I'll go as far as to say it's the best meatloaf ever.
Turkey Meatloaf
I should say that I make a mean turkey meatloaf recipe. I know meatloaf is traditionally made with ground beef but this lightened up healthy turkey meatloaf reduces the fat and calories in meatloaf recipes significantly—without sacrificing any of the flavor.
If you're worried about ground turkey resulting in a dry meatloaf, don't be! I have a solution for that. Actually, I wrote an entire post about how to create a delicious turkey meatloaf recipe. After you're done reading this post I suggest heading over to that one for some of my best meatloaf tips.
How to Freeze Meatloaf: 2 Methods
Another thing I absolutely love about turkey meatloaf recipes is that it can be made ahead of time and frozen for future dinners. That's right, you can freeze meatloaf. This means you can make multiple meatloaves at once, then stick them in the freezer.
This way you can have healthy freezer meals available for the month (or longer). Keep reading to find out exactly how to freeze meatloaf properly.
There are a couple of ways to freeze meatloaf. Firstly, you can prepare the meatloaf and then freeze it prior to cooking it. Or, you can prepare and cook a meatloaf recipe completely. After it is cooked, and cooled, you can then slice it up into individual portions and freeze.
Prepare and Freeze Turkey Meatloaf Prior to Cooking
Let's start with the first one. This is my favorite way to freeze meatloaf in big batches.
I personally prepare 3-4 meatloaves at once. I only need to make a mess one time, and then I have 3-4 hearty dinners prepared and ready in the freezer.
The first thing you'll do is prepare the turkey meatloaf recipe as you normally would. I've frozen every turkey meatloaf recipe on my blog.
So it doesn't really matter which recipe you use, the process is still the same. The recipe shown below is my zucchini feta turkey meatloaf recipe.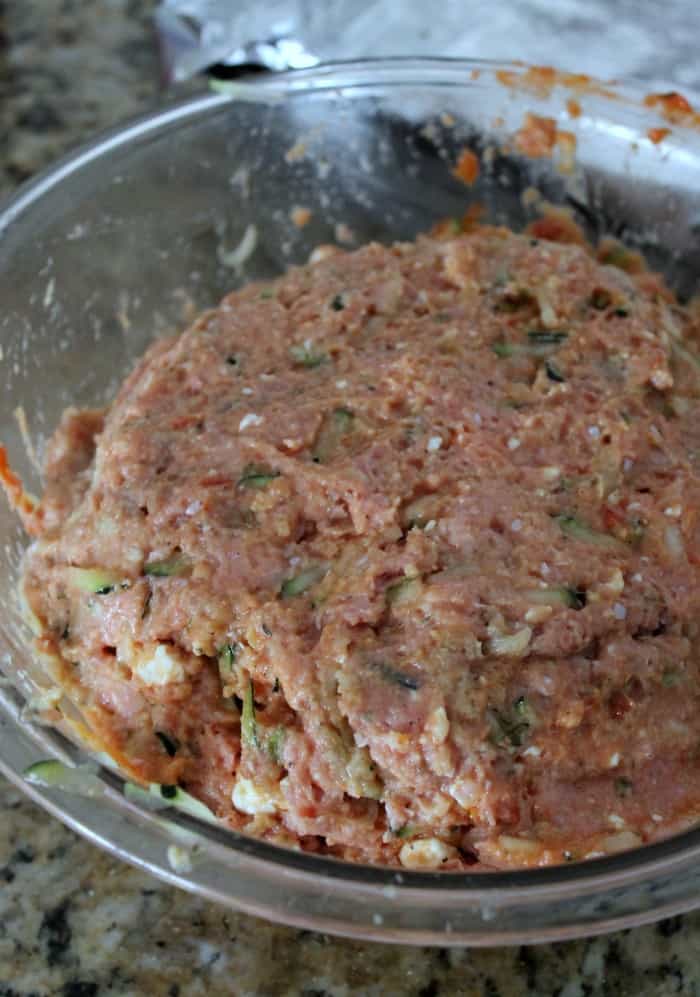 First, mix up your healthy turkey meatloaf as usual. Once you have it nice and mixed in the bowl, you need to place plastic wrap over a baking sheet and then spray it with cooking spray. This is so the meatloaf easily comes off the plastic wrap when you're ready to bake it.
Next, form the loaf on the plastic wrap. If you're making more than one turkey meatloaf, lay out a sheet of plastic wrap for each meatloaf one. You may have to form the loaf sideways to fit more than one on the baking sheet.
Also, you could purchase disposable meatloaf pans from the grocery store or get them in bulk on Amazon. If you get disposable meatloaf pans then just spray the loaf pan and then form the loaf in the pan and wrap top with plastic wrap and foil.
Either way will work.
This recipe below is my bacon cheeseburger meatloaf recipe.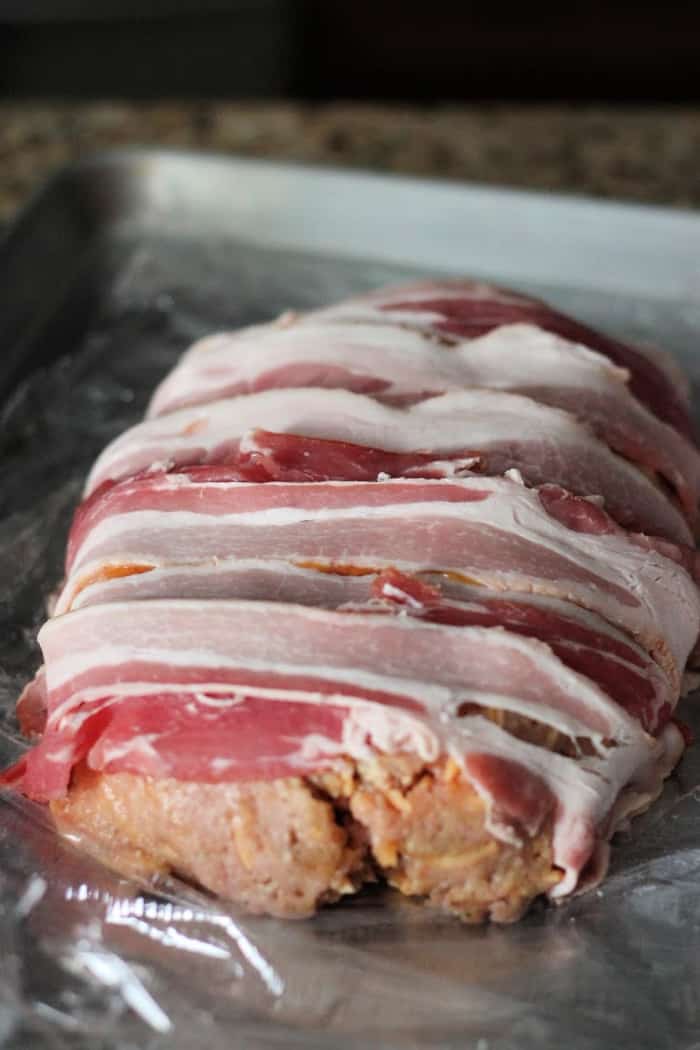 Flash Freeze the Meatloaf
Now you want to flash freeze the meatloaf. This means sticking the sheet pan in the freezer for 2 hours or until the meatloaf is just frozen enough that you can lift it up in one piece.
If you don't have a sheet pan, or not a lot of freezer space, then use a plate. I've frozen many meatloaves using just a plate. The purpose is to get the loaf frozen just enough so you can wrap it properly.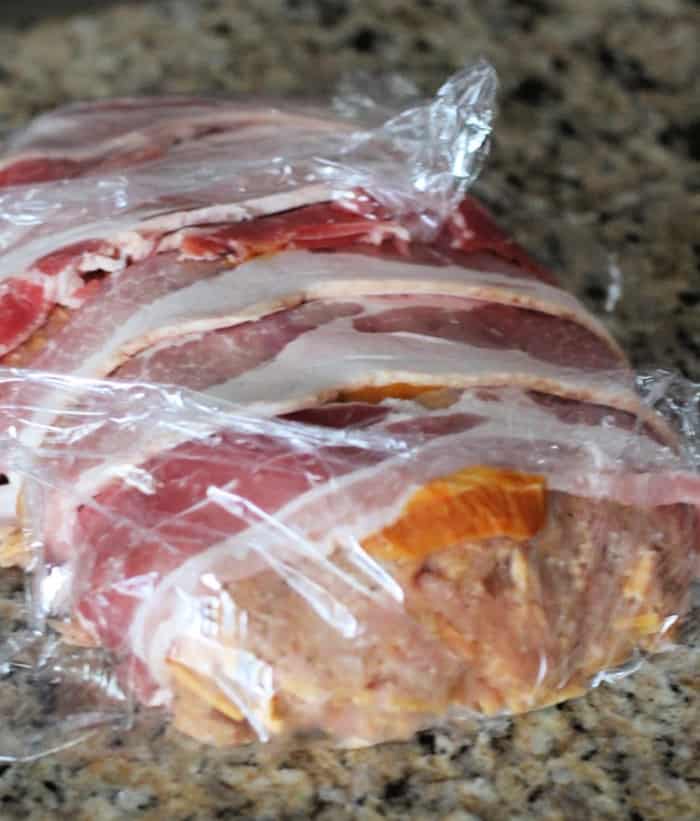 Wrap the loaf twice in plastic wrap.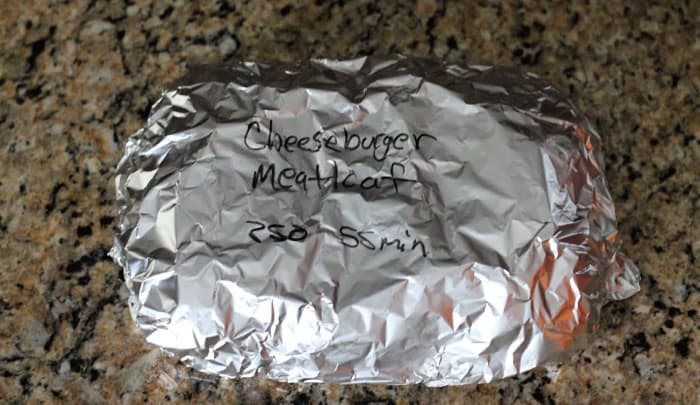 Next, wrap the meatloaf in foil. I like to use plastic wrap and foil to make sure the meatloaf won't get freezer burn. Then label the meatloaf and stick in the freezer.
These turkey meatloaves are easy to stack and move around in the freezer. After they're completely frozen, simply stick them wherever the meatloaves will fit.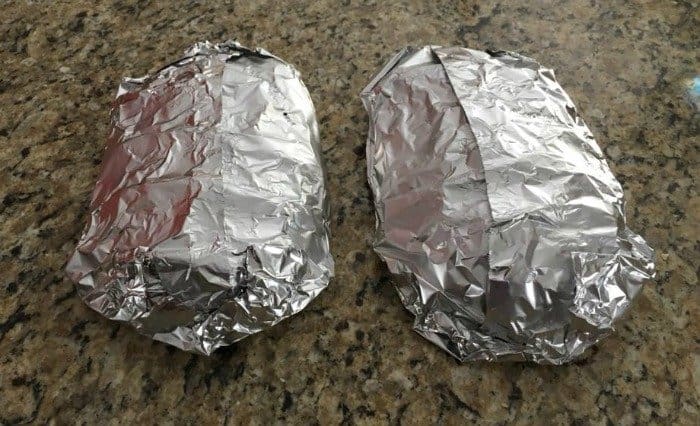 How to Cook the Frozen Turkey Meatloaf
I try to take the meatloaf out of the freezer the night before to thaw in the refrigerator. Then I remove the foil and plastic wrap right before cooking.
Typically, it's still somewhat frozen. I recommend removing the foil and plastic wrap prior to the meatloaf thawing completely. It's easier to handle this way.
The meatloaf can be cooked from frozen, so if you forget to take it out of the freezer no worries. You just need to remove the plastic wrap and foil first.
If the plastic wrap gives you a little bit of a struggle then run it under warm water for a few seconds and it will come right off.
Cook the meatloaf as the recipes suggests. If the meatloaf is still a little frozen you will need to add more time onto the recipe. The meatloaf needs to be cooked to 165 F in the middle. I find adding on 20 – 30 minutes to the recipe does the trick.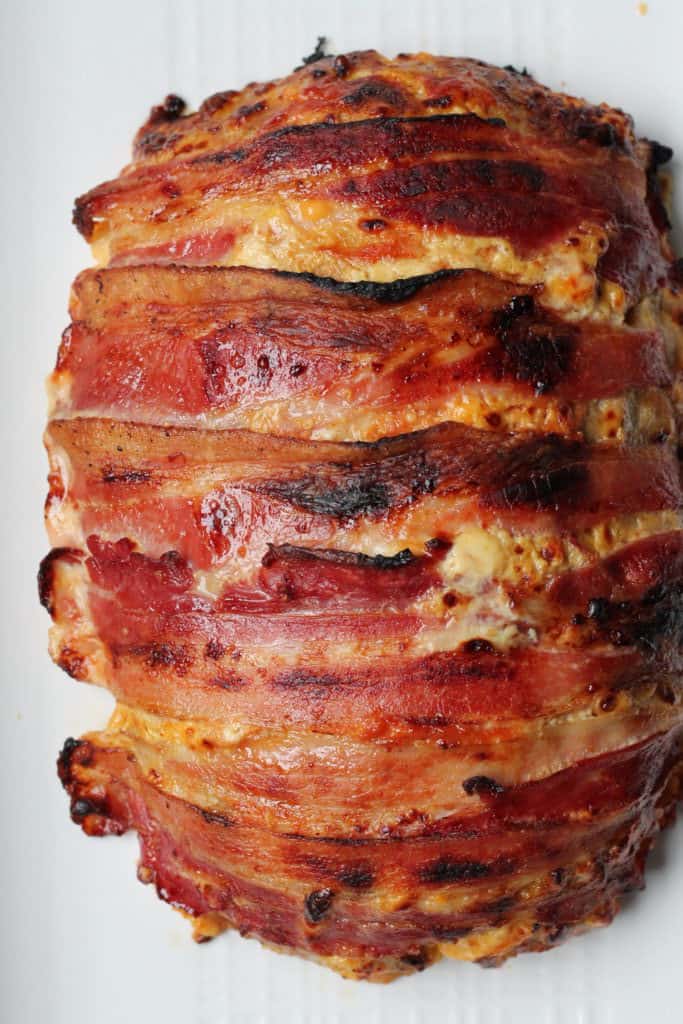 Cook the Turkey Meatloaf Then Freeze
Another way you can freeze meatloaf is to make a meatloaf recipe completely ahead of time, then slice it into individual portions. You can then freeze the slices or keep them in the fridge for a quick high-protein meal.
I often freeze turkey meatloaf this way too because I find it very helpful to have healthy "heat and eat" food in the refrigerator and freezer.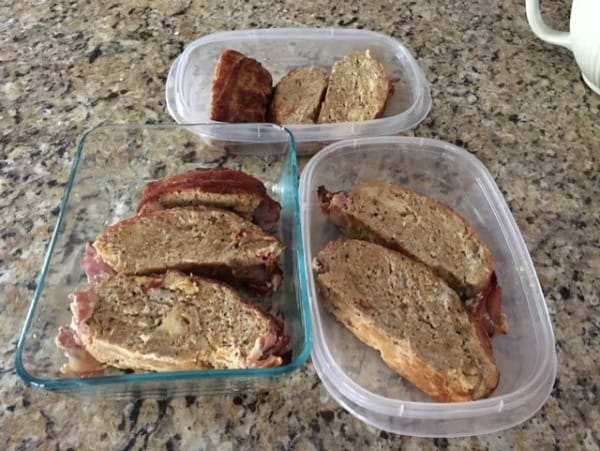 You can even prep meal prep bowls or freezer meals using cooked meatloaf. In my opinion, meatloaf stores great in the refrigerator and freezer.
Even when cooked from frozen, the turkey meatloaf never dries up (thanks to my tips). It keeps its flavor and texture perfectly.
Then, simpy place them in meal prep containers alongside a veggie of your choice in something like these 2-compartment meal prep containers that can be found on Amazon.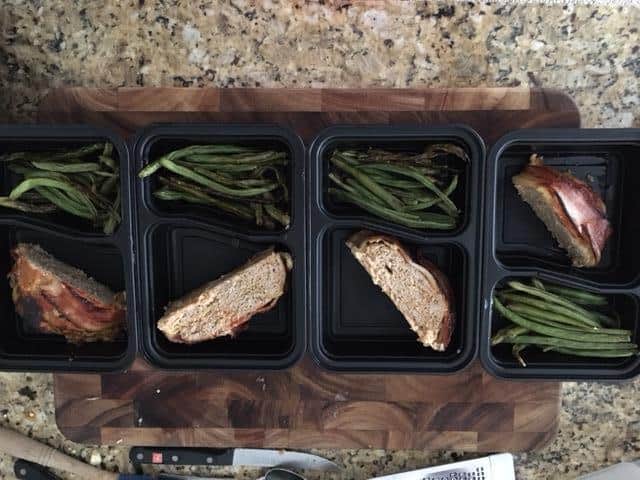 Turkey meatloaf recipes are low-carb and delicious. Taking the time to stock your freezer will assure you have healthy freezer meals on hand for easy weeknight dinners.
Turkey Meatloaf Recipes to Try:
Here are my favorite turkey meatloaf recipes. Like I said, I've frozen each of these recipes so you'll have no problem getting your freezer stock with all of these.
If you're ready to give this whole meal prep thing a try then consider signing up for my free 7-day meal prep series. Or check out my meal prep page for more tips and tutorials.