Did you know that you can freeze meatloaf? Yep! Meatloaf is one of my favorite freezer meal recipes. Today, I'm going to share some super simple tips to show you how to freeze meatloaf so you can stock up on healthy freezer dinners.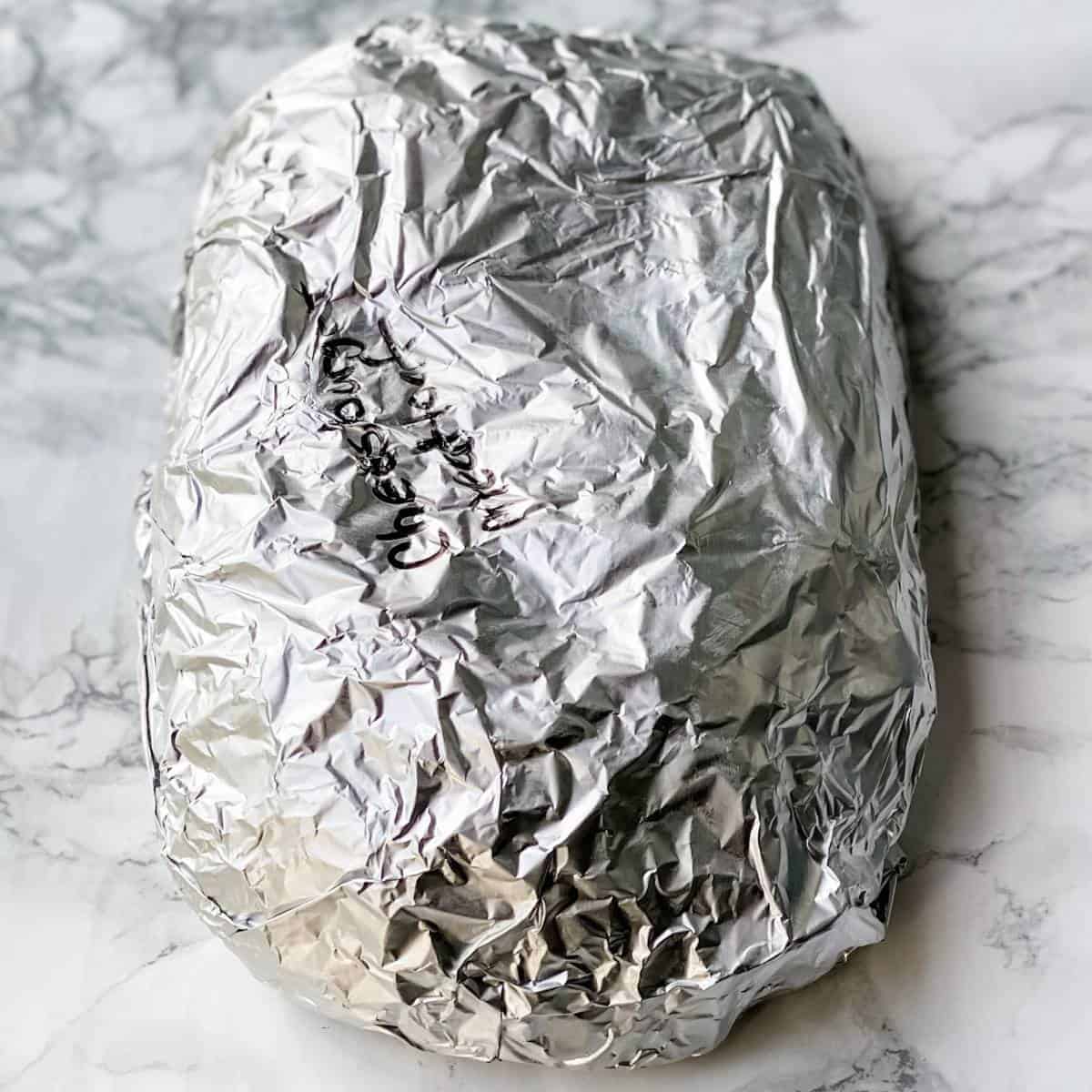 This post contains affiliate links. I am an affiliate for Amazon Associates and other brands and earn a small commission on qualifying purchases. You're by no means obligated to use my links but, if you do, thank you for supporting Organize Yourself Skinny.
When I was younger, meatloaf was my least favorite dinner. However, over the years, I've learned tips and tricks to make a delicious healthy meatloaf recipe, so it's become a regular in our weekly meal plans.
Some of our favorites include Cheeseburger Meatloaf, Italian Meatloaf, Sausage Meatloaf, and Mexican Meatloaf. 
Reasons we love meatloaf recipes!
Low fat and delicious. The meatloaf recipes on Organize Yourself Skinny are lightened up with ground turkey but still moist and big on flavor.
Versatile. Whether you want classic meatloaf or a Greek twist, meatloaf can take on any flavor that you want to mix in.
Goes with everything. Whether you want to go the comfort route with mashed potatoes or pasta or keep it low-carb with roasted asparagus or a tasty cauliflower mash, there are so many healthy meatloaf sides to choose from.
Freezer champion. Another reason I love meatloaf recipes is that they can be made ahead of time and frozen for future dinners. You can prepare multiple meatloaves at once, then stick them in the freezer.
In this post, I'm going to show you how to freeze meatloaf. These tips work for ground beef or ground turkey meatloaf recipes.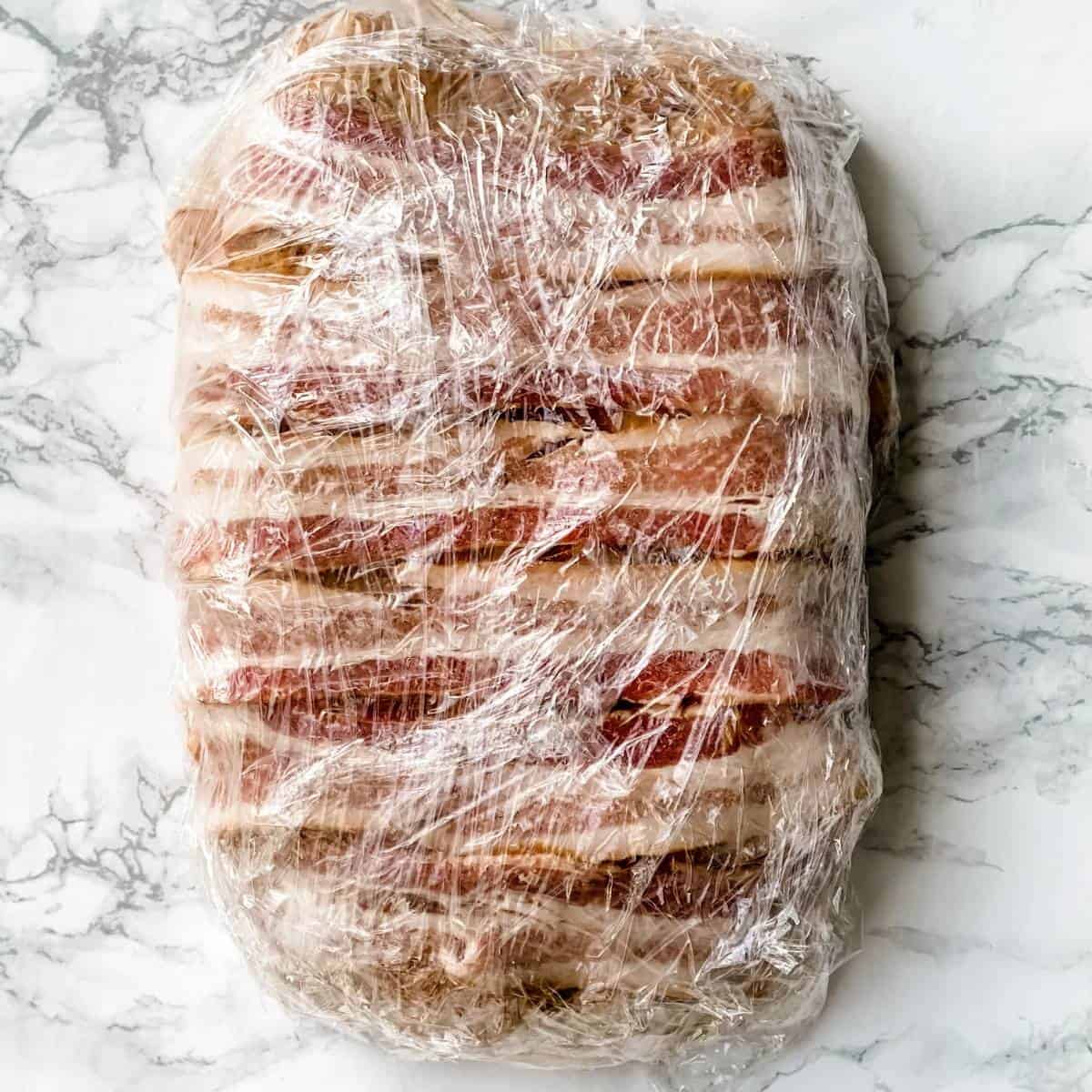 How to Freeze Meatloaf
There are a couple of ways to freeze meatloaf.
Firstly, you can prepare the meatloaf and then freeze before cooking it. 
Or, you can prepare and cook a meatloaf recipe thoroughly. After it is cooked and cooled, you can then slice it up into individual portions and freeze.
A quick note. I've frozen every turkey meatloaf recipe on my blog. So it doesn't matter which recipe you use; the process is still the same. This process also works for ground beef meatloaf recipes.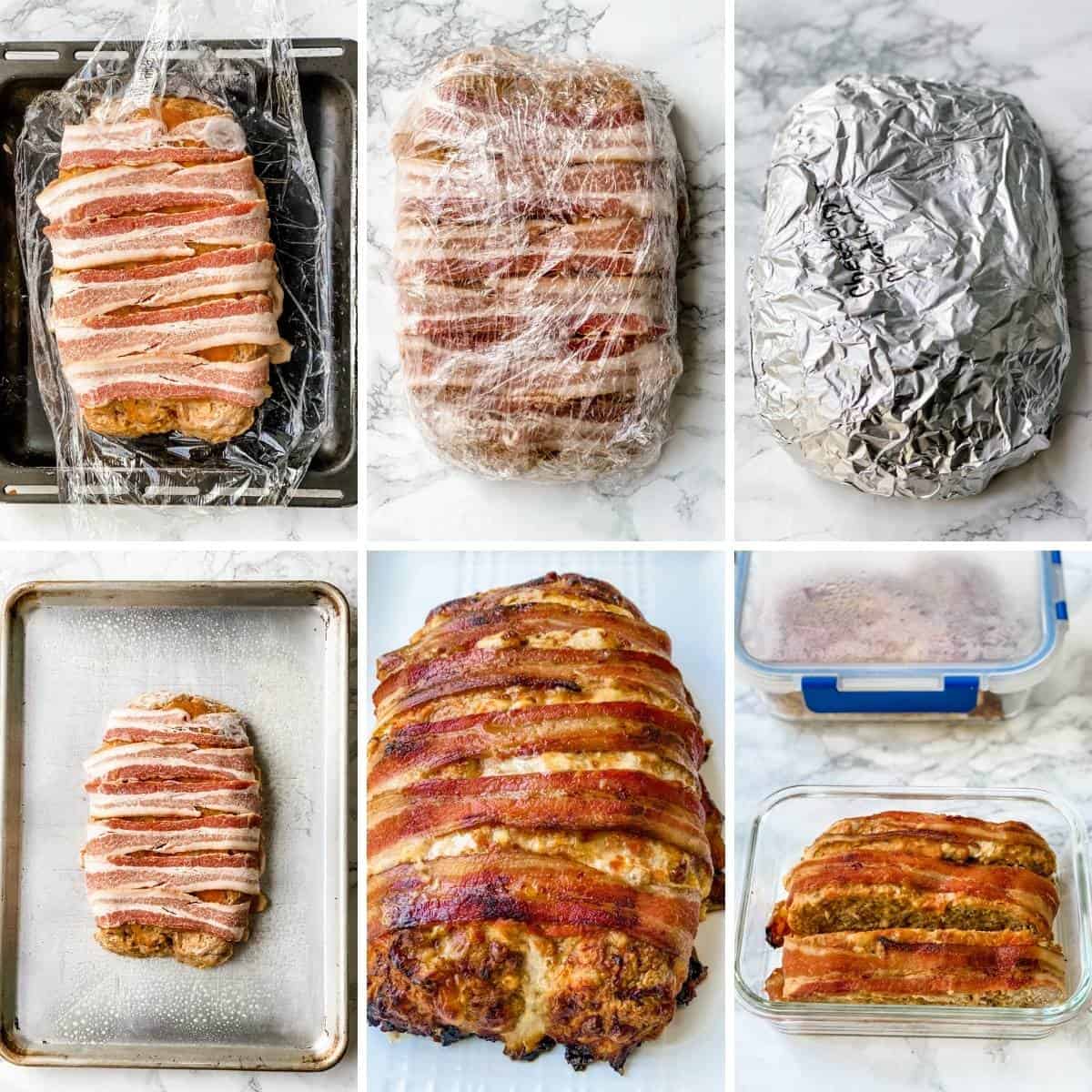 How to freeze uncooked meatloaf
Let's start with freezing a meatloaf recipe before cooking it – this is my favorite way to freeze meatloaf in big batches. I usually freeze 3-4 meatloaves at once, but you can do as many as you want. 
This method means you only need to make one mess but end up with hearty dinners prepared and ready in the freezer for the month or longer.
Instructions
Mix the meatloaf ingredients as usual. Set the meat mixture aside.
Prep a baking sheet pan or plate by laying a piece of plastic on top and spraying it with cooking spray. Spraying the plastic helps the meatloaf quickly come off the plastic wrap when you're ready to bake it. Also, you'll need to choose a sheet pan or plate that will fit into the freeze.
Lay a sheet of plastic wrap on the baking sheet or plate. Form the loaf on the plastic wrap. You may have to form the loaf sideways to fit more than one on the baking sheet.
Now you want to flash freeze the meatloaf. Place the sheet pan or plate in the freezer until the meatloaf freezes- this takes 1-2 hours. You want to be able to lift the frozen meatloaf off the pan easily.
After the meatloaf is frozen, please remove it from the pan or plate and wrap it twice in plastic cling wrap. You want to wrap tightly to get out as much air as possible.
Next, wrap the meatloaf in aluminum foil. I like to use plastic wrap and foil to make sure the meatloaf doesn't get freezer burn.
Label the meatloaf and stick it in the freezer.
Frozen meatloaves are easy to stack and move around in the freezer. After they're completely frozen, stick them wherever the meatloaves will fit.
You can purchase disposable meatloaf pans. If you get disposable meatloaf pans, spray the loaf pan and form the loaf in the pan and wrap the top with plastic wrap and foil.
How to Cook Frozen Meatloaf
If possible, take the meatloaf out of the freezer the night before to thaw in the refrigerator. Then remove the foil and plastic wrap right before cooking and place it onto a baking sheet.
I recommend removing the foil and plastic wrap before the meatloaf thawing thoroughly. It's easier to handle this way. Keep in mind that you are handling raw meat so much sure to keep it away from other foods to eliminate contamination.
The meatloaf can be cooked frozen, so no worries if you forget to take it out of the freezer. You need to remove the plastic wrap and foil first.
If the plastic wrap gives you a little bit of a struggle, run it under warm water for a few seconds, and it will come right off.
Continue with the recipe when you're ready to cook the meatloaf.
If the meatloaf is still a little frozen, you will need to add more time to the recipe. The temperature for beef and turkey meatloaf should be 160 F in the middle to be considered cooked and safe to eat. I find adding 20 – 30 minutes to the recipe does the trick.
How to Freeze Cooked Meatloaf
Another way you can freeze meatloaf is to make a meatloaf recipe entirely ahead of time, then slice it into individual portions and freeze. This is also helpful when there is leftover meatloaf.
Cook the recipe and then cool completely before freezing.
Wrap individual slices in plastic wrap and then place them into a freezer bag. Or place the pieces into airtight containers, label, and freeze. This is a great option when you want to reheat an individual slice for sandwiches or a quick individual meal.
I often freeze meatloaf alongside rice and vegetables for a perfectly portioned dinner. Think lean cuisine.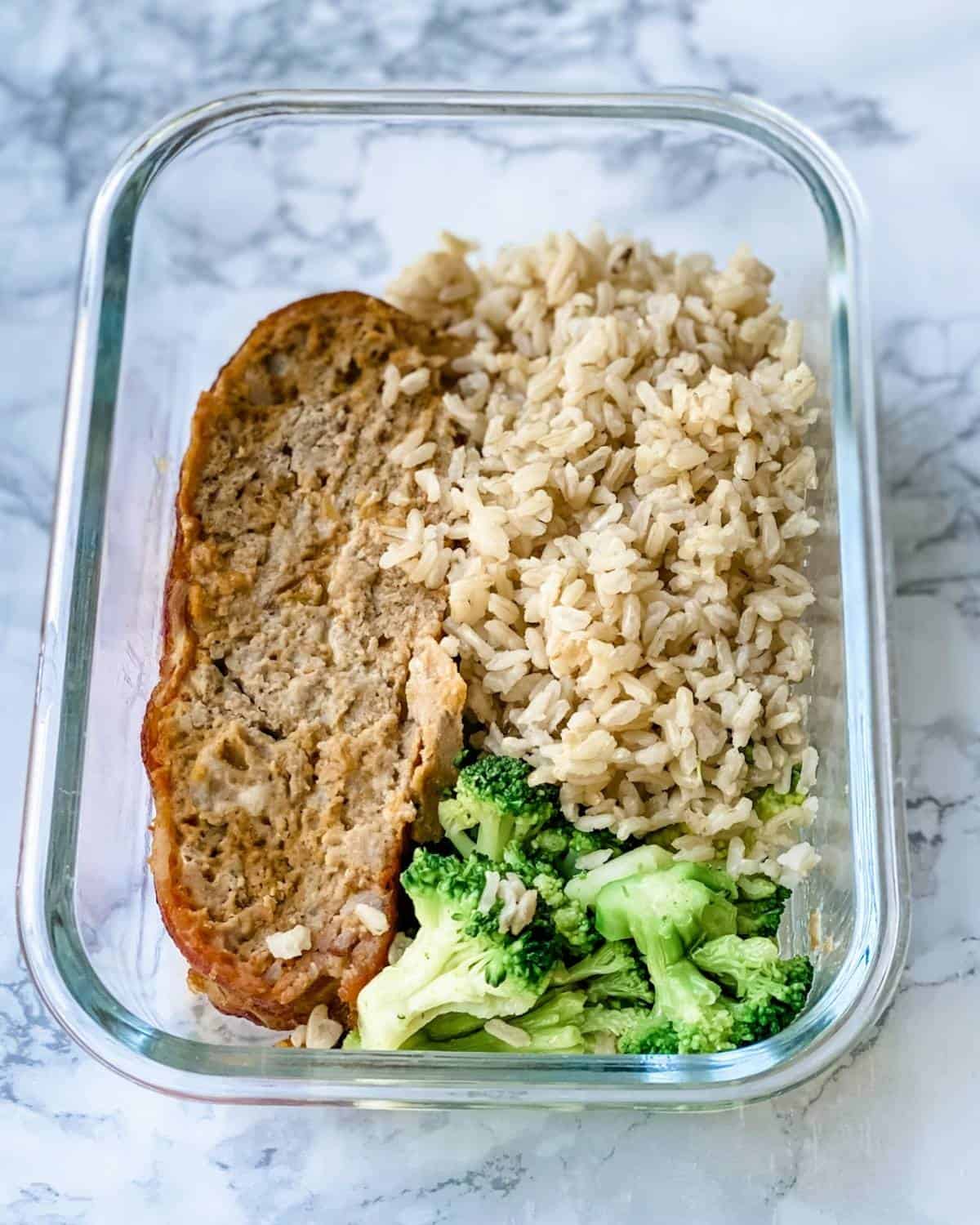 Reheating Frozen Cooked Meatloaf
It's helpful to take the frozen meat loaf out of the freezer the night before if you can – this will reduce the time it takes to heat up in the microwave.
Heat in the microwave for 3-4 minutes or until hot.
You can also reheat in a 350 degree oven for 10 minutes or until hot.
You don't have to worry about dried-out meatloaf when using the tips I share for preparing deliciously moist healthy turkey meatloaf recipes.
Taking the time to stock your freezer will assure you have healthy freezer meals on hand for easy lunches or busy weeknights.
Favorite Healthy Meatloaf Recipes
Italian Meatloaf
This 5-star Italian meatloaf recipe includes ground turkey, poultry sausage, marinara sauce, mozzarella cheese, and Italian seasonings. It's like eating a giant meatball! Truthfully, this might be the best turkey meatloaf you'll ever have! Make it on Sunday for the week or freeze for dinner later on.
Check out this recipe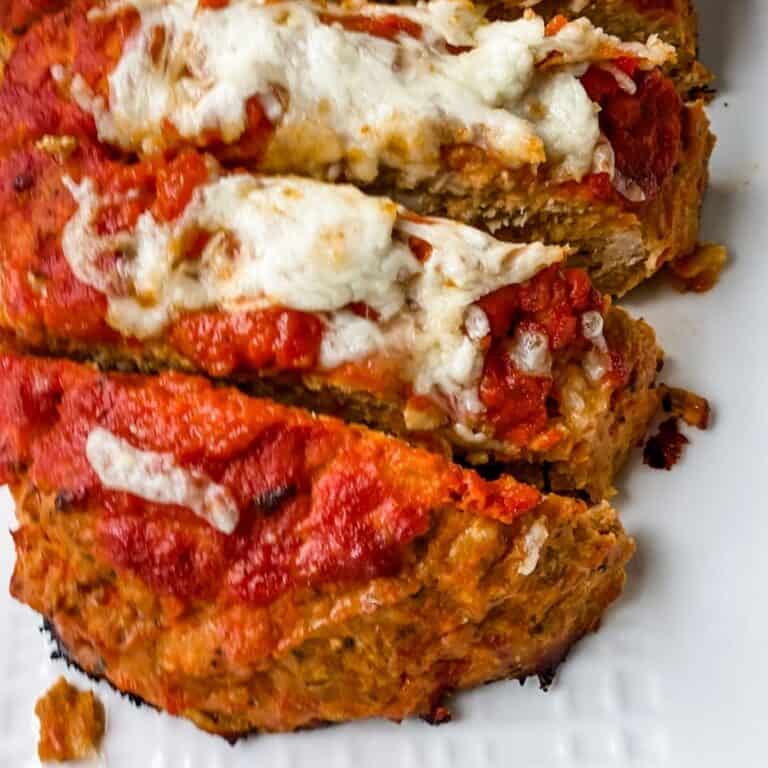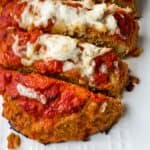 Mexican Meatloaf
This Mexican meatloaf brings taco night to a whole new level. Made with lean ground turkey and flavored with taco seasoning, salsa, green chilis, and taco sauce.
Check out this recipe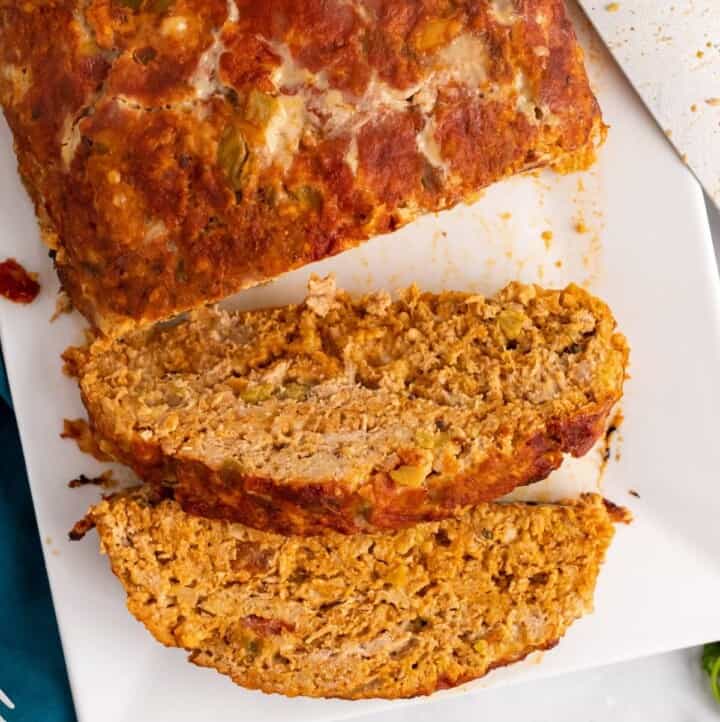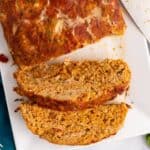 Turkey Zucchini Meatloaf with Feta
Turkey Zucchini Meatloaf with Feta Cheese is moist, flavorful, and will become a family favorite. This healthy meatloaf is secretly filled with veggies and is low carb and high-protein. You can assemble the ingredients ahead of time or cook entirely for a quick weeknight dinner. 
Check out this recipe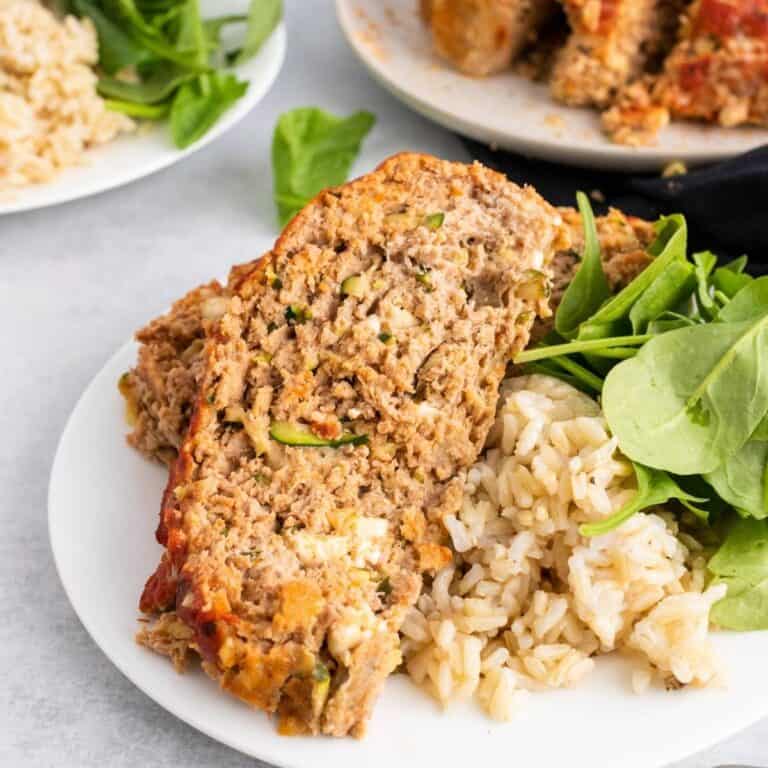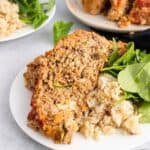 Sausage Meatloaf with Peppers and Onions
This sausage meatloaf with peppers and onions is juicy and filled with flavor. It's everything you love about the Italian American but formed into a tasty, healthy meatloaf recipe. Make this on Sunday for the week or freeze to enjoy later in the month.
Check out this recipe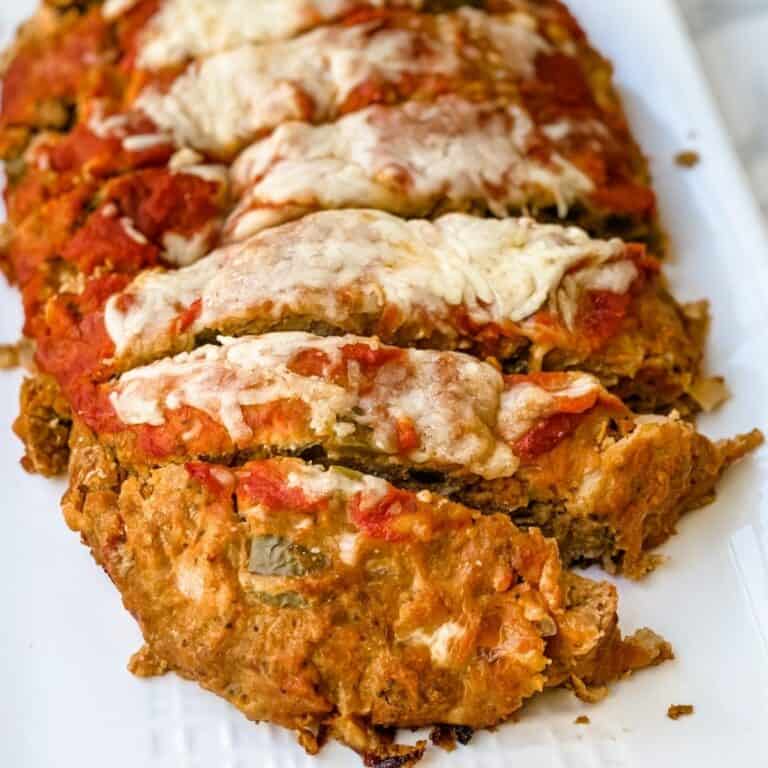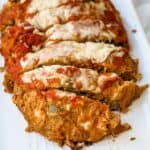 More Freezer Healthy Dinner Ideas