One of the best time-saving tips when eating healthier clean foods is to freeze a big batch of soup to eat for lunch and dinner weeks and even months down the road. If you're not sure how to freeze soup, keep reading for all of my tips, tricks, tools, and hacks. As a bonus, I'm sharing my favorite healthy soup recipes.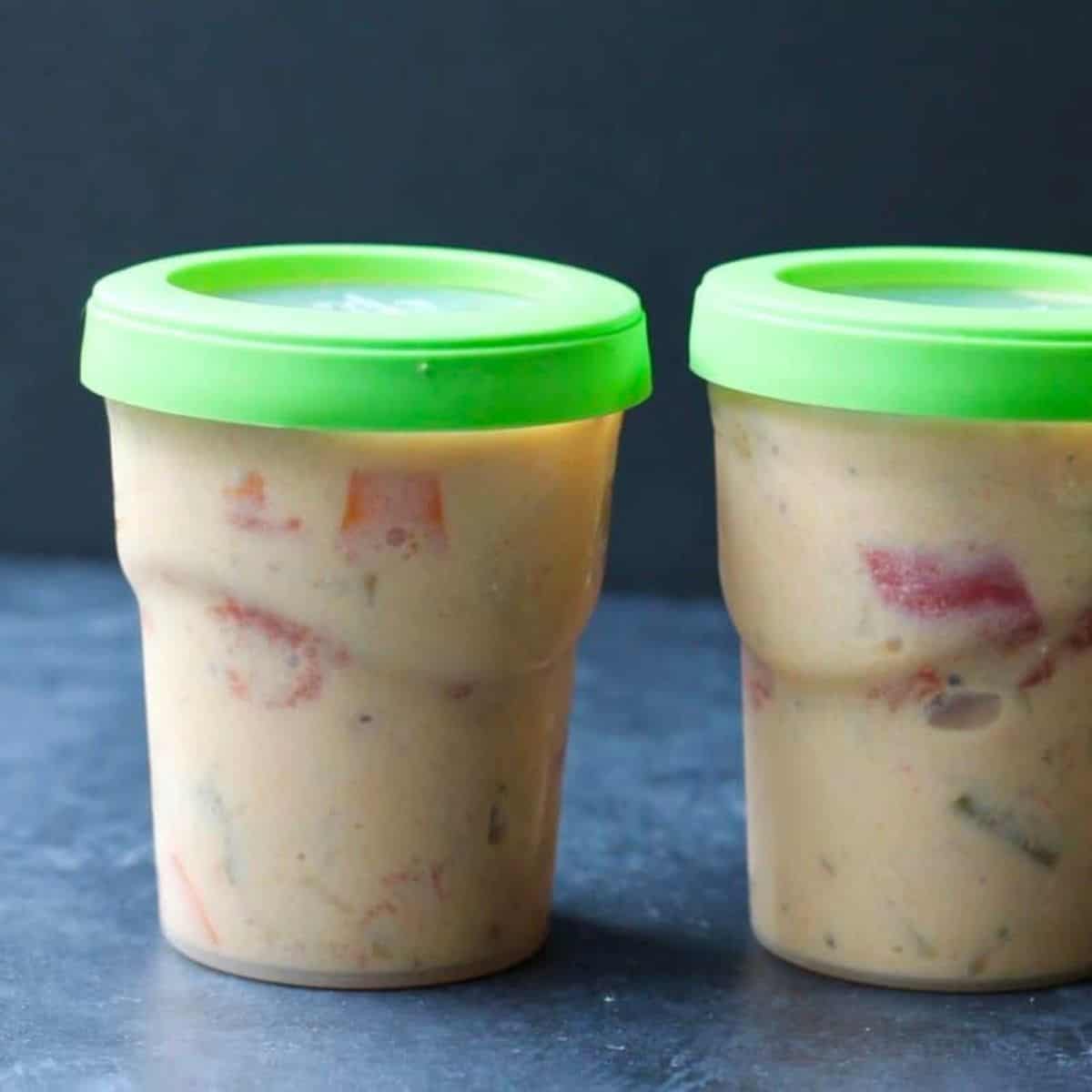 This post contains affiliate links. I am an affiliate for Amazon Associates and other brands and earn a small commission on qualifying purchases. You're by no means obligated to use my links but, if you do, thank you for supporting Organize Yourself Skinny.
Homemade soup is one of my favorite recipes to freeze, and I've been stocking my freezer with everything from chicken noodle to potato soup for well over a decade.
My Favorite Reasons for Freezing Soups:
Most soup recipes freeze, thaw, and reheat perfectly – tasting like you just prepared it fresh.
Soups are a great way to use up vegetables and other ingredients. Freezing it assures that those ingredients will stay fresh even if you don't enjoy it until much later.
Soups are a great way to pack in the nutrition. Freezing the soup assures that you'll have a nutritious lunch or dinner ready ahead of time.
Frozen soup is excellent to have on hand for fast, healthy lunches and dinners. I used to freeze soup in large containers early on, but that meant I needed to heat a large container even if I only wanted a small bowl. Now I freeze soup in individual portions, making it perfect to heat up when I want to have soup for lunch. It's also great to grab and go on the way to work!
Frozen soup is excellent to bring to a friend or family member. Whether your best friend just had a baby, a family member had surgery, or maybe someone could use a little pick me up by bringing them some soup to enjoy, it not only makes their life easier, but it's like giving them a cozy warm hug. Here are some other freezer meals to bring to friends and family.
Before I share everything you need to know about how to freeze soup, here are a few questions I wanted to answer first
FAQs
Can you freeze homemade soups?
You sure can. That is one of my favorite things about making large pots of soup. There are some tips and tricks that I'll share for the best results.
Are there soups that freeze better than others?
Yes! I've frozen all kinds of soup leftovers, and here's what I've learned.

Broth-based soups, including tomato-based, filled with hearty vegetables, beans, and proteins, will freeze the best. Hearty vegetables include broccoli, cauliflower, carrots, celery, onions, Brussel sprouts, cabbage, green beans, sweet potatoes, mushrooms, kale, and spinach.

Water-based vegetables like zucchini or summer squash tend to get a little mushier than heartier veggies
.
White potatoes can be a little finicky too. I've had freezer success with creamier potatoes like butter or yellow potatoes. Russett and red potatoes get grainy and fall apart.

Proteins like chicken, beef and pork tend to do well in soups. I prefer to freeze protein chopped or cubed instead of shredded. My experience is that sometimes shredded chicken can get a little stringy in soup after it thaws.

Soups that include pasta or noodles will not freeze well – this is because the pasta will get mushy. I've learned this lesson the hard way. If you're going to make a soup recipe that includes pasta, like chicken noodle or pasta Fagioli, I strongly suggest leaving it out and then making it when you're going to reheat the soup later on.
 
Or, if you want the pasta ready ahead of time, you can either make and freeze it into portions separately or make it on Sunday to have it for the soup during the week.

My advice? If you're not sure if a soup will freeze well or not, then test a small portion first. Leave it in the freezer for a week and then heat it and see if it reheats nicely.
Do dairy-based soups freeze well?
Dairy and cream-based soups or soups with cheese are a little more finicky too. I've successfully frozen many of my "creamier" soups.
 
However, the difference is that these soups have a small amount of cream or other dairy than the broth. So, they are more broth-based soups that include a small amount of dairy. These freeze well for me.

If the soup includes more cream and dairy than broth, it will separate when it's thawed and reheated. The taste will be fine, but the texture will be off. You could leave the dairy out and then add it when you reheat the soup.
How long can soup stay frozen in the freezer?
Soup is good in the freezer for up to 3 months. Although, I've enjoyed soup that was in the freezer well over this time frame.

However, the basic rule of thumb is three months. So, if you plan to make a bunch of soup for the freezer, plan to eat it within three months.
Cooking Tips
Here are a few extra tips and hacks I have learned in the past that I think you could benefit from:
Cool soup before freezing. This tip is essential because if you freeze soup hot, it will form ice crystals and most likely get freezer burn. So, make sure the soup is cool before freezing. You can do this by storing the soup in the refrigerator for a few hours or overnight before freezing the soup.
Don't overfill the container. this is especially important if you're using a glass container like a mason jar! If you fill the container to the top, you run the risk of the jar cracking or breaking in the freezer. Plastic containers can also crack, so; you want to leave a good inch from the top for the soup to expand.
Add broth if the soup thickens too much. It's possible that the soup will reduce or the liquid will absorb into veggies. Regardless, it's likely the soup will thicken up more than you want. In this case, either stir in chicken broth or, if you don't have any other broth, then add in some water to loosen up the soup.
I already talked about freezing creamier soups, but I wanted to offer another tip that worked. Thaw and reheat cream-based soups slowly on low heat. Reheating cream-based soups tend to get the best results when thawed overnight in the refrigerator and then reheated slowly on the stove. Trying to cook the soup on high heat quickly can lead to a separation in the soup.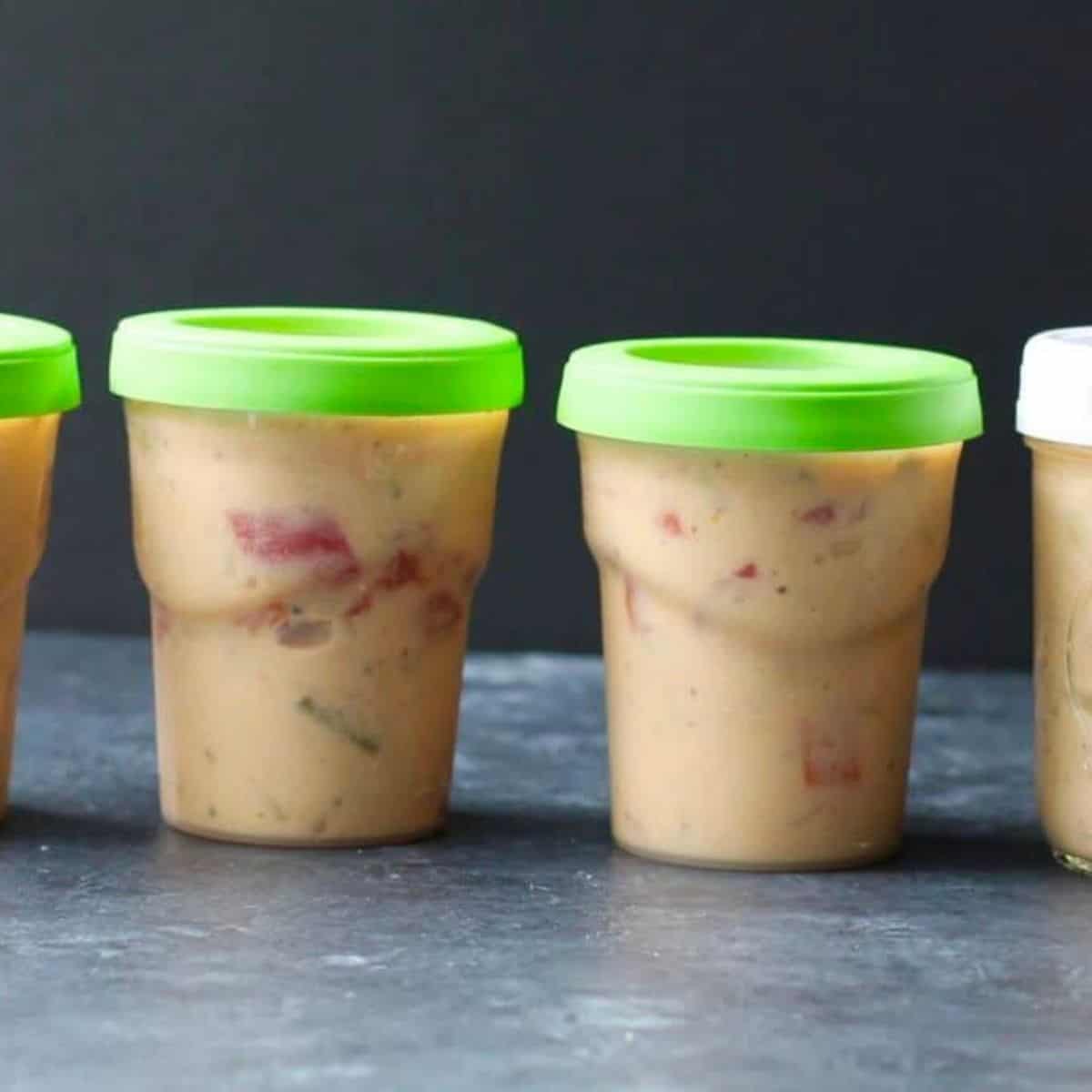 Supplies
These are the supplies I use and recommend for freezing soup.
Souper cubes – These silicone trays are relatively new to the market, but they have quickly become my favorite tool for freezing soup along with other recipes. The 1-cup portions work great for individual servings of soup.
16-ounce glass mason jars – Mason jars are an excellent unusual option for freezing soups. The two issues are mason jars take up a lot of space in the freezer, and you need to be careful not to overfill so the glass doesn't crack. If you use mason jars, don't forget to grab a pack of plastic lids.
Ball plastic 8-ounce freezer containers – If you're afraid to use glass containers, these will work great for freezing individual portions of soup.
Plastic freezer bags – Before all the fancy containers and trays, I used good old-fashioned plastic Ziploc freezer bags. These work great when you don't want to take up a lot of space! Of course, the issue with these bags is they are not environmentally friendly. After you put the soup into the bags, lay the bags flat and freeze. Then, you can move the bags wherever needed in the freezer.
Freezer-safe plastic containers – These work great if you want to store more significant amounts of soup. For example, you can get a 3-4 cup container to freeze a batch of soup for your family to eat.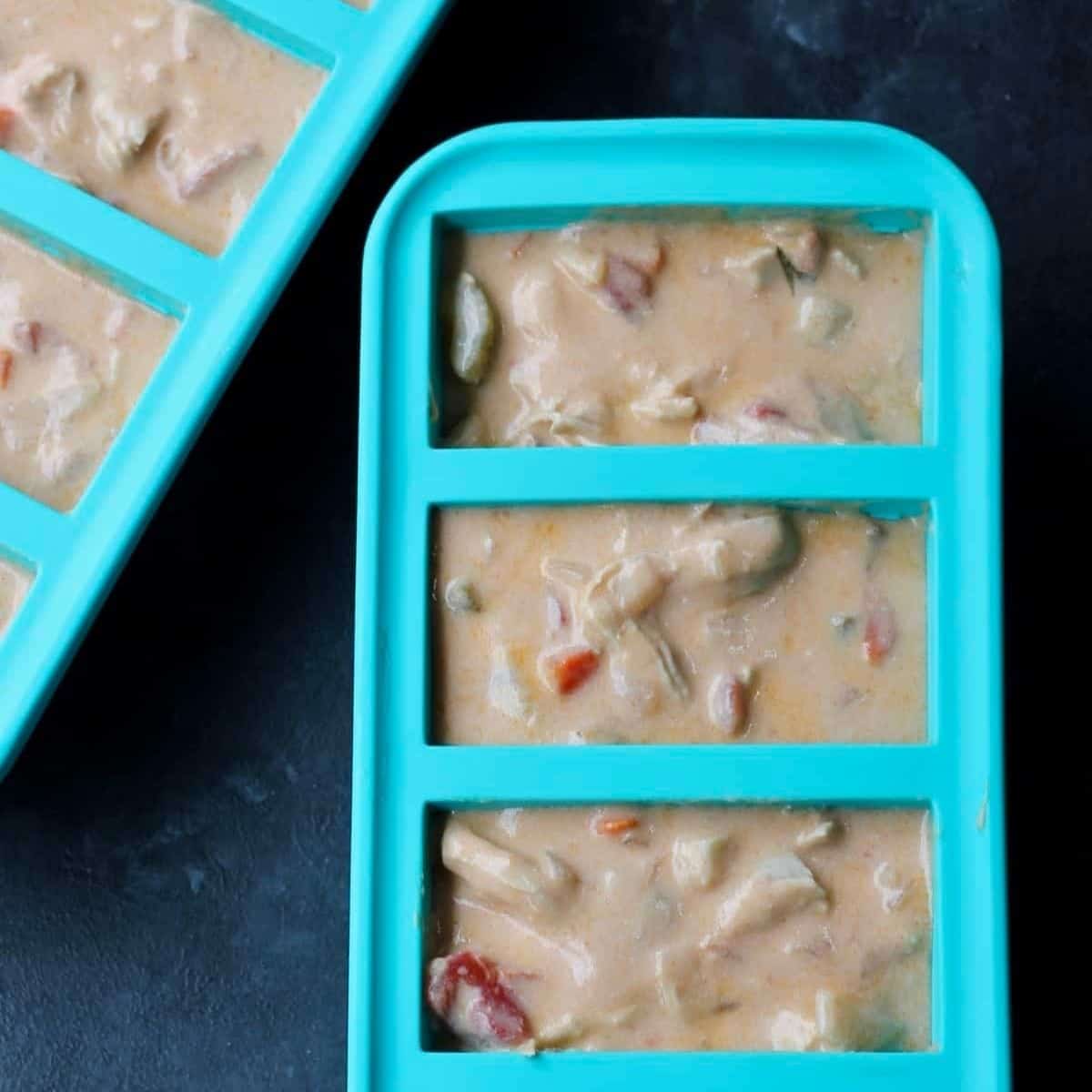 How To Freeze Soup
Make the soup recipe. Again, if the recipe includes pasta, then leave it out! Also, if it's a recipe where you can add the cream or dairy when it's reheated, add the dairy after it's reheated.
Let the soup cool completely. You don't want to freeze the soup hot because ice crystals will form, and you'll end up with freezer burn.
Pour soup into a freezer-safe container of your choice. Don't forget to label and date! Trust me; if you make a bunch of soup and don't label it, you'll play the mystery soup game every time you decide to warm some up for dinner.
Expert tip. I recommend freezing soup into individual portions because that gives you the option to reheat more than one portion if you're making the soup for the family or heat one portion if you're warming up for yourself. If you don't have a lot of space in the freezer, I recommend using the Souper Cubes or the Ziploc bags to freeze the soup. You can even use an ice cube tray for a smaller portion.
If you're planning on bringing soup to work, then freezing in 1-cup portions using Souper Cubes works the best, in my opinion.
Then, all you need to do is place the cube in a microwave-safe container the night before or in the morning, and the soup will be ready to warm up in the microwave by lunchtime.
How To Thaw Frozen Soup
If you can remember, take the soup out the night before to thaw overnight in the refrigerator. This will take less time to heat up and will be more gentle on the soup ingredients.
If you don't remember, then most soups will reheat fine on the stove from frozen. The only thing you might have an issue with is creamy soups.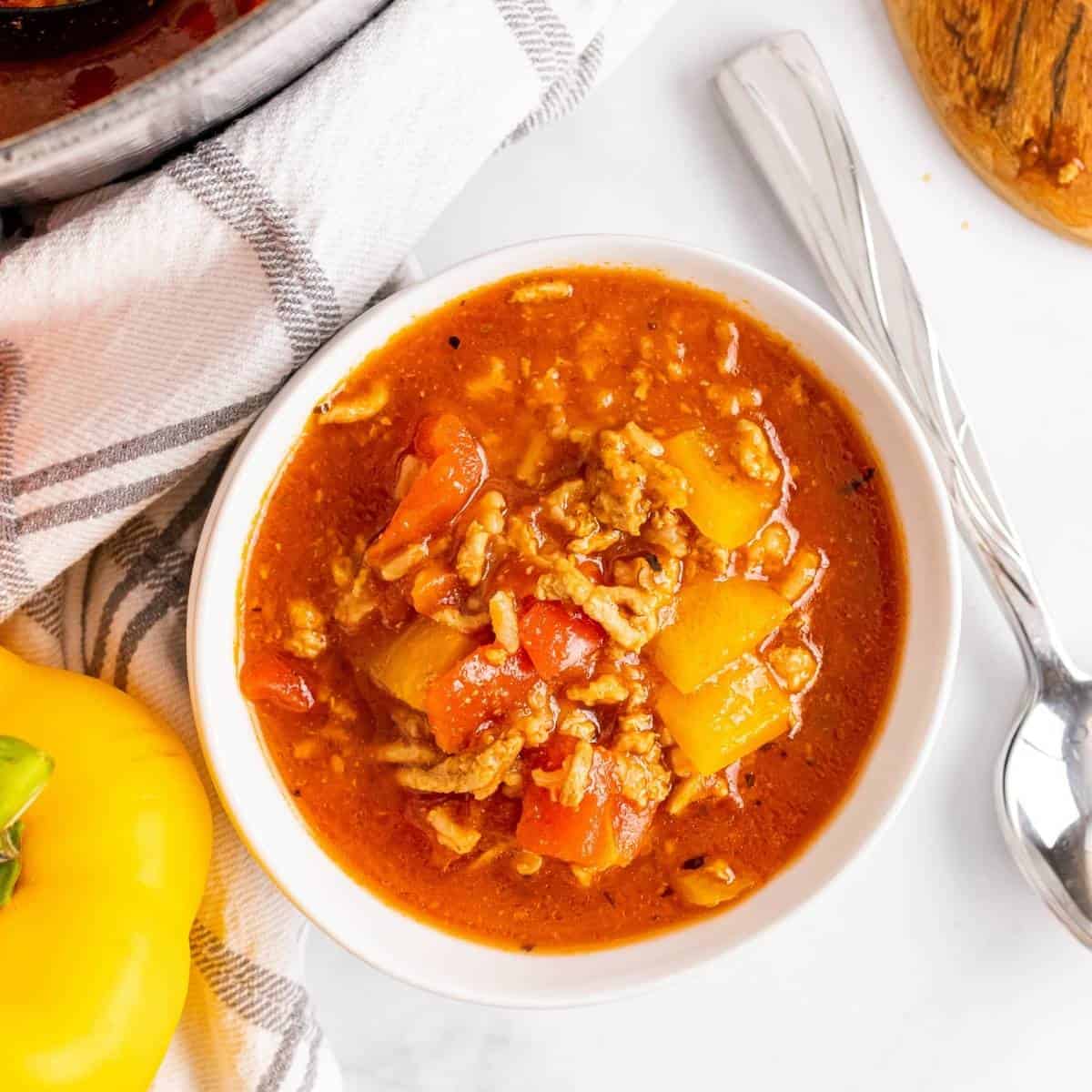 How To Reheat Frozen Soup: My Top 3 Ways
In the microwave.
This method works best if the soup is thawed ahead of time in the fridge. Then, put the soup into a microwave-safe bowl and heat for 2-3 minutes or until hot. You'll want to use a cover of sorts, so the soup doesn't splatter and make a mess of your microwave.
In the slow cooker.
If you're planning on making a larger batch of soup for the family, then you can heat the soup up in the morning using your slow cooker. Because the soup is already cooked, I recommend setting it on low for 5-6 hours if you're heating it from frozen or 2-3 hours on low if thawed. You can also get a smaller crockpot if you want to use this method to heat an individual soup portion.
On the stove top.
This is the method I use the most when reheating frozen soup!
Add the soup to a soup pot and heat over medium until hot and bubbly. Of course, if the soup thaws overnight in the refrigerator, it will take less time than if you heat it from frozen.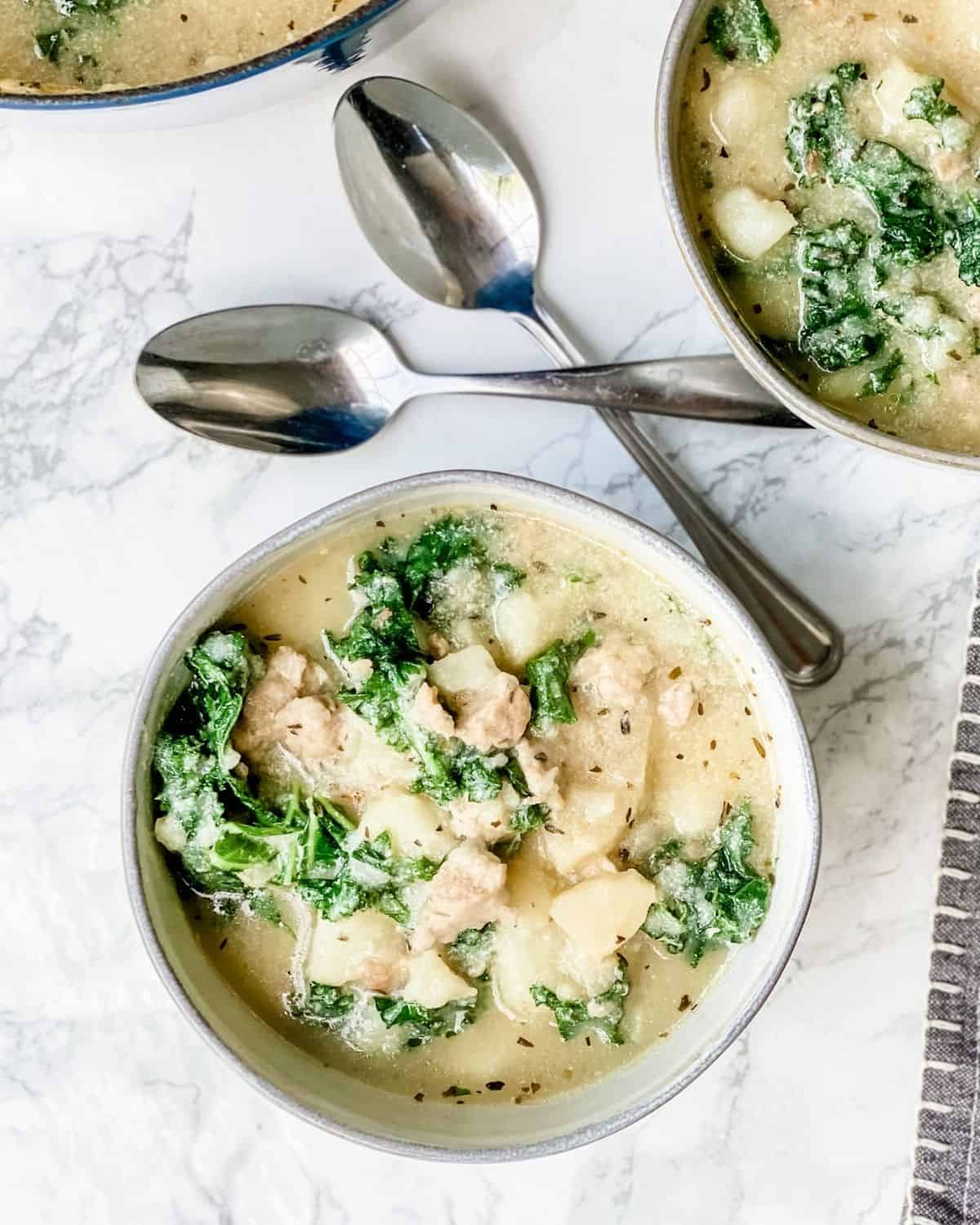 Favorite Healthy Soup recipes
Now that you know how to freeze soup, here are some of my go-to soup recipes when I am meal prepping freezer meals:
Stuffed Pepper Soup
Stuffed pepper soup is a delicious healthy one-pot meal filled with rice, ground turkey, bell peppers, and broth to create a filling soup recipe that tastes like stuffed peppers. Make a pot on Sunday for the week or freeze it for lunches and dinners later.
Check out this recipe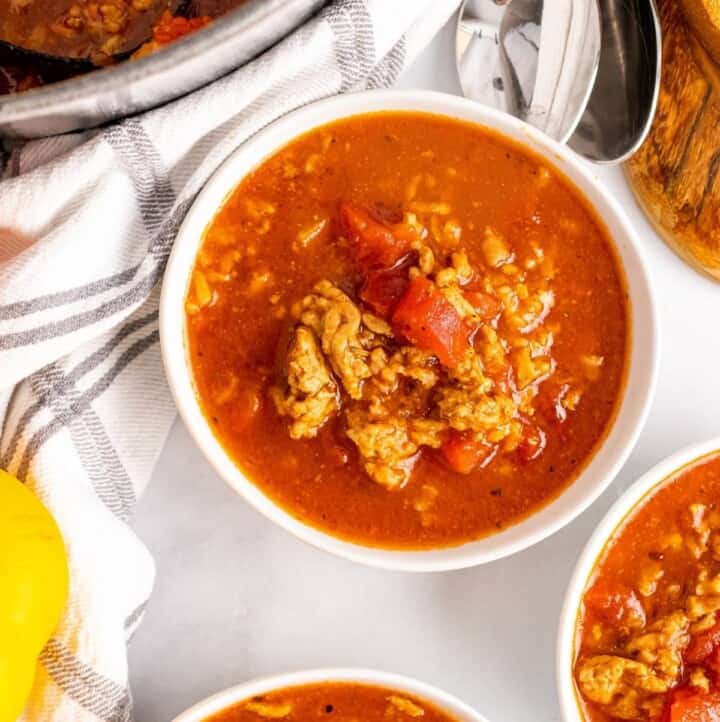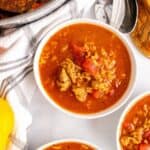 Pizza Soup
Pizza Soup is everything you love about pizza transformed into a comforting low-carb soup recipe. To keep you full, a deliciously rich tomato broth filled with lean protein-packed chicken Italian sausage, pepperoni, and mushrooms. This pizza soup recipe gets better by the day, making it perfect for meal prep or freeze for a quick healthy dinner.
Check out this recipe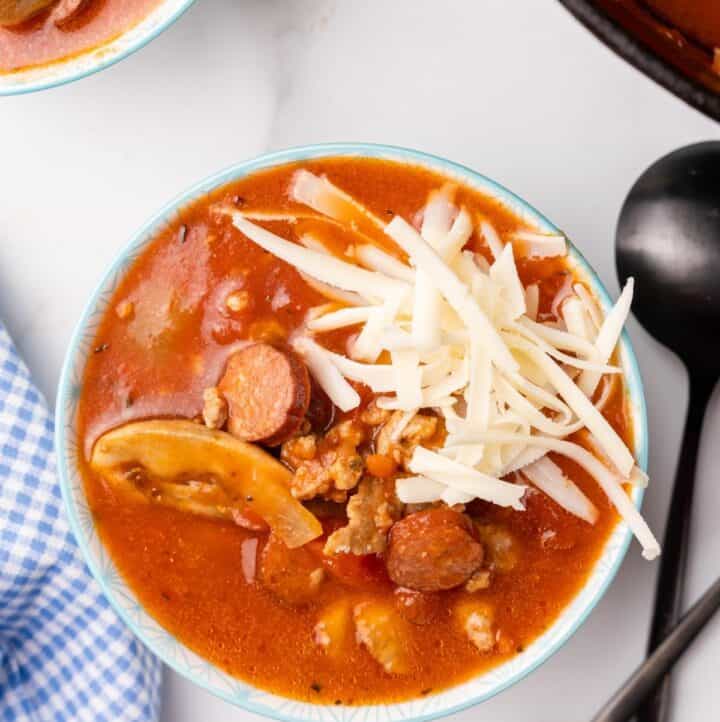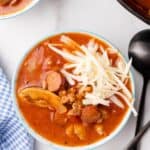 Italian Chicken Soup
This Italian Chicken Soup is comforting, flavorful, and packed with wholesome ingredients that nourish your soul from the inside out. It includes tender chicken, carrots, celery, and onions cooked in a tomato and chicken broth seasoned with delicious Italian seasoning to create one of the best Sicilian chicken soup recipes you'll ever eat.
Check out this recipe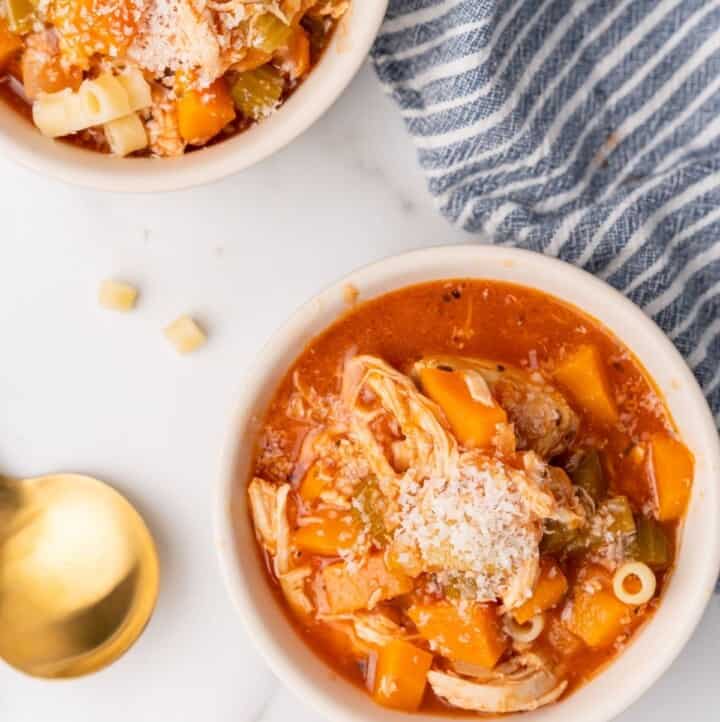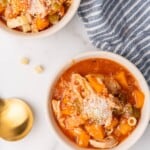 Buffalo Chicken Soup
This buffalo chicken soup takes all your favorite hot chicken wing flavors and transforms them into a delicious and creamy spicy soup! This one-pot soup recipe is super easy to make ahead of time for a busy week or freeze for a healthy dinner later.
Check out this recipe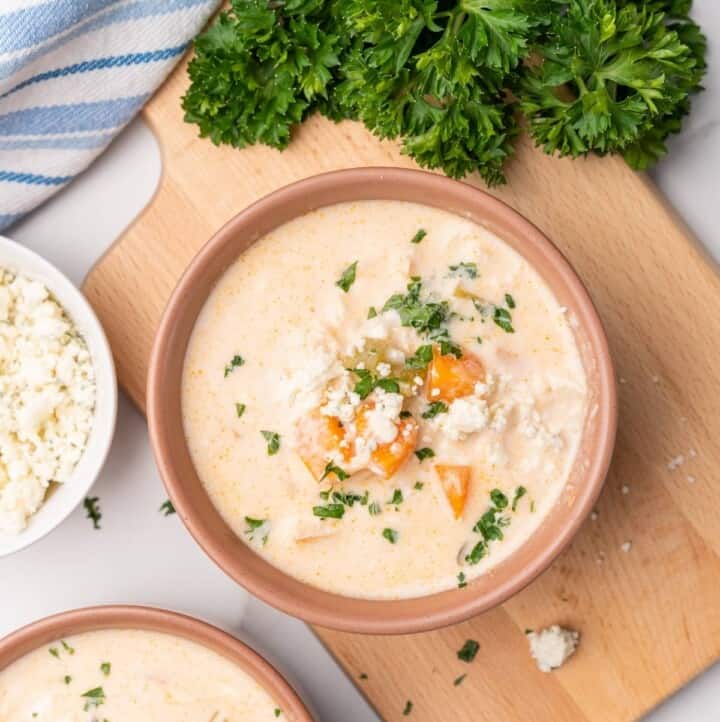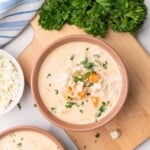 Pasta Fagioli
Pasta Fagioli is filled with lean ground beef, beans, and pasta. In a way, it's an Italian-style chili. Olive Garden's Pasta e Fagioli has long been a favorite of mine, and I'm so happy to say this recipe is the best copycat version of it! 
Check out this recipe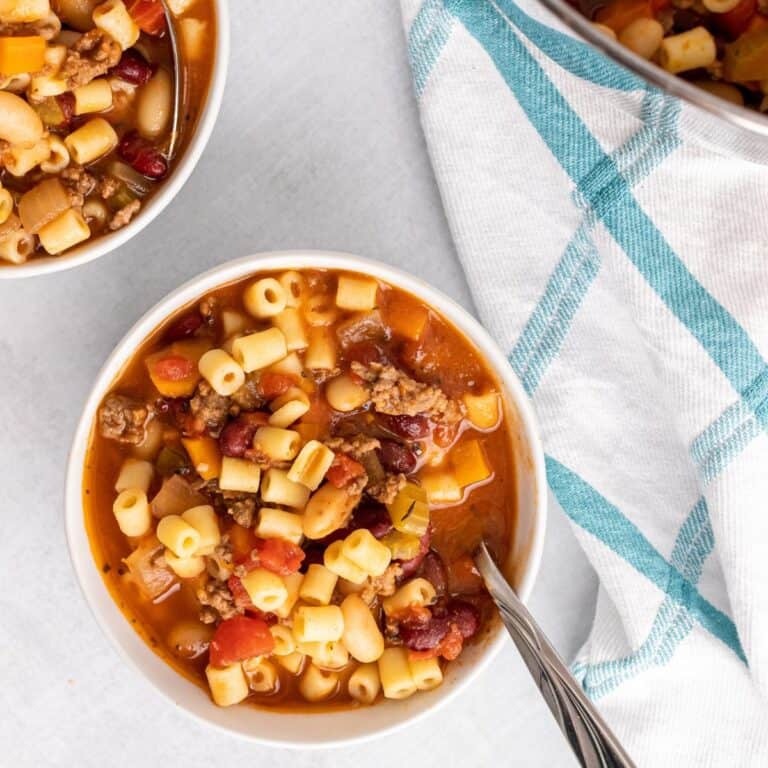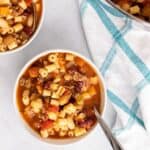 Healthy Zuppa Toscana
This 5-star Healthy Zuppa Toscana Soup is a lightened-up Whole30 version of the popular Olive Garden favorite. Each bite in this dairy-free Zuppa Toscana soup includes lean Italian turkey sausage, creamy potatoes, and hearty kale; it's delicious and better than the restaurant version.
Check out this recipe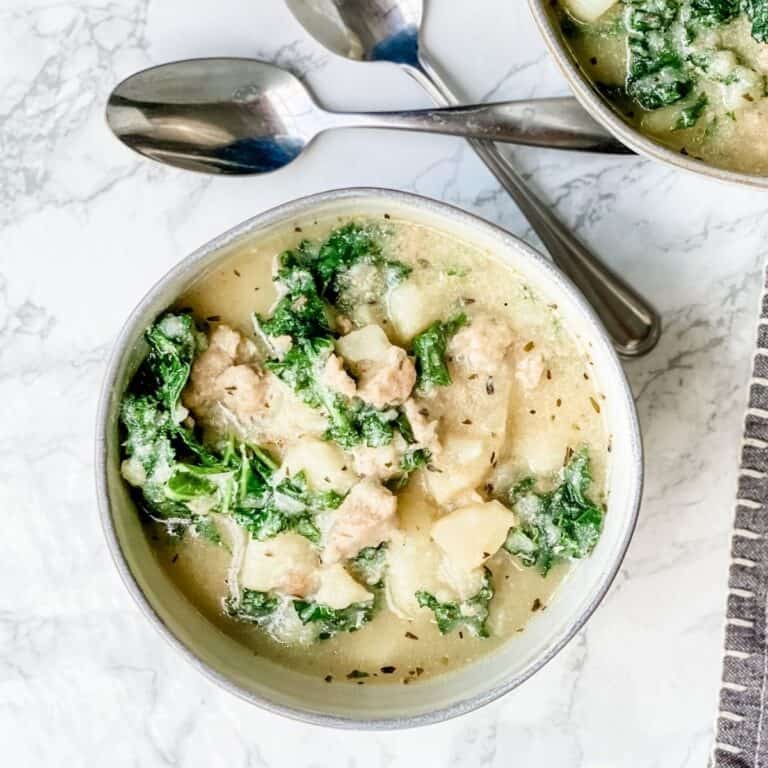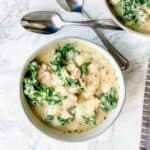 See all of our healthy soup recipes.
Share a picture and tag me on Instagram or Facebook if you decide to try freezing your favorite soup recipe.