Chicken marinade recipes are the perfect thing to pull out of your freezer when you need a quick, healthy dinner option. In this tutorial, I'll show you everything you need to know about preparing and freezing marinated chicken. I'll also share my absolute favorite marinades—say goodbye to boring chicken!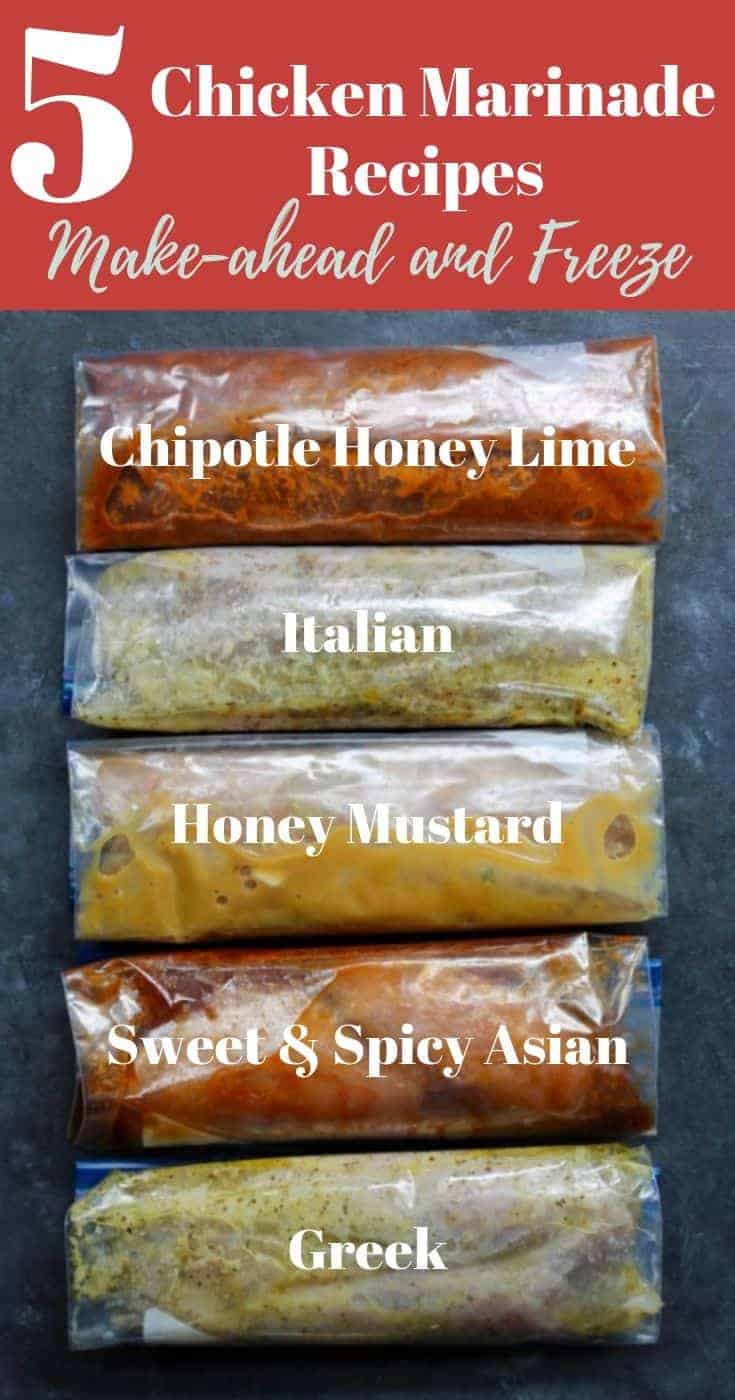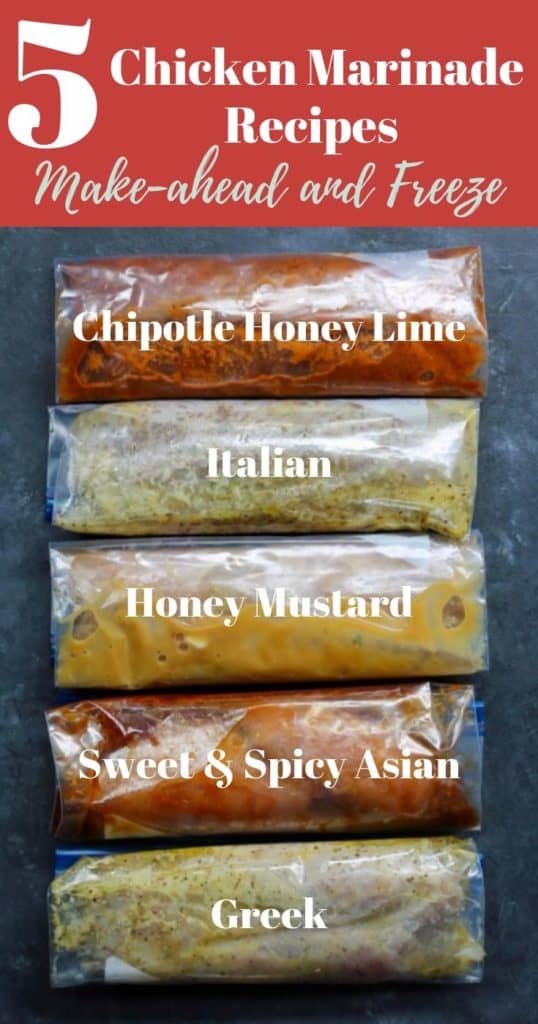 This post contains affiliate links. I am an affiliate for Amazon Associates and other brands and earn a small commission on qualifying purchases. You're by no means obligated to use my links but, if you do, thank you for supporting Organize Yourself Skinny.
Chicken marinade recipes are the easiest way to meal prep chicken ahead of time. All you need to do is mix up a marinade, pour it over the chicken, and freeze.
Making chicken this way turns what would ordinarily be a pretty basic and plain cut of meat into something that makes eating chicken feel like a real treat.
Jump to:
How to Make a Chicken Marinade Recipe
A homemade marinade is easy to make, versatile, and forgiving. Meaning, you can add a little extra of this and a little less of that till you get the perfect flavor.
This is the perfect place to get creative and experiment with flavors!
Ingredients for Chicken Marinade
For a basic easy chicken marinade, you need:
Oil – I use olive oil but any oil would work just fine. Sesame and chili oil are my favorites to use in Asian-inspired marinades.
Vinegar or something acidic – I love white wine vinegar, balsamic vinegar, lemon, and/or lime
Something sweet – Mostly, I use honey but have also used brown sugar or pure maple syrup. I don't use a lot of sweetness, you only need just enough to balance the vinegar or acid.
Spices – I use dried spices when I'm in a hurry, but I also love using grated garlic, shallots, green onions, and other fresh herbs.
Other ingredients – depending on the marinade I use ingredients like dijon mustard, spicy mustard, chipotle peppers in adobo sauce, soy sauce, pineapple juice, and anything else you want to throw in a marinade.
Ratios for Marinade
The amount you'll use depends on the marinade. Typically, I use about 1/4 cup oil and 1/4 cup vinegar for the base and then play around with the other ingredients depending on the type of marinade I'm making.
The marinades I share below will give you a better idea with amounts and flavors.
How to freeze chicken breasts in marinade
Step 1: Mix together your marinade.
Step 2: Put chicken breasts into a heavy-duty freezer bag and pour marinade on top. Give it a quick shake and a tiny massage through the bag.
Step 3: Label and freeze. Easy!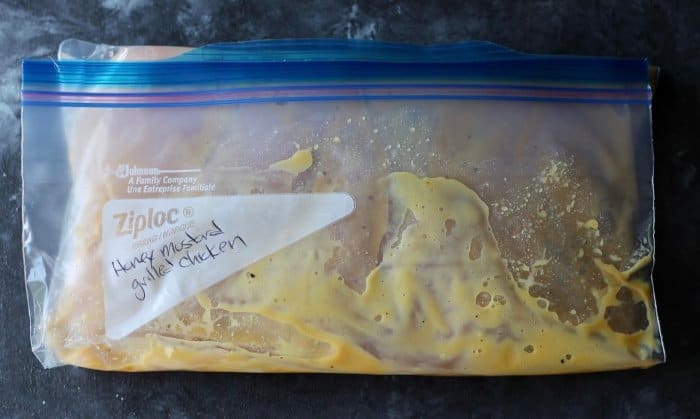 Supplies Needed to Prepare Freezer Chicken Marinades
You only need a few items when making these chicken marinade recipes. And, you probably have most of these at home already!
How to cook marinated chicken?
There are three main ways you can cook chicken once it's marinated: on the grill, in the oven, or in a slow cooker.
On the grill
My favorite way to cook marinated chicken is on the grill. Place marinated chicken breasts on a hot grill over medium to medium-high heat. Cook 5-7 minutes on each side or until the internal temperature is 165°.
If you don't have a grill then you can use a grill pan on the stove top. Trust me, grilled chicken marinade is so good, however you make it!
In the oven
You can also bake a marinated chicken in the oven. Cook the chicken in a 375° oven for 30 – 40 minutes or until no longer pink on the inside and juices run clear. The chicken is done when the internal temperature is 165°.
In the slow cooker
Some readers asked if they could cook marinated chicken in a slow cooker. It can be done, but it is a little tricky.
First, you need to make sure the chicken has enough liquid covering it so it doesn't dry out. You can either add extra marinade or maybe a little chicken broth. Both should do the trick.
Also, most chicken recipes turn into shredded chicken after cooking in the slow cooker – you're not going to get the same texture if you baked or grilled the chicken. This is just something to keep in mind.
My recommendation is to either cook marinated chicken on the grill or in the oven for best results.
Chicken Meal Prep Ideas
Here are three simple ideas you can use with chicken meal prep:
Take a day once a month or so and prepare a bunch of chicken marinade recipes for the freezer. Trust me, you'll be happy you did, especially during a busy season.
Don't want to freeze? No worries. Marinate the chicken one evening to enjoy 1-2 days later. Yum!
Last, grill up some marinated chicken on Sunday to use in salads during the week. This is one of my favorite ways to meal prep chicken. I'll marinate it on Friday and then grill it on Sunday.
Here are more chicken meal prep ideas.
Chicken Marinade Recipes
Greek Chicken Marinade
This Greek Chicken Marinade brings together olive oil, vinegar, lemon, garlic, and oregano to create the most delicious grilled chicken recipe. It takes minutes to whip together, and you can make it ahead of time for an easy weeknight dinner or party. 
Check out this recipe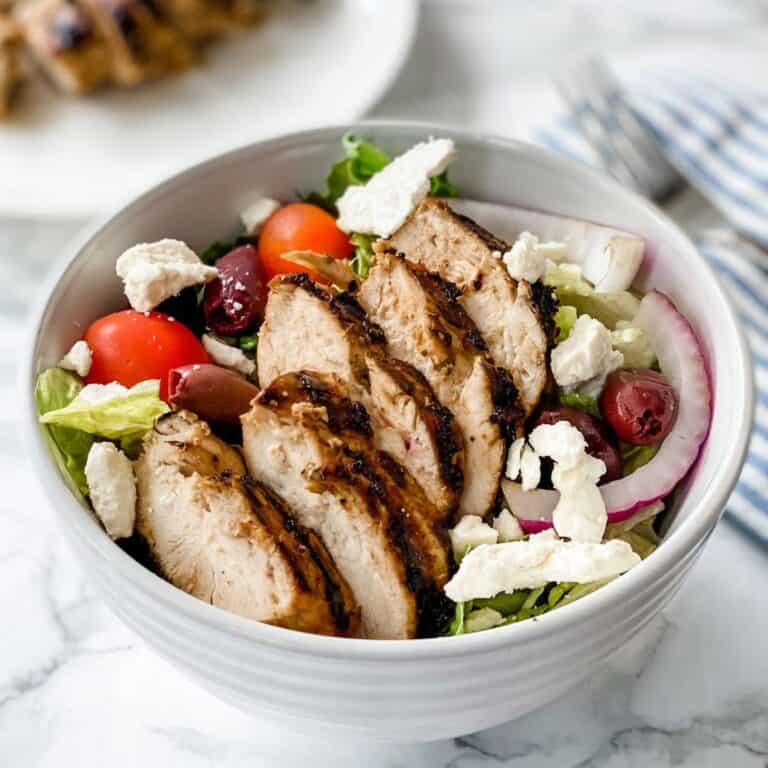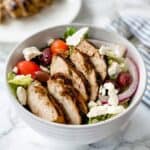 Balsamic Chicken Marinade
This balsamic chicken marinade is sweet, tangy, and easy to make using clean ingredients you probably have in your kitchen right now. You can make this juicy, delicious chicken recipe on the grill or in the oven.
Check out this recipe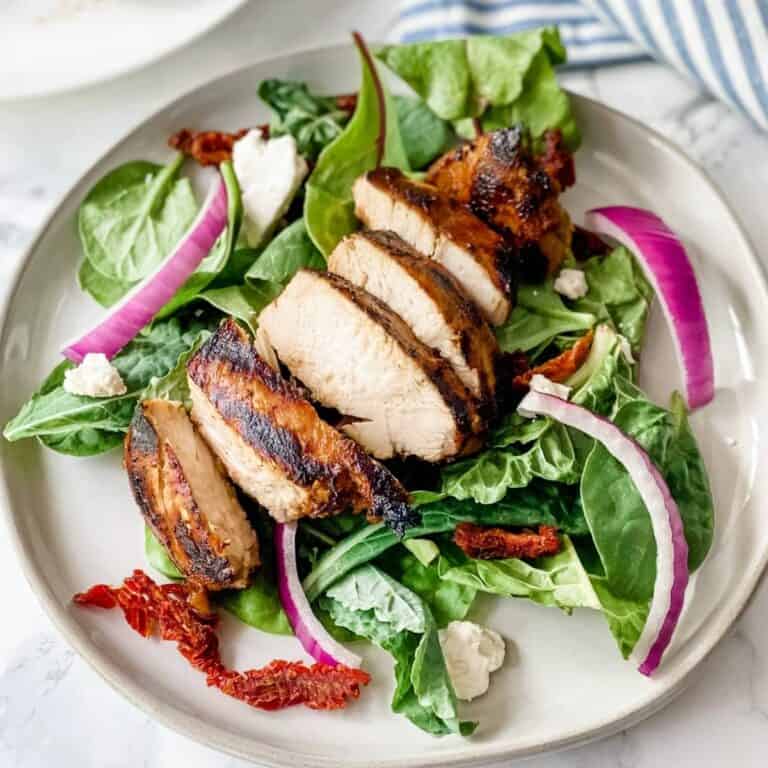 Italian Chicken Marinade
This Italian Chicken Marinade is the most delicious marinade recipe! It uses pantry ingredients and comes together in less than 5 minutes – you'll never purchase storebought Italian marinade again! Make this easy Italian grilled chicken ahead of time to use in everything from salads to wraps.
Check out this recipe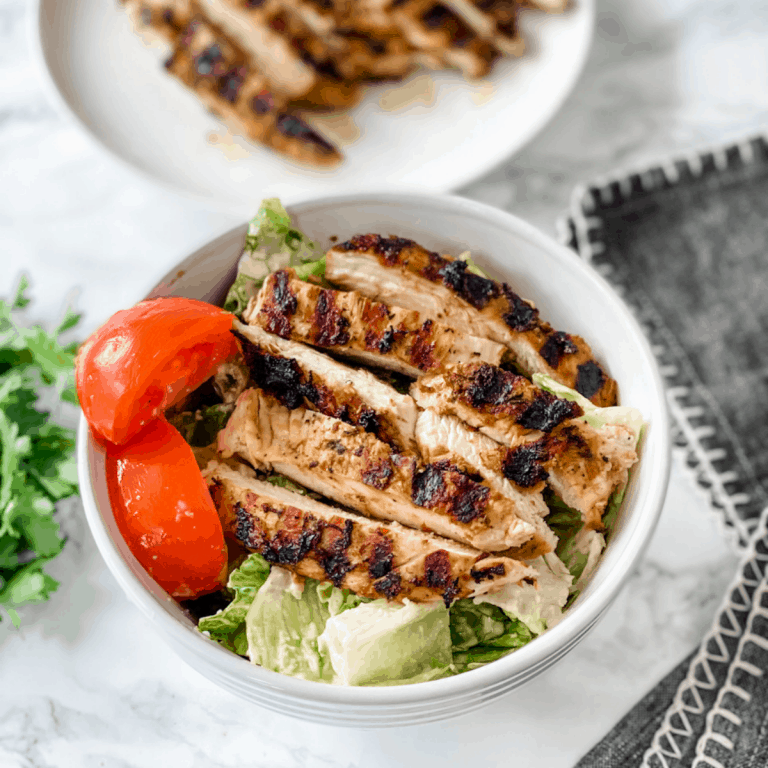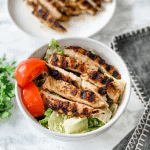 Chipotle Chicken Marinade
This chipotle chicken marinade is sweet, smokey, perfectly spicy, and brings grilled chicken to a whole new level! Meal prep and freeze!
Check out this recipe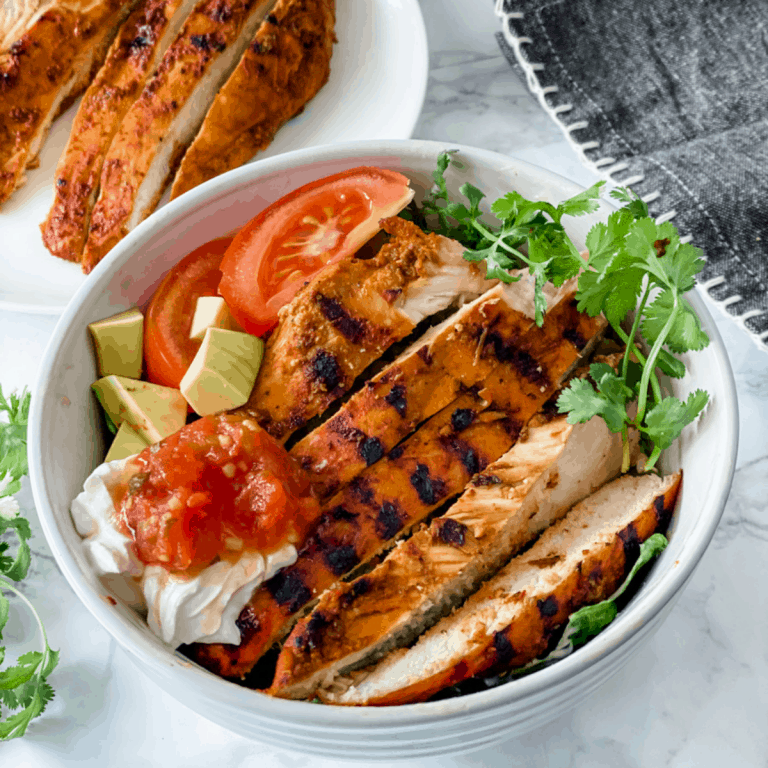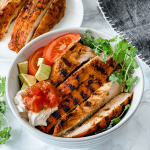 Check out more healthy chicken recipes.
FAQs
Over the years, I've learned a lot about freezing marinated chicken, so in this post, I want to share some how to's and answer some common questions.
Of course, I'll also share my favorite chicken marinade recipes. You won't believe how easy (and tasty!) they are.
How long should I marinate chicken?
At a minimum, you should marinate chicken breasts for at least 1 hour. However, for best results, I highly recommend marinating in the refrigerator overnight or up to 2 days in the fridge.
Of course, if you are freezing marinated chicken you can prep it up to 3 months in advance.
Can I use chicken thighs or bone-in chicken?
Yes, I've used both with all of my marinades. Cooking times may vary depending on the cut and thickness of the meat. However, just like chicken breasts, the internal temperature needs to be 165° for chicken thighs, and bone in chicken, to be cooked and safe to eat.
Does freezing change anything about the chicken or marinade?
Nope! In fact, freezing chicken in marinade makes it even tastier. As the chicken thaws it sits in the marinade soaking up all of the delicious flavors.
Trust me, at first bite, you'll wish you made chicken marinades for the freezer ages ago.
Should I trim chicken before freezing?
That's totally up to you. Whenever I freeze chicken I make sure it's recipe ready.
So if I need to trim the chicken breasts, pound it out a little, or cut it in half then that's what I do.
Once it's thawed and marinated I'm not going to want to do any prep to it.
How many marinated chicken breasts can I freeze at a time?
All of the marinades I share are for 3-4 chicken breasts. That's the amount I cook at a single time for my family, so that's what I prepare and freeze.
If you have a larger family or are preparing for a party, then freeze what you need. You can easily double or triple the marinade recipes.
On the flip side, if you just want to freeze single portions then you can do that too. Do what works best for your lifestyle.
Can I thaw frozen chicken and then refreeze it in the marinade?
No. It's unsafe to thaw and refreeze chicken. To keep your chicken marinade recipes food-safe, you need to purchase the chicken fresh and THEN freeze it in the marinade.
How do I thaw the frozen marinated chicken?
So, this is where a little planning is necessary. Place the chicken into the refrigerator and give it 1-2 days to thaw.
In my experience, it takes about 2 days for the chicken to fully thaw so make sure to plan ahead. Again, during this time the chicken is absorbing all of the marinade and will be bursting with flavor.
Word to the wise—make sure you have a heavy-duty freezer bag so you don't need to worry about leakage. Typically, I put the freezer bag on plate to thaw or in a plastic grocery bag just in case.
You may be tempted, but do not thaw the frozen chicken in the microwave. You'll end up with rubbery chicken.
How long can marinated chicken be frozen?
Freezing marinated chicken will get you about a 3-month life span. Only make what you can use during that timeframe. It helps me to label every bag with the flavor of marinade and when I made it.
Can I freeze chicken in bottled marinade or salad dressing?
Whenever I talk about homemade chicken marinades, one of the first questions I get is "can't I just use salad dressing or bottled marinade". My answer is "yes, of course".
Like I said, back in the day that's what I used. Easy peasy. So, if you don't feel like making a marinade then use your favorite store-bought one.
Do I have to freeze the chicken in the marinade?
No, of course not. If you'd rather make the chicken marinade recipes fresh, that's perfectly fine!
Just make sure to marinate at least an hour or preferably overnight to get great flavor.
More healthy marinade recipes