This Greek Chicken Marinade makes some of the best grilled chicken ever! Serve it along side your favorite greek salad. Sooo good!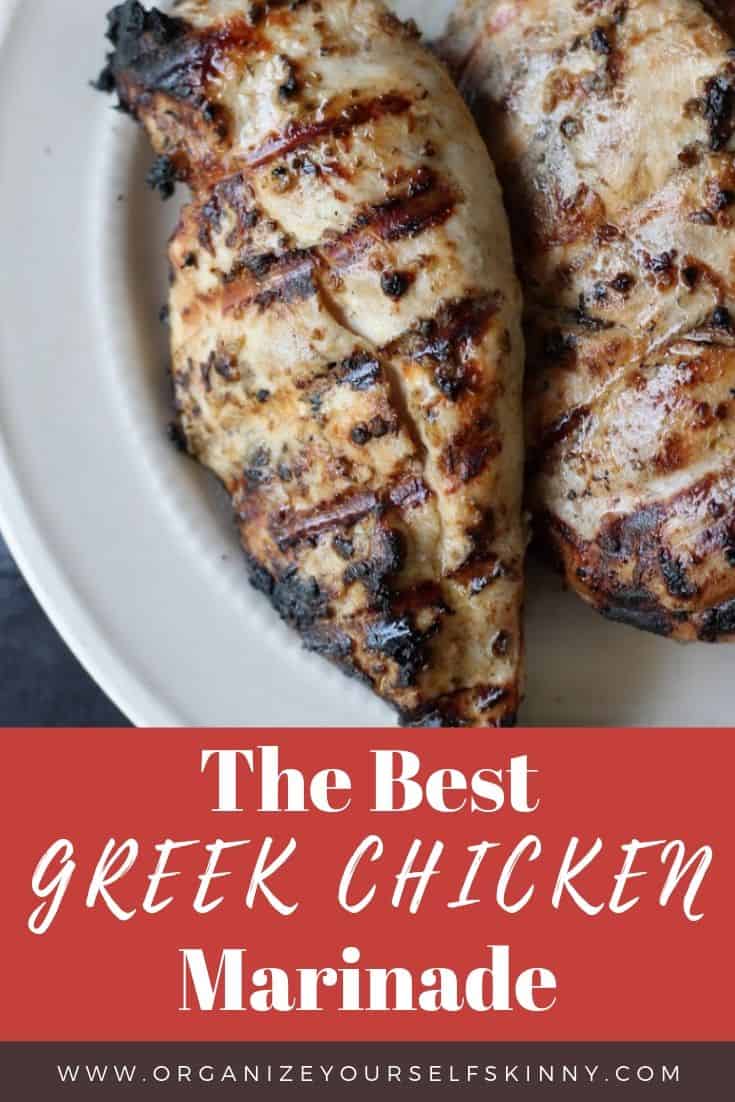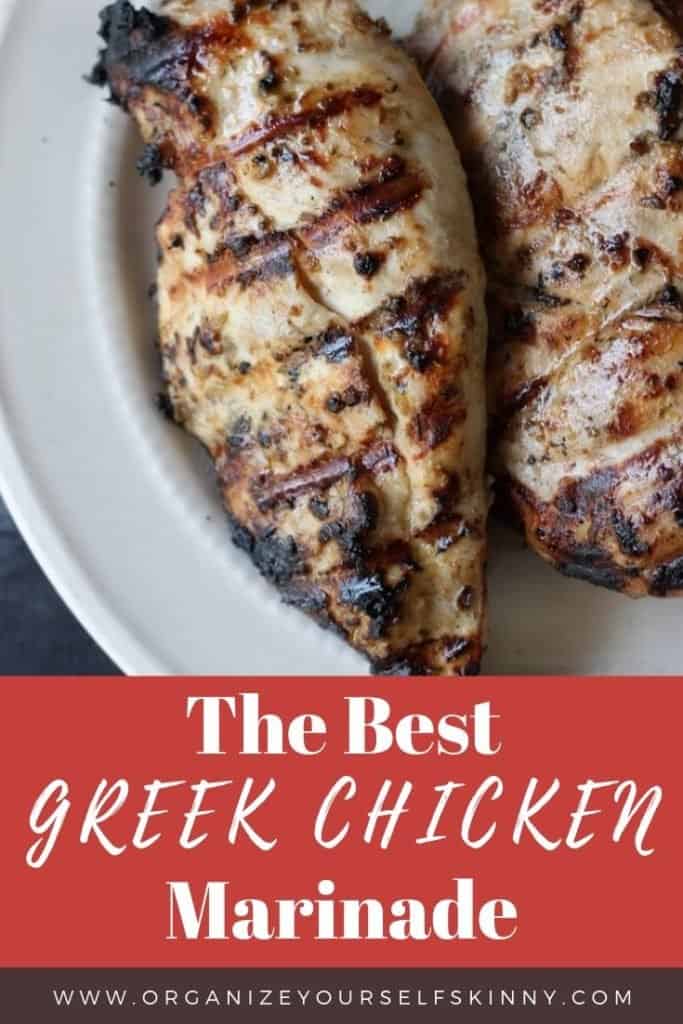 If you took a scroll around my blog you'd see I have many Greek-inspired recipes to choose from.
Some of my favorites are:
Greek Baked Chicken and Vegetables
See what I mean? I love anything anything Greek-inspired because let's be honest, everything is beta with feta!
Today I want to share my latest Greek obsession – Greek Chicken Marinade. I can't believe I didn't make this much sooner. Typically, I'd purchase an olive oil and vinaigrette to use in my salads or as a marinade. But since this month I'm all about marinades I decided to make a greek marinade.
The awesome thing about this Greek Chicken Marinade, and really all marinades, is it can also be used as a salad dressing. Yum!
What's in greek chicken marinade?
This Greek Chicken Marinade uses very simple ingredients – olive oil, lemon, garlic, oregano, salt, and pepper. I've seen other recipes that use a variety of spices but I looked up authentic greek dressings and marinades the only spice used was oregano – that's what I had in my pantry so that's what I used.
Some recipes call for Greek yogurt (1/4 – 1/3 cup) but I didn't have any so I kept it old school with just the few ingredients I had on hand. The Greek yogurt is suppose to tenderize and create a super juicy chicken breast. I haven't tried that yet but plan to in the future. If you have, I'd love to read your experiences in the comments.
How long should I marinate the chicken?
You should marinate the chicken at least an hour, preferably longer. I think chicken tastes best when marinated overnight.
I was a little concerned with marinating for a long period of time because of the lemon. When chicken sits in lemon too long it can get tough. But, that didn't happen with this marinade. Probably because there isn't a huge amount of lemon but just enough to give it a nice flavor.
How can I use Greek marinated chicken?
Oh, let me count the ways.
My favorite way to use Greek marinated chicken is to make a bunch on Sunday and then put into my mason jar salads during the week. Or you can make these meal prep bowls and substitute the shrimp for chicken. YUM!
You can serve it with any vegetable side or pasta salad. Yes, it's Greek but it can go with just about anything.
Another way I enjoyed this chicken was I chopped it up and used it in this Avocado and Greek Yogurt Chicken Salad. Super good!
How long should it take to grill chicken breasts?
Depending on the thickness of the chicken grilling time could vary. However, a general rule is about 5-7 minutes on each side over medium-high heat. When the chicken is done it should have an internal temperature of 165°.
My advice is to pay attention to the way a chicken breast feels at this temp. It should be slightly firm but not too much. If it still has a lot of bounce, when you press on it slightly, then it's not done yet. This is helpful when you don't have a thermometer handy.
Another tip is to let the chicken breasts sit for about 2-3 minutes after you take them off the grill. This keeps all the juices inside of the chicken breast.
Supplies
Large Ziploc bags or glass meal prep containers – you can use either of these to marinate the chicken in.
Internal meat thermometer – to make sure you're cooking the chicken at the correct temp.
16 ounce mason jar containers – to mix up and store marinade.
Okay let's get to the recipe.
Greek Chicken Marinade
Step 1: Add all of the marinade ingredients to a 16 ounce mason jar container and give it a shake. You can also use a mixing bowl and a whisk but I like mason jars because then you can just use the amount needed and store the rest in the jar.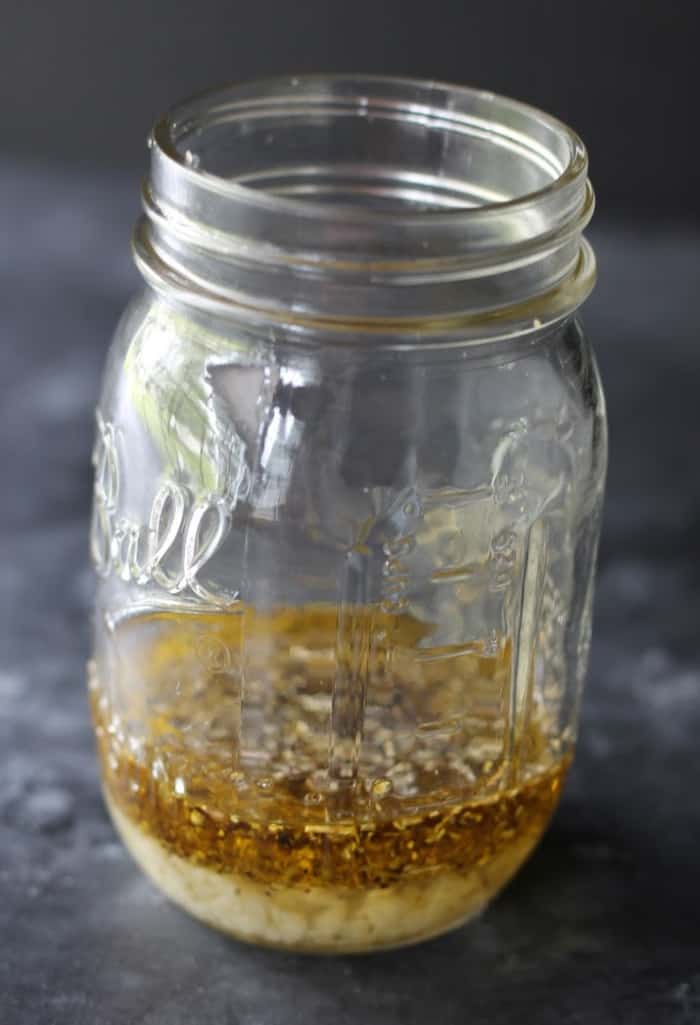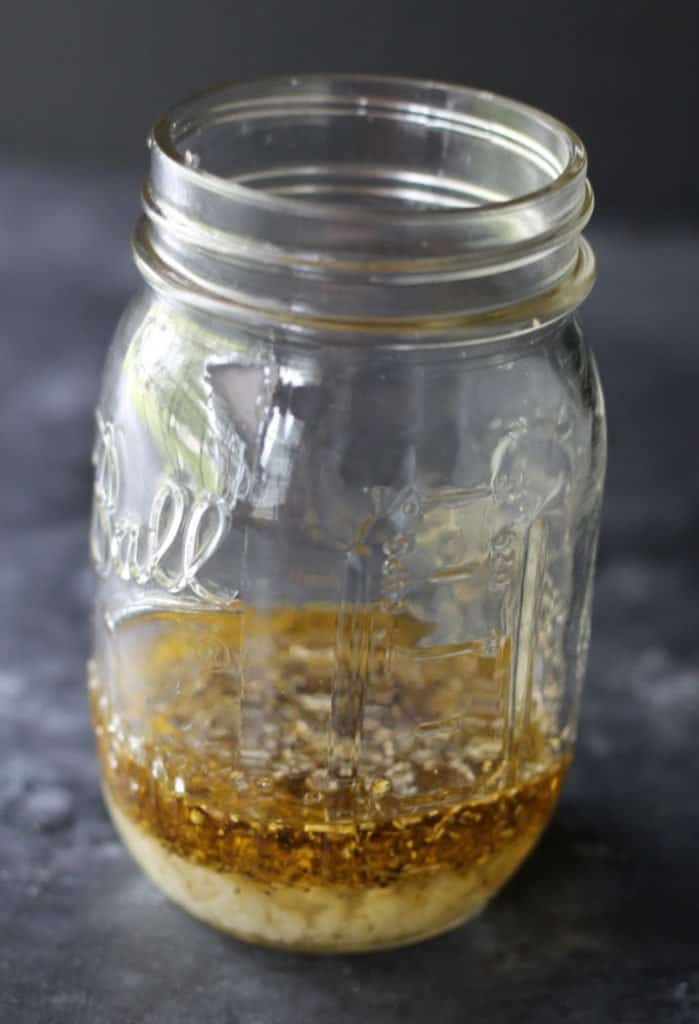 Step 2: Put chicken into a large ziploc bag, or glass container, and pour the desired amount of marinade over the chicken. Marinate the chicken for at least an hour or overnight if you can. Sorry I didn't take a picture of the chicken in the marinade. Grrr…next time.
You can also freeze the chicken in the marinade if you're not going to be able to make it right away.
Step 3: Cook the chicken on a hot clean grill over medium high heat for 5-7 minutes on each side or until the internal temperature reaches 165º.
Serve with greek salad or your favorite sides.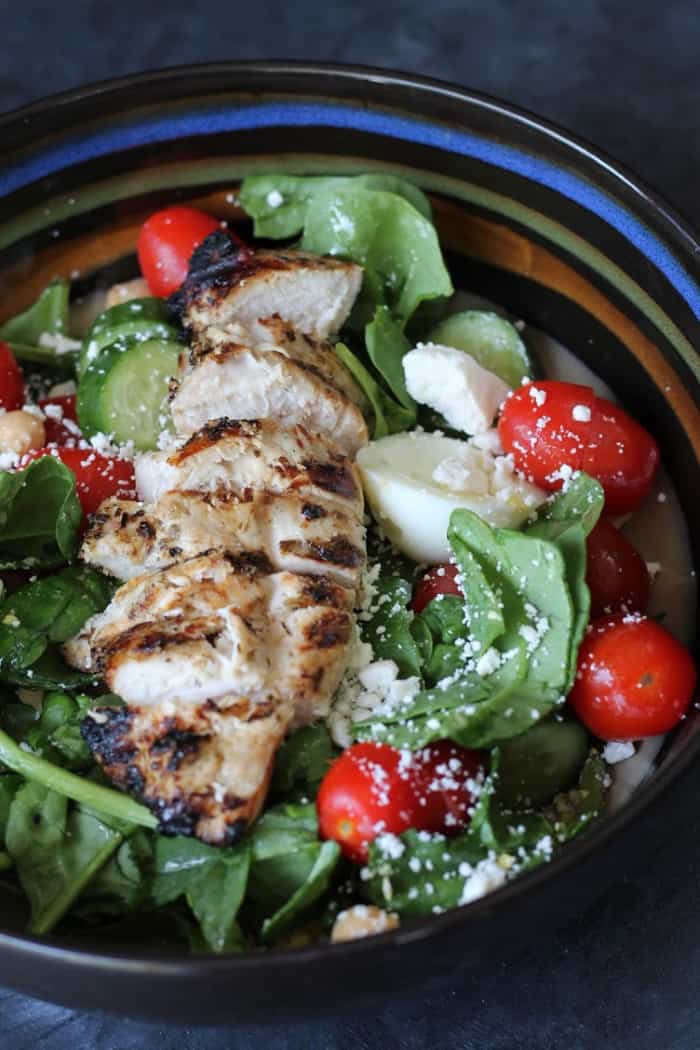 Like I said, I love to make a bunch of this chicken on Sunday to have ready for salads all week. It is a great way to have a protein ready to eat.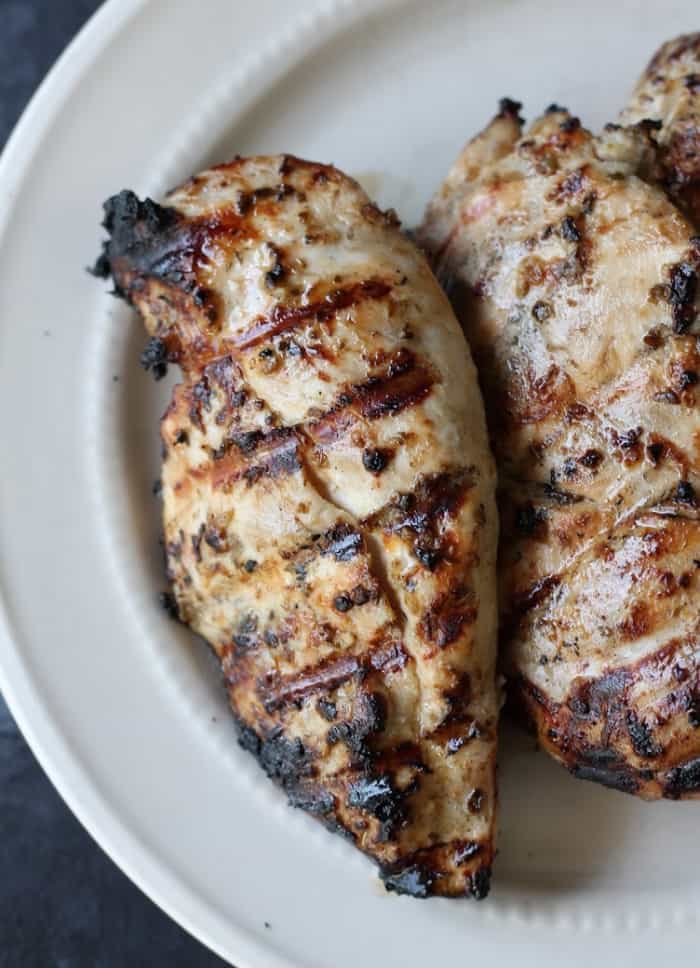 Other grilled chicken marinades:
Honey Mustard Chicken Marinade
Sweet and Spicy Asian Marinade
Buffalo-style Chicken Marinade
Greek Chicken Marinade
Author:
Organize Yourself Skinny
Ingredients
¼ cup extra virgin olive oil
1 lemon, juiced
1 teaspoon lemon zest
4 garlic cloves, grated
¼ cup white wine vinegar
2-3 teaspoons honey
1 tablespoon oregano
3-4 (1.5 lbs) chicken breasts
Instructions
Using a 16-ounce mason jar, or mixing bowl, mix together the olive oil, lemon juice, lemon zest, garlic, oregano, white wine vinegar, and honey.
Put chicken into a large ziploc bag or glass container and pour the desired amount of marinade over the chicken.
Marinade the chicken for at least an hour or overnight if you can.
Cook the chicken on a hot clean grill over medium high heat for 5-7 minutes on each side or until the internal temperature reaches 165º.
Serve with salad or your favorite side.
Notes
Meal prep tips:


Chicken can be marinated 1-2 days ahead of time or frozen in the marinade for up to 3 months.
Nutrition Information
Serving size:
1 chicken breast
Calories:
370
Fat:
16
Saturated fat:
2
Carbohydrates:
9
WW Points +:
3
Fiber:
2
Protein:
49
Get Instant Access to My Best Weight Loss Tips & Strategies!
Sign up now for a free step-by-step 7-day email course that I created exclusively for my email subscribers! That's you. I will teach the best habits, strategies, and insider tips so you can enjoy a lifestyle that encourages and supports weight loss! Stop relying on willpower and take control back over your life! You can do this. Let me help!