All the flavors of Buffalo chicken transformed into a healthy grilled chicken recipe.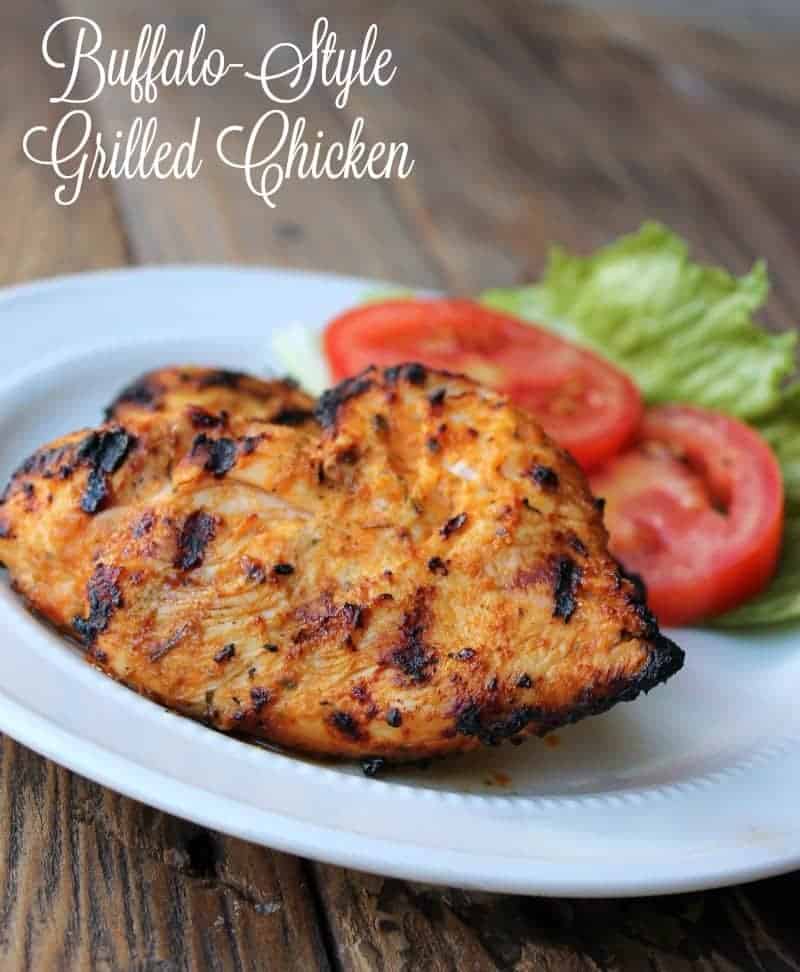 I've been on grilled chicken kick lately because 1. it's summer and 2. grilled chicken is easy. During the summer months my appetite is simple. I don't want heavy casseroles or anything that requires more than a few ingredients and minimal cooking time if any. That's why I've turned to my grill.
So far this summer I've made Asian Grilled Chicken, Garlic Ranch Grilled Chicken, and Balsamic Honey Grilled Chicken. Each one is super simple to prepare and absolutely delicious. We enjoyed the chicken for dinner but I also kept a bunch in the refrigerator for lunches during the week. I love to have chicken ready for salads and wraps.
This new grilled chicken recipe is inspired by my obsession love for buffalo slow cooker chicken. I know..just when I think I can't create any more buffalo chicken recipes this grilled chicken pops in my head. I mean really how many recipes can I put together with hot sauce and ranch seasoning. I should say it's actually against the law in Buffalo to mix ranch and hot sauce. Here we religiously use blue cheese but I'm not gonna lie I'm a sucker for Simply Organic Ranch Dip mix because it makes a mean slow cooker buffalo chicken.
Anyway, I decided to take the same ingredients, I use for my slow cooker buffalo chicken, and create a chicken marinade. I want to add that I decided to use a little chicken stock in place of the olive oil. At first I was going to use all olive oil but it increases the calories too much. Chicken stock works just as well.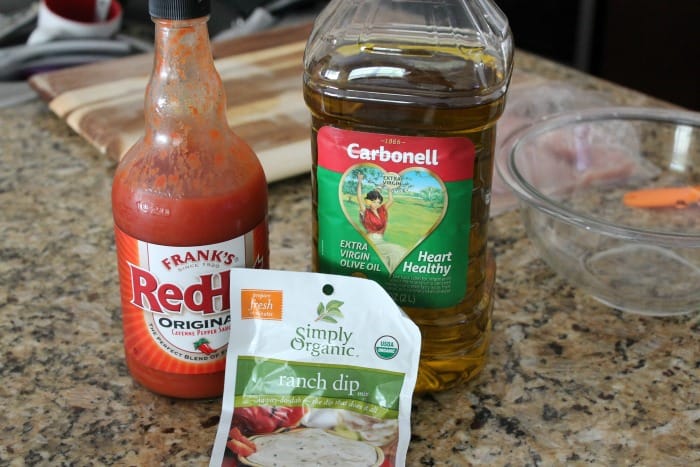 I whisked together 1/4 cup of chicken stock, 2 tablespoons olive oil, and 2 tablespoons of ranch dip mix (I use Simply Organic). See easy peasy.
Then I placed 1.5 lbs of skinless boneless chicken breasts into a quart-sized bag and poured the marinade over the top. I squished it around a bit to make sure all of the chicken was coated. If the marinade seems too thick then add a touch more chicken stock.
Let the chicken marinate for a couple hours (or over night) and then cook on a medium high heat grill for about 12 minutes (turning every few minutes) or until the chicken is cooked through and reaches an internal temperature of 165 degrees Fahrenheit. If you don't have a grill then use a grill pan. I love the Lodge Cast Iron Grill pans. You can get one for under $20 on Amazon.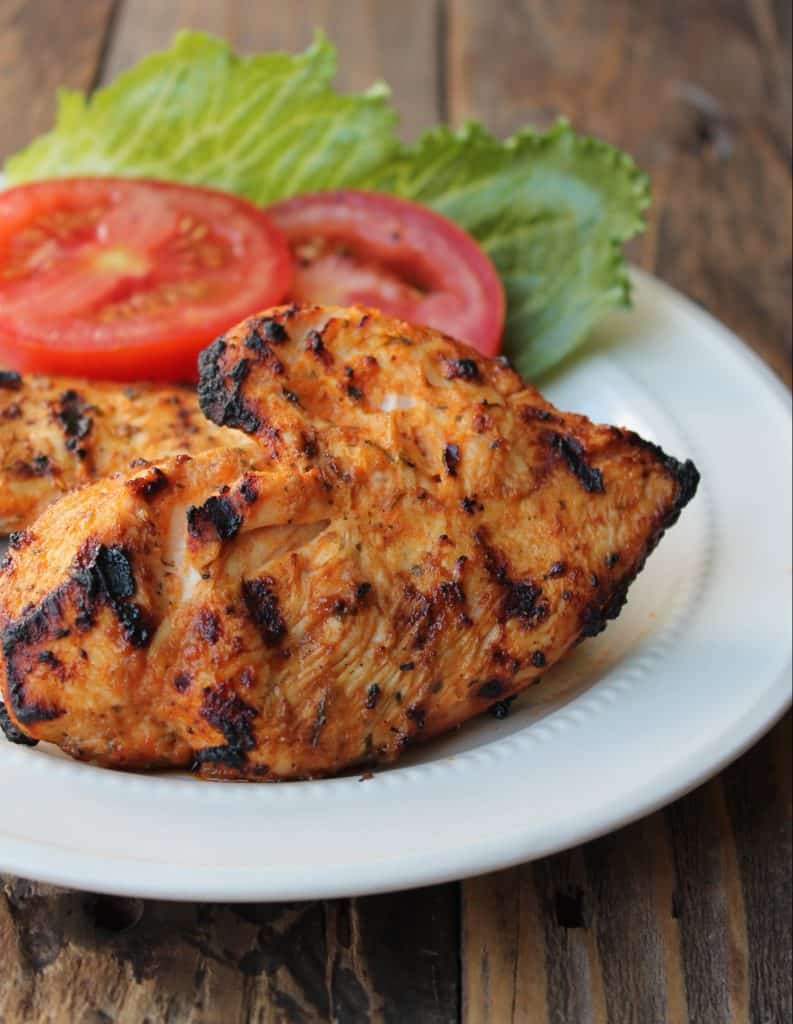 This buffalo-style grilled chicken tastes great on salads, in a sandwich or wrap, or in it's own along side some veggies. I like to make a bunch so I can have leftovers in the refrigerator all weeks for easy lunches or dinners. I use these pyrex containers to keep the chicken fresh in the refrigerator.
Buffalo-Style Grilled Chicken
Author:
Organize Yourself Skinny
Ingredients
¼ cup chicken stock
2 tablespoons extra virgin olive oil
⅓ cup Frank's Red Hot Sauce
2 tablespoons ranch seasoning mix
1.5 pounds chicken breasts
Instructions
In a medium bowl, whisk together chicken stock, olive oil, Frank's Red Hot Sauce, and ranch seasoning mix.
Place the chicken in a quart-sized plastic bag and pour the marinade over top. Let the chicken marinate for 2 hours or overnight.
Cook on a medium high heat grill for 12 minutes (turning ever few minutes) until the chicken is cooked through and has reached an internal temperature of 165 degrees Fahrenheit.
Notes
sugars: 0


Make-ahead instructions


Chicken can be put in the marinade a day or two ahead of time. It can also be frozen in the marinade for up to 3 months. Place in the refrigerator a day or two ahead of time to thaw before cooking. Continue with recipe.


You can also cook the grilled chicken completely ahead of time and store in the refrigerator or freezer for easy lunches or dinners.
Nutrition Information
Serving size:
1 chicken breast
Calories:
236
Fat:
8
Carbohydrates:
2
Fiber:
0
Protein:
36
Get Instant Access to My Best Weight Loss Tips & Strategies!
Sign up now for a free step-by-step 7-day email course that I created exclusively for my email subscribers! That's you. I will teach the best habits, strategies, and insider tips so you can enjoy a lifestyle that encourages and supports weight loss! Stop relying on willpower and take control back over your life! You can do this. Let me help!