This Greek chicken bowl is super easy to make and beyond tasty! Each bowl is filled with marinated chicken breast, fresh vegetables, and bright Tzatziki sauce. You can add rice or quinoa for some bulk or keep it low-carb by substituting cauliflower rice. These meal prep bowls are perfect to pack for a healthy lunch all week!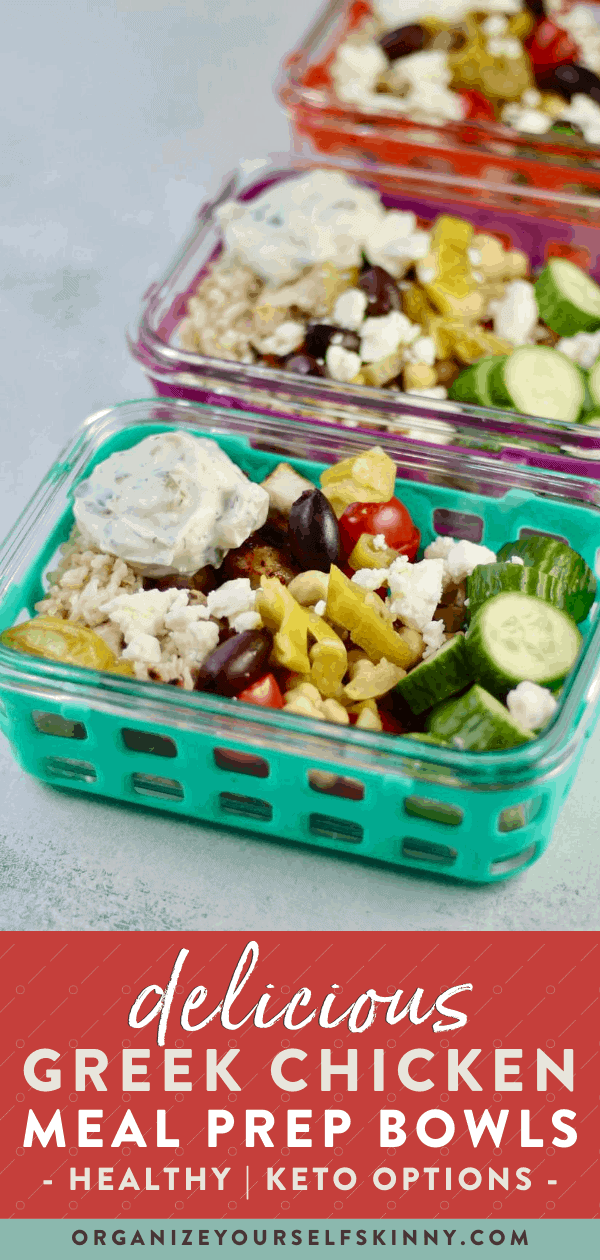 Here I am again with another Greek-inspired recipe. I can't help it. Next, to Italian foods, Greek recipes are some of my favorites.
Basically, I love all Mediterranean food! Seriously, give me anything with feta, hummus, dill, lemon, cucumber, spinach, and olive oil and you have my heart.
If you're the same way, take a look at all of these Greek-inspired recipes:
See what I mean? And, that's not even all of it.
Today, I want to share a meal prep recipe that I've made hundreds of times but never really thought to share with you because it's one of my recipes that's kind of a non-recipe. Basically, it' s something I just threw together one day and since then have thrown it together 1000 more times.
Well, in my decade of food blogging, I've learned that you all love the easy meal prep ideas as much as I do. So, that's why you're getting this favorite Greek chicken bowl recipe today.
Frequently Asked Questions About Meal Prep Bowls
I'm so excited to share this chicken recipe with you but first, let's go over some questions about this recipe.
What Is A Meal Prep Bowl?
Before I jump into this recipe – because it's only going to take a few minutes – I want to talk about the concept of a meal prep bowl.
When I first started to meal prep, meal prep bowls really weren't a thing. The closest thing to meal prep bowls were mason jar salads. Basically, a meal prep bowl is 1 recipe divided into 4-5 bowls that you eat all week. The concept is that you cook once to eat 4-5 different meals.
This is a popular concept with people using meal prep to lose weight because you can prepare a portion-controlled meal ahead of time for the week without a huge amount of effort.
It's also a popular concept for people who want to have lunch or dinner ready ahead of time. Whether that be a quick 'heat and eat' meal or a cold one.
A common complaint with meal prep bowls is some people don't like the idea of eating the same thing every day. In this case, meal prep bowls might not work for them. However, you could switch up meal prep bowls with different sauces, seasonings, and fillers (rice, quinoa, lettuce, etc).
But, for most people when they turn to meal prep bowls, it's because they like the convenience of making one meal to eat all week that is portion-controlled, with all the nutritional information figured out in advance.
If that's you, then this Greek chicken meal prep bowl is going to be your new favorite!
Which Containers Should I Purchase For Greek Chicken Bowls?
I highly recommend using glass meal prep containers for this chicken bowl (and really any meal prep bowl). In my experience, glass keeps ingredients fresh much longer than plastic. So, if you plan on making meal prep bowls a part of your regular rotation, then I suggest investing in glass meal prep containers.
I have 2 favorite glass containers that I use when making these meal prep bowls.
Pyrex 3-Cup Rectangle Glass Containers – These work great if I'm going to eat the meal prep bowls at home. They are just big enough to hold all of the ingredients but small enough where they don't take up a lot of space in your refrigerator. The lids on these containers are tight-fighting but they don't lock. So, if you want a locking lid, then check out my next recommendation.
Ello Meal Prep Containers – If you're looking for a glass container that locks that you can bring with you to work, then these containers are a serious contender. They have a leakproof locking lid and come with a silicone protective covering to protect from chips and breaks. These even fit nicely in a standard lunch bag!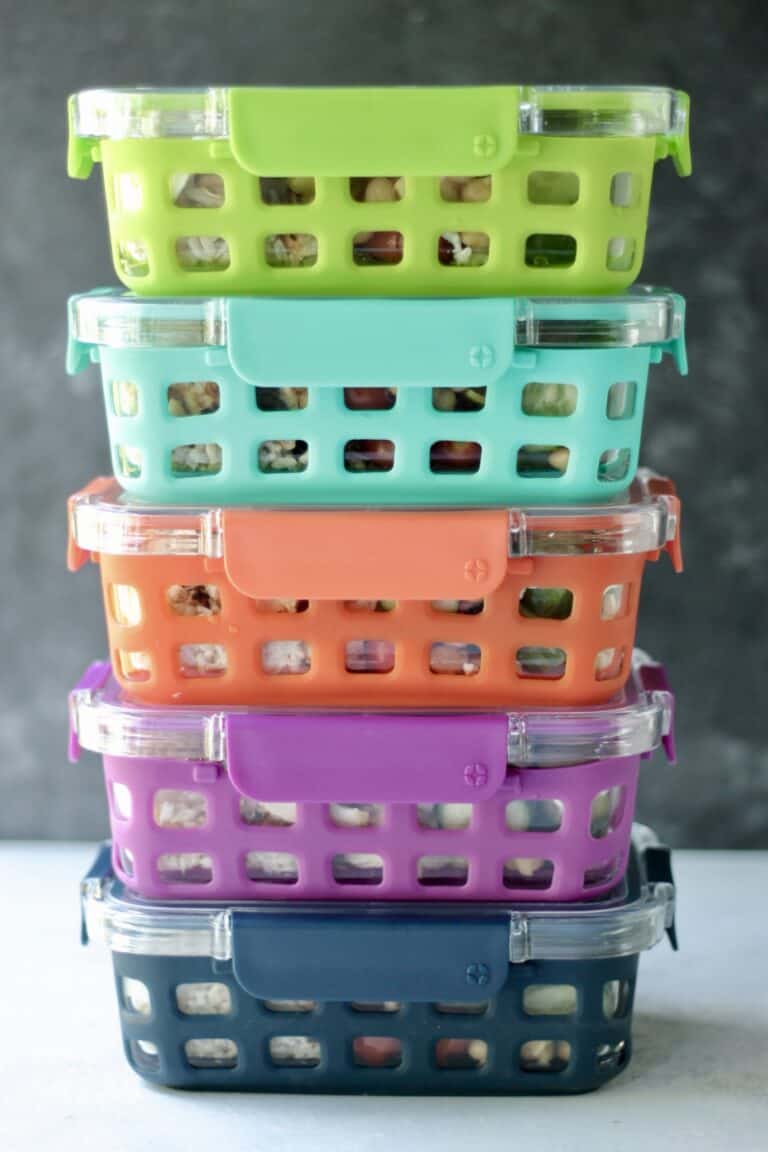 Greek Chicken Bowl
Now, it's time for the good stuff. Let's get to the recipe!
These are the ingredients you will need to make this greek bowl:
Boneless skinless chicken breasts
Cooked brown rice
Baby cucumbers (sliced)
Cherry tomatoes (halved)
Chickpeas
Feta cheese (crumbled)
Banana peppers rings
Greek olives (pitted)
Tzaziki sauce
Olive oil and vinegar dressing (optional)
Greek Chicken Marinade
Extra virgin olive oil
Lemon (juiced)
Lemon zest
Garlic cloves (grated)
White wine vinegar
Honey
Oregano
How To Build A Greek Chicken Meal Prep Bowl
Let's start with the chicken. This is really the only ingredient you need to prepare homemade. You'll need 3 boneless skinless chicken breasts. You're going to put together this Greek marinade I shared last year and marinate the chicken at least 3 hours, but if you can, overnight is even better.
The longer it marinates the more flavor the chicken will have!
You can either bake or grill the chicken – it really doesn't matter. I like the flavor of grilled chicken so I typically will break out my grill pan for this recipe. However, if you want to bake it, then you can do so in a 375-degree oven for 35 – 40 minutes or until cooked all the way through.
After the chicken is cooked, then set it aside for about 5 minutes to seal in all the juices. Then, cut up the chicken into bite-sized pieces.
Build Your Bowl
Now, it's time to put the rest of the bowl together!
In a 4 cup rectangle glass bowl, add ½ cup of rice or quinoa and divide the chicken up between the bowls.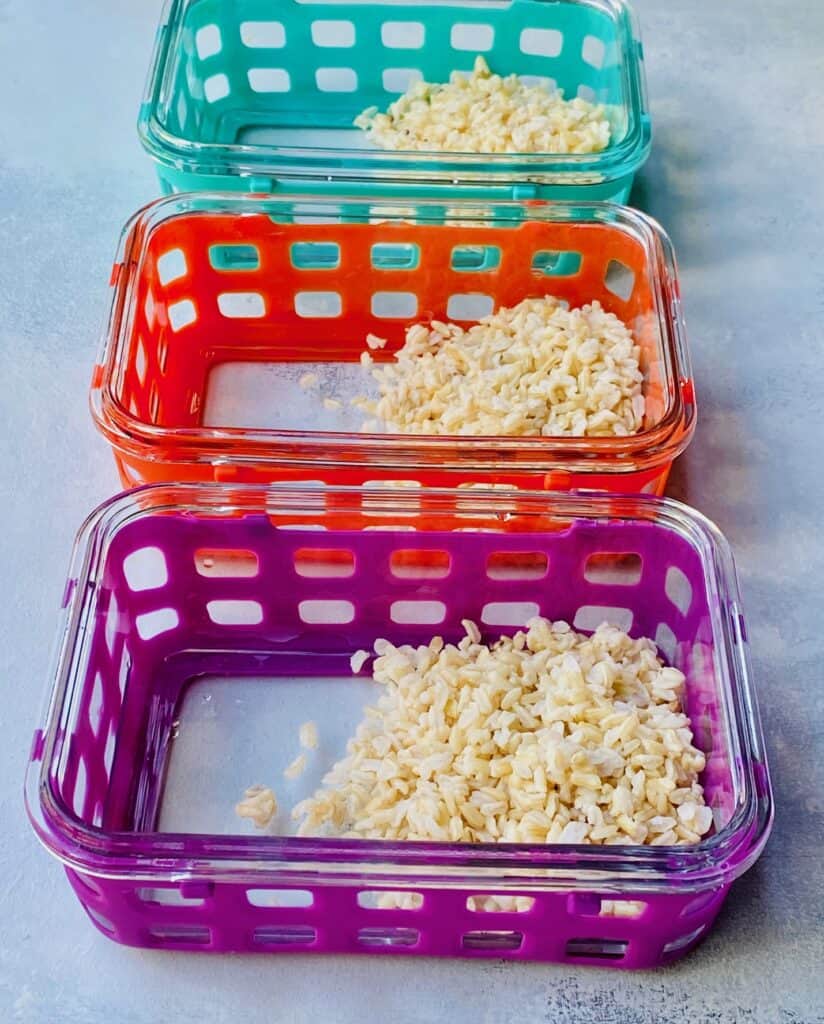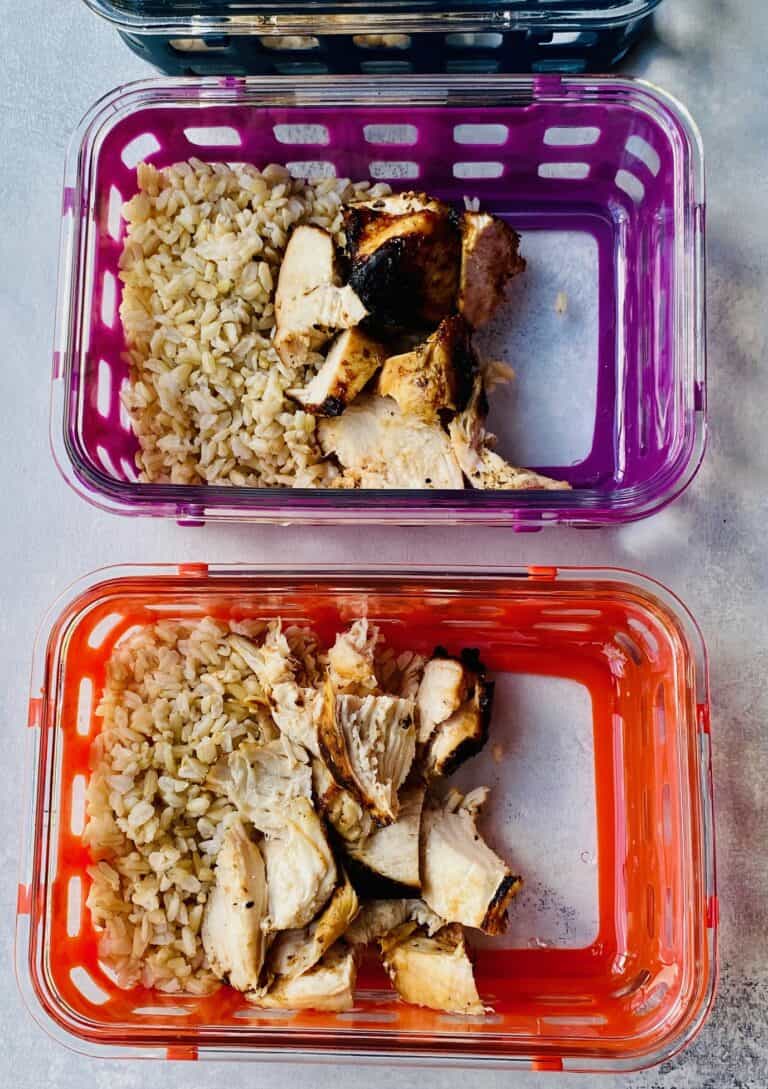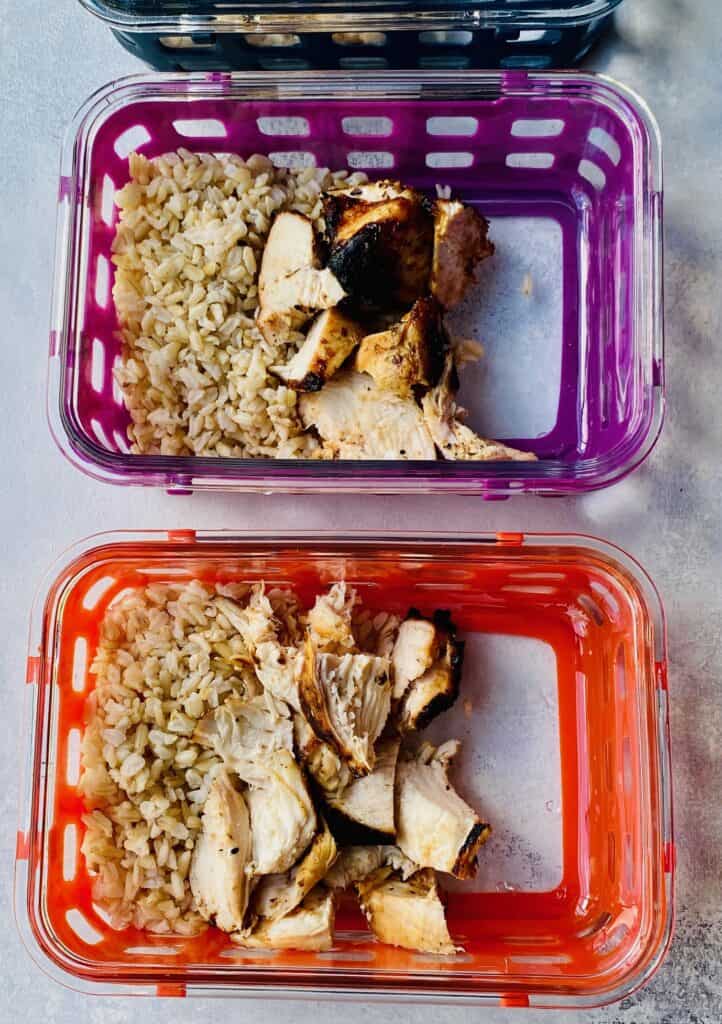 Next, add in all the veggies. It's okay to push the chicken and rice over if you need more room. I'll add the cucumber, tomatoes, greek pitted olives, chickpeas, and banana pepper rings.
Then, I put a couple of tablespoons of Tzatziki sauce in the corner and sprinkle some feta cheese on top. I've also put hummus in the bowl.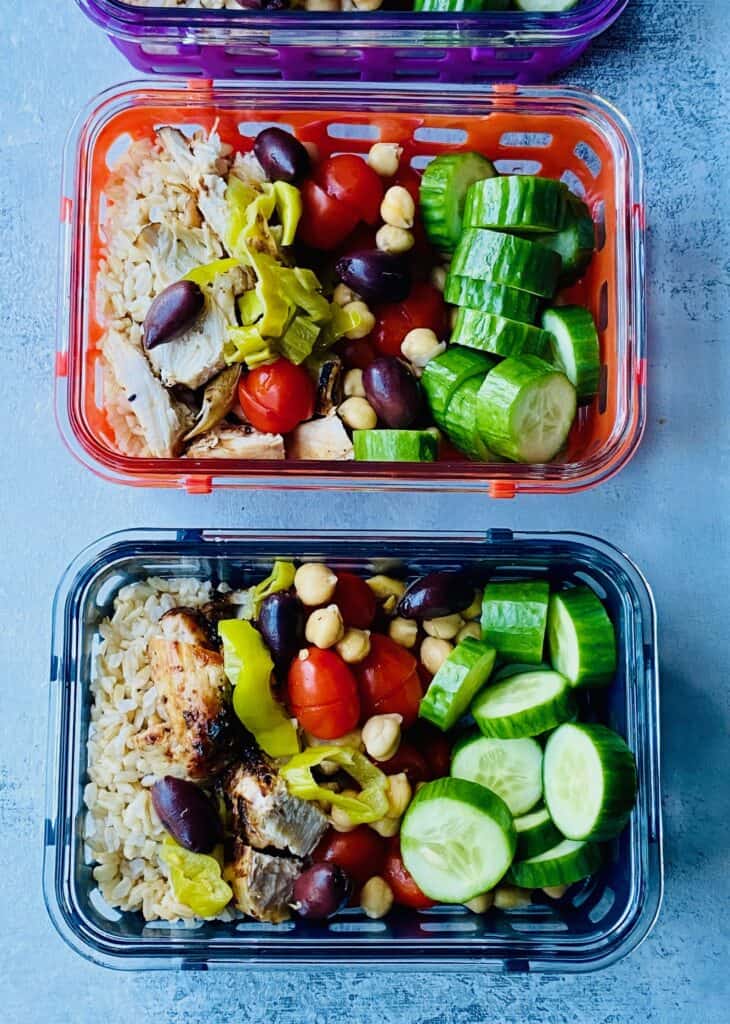 Each bowl is going to include greek marinated chicken, cooked brown rice, cucumbers, red onions, tomatoes, greek olives, hummus, feta, and tzatziki.
Seriously, doesn't that sound amazing?!?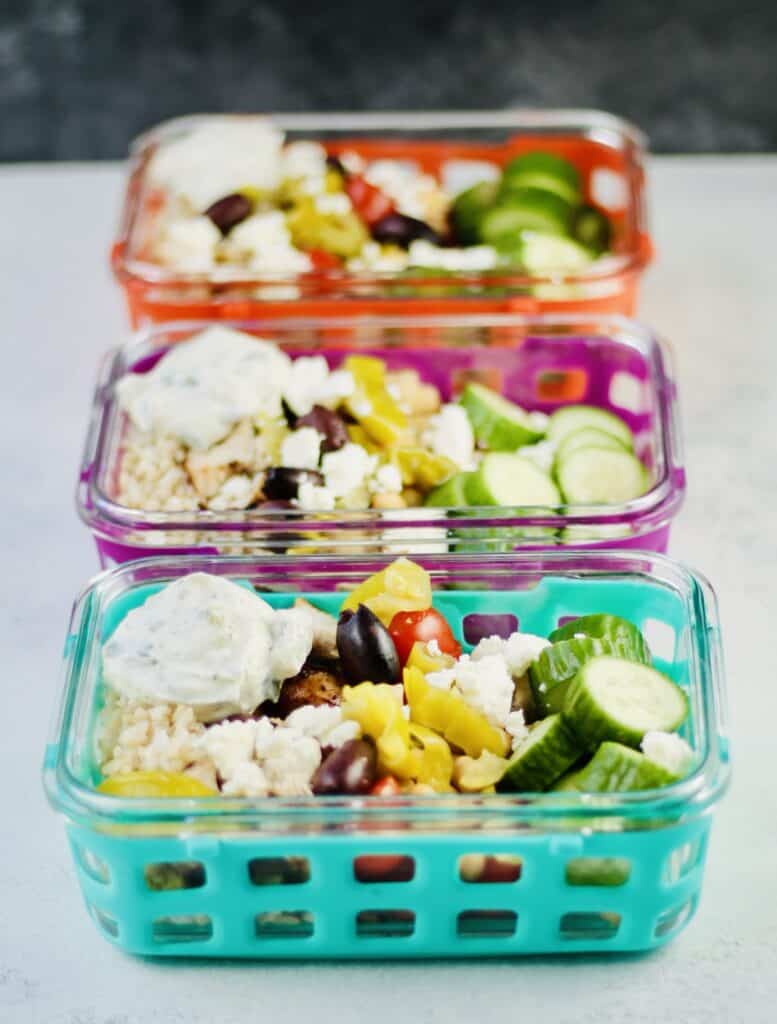 How To Eat This Chicken Bowl
When you're ready to eat, just mix up the ingredients and enjoy! I also like to add 1 – 2 tablespoon of olive oil and vinegar dressing when I'm ready to eat it. This brings all the flavors together and it's absolutely delicious. You can put the dressing in a small container to have on the side.
This is also good scooped into small pita pocket bread. Trust me, you'll look forward to lunch all day.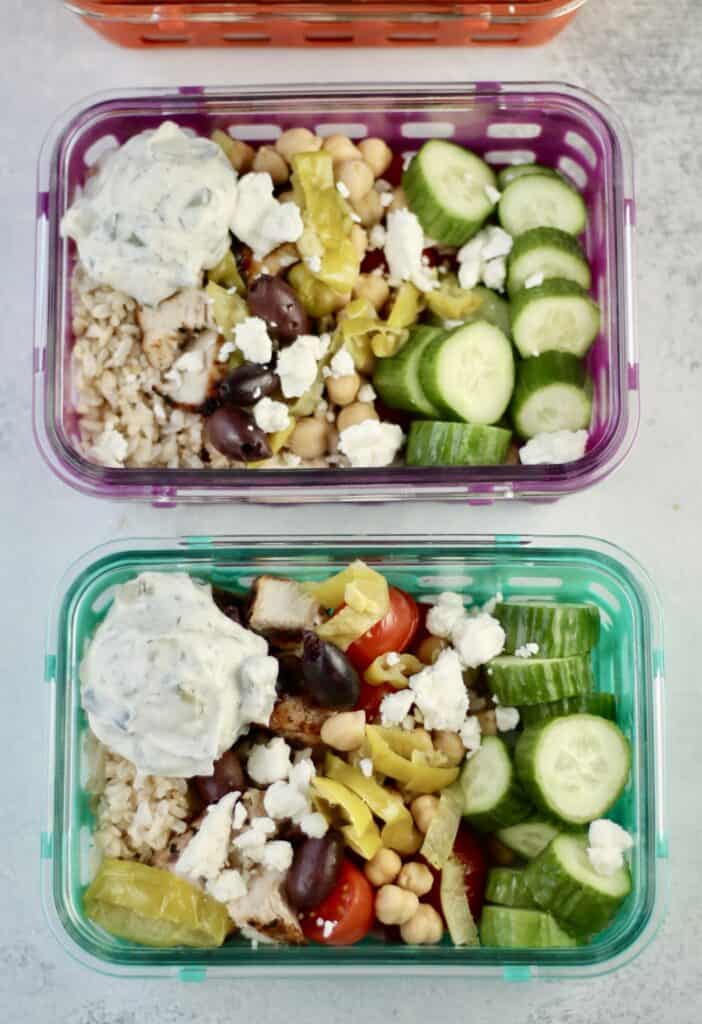 Low Carb Options For the Greek Chicken Bowl
Here are some substitutions to make these Greek meal prep bowls low-carb and keto.
Substitute cauliflower rice or zoodles for the rice. Add a little more of the dressing to the bowl to add flavor to these veggies.
Remove the chickpeas. Instead, add some mashed avocado with feta, olives, and lemon. The lemon should keep the avocado from browning.
Other Ingredients to Add to a Chicken Meal Prep Bowl
Besides the classic veggies and sides I mentioned above, here are a few other ingredients and toppings I like to add for some variety:
Sundried tomatoes
Artichokes
Flavored feta cheese
Olive tapenade
Small pita bread
Pita crackers
Recipe Tips For Chicken Meal Prep Bowl
Cook the rice or quinoa ahead of time. If you're using homemade brown rice or quinoa, it's helpful to make this ahead of time preferably the day before. I like using quinoa but I personally think the rice taste really good in this meal prep bowl.
Make your own tzatziki. I like to keep this recipe easy by using store-bought tzatziki. However, you can easily make this greek sauce yourself! Also, you can use dill dip or sauce if you wish.
Use a store-bought marinade or dressing. If you don't have time or the ingredients to whip up a Greek chicken marinade, then use a store-bought greek dressing or marinade for the chicken. I love Newmans Own Olive oil and vinegar dressing.
Other Meal Prep Bowl Ideas:
If you loved this Greek chicken bowl recipe, you have to try some of these other different meal prep bowl recipes!
This Greek chicken bowl is a delicious and filling meal. It'll easily be your new favorite meal prep bowl! Share a picture and tag me on Instagram or Facebook if you decide to try it!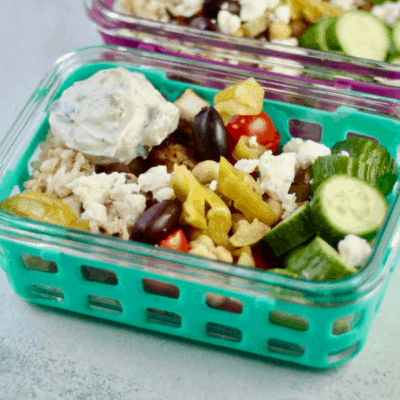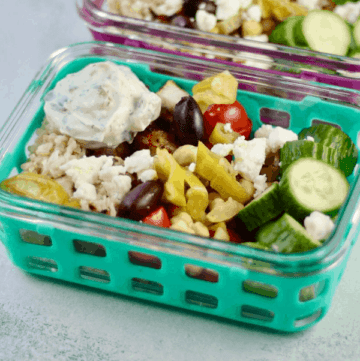 Greek Chicken Bowl
This Greek chicken meal prep bowl will make you look forward to lunch all week! Marinated chicken is combined with olives, feta, and chickpeas to create the perfect protein-packed meal.
Print
Pin
Rate
Ingredients
¼

cup

extra virgin olive oil

1

lemon

juiced

1

teaspoon

lemon zest

3-4

small garlic cloves

grated

¼

cup

white wine vinegar

2-3

teaspoons

honey

1

tablespoon

oregano

3

4-ounce boneless skinless chicken breasts

2 1/2

cups

cooked brown rice

5

baby cucumbers

sliced

3

cups

cherry tomatoes

halved

1

15-ounce can of chickpeas, drained

5

tablespoons

crumbled feta cheese

5

tablespoons

banana peppers rings

20

pitted greek olives

10

tablespoons

Tzaziki sauce

*optional. 5 tablespoons olive oil and vinegar dressing
Instructions
Whisk together the olive oil, lemon, lemon zest, garlic cloves, white wine vinegar, honey, and oregano.

Place the chicken breasts into a glass container or plastic storage bag and pour the marinade over top. Let the chicken marinate for a few hours or overnight.

Grill the chicken and after it's cooled slightly cup up into bite-sized pieces.

Put together the meal prep bowls. Divide the rice, chicken, cucumbers, cherry tomatoes, chickpeas, feta cheese, banana pepper rings, and olives among the glass meal prep containers.

Add 2 tablespoons of Tzatziki sauce to each of the bowls. If you're using the dressing then add the dressing to a small storage container and either place on the other side of the bowl or keep it outside the bowl with the rest of the meal prep bowls.

To eat the greek chicken meal prep bowl mix together all of the ingredients and enjoy.
Nutrition
Serving:
1
g
|
Calories:
497
kcal
|
Carbohydrates:
34
g
|
Protein:
26
g
|
Fat:
27
g
|
Saturated Fat:
5
g
|
Fiber:
7
g
|
Sugar:
3
g