If you want to have a quick high protein lunch or dinner that you can make on Sunday for the week, take a look at this Turkey Taco Bowl. I recommend whipping up 5 of these bowls next time you are meal prepping for the week!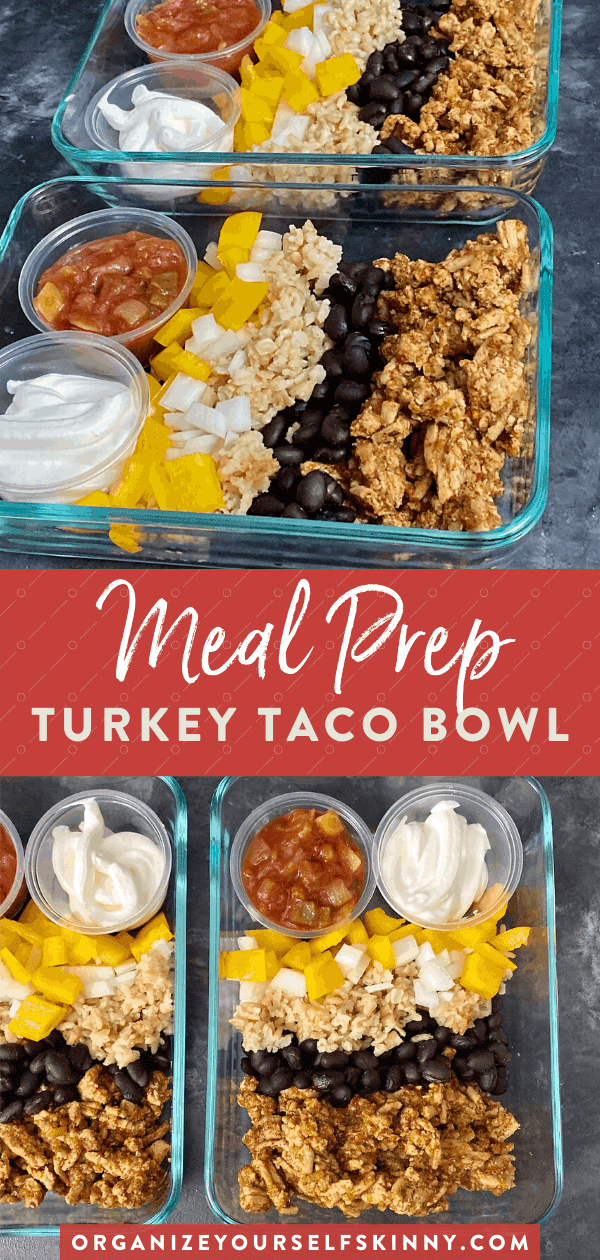 One thing I'm sure you have all noticed is that I try to stick to meals that are quick, easy and sure to be eaten by my family. So you can bet that tacos are HUGE at my house. We eat quite a bit of them, especially ground turkey tacos.
Do you know what's so awesome about a taco? You can literally put anything in it and it tastes good. My kids all have different taste buds so it's easy to cook up some sort of a protein, add some chopped veggies with a side of condiments and let them create their own versions of tacos. Mom win for sure!
For myself, I tend to make a salad with all the fillings or make a taco bowl for myself. Even better, I'll double or triple up on everything while I'm cooking so I can meal prep for the rest of the week, especially if I know it's full of activities and long days.
Questions about Taco Bowl Recipe
Before I show you how I put together some of these turkey taco bowls, here are some questions I frequently get from some of my readers about this recipe!
What do you season turkey taco meat with?
My favorite seasoning is Simply Organic Southwest taco seasoning. You can find these packets of seasoning in the organic food section or the spice section at your local grocery store. I've also ordered a bulk of them when I put in an order through Thrive Market (you can grab a 25% off coupon right here).
Can I make this healthy taco bowl vegetarian?
YES! If you don't want to use meat at all, there are a few things you can substitute it with for some added protein. You can add some:
More beans
Diced tofu
Soy chorizo
Meatless crumbles
Many of these ingredients can be seasoned up to taste like the real thing!
Low Carb Turkey Taco Bowl
These turkey taco meal bowls are super easy to make and can be made ahead of time for an easy portable lunch or dinner.
My favorite thing about them is how versatile they can be. You can use your favorite taco ingredients and still get to indulge on your favorite taco, just without all the carbs!
These are the ingredients I use for these taco bowls:
Ground turkey – great source for lean protein
Black beans – full of fiber, potassium, and helps support heart health
Bell peppers – rich in vitamin C and helps improve eye health
Onions – decreases triglycerides and contains antioxidants
Brown rice – considered to be a low "glycemic index" food and reduces cholesterol
Some other seasoning and condiments I used for this taco bowl recipe are:
Taco seasoning
Salsa
Sour cream (or even fat-free greek yogurt)
How To Make Turkey Taco Bowls
Take your ground turkey and cook it in a skillet with some of your preferred taco seasonings according to packet instructions.
I like using ground turkey because it keeps the recipe low fat yet still really high in protein. I use 1lb of meat for 5 bowls which gives the perfect amount of meat to vegetables and other ingredients.
Like I mentioned above, I like to use Simply Organic Southwest taco seasoning. Of course, you can use any store-bought taco seasoning or even make your own. You use about 2 tablespoons of seasoning per 1lb of meat.
If ground turkey is not for you, you could replace it with ground beef or even ground chicken. You can even use this slow cooker shredded beef recipe or shredded pork recipe. Any of those will create a delicious taco bowl!
Once you've finished cooking your ground turkey, put it to the side and let it cool down before you start putting together your taco bowls.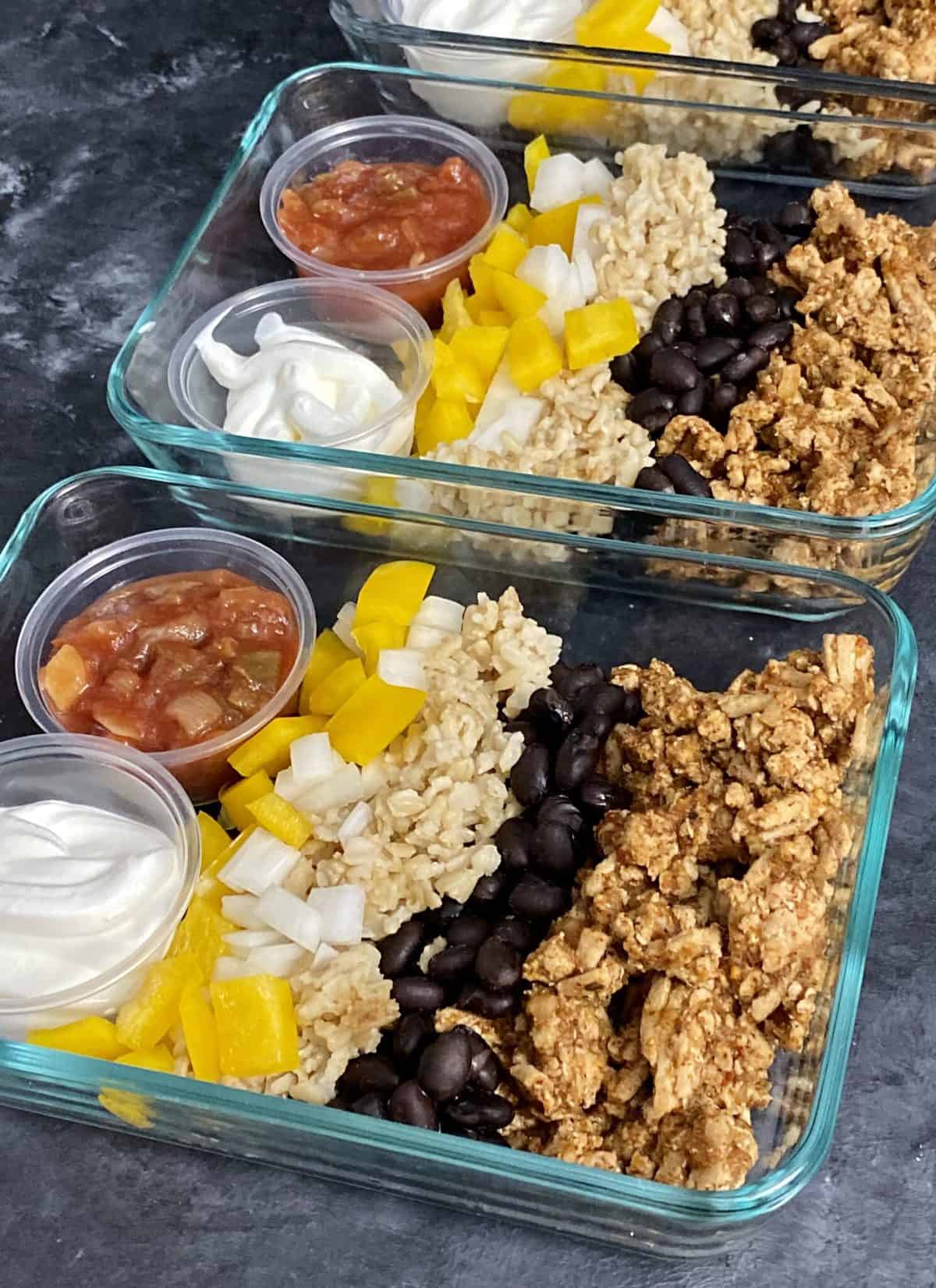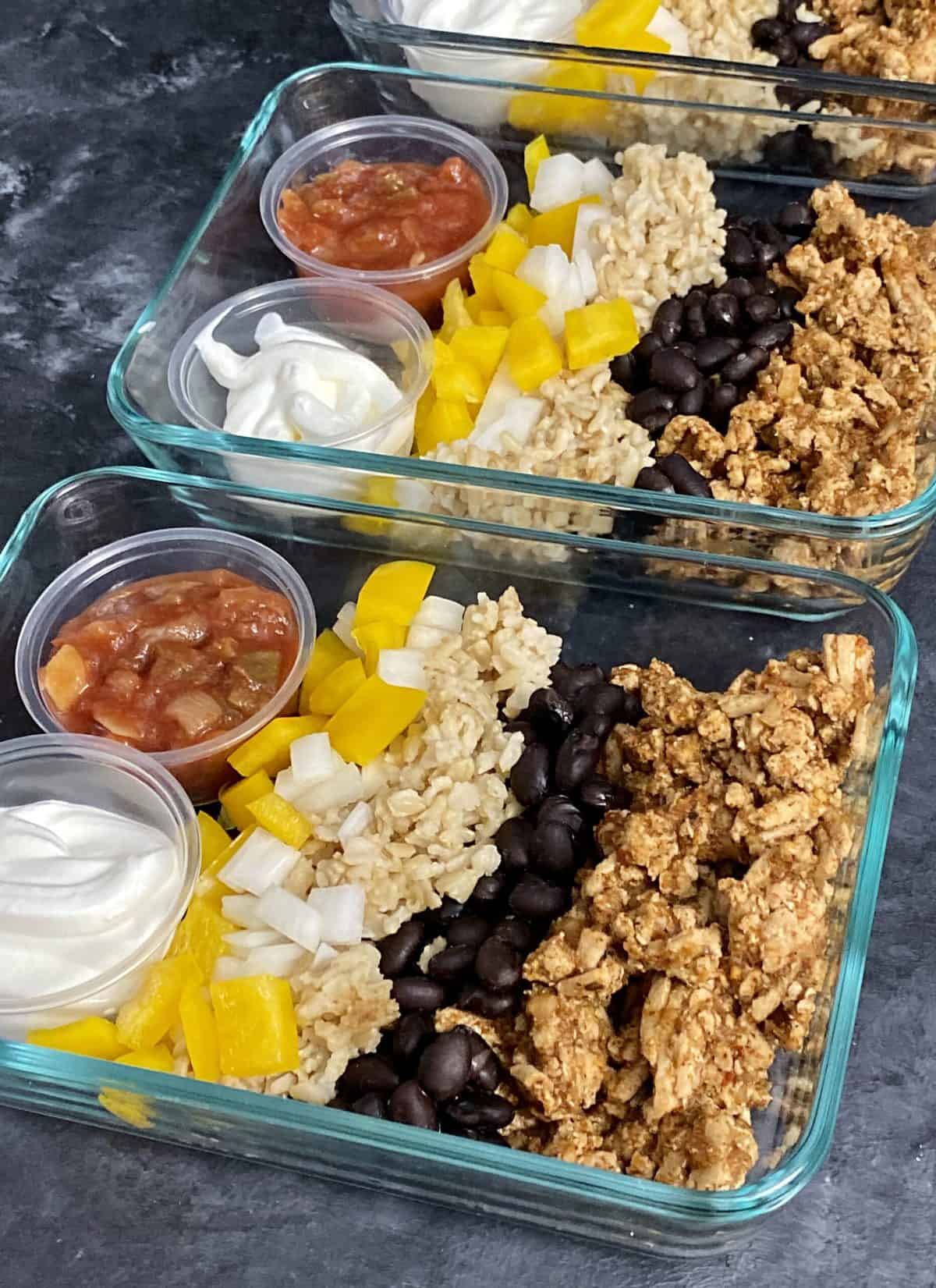 Time to Assemble Your Healthy Taco Bowl
This is the easy part! Basically, all you have to do is lay the ingredients next to each other in a bowl.
For vegetables, I like to add bell peppers and onions. You could add halved cherry tomatoes but since I use salsa with these bowls, I leave the tomatoes out. I've also used corn in these bowls that add a nice crunch and sweet flavor. You can also spice it up with some diced jalapeños.
I know brown rice isn't for everyone so I recommend you replace it for quinoa or leave it out if you want to keep this meal prep bowl on the low carb side. You can also cook up some cauliflower rice! Personally, I think adding a small amount gives the bowl the perfect amount of heartiness it needs.
Cooking tip: To add a little bit of a fresh flavor, chop up some fresh cilantro. Yum!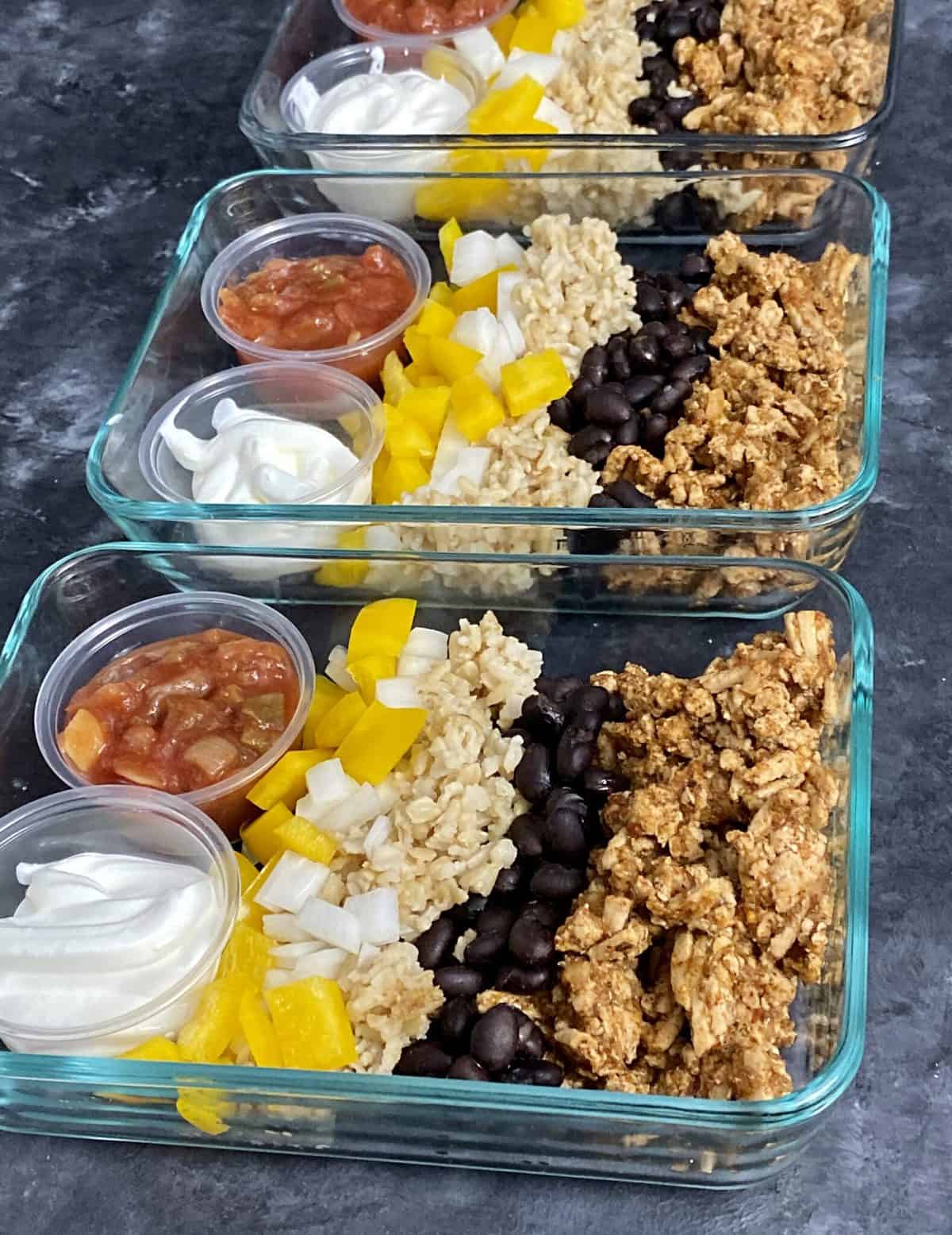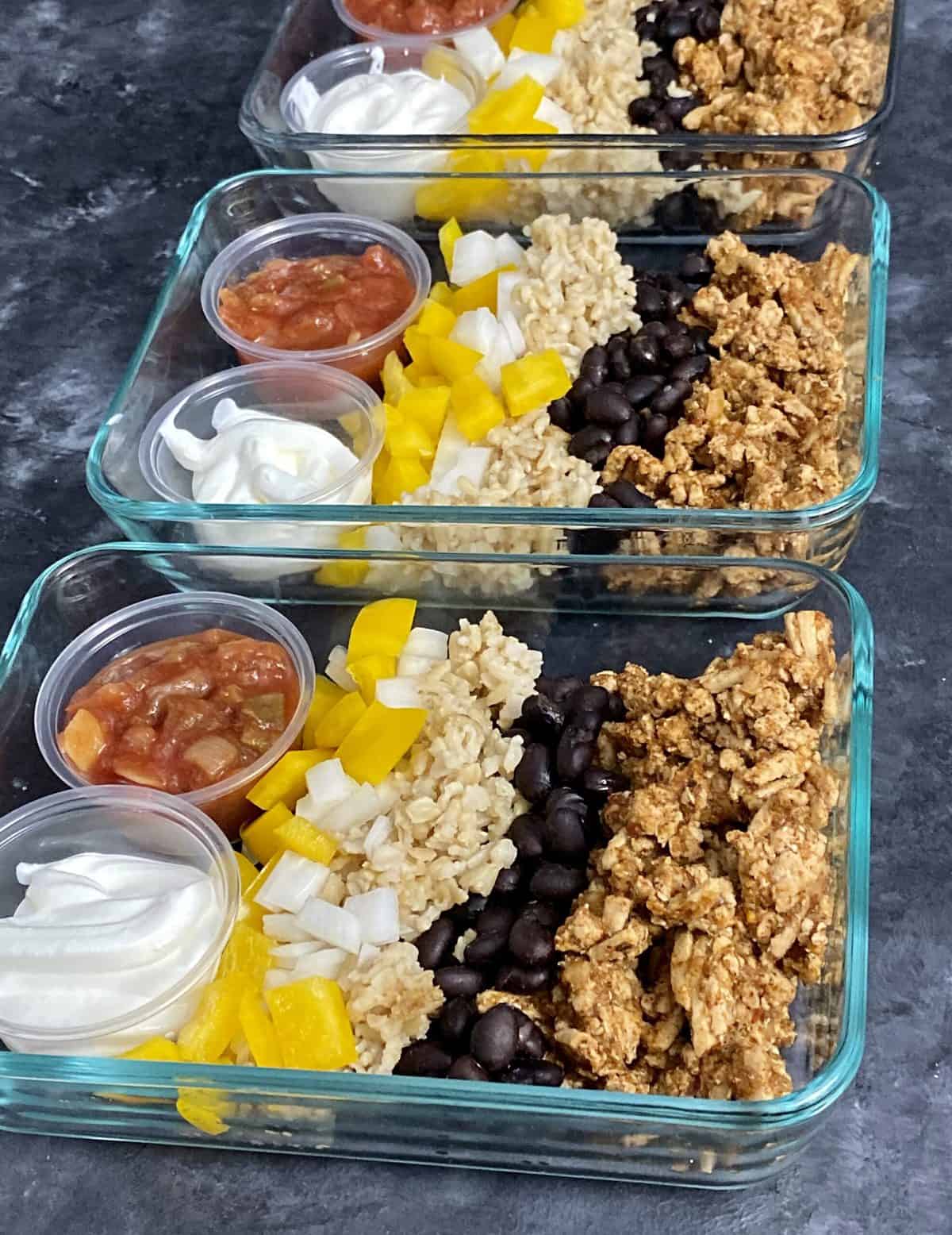 Extra Sides for Turkey Taco Bowl
I love adding black beans to this bowl. It adds another layer of protein and really fills me up. Black beans are delicious but pinto beans are a favorite too. I used one can of beans and typically have some leftover. When this happens, I'll either throw them into another recipe like chili or freeze them for a recipe down the road. I'll also put them into a small glass container in the refrigerator use in salads or wraps.
For condiments, I love to use salsa and sour cream but you can also lower the fat and use plain greek yogurt. As for the salsa, you can use a pineapple salsa, spicy hot salsa, or a black bean salsa. You can also use a taco sauce or pica de gallo. I keep my meal prep bowl super simple and use store-bought sauces but you can easily make your own.
I put the condiments in a 2-ounce plastic container (you can find them on Amazon). However, I've also just put the sauces into the corner of the bowl which works fine too. That is really just a personal preference.
I didn't use cheese in these bowls because I wanted to keep them on the low fat side. However, pepper jack, taco cheese, or even sharp cheddar really elevate this bowl as well.
Once you are done, put all of your bowls into the refrigerator. You can eat it cold or heat up in the microwave for 1-2 minutes.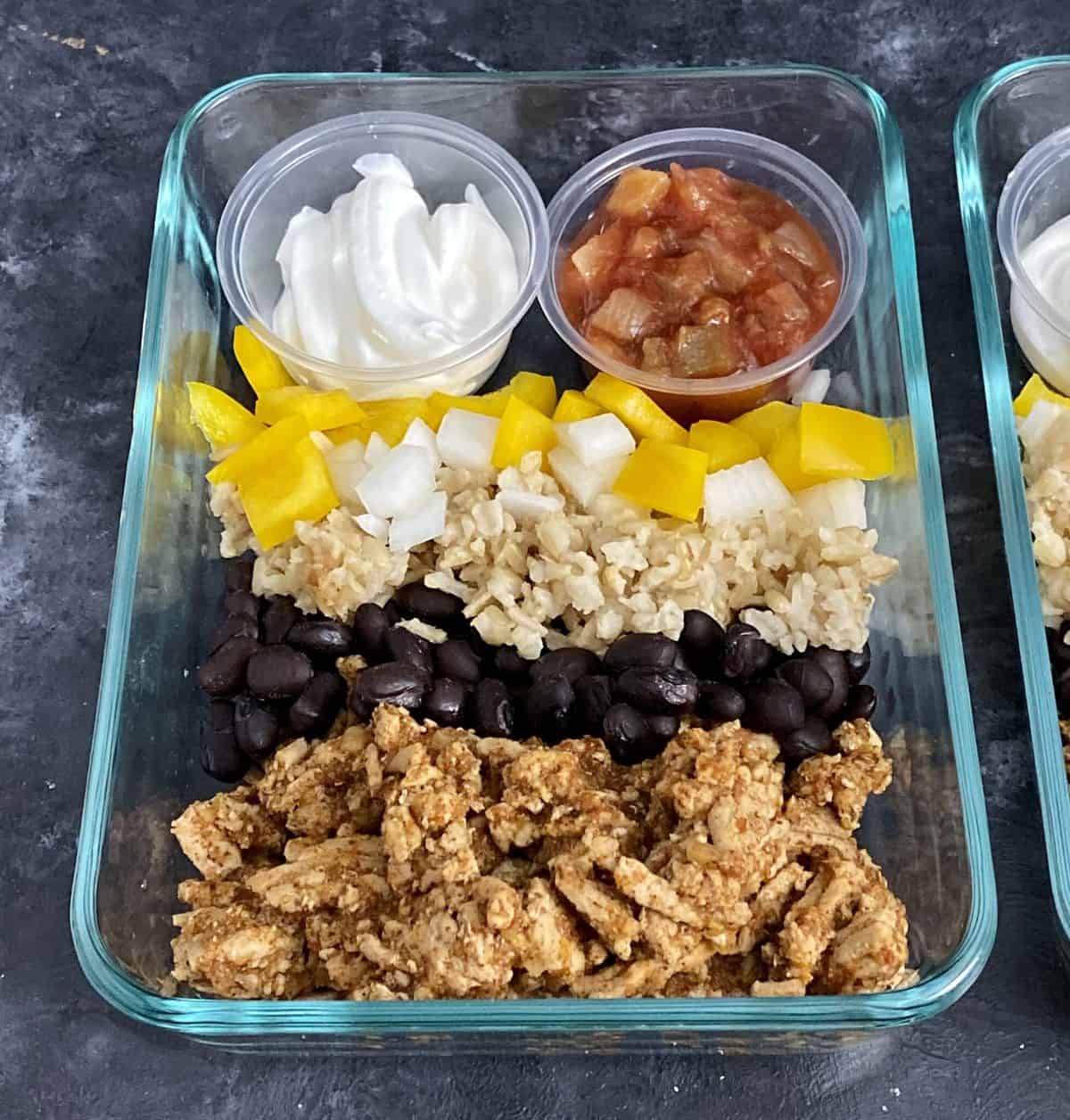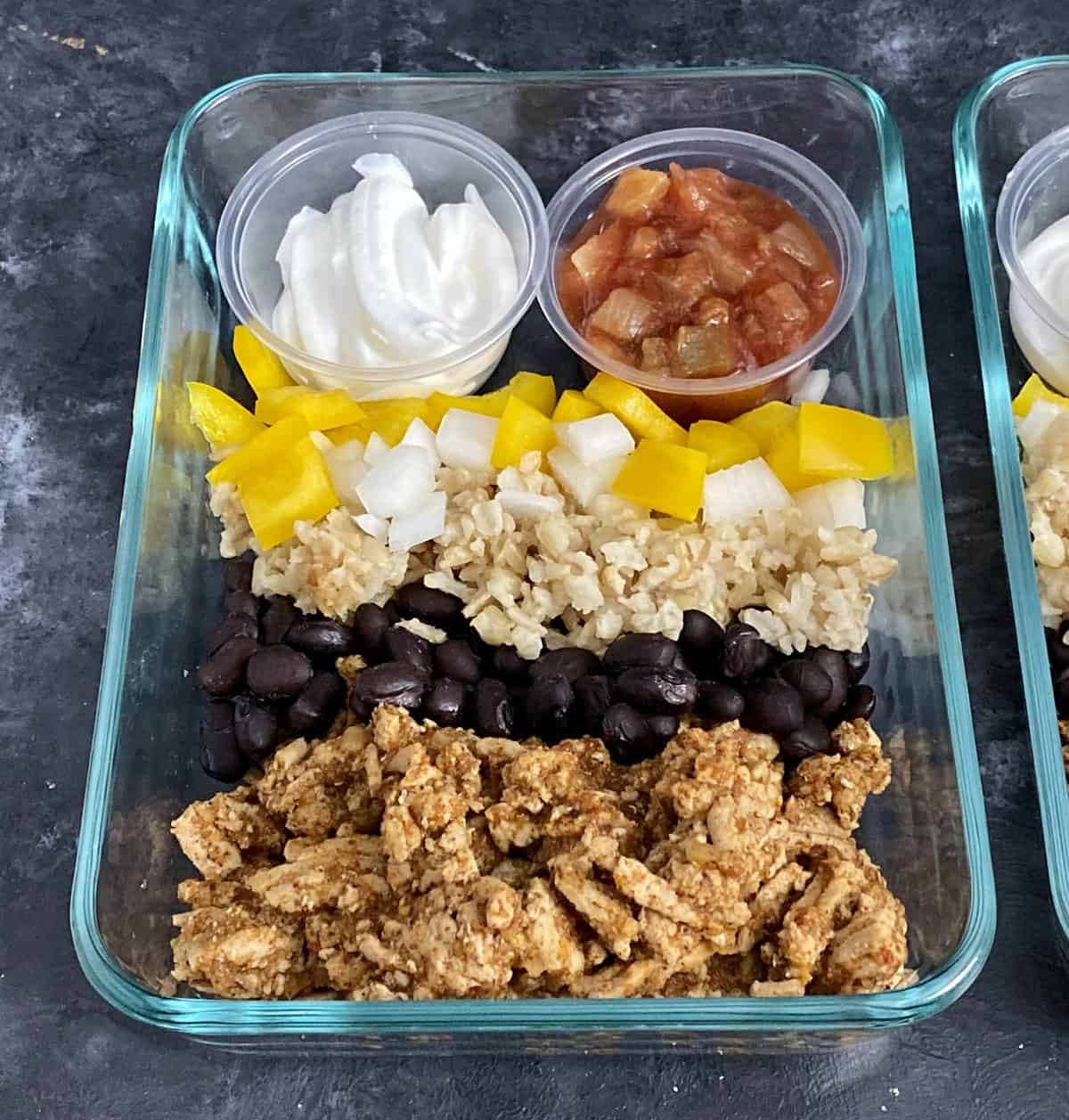 Tips for Taco Bowl Meal Prep
When I'm ready to eat these bowls, I pour the salsa and sour cream on the ingredients and give it a couple stirs.
I should mention I eat these bowls cold. I often get asked if I warm up these bowls considering its made with taco meat. Nope. I enjoy them cold (just like my taco mason jar salad) and think it's delicious. If you want, you could stick the bowl in the microwave for 1 minute to warm it up a little bit and then mix it with the salsa and sour cream.
My favorite meal prep containers to use for these taco meal prep bowls are Pyrex 3-cup rectangle glass containers but you can also use some 30-ounce snap-lock containers.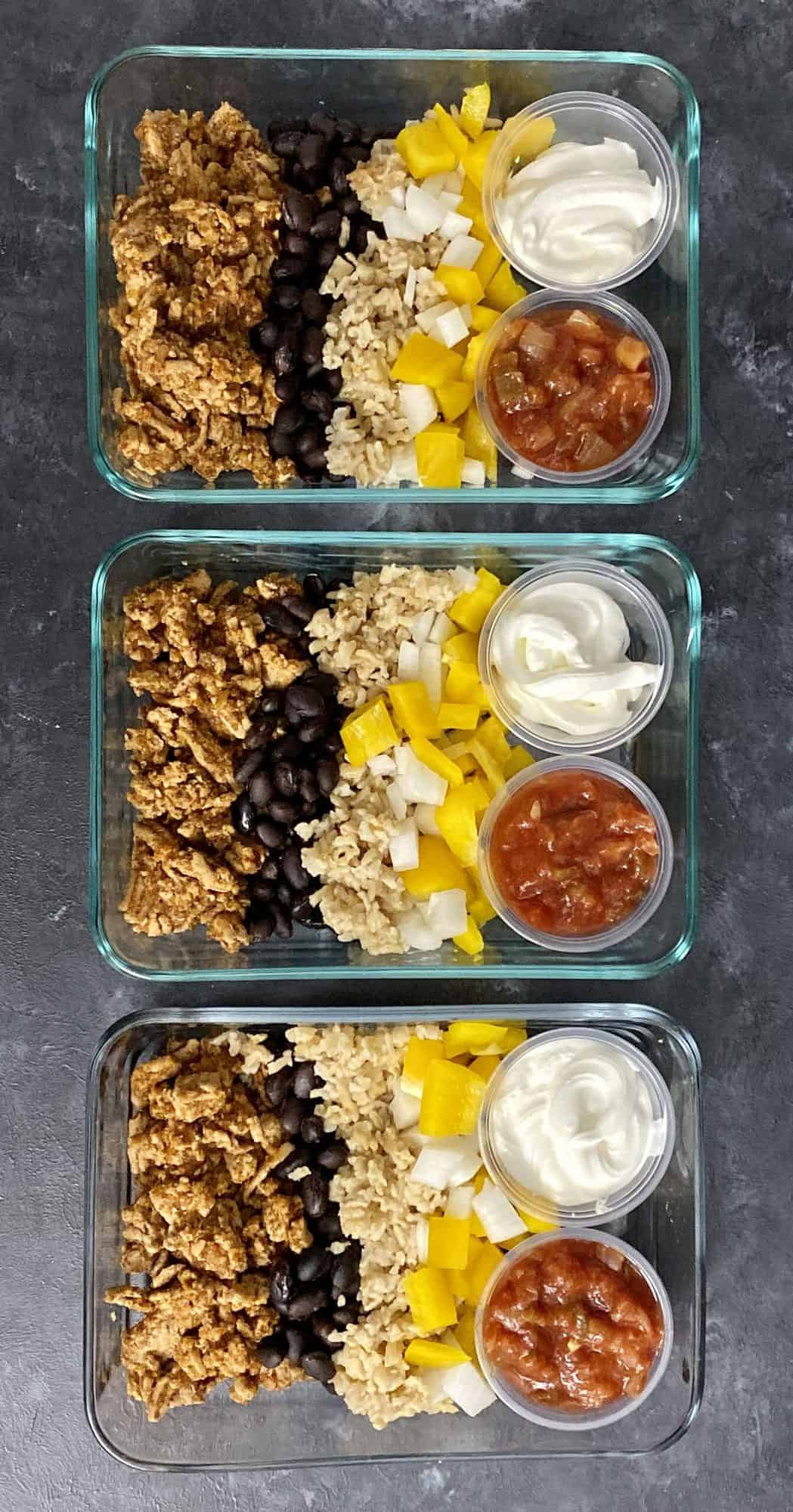 Other Low Carb Meal Prep Ideas
If you want some more quick and easy meal prep ideas, here are some of my other favorite go-to's to try:
Indulge in ground turkey tacos without all the carbs. Make this Turkey Taco Bowl next time you are meal prepping for your week. Share a picture and tag me on Instagram or Facebook if you decide to try it!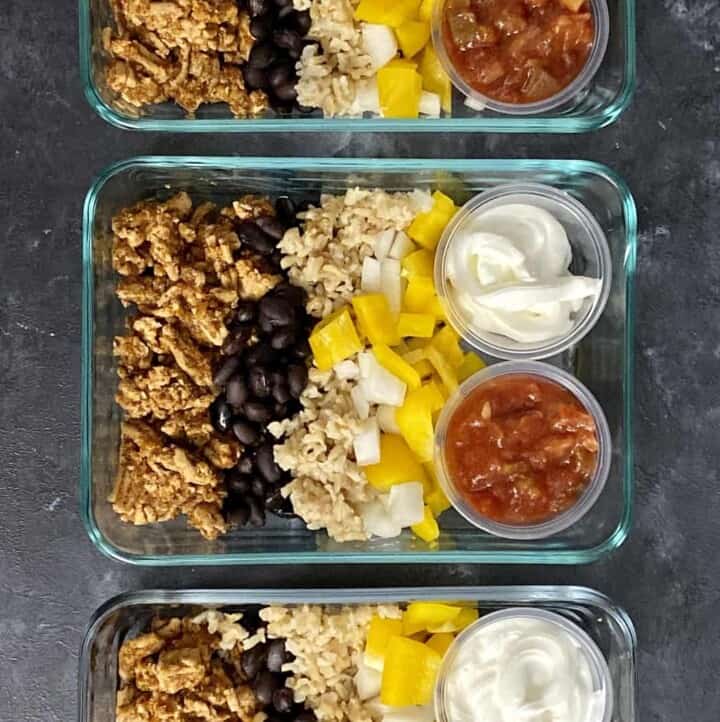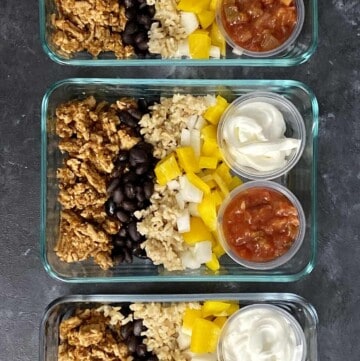 Turkey Taco Meal Prep Bowls
This turkey taco bowl is a quick high protein lunch or dinner. Double, or even triple, this recipe to make enough for your weekly meal prep.
Print
Pin
Rate
Ingredients
1

lb

ground turkey

1

1.4 ounces packet Simply Organic Southwest Taco Seasoning or 2 tablespoons taco seasoning.

3

bell peppers

seeded and chopped

1

14.5 ounce can black beans, rinse and drained

1

small onion

chopped

3/4

cup

cooked brown rice

10

tablespoons

salsa

5

tablespoon

sour cream
Instructions
Cook the ground turkey with taco seasoning according to packet instructions. Let it cool slightly.

Divide the cooked turkey, black beans, peppers, onion, and cooked brown rice between 5 meal prep bowls.

Put the salsa and sour cream into plastic containers and place them into each of the bowls. You can also put both condiments right into the bowls into the corners.

Place the turkey taco bowls into the refrigerator.

When ready to enjoy, eat cold or heat up in the microwave for 1-2 minutes.
Nutrition
Serving:
1
g
|
Calories:
346
kcal
|
Carbohydrates:
45
g
|
Protein:
24
g
|
Fat:
10
g
|
Saturated Fat:
4
g
|
Fiber:
9
g
|
Sugar:
7
g