This spicy turkey chili is prepared in the slow cooker with mushrooms and carrots to create a flavorful and hearty chili recipe that can be made ahead of time for lunch or dinner.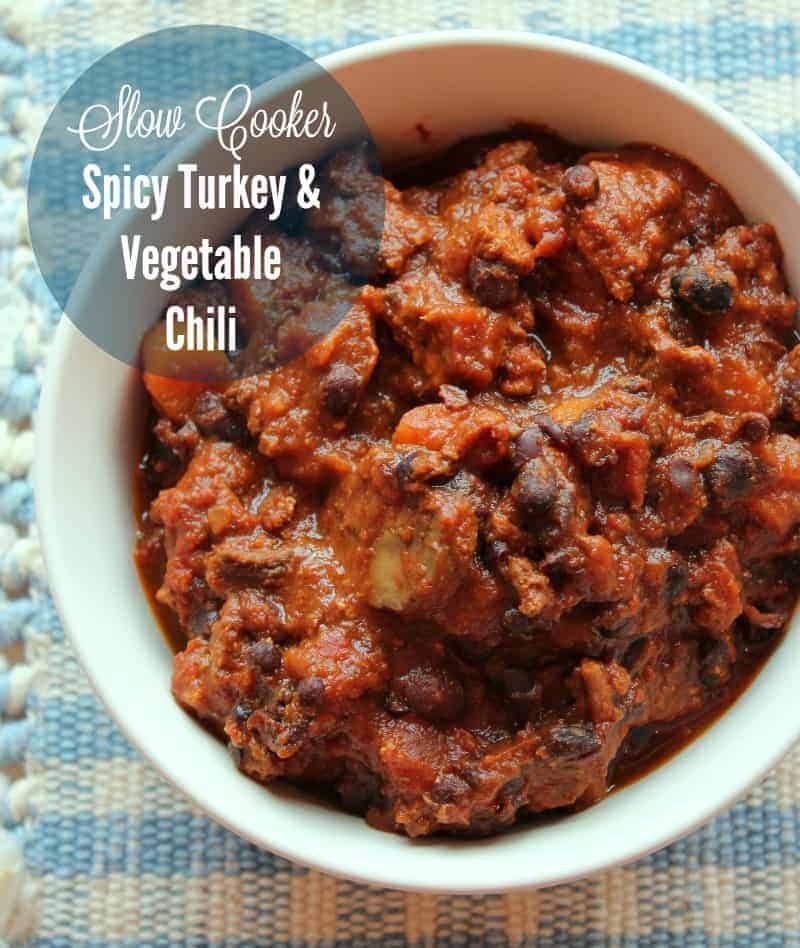 So far we've been pretty lucky in Buffalo, NY because winter hasn't been too bad. In fact, there have been many days I took a nice relaxing walk instead of freezing next to the space heater. But like most Buffalonians know is that if you don't like the weather wait about 20 minutes and it will change. Well the last couple weeks reminded us that it is in fact February and yes we do live in Buffalo because the snow and cold has showed up in full force. I seriously question why my family never settled somewhere warm. But I won't complain because my whole family is here and there are many awesome things about Buffalo.
What I will do is get my slow cooker out and make some chili. Because, let's be honest, chili taste extra good on 0 degree-days. Actually, I think my body is programmed to immediately crave chili when the temperature drops below 30 degrees.
There are two specific things I love about chili recipes. First, most can cook all day in the slow cooker and still taste amazing. Second, you can throw almost anything into a chili recipe. Chili recipes are super versatile.
For this recipe, I wanted to add bulk without more meat so I decided to throw in some mushrooms and carrots. I've seen many chili recipes that use winter squash; I made this one with sweet potatoes a couple years ago, so I thought carrots would work nice. I was right. Carrots are delicious in chili. They add just enough sweetness to balance out the spices.
Let's walk through this recipe.
I used my 6-qt Hamilton Beach Programmable Slow Cooker.
Here are the ingredients. The great thing about preparing recipes at home is we control the ingredients. This is extra important to me when I create recipes that include meat. I prefer to use organic high quality meats and vegetables in my recipes. Sure, it's a bit more expensive but when using in a recipe like this it goes a long way.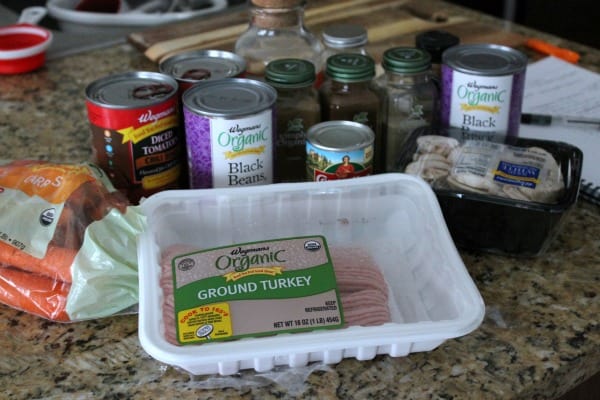 Before I start the recipe the first thing I do is combine the spices in a bowl. I do this because I like to cook the spices with the turkey before putting it into the slow cooker. This is a trick I learned from my favorite slow cooker cookbook by America's Test Kitchen. There are tons of tips and tricks to get the best tasting slow cooker recipe. I highly recommend it.
Anyway, cooking the spices ahead of time helps to "bloom" the spices giving it better flavor. I think it works. To make it easier I get my spices ready ahead of time so I can stir them into the meat when ready. My favorite spices are Simply Organic spices. You can get these at great prices from the online organic and natural foods wholesale store Thrive Market.
After, I get my spices situated I brown the ground turkey. I don't cook it all the way through but just enough to get some color and texture. As it cooks I break it into smalls pieces. Then I stir in the spices and cook for another minute or so. It does look like a lot of spices but don't worry its the perfect amount for the chili.
There will be some spices stuck to the bottom of the pan. No worries pour 1/2 cup of chicken stock into the pan and scrap up all the little bits. Then pour the turkey and spices into the slow cooker.
Add in the rest of the ingredients (except lime and salt). Again, this chili is versatile so use any vegetable you like. The key is to make sure it will hold up to cooking all day in the slow cooker.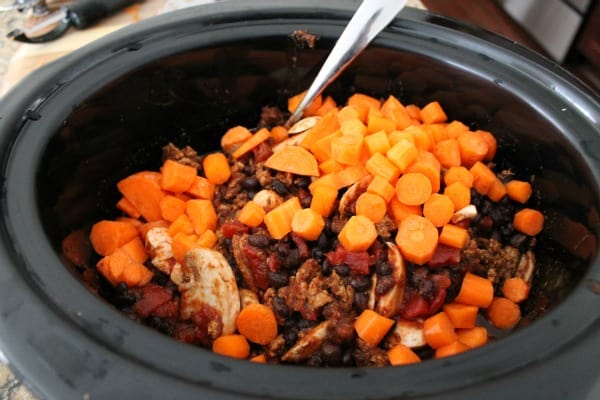 Then I put the lid on and let the slow cooker to do it's magic. This chili recipe cooked perfectly at 8 hours on low. It needs to cook long enough to soften the carrots. 8 hours seemed to do the trick. Don't worry if you're going to be out of the house and need it to cook longer this recipe holds up well to long cooking times.
After it was done cooking I stirred in 1 teaspoon of salt and the juice of 1 lime. I've learned salt a slow cooker recipe at the end is the way to go, especially when it cooks all day long. This really brings all the flavors together. The lime juice gives it a wonderful brightness.
As you see this chili recipe is chunky and hearty. However, it is lean and full of fiber and protein. So this chili will fill you up without the guilt. Each serving is a generous 1 1/4 cups and 196 calories. It stores great in the refrigerator or freezer so this chili is perfect for a make-ahead lunch or dinner. Here are some nice round meal prep containers from Amazon that would work nicely to store chili recipes.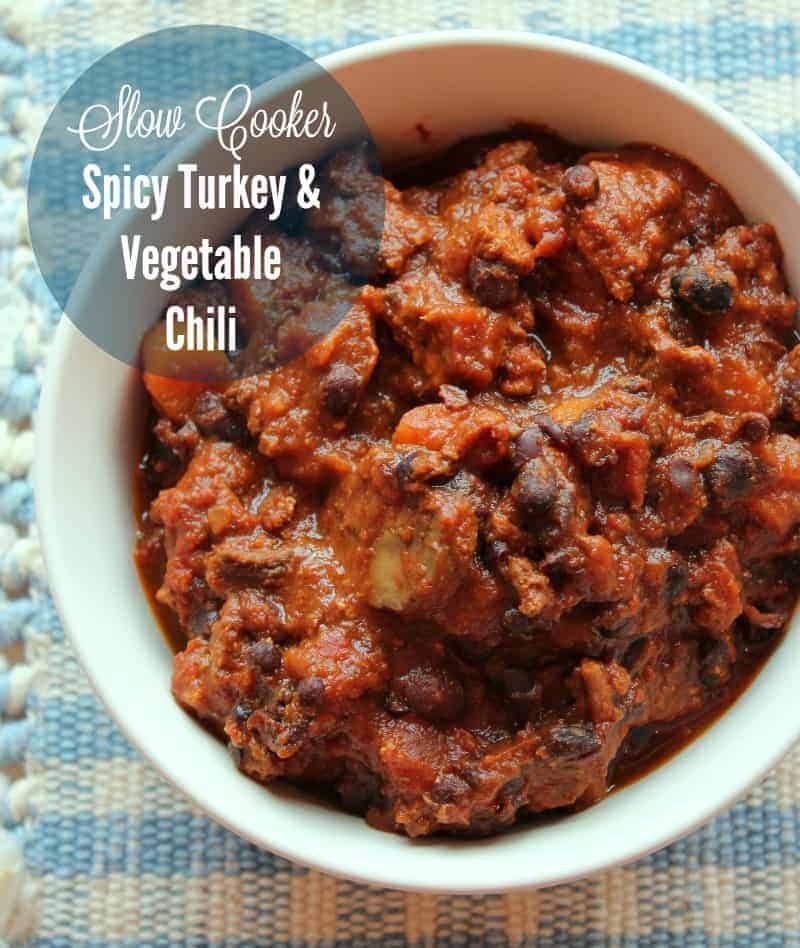 Ingredients
3

tablespoons

chili powder

1

teaspoon

chipotle chili powder

2

teaspoons

onion powder

2

teaspoons

garlic powder

1

teaspoon

pepper

1

lb

ground turkey breast

1

tablespoon

olive oil

½

cup

chicken stock

1

15.5 ounce diced canned chili ready tomatoes

2

15 ounce cans black beans, drained

1

6 ounce can tomato paste

1

tablespoon

packed dark brown sugar

1

pound

carrots

peeled and thickly sliced

1

10 ounce package slice white mushrooms

1

teaspoon

salt

juice from one lime
Instructions
Mix together both chili powders, onion powder, garlic powder and pepper. Set aside for a moment.

In a medium to large pan cook the ground turkey until browned and still a little pink. Break into small pieces as it cooks. Stir in the spices and cook for another 2 minutes or until the spices are fragrant.

Place into the slow cooker.

Add ½ cup of the chicken stock to the pan and cook for 1 minute or until all the little bits are released from the bottom of the pan. Pour into the slow cooker on top of the turkey.

Add the diced tomatoes, beans, tomato paste, and brown sugar. Stir a couple times until the sugar is dissolved.

Stir in the carrots and mushrooms.

Place the lid on and cook for 8-10 hours on low.

Stir in the salt and lime juice. Serve hot.
Notes
Sugar is 13 grams.
Make-ahead instructions.
This recipe can be prepped the night before and stored in the refrigerator. Place in the crock and turn on the next morning. continue with recipe. Or you can make in completely and store in refrigerator of freeze into portions.
Nutrition
Serving:
1
g
|
Calories:
196
kcal
|
Carbohydrates:
22
g
|
Protein:
13
g
|
Fat:
6
g
|
Saturated Fat:
2
g
|
Fiber:
4
g