This Greek yogurt chicken recipe only uses a few staple ingredients to create one of the most delicious low carb chicken dinners ever! It's literally one of these easiest weeknight meals I make all the time- and we LOVE it. If you're searching for new keto dinner recipes to incorporate into your meal plan, then this is one to put into the rotation for sure.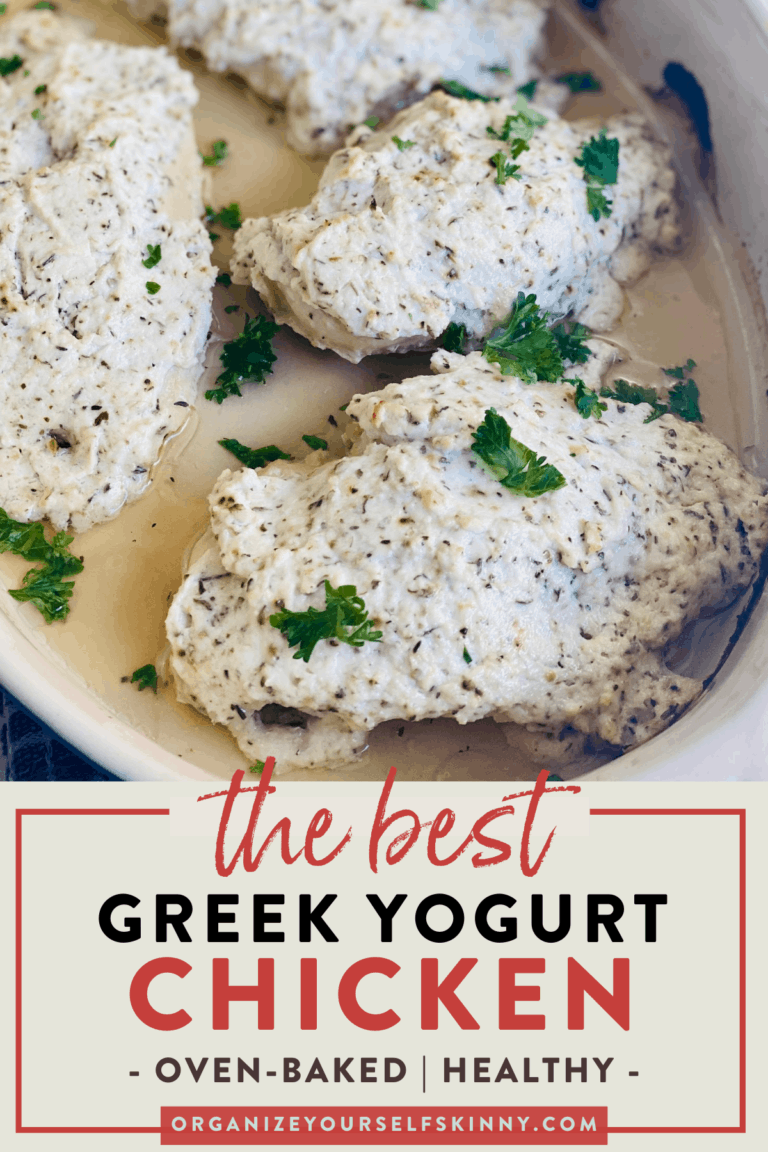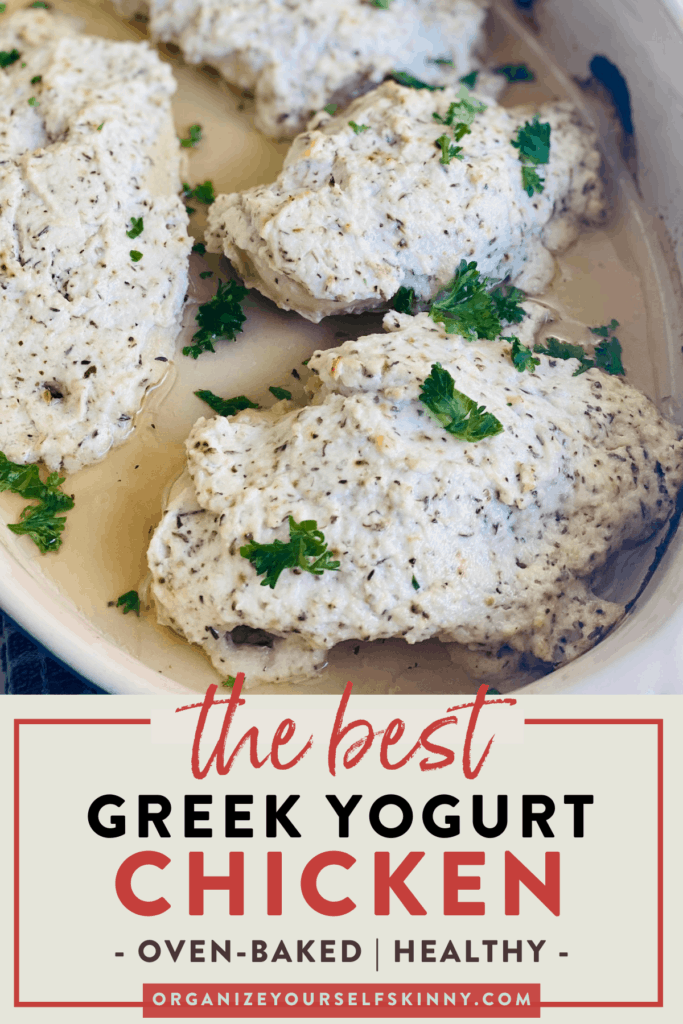 This dinner recipe for Greek yogurt chicken was inspired by a fantastic baked chicken recipe my mother in law makes using butter, sour cream, breadcrumbs, and some seasonings. It's delicious the way it is but I wanted to make a version of this recipe without the breadcrumbs, with less butter and using Greek yogurt instead of sour cream.
I personally love cooking with Greek yogurt! Now, I know one wouldn't think to use Greek yogurt in a chicken recipe but it actually works out quite well.
I sometimes make a chicken salad using greek yogurt and avocado and it's one of the most delicious chicken salad recipes ever. So, I thought this would work out great with baked chicken too.
And spoiler alert- it absolutely does.
Frequently Asked Questions About Greek Yogurt Chicken
This Greek yogurt chicken is scrumptious! I'll sing the praises in a little bit but first, let's go over some questions about this recipe.
What Type Of Yogurt Should I Use?
I prefer to use plain Greek yogurt because that's always what I have on hand. However, you certainly could use regular plain yogurt if you want.
Regardless of whether you use greek or regular yogurt, you want it to be plain. I don't think a vanilla yogurt would go well in this recipe – just sayin' 😉
Personally, I also like greek yogurt because it's thicker and has more protein. I also like the flavor better. My favorite brand is Siggi's. This has the lowest sugar content and the highest protein.
Can I Use Chicken Thighs?
You sure can! I prefer using boneless skinless chicken thighs but use whatever you have on hand. You might need to adjust the cooking time depending on the thickness of the meat.
Remember: The internal temperature should read 165 degrees for the chicken to be considered fully cooked.
Regardless of the cut of chicken, you use I highly recommend purchasing high-quality chicken. I prefer organic chicken and usually purchase it from Wegmans, Whole Foods, and online from Butcher Box Meat Delivery.
In my opinion, the higher quality ingredients you use in a recipe, the better a recipe will be and that includes the meat.
Can I Marinate The Chicken In The Greek Yogurt?
Yes, and if you have time, then I think you should. Marinating the chicken in the greek yogurt mixture tenderizes the chicken and creates a delicious juicy flavorful chicken!
Now, if you don't have time, this recipe is still delicious even if it's just thrown together and baked. But, if you have time to marinate the chicken for a few hours or overnight, then I recommend doing so.
Often, I'll get this recipe together before I go to bed or first thing in the morning and then make it for dinner that night. I'll stick everything in a Ziploc bag or put it into the dish I'm using to cook it in and cover with plastic wrap. Then, when I'm ready to cook, I'll remove the plastic wrap and continue with the recipe.
Is This Recipe Low-Carb Or Keto?
Yes, it's perfect for people who are following a low-carb or keto diet meal plan. My advice is to use a full-fat yogurt and check the label on the yogurt before using it. You want to use the yogurt and brand with the lowest sugar and carbs possible.
Oven-Baked Greek Yogurt Chicken
Okay, let's get to the recipe!
Here is the list of ingredients you need to prep this baked chicken recipe:
Greek yogurt
Garlic powder
Onion powder
Dried basil
Dried oregano
Salt
Dried thyme
Pepper
Parmesan cheese (grated)
Butter (melted)
Boneless skinless chicken breasts
How To Make Baked Chicken Using Greek Yogurt
The first thing you're going to do is mix together the chicken marinade and sauce. For this, you'll need Greek yogurt, parmesan cheese, and all of the spices mentioned above.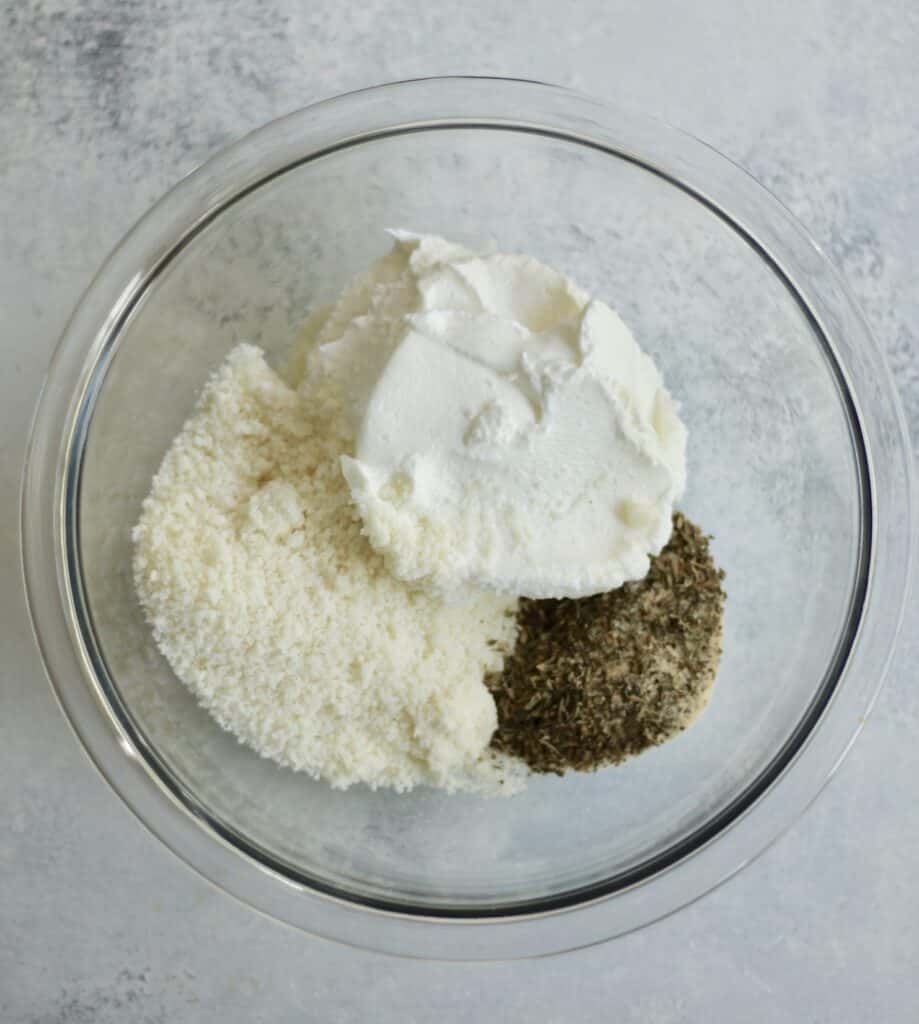 After the chicken marinade is ready, spread 2 tablespoons of melted butter at the bottom of a 9×13 baking dish. Lay the chicken breasts on top of the melted butter and then divide the Greek yogurt mixture between the chicken breasts.
Make sure the chicken is fully coated with the Greek yogurt mixture! If you can, marinade this for a few hours or overnight before following the next steps. If not, just go on right ahead.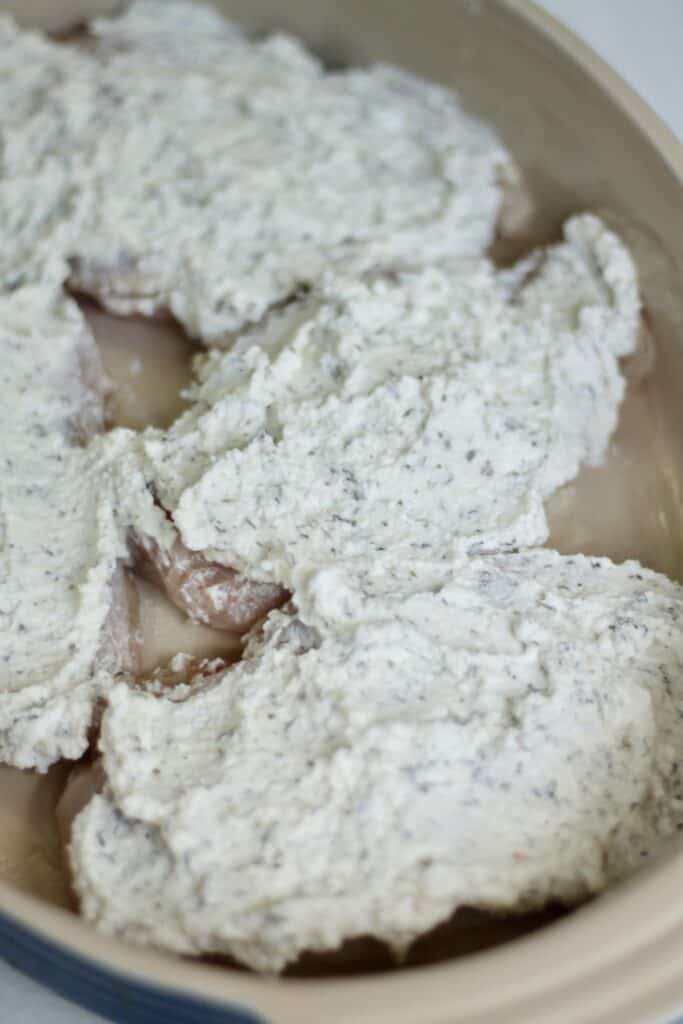 Place the baking dish into a 375-degree oven for 35 – 40 minutes. I recommend using a meat thermometer to check the internal temperature and it should read 165 degrees. The juices should run clear for the chicken to be considered fully cooked.
Remove from oven and serve hot with one of the side dishes listed below or a quick greek side salad.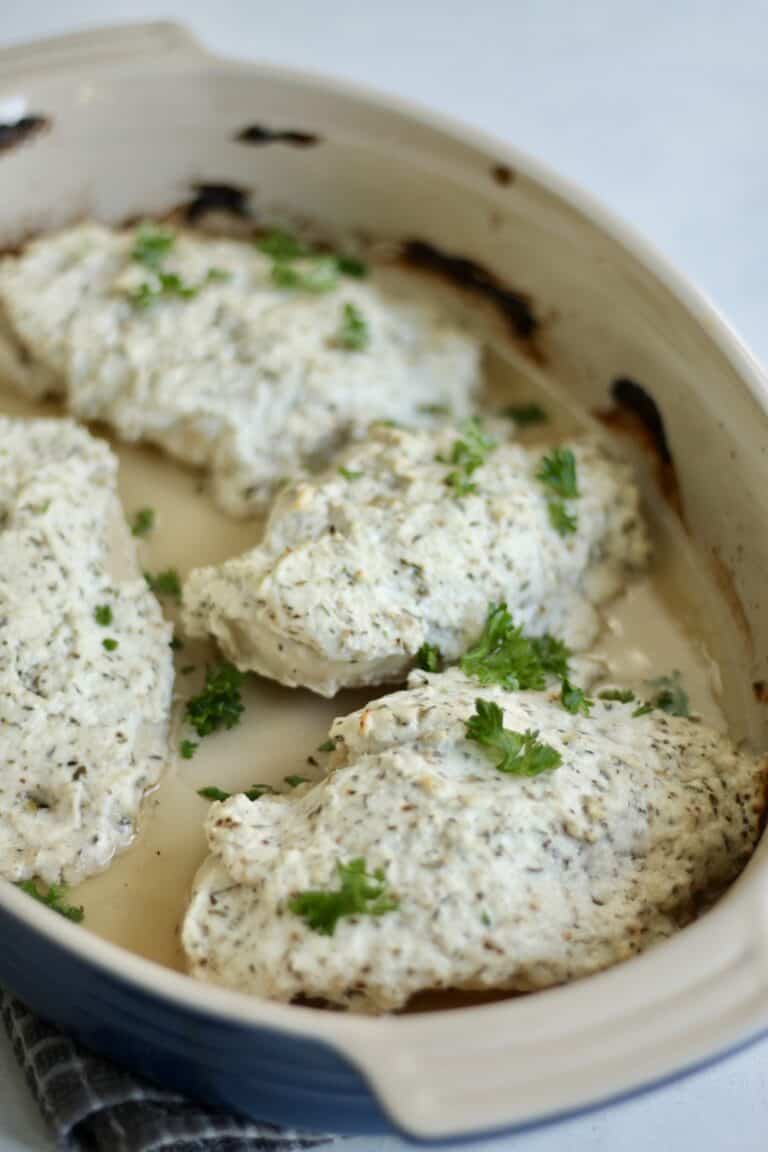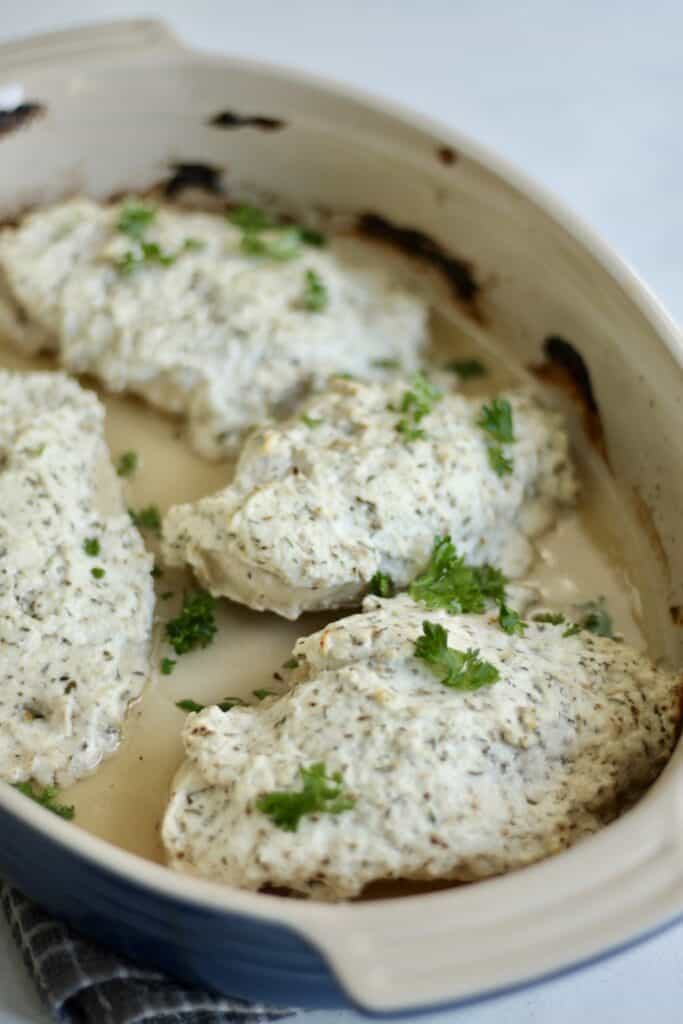 Low Carb Side Dishes To Serve With Greek Yogurt Chicken
I think we've enjoyed this chicken with just about everything but these are some of our favorites.
With a salad. Personally, I love eating this with a veggie-packed salad or a caesar salad. This creamy hot chicken goes great with a crisp cool salad. I even enjoy eating the leftover chicken (if there is any) with salad the next day for lunch.
Roasted veggies. Roasted broccoli and asparagus go great with greek yogurt chicken.
Cauliflower mash or rice. A cheesy cauliflower mash would be delicious this chicken recipe.
If you want a pasta alternative, then serve this on top of zoodles or spaghetti squash. YUM!
Other Side Dishes To Try:
Brown rice or quinoa – you can make this on weekend to heat up the night you're going to eat this chicken.
Pasta – you can serve whole grain or gluten-free pasta as a side dish.
I also highly recommend trying one of these recipes on the side: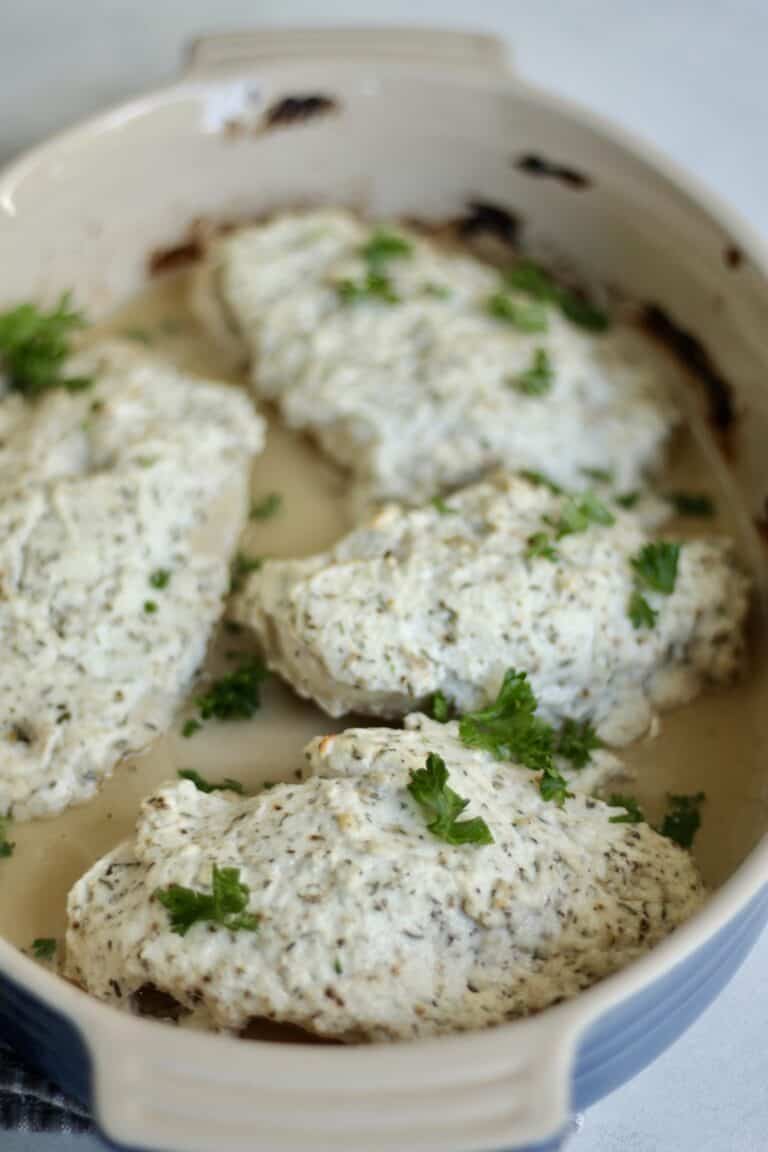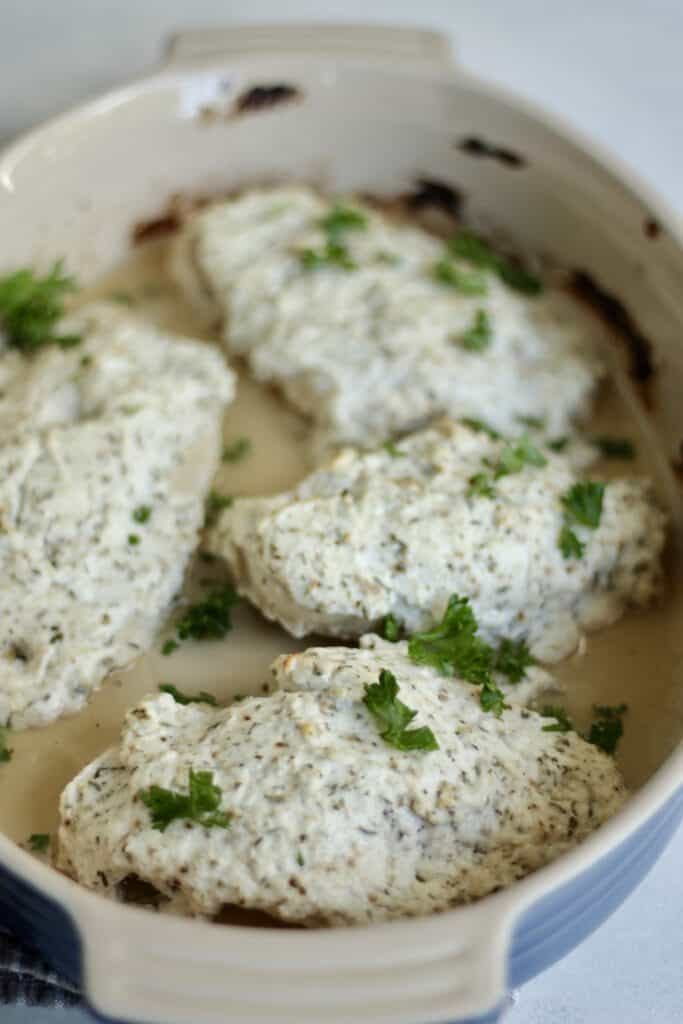 Try One Of These Different Variations Of This Greek Yogurt Chicken Recipe
Use fresh garlic. In this recipe, I used garlic powder because it's easy but I love using 1-2 cloves of grated garlic too. This gives it a stronger garlic flavor but it's super delicious!
Use fresh herbs. I love the additions of fresh thyme to any chicken recipe but it's extra good in this greek yogurt chicken recipe.
Spice it up. If you want a spicy twist, then add a pinch of crushed red pepper, a dash of cayenne pepper, or give it a smokey flavor with some canned adobo chilies.
Switch up the cheese. I use parmesan in this recipe and it's amazing. But, you can use romano, asiago, provolone, or any other type of grated cheese. You can even melt some mozzarella on top if you want it to be ooey-gooey.
Add some sour cream or mayo. I personally love the tang of the greek yogurt but if you want to smooth it out some, then add 2-3 tablespoons of sour cream or mayo to the mixture before adding it to the chicken.
Other Healthy Chicken Breast Recipes:
If you loved this Greek yogurt chicken recipe, you have to try some of these other different chicken breast recipes!
This is one of the most delicious baked chicken recipes! It's creamy, cheesy, and super comforting. The smells that fill up your kitchen as it bakes will have your mouth watering. Share a picture and tag me on Instagram or Facebook if you decide to try it!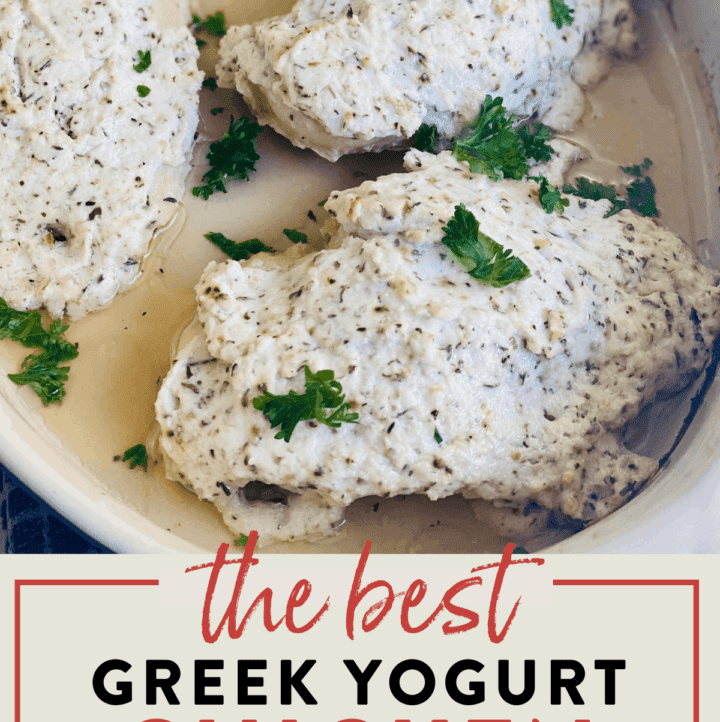 Greek Yogurt Chicken (Oven-baked and Easy)
This Greek yogurt chicken recipe only uses a few staple ingredients to create one of the most delicious low carb chicken dinners ever! It's literally one of these easiest weeknight meals I make all the time- and we LOVE it. If you're searching for new keto dinner recipes to incorporate into your meal plan, then this is one to put into the rotation for sure.
Print
Pin
Rate
Ingredients
1

cup

Greek yogurt

1

teaspoon

garlic powder

1/2

teaspoon

salt

1

teaspoon

onion powder

1

teaspoon

dried basil

½

teaspoon

pepper

1

teaspoon

dried oregano

1

teaspoon

dried thyme

½

cup

grated parmesan cheese

2

tablespoons

butter

melted

4

6-ounce boneless skinless chicken breasts
Instructions
Preheat oven to 375 degrees.

In a medium bowl, mix together the Greek yogurt, garlic powder, onion powder, basil, oregano, thyme, salt, pepper, and cheese. set aside.

Spread melted butter in a 9 x 13 baking dish.

Place the chicken breast in the baking dish and divide the Greek yogurt mixture on top of each of the chicken breasts.

Bake for 35 - 40 minutes or until the chicken is completely cooked through. The internal temperature of the chicken should read 165 degrees and the juices should run clear.

Serve hot.
Nutrition
Serving:
1
g
|
Calories:
266
kcal
|
Carbohydrates:
6
g
|
Protein:
33
g
|
Fat:
12
g
|
Saturated Fat:
6
g
|
Fiber:
2
g
|
Sugar:
2
g