This chickpea salad is delicious and so simple to prepare. It's filled with lots of fiber and protein to keep you full straight to dinner time.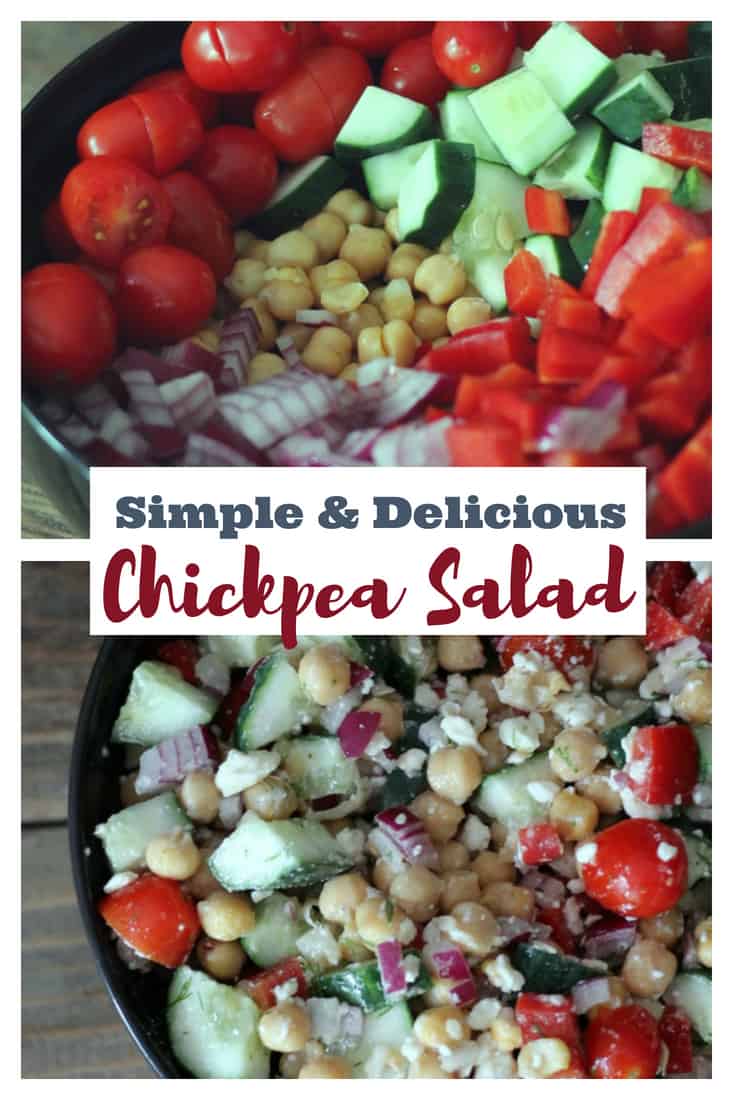 If there's one word I'd use to describe this chickpea salad it's fresh….or maybe refreshing. It's filled with lots of vegetables, fresh dill, and dressed with a simple lemon and olive oil dressing. I definitely wouldn't call this chickpea salad fancy but it could certainly hold it's own at any party. Anyway, if you're a huge chickpea lover (like me) then this salad should go on your meal plan soon.
I can honestly say that chickpeas are one of my favorite foods – at least one of my favorite salad ingredients. Chickpeas add great bulk, flavor, and texture. You can find chickpeas in many of my mason jar salad recipe. Here are a couple favorites.
Smoked Turkey, Sun-dried tomato, and Chickpea Mason Jar Salad
Greens and Ancient Grains Mason Jar Salad
I've also made a Greek Quinoa Salad that has chickpeas included…mmmmm one of my favs!
In all of those recipes chickpeas are more like the trusty sidekick to all the other ingredients. In this chickpea salad recipe they are the STAR!
Like most of my recipes (especially salads) I created this one with ingredients I had on hand. My garden is overflowing with cucumbers so I knew this veggie would have a starring role as well. So, if you decide to make this recipe, or something similar, definitely use your favorite vegetables.
Okay let's get to this simple and delicious chickpea salad recipe. Now don't blink because this goes fast. The hardest part is chopping up the vegetables but once that's done it's smooth sailing.
Chickpea Salad Recipe
I started with 2 cans of chickpeas (drained), 2 cucumbers, a small red onion, red bell pepper, and a pint of cherry tomatoes.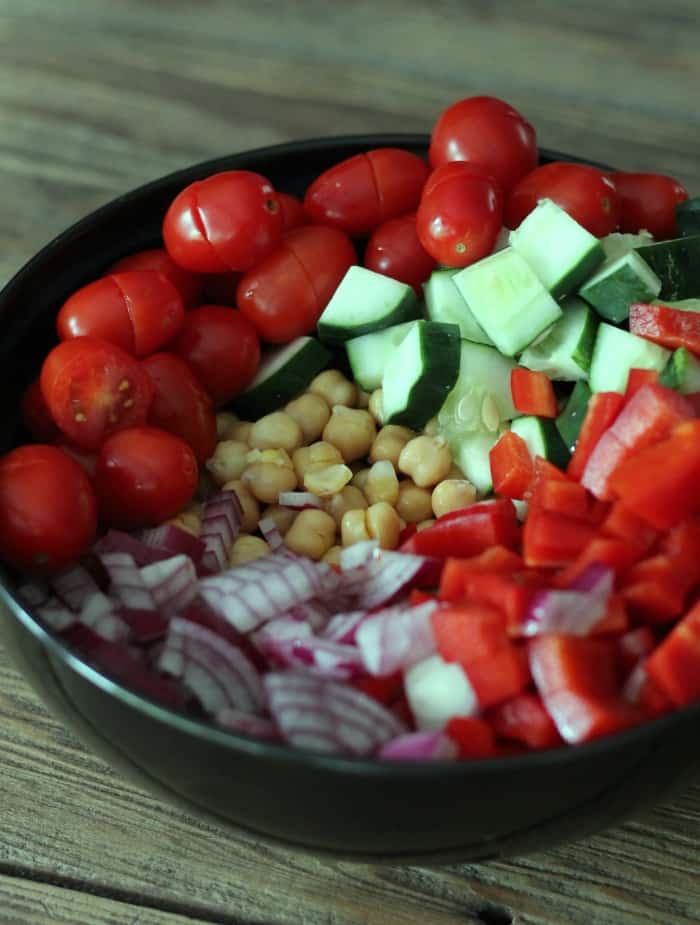 I mixed everything in a bowl with 1 cup feta cheese and about 3-4 tablespoons of dill. Next to garlic I think dill is one of the best smells ever.
Then in a 16-ounce mason jar I mixed together 1/3 cup extra virgin olive oil, juice of 2 lemons, 1 teaspoon honey, and 1/4 teaspoon salt, and 1/4 teaspoon pepper. I put the lid on the mason jar, gave it a good shake, and poured it over top of the salad. Last, I gave it a few good mixes, covered the salad, and put it in the refrigerator.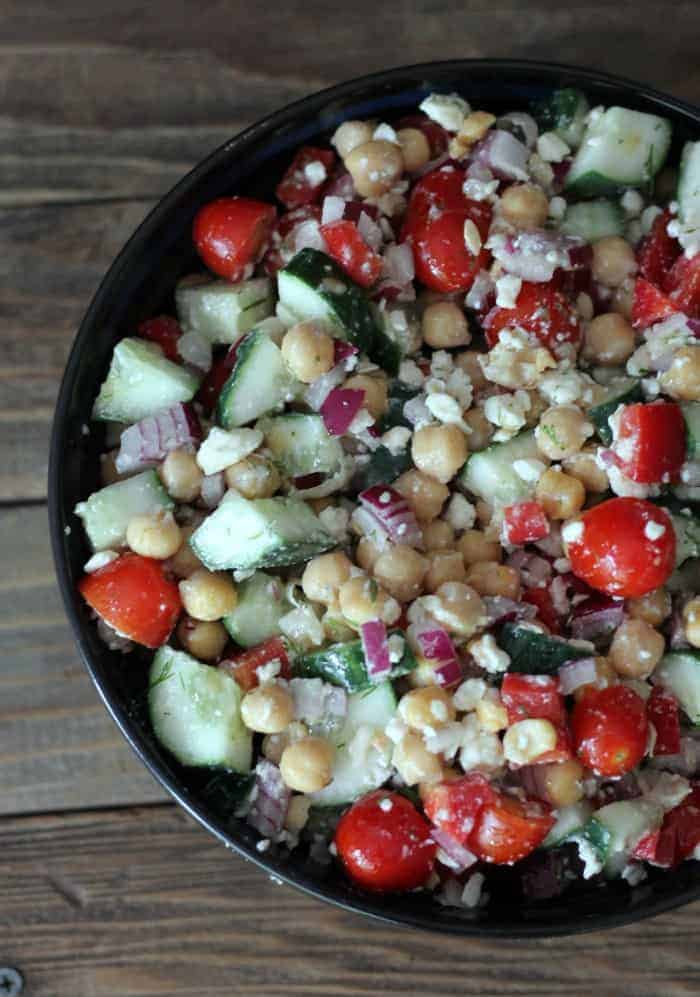 A couple notes.
This salad taste best sitting a day or two in the refrigerator. This allows for all the flavors to blend and marry.
The dressing I put together is very clean and simple. Another layer can be added by grating a clove of garlic into the dressing. Or if you'd like to use an olive oil and vinegar dressing such as Newman's Own Olive Oil and Vinegar then do so. I loved the clean flavors of simply using olive oil, lemon juice, salt, and pepper.
The last note is to give the chickpea salad a little pinch of salt the next day – or before you eat it. This helps bring out all of the flavors. That's a little trick I learned from Food Network and it works every time.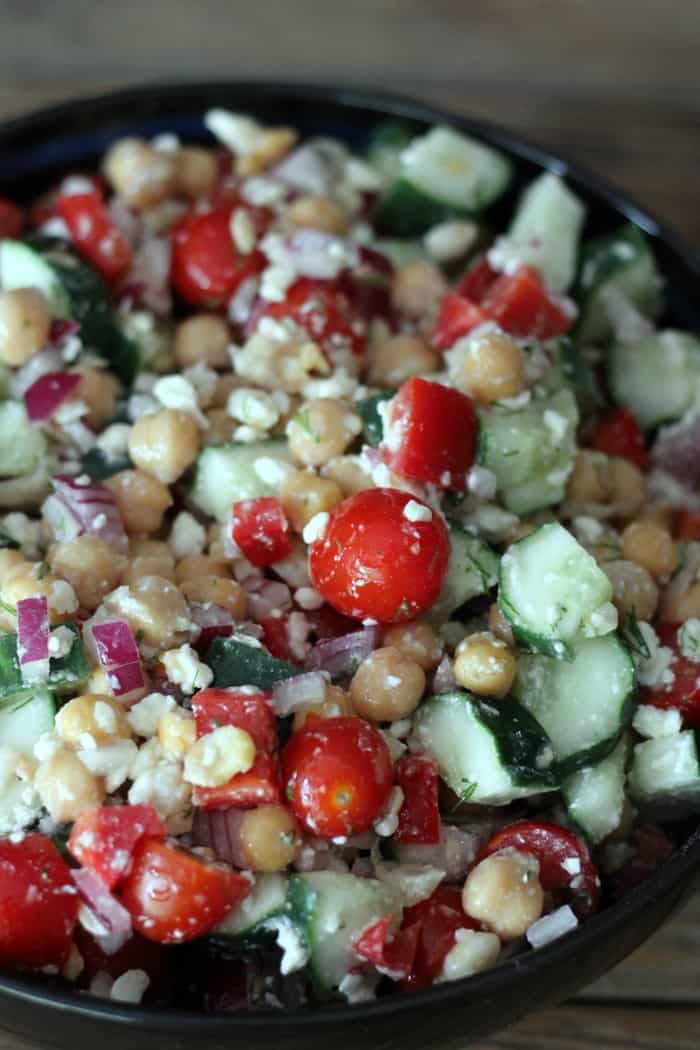 You'll get about 6-7 (1 1/4 cup) servings from this chickpea salad recipe. You can store it in a couple large glass Pyrex containers or portion out into 16-ounce mason jars if you'd like to take one on the go.
I enjoy chickpea salad on it's own but it's also super good with chicken or shrimp. Basically, I'm letting you know it's versatile! So, eat for lunches all week or serve as a side with dinner. Either way you'll be happy.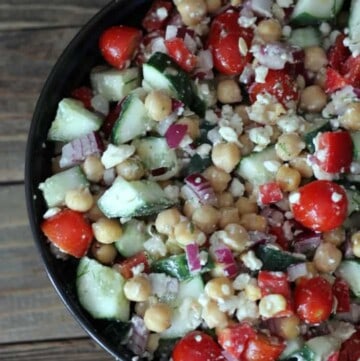 Chickpea Salad with Feta and Dill
This chickpea salad is delicious and so simple to prepare. It's filled with lots of fiber and protein to keep you full straight to dinner time.
Print
Pin
Rate
Ingredients
1/3

cup

extra virgin Olive Oil

juice from 2 lemons

1

teaspoon

honey

1/4

teaspoon

salt

1/4

teaspoon

pepper

2

15-ounce. cans Chickpeas, drained and rinsed

2

cucumbers

chopped

1

large red bell pepper

seeded and chopped

1

pint

cherry tomatoes

halved

1

medium red onion

chopped

1

cup

crumbled Feta Cheese

3-4

tablespoons

fresh dill
Instructions
In a medium bowl, or 16-ounce mason jar, mix together the olive oil, lemon juice, honey, salt, and pepper. Set aside.

In a large bowl mix together chickpeas, cucumbers, red bell pepper, cherry tomatoes, red onion, feta, and dill.

Pour dressing over the top of the salad and mix together well.

Cover and refrigerate for 1-2 days.

Add a pinch of salt and mix again.

Serve cold on it's own or as a side.
Notes
sugar: 3
Make-ahead instructions
This salad should be made 1-2 days ahead of time but can be made up to 5 days ahead of time.
Nutrition
Serving:
1
g
|
Calories:
335
kcal
|
Carbohydrates:
31
g
|
Protein:
14
g
|
Fat:
17
g
|
Fiber:
9
g