Greek Turkey Meatloaf – all the Greek flavors you love infused into a juicy low-carb healthy turkey meatloaf!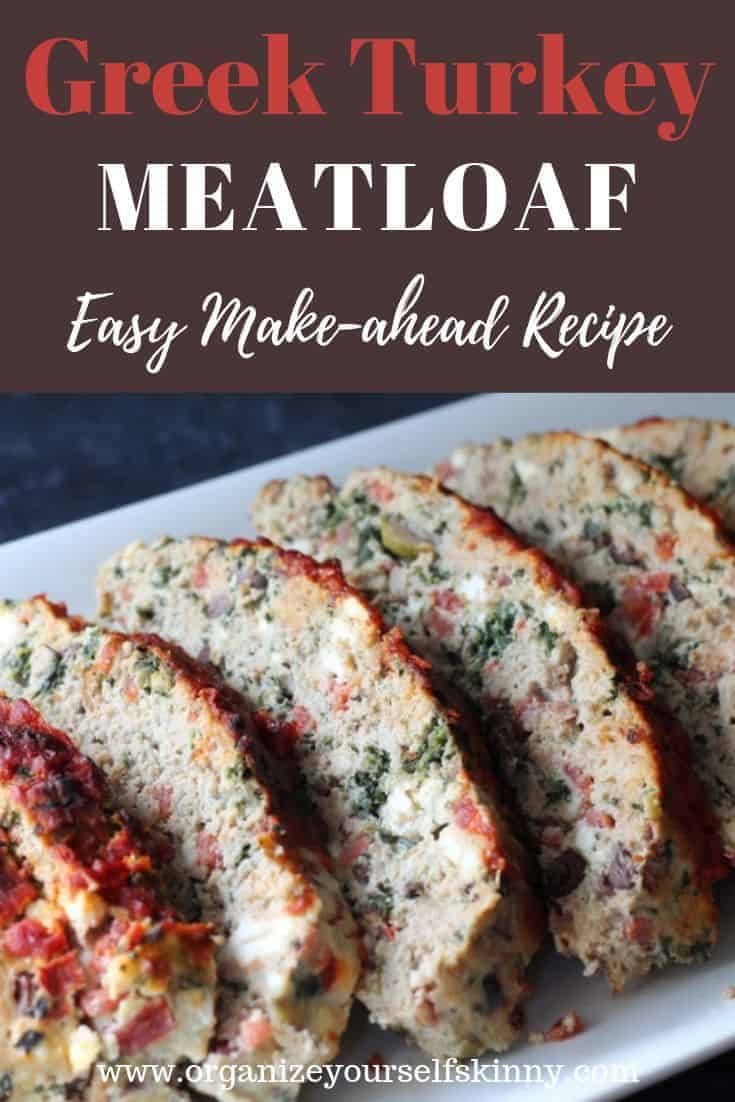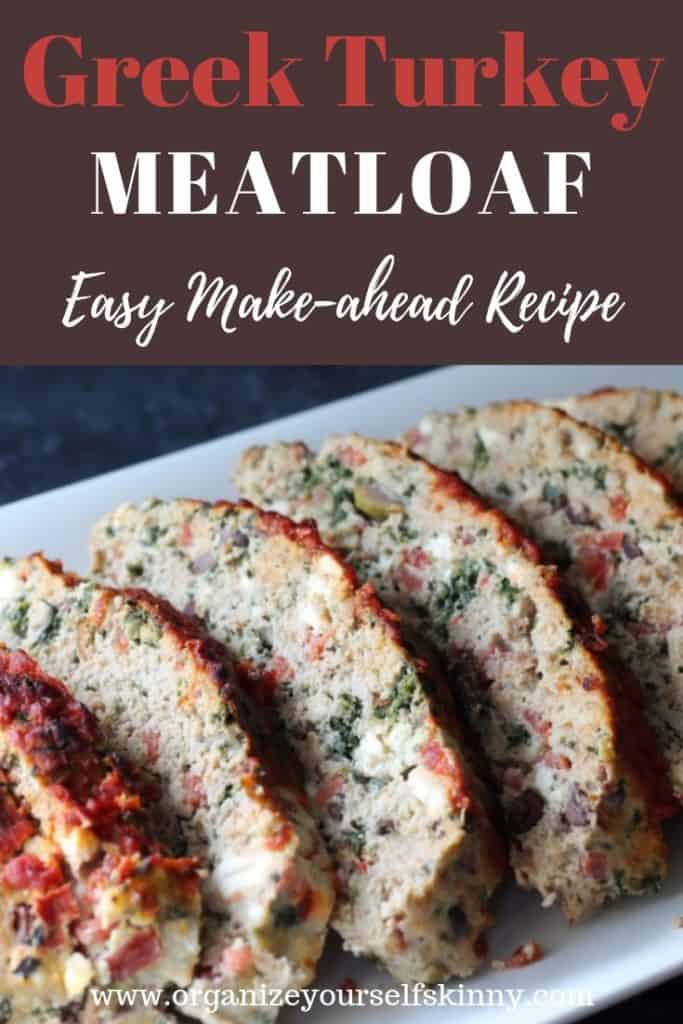 When it comes to easy meal prep recipes meatloaf is up there as one of the easiest! And if you're trying to eat healthier then turkey meatloaf should start going on your weekly meal plan. It's low carb, high protein, and super tasty!
Another reason I love meatloaf is it's so easy to get creative with recipes. You can mix just about anything into meatloaf and it will turn out delish!
That's exactly what I did with this Greek Turkey meatloaf recipe! I took all my favorite Greek flavors and mixed them into a turkey meatloaf. Let's just say, this meatloaf did not disappoint.
Before I jump into how to make Greek Turkey Meatloaf I just want to answer some questions.
How do I keep turkey meatloaf juicy?
The best way I found to create a juicy turkey meatloaf (or meatball) is to use a panade. This is is simply bread and milk mashed together into a paste. Turkey doesn't have a lot of fat so it's important to add moisture to keep it from drying out. A panade will do the trick. I use wheat bread but any bread will do – even hot dogs buns 🙂
Can I substitute ground beef for turkey meatloaf recipes?
Yes of course. Just keep in mind this will increase the fat and calories of the recipe.
Can I make meatloaf ahead of time?
Yup, yup! Like I said meatloaf is one of the easiest meal prep recipes. There are 3 ways I make-ahead a meatloaf recipe. First, and I do this most often, I'll cook the meatloaf completely ahead of time and then put it into glass meal prep containers and store it in the refrigerator. When I want a slice I simply put it on a plate and warm it up in the microwave.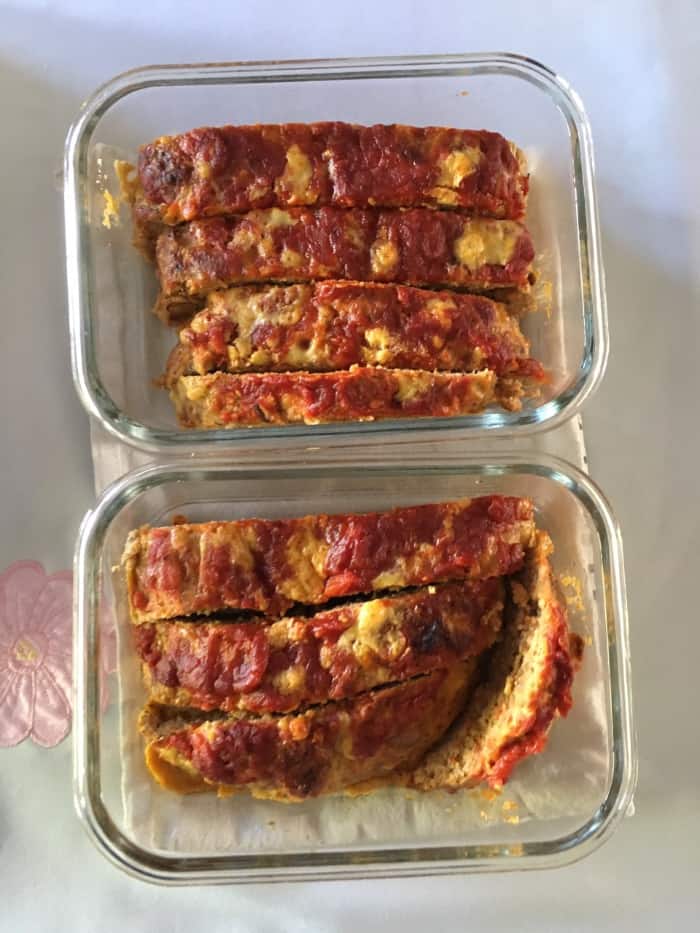 Another way is to prepare the ingredients and then put the uncooked meatloaf into the refrigerator until you want to cook it that week. This way you don't need to worry about a mess during the week. If you do this I recommend planning to cook the meatloaf within a couple days. Or freeze the meatloaf if you don't plan on cooking it until later in the week.
Which brings me to the third way to make meatloaf ahead of time. You can freeze meatloaf! You can freeze it raw. So just form the loaf on plastic wrap and then wrap it in more plastic wrap and foil. Then freeze. Or you can freeze cook meatloaf slices to warm up for dinner later on. Here's a tutorial I put together on how to freeze meatloaf for more tips.
Can I use fresh spinach instead of frozen in this Greek Turkey Meatloaf recipe?
Yes, of course. I recommend using about 12 – 16 ounces of fresh spinach. You'll also need to cook it down and drain before putting it into the meatloaf recipe. You could possibly just chop the spinach up and put it in fresh but I never did it that way so I can't really speak to that. My advice is to put the fresh spinach into a bowl with a little water and cook it in the microwave for about 2 minutes or so until it's wilted. Then drain the water, chop, and add spinach to meatloaf.
Do I need to drain the frozen spinach?
Yes, yes, and YES! Frozen spinach has a lot of water and if you don't thaw and drain then you'll end up with a very watery mushy meatloaf. My advice is to place the frozen spinach (packaging removed) into a bowl and heat for a 3-4 minutes or until the spinach is thawed. Let the spinach cool and then using a mesh strainer to drain the spinach. I push the spinach into the strainer to get out the most liquid.
Can I substitute feta cheese?
Ummm why would you want to do that?!! Just kidding. I get it, some people don't like a tangy cheese. Well, I think feta is going give it the best Greek flavor. But you can easily use mozzarella cheese or really any cheese you want. Mozzarella cheese will give it a more mild flavor but still be tasty.
Can I leave out the olives? 
I love the salty bite of the olives but if that's not your thing then leave them out. Also, another quick note about the olives, make sure they are pitted and double check for pits before throwing them into the mix.
What can I serve with Greek Turkey Meatloaf?
If you're keeping it low-carb then whip up some roasted broccoli to serve alongside the meatloaf. Of if you want to keep the Greek theme going then this Greek Quinoa Salad would go great with it. Also, grab some Tzatziki sauce to dip it in. Mmmmm
You can also make some roasted or mashed potatoes if you're feeling comfort food.
Okay, let's go through the recipe.
Greek Turkey Meatloaf
Step 1: In a large mixing bowl mash together 2 slices of bread and 1/4 cup of milk to form a paste. If you need to add a little more milk that's fine.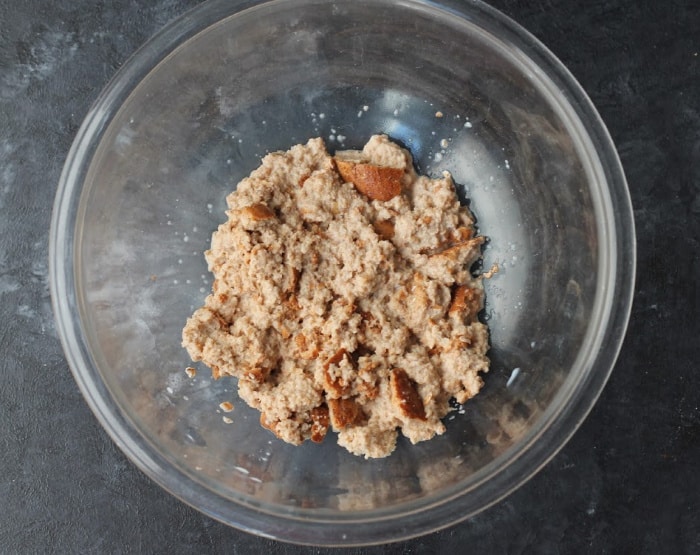 Step 2: Add to panade the eggs, ground turkey, spinach, tomatoes, feta, olives, and spices. Again, make sure the spinach and tomatoes are completely drained.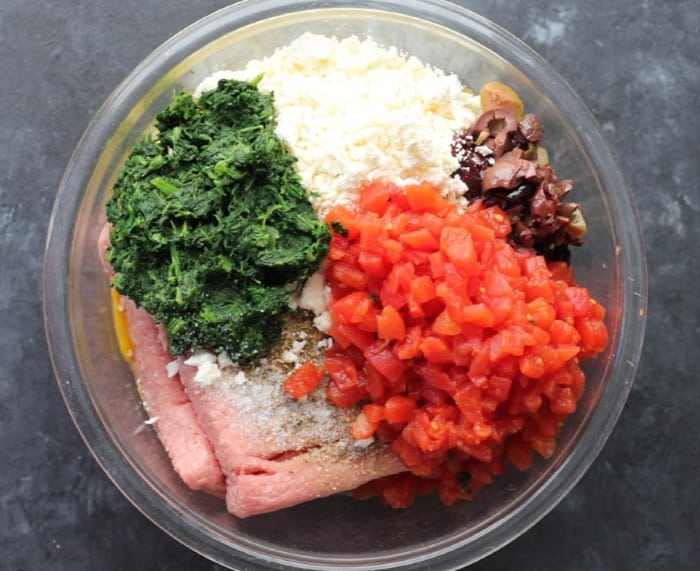 Step 3: Using your hands, mix together until all of the ingredients are evenly distributed.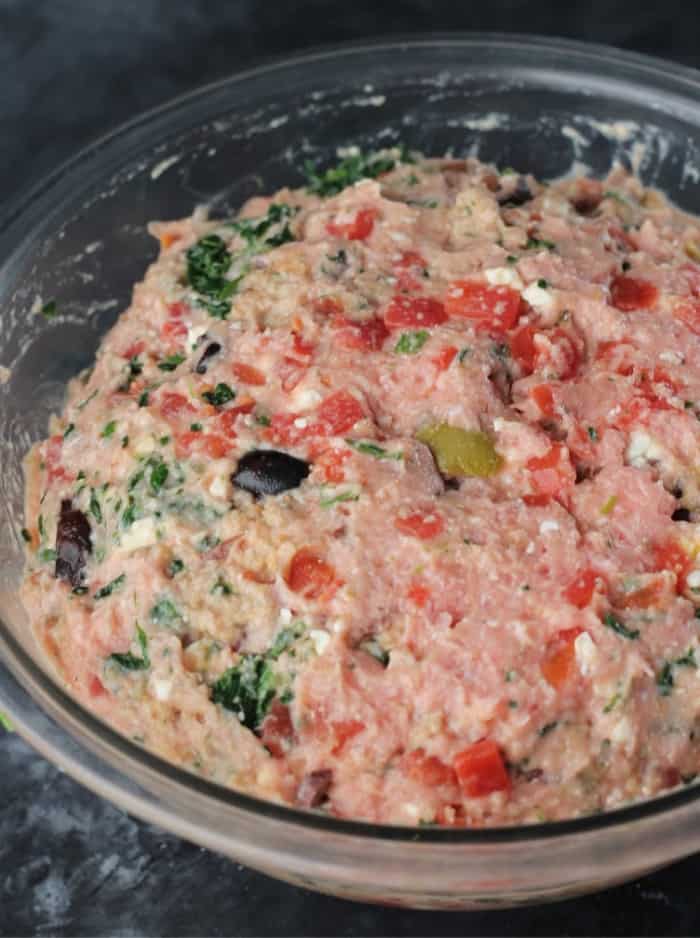 Step 4: On a baking sheet coated with cooking spray, form the meatloaf mixture into a loaf. Spread 1/2 cup of marinara sauce of the top.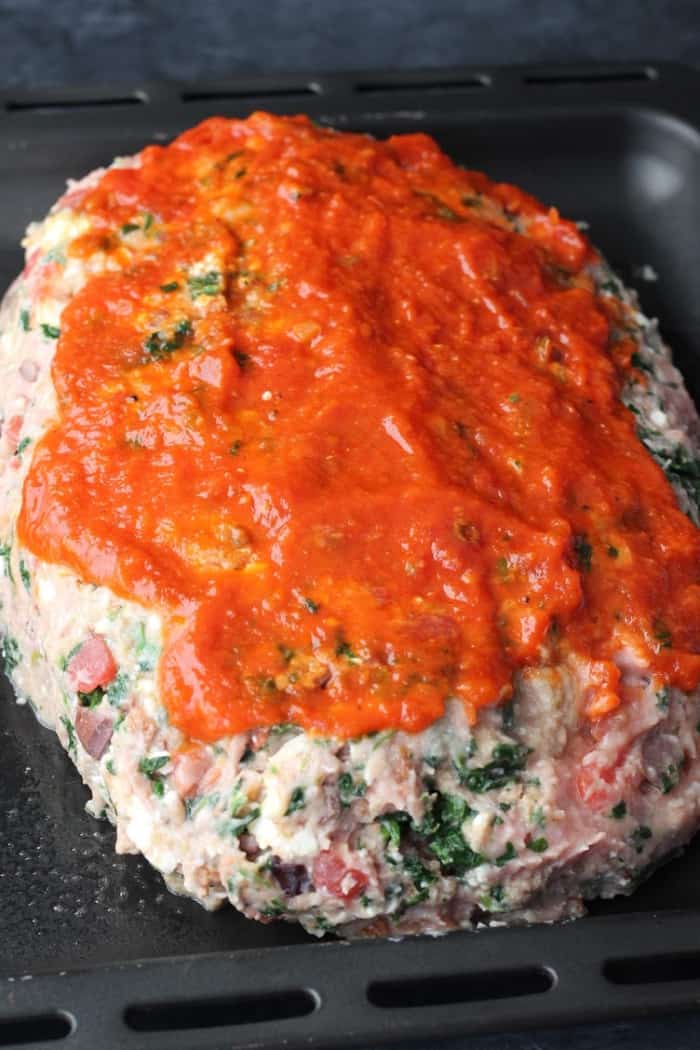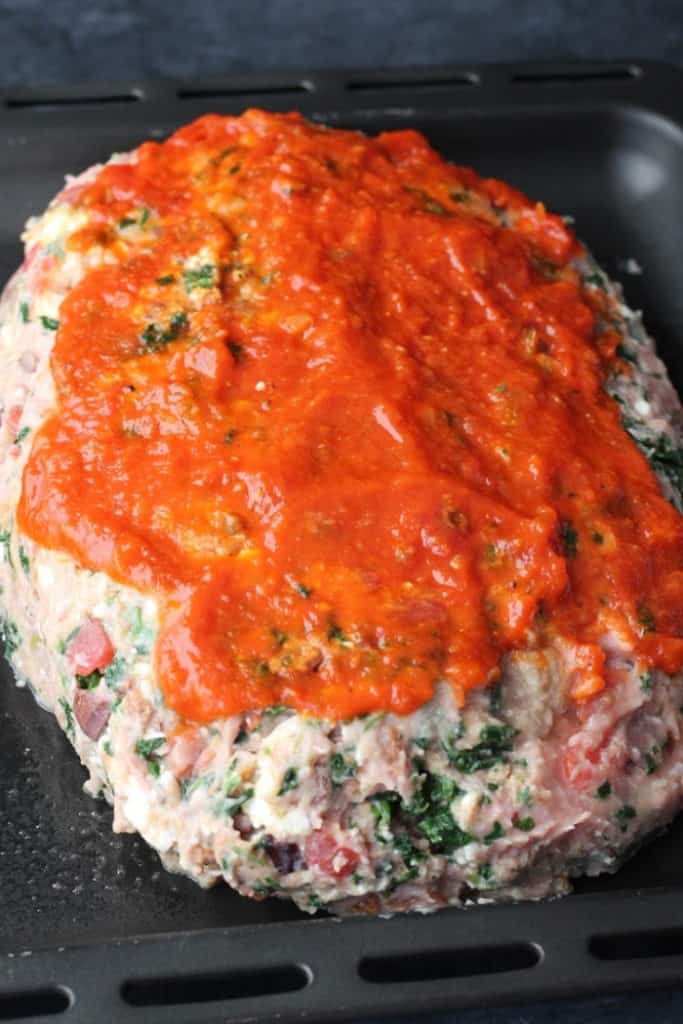 Step 5: Bake in a 350 degree oven for 1hr 15 minutes.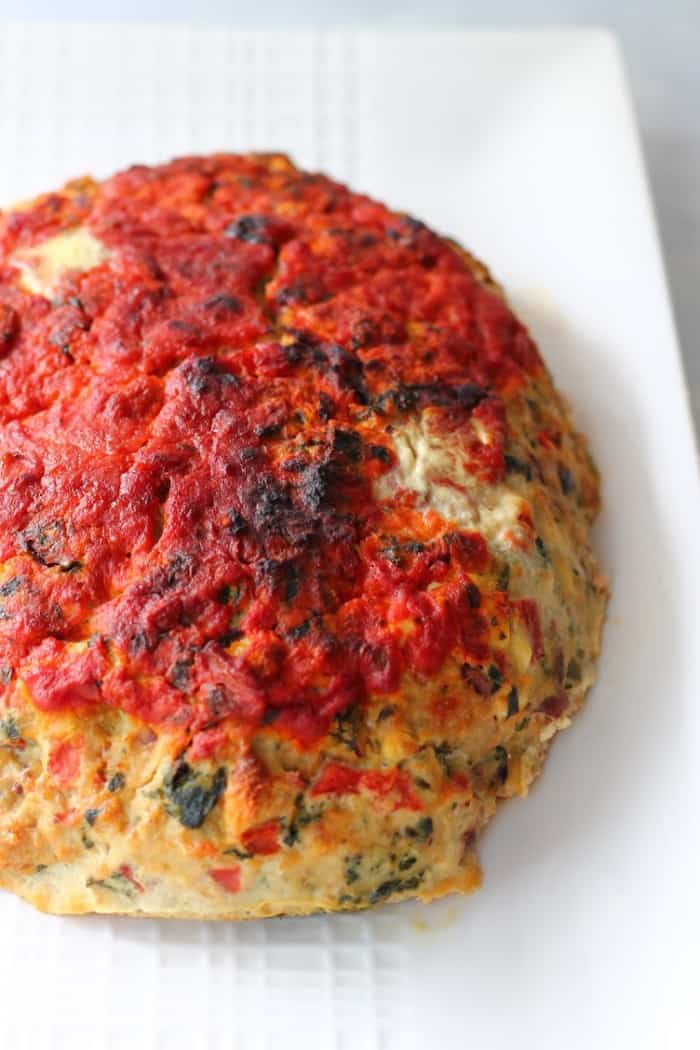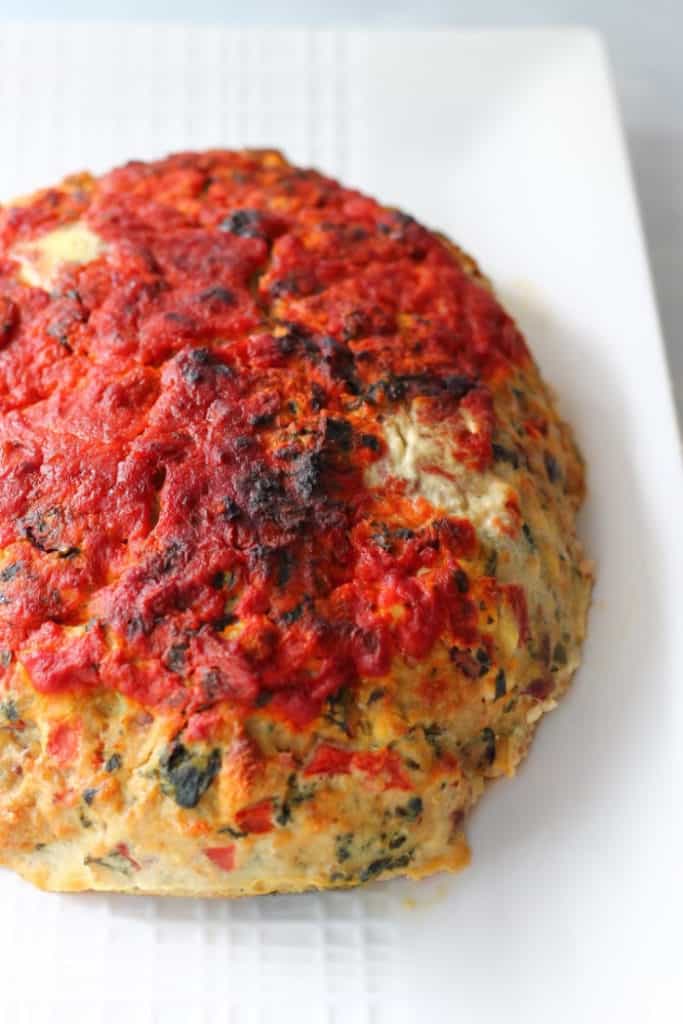 Step 6: Slice it up and serve hot or put in the refrigerator to eat during the week. I like to store meatloaf in these 36 ounce rectangle glass meal prep containers.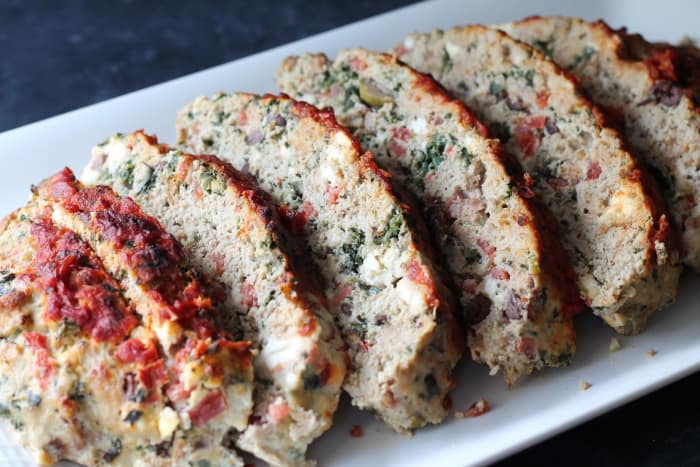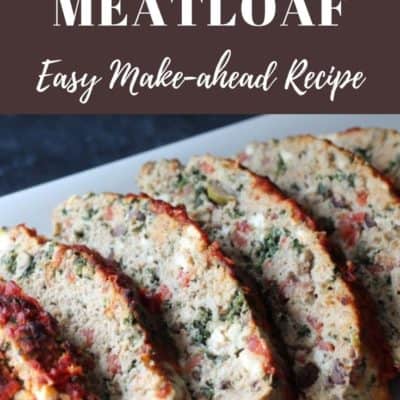 Greek Turkey Meatloaf
All the Greek flavors you love infused into a delicious healthy low-carb turkey meatloaf!
Print
Pin
Rate
Ingredients
2

slices

wheat bread

1/4

cup

milk

2

eggs

2

lbs

ground turkey

1

10 ounce package frozen chopped spinach, thawed and drained

1 1/2

cups

crumbled feta cheese

1/3

cup

pitted chopped greek olives

1

14.5 ounce can diced tomatoes, drained

1

teaspoon

granulated garlic

2

teaspoons

oregano

1

teaspoon

salt

1

teaspoon

pepper

1/2

cup

marinara sauce
Instructions
Preheat oven to 350 degrees.

In a large mixing bowl mash together bread and milk until a paste forms. If you need to use a little more milk that's fine.

Mix in the 2 eggs.

On top of the bread and egg mixture add the turkey, spinach, feta cheese, olives, diced tomatoes, garlic, oregano, salt, and pepper.

Using your hands, mix everything together until all the ingredients are evenly distributed. Try not to over mix.

On a baking sheet sprayed with cooking spray form meatloaf mixture into a loaf. Spread marinara sauce on top.

Bake for 1 hour 15 minutes.

Let the meatloaf cool for 5 minutes and serve.
Notes
Meal prep tips
You can prep this meatloaf ahead of time 3 different ways.
First, you can cook it completely and then store it in the refrigerator for dinner all week.
Second, you can put it together and then put it in the refrigerator until you're ready to cook it. Plan to cook it within 2 days.
Third you can put it together and then form it on plastic wrap and then wrap it up in plastic wrap and foil and freeze for up to 3 months. Let it thaw completely in the refrigerator before cooking it.
Nutrition
Serving:
1
g
|
Calories:
257
kcal
|
Carbohydrates:
11
g
|
Protein:
29
g
|
Fat:
19
g
|
Saturated Fat:
8
g
|
Fiber:
2
g
|
Sugar:
4
g
Other Turkey Meatloaf Recipes