Here is the ultimate list of healthy pantry staples to stock in your kitchen to help you make a quick healthy meal. I've also included tips and ideas to help you create a kitchen that'll help you stick with healthier eating habits long-term.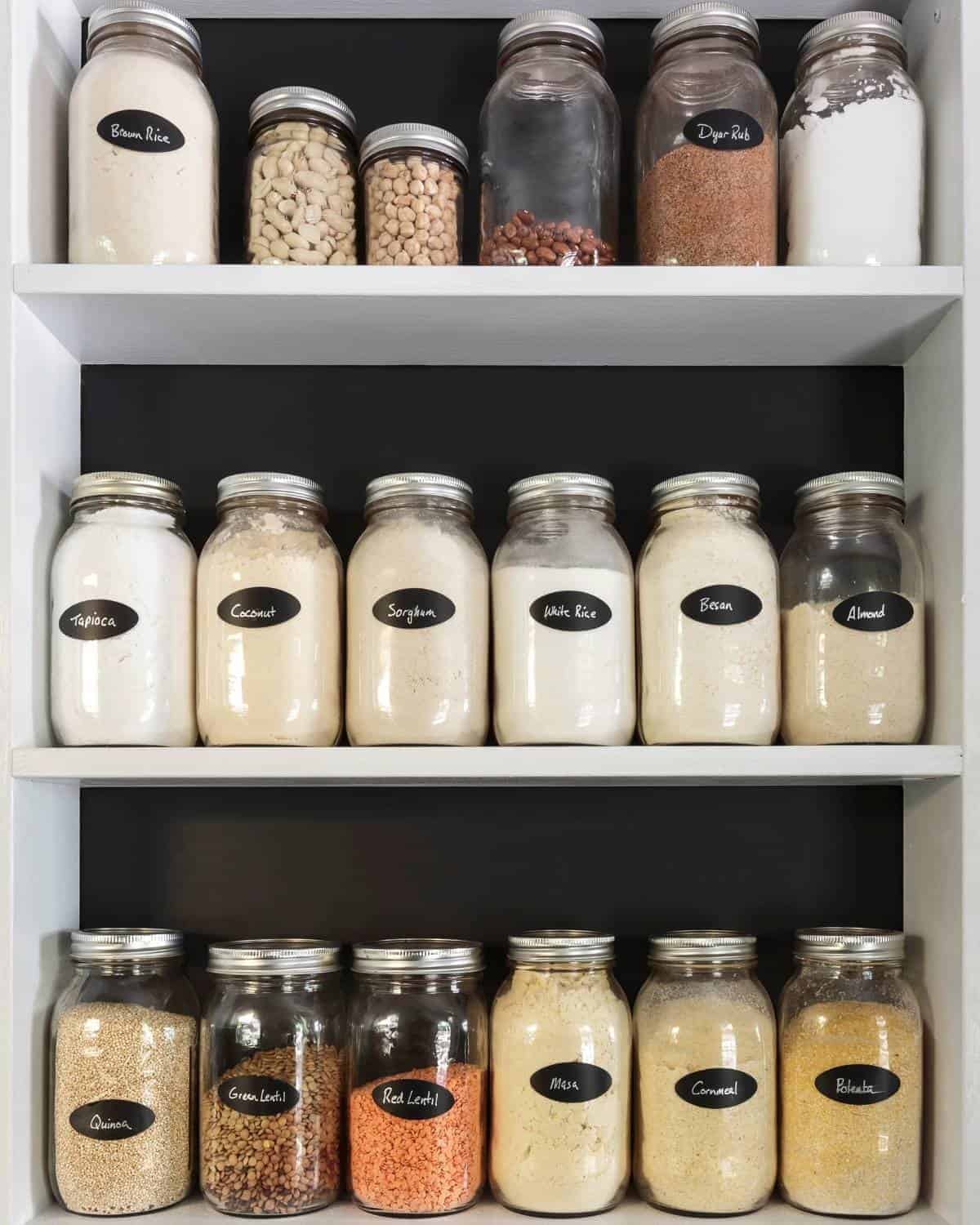 This post contains affiliate links. I am an affiliate for Amazon Associates and other brands and earn a small commission on qualifying purchases. You're by no means obligated to use my links but, if you do, thank you for supporting Organize Yourself Skinny.
I have often said that it's easier to eat healthy when nutritious meals and snacks are ready ahead of time. That is pretty much what this entire blog is about – showing you how to quickly prepare meals so you can fit healthier eating habits into a busy schedule. One of the ways to do that is by having a kitchen that's stocked with healthy pantry staples.
Reasons you'll love having your kitchen pantry stocked with healthy eats!
You'll have healthier options available when the craving for a snack or meal hits—no more reaching for chips when there are better choices.
Preparing quick, nutritious dinners or snacks is less of a hassle when you have healthy ingredients at your fingertips. There's no need to order take-out because everything you need to make a nutritious meal is in the kitchen.
Removing unhealthy choices and temptations minimizes the chance of eating foods that sabotage your healthy eating habits and weight loss.
Before Stocking Your Kitchen Pantry
If the goal is to change your eating habits, then here are three things you can do before stocking up on healthy pantry staples.
Recognize your food weakness
List out the foods or snacks that are your absolute weakness. You know the ones I am talking about—the foods you can't say no to. If you have a hard time resisting these foods and keeping the portions under control, it may be in your best interest to limit your access. Treat these foods as special snacks that you enjoy once in a while. You don't want to have to tap into willpower regularly when you're sitting at home.
Do a quick scan of your kitchen.
Go through your kitchen and take a look at the foods that are there. What does the junk food situation look like? If you wanted to make a quick healthy meal using ingredients from the pantry, could you do that? What are your healthy snack options? If you go into your kitchen right now, what are your healthy options? This initial scan will give you insight into what your current food situation looks like.
List out healthy substitutes.
The goal is not to feel deprived, instead swap in healthier versions of the not-so-healthy foods and treats. Don't worry; there are so many options available today that are just as good if not better than the junk you're trying to get rid of. Also, as you start to cook homemade versions of your favorites, the cravings for the processed foods will disappear.
Favorite grocery stores to shop when stocking a pantry
These are the three stores I shop at most often when I'm stocking up on healthy pantry staples.
Wegmans or Whole Foods – I do my weekly grocery shopping at either of these grocery stores. Typically, I'm not doing an extensive stock up at these stores but grabbing a few staples that I ran out of or need for a recipe. I get better prices at the following two options.
BJ's Wholesale – If you live near a wholesale grocery store, I strongly recommend checking it out when stocking up on healthy ingredients. I shop primarily at BJ's Wholesale, but Costco and Sam's Club are also great options. You can find large bags of organic rice, quinoa, sauce, spices, whole grain pasta and flour, oatmeal, olive oil, coconut oil, and tons of other healthy options. They offer many organic perishable and non-perishable options, and you can even find a more extensive selection of gluten-free items.
Thrive Market – I've been a Thrive Market member since 2015, so you've likely seen me talk about this online grocery store many times. Next to wholesale stores, this is my favorite grocery store to use when I'm stocking up on pantry staples. Thrive Market offers better prices on most name brands I'd purchase from Whole Foods or Wegmans. I also love the Thrive Market store brand that includes everything from pasta sauces to salsas to rice to beans to everything in-between. And, Thrive Market has the best prices on all gluten-free brands and ingredients. So, I try to put an order in with Thrive Market before I know I'll run out of ingredients. Many people ask is Thrive Market Worth it? And, yes, it most definitely is.
If you're a Thrive Market Member then, you can check out my running list of pantry staples. Not a member yet? Give Thrive Market a try and get 40% off your first order.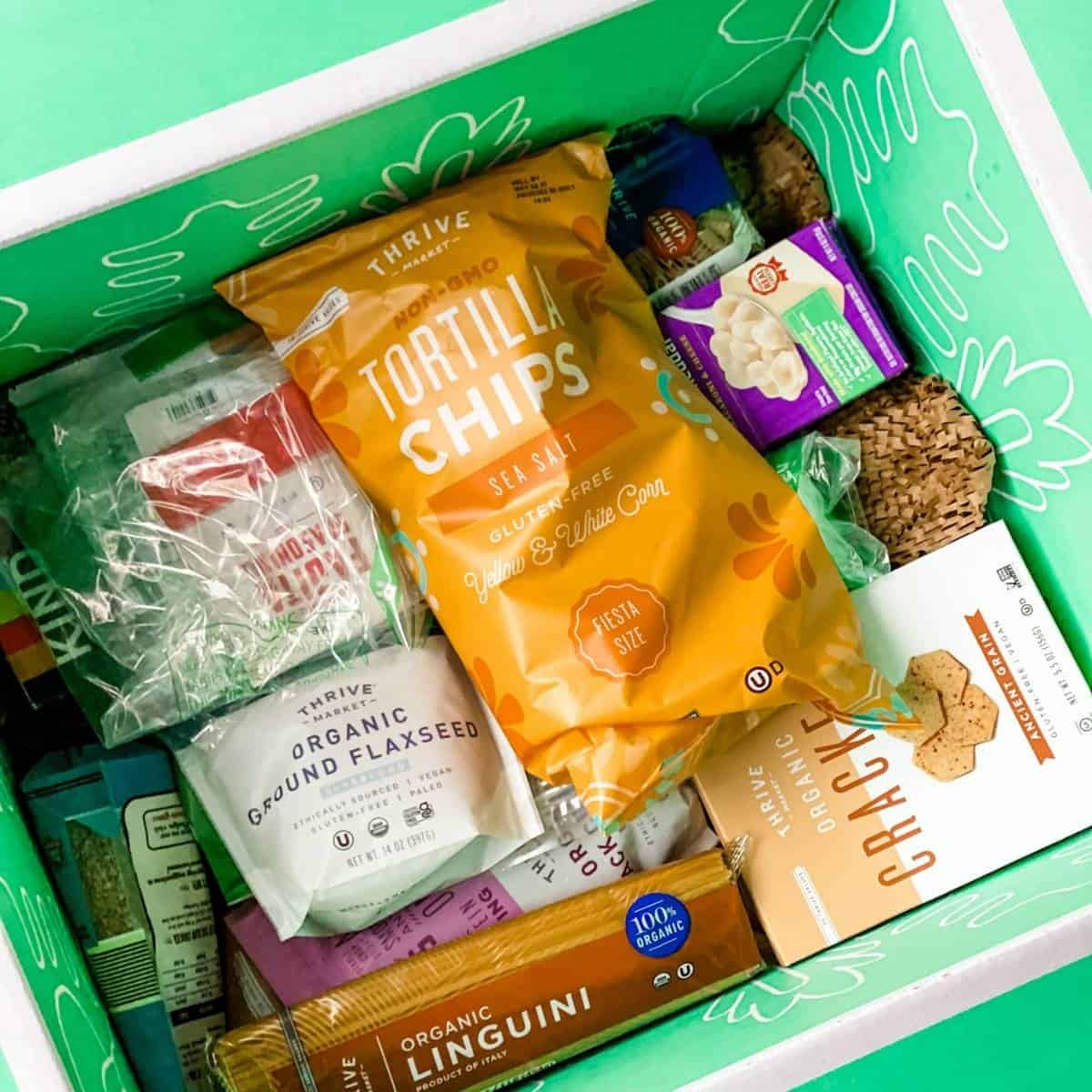 Tips to make sure your pantry is always stocked with healthy kitchen staples
Keep a running list of ingredients – As you use up the last of an ingredient, add it to the shopping list. You can do this using the notes app on your phone, pen and paper, or right into the Thrive Market online grocery cart (if you're a member).
Make a monthly stock-up shopping trip – If there are healthy pantry staples that you use all of the time, then plan a monthly stock-up trip to make sure you never run out. I stock up on kitchen staples like chicken stock, spices, rice, quinoa, and pasta once a month, even if I'm not out because I know I use these ingredeints often to make quick meals.
Review the pantry before shopping – It never hurts to take a peek at the pantry to make sure you're not low on or out of an ingredient.
Healthy Pantry Staples
I put together a quick list of healthy pantry staples I recommend having in your kitchen. When choosing ingredients, make sure to look for organic or the least processed ingredients.
Grains and Pasta
Steel-cut oats
Old-fashioned oats
Brown rice
Quinoa
Whole-grain pasta or Gluten-free Pasta
Canned/Packaged Goods
Broth (chicken, beef, vegetable)
Canned tomatoes (sauce, diced, crushed, and paste)
Canned chilis
Jarred pickled jalapenos
Jarred banana peppers
Canned or dried beans (garbanzo, black, kidney, cannellini, refried)
Canned coconut milk
High-quality pasta sauce (Rao's and Thrive Market Brand are my favorites)
Canned tuna
Olives or capers
Salad dressings
Salsa
Nut or seed butter (peanut, almond, cashew, sunflower, tahini, etc.)
Nuts (almonds, pecans, cashews, peanuts, etc.)
Dried fruits (blueberries, cranberries, cherries, etc.)
Dried coconut
Canned pumpkin or squash
Baking Staples
White-whole wheat flour
Grain-free flours (oat, almond, coconut, or 1:1 gluten-free flour)
Pure vanilla extract
Baking powder
Baking soda
Chocolate chips
Cooking spray
Pure maple syrup
Honey
Coconut sugar
Buttermilk power (this goes in the fridge after it's open)
Super-foods
Chia seeds
Flaxseeds
Hemp hearts
Cacao powder
Cacao nibs
Oil and vinegar
Olive Oil
Coconut oil
Avocado oil
Balsamic vinegar
Red wine vinegar
White wine vinegar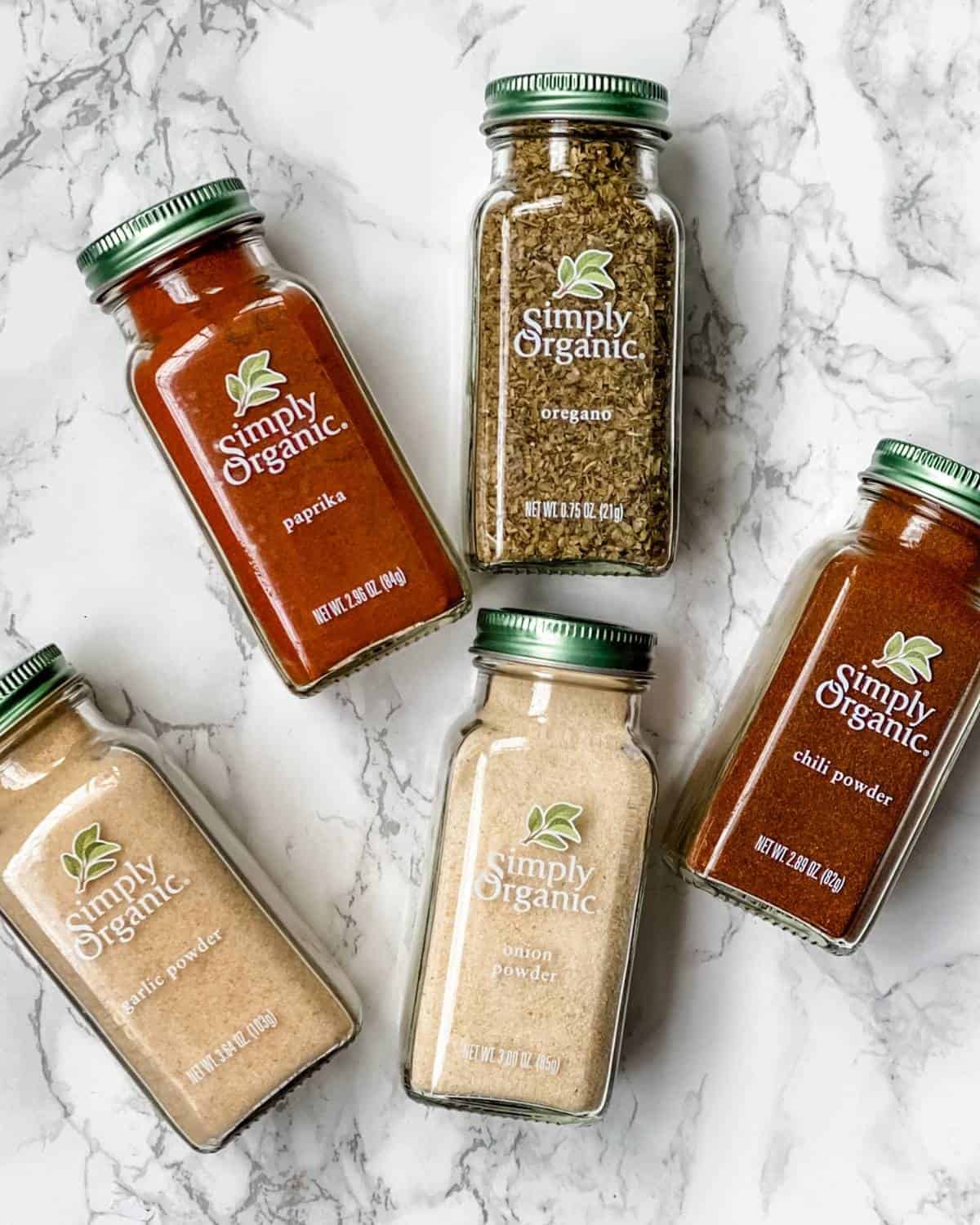 Spices
Salt and pepper
Granulated garlic
Onion powder
Italian seasoning
Dried oregano
Dried basil
Dried thyme
Chili powder
Cumin
Condiments
Mustard (yellow, spicy, Dijon)
Ketchup
Hot Sauce
Sriracha
Soy Sauce (or Coconut Amino Acids)
Snacks
Preparing homemade snacks is always the best option but you may not always have the time. Here is a list of snacks I like to keep in the pantry.
Bobo Bars
Kind Bars
Cliff Bars
Turkey Jerky Sticks
Crackers
For more options, check out this list of store-bought keto snacks.
Fridge Staples
Fresh produce (fruit, vegetables, salad ingredients)
Milk or No-dairy milk
Hummus
Yogurt (vanilla and plain)
Shredded cheese
Eggs
Freezer staples
Often, I'll prep food ahead of time to put the freezer to have ready for recipes. Here's a list of my favorites.
For recipe ideas using these healthy pantry staples, browse through all of my breakfast, lunch, and dinner recipes.
A healthy pantry should include a mix of ingredients that will help you prepare a homemade meal or snack easily and quickly. Don't feel like you need to go out and purchase everything on this list. Start with a few things, and then add to your pantry with every shopping trip.