Shredded beef slow cooker recipes are essential for busy people who work all day but still want to walk in the door to a home cooked meal. Not every recipe is created equal so I'm sharing today 5 amazing shredded beef slow cooker recipes to add to your collection.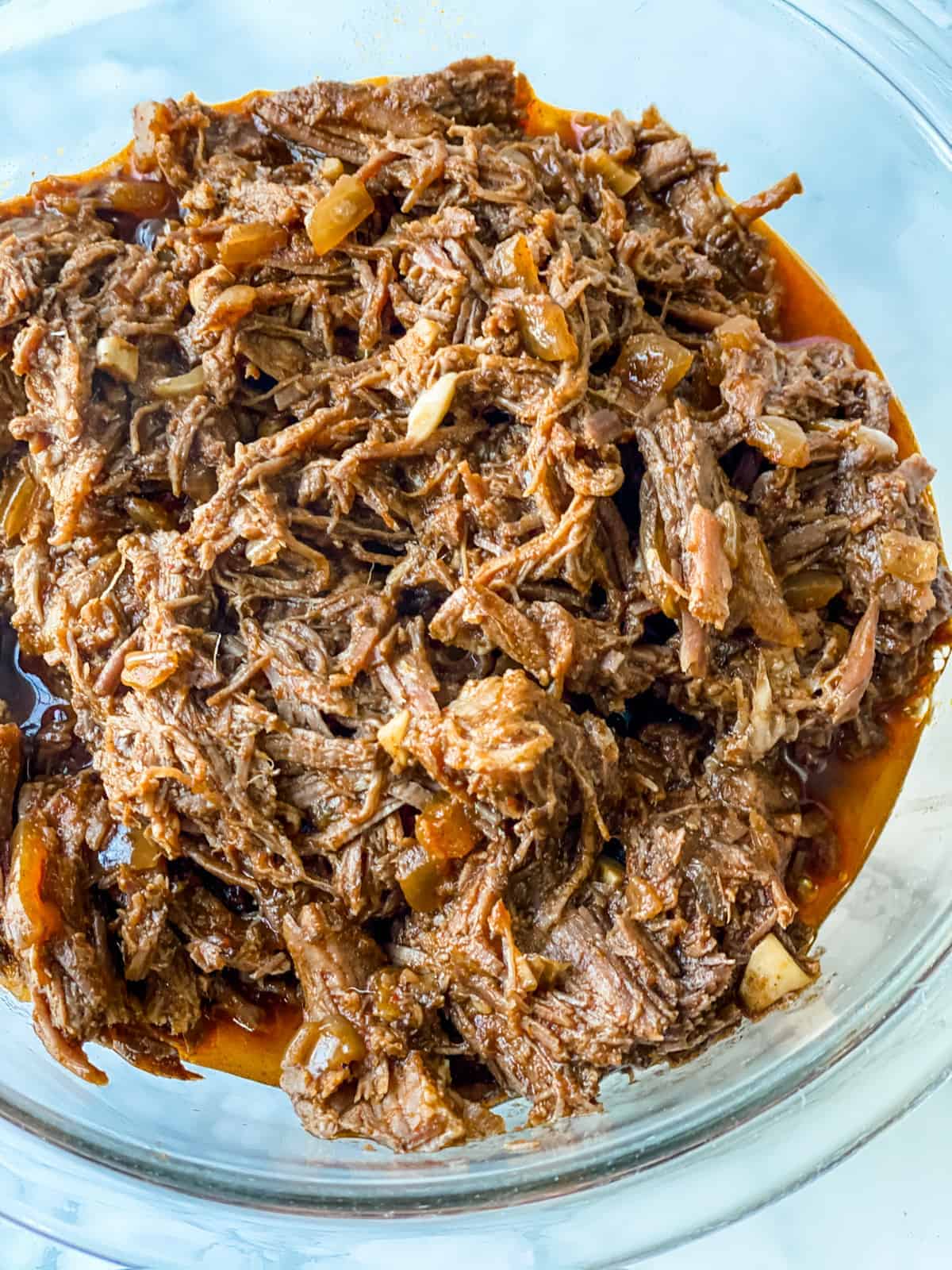 Up until about 7 years ago I had a love hate relationship with slow cookers. Of course, I loved the idea of using one. Back then I was working full-time, outside the home, so having a homemade dinner cook all day while I was working seemed perfect.
However, in reality I'd come home to a flavorless crock of mush. Or, chicken so dry my poor dog wouldn't even eat it. I'm not kidding! My dog, who'd eat everything, literally spit out a barbecue chicken dish I made once in a slow cooker. It wasn't a proud moment for me.
Truth be told, I felt I had a slow cooker jinx on me because I'd follow slow cooker recipes exactly and still end up with a disaster.
But then I learned something…well a couple things.
Not all slow cooker recipes are created equal AND most slow cooker recipes are flawed.
Yep. I had numerous slow cooker cookbooks and they all gave the same cooking instructions for each recipes. High 5-6 hours and Low 8-10 hours. Honestly, I wonder if they ever tested their recipes because I can tell you every recipe I made turned out awful. They never gave cut suggestions or any little tips and tricks that'd make a big difference in the end result of a slow cooker recipe.
That all changed when I purchased Slow Cooker Revolution by America's Test Kitchen. This cookbook is unlike any slow cooker cookbook I've purchased in the past. It gives tons of tips and tricks for creating the perfect slow cooker recipe. I can honestly say, the information in this book completely changed the way I used a slow cooker.
I can go on and on about my favorite slow cooker recipes but I want to talk specifically about shredded beef slow cooker recipes. Many readers will ask for slow cooker recipes that can cook all day and still be edible. In my experience, shredded beef slow cooker recipes meet that requirement.
Not to mention, these shredded beef slow cooker recipes are so versatile. You can use shredded beef in tacos, enchiladas, wraps, sandwiches, and salads. You can also enjoy with rice or potatoes. Honestly, you can use shredded beef however you like.
Also, shredded beef slow cooker recipes make a ton. So, you can have some for leftovers during the week or freeze it for dinners later on. My advice is to freeze the beef into portions so it's recipe ready.
Another great way to freezer shredded beef is in burritos. Simply place 1/4 cup of beef into a tortilla, add a little cheese, and roll it. Wrap it in plastic wrap and freeze. Warm it up in the microwave. This is a great way to have easy lunches and dinners ready.
Here are some tips to get the perfect shredded beef slow cooker recipe.
Chuck roast works best for shredded beef slow cooker recipes. I've tried every cut of meat and always go back to chuck roast. Yes I know it's not as lean but it's the best cut for getting that fall apart tender shredded beef.
Cooking on low for 10 – 11 hours or high for 5-6 hours works best for tender fall apart beef. I know some recipes call for 8-10 hours but under 10 hours never seems to be enough time. If the beef still seems tough then let it continue to cook. Keep in mind, if you get home by 6:00pm you'll need to start the recipe by 7:00am for it to cook 11 hours.
If the recipe calls for onions and garlic then cook those ahead of time. Yes I know we all want to dump ingredients into a slow cooker and go but if you want the best flavor then you'll need to do some prep work. Think about it this way, if you threw raw garlic and onion into a slow cooker with some stock or sauce all you'd be doing is boiling the aromatics. Cooking onion and garlic ahead of time in some oil will bring out a different flavor. I also throw all the spices and liquids into the pan too. After I cook everything for 5 minutes or so (to bloom the flavors) I pour it into the crock. Now, if you don't have time to do this in the morning then do it the night before. Then all you need to do is turn on the slow cooker in the morning.
Speaking of liquid. Don't put too much liquid in with the beef. You want it to braise not boil. If the meat boils that it will lose a lot of flavor.
Sear the meat before putting it into the slow cooker. I know, this is more work…again but it's all about flavor. Searing it first gives it that brown caramelized crust we all love.
Don't shred the beef in the crock. Take it out, shred it, and then add in any of the juices. I find this helps control the amount of moisture you want with the shredded beef.
Salt at the end. Most slow cooker recipes loose a lot of flavor after cooking all day. Adding salt at the end (after you shred) changes that. This helps all the other flavors pop and come back to life.
Here are the tools I use for slow cooker recipes.
Hamilton Beach 6qt Set and Forget it Slow Cooker – this is the slow cooker I've used for years. Its programmable and portable.
Instant Pot (this also has a slow cooker feature) – If you want a small appliance that includes a slow cooker and other functions then get an Instant Pot.
Le Creuset Dutch Oven– Any ole large pan will do to sear the meat or cook up the onions ahead of time but I love my 5 1/2 quart dutch oven and use it all the time. It works better than any pan and holds the meat and veggies perfectly.
Tongs – I can't cook without my tongs! I use these to transfer the beef from the pan to slow cooker and/or slow cooker to a plate. Tongs work so much better than trying to finagle handling a huge chunk of meat with forks.
Meal prep containers – here's a list of all the meal prep containers I use to store leftovers.
Shredded Beef Slow Cooker Recipes
Slow Cooker Pot Roast with Onion Soup Mix
This Slow Cooker Pot Roast with Onion Soup Mix is so much more than a regular pot roast. It uses a homemade french onion soup mix that's beyond easy to throw together. Then just rub it all over the chuck roast, add some beef broth and Worcestershire sauce, and set it and forget it! By the end of the busy workday, you'll come home to a delicious pot roast that you can use in a variety of ways. Trust me; your family will want this to be a regular rotation on the meal plan!
Check out this recipe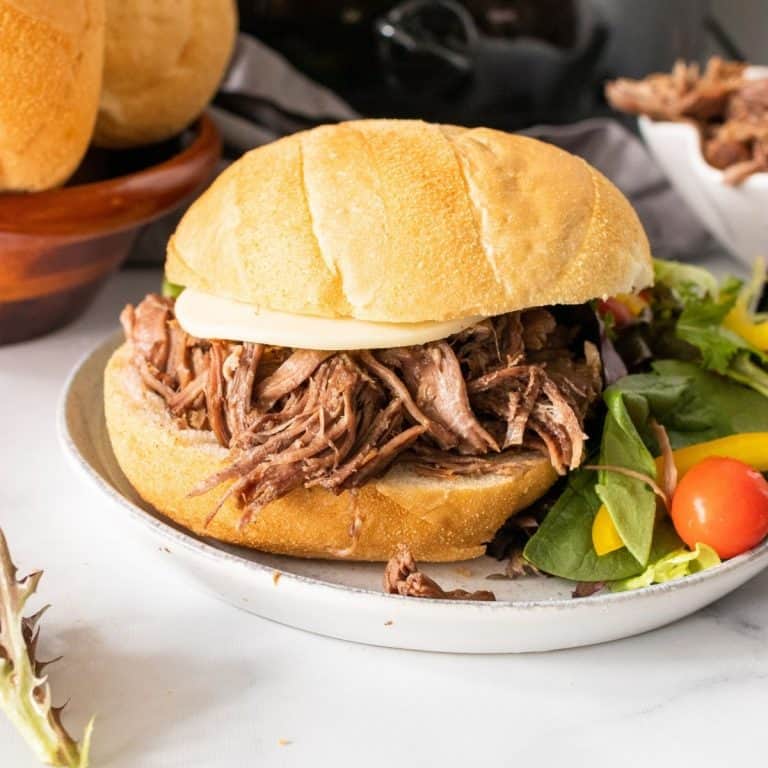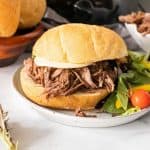 Mexican Shredded Beef
You can use this slow-cooked fall-apart tender, juicy, and flavorful Mexican shredded beef in all of your favorite Mexican food recipes. This crockpot beef recipe cooks all day for an easy weeknight meal or Sunday football party. Freeze the leftovers to make dinner later in the month.  
Check out this recipe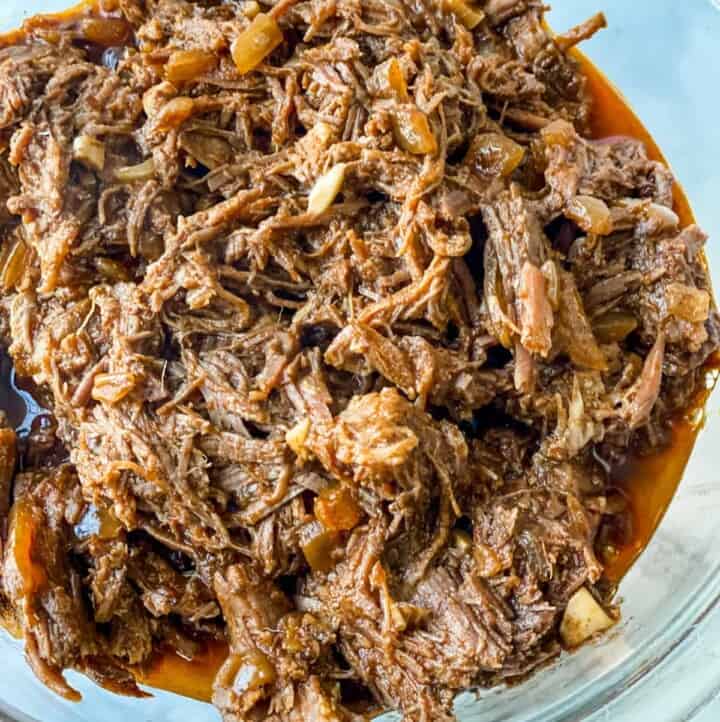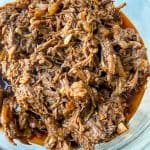 Slow Cooker Italian Beef
This Slow Cooker Italian Beef is the perfect recipe when you want dinner ready after a long workday or if you need to feed a crowd on game-day. It's juicy, super flavorful, and everyone loves it!
Check out this recipe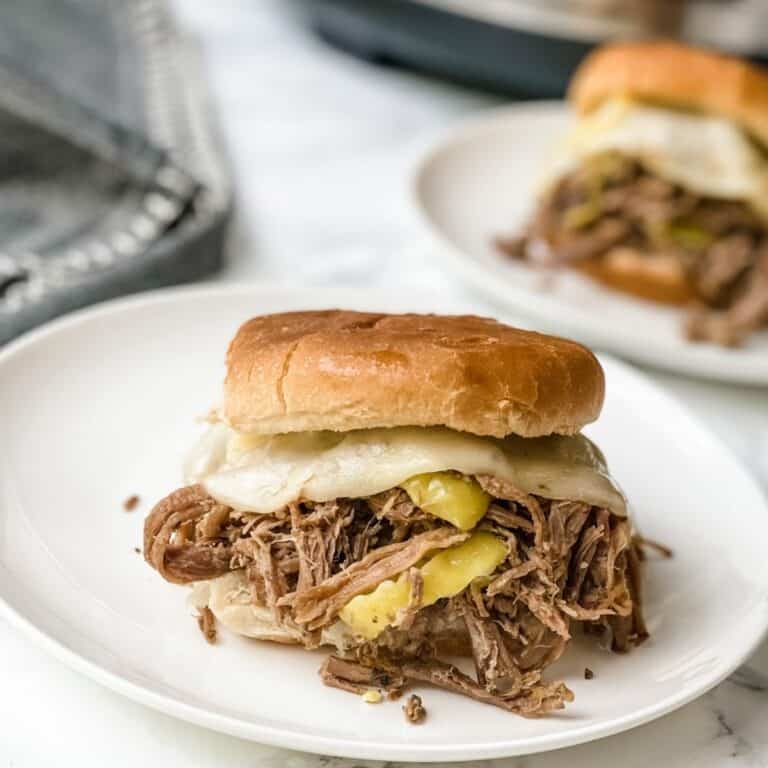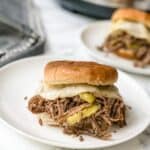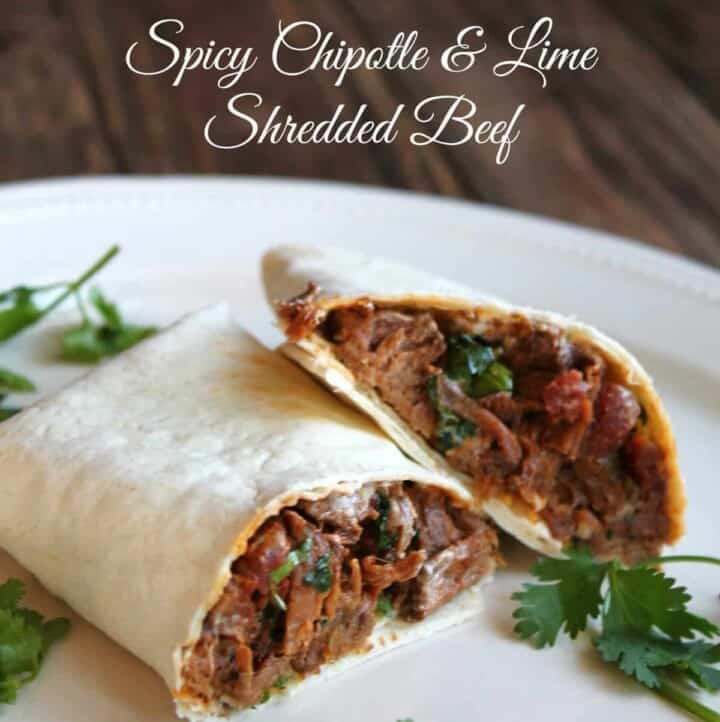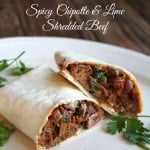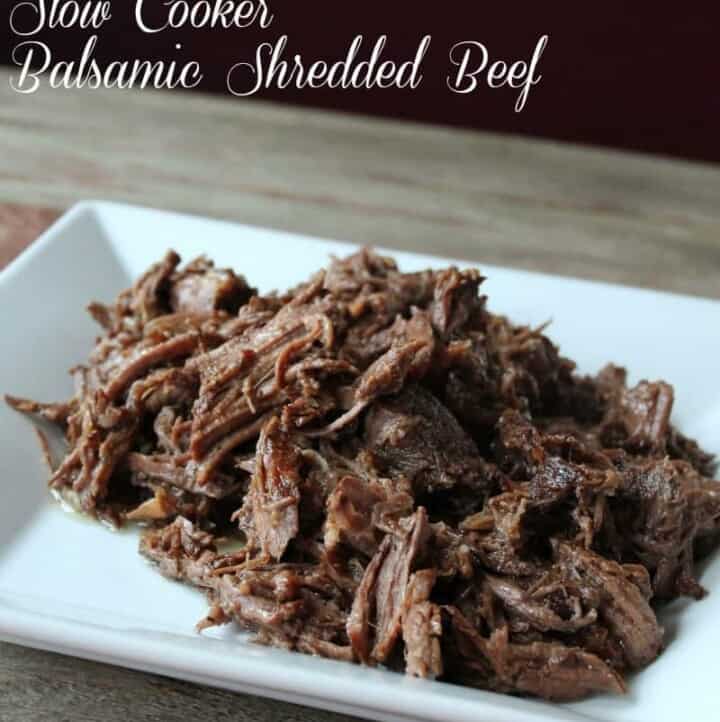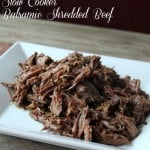 If you have a favorite shredded beef recipes, or any tips, then please share it in the comments. I'm always looking for new recipes!