If you follow a keto diet then snacking can be challenging. To help you, I searched high and low for some of the best store-bought Thrive Market keto snacks. These are some of my favorites and go-to's!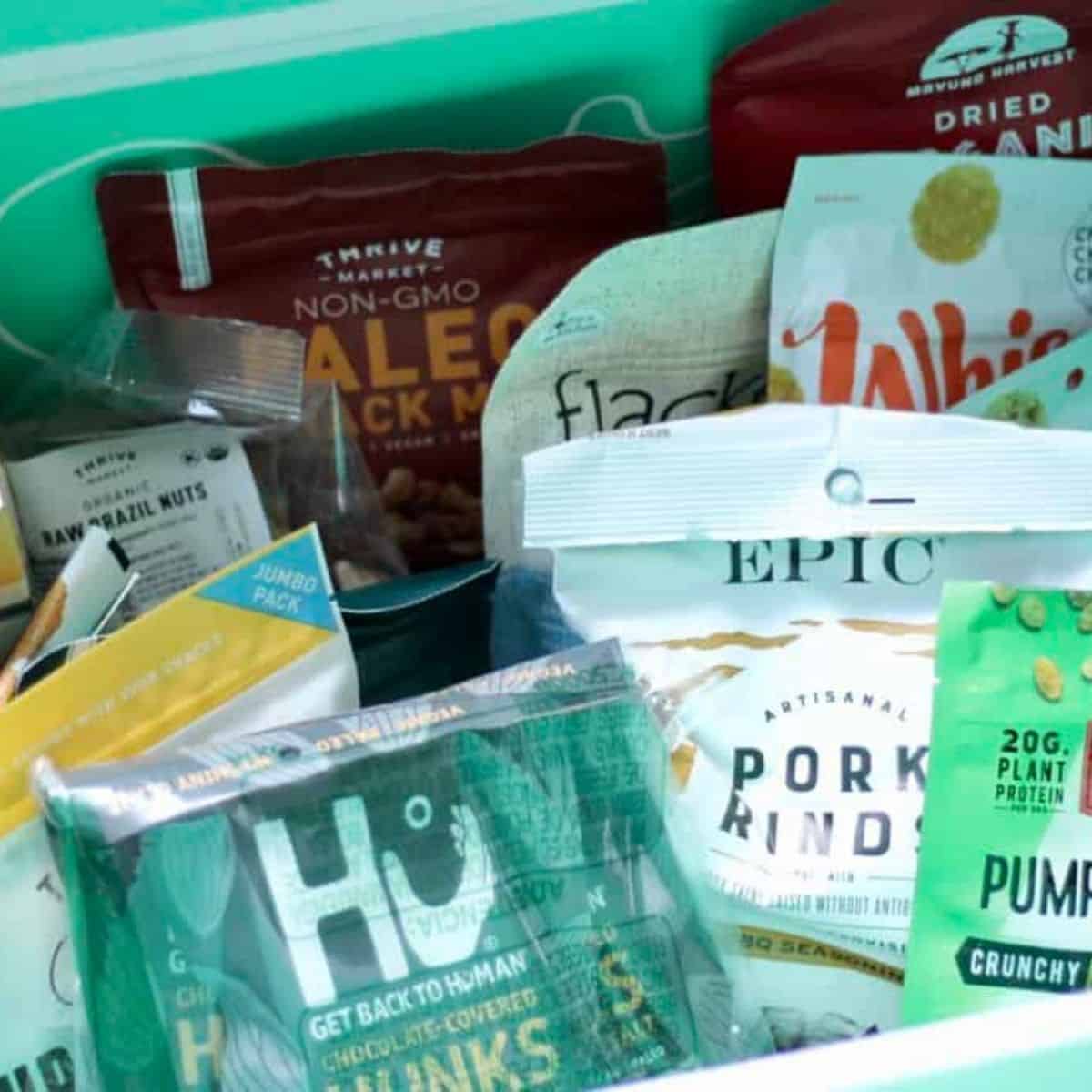 This post contains affiliate links. I am an affiliate for Amazon Associates and other brands and earn a small commission on qualifying purchases. You're by no means obligated to use my links but, if you do, thank you for supporting Organize Yourself Skinny.
Over the past month or so, I've been sharing my experiences with eating more of a keto-style diet. Actually, it's been keto with a little paleo added in because I still want to enjoy some fruits.
Here's the thing. When I first started my weight loss journey 10 years ago, I was 35 years old. At that time, I could eat whatever I wanted and as long as I kept my daily caloric intake at about 1300, I lost weight.
So, I enjoyed pasta, rice, bread, and even sugar in moderation without any issues.
Well fast forward 10 years later and my body has started to respond completely differently to food.
Today, carbs make me bloated, sluggish, and unfocused. Not to mention, I feel like the smell of pasta instantly adds 5 pounds to my midsection. Sugar has the same effect but also gives me stomach aches and other digestion problems. Basically, this hormonal middle-aged woman needed to make some adjustments so she could feel good. Can you relate?
So, that's why, within the last month, I started to reduce carbs and eat more foods that fall under the low-carb way of life.
I'm not going to lie – it hasn't been easy. It's amazing the amount of sugar and carbs that are in foods when you're actually paying attention.
But, I've planned and tracked, and since changing my eating style, I can say that I feel so much better when I focus on a keto eating style.
The bloat goes away and I instantly have more energy.
Quick Keto Overview?
Without getting all specific and scientific about keto, I'll give a super basic explanation about this eating style. Because let's be honest, it can get very confusing especially when starting out.
Keto is basically a diet that includes a higher percentage of fat and protein and keeps carbs to a minimum. So, on the keto diet, you're going to eat a lot of healthy fats, a moderate amount of protein, and very minimal carbs.
The goal is to get your body into ketosis which means that your body is going to start burning fat for energy instead of carbs.
If there's one thing I've learned about the keto diet is that in order to be successful, it's imperative that you plan ahead of time.
I'm going to talk about keto meal prep later in the month but today, I want to chat about the options you have for some of the best store-bought keto snacks because that's been one of my biggest struggles.
And, I know it's a concern for many readers too because when I first started sharing my low carb experience, the most common question I received was what do I eat for snacks?
What Do I Look For In A Keto Snack?
Just like with all of your meals, you want a snack that's higher in fat and protein but lower in carbs or doesn't have carbs at all.
It's important to find snacks that will keep you satisfied between meals so you don't cave into other cravings.
Keto Snack Ideas
Here are a few quick and easy keto snack ideas you probably already have in your fridge!
Pepperoni
Cheese
Beef sticks
Beef jerky
Raw nuts and nut butter
Pork rinds
Canned tuna or salmon
Cheese chips
Olives
Eggs
Cacao nibs
Sugar-free jello
Sugar-free pudding
Low carb cookies
In the beginning, I stuck with cheese sticks and hard-boiled eggs but that got old fast. Then, I started to search online for some of the most delicious and best store-bought keto snacks I could find.
I wanted quick and easy. Not that I mind making homemade but I love having some easy grab and go snacks in the pantry.
Where Can I Purchase Keto Snacks?
The great thing about any specialty diet is most grocery stores offer a good variety of choices. So, it's easier than it uses to be to find specialty options to stock your pantry with.
The issue I found early on with shopping in grocery stores for premade keto snacks was I didn't know what I was looking for or what was good. I grabbed something off the shelf but was really choosing blindly because I really didn't have a clue.
Honestly, I've never purchased "keto" anything so I had no clue what to get.
My favorite store to purchase keto snacks from is online at Thrive Market!
Thrive Market is basically an online Whole Foods. My FAVORITE thing about this online grocery store and the reason I prefer to purchase keto snacks from them especially in the beginning is that all of their items have customer reviews. This has been super helpful when I want to try a new item and it was especially helpful when looking for keto and paleo snacks.
Taking the time to see the items they offer and then read all the reviews was so much better than trying to wing it in the grocery stores.
Of course, the descriptions of the items told me what the product was but the reviews really helped me decide whether or not it tasted good, if it would be something I'd enjoy, and if the price was reasonable.
Purchasing online from Thrive market let me compare products and prices with items at the stores. For example, Whole Foods has many of the same items found at Thrive Market. So using the Thrive Market app, I could easily see where I could get a better price. Same if I was shopping at Wegmans or another grocery store.
Purchasing online from Thrive Market is super helpful too if you don't have access to a larger grocery store with specialty keto snacks or items.
Thrive Market Keto Snacks
Thrive Market allows you to search for foods by diet. You can even narrow it down even further by snacks. So, if you're looking for keto snacks, all you need to do is click ketogenic and then snacks. All the keto snacks they have will be listed.
Thrive Market has foods broken down by other diets too. So, if you're looking for Gluten-free, Paleo, Vegan, or just some organic snacks, you can find that as well.
Is Thrive Market Expensive?
In my opinion, no.
Everything I purchase, including keto snacks, from Thrive Market has been the same price or cheaper than Whole Foods and other grocery stores.
Also, Thrive Market offers its own store brand for many keto items. The Thrive Market brand makes these items super affordable plus its also high quality. I purchase the Thrive Market brand for many items and I'm always impressed.
More importantly, you never need to leave your house and everything gets delivered to your door. So, it's been a real blessing to have a company like Thrive Market where I can still get all my organic and natural foods without going to the store.
A couple of weeks after starting a variation of the Keto Diet, I put in a big snack order because I wanted a variety to eat now and to also bring with me on vacation!
The Best Store-Bought Keto Snacks
Here are all the Thrive Market keto snacks I purchase. All of these store-bought snacks, except the Thrive Market brand, can also be purchased at Whole Foods and larger grocery chains.
Everything comes in a sturdy box and placed neatly. If it needs to be wrapped for added protection, then it will be.
Here's a quick glimpse at everything I got. I was so excited when I opened this box! It was like Christmas time for mommy!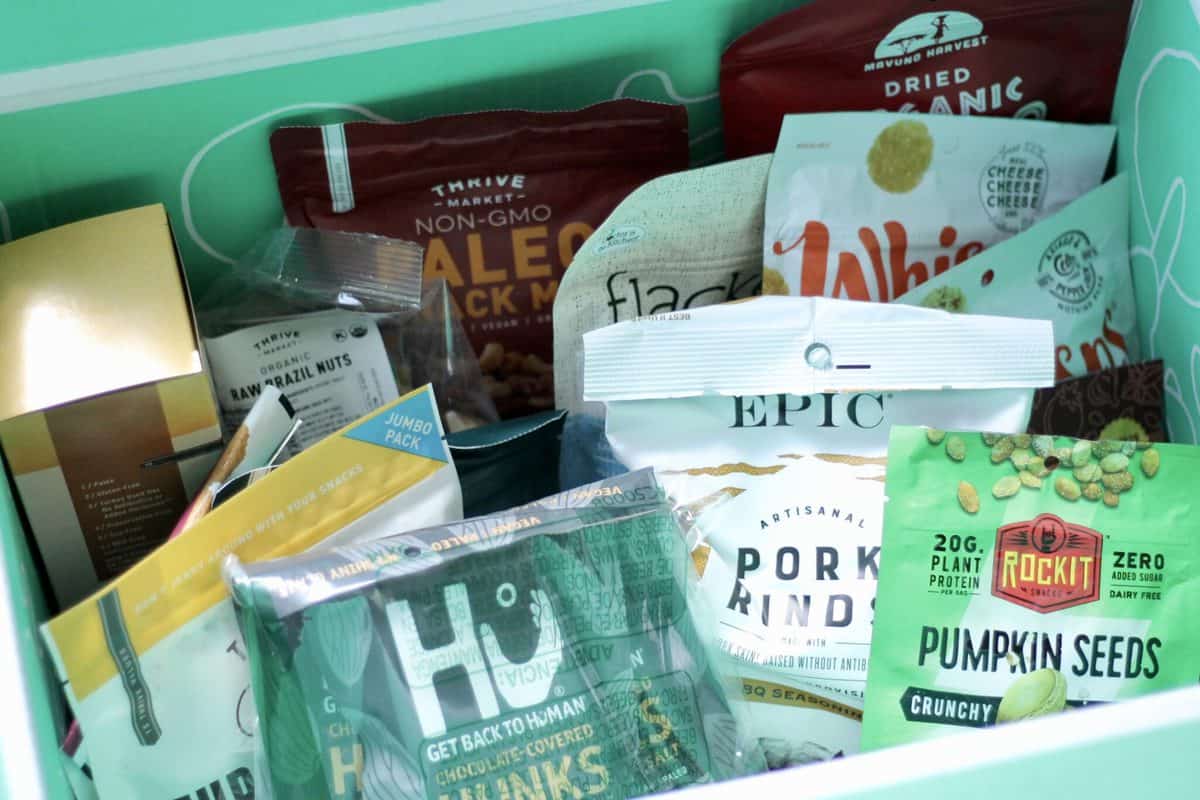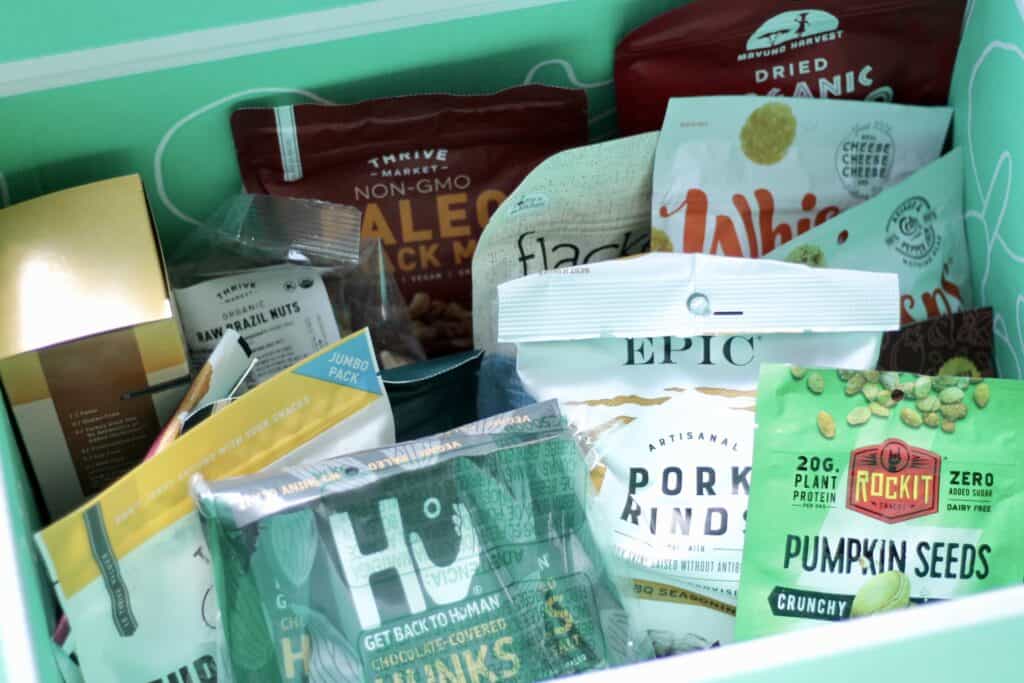 Thrive Market Free-Range Turkey Sticks + Jerky: Original
I was kind of hesitant to get these turkey sticks or jerky because the only thing I could think of was Slim Jims from my childhood. But, the reviews were great, the price was right, and I needed something with serious protein to get me through the mid-afternoon slump.
The Thrive Market Organic Turkey Sticks are $16.99 for 12 sticks and the Turkey Jerky is $9.99. Both of these prices are substantially less than some of the other name brands. And, they are DELICIOUS.
I couldn't believe how tasty these were and filling. These are a great option when you want protein without a lot of fat and no carbs.
You can get all different meat varieties of sticks and jerky. You can get:
Turkey
Beef
Bison
Chicken
Venison
And others!
I've even seen salmon and other seafood sticks! I prefer to stick with turkey and haven't ventured out to other proteins yet but I might soon in the future.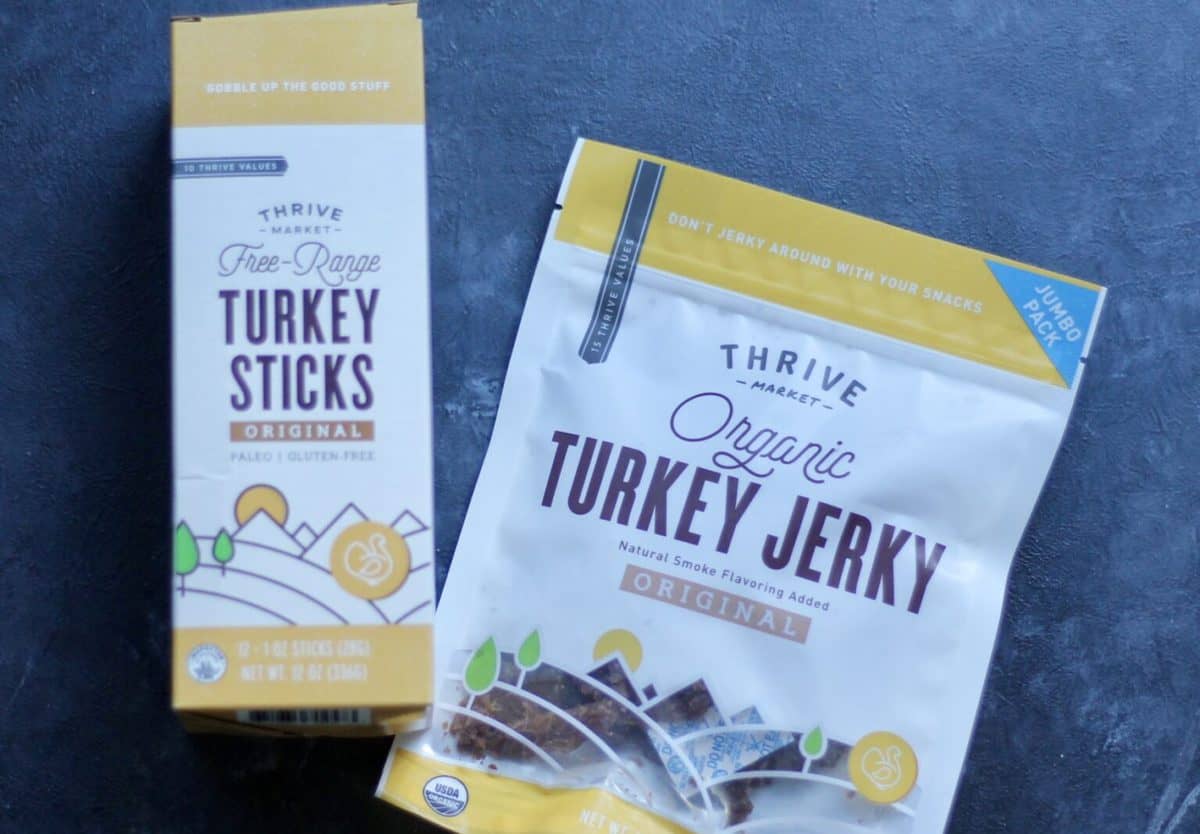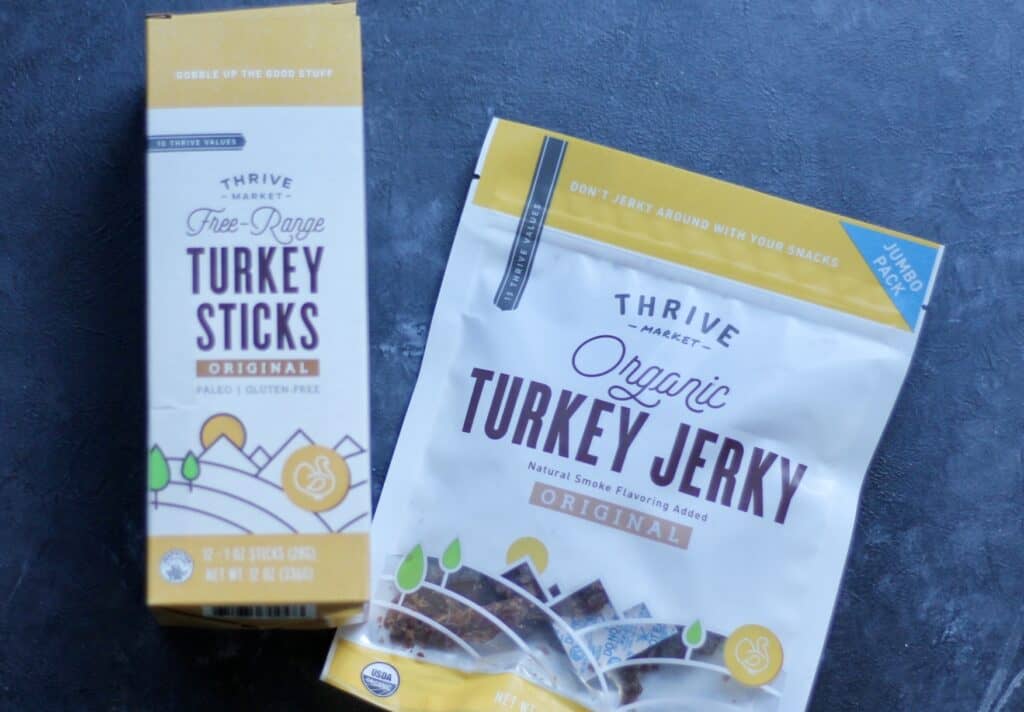 Whisps Cheese Crisps
I have no problem giving up sweets but salty snacks… that's another story. One super low carb snack option I was very happy to find were these Whisps. These are basically just cheese baked into a chip of sorts.
I love these keto snacks! Fair warning: They do have a strong parmesan cheese flavor. So, if you like strong cheese, you'll love them too. My husband and kids didn't like them but that's fine because more for me. 😉
My only complaint is that I wish these came in bigger bags but this size is good to bring on an airplane or on a road trip. Each bag is 2 servings and costs $3.49. This price is cheaper than Whole Foods and they also come in a barbecue flavor which is super good.
If you're looking for something to taking the place of chips or even cheese crackers, then this snack will work out great!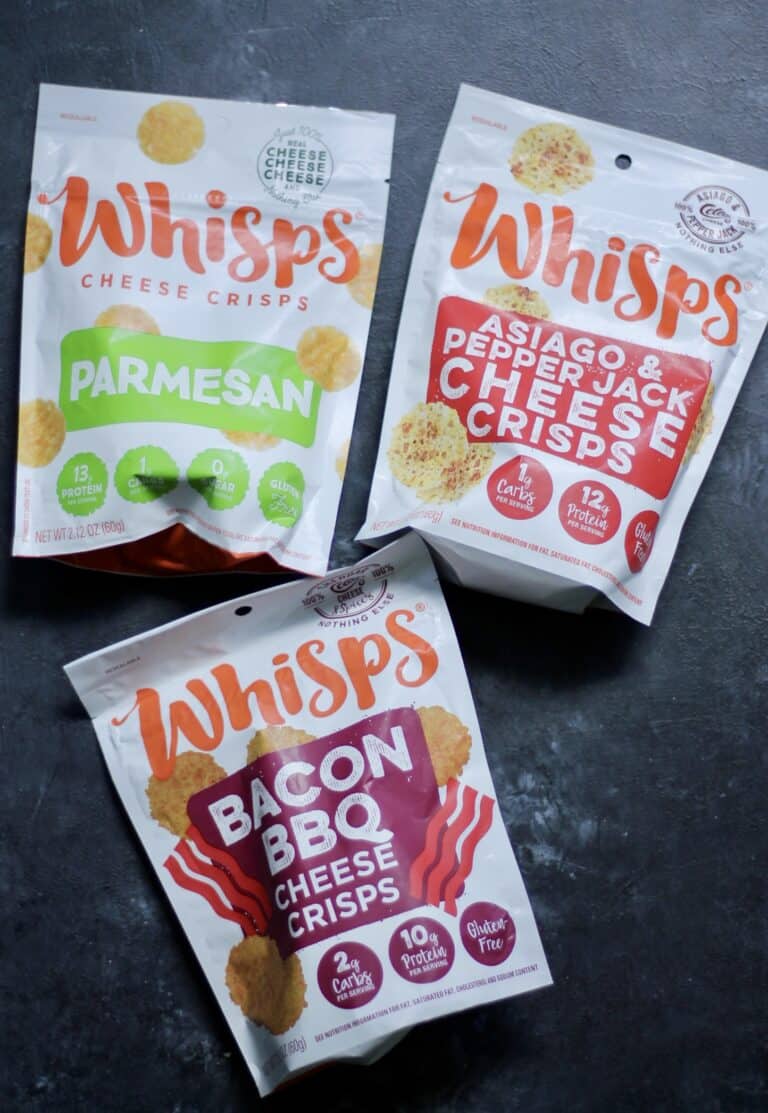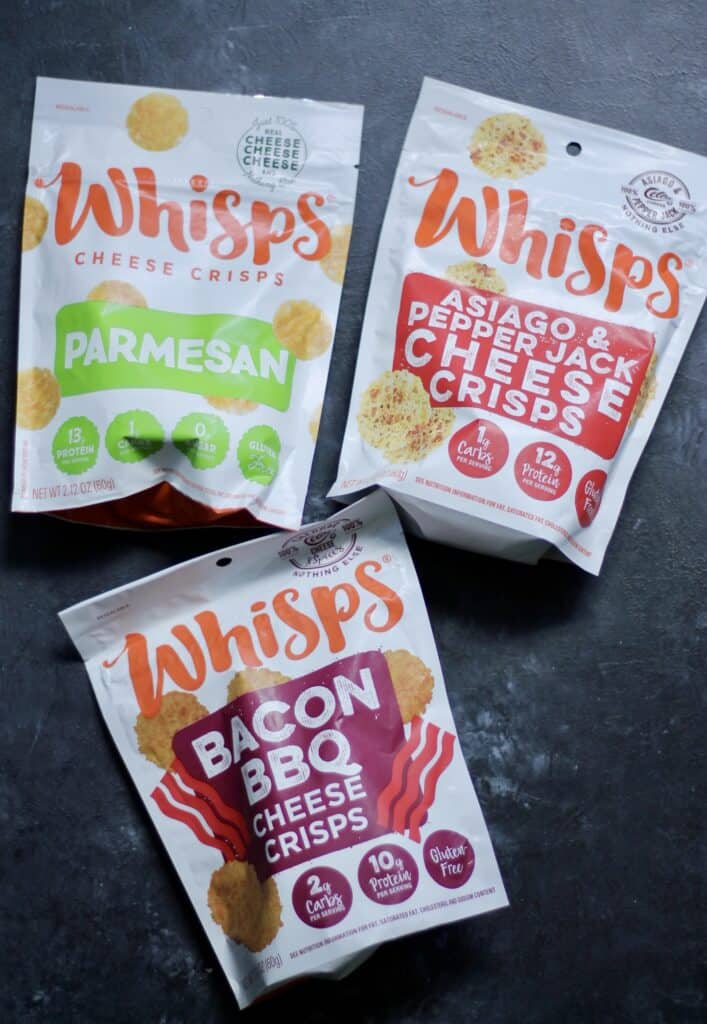 Thrive Market Snack Mixes
A few orders ago, Thrive Market sent these Thrive Market Paleo Snack Mixes as a freebie to try. I got the chipotle barbecue flavor and thought it was delicious!
These are higher in carbs so while you can enjoy them on paleo, they are not keto-friendly. But, these are great if you need a salty snack fix. They are also gluten-free! So, if you need a gluten-free snack, these would work out great.
The cost is $4.99 a bag. I haven't seen a similar snack like this one at Whole Foods or other grocery stores.
Thrive Market Crookies
Another snack I ordered were these Thrive Market Organic Crookies. These are supposed to be a cross between a cookie and a cracker. I thought they were more of a cracker.
I got the zesty Italian thins which were okay. The tomato flavor was a little strong. Next time, I'm going to order the Ginger Spice and see how that is. If you need something to satisfy a sweet tooth, then the sweet flavor over the savory will work out better for you. The cost is $3.49 a bag.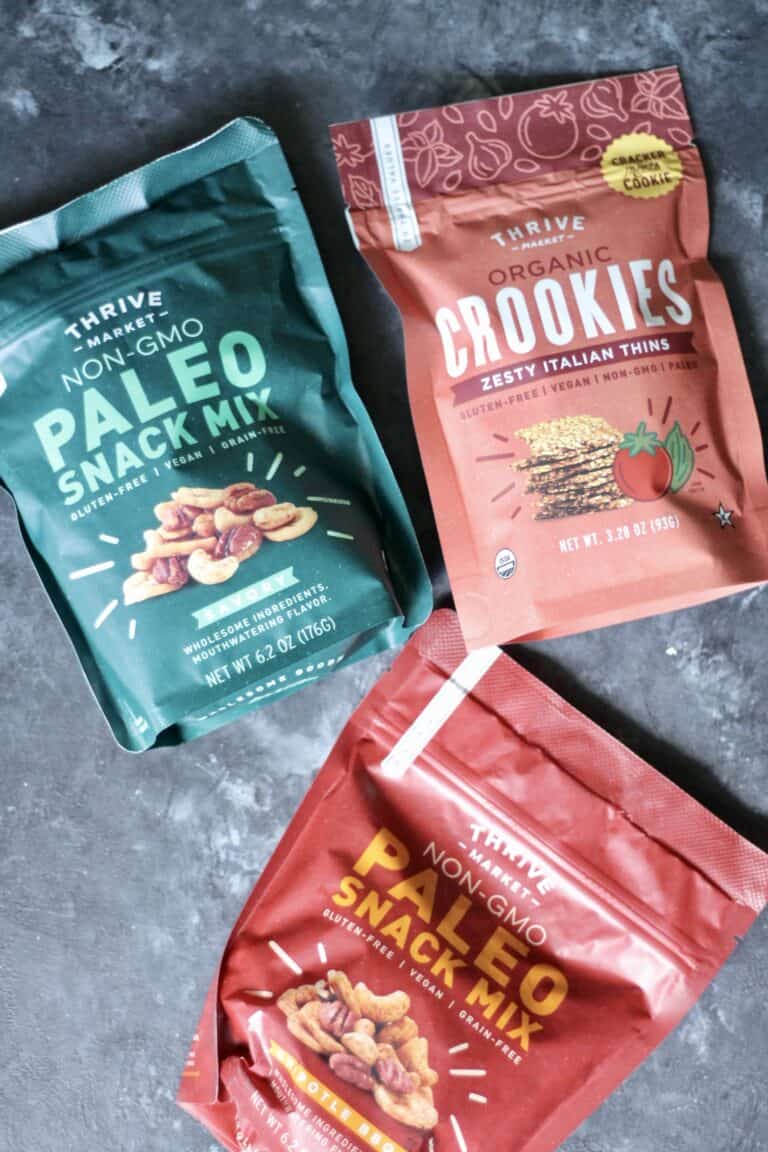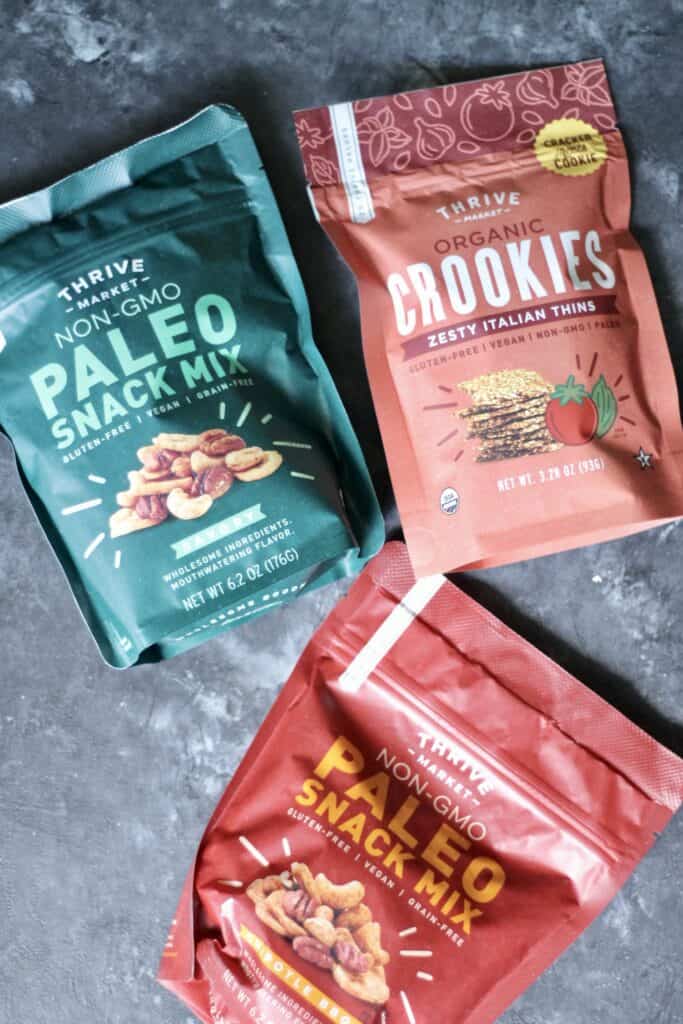 I also ordered Flackers, dried mango, ranch-flavored pumpkin seeds, and raw brazil nuts!
Flackers
The Flackers were awesome. These keto-friendly snacks are made with flaxseeds and do have a stronger flavor, but I thought they were great and totally can curb a cracker craving. I love having cheese and crackers, so these were a great substitution. The price is $4.79 a bag.
Dried Organic Mango
The dried mango snack is one that I bought for my daughter because she loves mango. We thought it was tough to chew, but once you started chewing, it softened up. She did like it, but I probably won't buy that again – we will stick with fresh and frozen mango. This was pricier at $7.99 a bag.
Organic Raw Brazilian Nuts
My pantry is always stocked with nuts for snacks. I decided to order some brazil nuts because I haven't had them in a while. They are very good and were $7.99 a bag.
Rock It Snacks Pumpkin Seeds: Ranch
Out of all the best store-bought keto snacks, this one has to be my favorite! The pumpkin seeds are addicting! SOOO Good!
These are a little higher in carbs so you need to be careful when eating these on the keto diet. I will say, if you were looking and wanting a high protein snack to curb a crunchy salt craving, then this is it. These also taste amazing sprinkled on a salad. These are $3.99 a bag.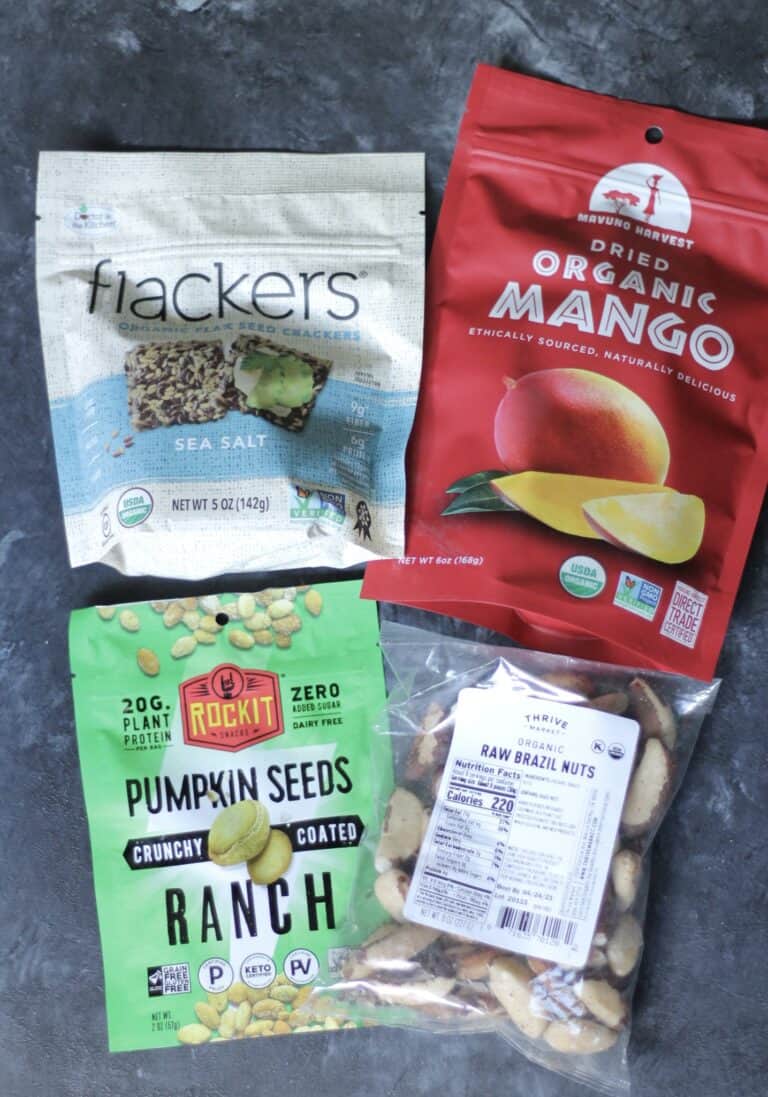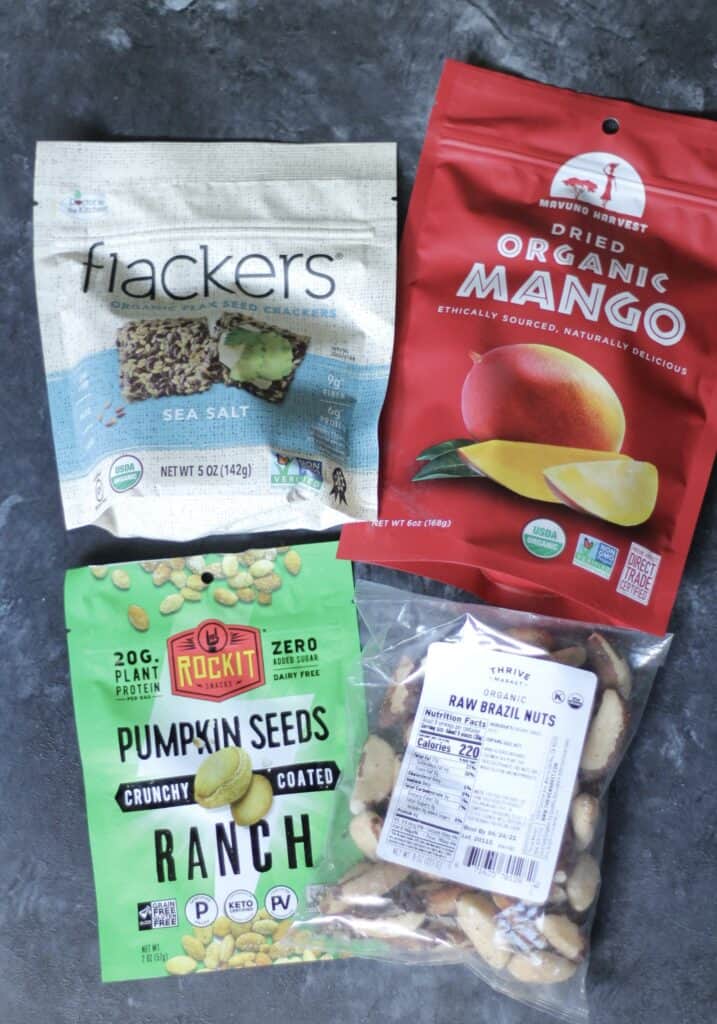 Chocolate Covered Hunks: Almonds + Sea Salt
Another keto snack I got to try out as a Thrive Market freebie were these sweet treat named Hunks. I honestly thought they were amazing.
They are raw almonds dusted in cacao powder. They're not real sweet and have more of a bitter chocolate flavor. However, I love them and think they are perfect to curb a chocolate craving. Again, these are a little higher in carbs so you need to eat intentionally if following the keto diet.
Hunks are $5.49 a bag at Thrive Market which is a lot less than in the grocery stores.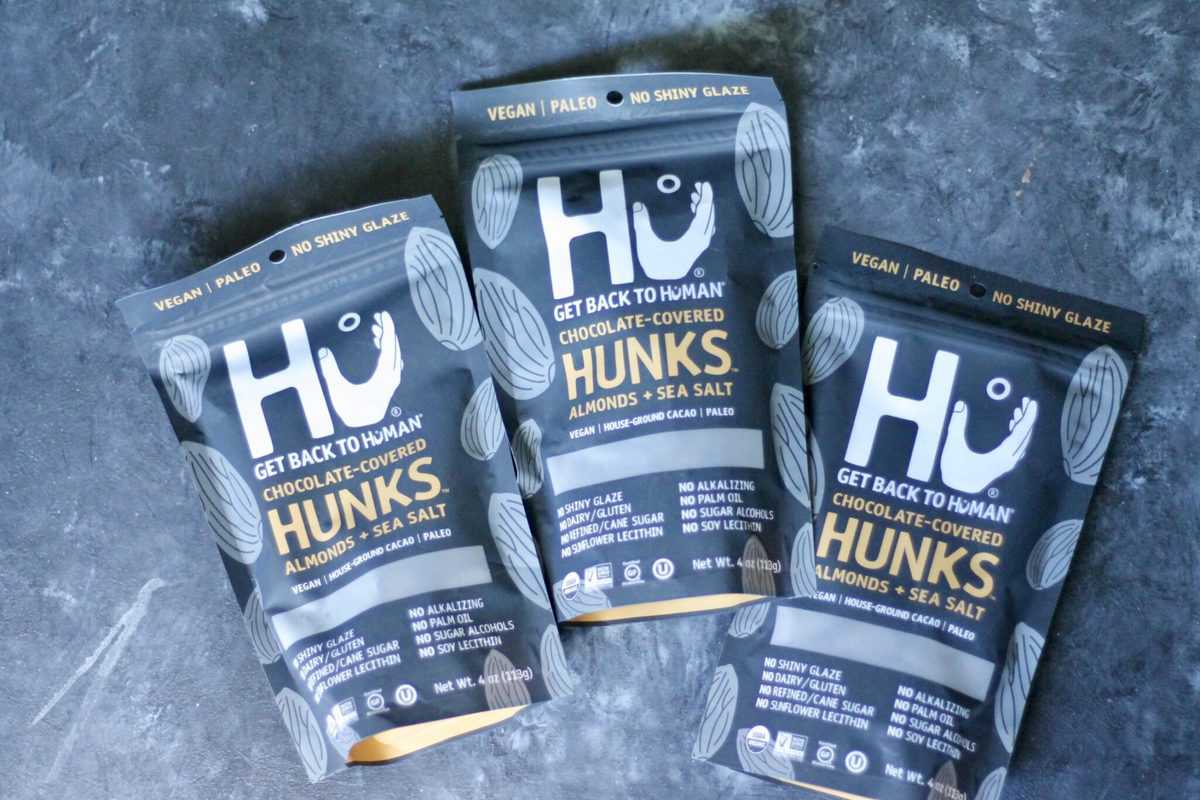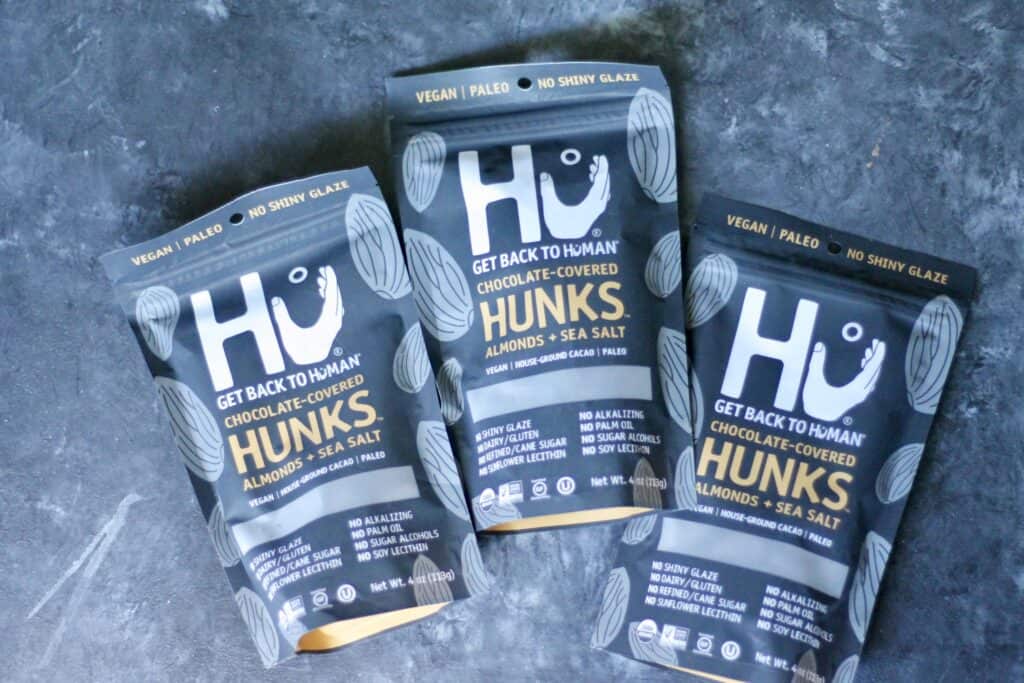 Epic Barbeque Flavor Pork Rinds
The last snack I purchased but didn't get a picture of was Epic Barbecue Flavor Pork Rinds. These are keto-approved and the perfect snack if you're looking for a substitution for chips.
I know it sounds kind of gross to eat fried pork skins but trust me, these are good – and only 1 carb! They are $3.99 a bag which is less than the grocery stores.
However, you can get all kinds of different varieties of pork rinds at the grocery store.
If you're planning to start the keto diet, then I strongly recommend stocking up on some snacks. Having low-carb approved snacks available to eat is the best way to stay on track with any eating style honestly but is even more important when starting a more restrictive style like keto.
Again, you can purchase some of the best store-bought keto snacks from just about any grocery store. Larger stores like Whole Foods, Wegmans, or others like that will have more of a variety.
However, if you need to do some snack research and want them delivered to your door then Thrive Market is a great option and one that I use monthly.
Get Thrive Market Keto Snacks
Thrive Market is a membership site that offers natural and organic foods (all different eating styles), supplements and vitamins, natural cleaning supplies, bath and beauty, and even stuff for your pets.
You can either purchase a 1-year membership for $59.95 a year. Personally, I think the price is 100% worth it. Just the money I save on keto food and snack items, vitamins and supplements is worth it!
But, as I said earlier, everything I purchase from Thrive Market is either the same price or cheaper than what I would pay in the stores.
Learn more and get your Thrive Market Membership here!
I've used Thrive Market since 2005 so I'm very familiar with their company and products. You can read more about Thrive Market in my Thrive Market Review or in this review I did of my favorite Thrive Market Items to purchase.
If you have any questions please leave them in the comments and I'm more than happy to answer.
Share a picture and tag me on Instagram or Facebook if you decide to try any of these snacks! Also, I'm always looking for more keto snack ideas so if I missed anything, please leave it in the comments too.