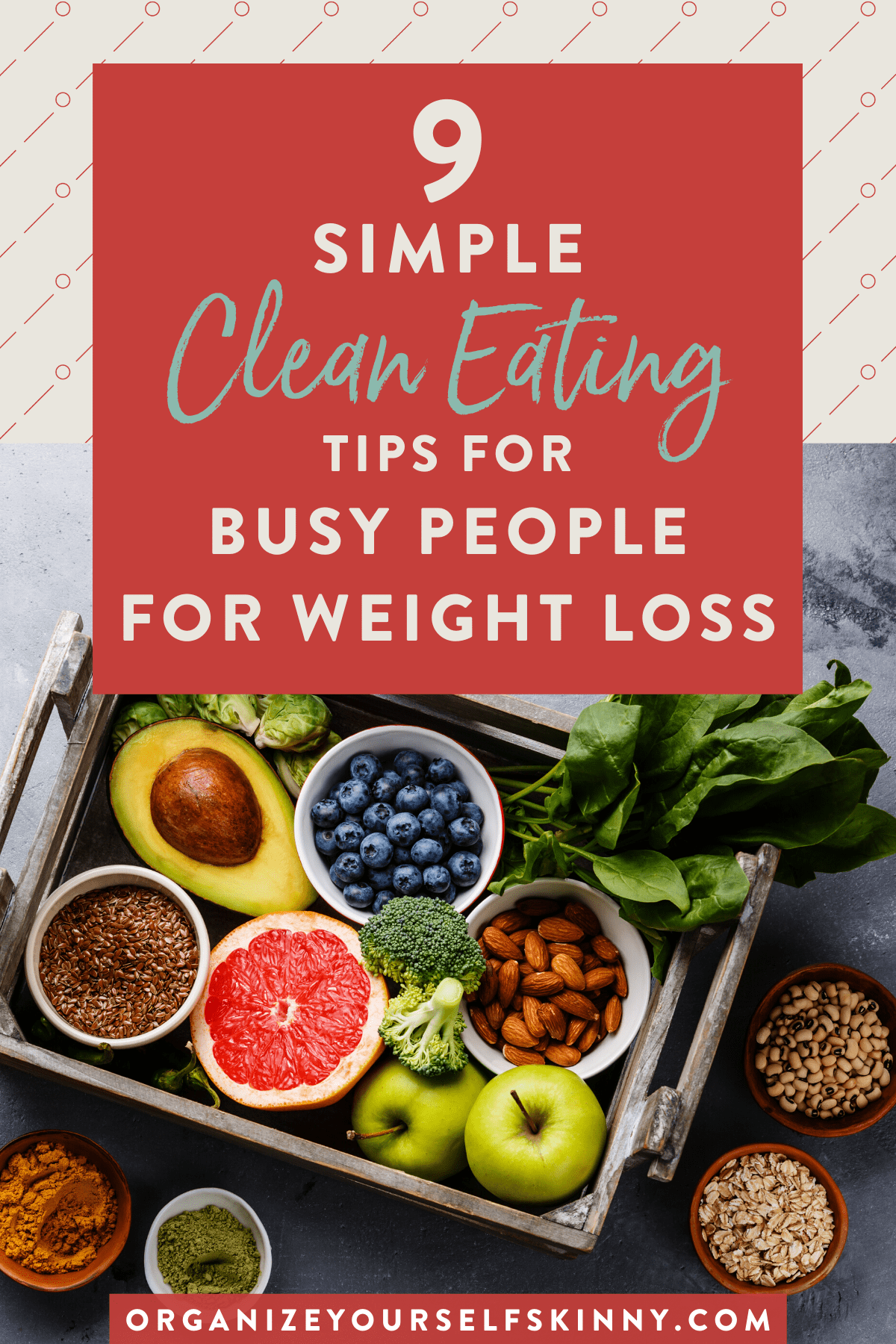 Since the beginning of the year (maybe sooner) I talked here and there about clean eating. I even posted some clean eating recipes like my clean eating apple pie steel cut oats, clean eating peanut butter oatmeal cookies, and clean eating steak salad. However, after receiving an email from a reader asking me what clean eating is and how she can get started it got me thinking. I realized many of you might have the same questions and be getting confused by all this clean eating talk. So let me back up a bit and explain.
When I started on my weight loss journey back in 2010 I never heard of clean eating. In fact, at that time, I was more concerned with the amount of food I was eating not really the quality of the food. I was starting to make most of my meals at home but not thinking about the preservatives, food coloring, or artificial colors that were most likely in the ingredients I was using. It wasn't until a few months later that I started to take notice of those things. My mindset about food began to change when I saw the documentary Food Matters and also read the book. Then I started following the blog 100 days of Real Food where I learned about the book In Defense of Food. Once I gained the knowledge from these resources I began to really think  about the food I was eating and feeding my family.
Since then I continue to read and research information on eating clean and how I can incorporate this lifestyle into my own. In addition to the research I have seen the rewards of a clean eating lifestyle. My body is satisfied and nourished when I eat, I look better, and overall just feel healthier. I don't get the sugar highs and crashes that I would get from refined flour and sugar. I don't feel sluggish or tired anymore. I feel great! And I know it is the food because as soon as I eat something not clean such as white pasta, candy, or something overly processed I immediately feel bloated and sluggish. Not a good feeling so I try to stick to my clean foods as much as I can.
Before I go into what clean eating is (to me) I feel it is important to note that with a lot of information comes a lot of different perceptions and opinions. There are also different levels of clean eating. Meaning some people go to the extreme and shun off anything processed while others are not as strict. It really depends on a person's goals and habits. Nonetheless, this can make it very confusing especially for those that are just starting out or may not want to eliminate certain foods completely. I understand. My advice is to educate yourself as much as you can but then adapt the information to fit your lifestyle. Ultimately, you are the only one that knows what will and will not work for your family. Also, give yourself time. Changing your eating habits does not happen overnight.
With that said, the clean eating information I am going to share is how I choose to interpret it and incorporate into my lifestyle.
What is clean eating?
Clean eating basically means eating foods closest to their most natural whole form free of additives, preservatives, or anything artificial.
With clean eating you want to consume foods that are minimally processed, if processed at all. The basic concept is food should not come from a box, package, mix, or bag. Therefore, food should come from nature and not a company. If you do purchase prepackaged food then it should have minimal ingredients and you must be able to pronounce them all.
A good rule of thumb is the more ingredients a food has the less clean it is. For example, if you want applesauce the less clean option would be to purchase a general jar off the shelf. This most likely would have additives, preservatives, and of course sugar or high fructose corn syrup. The clean(er) option would be to purchase a jar of applesauce (organic or not) that only has 1 ingredient – apples. The 100% clean option would be to purchase organic apples and make the applesauce yourself. Make sense?
Other simple clean eating guidelines I follow
Eat smaller more frequent meals throughout the day. I eat 5 times a day and that really works for me because it keeps my appetite, portions, and calories under control.
Drink lots of water. Most of us do not get enough water and often times mistake our need for water for hunger. When that happens we can end up eating when we really are not hungry.
Reduce or eliminate low-fat, light, reduced fat, or any other "diet" type food. A lot of people ask me why I don't use these ingredients in my cooking. I use them sometimes but more often than not I use the real stuff. When companies remove fat or calories from a food they need to fill it with chemicals, additives, or other fillers to keep the same taste and texture. Using real ingredients is better for you and always taste better.
Eat whole grains and stay away from or limit the amount of refined white flour you consume. If you are not sure if it is really whole grain just read the label. Bread that is whole grain will have whole grain as the first ingredient. Same with pasta. A lot of bread and pasta's are disguised with "healthy packaging" but if you read the label you will find out they are no better then there refined counterparts. Don't forget about brown rice, bulgur, quinoa, and other whole grains – they are nutritious, filling, and cheap!
Eat beans, nuts, and seeds. All of these are packed with nutrition and very affordable. Of course, be careful of added salt and sugar.
Eat lots of fruits and vegetables. Try to purchase organic when you can but if you can't then don't worry because eating more fruits and vegetables is always better than not. Also, if you live in a colder part of the country (like me), and don't have access to fresh local fruits and vegetables year round then head to the freezer section. You can find lots of organic reasonable priced fruits and vegetables hiding out there.
Eat wild caught fish and organic grass-fed humanly raised beef, chicken, and other meats. I know this can get expensive but, in my opinion, this is an area I do not mind spending the extra money. It taste better, is more nutritious and overall better for the environment. Also, I always try to incorporate meats into a dish instead of it being a stand-alone meal. This way I can stretch the meat (and my budget) a little bit farther.
Reduce or eliminate sugar. I could never give up sugar completely but I try to keep it under control and substitute healthy alternatives (sucunat, maple syrup, and honey) when I can. I don't use artificial sweeteners of any kind. Again if is manmade and not nature made I typically don't eat it.
Eliminate fast foods. I feel pretty strongly about not eating at fast food chains. I don't believe they offer any nutritional value (even if they do have granola and salad on the menu) and I also do not want to support their questionable business and food supply practices.
These are the basic clean eating guidelines that I follow when choosing foods for myself and family. Again, this is how I interpret and choose to follow the clean eating lifestyle.
Now this might all sound a little intense and you might be thinking to yourself "Yeah Tammy that sounds great and all but HOW IN THE HECK DO I DO THIS WHEN I AM INSANELY BUSY!"
Believe me I am right there with you.
Personally, I think it is impossible to eat clean 100% of the time so I try to implement a 75/25 rule. 75% of the time I make clean choices and the other 25% leaves room for flexibility. Please note, by flexibility I don't mean going hog wild on cheese curls everyday – only some days. Hey I am just being real. I mean giving my best effort to eat clean food but knowing I am human and life happens. Or maybe I just want cheez its. Anyways, you get my point. You can eat clean in any way that works for you. Feel better? Good!
I also want you to understand my clean eating lifestyle has evolved over the years. I did not wake up one day, say I am going to eat clean, and put into place all the guidelines. Nope! It took time and is still a work in progress. There are days that are easier than others and everyone is on board. Then there are days where my husband and kids are revolting and sneaking off to get donuts. That is just how it is and I work with it.
This is my take on clean eating and how I choose to implement this lifestyle. The next clean eating post will focus on the steps you can take to get started. If you have any clean eating questions please ask them below and I will answer them in future posts.