Next time you are planning a meal prep day, add some of these chicken freezer meals to your list. Once they are made, all you have to do is dump the prepped ingredients into a crockpot and hit start, for a quick and easy dinner on a busy weeknight. It can't get easier than that!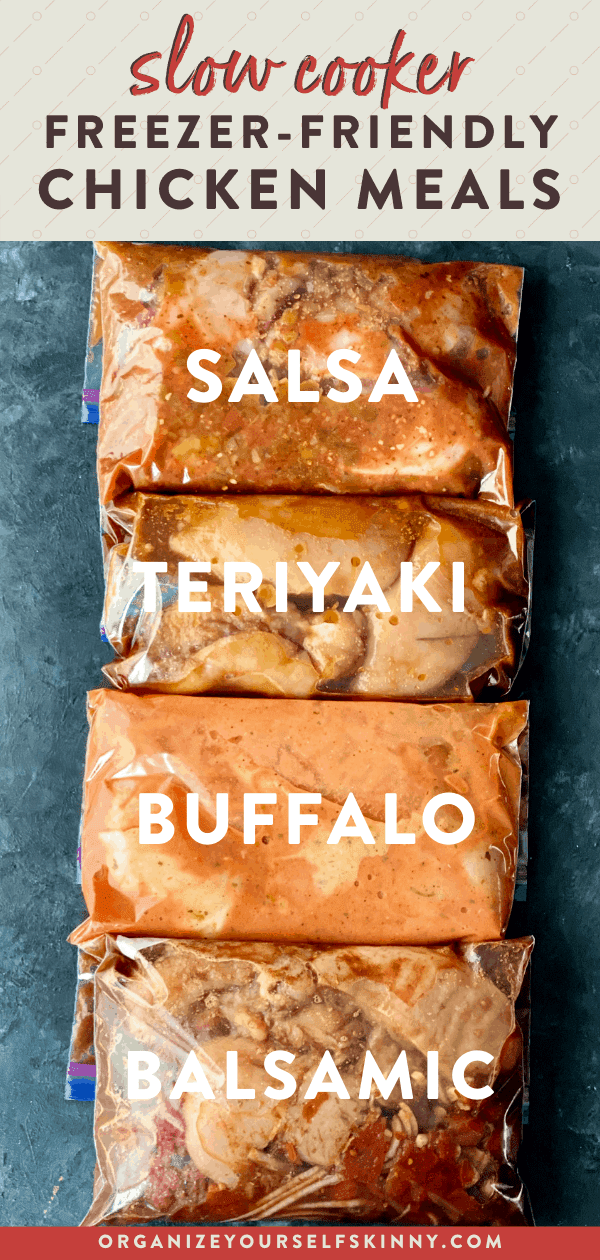 Slow cooker freezer meals are one of my go-to meal prep methods when I want to make and freeze meals ahead of time, but don't want to cook them. Basically, when I'm making these, all I want to do is dump the ingredients into a freezer bag and keep going.
I like all types of slow cooker freezer kits, but chicken freezer meals are the ones I make the most. This is because chicken is the type of protein we eat the most and I tend to purchase chicken in bulk. So it's not uncommon for me to have a bunch of chicken that needs to be prepped.
Tips For Making Slow Cooker Chicken Recipes
One of my meal prep rules is to never put the chicken into the freezer without a plan first. Trust me, I learned this one the hard way!
Back in the day, I used to purchase bulk packages of chicken and just shove the entire thing into the freezer. When the time came to actually separate it for meals, I'd literally need to chisel out pieces of chicken when I wanted to make something. This obviously didn't work out well.
Nowadays, I never do that. Instead, my chicken doesn't go into the freezer unless it's part of a recipe or at the very least, recipe ready.
When I have more time, I'll put together freezer casseroles. On weekends when time is super limited however, I'll put together some quick slow cooker chicken freezer meal kits.
What's a Slow Cooker Freezer Kit?
You might be thinking: what is a slow cooker freezer kit?
It's preparing most (or all) of the ingredients for a slow cooker recipe ahead of time and freezing it to be used later on. Then, when you're ready to cook, all you need to do is dump the ingredients into the slow cooker and cook it for the allotted time.
Of course, not all slow cooker recipes can be turned into freezer kits and chicken slow cooker recipes can be especially tricky.
Tips for Success With Slow Cooker Chicken Freezer Meals
Here are some tips I've learned over the years that ensures I'll have the most success with a chicken slow cooker freezer kit recipe.
Thaw prior to cooking. Chicken needs to be completely thawed prior to cooking in the slow cooker. It's not safe to cook chicken from a frozen state in the slow cooker.
Never cook chicken on high in a slow cooker. For just about every recipe, I cook on low for 4-5 hours and this temp and time cooks chicken perfectly in a slow cooker. Just so you have a frame of reference, I have the 6-Quart Hamilton Beach Programmable Slow Cooker. You can get it for under $60 on Amazon.
Use boneless chicken. For all the chicken recipes, I use boneless chicken breasts or sometimes I use boneless chicken thighs. A bone-in chicken might need more time to cook.
Use salt at the end. For just about every slow cooker recipe, I've learned that's it makes all the difference to salt and to add more seasoning towards the end of the cooking time. This is because slow cooking can often mute the flavor.
Store veggies until ready. If vegetables don't need to go into the slow cooker until the end, then store them in a separate bag.
Label your bags. Trust me, if you don't label the date and the recipe, you will likely have a hard time being able to tell just from looking at the bag!
Make sure to remove as much air as possible. This helps reduce freezer burn.
I also recommend buying gallon-sized freezer bags to have on hand when you are planning to freezer meals. I've seen a lot of bloggers use reusable freezer bags, but I haven't used those yet for slow cooker kits. I'll let you know when I do!
Frequently Asked Questions About Freezer Meal Kits
Before I share some of my favorite chicken recipes, here are some frequently asked questions I get from my readers about freezer meal kits.
How Long Will These Kits Last In The Freezer?
These freezer kits will be good for up to 3 months. When I make freezer meals, they go into my meal plan immediately so I typically use them up within a month or so but, a good rule of thumb is to use them within 3 months.
Can You Freeze Cooked Chicken After It Cooks In The Slow Cooker?
Yup! After you cook one of your slow cooker chicken freezer kits, you can freeze that cooked chicken for later use.
4 Chicken Freezer Meals For Your Slow Cooker
Now that you have all of my tips and I answered all of your questions, it's time to start assembling your slow cooker freezer kits.
Here are my favorite chicken freezer meals to make in my slow cooker!
This is a super easy kit to put together because it only requires 4 ingredients!
All you need is:
1 jar of salsa
A can of green chilies
Taco seasoning
Chicken
That's it.
To be honest, you can even just make this with a jar of salsa and chicken and it'll taste just as good.
This is my go-to chicken for chicken quesadillas which I make on average 2-3 times a month in my house. This also goes great in enchiladas, nachos, or even on top of a salad.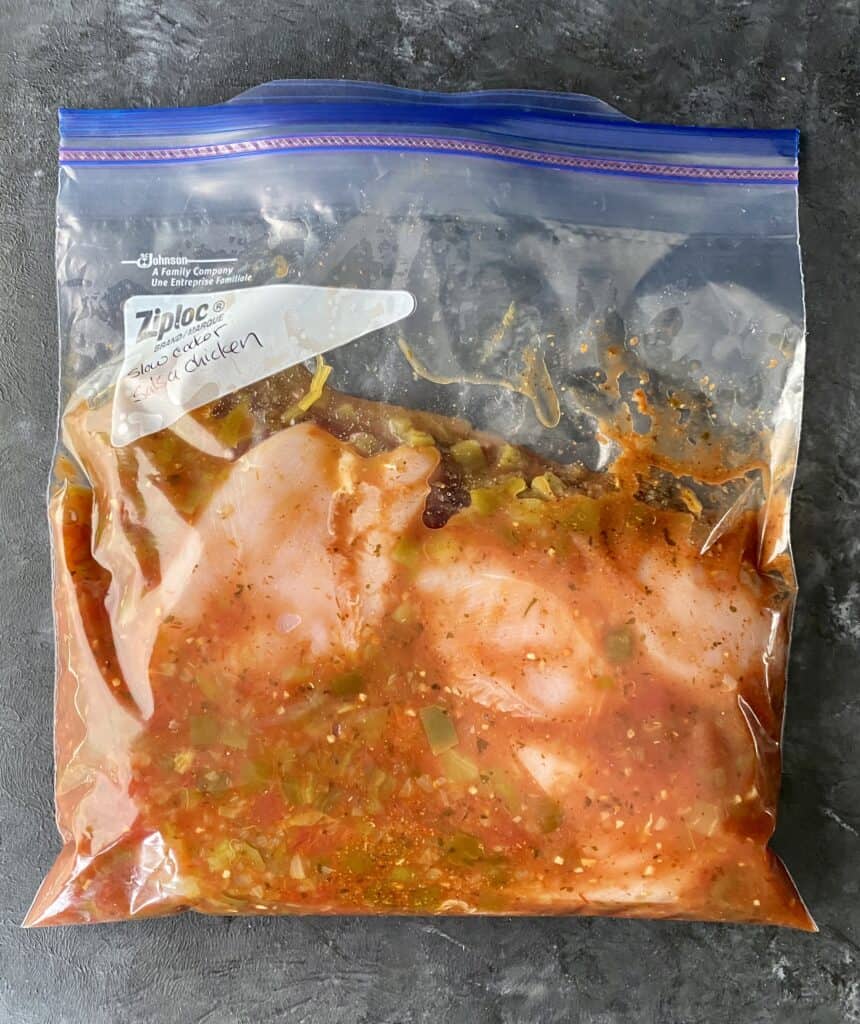 This chicken recipe is the one I consider to be the most high maintenance of the recipes because you'll need to slice onions.
So it does take a little more work but that's it!
Besides that, you just dump it all into the freezer bag and freeze.
This recipe goes great in a wrap with baby spinach and some goat cheese or blue crumble. I also love it over rice or even with some angel hair pasta.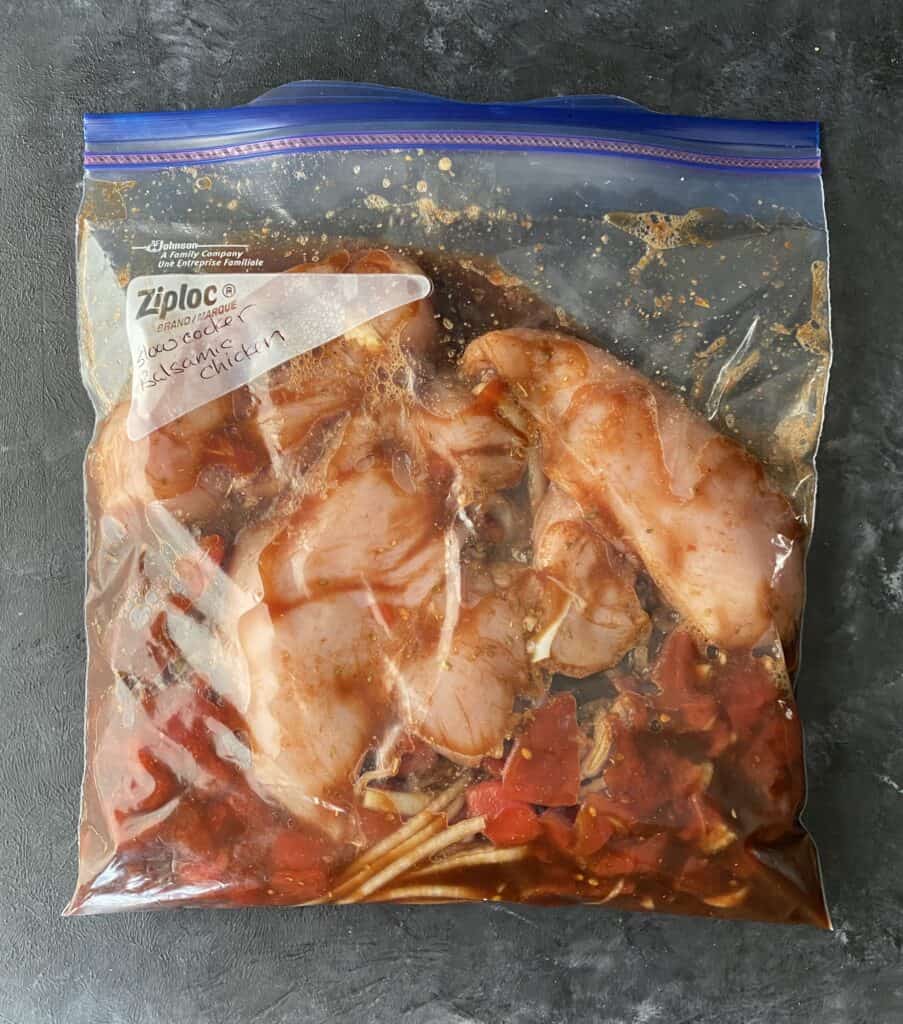 This is one of my favorite slow cooker chicken recipes! If you like Asian flavors, then put this on your next weekly meal plan.
Between the tenderness of the chicken and the sweetness of the homemade teriyaki sauce, this chicken freezer meal is absolutely delicious!
This tastes amazing served over white rice or quinoa fried rice with a little squeeze of fresh lime. If you trying to keep it low carb, you can serve it over some cauliflower rice!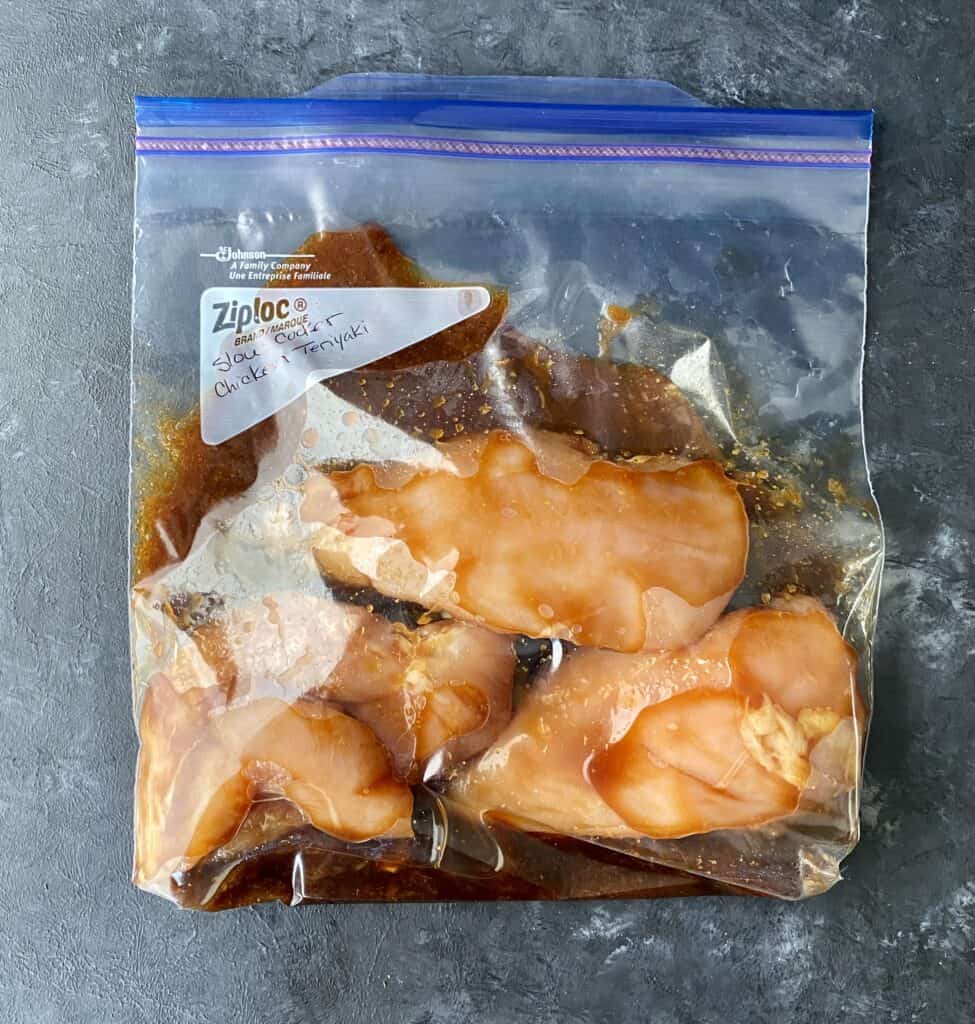 Out of all of these chicken recipes, this buffalo chicken has to be the slow cooker recipe I make the most.
It only needs 4 ingredients and can be whipped into a slow cooker freezer kit in about 5 minutes.
We love it and use it in just about everything!
My favorite way to eat it is to mix it with some macaroni and cheese for a delicious Buffalo Macaroni and Cheese. We also use it in wraps or subs. I also tend to add it to my salad for a little bit of zing.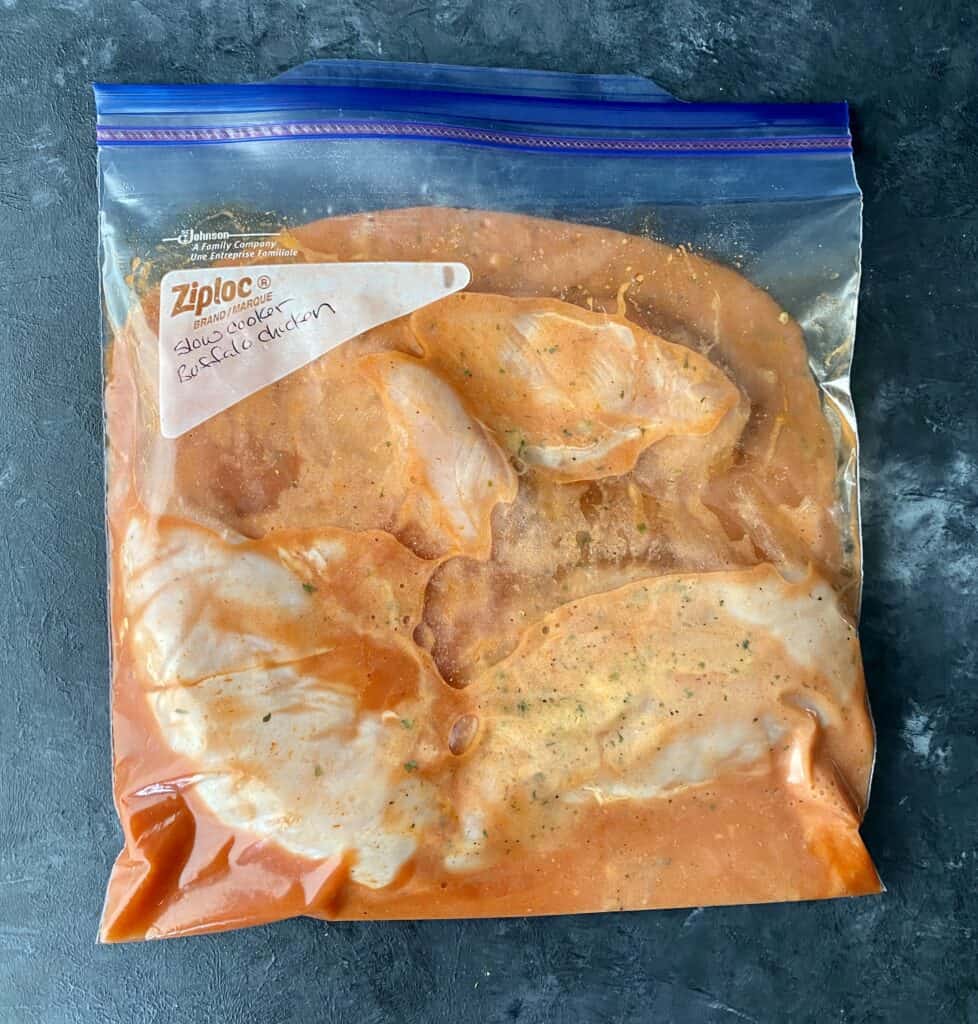 Cooking Notes
Most chicken recipes will result in shredded chicken because that's just the way it cooks in the slow cooker. It gets soft and pulls apart. However, if you don't want it to be shredded, then be careful when you remove it from the crockpot.
If by some chance you don't want to make this in the slow cooker, you can also grill up this chicken or bake it in the oven.
You can also make this on the weekend to use in meal prep bowls for the week.
Serve it along with rice or quinoa with roasted or steamed vegetables for a healthy lunch or dinner all week!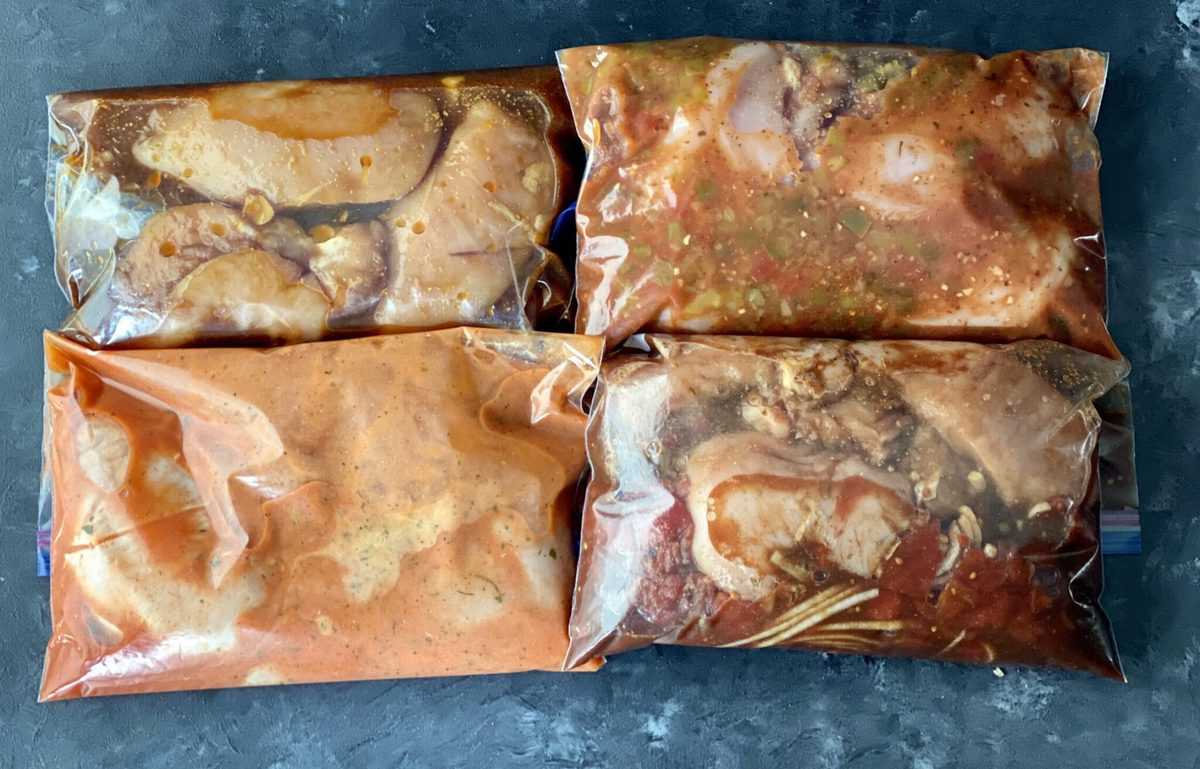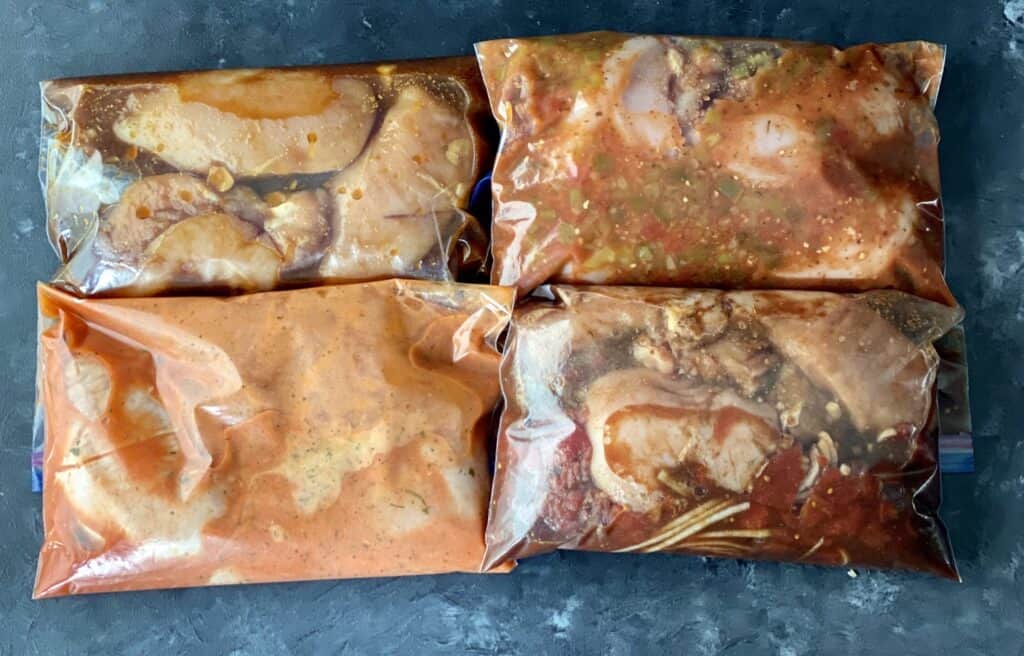 Meal prep some of these Chicken Freezer Meals and serve it alongside rice or quinoa with roasted or steamed vegetables for a healthy lunch or dinner all week! Share a picture and tag me on Instagram or Facebook if you decide to try any of these.