Quinoa fried rice provides a healthier twist to the popular Chinese take-out meal. It's super easy to make during the busy week but can also prepared ahead of time and frozen for a quick heat and eat meal throughout the month.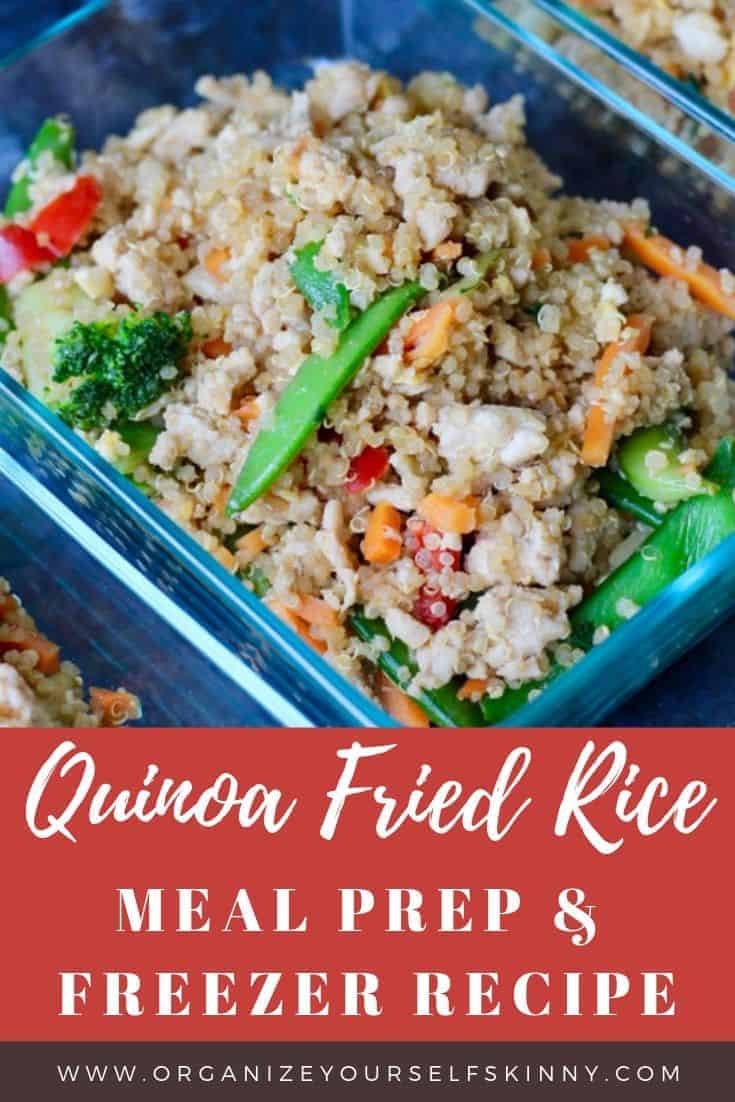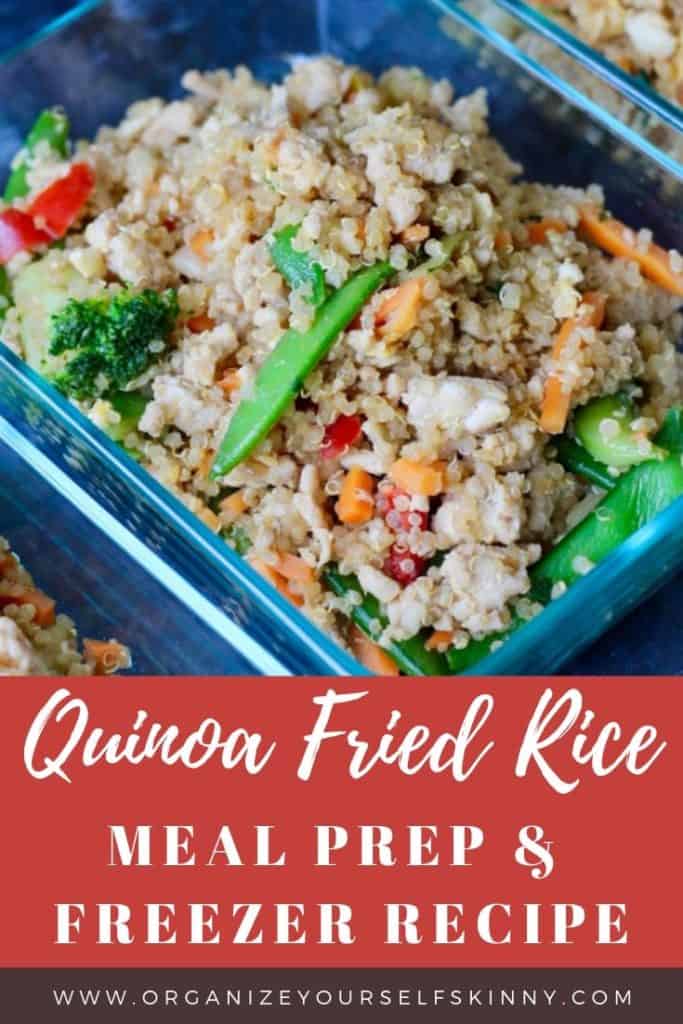 Today I want to share one of the easiest recipes I make – quinoa fried rice. Well, it's actually chicken quinoa fried rice but since you can make this without chicken, or even add some shrimp, I wanted to keep the chicken out of the title 🙂 Don't wanna confuse anyone. Plus, I get asked for vegetarian recipes all the time so this is the perfect recipe for those who like chicken and those who want to keep it out. Basically, this is a versatile recipe that can be made with whatever you have on hand. Think of me as the idea person and then just go with it.
Okay, so why quinoa? I mean can't we just use rice.
I discovered quinoa about 6 years ago and since then have replaced it in just about every recipe that calls for rice.
I love it in bakes like this cajun chicken quinoa bake and this cheeseburger quinoa bake. I also use it in place of rice in soups and stuffed peppers. Seriously, any recipe that calls for rice can easily be replace with quinoa.
Why would I want to use quinoa in place of brown rice (or any rice)? Let me explain.
Quinoa vs. Rice
Quinoa is higher in fiber than brown rice. It's also packed with more vitamins and minerals. Many people call quinoa a nutritional powerhouse. Also, quinoa has all of the essential amino acids making it a complete protein, rice does not have this.
Both quinoa and rice (all varieties) are gluten free. Therefore, if you're trying to stay away from gluten both will work fine.
In my opinion, quinoa and brown rice have a very similar flavor which is why I find it easy to swap out quinoa in most recipes that call for brown rice.
Quinoa is easier to cook. It takes about 15-20 minutes on the stove compared to 45 minutes with white and brown rice.
Overall, I recommend quinoa over brown rice for people who are looking to add more protein to their diet, especially if you are a vegetarian. Quinoa is a great way to include a complete protein into your diet without meat.
Cooking Quinoa
One of the most important tips to remember when cooking quinoa is to rinse it before cooking it. Quinoa has a protective coating that taste really bitter. So, if you tried to cook quinoa in the past and didn't like the taste it's probably because you didn't rinse it.
I actually will soak the quinoa for about 3-5 minutes in water and then rinse it using a mesh strainer before I cook it.
Here's a quick video I did a few years ago showing you how to cook quinoa.

Another tip is to cook quinoa in broth. Depending on what recipe I'm using the quinoa in I'll cook it in either chicken or vegetable broth. This gives it some added flavor. However, water will work fine too.
Here's a basic quinoa recipe that yields about 3-4 cups of cooked quinoa.
1 cup quinoa
1 1/2 cup water or broth
Soak dry quinoa for about 3-5 minutes then pour into a mesh strainer and rinse.
Combine quinoa and liquid in a pot, cover, and bring to a boil. Reduce to simmer and let it simmer on low for about 20 minutes. Remove from heat and let it sit for about 5 minutes. It' ready to use however you like.
Okay, now that I gave a little quinoa 101 lets get to the quinoa fried rice recipe.
This quinoa fried rice comes together so quickly, especially if the quinoa is made ahead of time.
Quinoa Fried Rice with Chicken
Let's start with the ingredients. Now, of course, you can buy all fresh vegetables, chop them up, and cook them yourself buuuttttt I'm not above frozen veggies and I like to keep this recipe easy. So, I buy a 16-ounce bag of frozen stir fry vegetables. My grocery store Wegmans has a variety of frozen stir-fry mixes but I like the vegetables in the Far-east Stir-fry. Personally, I stay away from anything with water chesnuts or the baby corns. But, use whatever you want.
If you use fresh vegetables then all you'll need to do is cook them longer.
In this recipe, I used ground chicken. I love the Organic Ground Chicken from Wegmans. The quality is outstanding. I've also use ground turkey in this recipe. Again, if you want to leave the meat out then leave it out and just mix the sauce in with the veggies and quinoa.
Speaking of sauces, the other ingredients I use in my quinoa fried rice is prepared teriyaki sauce, sesame oil, hot chili oil, and soy sauce. Oh and a couple eggs..of course.
Another great thing about this recipe is it's a one-pot meal. Everything gets cooked in one pan.
You start with the chicken. Once the chicken is just about cooked then you add in the ginger and garlic. When you can start to smell the garlic and ginger then you add everything into a bowl and mix in the teriyaki sauce. Mmmmmm.
Next you throw in the eggs and cook them until they're set. Throw the cooked eggs in with the ground chicken mix. Now all you gotta do is cook the veggies. Pour the bag of veggies in the pan and cook those until they are heated through – this takes about 5 minutes or so.
Once the veggies are cooked you're ready to bring the chicken quinoa fried rice together. In the pan, mix together the chicken mixture, 3 cups of quinoa, vegetables, sesame oil, chili oil, and soy sauce. So good.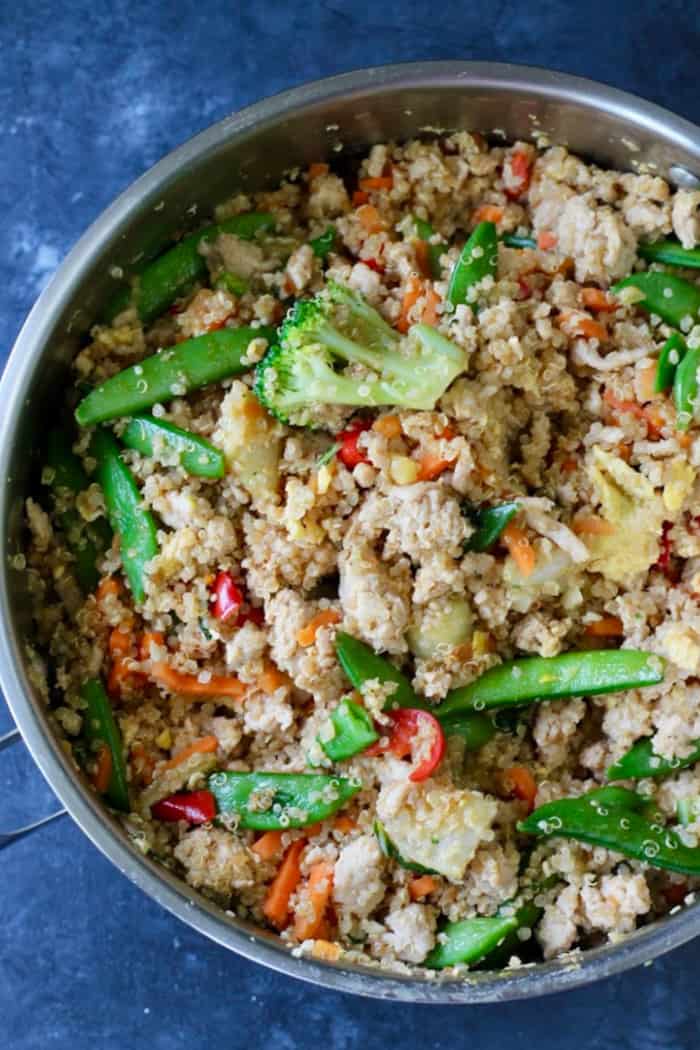 I absolutely love adding chili oil to the asian-inspired recipes I make however if you don't want a lot of spice then keep it out or reduce the amount you use. Don't worry it's delicious with or without it.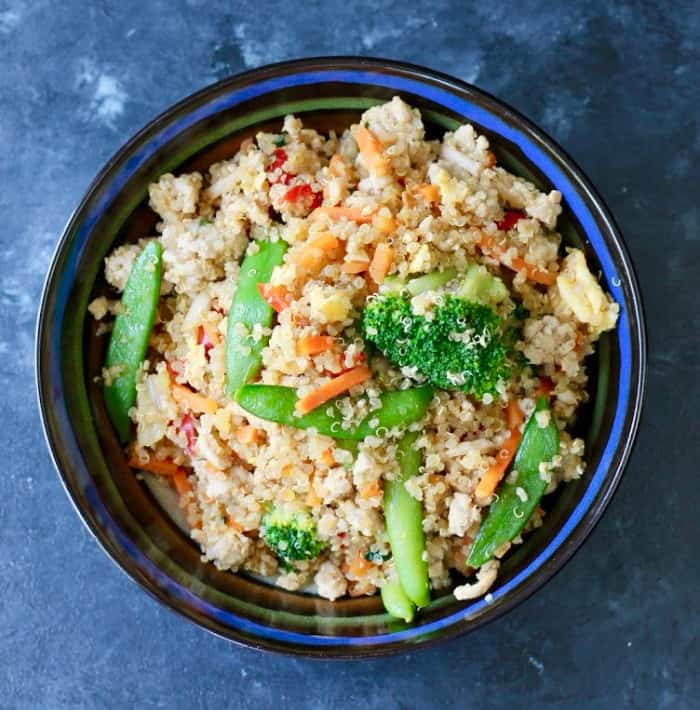 The frozen vegetables work great in this recipe! If you're busy during the week I highly recommend picking up a couple bags. You can throw together so many quick one-pot dinners with a bag of frozen veggies, quinoa or pasta, and a meat. Just keep some sauces on hand and you're good to go.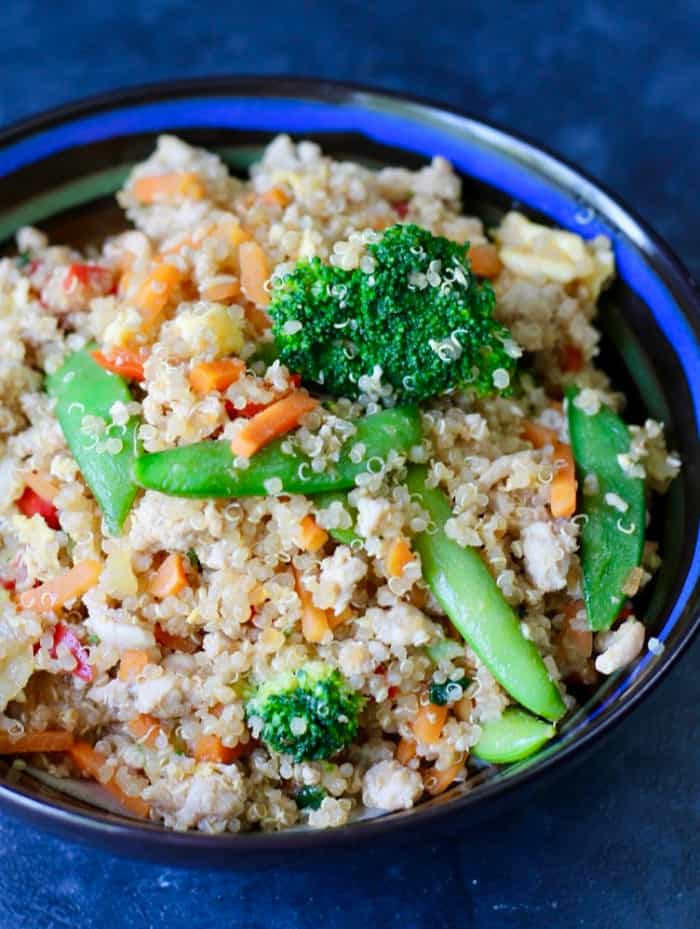 Let's chat about meal prep. This chicken quinoa fried rice works perfectly for both meal prep and also makes a great freezer meal. So you can make this on Sunday and it'll keep all week in the refrigerator.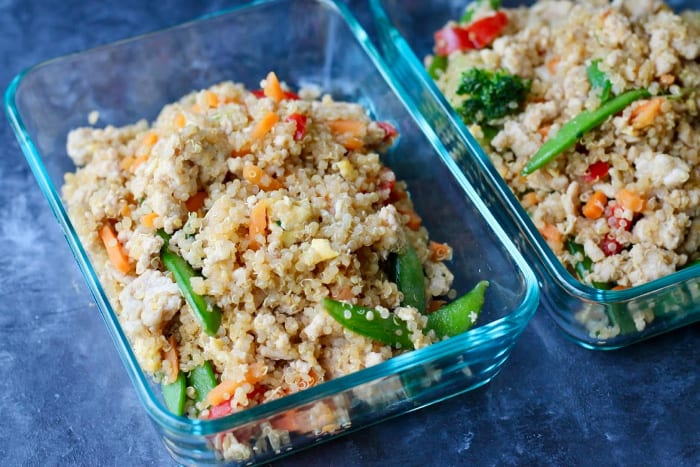 I like to portion it out into individual meals but you can easily keep this in a big bowl and let people scoop out the amount they want for dinner. For individual portions I put 1 1/4 cups of chicken quinoa fried rice into each container. If I don't eat it all by the end of the week then I'll stick these containers in the freezer.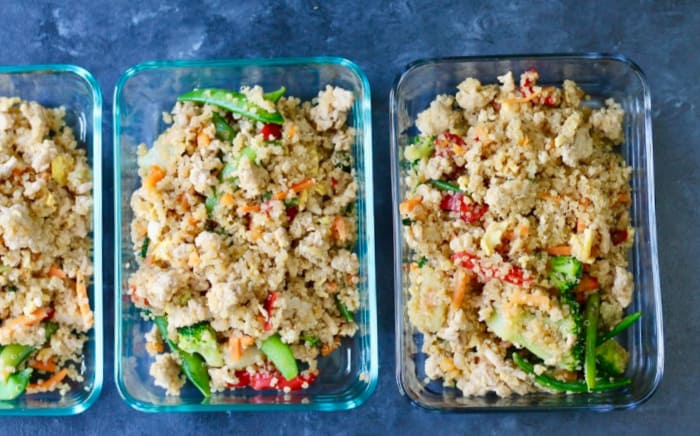 Supplies for Chicken Quinoa Fried Rice
Glass mixing bowls – to mix the chicken and sauce together.
Mesh strainer – to rinse the quinoa
Large pan – to cook everything in. This is the one I use.
Glass meal prep containers – to store portions in for easy portion-controlled dinners.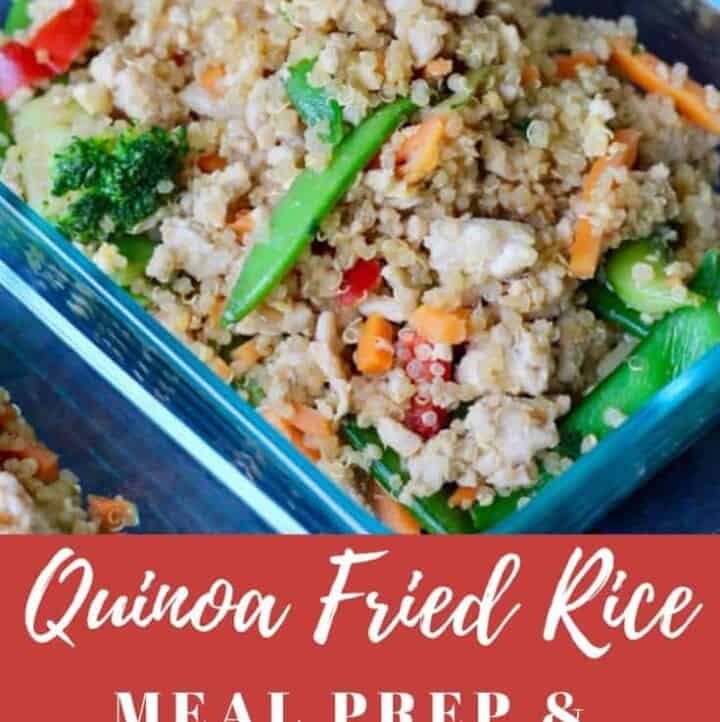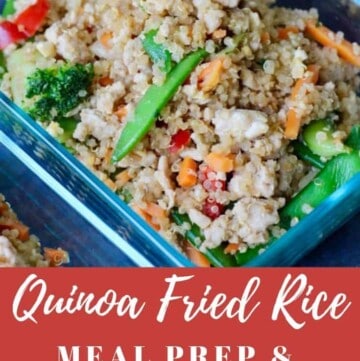 Quinoa Fried Rice
Quinoa fried rice provides a healthier twist to a popular Chinese take-out. It's super easy to make during the busy week but can also prepared ahead of time and frozen for a quick heat and eat meal throughout the month.
Print
Pin
Rate
Ingredients
2

tablespoons

olive oil

1

lb

ground chicken

2

gloves garlic

chopped

2

teaspoons

chopped ginger

2

large eggs

beaten

1/4

cup

Teriyaki Sauce

1

16-ounce bag frozen stir fry mix

3

cups

cooked quinoa

2

teaspoons

sesame oil

1

teaspoon

hot chili oil

1

tablespoon

soy sauce
Instructions
Heat 1 tablespoon in a large pan. Add chicken and cook until no longer pink, break up the chicken as it cooks. When chicken is just about done add in the garlic and ginger and cook for another 1-2 minutes or until fragrant.

Remove the chicken, ginger, and garlic and place in medium bowl. Stir in 1/4 cup Teriyaki sauce.

In the same pan, heat the last tablespoon of olive oil and quickly cook the eggs until they are set. Add the eggs to the chicken, ginger, and garlic.

Next add the bag of stir fry mix to the pan and cook until the vegetables are heated through, about 5 minutes.

Add the ground chicken mixture, quinoa, sesame oil, soy sauce, and chili oil (if using) to the cook vegetables. Cook until everything is heated through.
Notes
Meal prep tip:
This recipe comes together quickly during the week when quinoa is made ahead of time.
Also, this entire recipe can be made ahead of time and stored in the refrigerator all week or frozen for up to 3 months. Heat up in the microwave.
Nutrition
Serving:
1
g
|
Calories:
403
kcal
|
Protein:
27
g
|
Fat:
16
g
|
Saturated Fat:
3
g
|
Fiber:
6
g
|
Sugar:
7
g