If you are looking to upgrade your meal prep plans or have something ready for those long nights during your kid's sports season, take a look at these three different methods I have come up with to Meal Prep Chicken Quesadillas!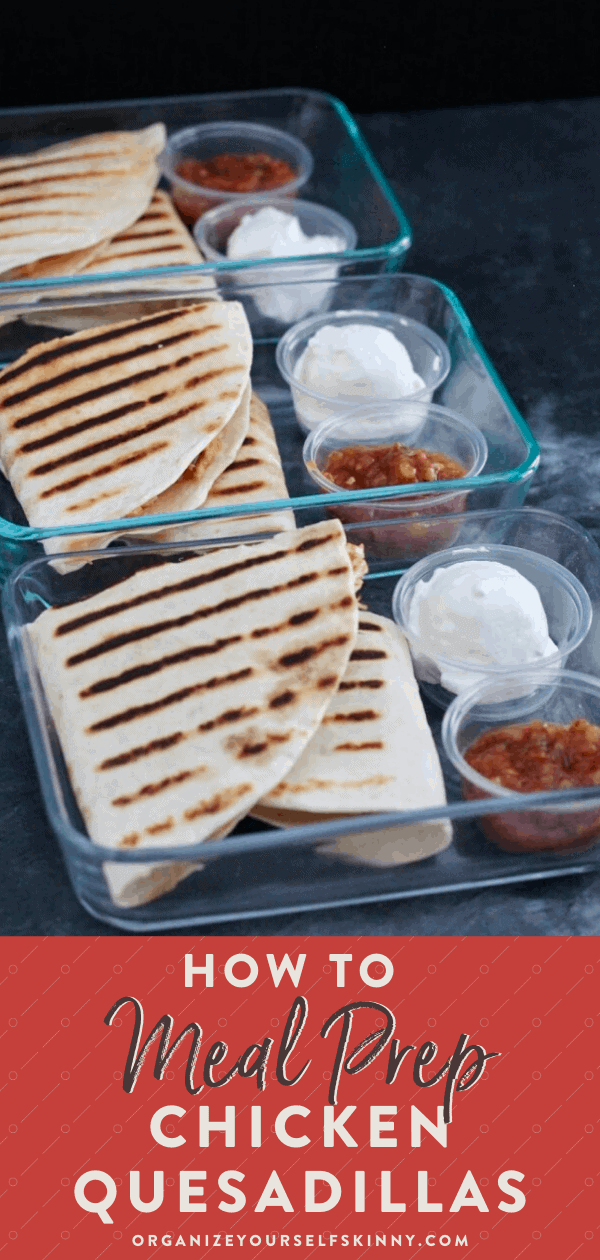 One of the recipes you'll see most often on my meal plan is this chicken quesadilla recipe. They're a favorite because quesadillas are easy to make and everyone in my family loves them. There's no begging or bribing to eat dinner when it's quesadilla night. Mom win for me!
As easy as chicken quesadillas are to cook, they still require a little bit of prep to make this an easy weeknight meal, especially during volleyball or dance competition season.
Why Chicken Quesadillas Are Great For Meal Prep
In the past, I've shared how to cook all the chicken quesadilla ingredients separately and turn them into a freezer kit. I typically make these when I have time to meal prep a bunch of recipes to stock my freezer with.
I will usually have quesadillas meal prepped and ready to eat during our really busy seasons like back to school or the holidays when I'm focused on other things. It's been incredibly helpful during our busy sport and dance times with my daughters.
Being prepared has helped reduce a ton of stress as well as saved me money (and calories!) by not having to stop in a drive-thru to eat fast food.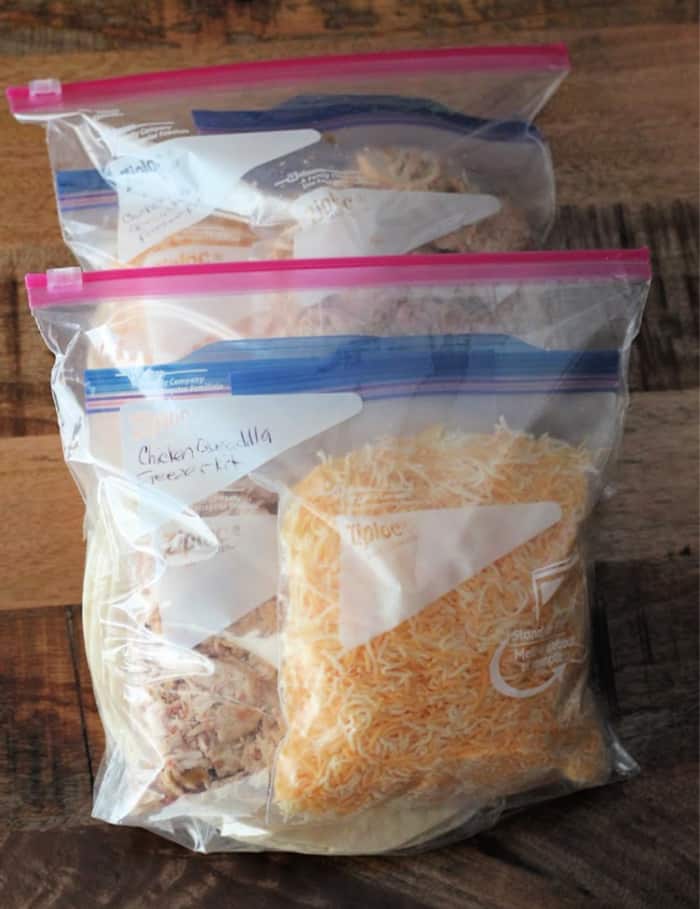 What To Put In Your Quesadillas
The one thing I love about quesadillas is how versatile they are. There are so many different fillings you can add to them, depending on what you're in the mood for and the type of diet you are currently on.
These quesadillas I am showing you how to meal prep today have chicken in them but you can add steak, pork or shrimp to bulk them up in protein.
If you looking to keep them vegetarian, you could use different beans and sauteed veggies to change things up. I've even made a quesadilla with sweet potato and cheese that was phenomenal! Truly, the only limit is your imagination here.
How To Meal Prep Chicken Quesadillas
Besides freezer kits, there are a couple of different ways to make sure I have everything I need to prep and eat these chicken quesadillas ahead of time.
Method 1: Cook Chicken Ahead of Time
The number one thing I do to cut my quesadilla prep time in half is to cook my chicken ahead of time.
The shredded chicken recipes that I use most often for quesadillas are Slow Cooker Salsa Chicken and Mexican Shredded Chicken. Out of the two, I will more often make the salsa chicken because it only requires a few ingredients, which makes it super easy to make.
Having the shredded chicken made ahead of time is more than half the battle. Even if you can't do anything else, then as long as you have tortillas and cheese available, you'll be able to easily get these made during the week. I'll make the shredded chicken in my slow cooker over the weekend, store it in a glass meal prep container, and keep it handy in my fridge.
Now, if by any chance I don't have time, or something comes up, or we simply just don't feel like actually making the quesadillas, I can still go ahead and freeze the chicken to use later on. You can freeze it in the glass container or use a plastic freezer-safe bag.
If you do end up freezing the shredded chicken, then I recommend turning it into a freezer kit so you have everything you need when you are ready to make it.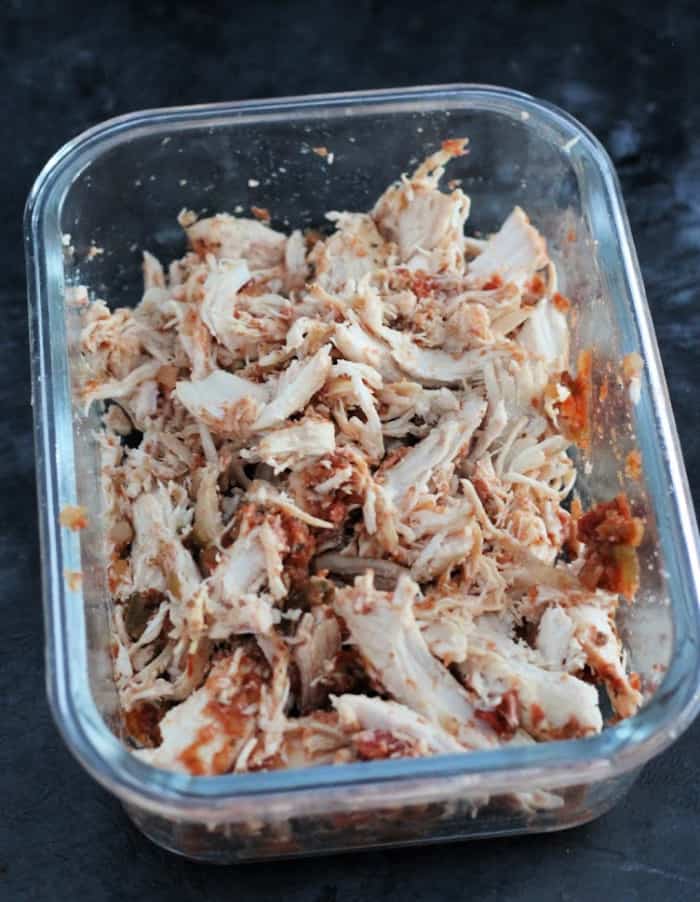 Method 2: Have All Ingredients Ready To Go
Another way I meal prep quesadillas is to get them completely ready to cook.
Take your tortillas and lay them all flat.
Fill each tortilla with about 1/4 cup or so of chicken, 2 tablespoons of cheese, and a little hot sauce.
Fold each quesadilla over and wrap them in plastic wrap.
Store it in the refrigerator for up 2 -3 days.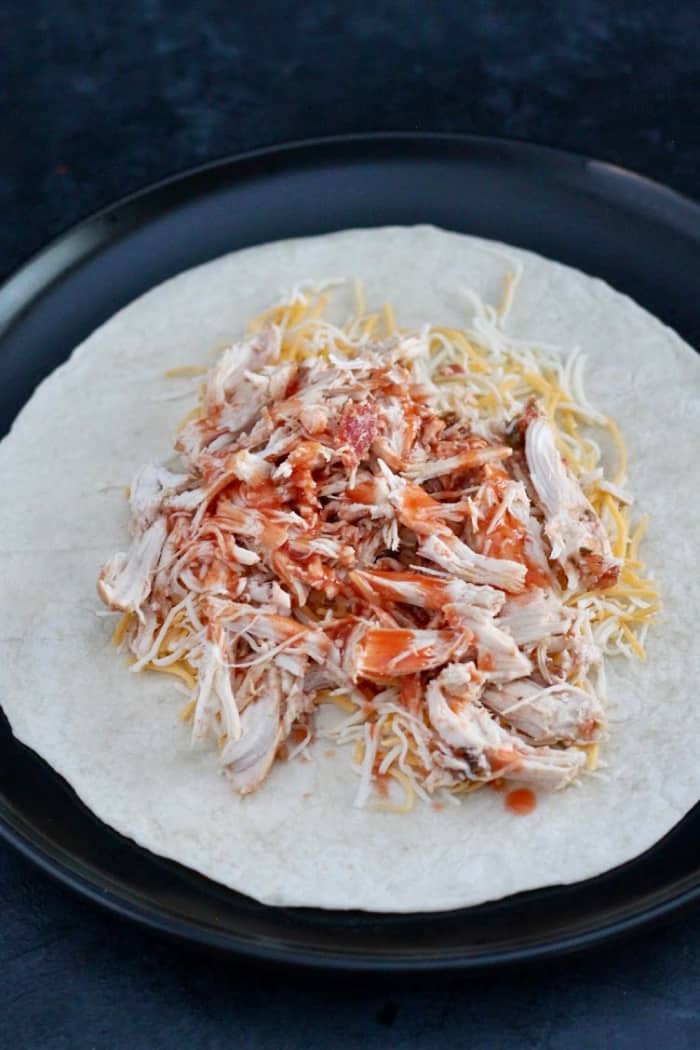 When I'm ready to cook, I just unwrap them and cook the quesadillas on a hot grill pan. You can use a regular pan but I prefer a grill pan. This is a great way to cook quesadillas fresh during the week but with very minimal effort because you have all the ingredients ready to go.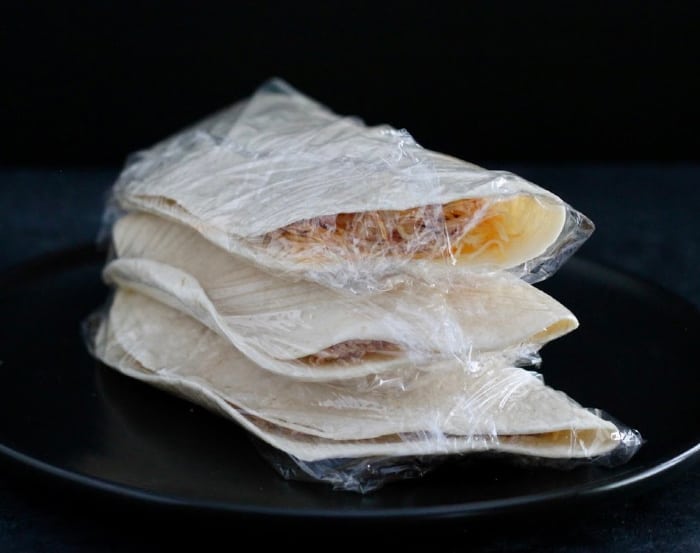 Method 3: Fully Cook Your Chicken Quesadillas Ahead Of Time
This method of meal prepping chicken quesadillas is something I learned during my daughter's volleyball season this year. There were many nights where my daughter needed dinner in between games and I found myself spending money on unhealthy foods that didn't really benefit her nutritionally.
Instead of just grabbing her something at Core Life or Panera Bread 2-3 times a week, I'd make her dinner and bring it to the game. One of the foods I made were these chicken quesadillas. I felt good knowing she was eating something homemade filled with protein before the game.
By the way, I always made extra of because her friends loved them too!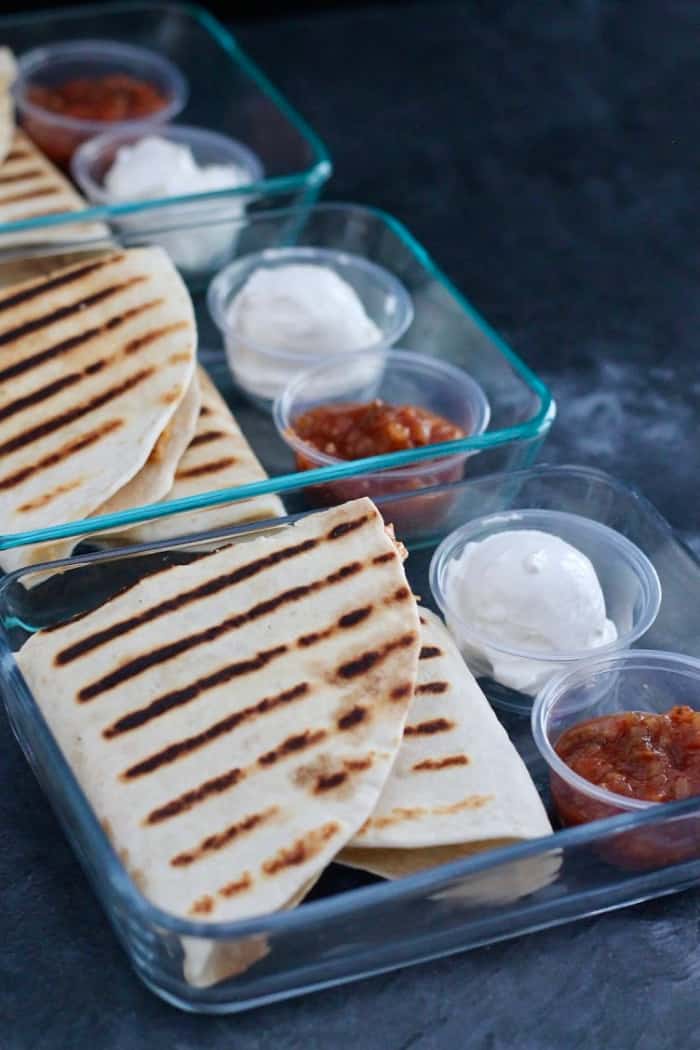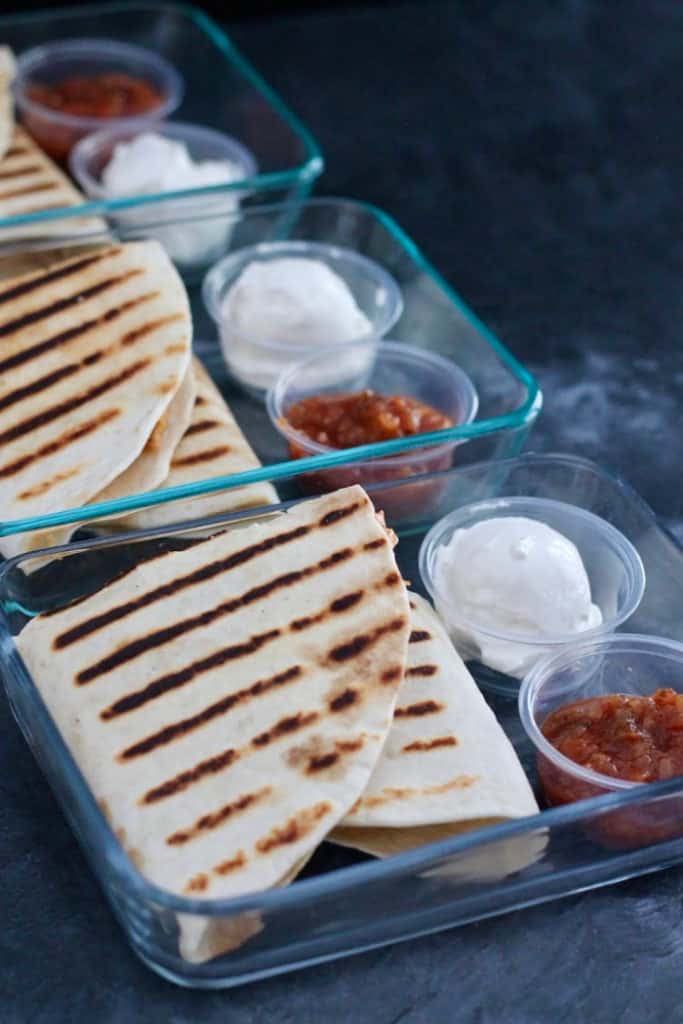 All I do is cook the quesadillas completely before we had to leave. Then, I place them into a glass meal prep container. I also like to add in a 2-ounce container of sour cream and a 2-ounce container of salsa to go with the quesadilla. I get these containers delivered from Amazon.
Yes, she would have to eat this cold or lukewarm but the quesadillas were still very tasty! Also, these are great to have in the refrigerator for when we get home late after school. They are ready to eat so there's no waiting for dinner to be made. My kids eat them cold or warm them up for 30 seconds in the microwave.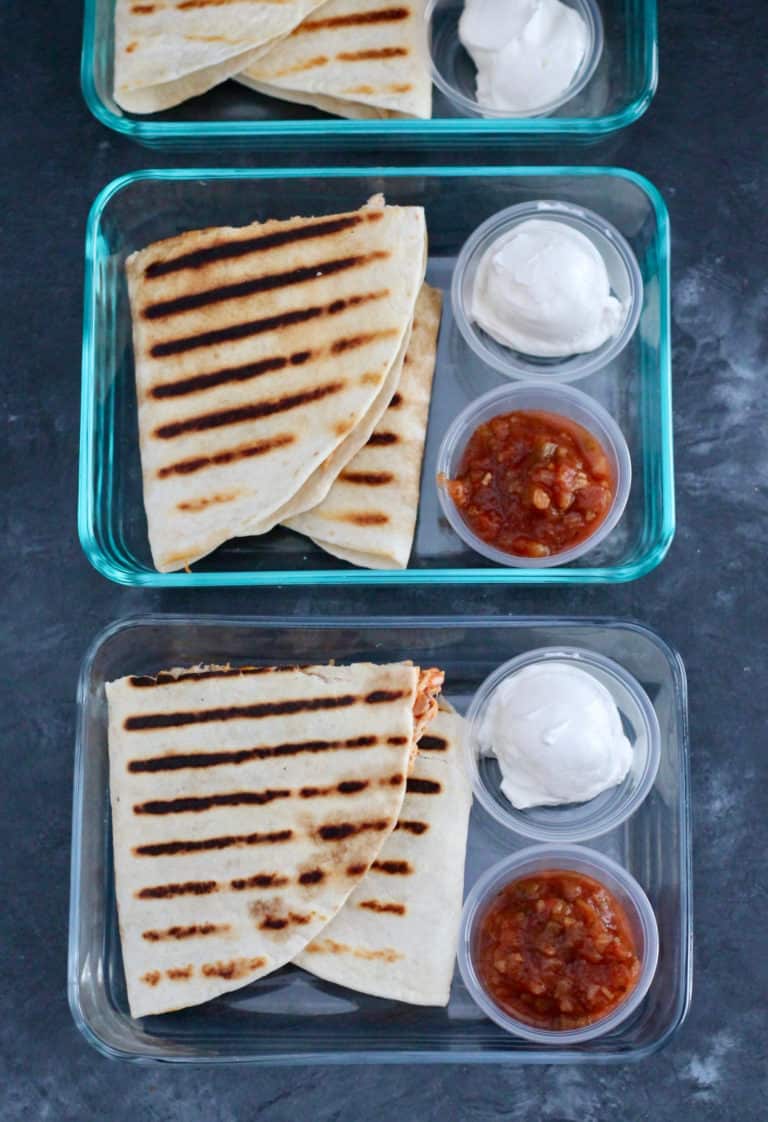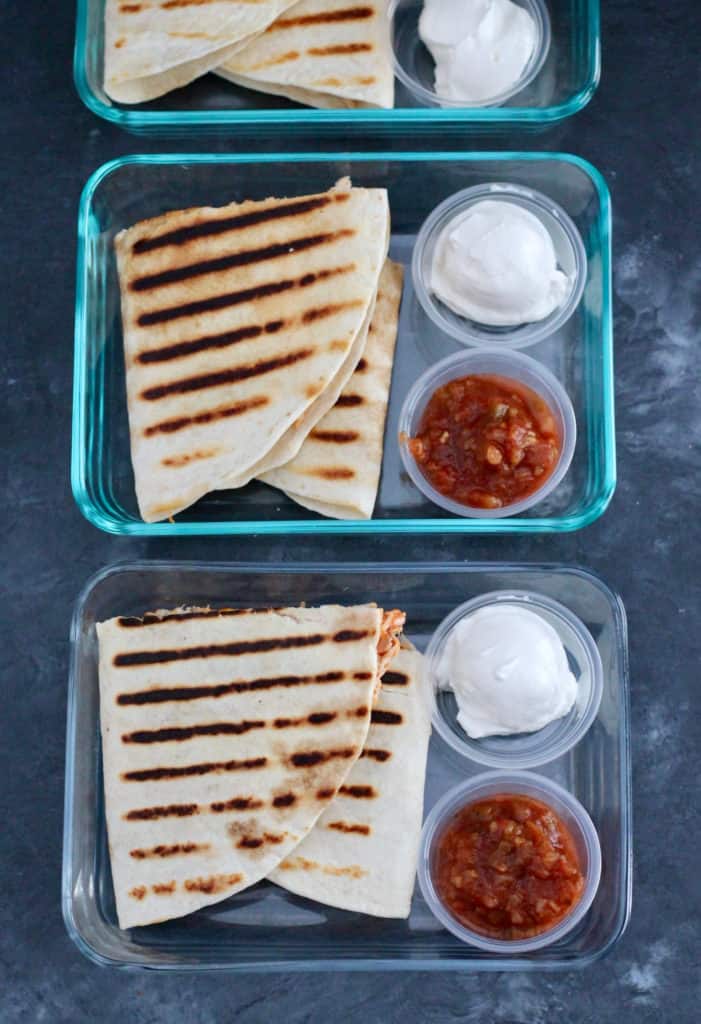 Check Out Other Quick + Easy Dishes to Meal Prep For The Week
Besides chicken quesadillas, here are a couple of recipes I typically meal prep on a weekly basis for my entire family:
Meal prep these Chicken Quesadillas next time you need something to eat that is quick + on the go. Share a picture and tag me on Instagram or Facebook if you decide to try it!