Chicken breasts and thighs slow cooked in a tangy balsamic vinegar sauce. Use in salads, wraps, or with vegetables and rice.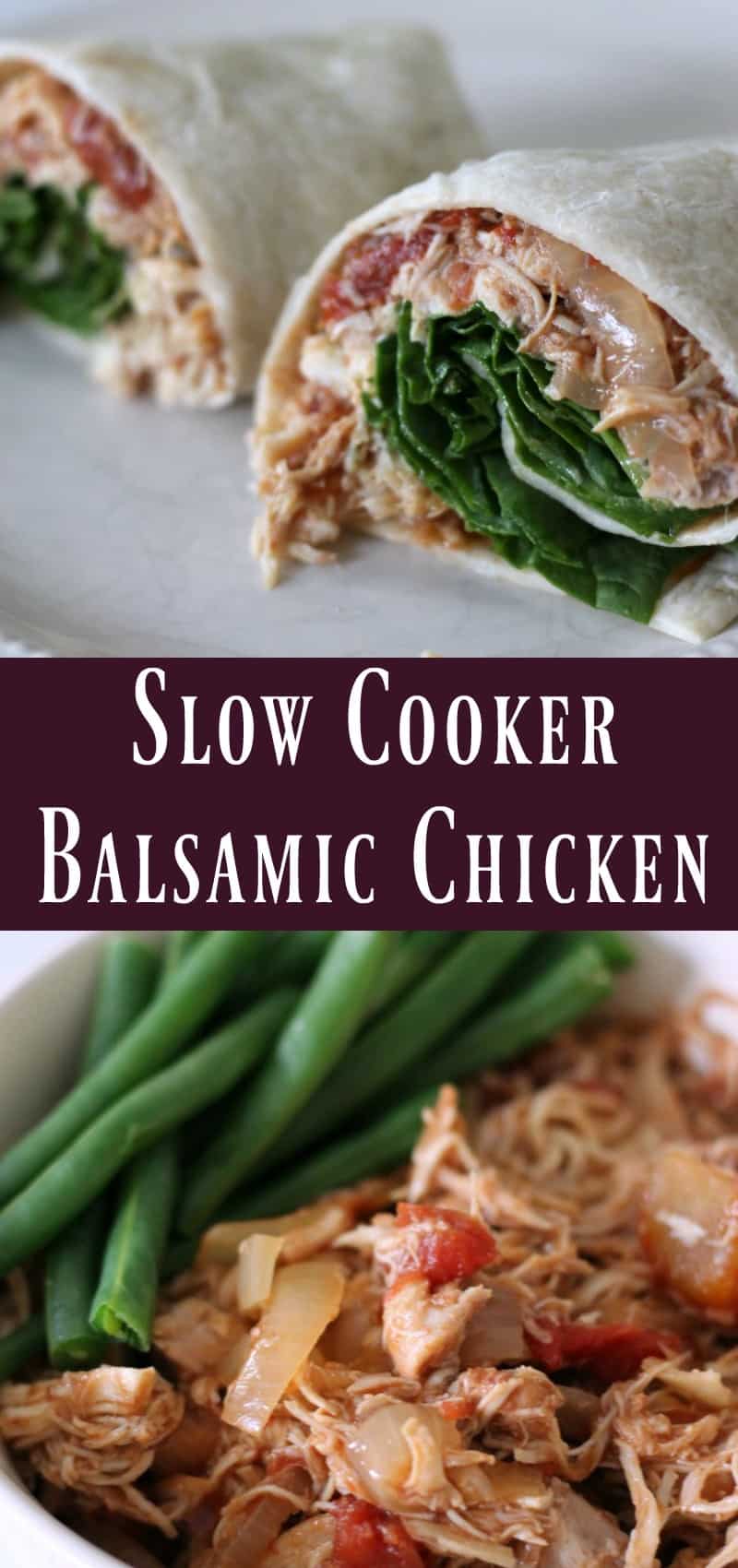 Not all slow cooker recipes are created equal. Some can cook all day long while you're at work, those are great when you need a meal ready to eat as soon as you walk in the door. Some crockpot recipes only need a few hours to cook and those are great for meal prep days or days when you're not going to be away from the kitchen all day. Both types of slow cooker recipes serve a purpose, you just need to pick the right one to meet your needs that day.
This new Slow Cooker Balsamic Chicken recipe falls into the "only need a few hours" to cook category. However, it keeps well in the fridge and freezer making it perfect to prepare over the weekend to use in healthy recipes during the week. Later on, I'll chat about the different meal options you can make with this Slow Cooker Balsamic Chicken recipe.
Slow cooker recipes don't get much easier than this one. The first thing you're going to do is put the chicken in the insert with sliced onion. I used 1lb boneless chicken thighs and 1lb boneless chicken breasts for this recipe. You can easily use one or the other but I like the mix of both meats. Chicken thighs bring great flavor and breasts keep the fat down.
Next I put together the balsamic marinade/sauce using drained diced tomatoes, balsamic dressing, chicken broth, red wine, Italian seasoning, onion powder, garlic powder, and red pepper flakes. If you don't have wine then just leave it out – I've made it both ways.
Then I poured the marinade over the chicken. This marinade can be prepped a couple days ahead of time if you wanted to have it ready for the day or night you want to make it.
This recipe can be cook on high or low. I cooked it on high for 3 hours because I made this on meal prep day and wanted to get it cooked and put in the fridge. However, you can also slow cook this for 5-6 hours on low. I've seen many slow cooker chicken recipes call for an 8-10 hour cooking time and personally I would never cook chicken that long in the slow cooker. It would either dry out or become stringy. That's been my experience.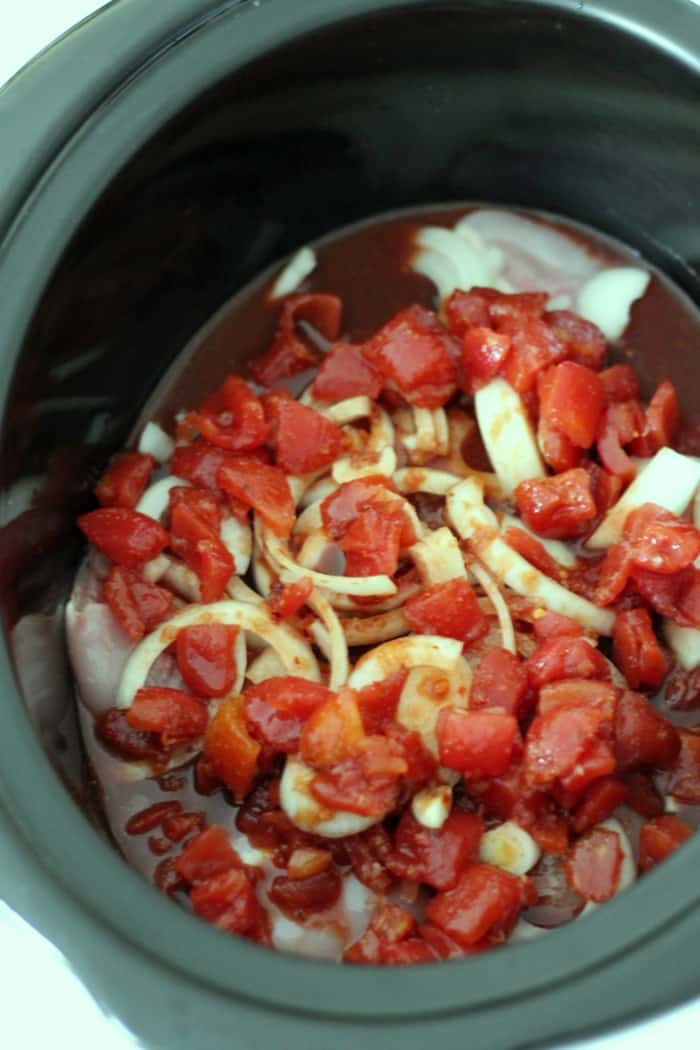 After it was done cooking I place the chicken in a bowl. I drained the sauce into a sauce pan and then placed the tomatoes and onions on top of the chicken. Now this is where you need to put in a little extra work.
In the past, I've tried to get a rich thick delicious sauce simply by using the slow cooker. Unfortunely, I've had no luck using that method. The only way for me to get a thick tasty sauce is to cook it down on the stovetop using a cornstarch slurry. Sorry but it must be done. It's really not a big deal but I know we want it easy. Trust me, it's still easy.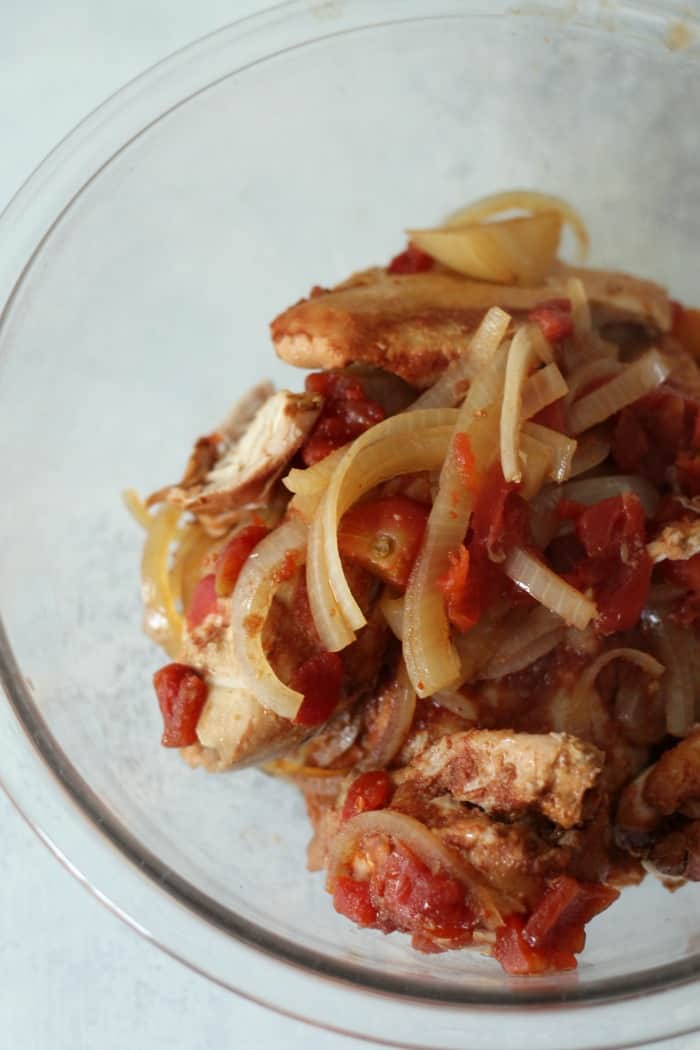 Before I talk about the sauce I want to go over the chicken options. You can leave the chicken in pieces if you like. The meat will be tender and fall a part slightly but it will stay in large chunks if that's what you want.
I opted to shred the chicken because that's the way I like it. Your chicken, your choice.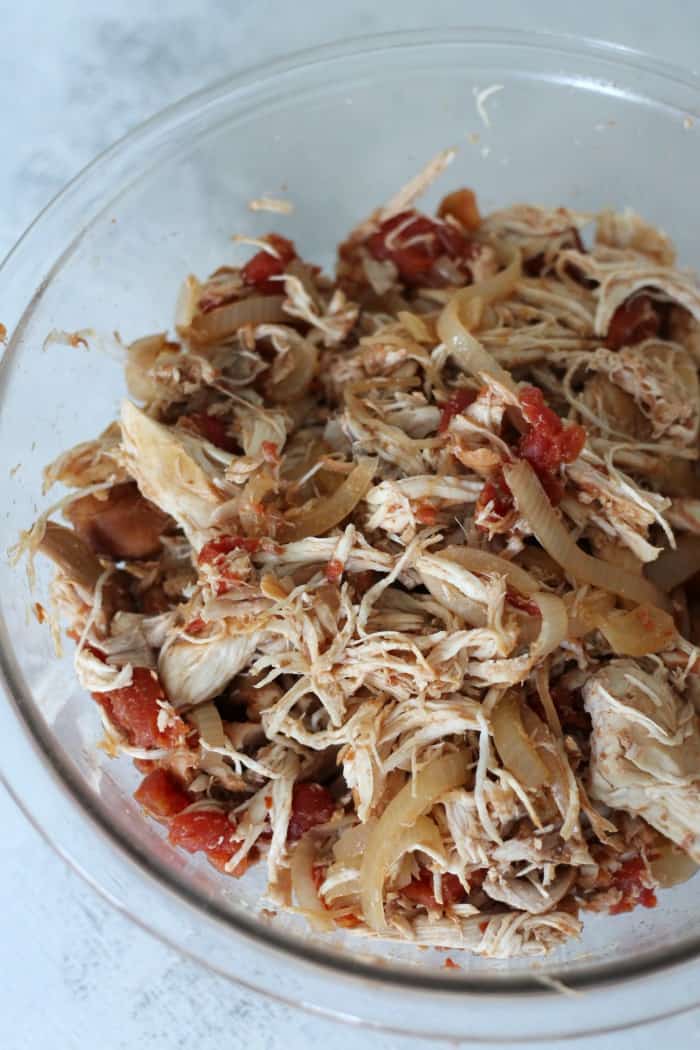 Back to the sauce. After I poured it into the pan I whisked in a slurry made with 1 1/2 tablespoons cornstarch and 1/4 cup water. I also stirred in salt and honey to balance out the balsamic vinegar. Often it helps to season slow cooker recipes at the end because flavors can get muted during the cooking process. Then just cook the sauce down until it becomes bubbly and thick.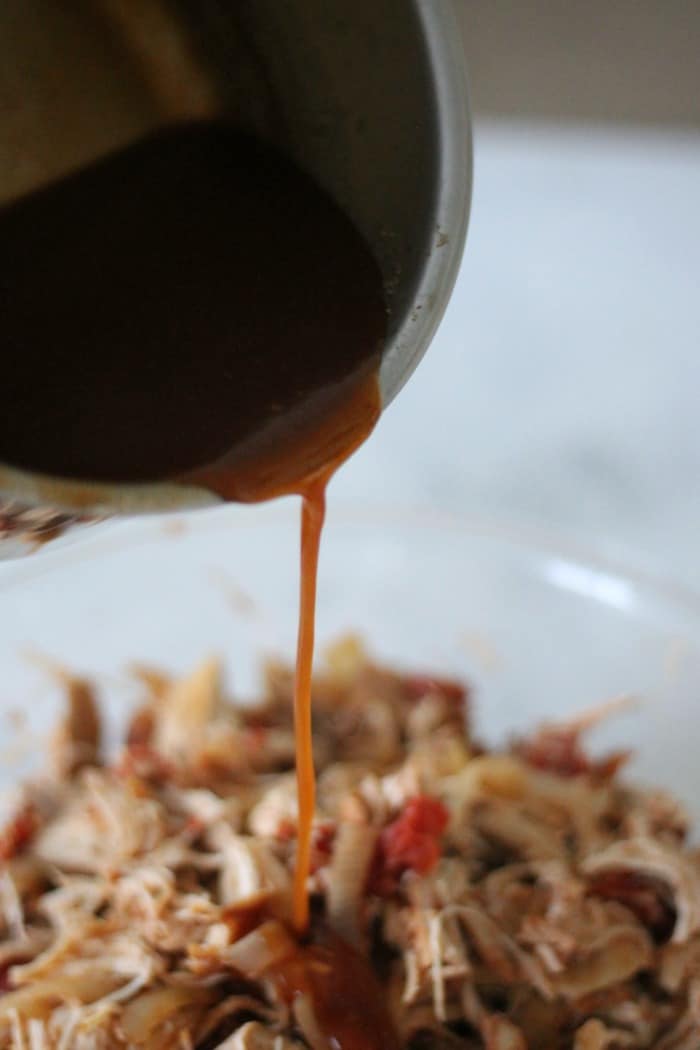 Mix some of the sauce in with the chicken and then save the rest to drizzle on top if needed. The extra sauce can be stored in small mason jars.
The first night I enjoyed the shredded balsamic chicken with green beans and rice. You can also serve this with quinoa or a salad.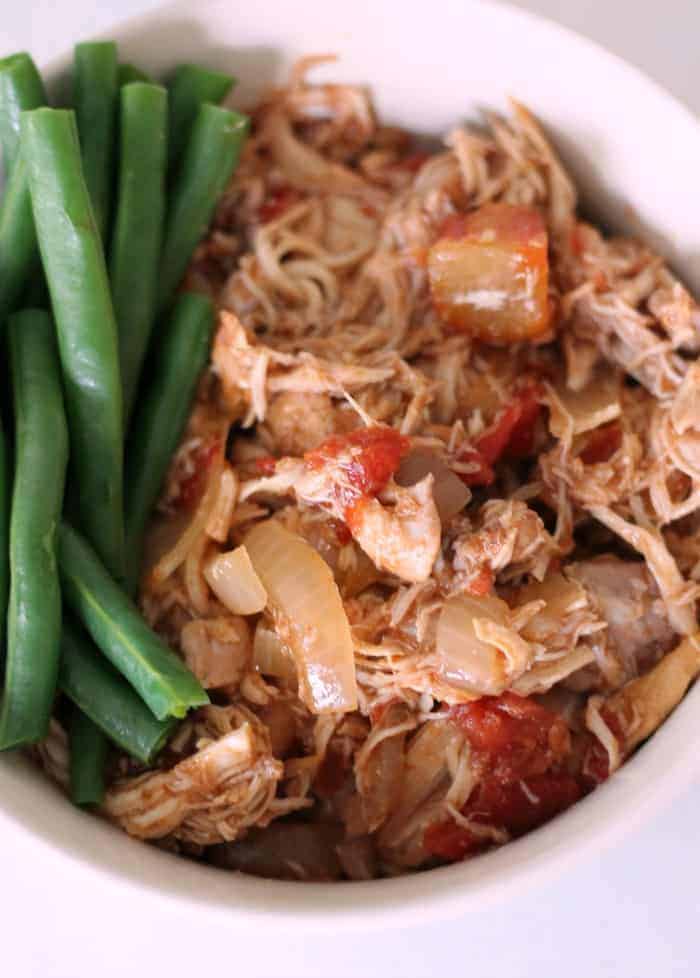 The next day I made a delicious wrap using the balsamic shredded chicken, spinach, crumbled blue cheese, and a drizzle of extra sauce.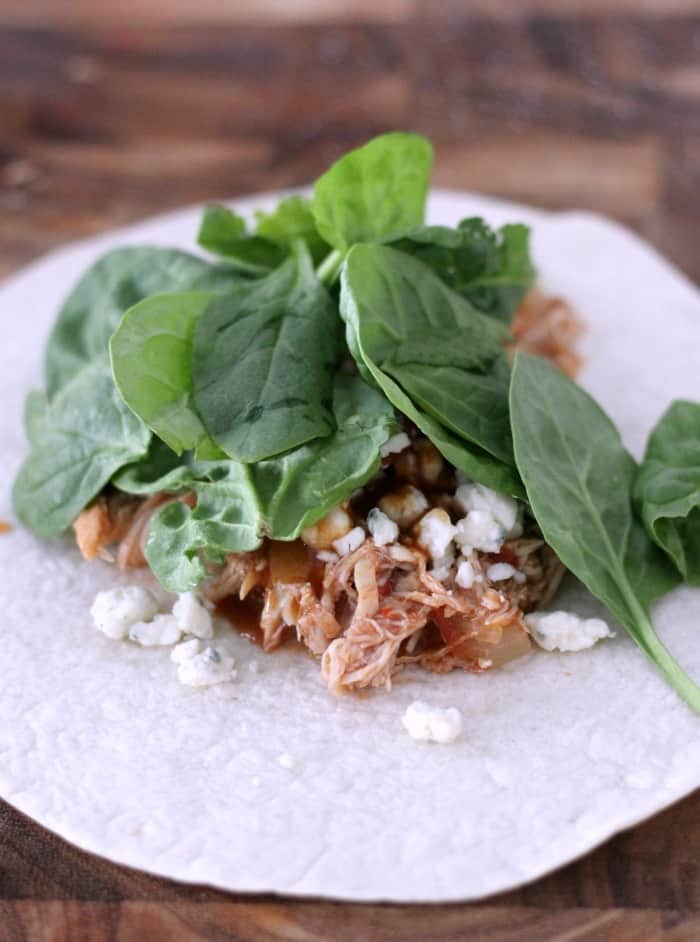 This wrap was beyond delicious! It would make for a nice lunch or quick healthy dinner.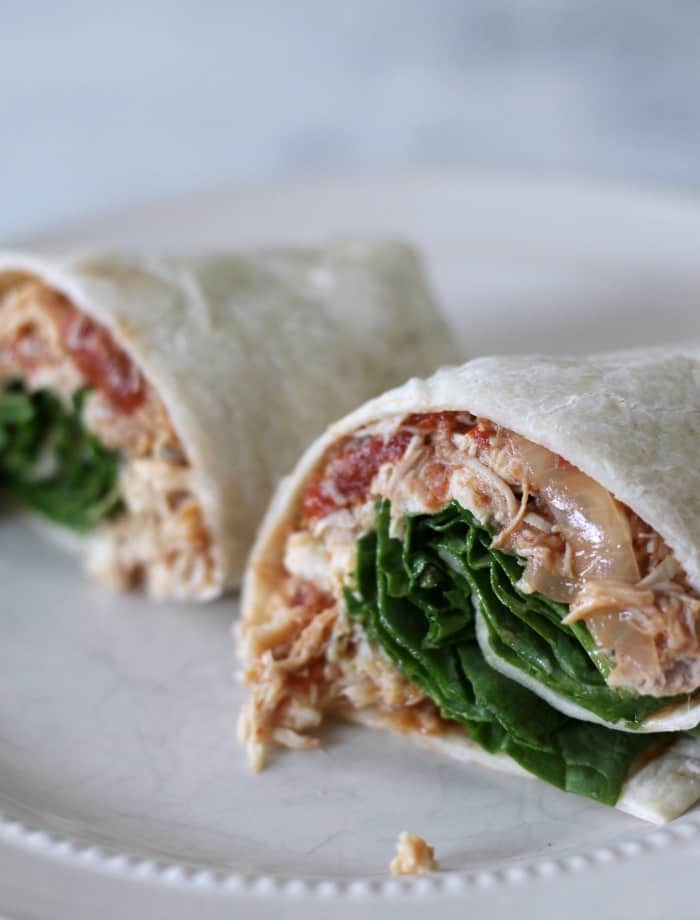 If you're looking for a healthy slow cooker chicken recipe that can be made ahead of time I highly recommend putting this on your weekly meal plan. If you have leftovers then portion out the chicken and freezer for future meals.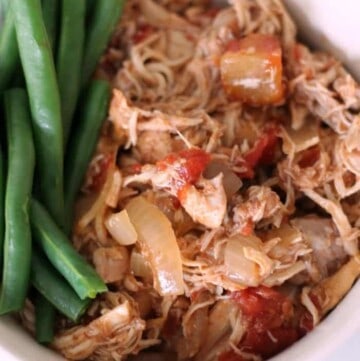 Ingredients
1

lb

boneless skinless chicken breast

1

lb

boneless skinless chicken thighs

1

large white onion

peeled and sliced

1/2

cup

balsamic vinegar

1/2

cup

chicken broth

1/4

cup

red wine

1

14-ounce can diced tomatoes, drained

1

teaspoon

Italian seasoning

1

teaspoon

onion powder

1

teaspoon

granulated garlic

1/2

teaspoon

red pepper flakes

1 1/2

tablespoons

cornstarch

1/4

cup

water

1/4

teaspoon

salt

1/4

ground pepper

1-2

tablespoons

honey
Instructions
Place chicken breasts, thighs, and sliced onion into the insert of the slow cooker.

In a small bowl mix together balsamic vinegar, chicken broth, red wine, diced tomatoes, Italian seasoning, onion powder, granulated garlic, and red pepper flakes.

Pour sauce over the chicken, place top on, and set to cook 3 hours on high or 4-6 hours on low.

Place chicken in a medium to large bowl and drain the sauce into a medium sauce pan.

Keep chicken whole or shredded.

In a small bowl mix together cornstarch and water. Pour slurry into the pan with the sauce and cook over medium until the sauce becomes bubbly and thickens. As the sauce cooks stir in 1-2 tablespoons of honey, salt, and pepper. Taste for seasoning and then pour some of the sauce in with the chicken and save the rest to drizzle on top as needed.

Serve with vegetable, rice, in a wrap, or however you like.
Notes
sugar: 2
Make-ahead instructions
This recipe can be made completely ahead of time and stored in the refrigerator up to 3 days or frozen up to 3 months. I recommend portioning out into recipe ready portions for easy meals.
Nutrition
Serving:
1
g
|
Calories:
201
kcal
|
Carbohydrates:
6
g
|
Protein:
32
g
|
Fat:
5
g
|
Fiber:
1
g