Frozen breakfast sandwiches are incredibly easy to make and ensure you start your day off right, rather than rolling through the drive-through. Not only will you eat healthier, but you'll save money too…total win-win!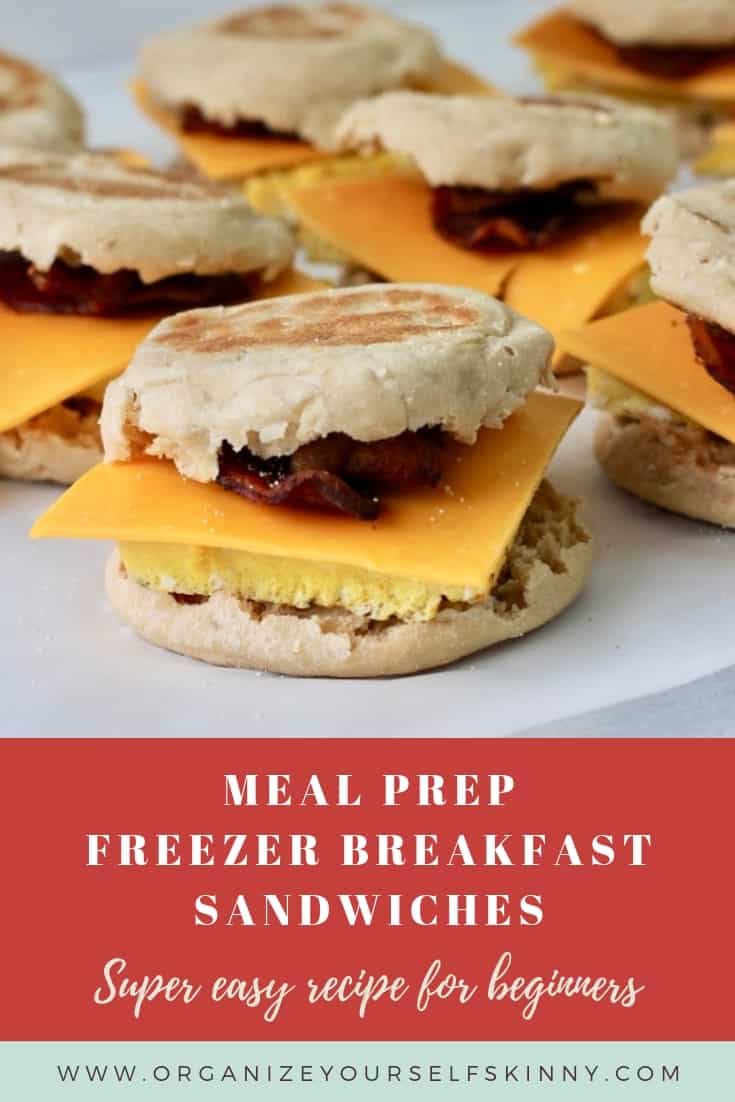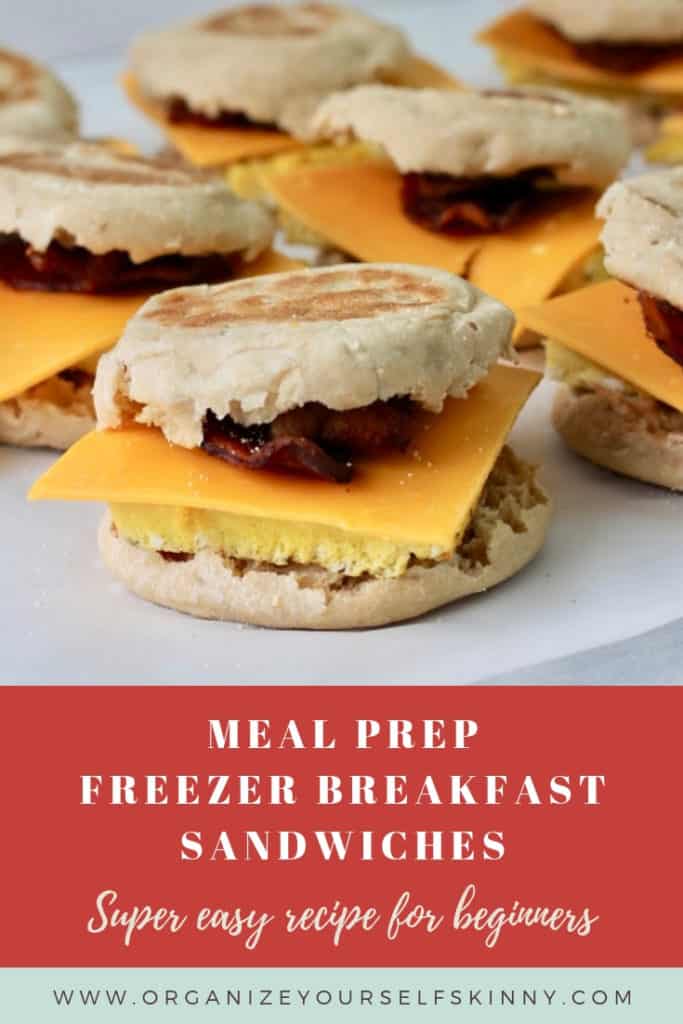 Frozen breakfast sandwiches are one of the first freezers meals I made when I started my weight loss journey. If I can be honest, I used to be a regular at the Tim Horton's drive-thru ordering my bacon, egg, and cheese on an everything bagel or English muffin.
Of course, I knew this wasn't the healthiest decision but, back then, all I cared about was getting out the door with my hair washed. My whole life was surviving one hot zone after another. Can you relate?
Frozen Breakfast Sandwiches
Thankfully, as I began thinking of healthy swaps way back when, I realized that I could easily recreate a healthier version of my favorite breakfast right at home with make ahead breakfast sandwiches.
I actually shared a couple of posts 7-8 years ago on making frozen breakfast sandwiches. Let's just say I've learned a lot since then so I wanted to put together an updated post to give more tips and tricks for preparing a healthy freezer breakfast sandwich.
Why I Love Make Ahead Breakfast Sandwiches
First, just in case you need more convincing, these are the 3 reasons I love frozen breakfast sandwiches.
You Can Choose (and Control) the Ingredients
It's safe to say that most drive-thru breakfast sandwiches aren't made with the highest quality ingredients. Not to mention that fast food breakfast sandwiches are filled with sodium, additives, preservatives, and who knows what else.
By making your own, you get to control the ingredients. So, if you want to use all organic you absolutely can.
This also means that you get to control the calories. If you want to keep the sandwiches under 350 calories then simply choose the ingredients that'll help you do that.
Frozen Breakfast Sandwiches Save You Money
Going to drive-thru costs money. Conservatively, you're looking at spending at least $5 every single time if you want to get a breakfast sandwich that's even close to one like this. At 5 days a week, that's $100 a month. Yikes!
Instead, you can purchase everything in bulk from BJ's wholesale or Costco, and make an entire month's worth of these freezer breakfast sandwiches for like $20. Much better!
These Freezer Breakfast Sandwiches Save You Time
At first, this one sounds like it's not exactly true. How could making breakfast sandwiches save you time? Simple. Going to the drive-thru requires a drive there, a wait in line (however brief) and a drive back.
If you're lucky, that's a minimum of 10 minutes. That's 50 minutes a week going to get a breakfast sandwich. I'm sure we can all find much more productive ways to spend an hour of our time, right?
How to Make Frozen Breakfast Sandwiches
Okay, let's go through the basics of preparing frozen breakfast sandwiches. At the end, I'm going to offers some more tips.
When I first started making these I'd fry an egg on my griddle and then put the sandwiches together. This was okay but the egg white got a little chewy after being frozen.
The next thing I tried was whisking up the eggs and, again, cooking them on my griddle. I used egg rings to make individual servings. This tasted much better but took more time and effort to make than I wanted.
The Secret Trick to Making Eggs Quick
Then it occurred to me to simply bake the eggs in a casserole dish. There are many moments, where I'm like ummmm I can't believe it took me this long to think of this – this was one of those moments.
I've been making egg bakes for years and finally realized that this method is the way to go to make quick healthy breakfast sandwiches.
You can use any egg bake recipe for this. This chicken sausage and greens egg bake recipe is delicious. However, if you just want an easy, no-frills, egg bake to throw into a breakfast sandwich with cheese and bacon – this is it.
Start with 12 whole eggs. You can leave a few of the yolks out if you want to cut some fat but try to leave more yolks than whites because egg whites struggle with freezing. The fat from the yolks keep it from getting rubbery
Add salt, pepper, garlic powder, onion powder, a little milk, and whisk it all together.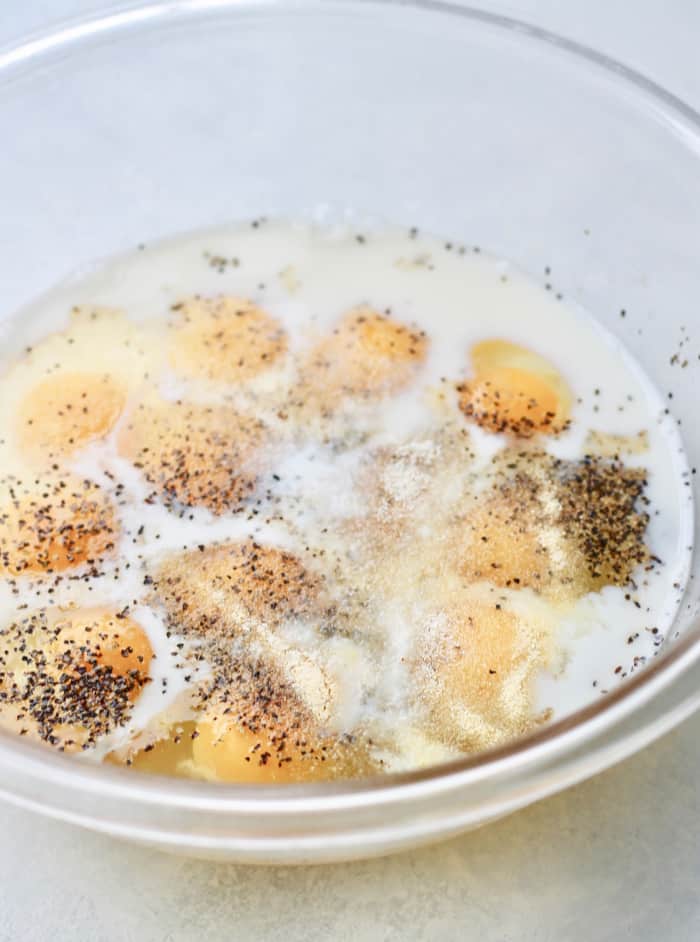 Pour the egg mixture into a 13 x 9 baking dish, coated with cooking spray, and bake in a 375 degree oven for 20 minutes or until set in the middle.
After the egg bake is done, set it aside and cook the bacon. Now you can easily cook the bacon beforehand – it really doesn't matter. I like to cook bacon in the oven for 20 -25 minutes in a 375 oven. This gives it the perfect crispiness and I can cook a bunch at once.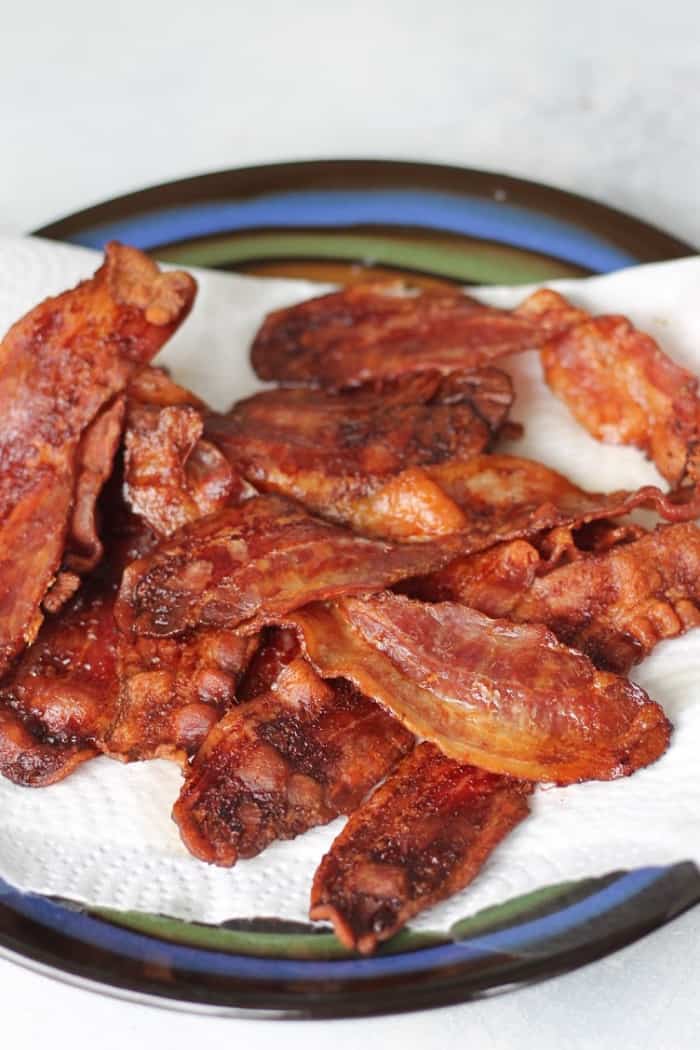 Next, cut the egg bake into 10 squares. Try to make them as even as possible. Don't be like me with the last two squares being smaller than the rest.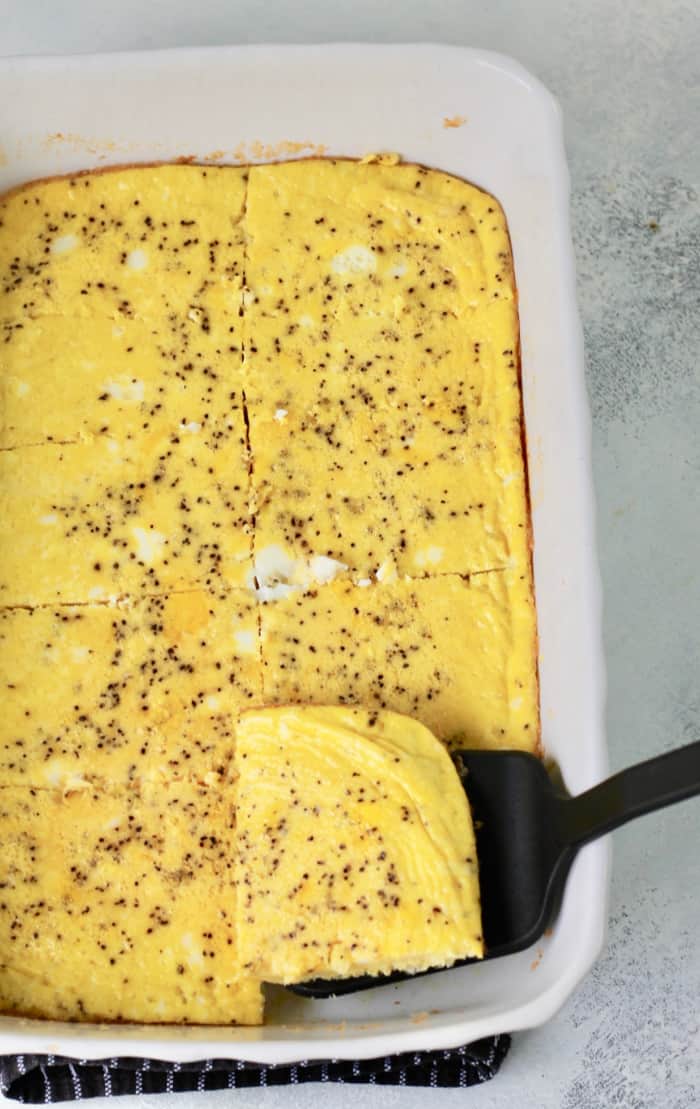 How to Put the Make Ahead Breakfast Sandwiches Together
Now it's time to put the sandwiches together. My favorite breakfast sandwich bread of choice is Thomas Lite Multigrain English Muffins. These muffins are only 100 calories, have 8 grams of fiber and 5 grams of protein, and taste great. I purchase them in bulk (2 packages 6 each) from BJ's wholesale. However, you can get these at any grocery store.
I've seen other bloggers talk about toasting the bread before assembling the breakfast sandwiches but I don't do that. Personally, I don't think it makes a difference and it's too much work.
I just separate the English muffins and line up the bottoms.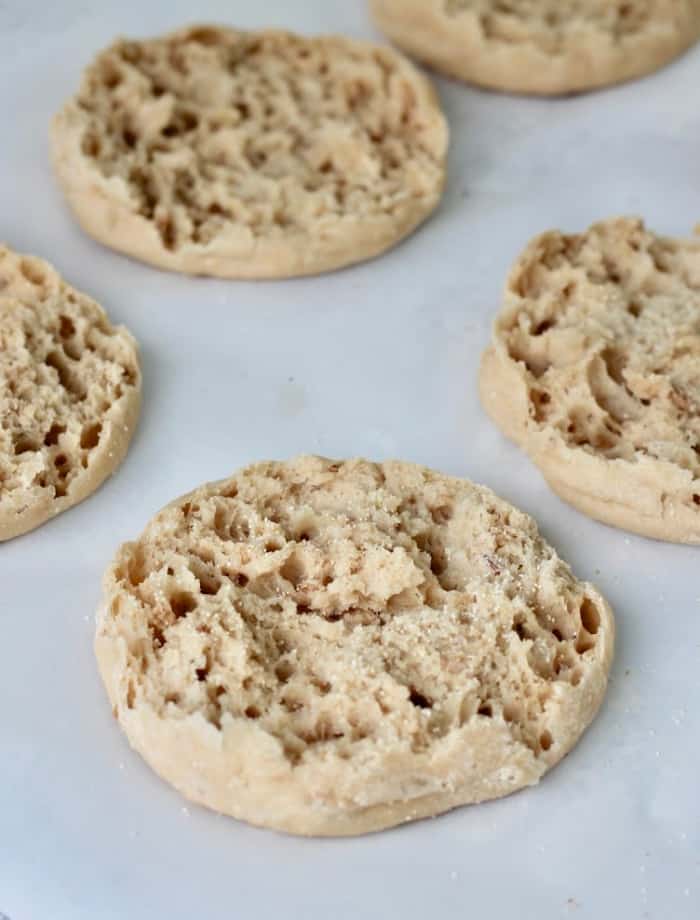 Then each bottom gets a piece of the egg bake. Now I know I could've made these sandwiches more symmetrical and pretty by making the pieces round but again…too much effort.
Plus, what would I do with extra egg pieces? I'm good with square eggs.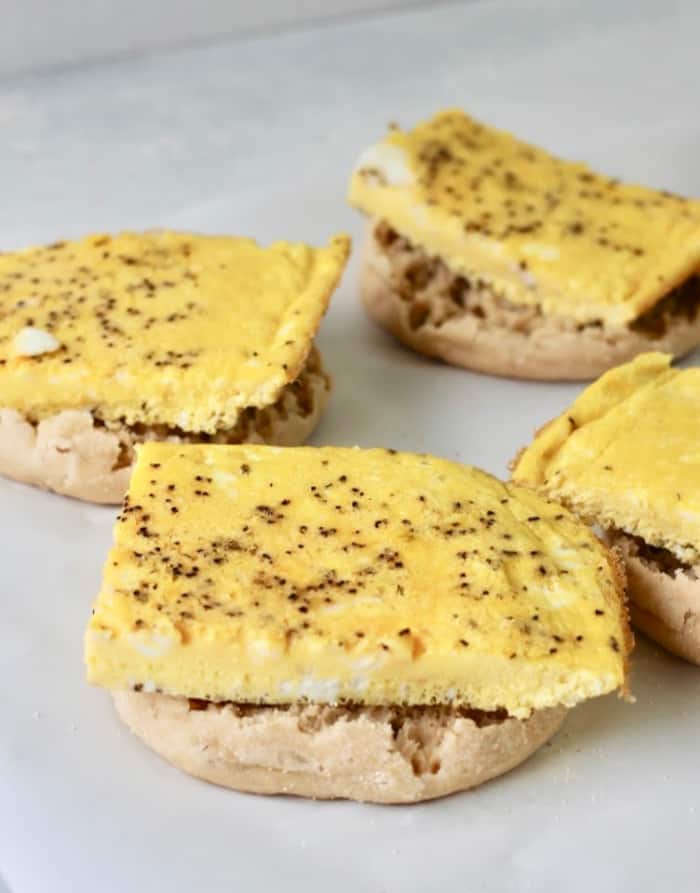 The Best Way to Add Cheese to Freezer Breakfast Sandwiches
Next is the cheese. This is probably the trickiest part of the sandwich. If you're going to warm it up directly from the freezer then I recommend folding the cheese or arranging it so the cheese isn't hanging over the sides.
This helps to keep the cheese in the sandwich. If you take it out the night before and give it a little chance to thaw then you should be good.
Sometimes, I'll add 1 cup of shredded cheese (and leave off the sliced cheese) to the egg bake so there's no issue of messy melting cheese.
Also, if you want to reduce fat then use the ultra-thin cheese slices. Sargento makes them and I've also seen a Wegmans brand. Using these thin cheese slices is my favorite way to keep the cheese without the extra fat and calories.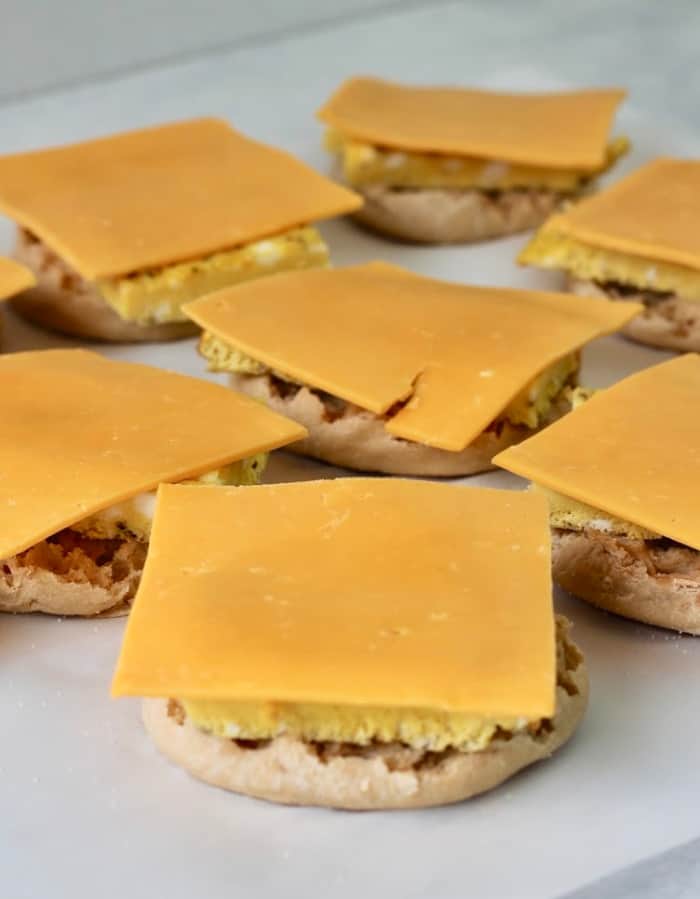 Add the bacon. You could even turkey bacon or even sausage patties too.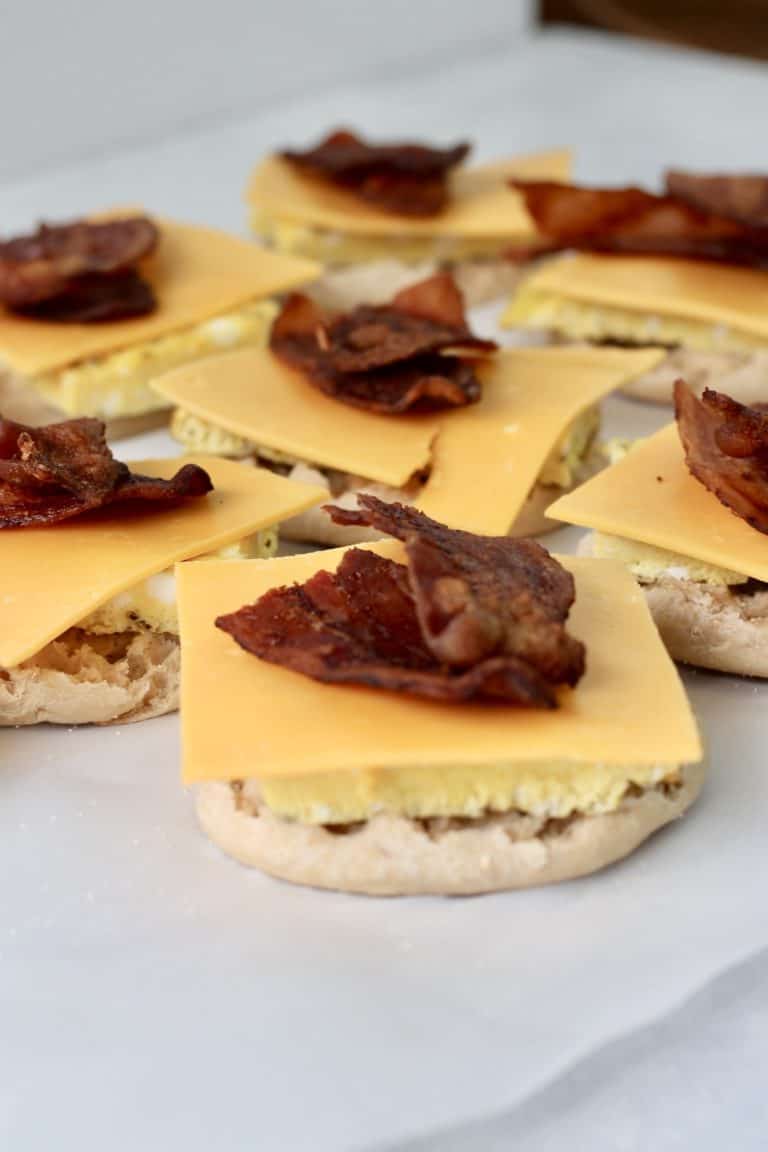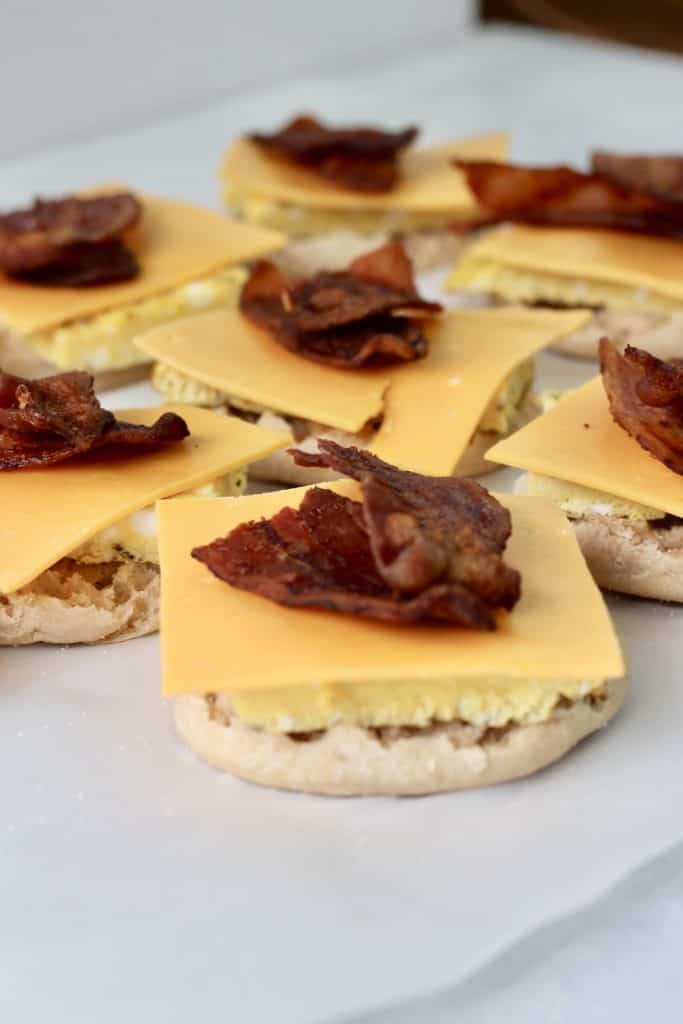 Put the english muffin tops on. Again, if you want to toast these ahead of time you can.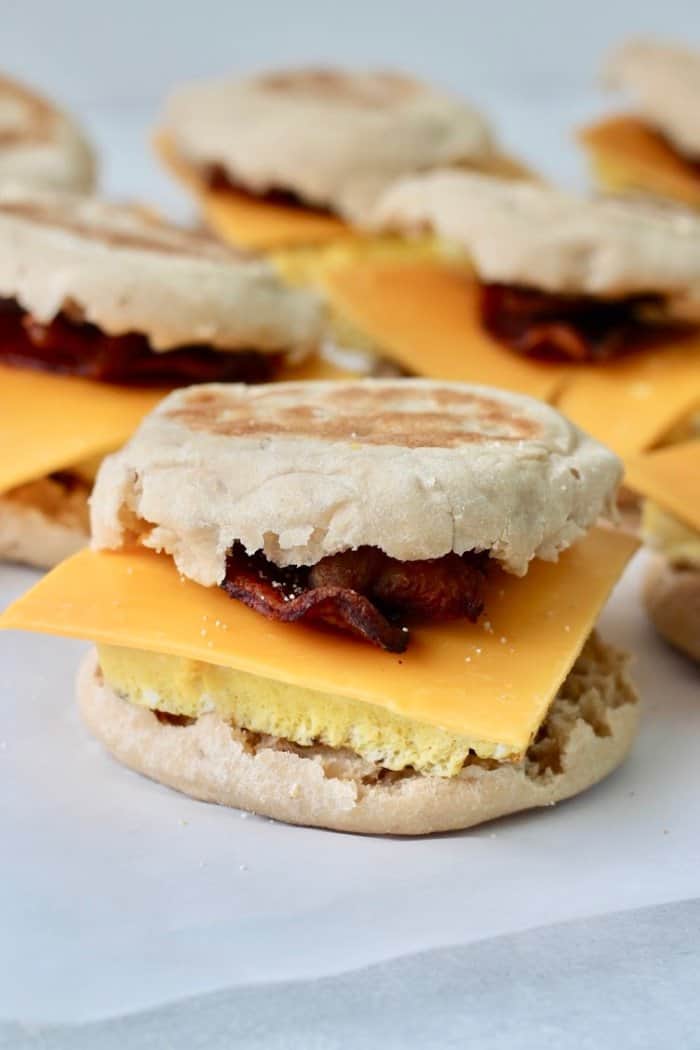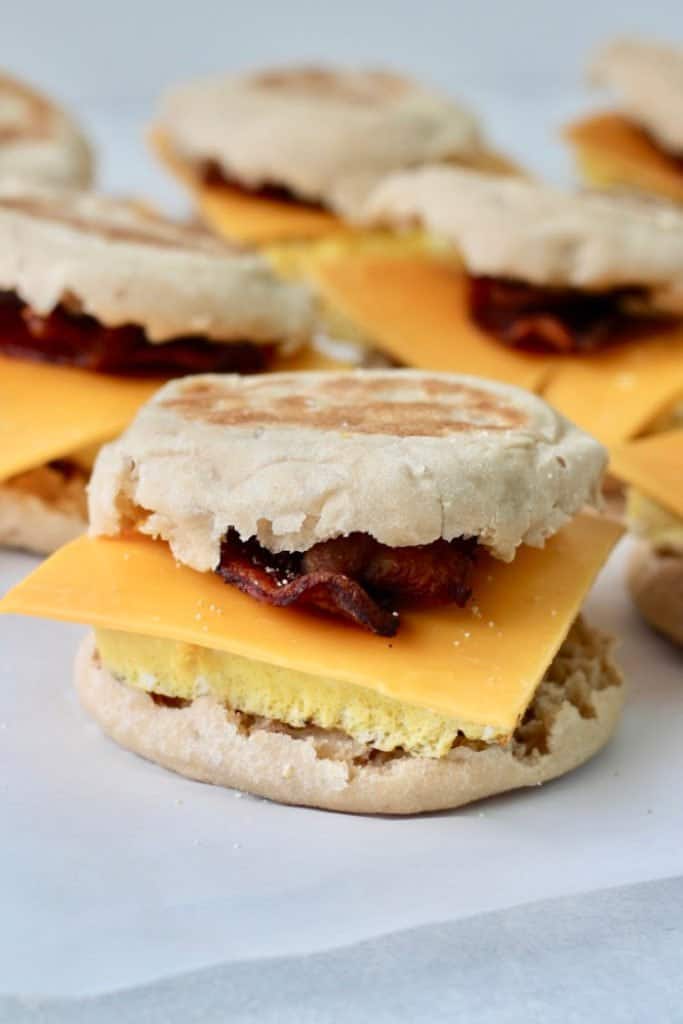 Now it's time to wrap them up. I wrap each breakfast sandwich tightly in plastic wrap.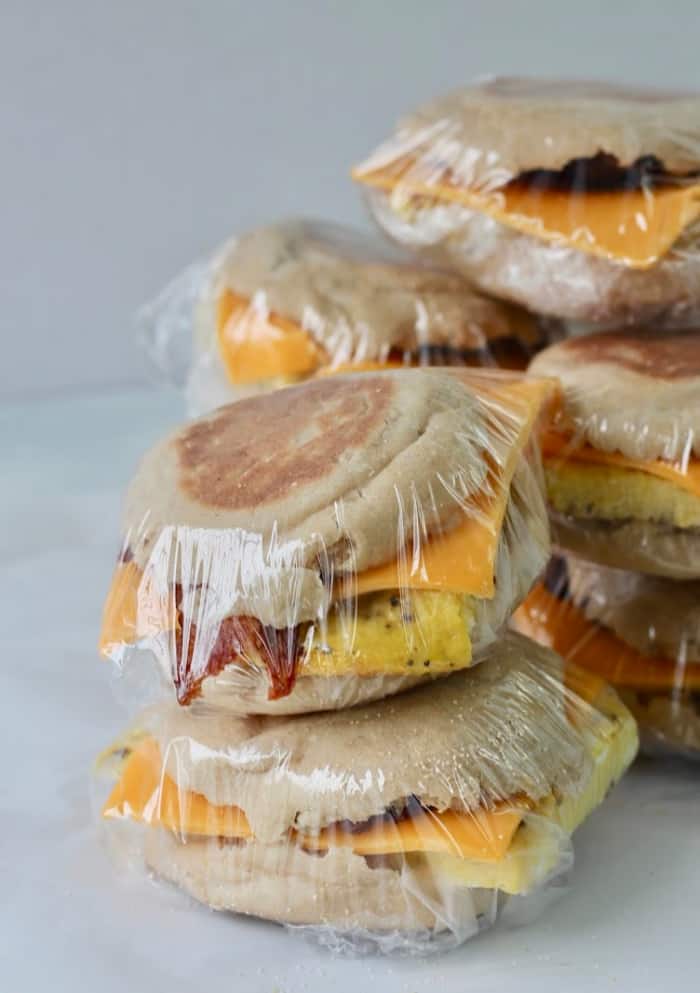 Then I either put them into a large freezer bag or lay them in the freezer.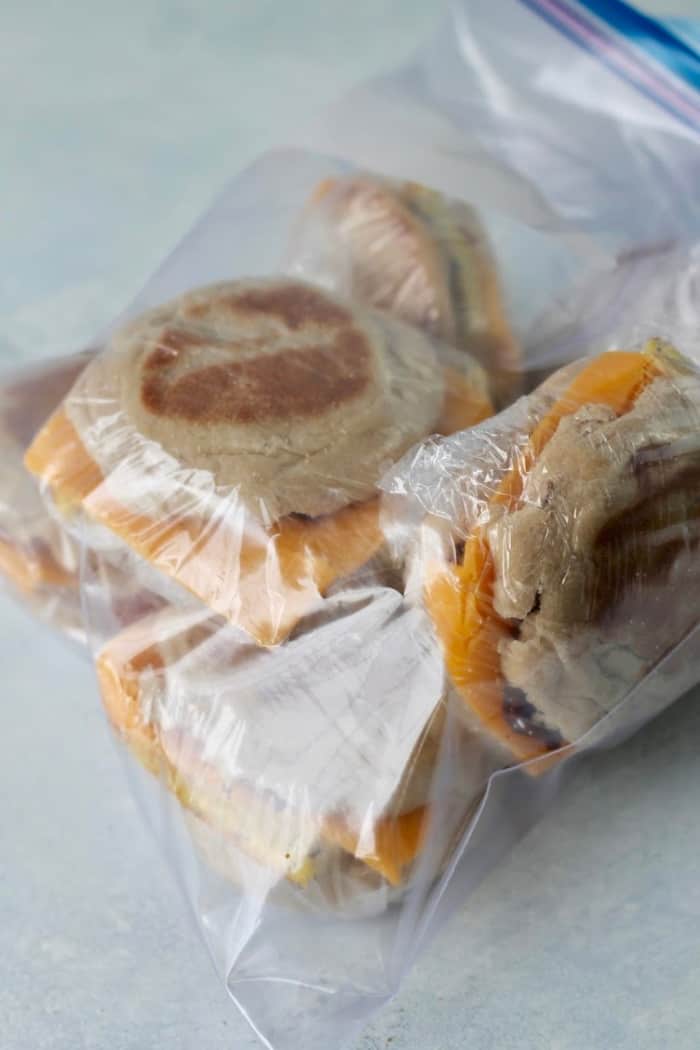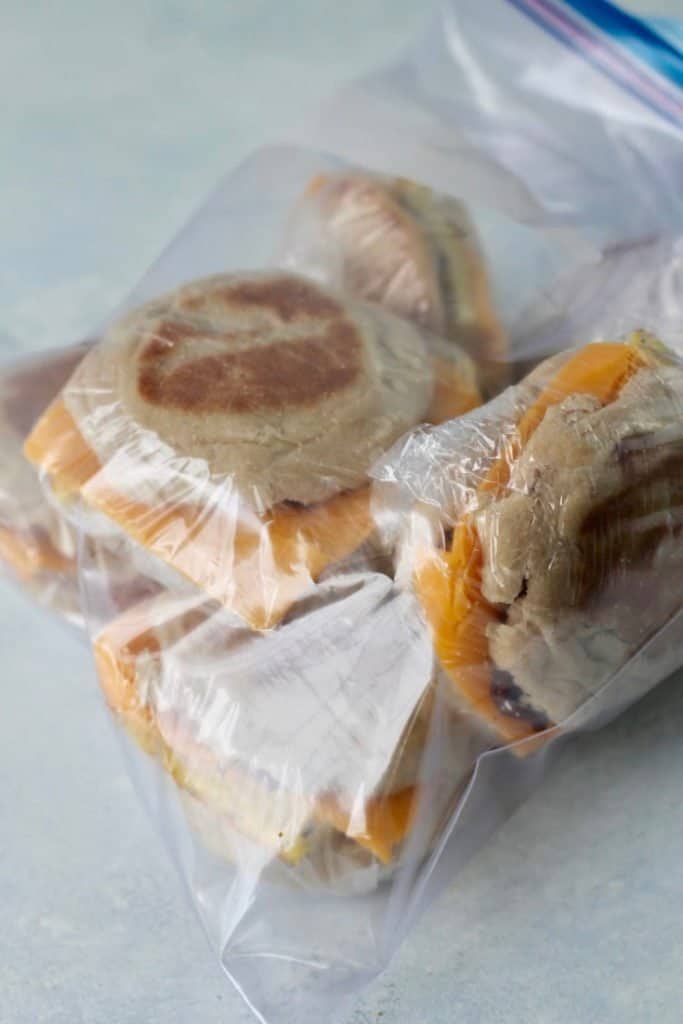 Of course there are other variations but this is my go to basic freezer breakfast sandwich.
How to Reheat Frozen Breakfast Sandwiches
Alright, let's chat about reheating. I've learned a few tricks over the years for reheating make ahead breakfast sandwiches.
Not necessary, but if you can place the frozen breakfast sandwich in the refrigerator the night before to thaw a little bit. This helps reduce reheating time and helps heat everything more evenly.
Whether frozen or slightly thawed, remove the sandwich from plastic wrap and wrap it in a paper towel.
Place on a plate and put it in the microwave.
THIS IS A VERY IMPORTANT STEP. Now I know this might seem weird but, trust me, it works. Put a coffee cup filled with water in the microwave with the breakfast sandwich. As it cooks, the steam from the water keeps the English muffin from getting hard and chewy. When I first started making these sandwiches I hated that the English muffin got hard after it cooked in the microwave. This water trick worked. It works for frozen breakfast burritos too.
These breakfast sandwiches cook between 1-3 minutes depending on how frozen they are. Be careful when you bite into it because the sandwich could be very hot.
Here's my basic make-ahead healthy freezer sandwich recipe.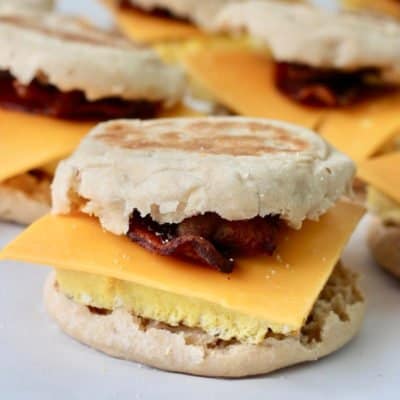 Frozen Breakfast Sandwiches
Frozen breakfast sandwiches can be made ahead using with simple ingredients. These will save you time, money, and calories.
Print
Pin
Rate
Ingredients
12

large eggs

1/4

cup

1% milk

1/2

teaspoon

salt

1/2

teaspoon

pepper

1/2

teaspoon

onion powder

1/2

teaspoon

garlic powder

10

Thomas Lite Multigrain English Muffins

10

slices

bacon

cooked

10

slices

ultra thin sliced cheddar cheese
Instructions
Preheat over to 375 degrees.

In a large bowl whisk together eggs, milk, and spices. Pour egg mixture into a 9 x 13 baking dish sprayed with cooking spray.

Cook for 20 minutes or until middle of egg bake is set. Let it cool then cut into 10 pieces and assemble the breakfast sandwiches.

Lay out all of the english muffin bottoms then layer each one with egg slice, cheese, bacon, and english muffin top.

Wrap each breakfast sandwich in plastic wrap and then freeze.
Notes
Sugar: 2
Reheating instructions:
Remove sandwich from plastic wrap. Wrap sandwich in a paper towel and put on a microwave safe plate. Place in the microwave, along side a coffee cup of water, and microwave on high for 1-3 minutes or until heated through.
Nutrition
Serving:
1
g
|
Calories:
315
kcal
|
Carbohydrates:
27
g
|
Protein:
21
g
|
Fat:
18
g
|
Saturated Fat:
6
g
|
Fiber:
8
g