Eggs, chicken sausage, onions, and peppers baked into a delicious low-carb healthy breakfast recipe.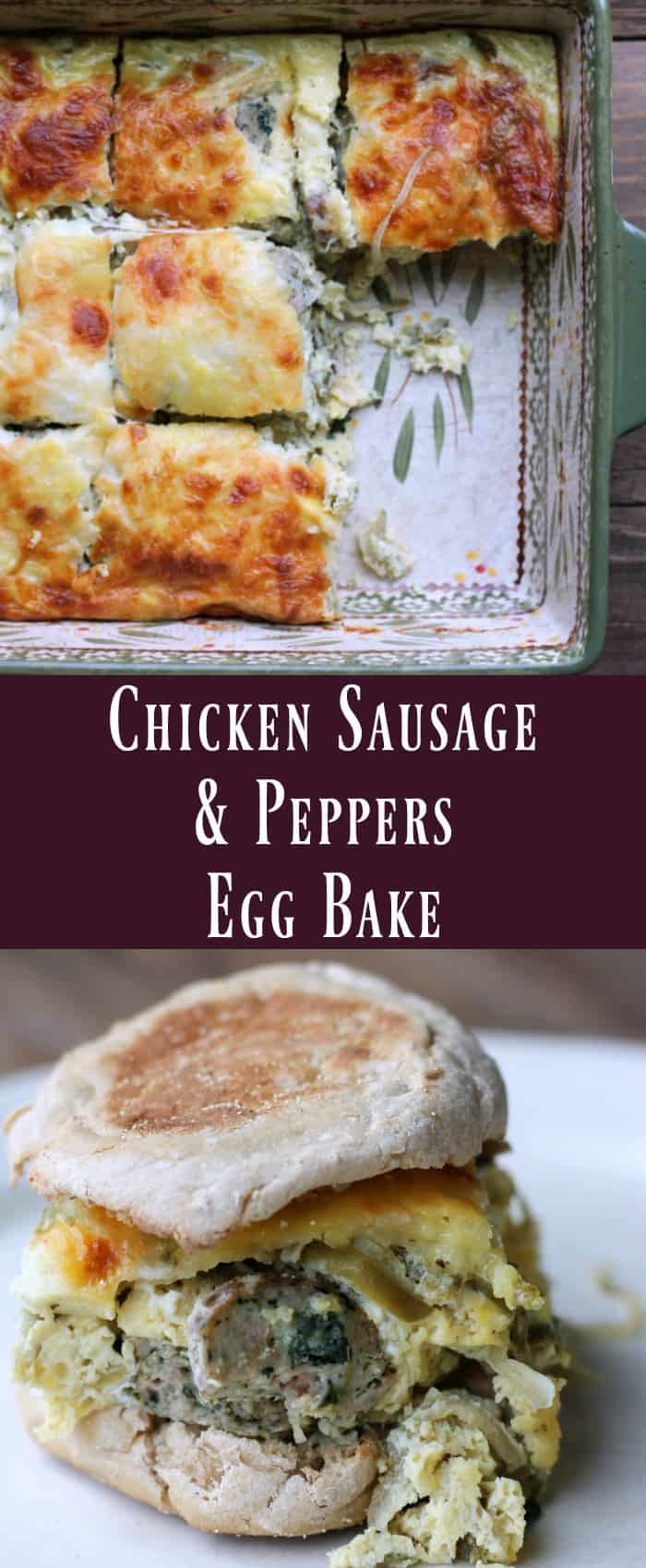 In my world you can never have too many egg bake recipes. Why? Because egg bakes are simple to throw together, can be made ahead of time, and it's easy to get creative with ingredients. So, if you feel like you eat the same things over again or you're sick of having plain eggs for breakfast then egg bakes can definitely be the solution.
Here are some of my favorite egg bake recipes:
Spinach and Feta Egg Bake
A new favorite recipe to add to the mix is this egg bake prepared with chicken sausage, onions, and peppers. Think sausage and peppers…but egg bake style. My boyfriend had the idea for this recipe so I need to give credit where credit is due. Thanks love.
Okay let's get to the recipe. I want to start with the onions and peppers. I kept this recipe easy by picking up a bag of pre-sliced onions and peppers from Wegmans. Typically, I just slice the vegetables myself but on a Saturday morning, when I prepared this recipe, I was happy I took the convenience route with pre-sliced.
I sautéed the onion and peppers in 1 tablespoon of olive oil until they were softened and the edges were browned. Then I place the cooked vegetables in a 9 x 13 casserole dish sprayed with cooking spray.
Now let's chat about the chicken sausage. I purchased a 24 ounce package of Harvestland organic spinach chicken sausage from BJ's wholesale. There were 8 total links. I love this chicken sausage and purchase it all the time. Other varieties include chicken and apple, onions and peppers, and Italian-style. My orginal thought was to get either the onions and peppers variety or Italian-style but both were out of stock. The spinach chicken sausage worked just fine in this recipe.
The chicken sausage is already cooked so all I did was slice up the sausage and place it into the casserole dish with the onions and peppers.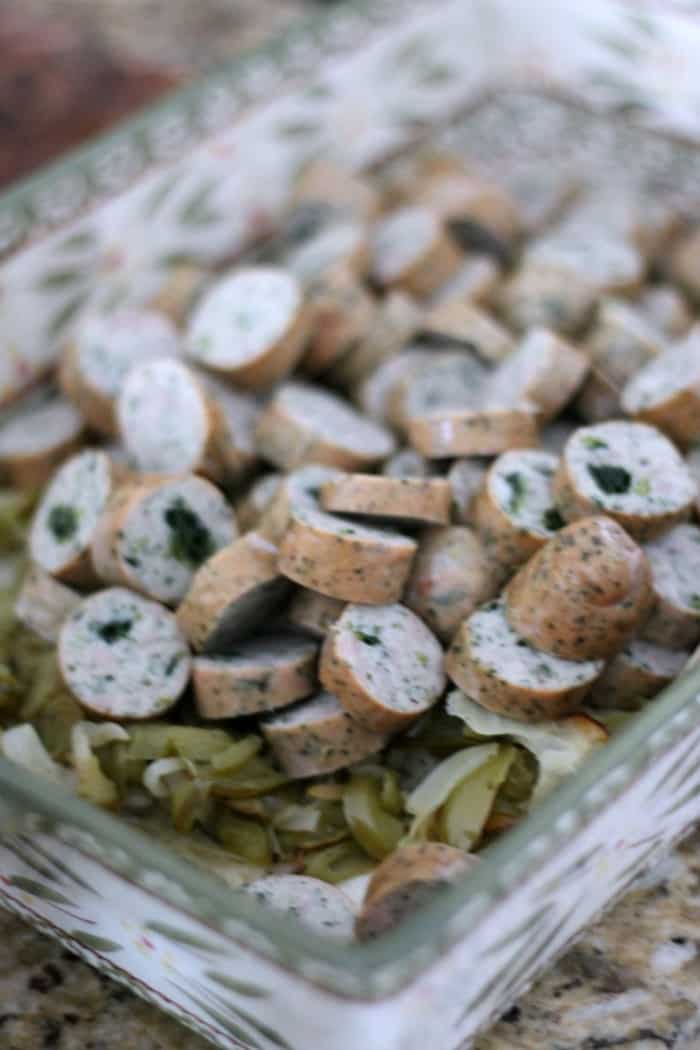 Then I mixed up the eggs. I used 8 egg whites and 10 whole eggs. I seasoned the eggs with granulated garlic, onion powder, salt, pepper, and parmesan cheese.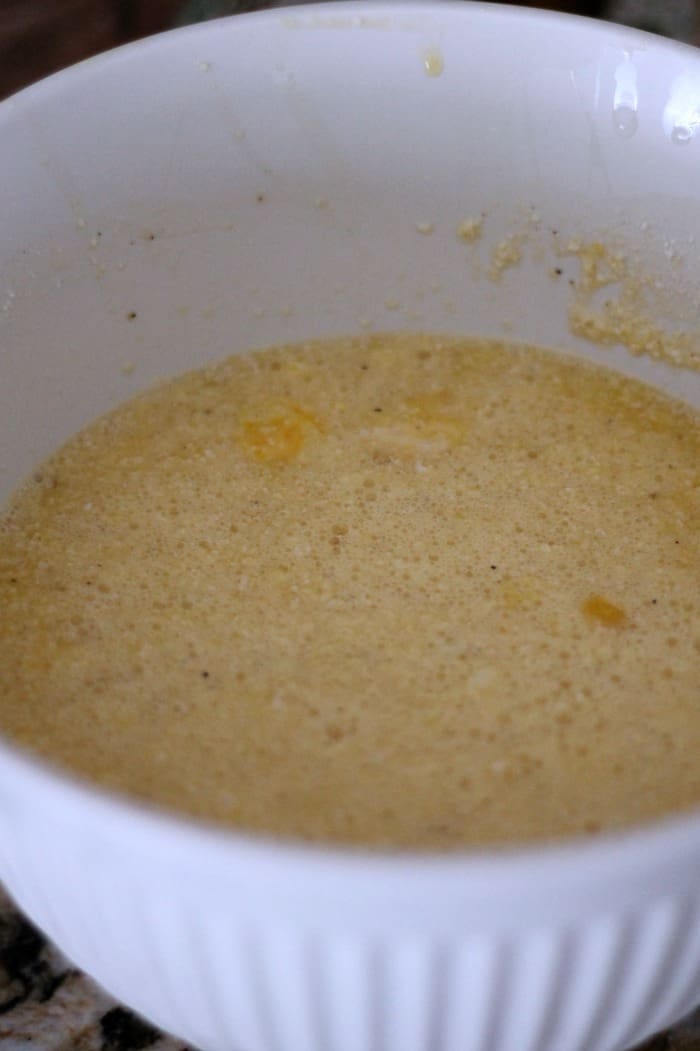 I poured the egg mixture over the sausage and peppers and then gave it a couple stirs until all the ingredients were equally distributed.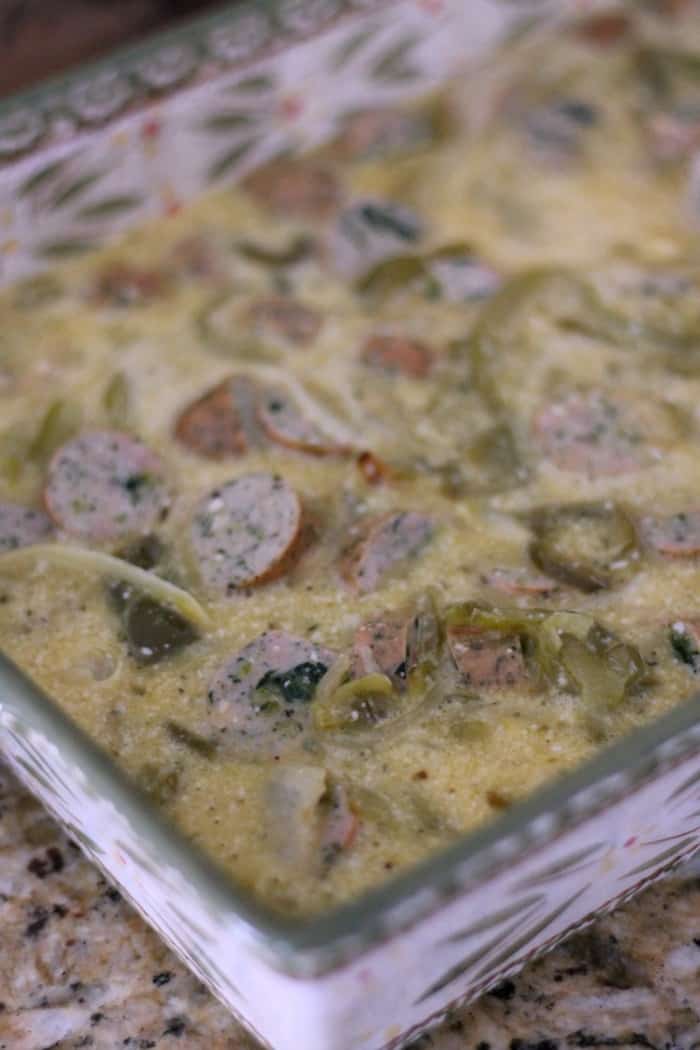 The last step I did, before baking it, was sprinkle 1 cup of mozzarella cheese over top. You could use shredded provolone or any cheese you like. I decided on mozzarella because that's the cheese I eat with sausage and peppers.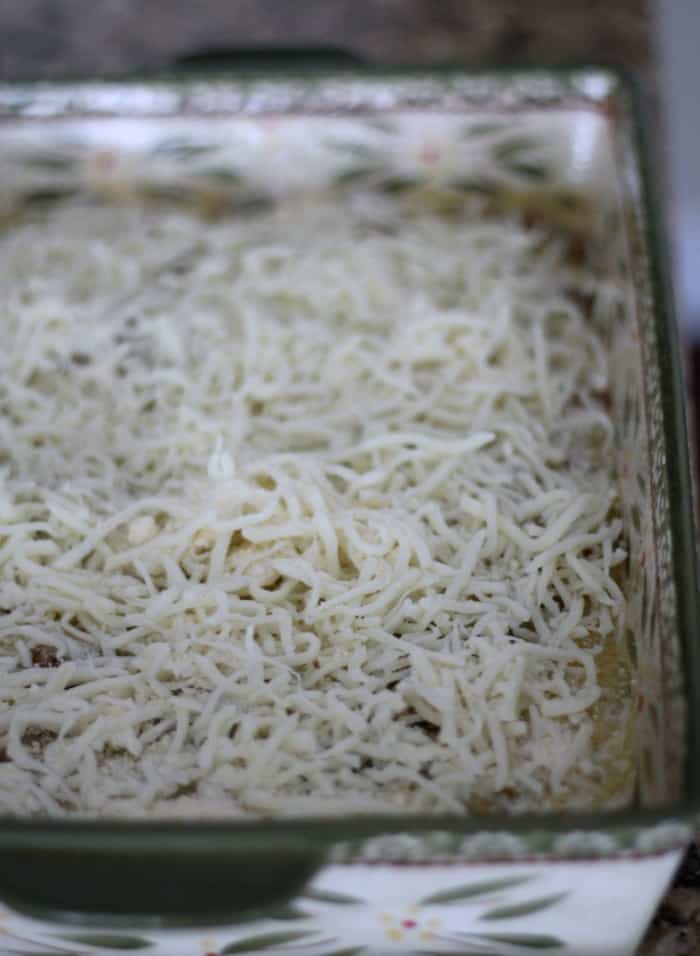 I put the egg bake in a 375 degree oven for 45 minutes. Depending on your oven it might take a little longer. You want to cook it until the eggs are set in the middle.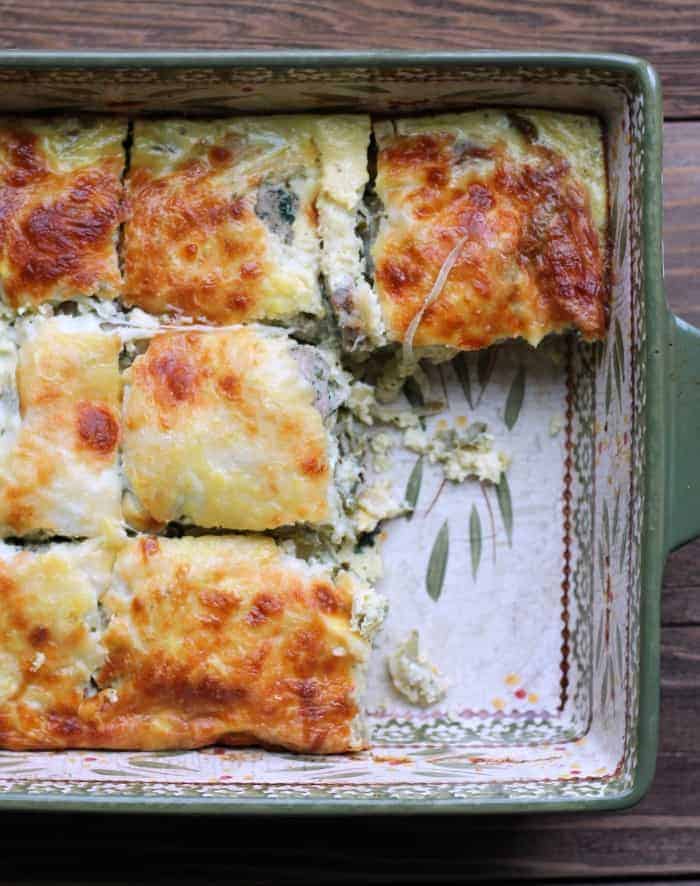 If you don't want the cheese to be browned as much then add the cheese in the last 15- 20minutes.
As you can see this egg bake is FILLED with chicken sausage, peppers, and onions. It's hearty and delicious. Not to mention low carb and high protein so you'll be full all morning after enjoying a piece of this egg bake.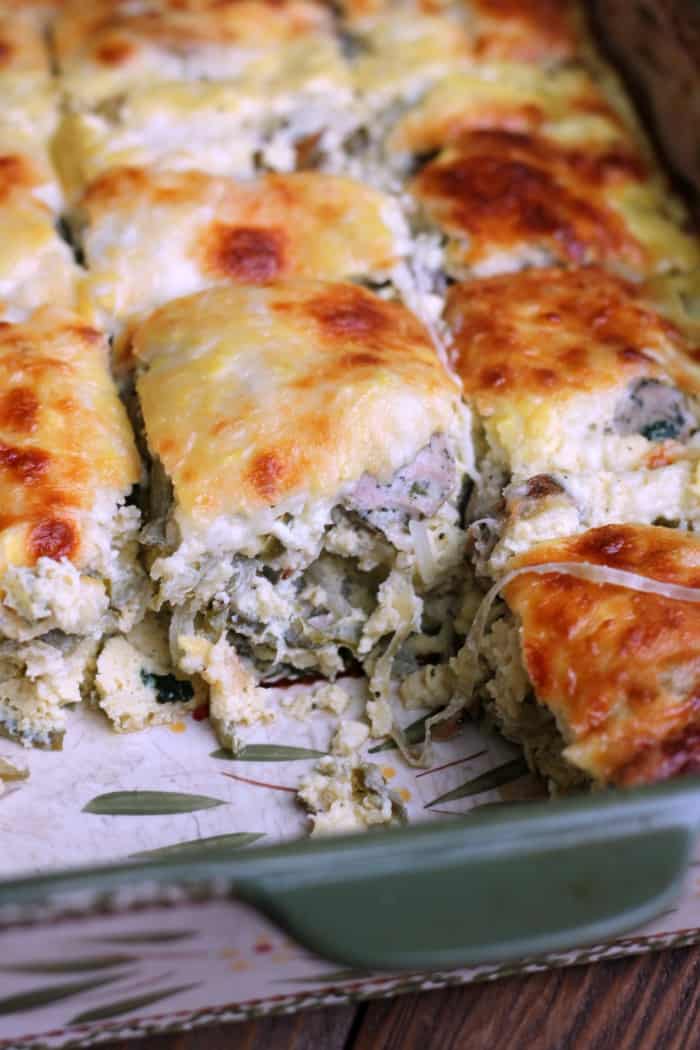 Another way to enjoy this egg bake is to eat it as a breakfast sandwich. This is a great way to make this egg bake portable. You can also wrap up breakfast sandwiches ahead of time, keep them stored in the refrigerator, and then enjoy all week.
If you're looking for a tasty healthy breakfast idea then give this Chicken Sausage and Peppers Egg Bake a try.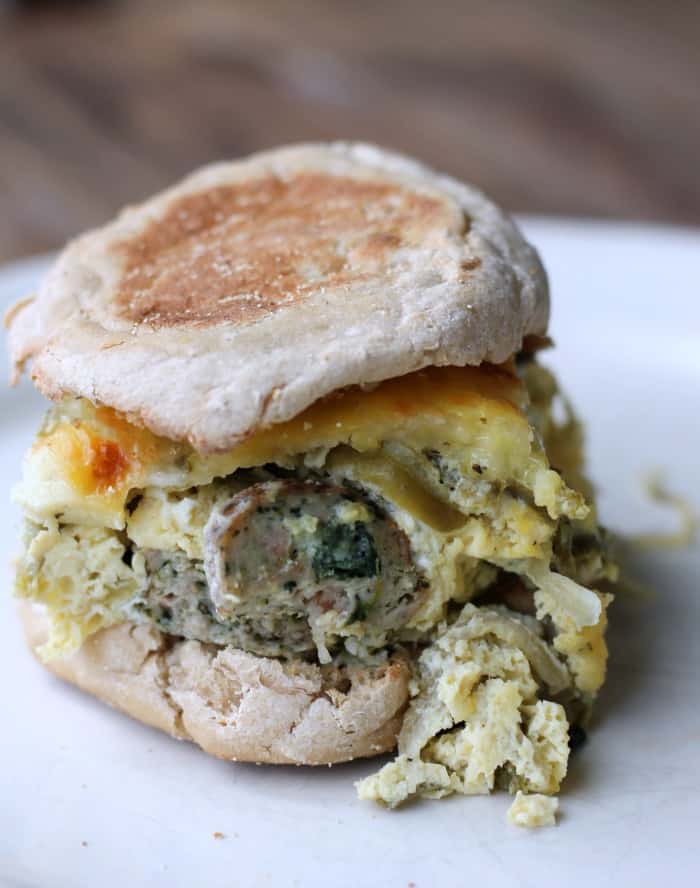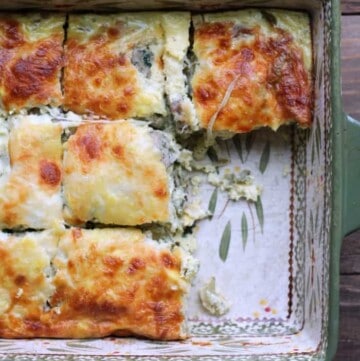 Ingredients
1

lb

package pre-sliced onions and peppers

1

tablespoon

olive oil

8

links pre-cooked chicken sausage

sliced

10

large eggs

8

egg whites

1

teaspoon

garlic powder

1

teaspoon

onion powder

1/2

teaspoon

salt

1/2

teaspoon

pepper

1/4

cup

grated parmesan cheese

1

cup

shredded mozzarella
Instructions
Preheat oven to 375 degrees.

In a large frying pan heat 1 tablespoon olive oil and sauté onions and peppers until softened and slightly charred. Drain any excess liquid. Place cooked peppers and onions into a 9 x 13 casserole dish sprayed with cooking spray.

Place chicken sausage in with the onions and peppers.

In a large bowl, mix together eggs, seasonings, and parmesan cheese.

Pour egg mixture over top of the sausage, peppers, and onions. Give a couple stirs until all of the ingredients are evenly distributed.

Sprinkle 1 cup shredded mozzarella cheese on top of the egg bake ingredients.

Put in oven and bake for 45 - 50 minutes or until the middle is set.

Cut into 10 squares and serve warm.
Notes
Sugar: 2
Make-ahead instructions
This egg bake can be cooked completely ahead of time and stored in the refrigerator up to 5 days or frozen up to 3 months.
Nutrition
Serving:
1
g
|
Calories:
295
kcal
|
Carbohydrates:
6
g
|
Protein:
30
g
|
Fat:
16
g
|
Saturated Fat:
5
g
|
Fiber:
1
g