Mexican egg bake filled with peppers, onions, black beans, and cheese. A low-fat, low-carb, and filling healthy breakfast recipe.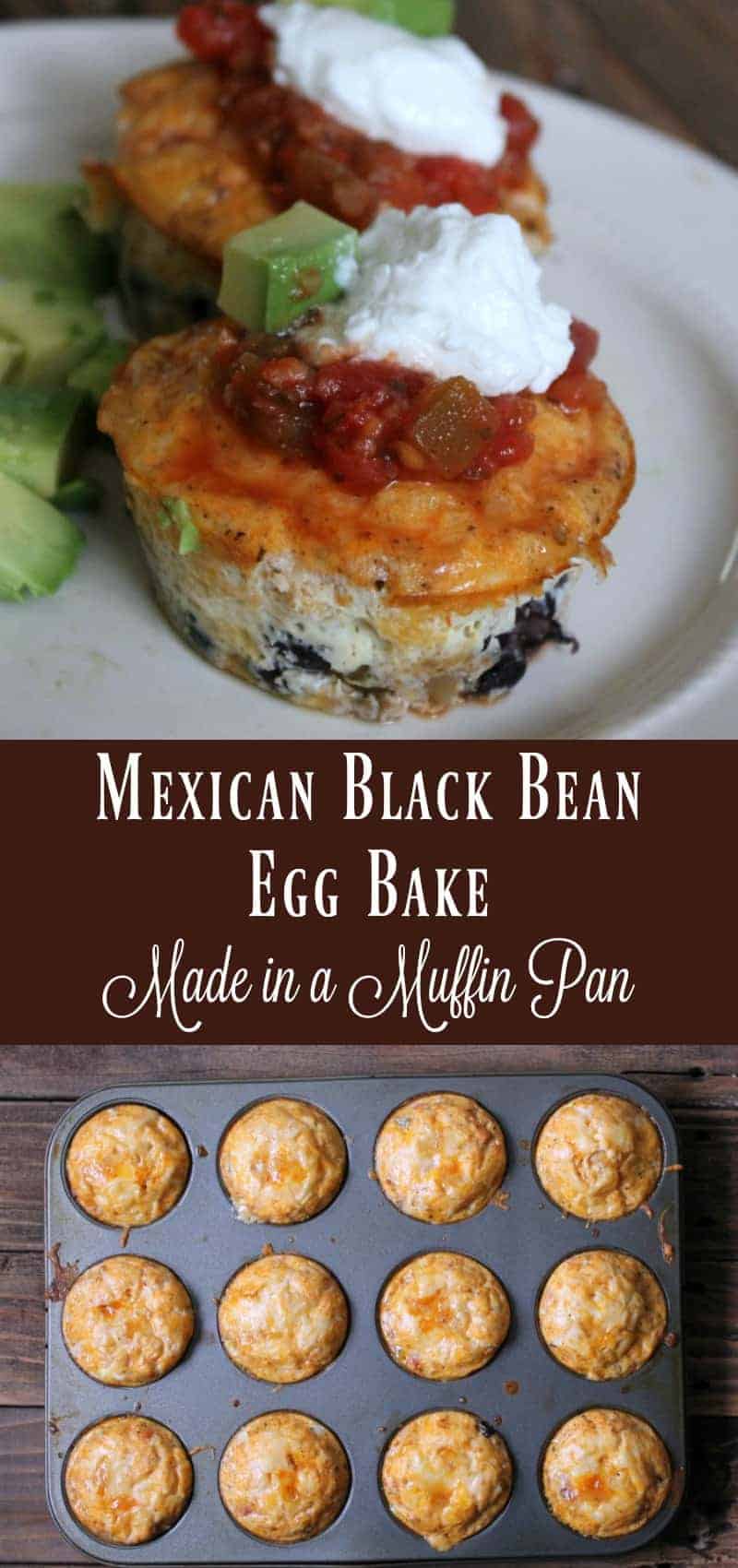 Second to green smoothies, low-carb egg recipes are some of my favorites to begin my day with. Years ago, I could be found eating a bagel and cream cheese, cereal, or even a poptart for breakfast. Mmmm poptarts! I'm not saying I don't love these high carb sugar-filled breakfast treats anymore buuuut if I want to squeeze my butt into a size 6 or 8 then I need to stick with green smoothies and low-carb minimally processed food, it's just the way my 41 year old body is. Actually, I stopped feeling sorry for myself about a year or so ago and instead embraced the minimally processed lower carb lifestyle. To be honest, I love the way I feel when I keep processed carbs under control so it isn't so bad. Of course, I'm not perfect and will still eat a bagel ever now and then but I know I will pay dearly for it later.
One way I like to prepare low carb egg recipes ahead of time is by using a muffin pan. It's easy to do and I know I will get 12 perfectly portioned out egg cups this way. For this mexican-inspired recipe I decided to keep it vegetarian and use black beans instead of meat for the protein. I also added some extra crunch and flavor by sautéing peppers and onions in olive oil and a little taco seasoning. YUM!
The first thing you want to do is cook the onions and peppers. I know this is an added step but I like my vegetables sautéed before cooking in with the eggs. I guess you probably could put the peppers and onions in the muffin pan raw, and mix the taco seasoning in with the eggs, but the vegetables might not cook all the way and turn out crunchy. If you don't mind crunchy veggies then by all means skip this step.
After I cooked the vegetables I divided them between the 12 muffin cups.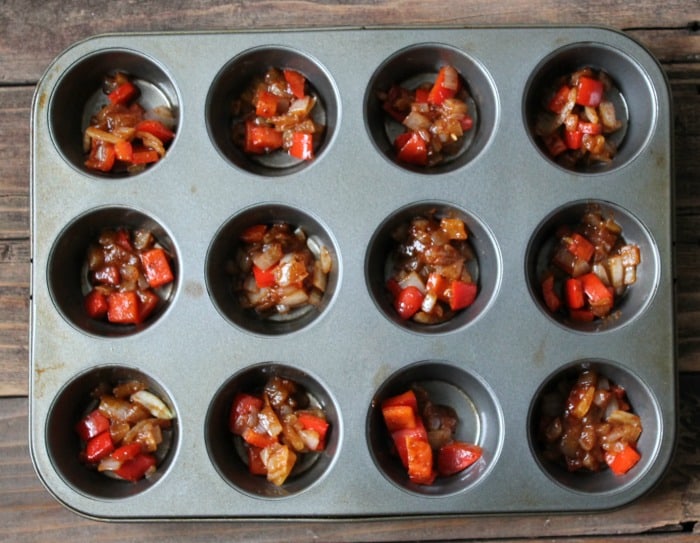 Then I added 1 tablespoon of black beans to each muffin cup.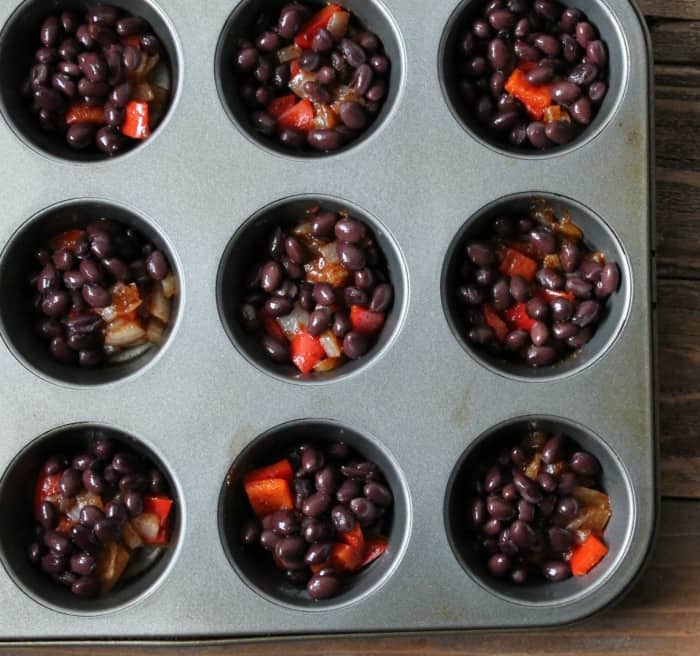 Next I mixed the eggs together. For most egg recipes I like to use the whole egg. Personally, I have an issue with throwing yolks out. However, for this recipe I wanted to control the fat so I chose to use 6 whole eggs and 6 egg whites. I thought this ratio worked well. I whisked the eggs together with some seasonings and a little salsa.
Then I divided the egg mixture among the muffin cups. I used about 1/4 cup of egg mixture per cup. Then I topped it with 1 tablespoon of taco cheese per cup.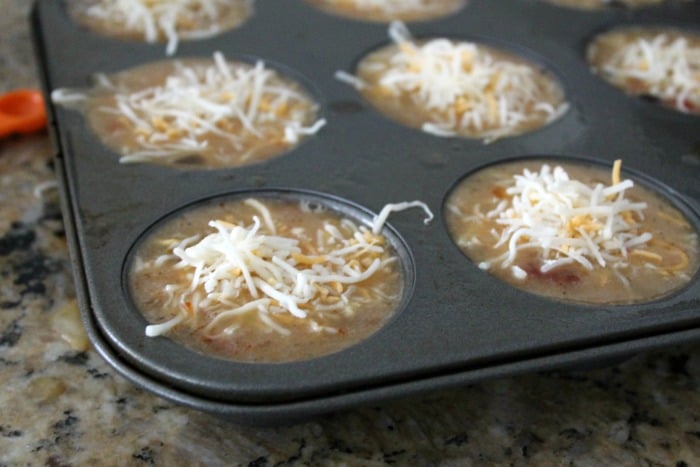 I baked the Mexican black bean egg cups for 21 minutes in 350 degree oven. I have an electric oven that might cook differently than yours. You want to bake these until the eggs are set.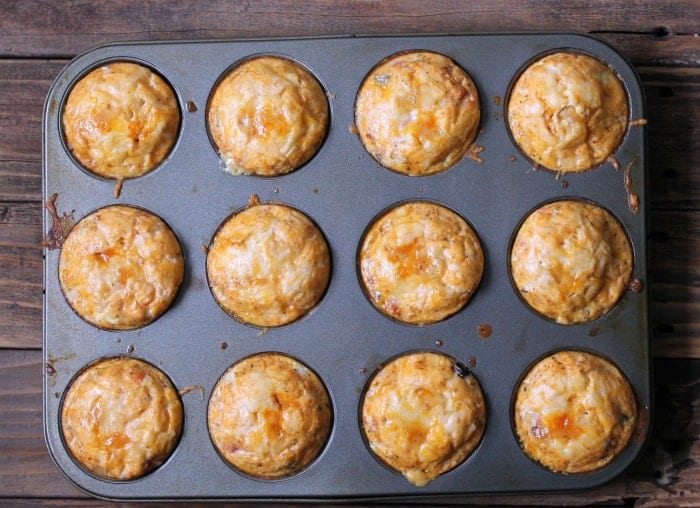 I love the way these turn into puffed up egg cupcakes. They smelled delicious and I couldn't wait to dig in!
Let these cool slightly before removing from the pan. You want to take a knife and glide it around each egg cup to keep it from sticking to the sides.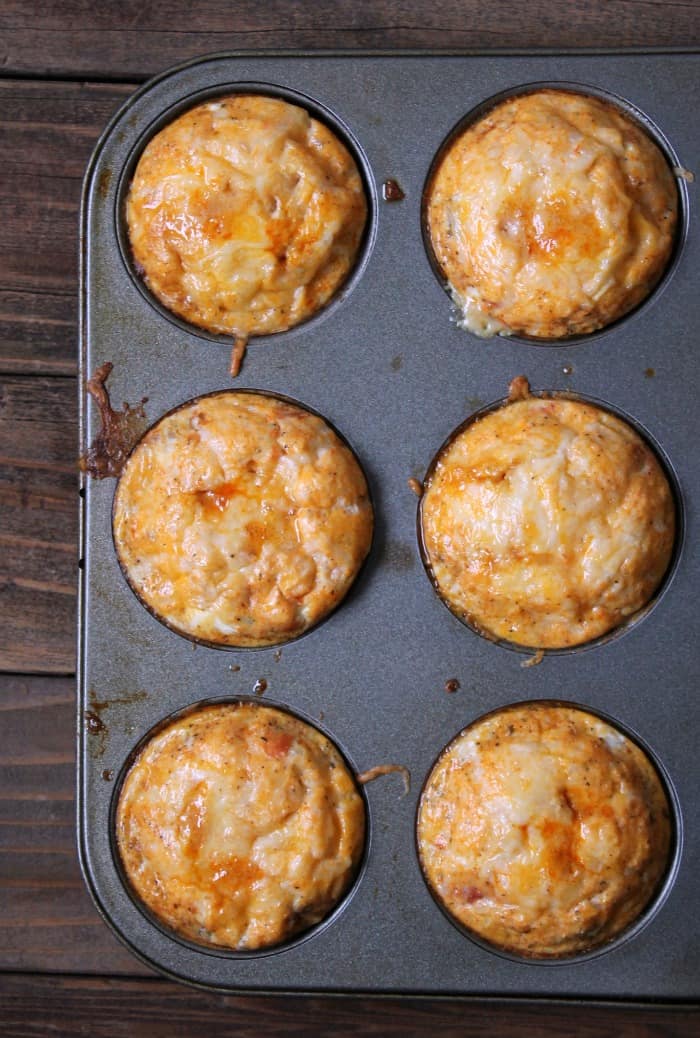 I topped my egg cup with salsa, plain greek yogurt, and some avocado before eating it. OMG it was sooooo good and flavorful. The black beans added a boost of protein and fiber that kept me full for hours.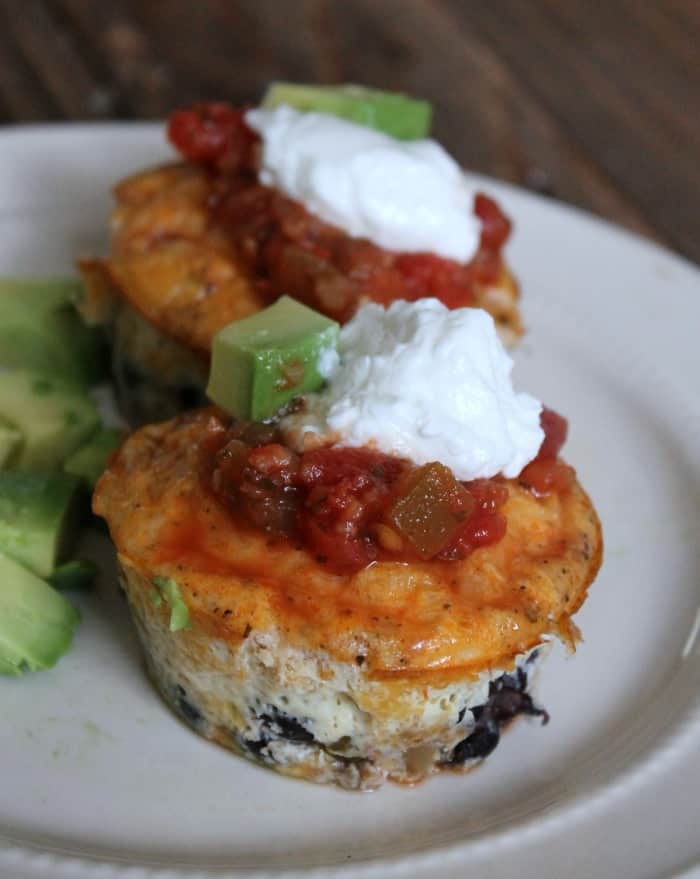 Once cooled the egg cups can be stored in the refrigerator up to 5 days or in the freezer up to 3 months. I warmed one up in the microwave and it turned out great. This Mexican inspired egg bake is a great option for a healthy make-ahead breakfast.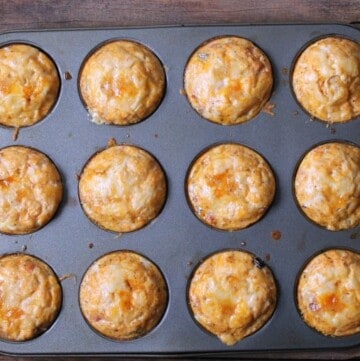 Ingredients
6

whole eggs

6

egg whites

¼

cup

salsa

½

salt

½

pepper

1

tablespoon

olive oil

1

red pepper

seeded and chopped

½

onion

chopped

2

tablespoons

taco seasoning

¾

cup

black beans

drained and rinsed

3/4

cup

shredded taco cheese

salsa and greek yogurt for serving.
Instructions
Preheat oven to 350 degrees.

In a medium mixing bowl whisk together eggs, salsa, salt, and pepper. Set aside.

In a medium pan heat up the olive oil and sauté pepper and onion until soft and translucent. Stir in the taco seasoning and cook for another minute. Add about 1 tablespoon of water to the pan if the seasoning sticks a little to the bottom.

Divide the onion and pepper mixture among the muffin pan.

Place 1 tablespoon of black beans per muffin cup.

Divide the egg mixture among the 12 muffin cups. I used about 1/4 cup per muffin cup.

Add 1 tablespoon of taco cheese to each of the muffin cups.

Place in the oven and bake for 20 – 21 minutes or until the eggs are set.

Remove from the oven and let the egg cups cool slightly. Glide a knife around each cup and remove it from the muffin pan. Serve with salsa and plain greek yogurt.
Notes
sugar: 1 gram
Make-ahead tips
This recipe can be made completely ahead of time and stored in the refrigerator for up to 5 days or frozen up to 3 months. Reheat in the microwave.
Nutrition
Serving:
1
g
|
Calories:
124
kcal
|
Carbohydrates:
6
g
|
Protein:
12
g
|
Fat:
6
g
|
Saturated Fat:
2
g
|
Fiber:
1
g