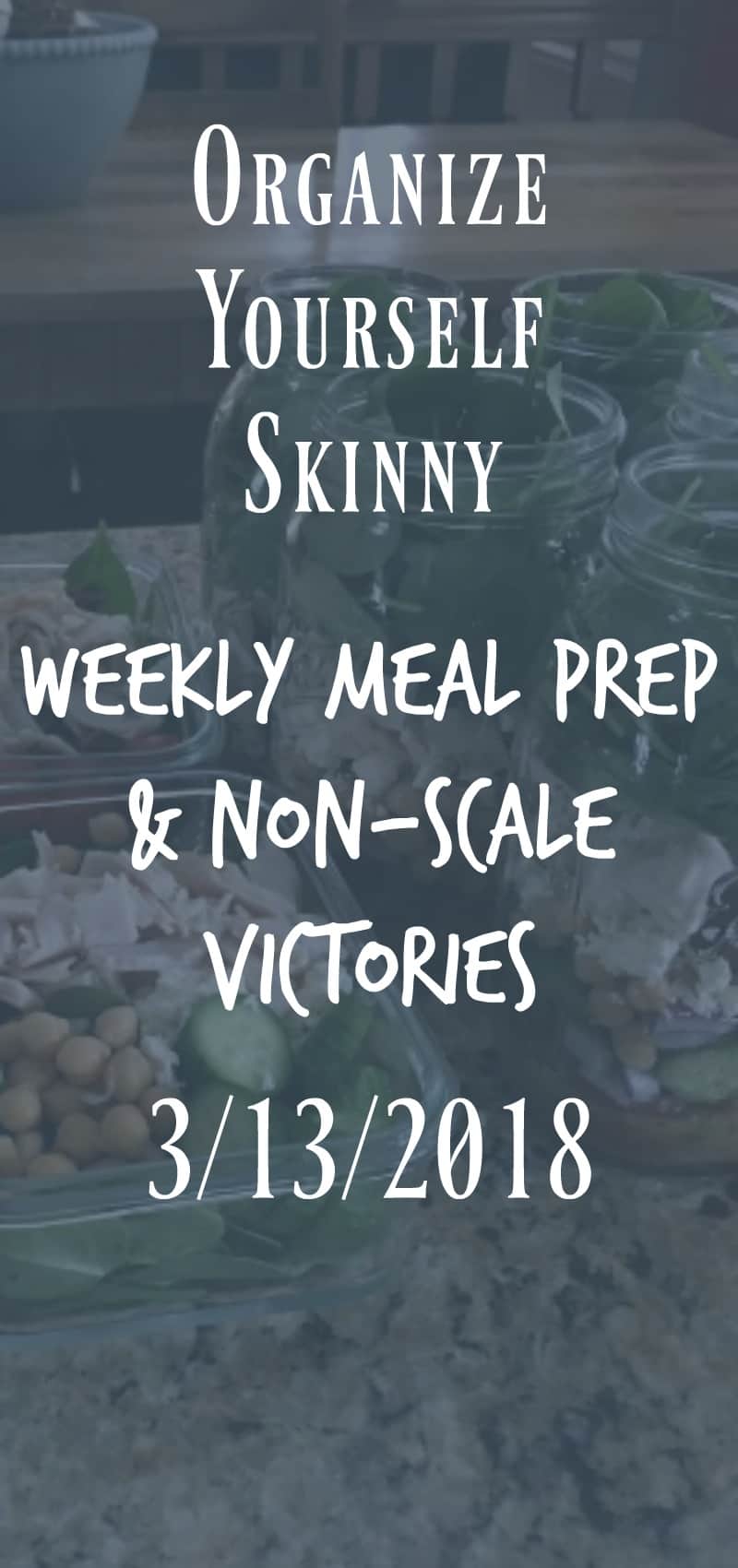 Hey there! I'm going to keep this meal prep post short and sweet – or at least try too – because I have a to-do list a mile long and only about 2 hours left to get work done! Seriously, where does the time go every day?
Before I get to my meal plan I just want to go over a couple things. I'm starting to get daily emails asking when enrollment will open for the Organize Yourself Skinny Ecourse. I'm planning to open enrollment on April 9th.
Okay let's talk about this week. I don't have a weigh-in for you. Not that I didn't want to get on the scale – but my battery died. I'm not kidding. Anyway, I ordered a new battery on Amazon today and will have a new weigh-in for you by next week.
Instead of talking about numbers I thought I'd share some non-scale victories – sometimes those are more motivating than the scale.
Let's see, where do I start.
I think the biggest non-scale victory is I feel like I'm in a healthy routine. Since October, I've been exercising at least 3-4 times a week. Of course there's been a few weeks where I wasn't perfect but, for the most part, I start exercising by 6:15am Monday – Wednesday and by 7:30am either Saturday or Sunday.My brain is programmed to exercise during those times so it's become easier. If I do more then that it's a bonus.
I've also been diligent with meal prep. A huge help is using Instacart online grocery delivery. I simply put together a meal plan and grocery list and then order my groceries. Within a couple hours my groceries are delivered. Getting to the grocery store is hard for me – I simply don't have the time and to be quite honest would rather do a million other things. Trust me, I'm not sitting around watching Bravo, or playing bingo bash, while someone else is shopping for my groceries. I'm using that time wisely!
This past week I placed my grocery order on Friday to be delivered after we got home. This way, I had all the ingredients to meal prep on Saturday and Sunday. Ordering my groceries online has been key to staying consistent with meal prep.
I still stock up at my local wholesale store once a month but I've been using Instacart every week for my weekly groceries. I have to say I feel real good about my system.
I just wrote a review and tutorial on Instacart. If you're interested in learning more then check it out.
Another NSV is I'm still conquering my coffee creamer habit. I know this might be small potatoes to some of you but for me it's a huge deal. I seriously CRAVE coffee. Fortunately, I've been able to keep it under control and it's made a difference. Actually, not only have I kept coffee under control but I've been extra mindful of all my calories. It's amazing how quickly calories add up when you're paying attention. Anyway, I feel like it's paying off. My face looks thinner and I can see more definition in my body. I wish my tummy would catch up with the rest of my body! My legs, but, and arms are definitely starting to look more toned – I even saw a little definition in my THIGHS the other day. But my darn stomach is a trouble spot for me. Now that I'm writing this I 'm going to focus more on my core this week with planks and crunches.
This is my exercise routine 4 – 5 days a week.
45 minutes to 1 hour on the treadmill – I do a mix of power walking and running all with different levels of incline.
25 squats
25 plie squats
16 – 24 lounges (each leg) off my stepper
24 bicep curls with 5lb resistant bands
24 tricep extensions with 5lb weight
24 modified push-ups
1 minute plank
100 crunches
Let's talk food. I'm keeping my calories under 1500 calories a day. On the days I work out I'm trying not to eat back my calories, or at least not all of them. I think my biggest food struggle this week will be Girl Scout cookies. My boyfriend bought $40 worth of cookies from his daughters and OMG I swear I can eat a box of Thin Mints in a sitting. I did have 1 Tag a Long yesterday, but I'm proud to say I added it to My Fitness Pal so it fit into my daily calories. Pat on the back for me 🙂
I know my meal plan has been pretty boring the last few weeks but honestly eating the same foods keeps meal prep, along with tracking, simple and easy.
However, this week I'm switching it up for dinner a bit. I want to take new pictures of some older (but popular) recipes so you'll see a couple oldies on the meal plan this week.
Also, I developed a new recipe for Tutorosso Tomatoes you'll see it on my meal plan this week too. I know there are some carb-heavy dishes making their way to my meal plan – it's going to be my responsibility to keep portions under control. Wish me luck!
Breakfast
Super greens and chicken sausage egg bake
Meal prep tips
I made this on Sunday and then stored portions in the refrigerator using glass Pyrex containers.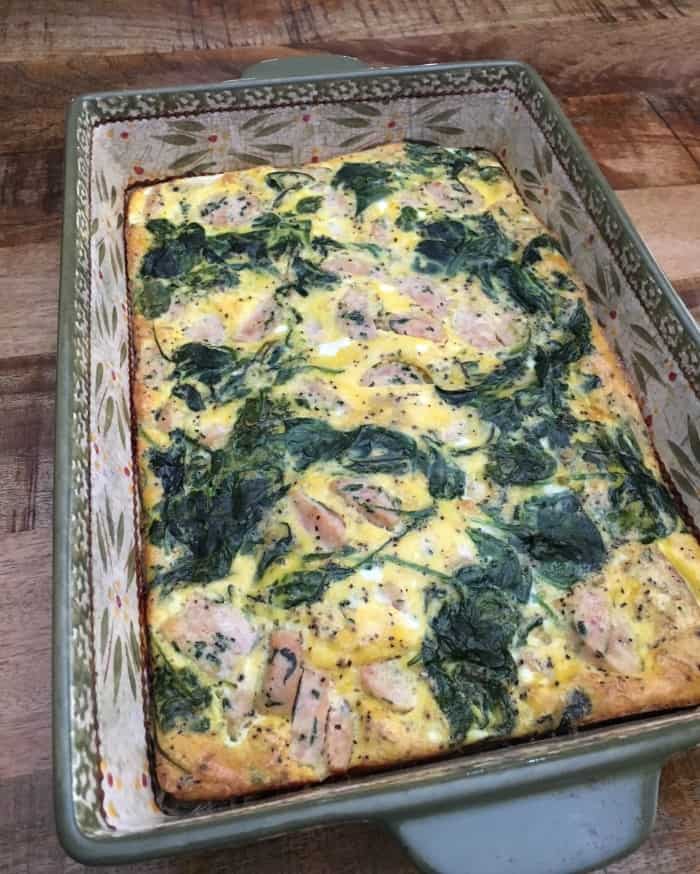 Lunch
Smoked Turkey, Sun-dried Tomato, and Chickpea Mason Jar Salad
Meal prep tips
I made the salads on Sunday. I also made my boyfriend "to-go" Greek-style salads in square glass pyrex containers. He has dressing at work.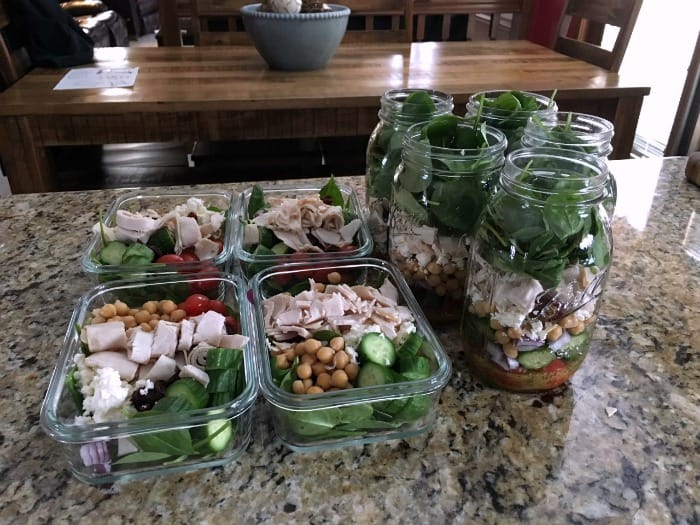 Dinner
Artichoke and Spinach Dip Stuffed Shells – new recipe
Meal prep tips
I made the chicken for the macaroni and cheese/subs on Saturday. I use this slow cooker buffalo chicken recipe.
I put together the complete macaroni and cheese recipe yesterday. I stored the macaroni and cheese in the refrigerator.
I made the stuffed shells yesterday and store them in the refrigerator.
Cheeseburger wrap will be made today.
Buffalo chicken subs will be made the night we eat them.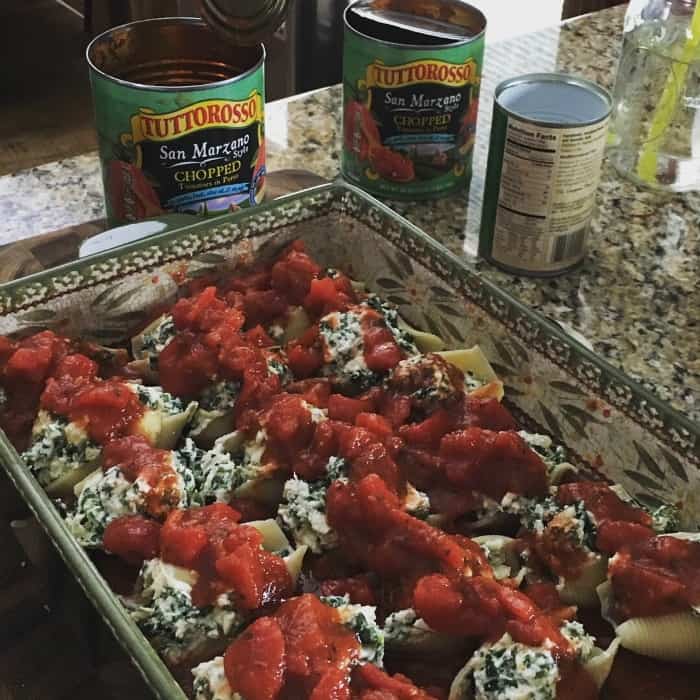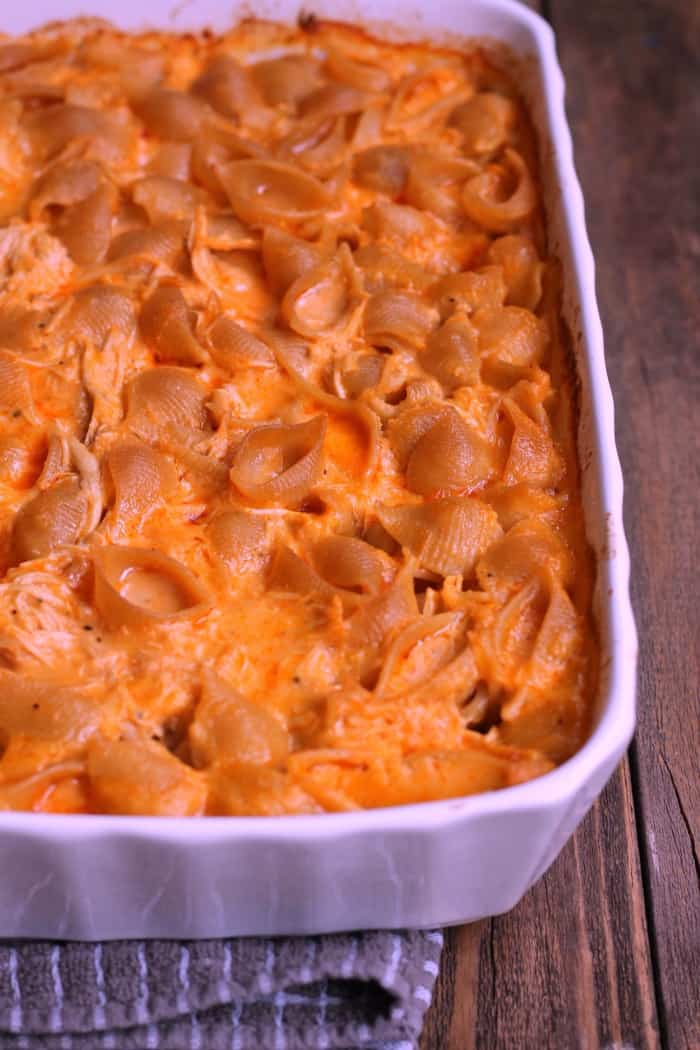 That's my weekly meal plan. Let me know if you have any questions. I hope you have a nice productive week!