When it comes to Buffalo comfort food I think most buffalonians would agree that Buffalo Chicken Finger Subs rank up there as one of the top comfort foods of all time. Specifically the "Hot Blues" found at a legendary Buffalo based sub shop.
Authentic chicken finger subs are made with fried chicken fingers drenched in hot sauce and butter, slathered in blue cheese, topped off with melted provolone, and served on a toasted buttered sub roll. Shoved in between you can sometimes find onions, lettuce, and tomatoes, but really those are only there to try and hold the hot sauce and dressing from oozing out everywhere. They are messy and oh so good! But….and this is a big BUT… most chicken finger subs clock in between 800 – 1000 + calories. Yikes! Needless to say I rarely (if ever) eat chicken finger subs. Sniff sniff.
If I had to go the rest of my life NEVER eating these foods again then I would be living a very sad existence and would not be a pleasant person to be around. Plus, my husband I am positive would start some sort of underground junk food club and that would not be a pleasant sight either. Well let's not cry or worry about weird underground junk food clubs run by husbands just yet. One of my favorite things to do for you (and me) is create healthier versions of not so healthy favorites. Remember the cheeseburger wrap, mac n cheese, chicken alfredo pizza, and pretty much all the recipes I make. That is exactly what I did with this recipe and I have to say it turned out pretty darn good. Even Matt said that it is better than the ones we used to order. WHAT?! Please text that to me so I have it in writing.
Here is what I did to make it healthier. First thing, the fried chicken finger had to go. Sorry but nothing good comes out of deep fried breaded mystery meat. I decided to go with shredded chicken breast. The shredded chicken sops up the hot sauce perfectly and gives it a fresh flavor that you just don't get with fried chicken. Next, I substituted blue cheese yogurt dressing for regular blue cheese. This cuts lot of calories and is barely noticeable. Then I used ½ slice of provolone which is the perfect amount of cheese to get that ooey gooey goodness. If you want use the whole slice go for it just add another 50 calories to your sandwich. Now you might be wondering why I did not use a whole wheat roll. Well some sandwiches require white and this is one of them. I knew I would not be able to pull off a successful replica using wheat bread. Of course, if you want to use wheat bread then by all means.
I also want to mention that you can shave another 100 calories off this sandwich by making it an "open-faced" sandwich. This simply means don't use the top half of the bread. If you decide to go this route then just put the top pieces in the freezer for another use.
If you are onion and tomato fans then I suggest NOT skipping these ingredients. I really feel they make this sandwich. I love the way they warm up and wilt slightly but still keep a nice crunch. Mmmmm so good!
Last thing. This sandwich is messy. Don't eat while wearing a white shirt and you might have to pull your hair back. Enjoy!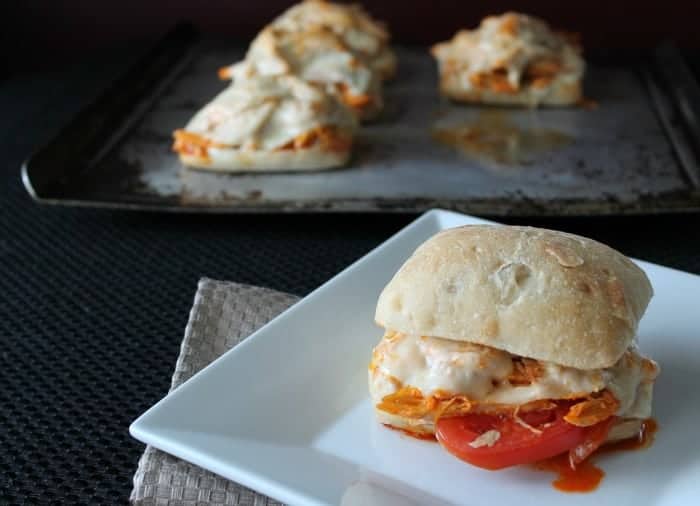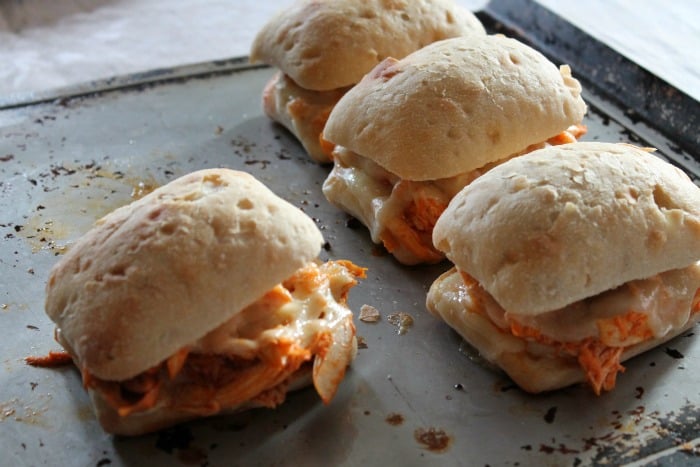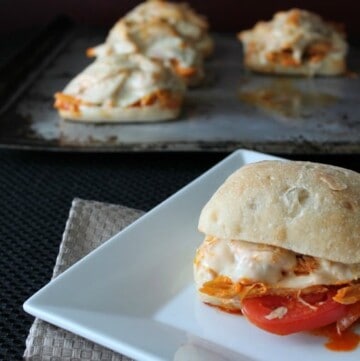 Ingredients
2

tablespoons

butter

½

cup

Frank Hot Sauce

or whatever hot sauce you have available

3 – 4

cups

shredded chicken breast

12

tablespoons

blue cheese yogurt dressing

½

white onion

thinly sliced

2

roma tomatoes

thinly sliced

3

slices

provolone cheese

6

ciabatta rolls
Instructions
In a skillet melt butter over medium heat. Stir in hot sauce until combined.

Stir in shredded chicken until meat is fully coated with hot sauce. Continue to cook until heated through. Set aside.

Turn on broiler.

Slice each ciabatta roll in half and toast.

Spread 2 tablespoons of the blue cheese yogurt dressing on the bottom halves of ciabatta bread. Next divide the onions, tomato slices and shredded chicken evenly on top of the dressing. Make sure to put the onions and tomatoes under the chicken. This warms them up nicely but still gives a nice crunch.

Top each sandwich with ½ slice of provolone cheese.

Broil for 3-5 minutes or until cheese is melted. Keep an eye on it because the cheese can go from melted to burn very quickly.

Top with other half of the bread and serve.
Notes
Nutrition information if you prepare the sandwiches open-faced. Calories: 396 Carbs: 18 Fat: 17 Protein: 36 Fiber: 1 WW points plus: 10
Make Ahead Instructions
This sandwich comes together very quickly if you have the chicken breast cooked and shredded ahead of time. You can even mix it in the hot sauce mixture ahead of time as well. When ready to eat just continue with recipe.
Nutrition
Serving:
1
g
|
Calories:
490
kcal
|
Carbohydrates:
31
g
|
Protein:
43
g
|
Fat:
20
g
|
Fiber:
1
g