Instacart is an online grocery delivery company that is completely changing the way we grocery shop. All you need to do is place an order, then someone does all your shopping, and within a couple hours (or a timeframe of your choice) your groceries will be delivered to your doorstep. It is the perfect solution for a busy lifestyle. I started using Instacart last year and have placed over 30 orders since then. I feel very familiar with Instacart and this is my honest review.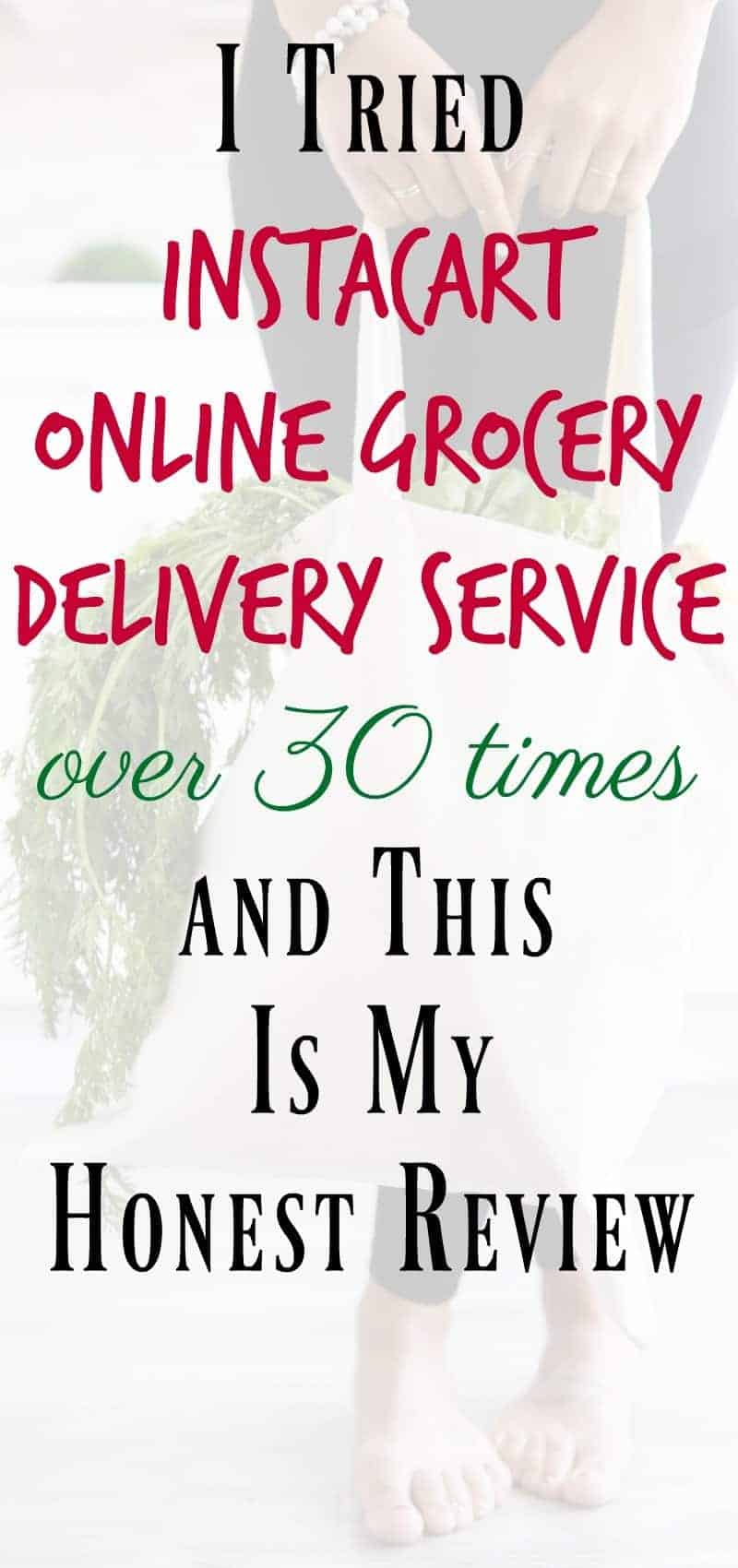 **This post contains affiliate links. I will receive a small commission if you decide to use Instacart – at no extra cost to you. However, this is my completely honest review and you are by no means obligated to use my links. If you do thanks so much for supporting my site.
If you follow my blog then you already know I'm no stranger to purchasing groceries online. I'm a huge fan of Home Chef, Hello Fresh, and Sun Basket meal kit delivery services. I order from one of these companies at least once a month. Also, I order groceries through Thrive Market every other month or so. My time is limited and I take full advantage of all the benefits online grocery shopping has to offer.
Today I'm super excited to talk about InstaCart. I've been using Instacart since this past September and, honestly, I believe it's one of the best things to happen to grocery shopping. By using Instacart I've easily put 3-4 hours back into my schedule a week – maybe even more.
If you're ready to try Instacart, and don't want to read my entire review, you can sign up here.
I'm not saying Instacart is for everyone but it definitely meets the needs of busy people who want to eat healthier and save time – lots of time.
In this review I'll give an overview of Instacart and share my personal experience. I'll take you step by step through the ordering process and what to expect.
I'll talk about the cost of using Instacart, how to tip your shopper, and offer some money-saving tips.
Last, I'll share my opinion on who I think would benefit from using Instacart and who I think wouldn't. Like I said, Instacart isn't for everyone.
Let's get started.
What is Instacart?
Instacart is an online grocery delivery service company that works with local stores to deliver groceries to your door. Sweet! Not all areas have Instacart yet. I live in a suburb outside Buffalo, NY and we just got Instacart last year. You can go to their website and check to see if Instacart is in your area. If it's not available yet don't worry because it'll most likely be there soon.
I'll give a more detailed look, later in this post, into the process of placing an order with Instacart. Here's a quick snippet for now.
To place an order with Instacart you go on their website, search for the products you want, add them to your grocery list, and place your order. Simple. Then an Instacart employee gets to work shopping for your items and, when their done, delivers your groceries to your door. It's a beautiful thing.
I'm telling you, ordering groceries online has been a huge game changer for me. Personally, I think it's a saving grace but of course it's not for everyone…I'll get to that in a minute.
All the items you find in the store are found on the Instacart website. Just in case you're wondering there are employees regularly adding inventory to the Instacart website.
This brings me to the next Instacart question people have…
How much extra money does Instacart cost?
Let's first start with the cost of items. Depending on the store, and the items you're purchasing, most are either the same price or have a slight markup. It will say on the Instacart website whether or not you can expect higher prices by shopping through their site.
I shop at Wegmans which states that items are slightly higher than in stores. However, when I compared my Wegmans receipt (they bring you back the Wegman's receipt too) to my Instacart receipt there was between an $8 and $12 difference in price – and that included the tip. So to me, $12 is an acceptable price to pay for someone to do my grocery shopping and deliver the groceries to my door.
Not all stores have markups so you just need to check ahead of the time before purchasing your items. Keep in mind, Instacart is a service – that also needs to make money – so it should be expected that there will be an extra cost associated with it.
Even though there is a slight markup I do feel that Instacart saves me money for two reasons.. One it prevents impulse shopping. I have my meal plan, grocery list, and only purchase the items I need. Second, I save money in gas because I don't need to drive to the store. This also save me tons of time and in my self-employed world time is money.
Another financial benefit to purchasing groceries through Instacart is I can see all my previous orders online and this helps with budgeting. I can see, in front of me, the amount of money I spend every week and this helps me stay intentional with my grocery budget.
Last, Instacart does offer online coupons and sales so there's plenty of opportunity to save money on your favorite items. You can see below the different saving options.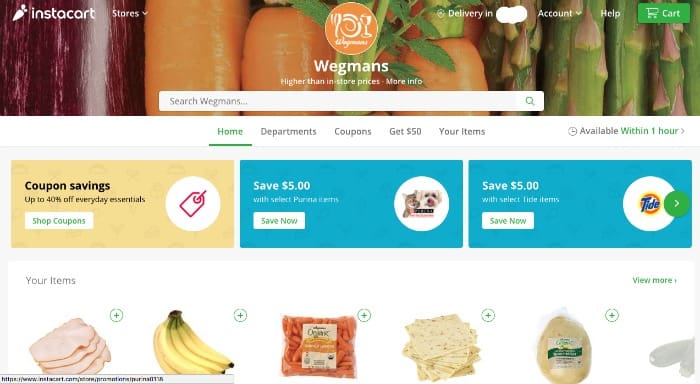 Let's talk a little bit about the Instacart fees.
I think this is where people get turned off by Instacart – everyone hates to pay extra fees. I get it. But again, remember this is a service. Their whole business is to make it easier for you to get groceries – not necessarily make it cheaper.
Here's the fee structure. If you spend over $35 and opt for regular delivery (over 1 hour) then the delivery fee is $5.99. Clearly, it's not difficult to spend over $35. And even if you don't shop through Instacart all the time, $5.99 isn't a bad price to pay to have someone shop for your groceries when you're in a pinch.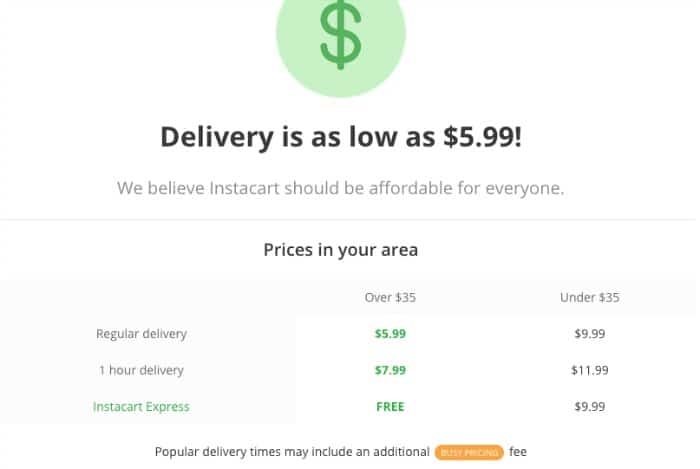 I opted to sign up (and pay for) an Instacart Express membership. This was $149 and includes free delivery over $35 all the time. I already made my money back.
It also means never paying for busy pricing and that you can order from multiple stores with no extra fees. This is huge! So if eggs are cheaper at one store and meats are cheaper at another store you can order from both with no worries. I use Instacart weekly so signing up for Instacart Express was a no brainer. They do have a 14-day trial period to see if you'd like it.
However, if you never tried Instacart before then I'd try it once and see what you think.
If you're ready to try Instacart you can sign up here.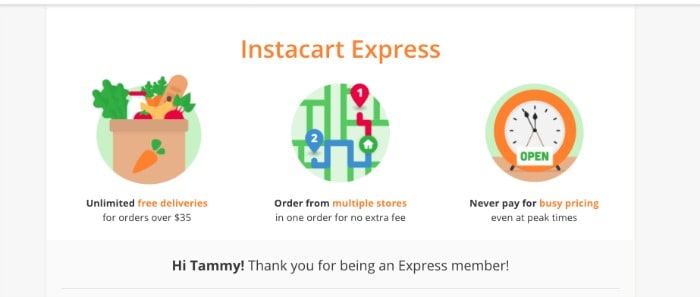 Another fee to consider when shopping through Instacart is their "service" fee and also the tip. Let me first talk about the service fee. Instacart states that the service fee is for their employees and to help cover costs. But it's not a tip and the shoppers, and drivers, that take care of your order don't directly see that money.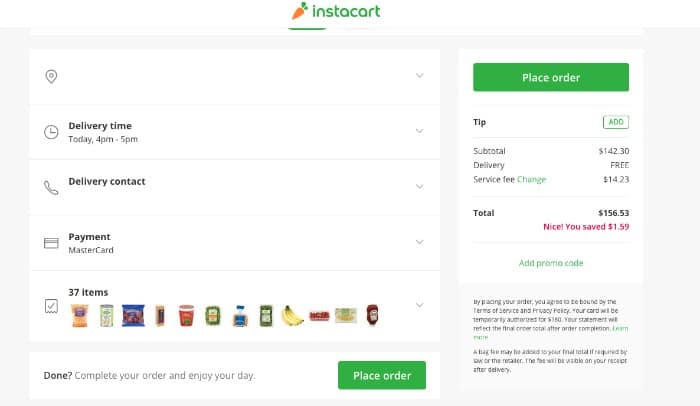 Therefore you can change the service fee to zero and add in a tip that your shoppers will get. Just click where it says change and then click waive.

Then you can add in the tip – or just give them cash. 100% of the tips go to your delivery person. Of course tipping is optional but I highly recommend tipping your Instacart shopper. This is an amazing service that makes your life better.
Click "add" next to tip at check out and then add in the tip you'd like.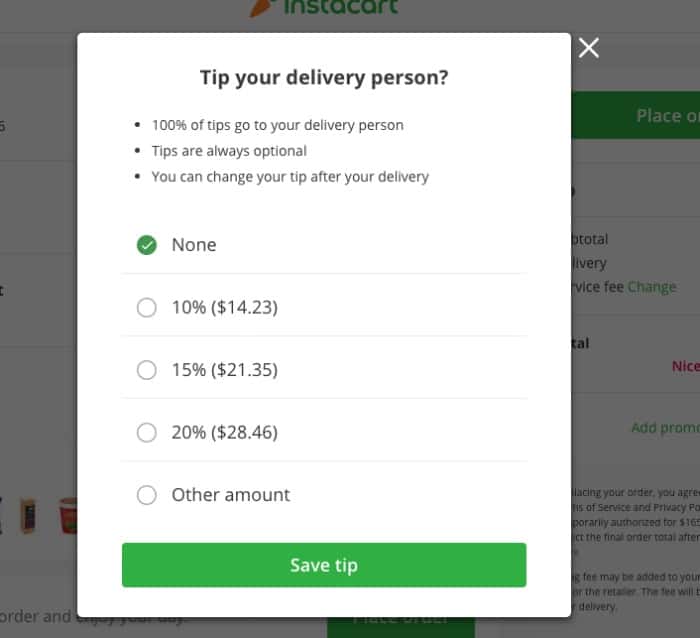 This is what it looks like after the tip is added.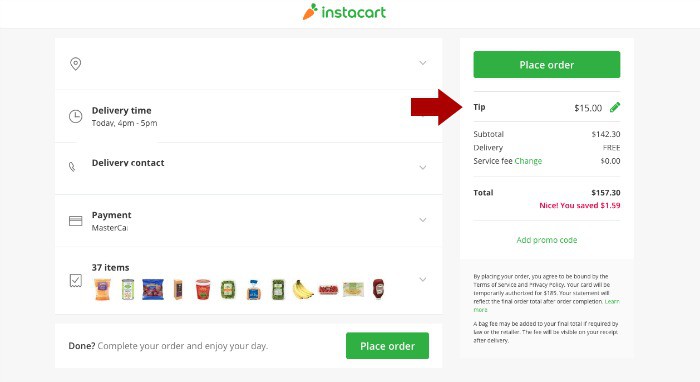 Anyway, this is what you can expect in terms of cost with Instacart.
In my honest opinion, I haven't experienced my grocery budget exploding since using Instacart and I order 1-2 times a week. I think the extra mark up on some items balance themselves out with items that are on sale or not marked up. Plus ordering my groceries online helps me stick to a meal plan, meal prep, and gives me hours back into my schedule <— this is worth the extra $10 or so.
If you're ready to try Instacart, and don't want to read my entire review, you can sign up here.
Who would and wouldn't benefit from Instacart?
Now that I gave you an overview, and went over the cost, let's talk about who would and wouldn't benefit from Instacart. Obviously, I love using Instacart, and recommend it to everyone that'll listen, but it's not for everyone.
Let's start with who wouldn't benefit from Instacart.
I think that if you're a coupon queen, and overly concerned with saving money, then Instacart might not be in your best interest. Like I said Instacart does provide coupons, and sales, but there are markups and fees associated with using this service. If you don't think these extra costs are worth it then Instacart won't be a good choice.
Also, I don't think Instacart would work for someone who is very picky about choosing their fruits, vegetables, and meats. I can tell you from my experience I haven't had any issue with an Instacart employee picking out my food. But I know there are some people who don't like the thought of someone else picking out these items.
If I have any specific requests then there's a section under each item to type in instructions. For example, I have given instructions to pick out "ripe bananas" or to make sure "turkey is sliced thin".
Also, once a shopper starts to pick out groceries you can communicate with each other via chat which helps a lot. I'll talk more about this in a little bit.
Last, I don't think this would work for someone who doesn't have the patience to learn a new way to doing an old habit. The Instacart website is easy to use but it's still going to be new and different to someone just starting out. We are all used to shopping for groceries the "old-fashioned" way so stepping outside our comfort zone and ordering groceries online might be too outside the box for some people.
If you like to grocery shop, shop the sales, go to different stores, and don't mind spending the time doing so then most likely you won't benefit from Instacart.
Now let's talk about who would benefit.
If you struggle to find time to grocery shop, don't stay consistent with meal prep, and could use extra time during the week then online grocery shopping is the something you would benefit from.
Prior to online grocery shopping I was having a hard time staying consistent with weekly meal prep – I just didn't have the time or energy to get to the store. Now I put together a meal plan, shop for the all the ingredients on Instacart, and within 2 hours my groceries are delivered. This has completely streamline my weekly meal prep process. If you see yourself in this scenario then Instacart would work great for you.
Also, if you're not over concerned with coupons, and shopping around for the best deals, then Instacart will work for you too. Basically if you don't mind spending a few extra bucks to get more time in your schedule then Instacart will work great.
If you don't mind someone else shopping for your groceries then you'll have no problem using Instacart. Like I said earlier, there are ways to communicate with your shopper, and as long as you take advantage of those tools, then you'll enjoy using Instacart for groceries.
If you're ready to try Instacart, and don't want to read my entire review, you can sign up here.
How does Instacart Work?
Now I want to show you how Instacart works. The first thing you do is go into the Instacart website and put in your zipcode. This will show the stores that you can order from. Pick your store and then start ordering groceries.
If you've ordered before you'll see previously ordered items listed. If not, you can simply type into the search bar the item you're looking for and then add it to your cart.
You can see below the items that are on sale, have a coupon, or deals on eligible items. As you add items to your cart it will show in the right top corner.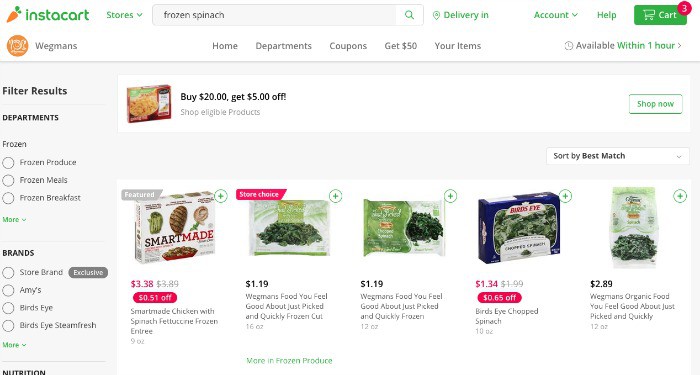 After you add items into your cart you can review the items to make changes or add instructions. This is where you will first communicate with your shopper. Be very detailed if you have instructions for certain items. Remember, they can't read your mind.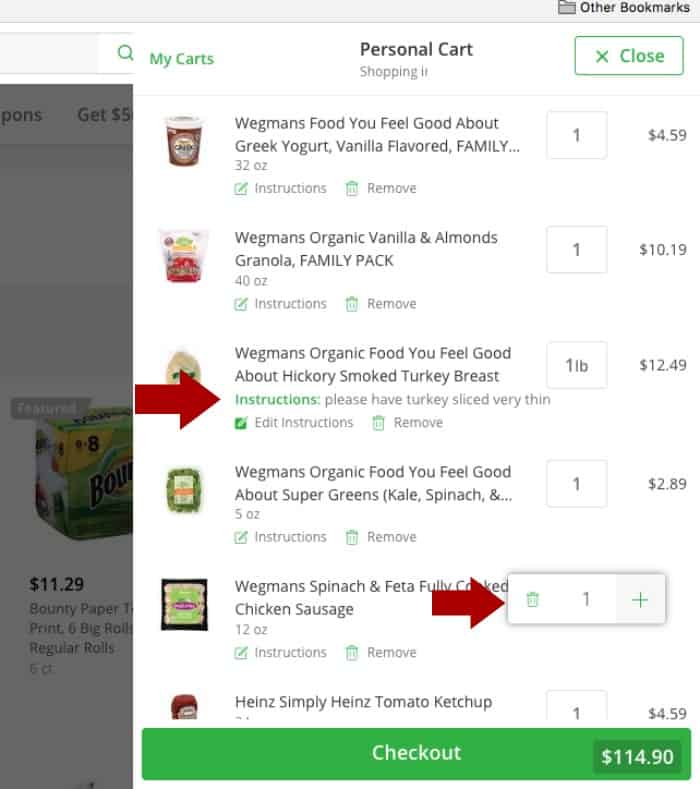 To add instructions simply click on instructions and then it will show like this. Type your instructions into the box and click save.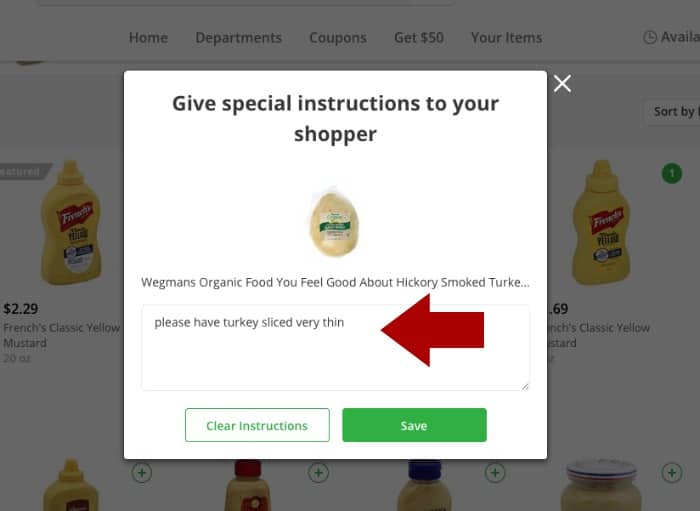 After you checkout, you'll be prompted to pick your delivery time. Depending on what you order you typically can get items within 2 hours – I placed a big order this time. Also, I knew I wasn't going to be home until later so I schedule delivery to be later in the day. So when I got home my groceries came 1/2 hour later. It was great!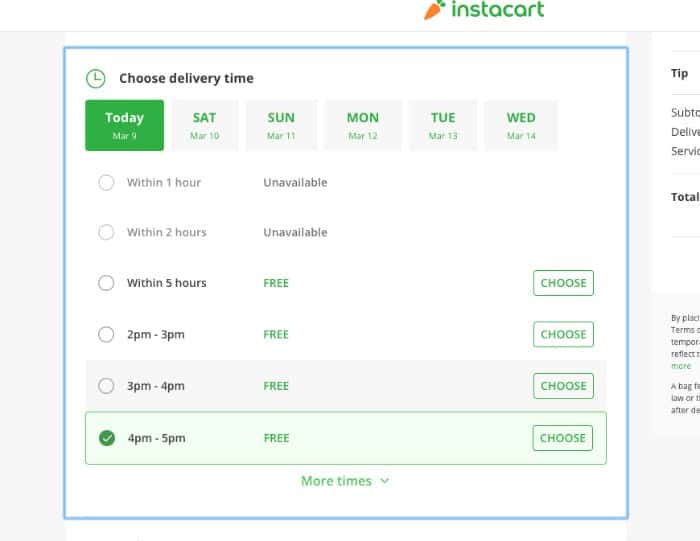 After you pick your delivery time then you'll remove the service fee and add a tip. Of course, this is your choice but this is the way I do it.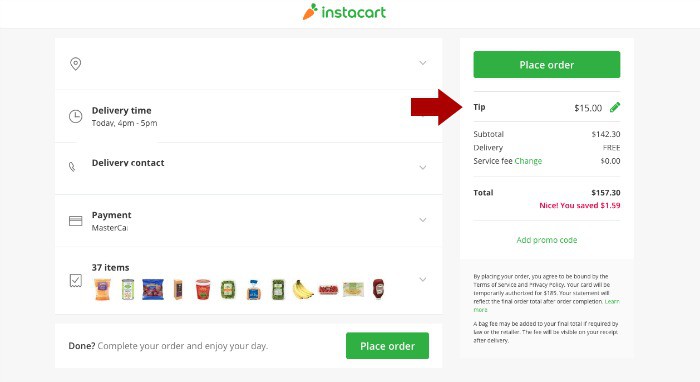 Then you'll place your order and the magic begins

From there you'll be able to see the process of your order on the website.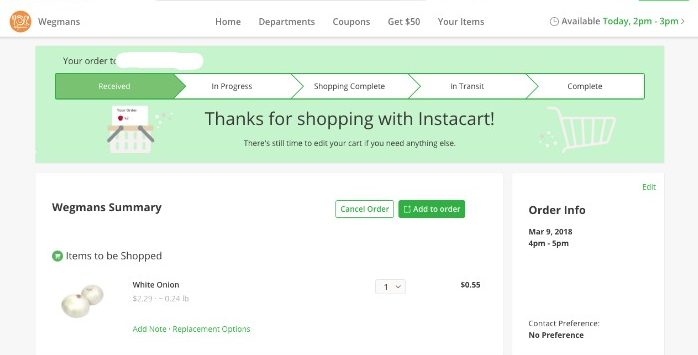 However, I strongly recommend downloading the Instacart App. This makes it incredibly easy for your shopper to communicate with you.
You'll get a message immediately letting you know your order was placed.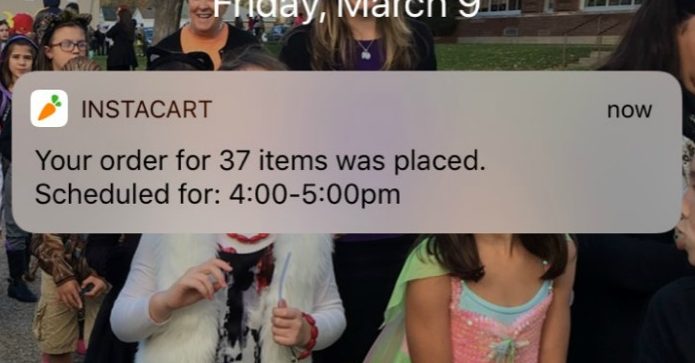 The next message you'll get is from your personal shopper. This is when you can communicate any other needs you might have forgot to put in the instructions. It's important to have your phone near you while they shop so your shopper can ask any questions or get approvals for substitutions.
I just want to talk a little more about the chat function because I think this feature elevates the concerns people might have about "a stranger" shopping for their groceries. From the moment someone starts shopping for your groceries, until they get dropped off, someone is communicating with you. So if there are questions on either end you both can talk to one another. This helps you to be on the same page with your groceries.
You can use the chat function on the website but I think it's best used on their app.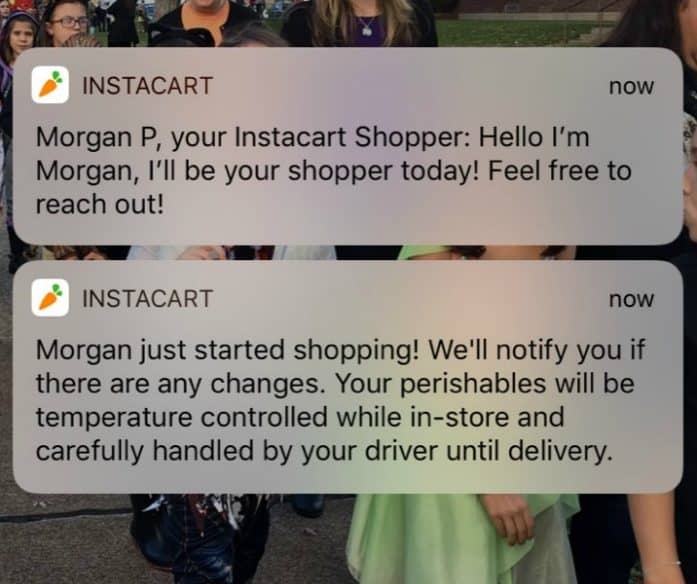 When your shopper is done you'll receive a message letting you know.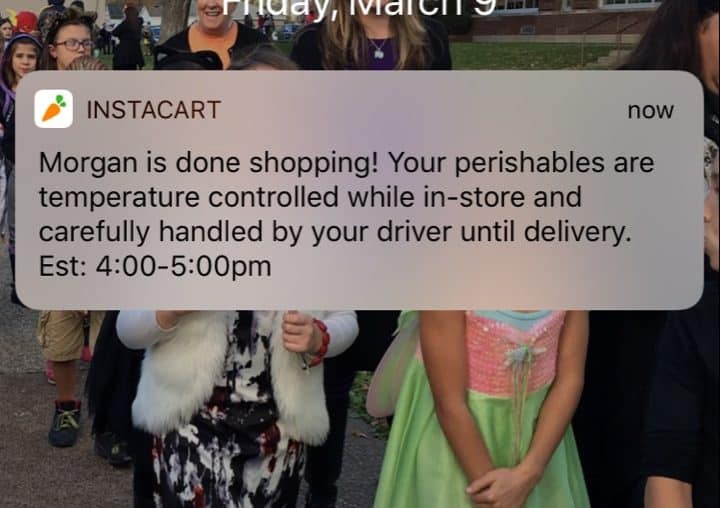 And my favorite message – when Instacart is on it's way. I find this to be very helpful because you can still go about your day but also be prepared for when the food arrives.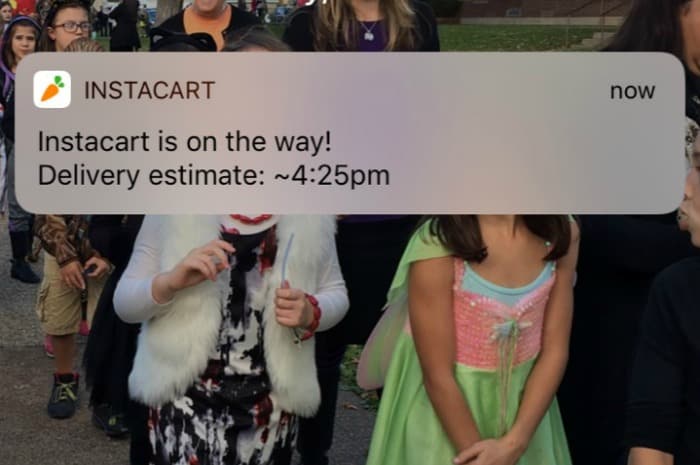 And last, they send a message when your grocery delivery order is about 5 minutes away.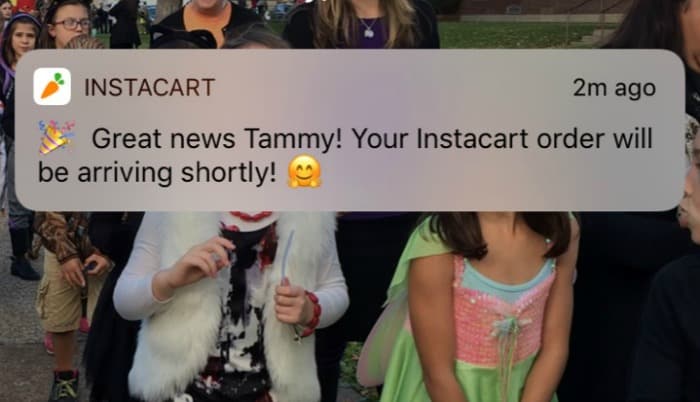 This is what my last Instacart haul looked like. I know that's a lot of plastic bags, and could be a turn off to some people, but that's how they deliver your items. My advice is to ask them to put in as few bags as possible and then make sure to recycle.
Now I'm ready to meal prep for the week!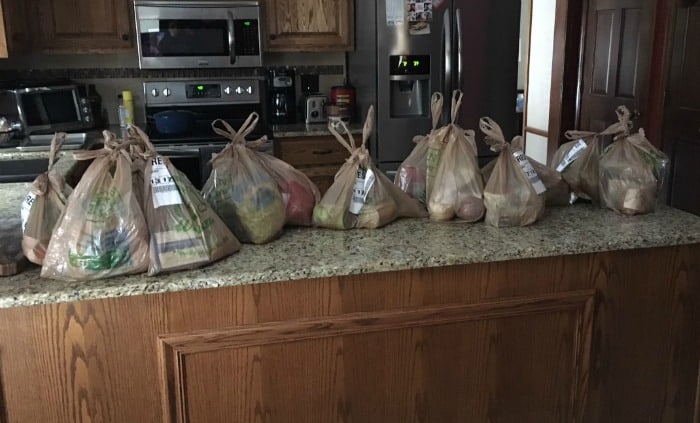 You might be wondering what happens if Instacart screws up an item or if something is wrong. In my 30 orders I've had 3 mistakes. Once they forgot to deliver my chicken and the other two they grabbed the wrong product. In all cases, I emailed Instacart and they had new items brought to me or instantly credited by account. Their customer service was very receptive and helpful.
Overall, I think Instant cart online grocery delivery service is amazing, worth the extra money, and I recommend it to everybody. Like I said it easily put 3-4 hours a week back into my schedule – if not more. Using online grocery delivery has help me organize my time much better, stay consistent with meal planning, and keep weekly meal prep a priority.
If you want to meal prep and eat healthier BUT struggle to get to the grocery store then Instacart online grocery shopping is definitely an option that I think would work for you.
I would love to learn more about your experiences with Instacart or other online grocery delivery services. Share your thoughts, or experiences, in the comments below.
If you're ready to try Instacart, you can sign up here.