In this Sun Basket review, I'll give a breakdown of this meal kit delivery service, how it works, pricing, if it's worth the cost, and the meal options. Everything you need to know about Sun Basket is here!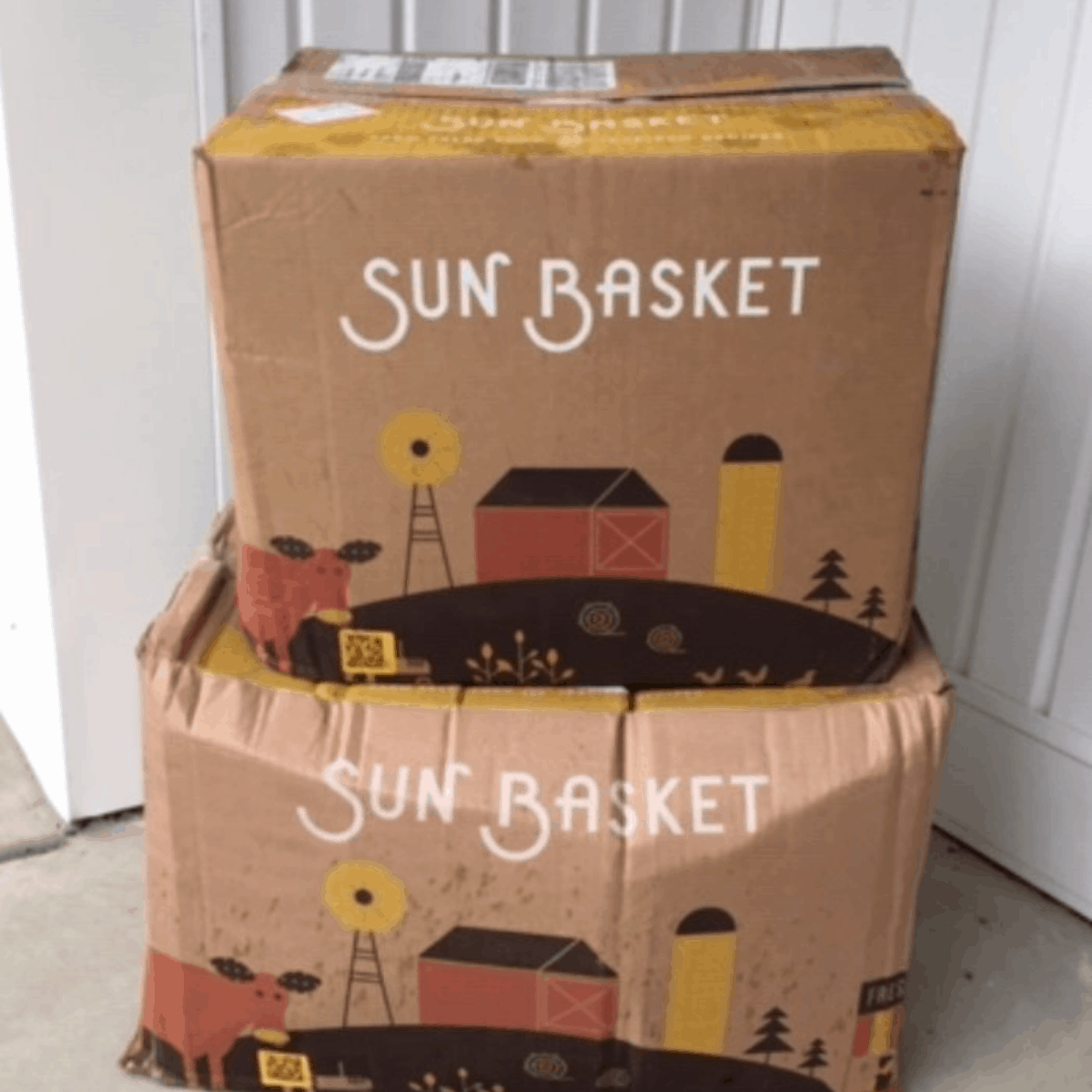 This post contains affiliate links. I am an affiliate for Amazon Associates and other brands and earn a small commission on qualifying purchases. You're by no means obligated to use my links but, if you do, thank you for supporting Organize Yourself Skinny. Please see our review process for more information.
Sun Basket Review
Sun Basket is a full-service meal delivery company that prides itself on making healthy cooking easy. These meal kits are geared more towards people who live a busy lifestyle yet still prioritize a nutritious diet. You'll find Paleo, Gluten-free, Clean, and Vegetarian meal plans that include mostly organic and non-GMO ingredients.
Jump to:
How does it work?
Signing up for a Sun Basket subscription is easy. 
Go to their website and enter your name, email address, zip code, and pick a password.
Next, set up your subscription. Keep in mind that you can make changes to your subscription at any time.
The last thing you'll do is customize your box. During this step is when you'll choose recipes and add any extras.
Now just wait for a box of healthy meals to get delivered to your door.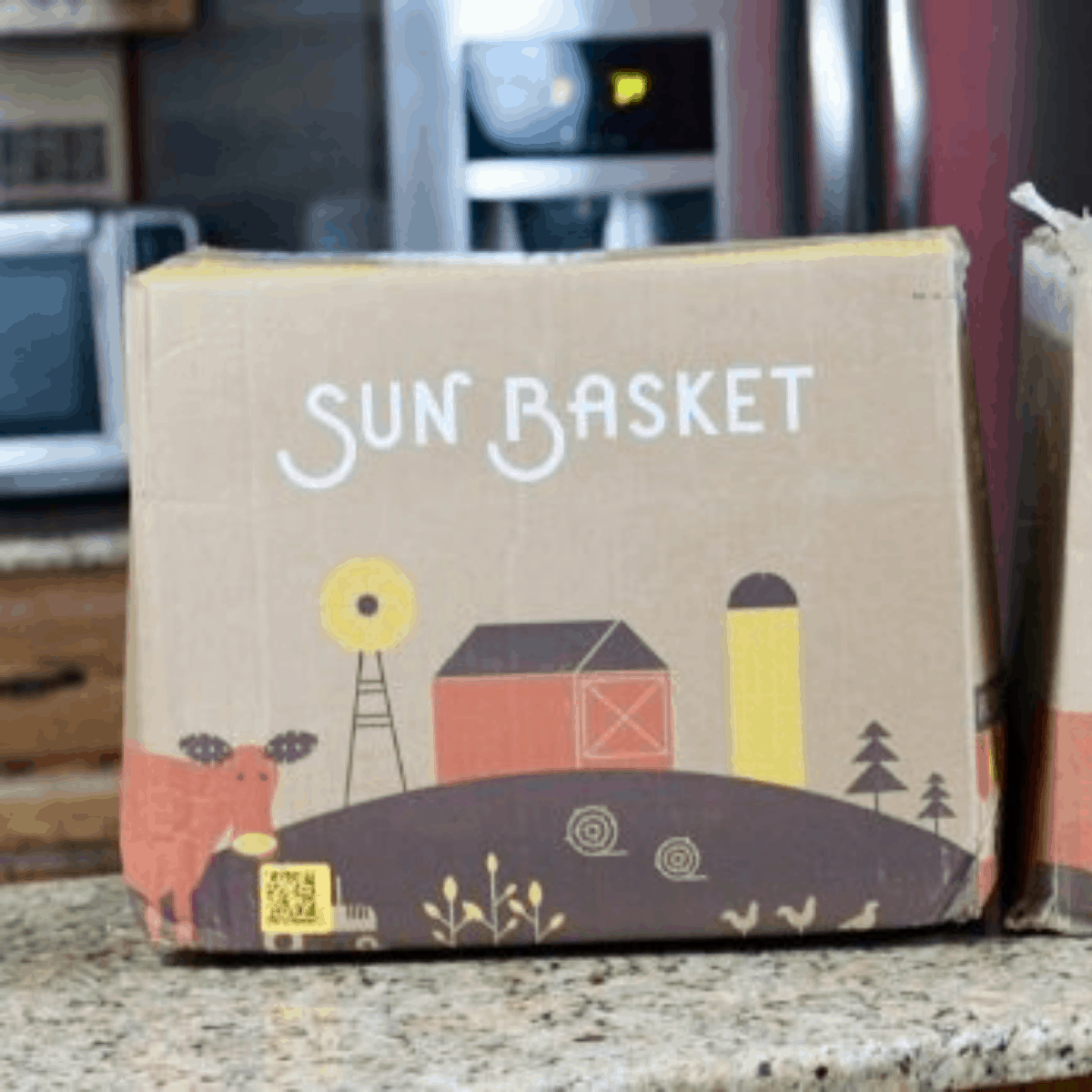 Sun Basket Pricing
How much does Sunbasket cost a week? Sun Basket does cost a little more than the other meal kit companies because, as I pointed out, they use high-quality, mostly organic, ingredients.
Prices start at $8.99 per serving. However, the total cost depends on the meal plan, type of meal (kit or premade), and the number of servings. You can view all the prices here.
Is it easy to make changes to my order or skip a week?
Yes, it is straightforward when you want to make changes or skip weeks.
To make changes go into the scheduled week and make changes to your meals and add any extras.
If you want to skip a week, then go into the desired week and click skip. You can also change the frequency of deliveries in your account section.
Please note the cut-off time to skip a delivery, make any changes to delivery, or cancel your subscription is on Wednesday at noon Pacific Time/ 3 pm Eastern Time, the week before your scheduled delivery date.
Your day and time might be different depending on when your delivery day is, so make sure to take note.
How to cancel my Sun Basket subscription?
It's easy to cancel your subscription.
Simply go into your account, then click on "manage my subscription." From there, you can cancel your subscription.
What I like
They recently lowered their prices to make healthy eating affordable. Meals are starting at $8.99 which is $2.00 less than it was.
Paleo, Vegetarian, Clean Eating, Vegan, and Gluten-free options are available. If you have these dietary restrictions or prefer that eating style, these meal plans can be helpful.
Eleven different meal plans and 15-18 total recipes to choose from each week. However, you can choose from the other meal plans if you see something more appealing.
There's more customization than other meal kit companies. You can choose between 2 – 16 servings per recipe. If you want more of one recipe and less of another, this is a great option. 
Recipes are easy to make and very tasty. Since using Sun Basket, and other companies, I've learned a ton about cooking different cuisines. I feel like I've been pushed out of my comfort zone to cook foods I probably wouldn't make independently.
High-quality ingredients that are mostly organic and NON-GMO. Most of the produce sent in the meal kits are organic, but there is an extra cost for organic meats and seafood.
Upgrades for meats and seafood. I prefer organic meats and like having that option.
Packaging was sturdy and recyclable. Meals kits are in paper bags, and all the perishables are underneath ice packs in the box.
Offers ready meals and pre-prepped ingredients for easy weeknight dinners. These work great for busy people and families.
A large variety of addons for breakfast, lunch, dinner, and snacks. Choose from oatmeal, salads, energy bars, egg bites, green juices, and more.
What I don't like
Recipes are tasty but on the eclectic side. They do provide some "family-friendly" meals, but you'll see a lot of diverse recipes that you may or may not be used to for the most part.
A little too much variety. Even though the variety of items is excellent, I think this could be a little overwhelming if you're unsure where to start or what to buy.
Organic meats and seafood are an extra cost. I'm used to paying more for organic meats, so I don't see this as a significant concern. However, I know many people think meal kits are priced high enough, and the price should include organic meats. Unfortunately, that's not the case, and you'll need to pay for organic meat.
Shipping's not included. Each box is subject to a $7.99 shipping fee plus tax, depending on zip code.
There's a lot of packaging. Even though most of it is recyclable, it takes up a lot of space in the recycling bin.
Who it's good for?
Someone who wants to start eating healthy, or is already, and appreciates the convenience of healthful meals getting delivered to their door.
Someone who follows a specialty diet such as Paleo, Vegan, or Gluten-free.
Someone who doesn't mind paying extra for healthy and convenient.
Someone who likes trying new cuisines.
Who it isn't good for?
Someone who doesn't see the value in paying extra for having healthy meals or food delivered to their door.
Someone who prefers to bargain shop for food and ingredients.
Someone who is a picky eater and doesn't like trying new cuisines.
Sun Basket Meals
In my recent box, these are the meals and extras I received: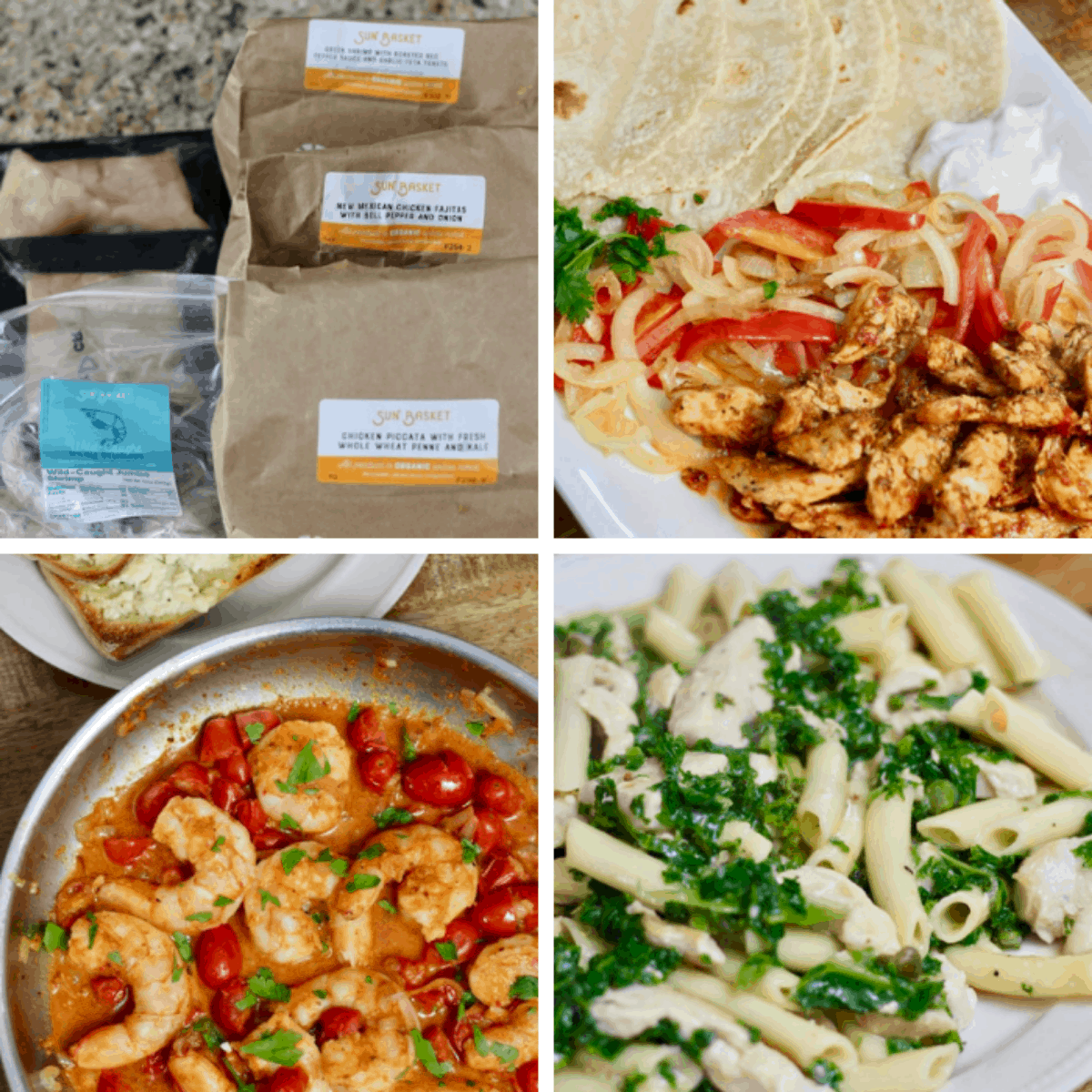 New Mexican Fajitas with Bell Pepper and Onion
I paid for organic chicken strips because I prefer organic meats.
Again, the recipe was simple to make; it would be perfect for a quick weeknight dinner.
The chicken was cut into strips, which shaved about 10 minutes off the cooking time.
The sauces were delicious, and the vegetables were fresh.
The corn tortillas had great flavor.
Out of all the Sun Basket meals I've tried, this one is the most family-friendly. I would order this again.
Garlic Shrimp with Roasted Red Pepper Sauce and Garlic Feta toasts
I paid extra for jumbo shrimp.
The shrimp were very fresh.
The sauce was pre-prepped and which helped bring the recipe together in about 15 minutes.
The flavor was delicious!
I would order this again.
Chicken Piccata with Kale and Whole Wheat Penne.
I paid for organic chicken strips.
The chicken was cut into strips, and the kale was pre-chopped, which brought this recipe together lightning fast.
This recipe was delicious and one of my favorite Sun Basket recipes to date. My husband thought it was "awesome." If you get a chance to order this recipe, do it.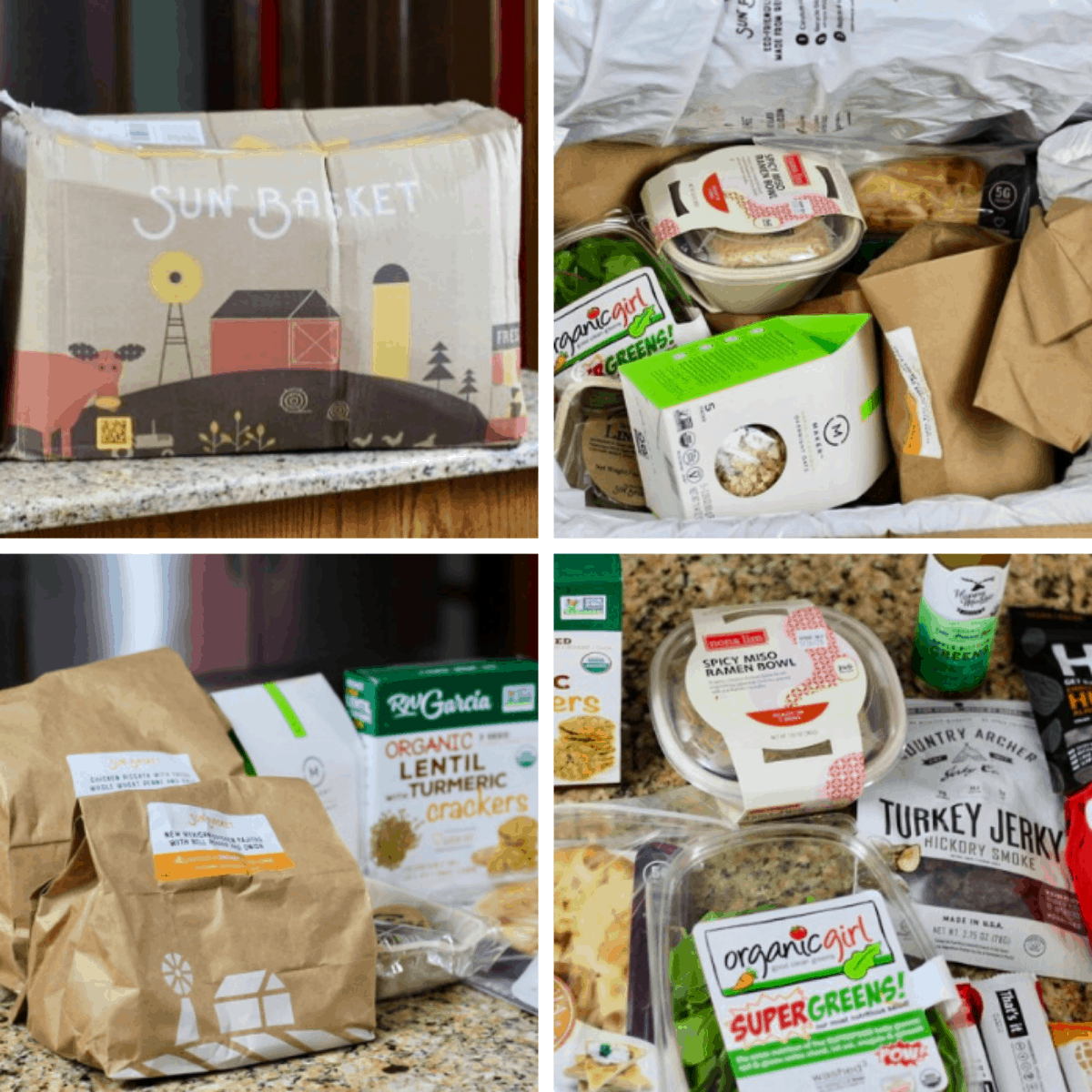 The extras I purchase were:
Apple Cinnamon Overnight Oats
Ramen Bowl
Turkey Jerky
Green Juice
Gluten-free crackers
Hunks chocolate-covered almonds
Protein bars
Hummus
Naan Bread
All the extras were packaged nicely. It was very convenient to shop for all my snacks, lunches, breakfast, and some pantry items when order our dinners.
I can see how this can be helpful for busy people who are trying to eat healthy meals.
Since this box, I've ordered extras every time.
Overall, I think Sun Basket is a top-notch meal delivery service. From their website, to recipes, to the quality of ingredients, to all of their new items, to the care they take in packaging, it's clear they believe and stand by their goal to make healthy food easy.
Check out my other reviews.