Sun Basket is a full-service meal delivery company that prides itself on making healthy cooking easy. It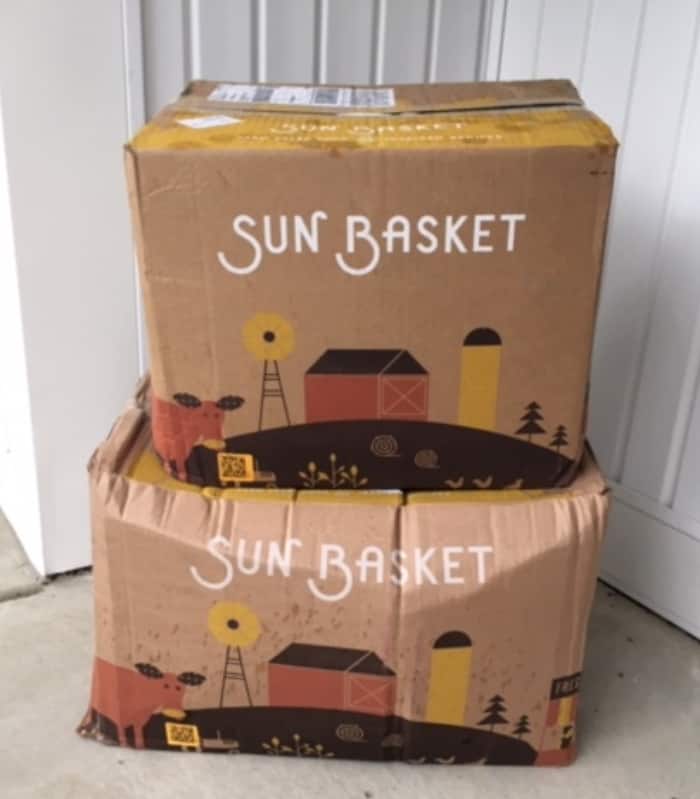 offers organic and non-GMO ingredients along with many Paleo, Vegetarian, and Family options. I've been a Sun Basket customer since 2017 and this is my honest Sun Basket review.
Updated October 2019
Sun Basket Review
I originally wrote this Sun Basket Review back in 2017, after I tried out a few boxes. I've been a loyal customer since then and have enjoyed many boxes. A lot has changed since I shared my review so I wanted to update it with all of the latest Sun Basket offerings.
My goal with any review I share is to provide information on the service, along with my own personal experience, so you can make a well-informed decision whether or not it's a good fit for your budget and lifestyle.
Okay, let's get to it.
If you're ready to try Sun Basket and don't want to read my entire Sun Basket review, you can use my link to get $35 off your first order + 4 free gifts.
What is Sun Basket?
Sun Basket is a meal kit delivery company that's geared towards busy people that want to eat a healthier diet.
It started like most meal kit delivery companies – you choose 3 dinners from a selection of meals and then everything gets sent to your house in a sturdy isolated box.
The big difference between Sun Basket and other popular meal kit companies is they specialize in healthier meal plan options like Paleo, Low-carb, Gluten-Free, Lean & Clean, Vegetarian, Vegan, and more.
They also use organic Non-GMO ingredients and provides organic options for meats and seafood.
In my opinion, this really sets them apart from other meal kit companies because most offer healthier options but most don't give specialized diet options (low-carb, Paleo, Gluten-free) or the option for organic ingredients. Sun Basket meets both those needs.
Recently, Sun Basket has started to offer food items beyond meal kits. This now makes them a full-service meal company to meet all the healthy lifestyle needs of busy people. In my opinion, this completely sets them apart from other meal kit companies.
I'm going to talk more about this in "New Offerings Section" but to give a quick overview you can now get just about any healthy food or snack directly from Sun Basket.
Here's a quick overview.
For breakfast you can get:
Overnight oats
Egg bites
Green juices
Nut spread and seed breads
For lunches you can get:
5-minute salads
Soups
Noodle bowls
Meal cups
For snacks you can get:
Veggies and hummus
crackers
Fruit and nut bars
Seriously, just about everything you need for the week can be purchased from Sun Basket.
You can even order fresh meats and seafood, along with oils for the pantry.
Another item you can order are Sun Basket pre-made dinners. All you need to do is pop them in the oven! No preparing at all – just cook and eat. This is going to be HUGE for many people who want to eat healthy but don't want to cook.
Honestly, I've been super impressed with everything Sun Basket has started to offer. Like I said, I'll share some more information and pictures below to give a better idea of the new products offered.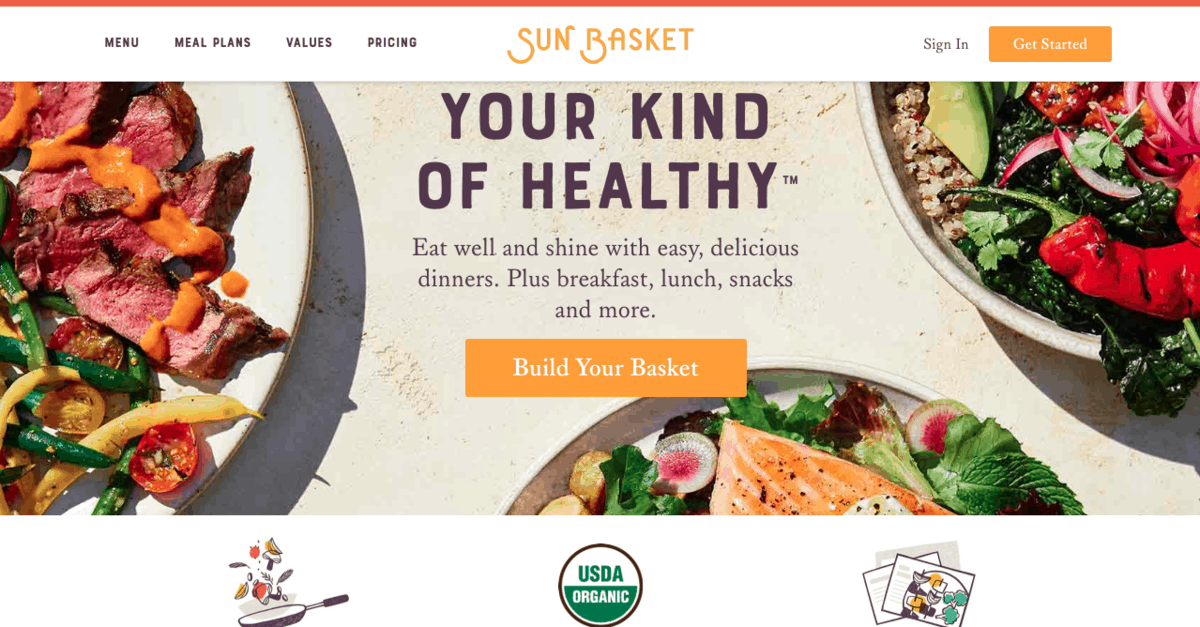 Personally, I think Sun Basket is a great solution for people who want to change their eating habits to healthier ones but not sure where to start, how to find and cook recipes, and/or doesn't have the time to plan and shop. I think if you fall into any of these categories Sun Basket might be worth a look.
If you're ready to order a box and don't want to read my entire Sun Basket review, you can use my link to get $35 off your first order + 4 free gifts.
Pros and Cons
Typically, I put the pros and cons at the end but I moved it up towards the front because many people want to know this information up front. I gotcha!
Of course, these pros and cons are totally based on my personal experience.
Pros
Currently Sun Basket offers 11 different meal plans to choose from. However, you're free to choose from the other meal plans every week if you see something more appealing.
Sun Basket is a great way to switch over to a healthier eating style. They do all the planning and send the recipes and ingredients right to your house. All you need to do is cook. And now you don't even need to cook if you choose one of their own pre-made recipes.
You can choose between 2 – 16 servings per recipe. This is a great option if you want more of one recipe and less of another. This also works great if you're feeding a large family or having a dinner party.
Sun Basket allows you to customize your box a lot more than any other meal kit company.
Ingredients are organic non-GMO and/or sustainably sourced. You also have the option to choose organic meats and seafood.
Recipes are easy to make and very tasty. Since using Sun Basket, and other companies, I've learned a ton about cooking different cuisines. I feel like I've been pushed out of my comfort zone to cook foods I probably wouldn't make on my own.
Sun Basket is full-service offering breakfast, lunch, dinner, snacks, meats and seafood, and pantry items. Everything you need for a healthy lifestyle can be purchased from Sun Basket.
Sun Basket is always adding items to their inventory to meet the needs of their customers. They pay attention to what their customers want.
Everything gets delivered to your door making it super convenient.
Cons
Many of the recipes are eclectic. They do provide some "family-friendly" meals but for the most part you'll see a lot of diverse recipes that you may or may not be used too. I'd like to see more classic dishes turned healthy for families. For example, macaroni and cheese, chicken parmesan, or something like that.
Even though the variety of items is great I do think this could be a little overwhelming if you're not sure where to start or what to buy. But, I can't complain because I think this feature is super useful.
You have to upgrade for organic meats and seafood. This isn't a huge issue with me because I'm used to paying more for organic meats. However, I know that many people think the meals are already priced high enough and organic meats should be included. They're not, so if you want organic meats then you'll need to pay extra for that.
How much does Sun Basket cost a week?
Let's talk about the cost. I know when it comes to meal delivery kit companies cost is always brought up – and Sun Basket is no exception.
Sun Basket isn't cheap. However, I don't think it's over the top either. Basically, you're paying for high quality items to be conveniently delivered to your door. I think the prices are very comparable (if not cheaper) to ordering meals from Core Life, Panera, or really any take out.
I also think the prices are very comparable to Whole Foods or Wegmans prepared foods. Some of the extra items purchased are around the same prices I see at Whole Foods. So, if you don't mind paying a little extra to have organic food delivered to your door for the week this will work for you.
Keep in mind, meal kit companies aren't going to work for someone who cuts coupons and drives from store to store looking for the best deal on meats. Sun Basket, Hello Fresh, and others like it are not in the discount food business.
Meal kit companies are in the convenience business.
They are about creating healthy weekly recipes and then providing the ingredients to your door so you can prepare a delicious meal without needing to leave your house. In my opinion, the cost of meal delivery services are reasonable and I find them to be very beneficial for those with busy schedules and who need guidance with meal planning and cooking. I save the coupons for non-food items.
If you're ready to try Sun Basket and don't want to read my entire Sun Basket review, you can use my link to get $35 off your first order + 4 free gifts.
With that said let's get back to the cost. Sun Basket does cost a little more than the other meal kit companies because, as I pointed out, they use high quality, mostly organic, ingredients.

Here are some prices for Sun Basket. First, you choose between Classic Menu and Family Menu. From there you decide the number of recipes you want to receive each week.
Then you decide what type of meals you'd like. Please note you can choose from any of the meals offered each week but when you identify a specific eating style those are the meals that'll be curated for your box first.
Like I said, there are 11 eating plans to choose from. You can read more about the options on the Sun Basket website and see a sample of their recipes.
I use the Classic menu (3 meals for 2 people) and have Paleo set as my default. Something else to note about Sun Basket is they include a shipping charge. Many meal kit companies include this in the price so it's just something to keep in mind.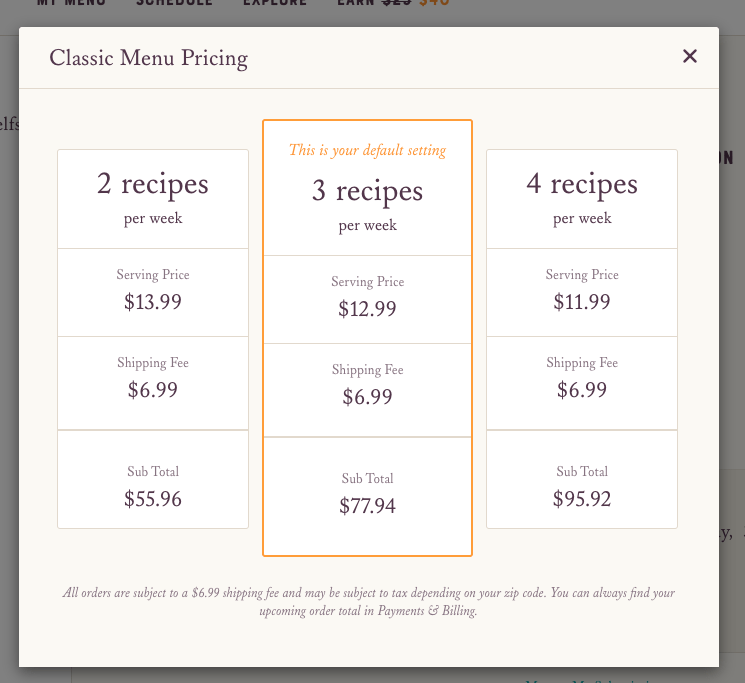 Is there a shipping charge?
Yes, currently Sun Basket charges a $6.99 shipping fee per delivery so matter how much you order.
Is the packaging recyclable?
A big issue that many people have with meal kit companies is all of the leftover packaging. I'm not gonna lie, it's a lot. However, Sun Basket prides itself on sustainability. All of the packaging is 100% compostable and recyclable. If this is important to you then Sun Basket definitely addresses those concerns.

If you're ready to try Sun Basket and don't want to read my entire Sun Basket review, you can use my link to get $35 off your first order + 4 free gifts.
How to Skip a Week?
Sun Basket makes it very easy to skip weeks, all you need to do is click schedule and skip the weeks you want to skip. Please note the cut off time to skip a delivery, make any changes to a delivery, or cancel your subscription is on Wednesday 12 pm Pacific Time/ 3 pm Eastern Time, the week before your scheduled delivery date. This is definitely something to make note of because you don't want to be charged for a week you planned on skipping. Your day and time might be different depending on when your delivery day is so make sure to take note.
How to Cancel My Sun Basket Subscription?
Sun Basket makes it easy to cancel your subscription. Simply go in your account then click on "manage my subscription". From there you can cancel your subscription.
What new at Sun Basket?
A lot has changed since I became a customer back in early 2017. In the beginning, it was just meal kits but now Sun Basket has transformed into a full-service meal company offering everything you need to create and sustain healthy eating habits.
I want to go over some of the changes and then share my latest Sun Basket delivery.
Let's start with choosing your meals.
Each week Sun Basket has about 15 recipes to choose from – this is more than a couple of years ago. If you don't choose your meals then Sun Basket will automatically curate your box based on your eating plan.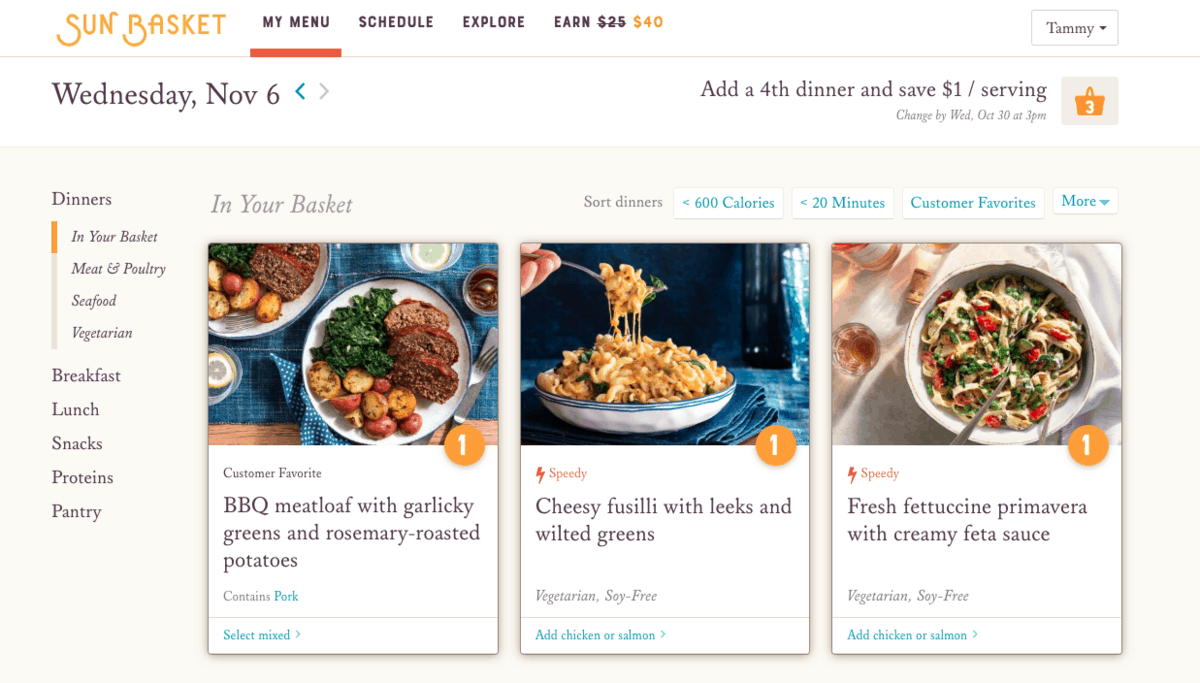 If you want to swap out another meal, or add more servings, then simply click the number or the + sign and you'll be able to remove the recipe and/or add another one. Each recipe is identified by eating style so it's easy to choose recipes that meet your needs. You can also choose recipes based on calories or other factors simply by clicking a link next to the sort dinners area on the top right.
One of the changes Sun Basket offers is the ability to order additional meals and servings. Again, simply click on the number or + sign and add the amount you want.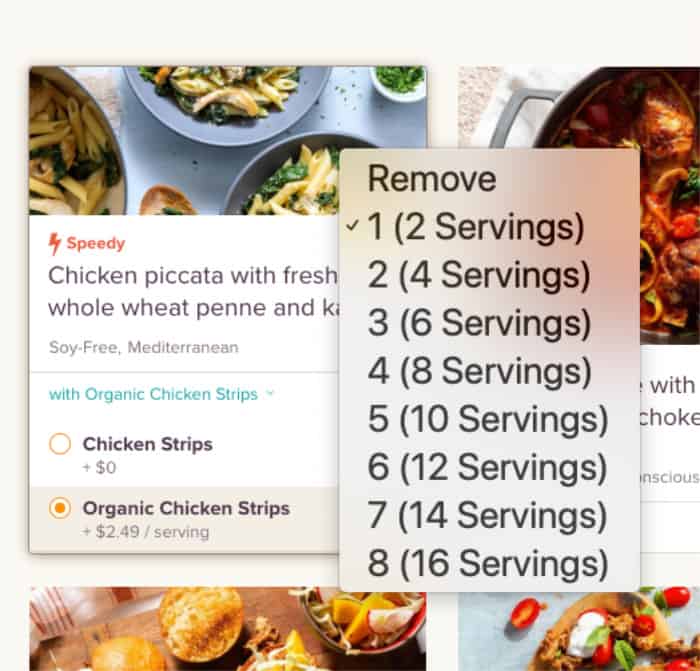 This is where you can also choose to upgrade to organic meats or other options they might have available. You really get the ability to customize your Sun Basket box in a way that wasn't available just a couple years ago.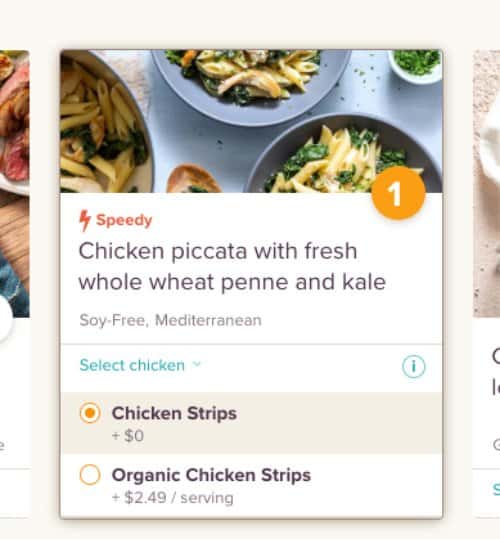 Ordering lunch salads is now an option at Sun Basket. You can also order with or without protein. Each salad has 2 big servings. I order the protein crunch salad a few weeks ago and the 4 of us ate it as a side for dinner. It was delicious.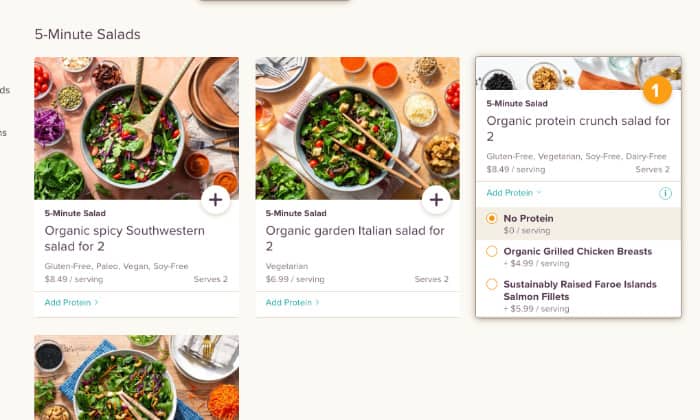 If you need some healthy breakfast options then Sun Basket has you covered.
You can get everything from overnight oats to green juices to egg bites. Sun Basket has a huge selection of quick healthy breakfast options for those of you on the go.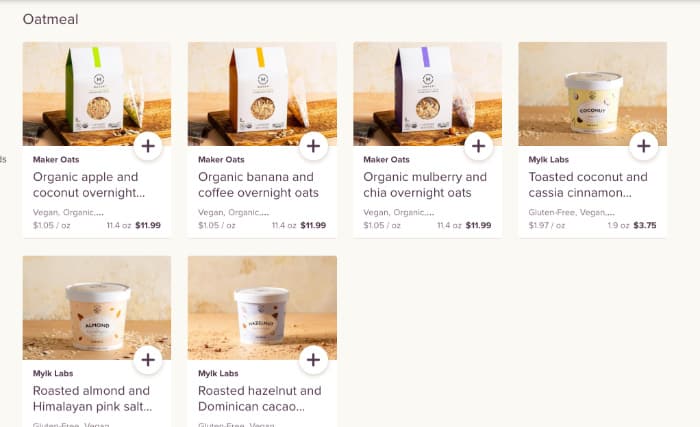 You can even pick up some organic coffee or tea. By the way, I did try the coffee and loved it! It was smoothie and strong. I wish I could've purchased a bulk bag because we drink a lot of coffee in this house.

Sun Basket added a huge selection of snacks to their inventory. The pictures below are just a small sample of what they have. You can get everything from turkey jerky to raw vegetables to crackers to bars to hummus. Seriously, there is so much to choose from.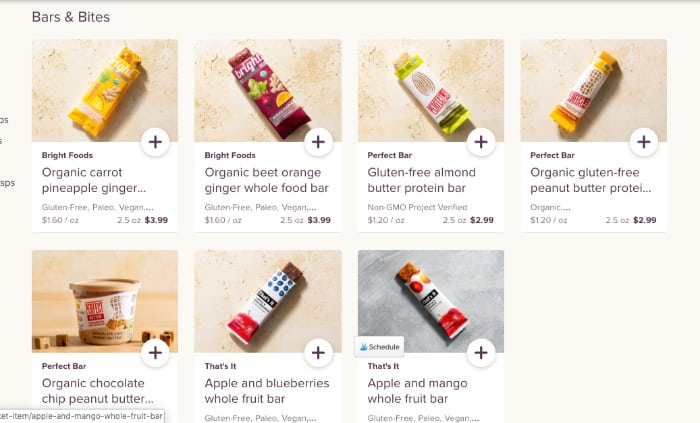 My Sun Basket Delivery
Okay, let's go through one of my Sun Basket deliveries along with some of the recipes and food I tried.
If you're ready to try Sun Basket and don't want to read my entire Sun Basket review, you can use my link to get $35 off your first order + 4 free gifts.
For my current order, I wanted to test out some of their new offerings so I chose a little of everything. This resulted in one big order. I came home to find 2 huge boxes waiting for me.
It's kinda funny because when I put this order in my goal was to be the guinea pig and see how everything worked out.
However, when my boxes came I was so happy. That week was an exceptionally busy week with school activities and I didn't have a lot of time to shop. It was refreshing to know everything I needed for the week was delivered right to my front door.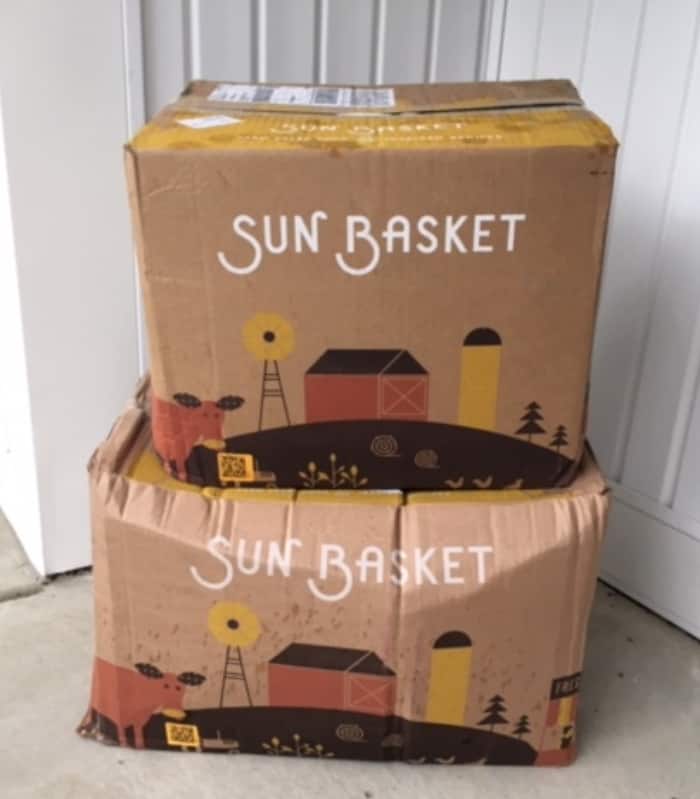 Typically, if you just order dinners, and maybe a few other things, everything will come in one box. But I order breakfast, lunch, dinners, and snacks for the week so my order came in two big sturdy isolated boxes.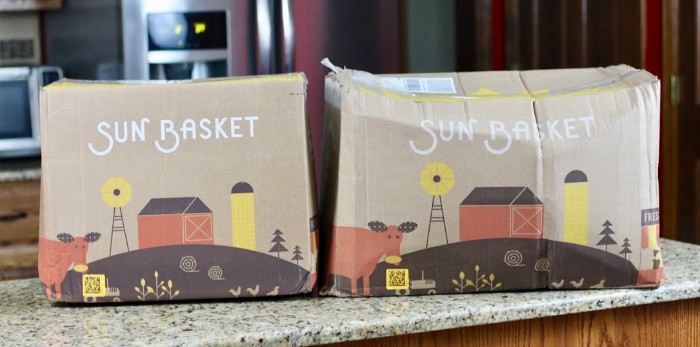 Here's one of the boxes opened. As you can see, everything is insulated and packed nicely in the box. I don't think there was any rhyme or reason to what items went in what box. However, everything was there. It took me a little bit to find the recipe book but after I got everything out I found it between the box and insulation.
**I just received an email letting customers know they are switching to recipe cards instead of a book to reduce waste. So, just an FYI.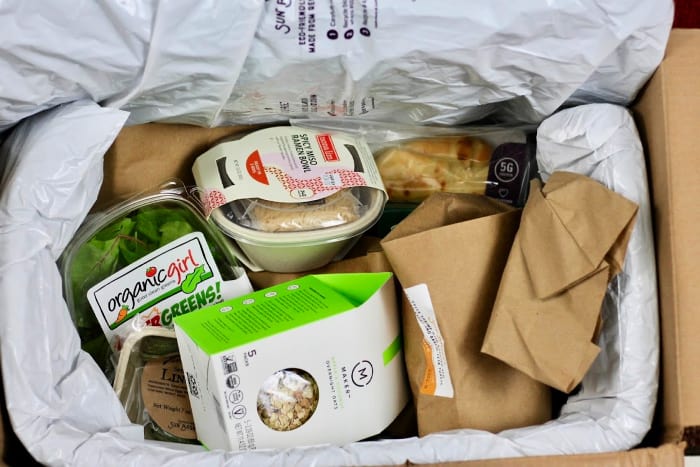 A quick note about the insulation. In my experience, Sun Basket does a great job keeping food cold. Most menus (except vegetarian) include seafood, chicken, and other perishable items so it's important these items stay cool the entire time in transit. And now that they offer other perishable items having insulation that works is critical. People don't want to spend $200+ a week on groceries if they're not going to stay cool.
If you're ready to try Sun Basket and don't want to read my entire Sun Basket review, you can use my link to get $35 off your first order + 4 free gifts.
Here are some more pictures of everything that came in my box.
This picture includes my 3 meals (in the paper bags), oatmeal, crackers, fresh pasta, naan, noodle bowl, and way in the back is some green juice.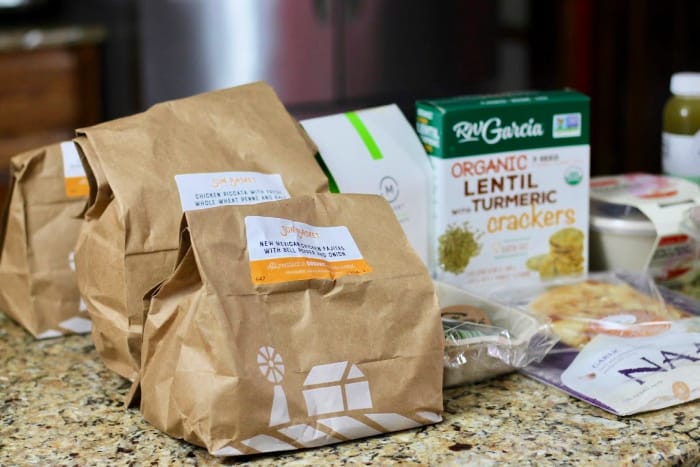 In this picture, there's some fruit and nut bars, coffee, marinara sauce, chicken, and shrimp.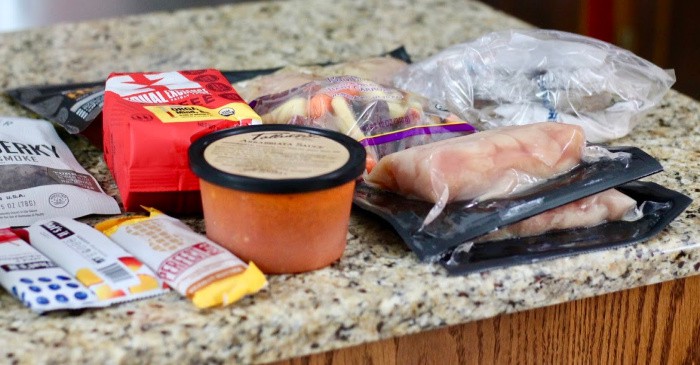 Here's another pic of the items I received.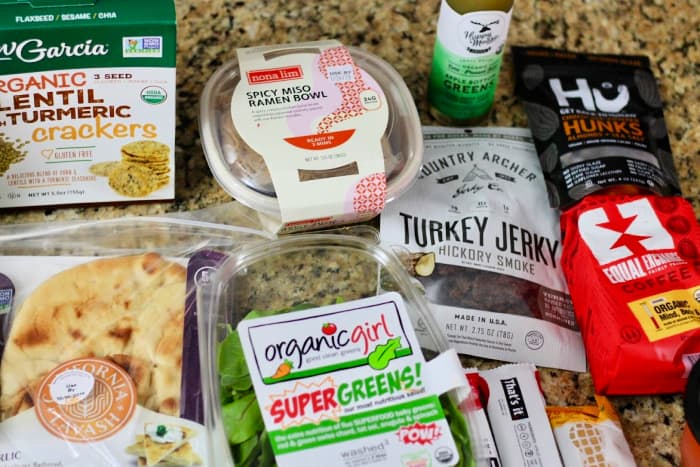 Something I want to point out. In the past, Sun Basket only offered meal kits. Meaning they created the recipe and sent you the ingredients for that recipe. The only choice you had was what meal to select.
Today, if you just want ingredients to make your own meals then you can choose that. For example, you can select sauces, pasta, rice, and proteins to stock your refrigerator with to make quick easy meals.
Sun Basket is the first to offer selections like this (in addition to their meal kits) and I think it will be a huge game-changer for a lot of people.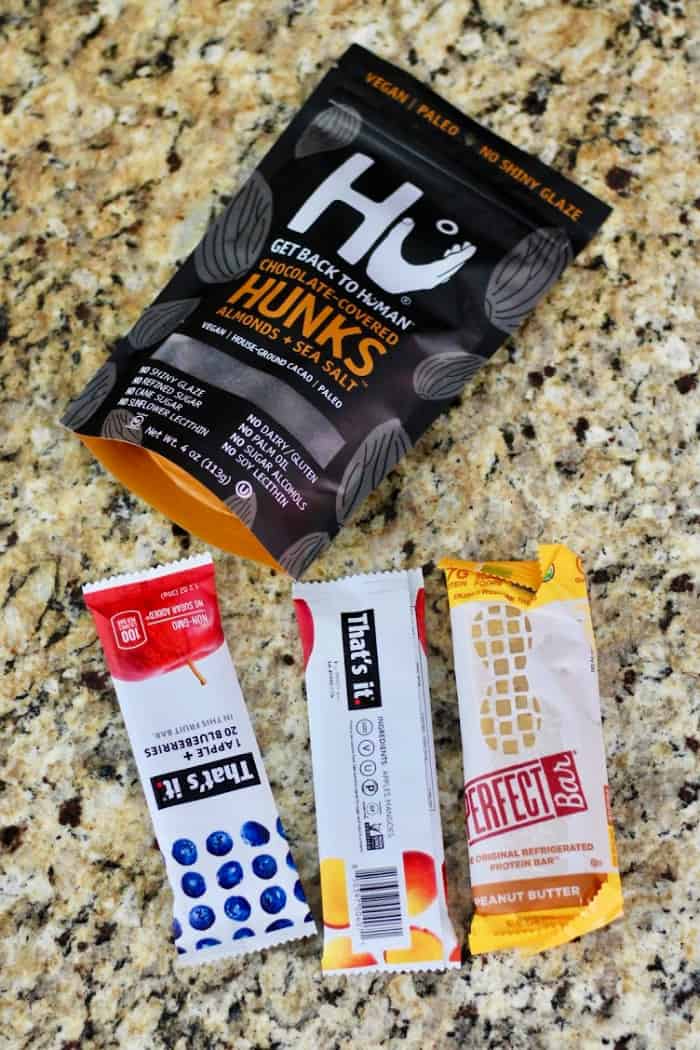 These are some of the snacks I ordered. My daughter LOVED these bars. She took them for a snack to eat before volleyball.
She wasn't crazy about the almonds but I loved them. They are made with house-ground cocoa so they have a slightly bitter taste. But I like them.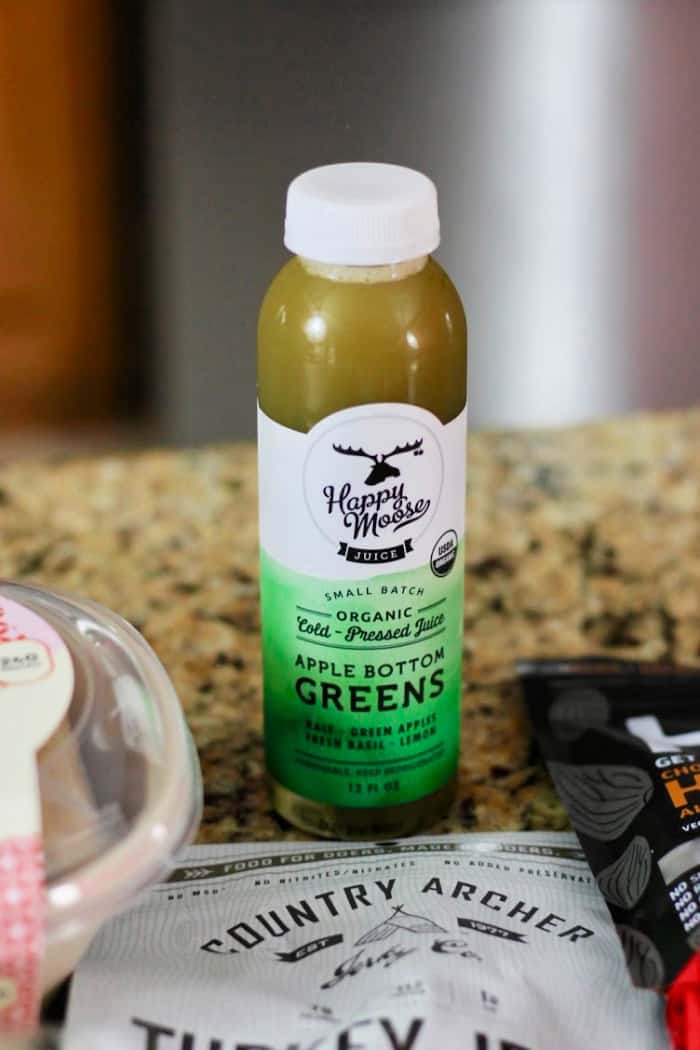 I absolutely love this cold-pressed juice, it was delicious. I do think it's a little pricey ($6.49 a bottle) but the cost is comparable to Whole Foods. Anyway, if you're looking for a high-quality juice to grab and go then I highly recommend this. I felt like I got a huge energy shot after I drank it.
I was super excited to try this coffee. Like I said earlier, this coffee was delicious. It was dark, smooth, and had great flavor. My only complaint is it needs to come in a bigger size. I'd say the price of this coffee ($8.99 a bag) is very comparable to high-quality coffee you'd purchase at Wegmans or Whole Foods.
If you're ready to try Sun Basket and don't want to read my entire Sun Basket review, you can use my link to get $35 off your first order + 4 free gifts.
The Recipes I Tried
Okay, let's go over the 3 recipes I got in this box.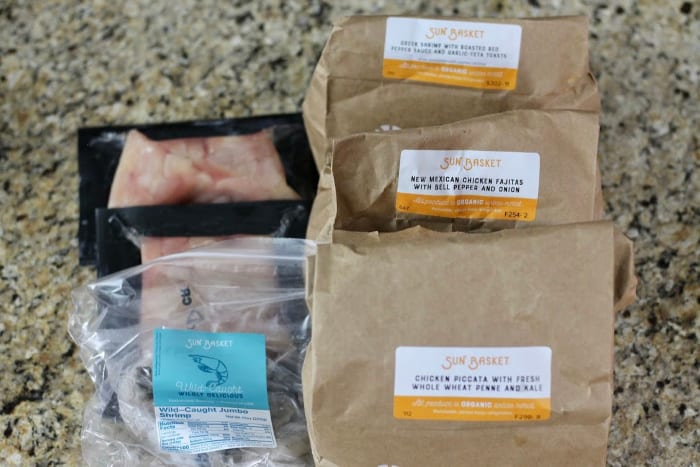 The first recipe I tried was the Garlic Shrimp with Roasted Red Pepper Sauce and Garlic Feta toasts. Sorry, I forgot to take pictures of the ingredients before cooking.
I opted to pay extra for jumbo shrimp.
This recipe was super easy to make and came together in about 15 minutes or so. The roasted red pepper sauce was pre-made so it simply needed to be stirred in after the other ingredients were cooked.
My only complaint with this dish is Sun Basket sent raw garlic instead of roasted garlic. I was bummed to see this because roasted garlic has such an amazing flavor. Since I didn't have time to roast the garlic they sent I made a quick garlic lemon oil to brush on the bread. It came out delicious.
Out of all the boxes I've received this the first time they mixed up ingredients so I won't hold it against them because overall the recipe had great flavor and was filling.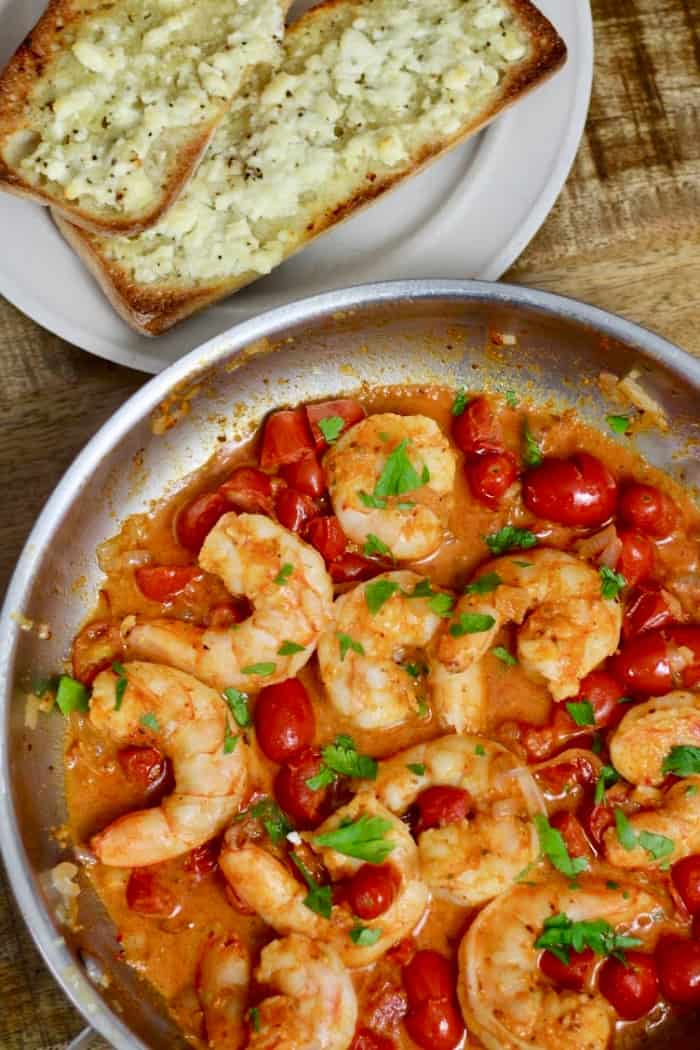 The second Sun Basket recipe I prepared was this New Mexican Fajitas with Bell Pepper and Onion. I opted for the organic chicken strips because I prefer organic meats.
This recipe was incredibly easy to make and would be perfect for a quick weeknight dinner. I love that the chicken was already cut into strips. Personally, I hate handling raw chicken or taking the time to cut into strips, especially after during the week. Having the chicken strips ready to cook shaved about 10 minutes off this recipe.
The sauces were delicious and the vegetables were fresh. The corn tortillas had great flavor.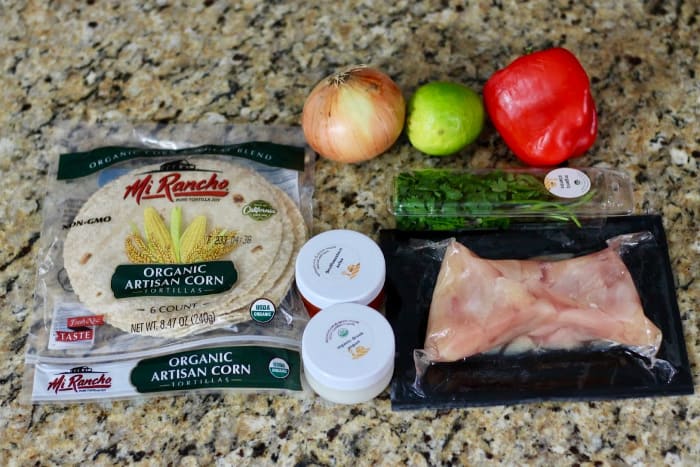 My oldest daughter loved this recipe. In fact, she ate both servings! She had one serving for dinner the night I made it and then brought the second serving for after practice the next day. Of course, I did get a taste so I can report back on flavor. I also thought it was really good. It had great spice but wasn't overpowering.
Out of all the Sun Basket meals I've tried this one is the most family-friendly.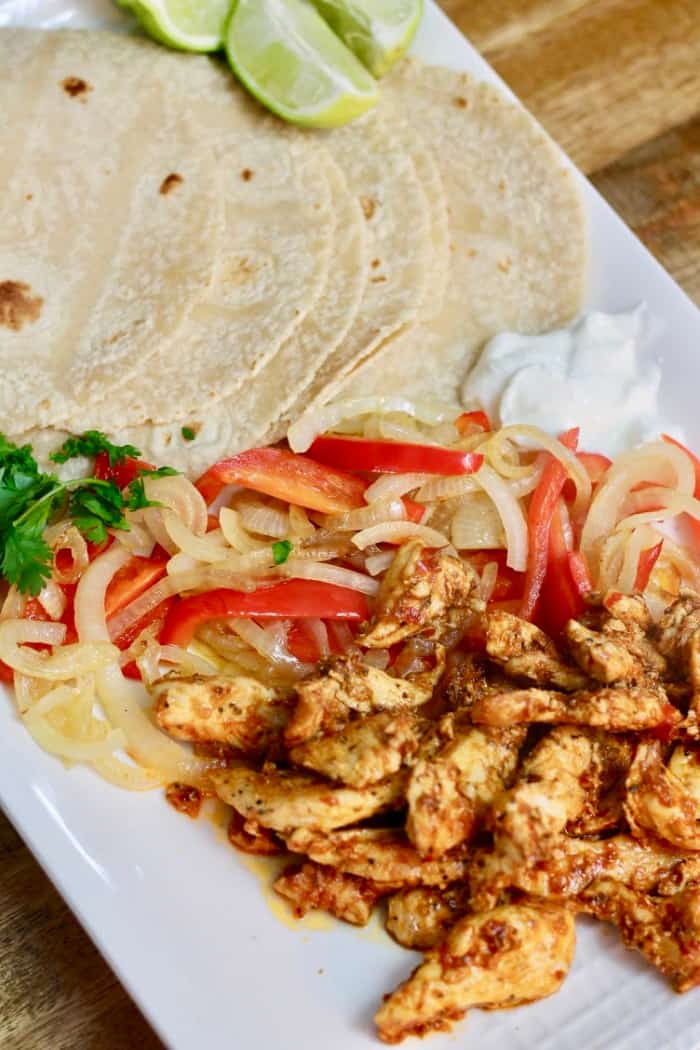 The third recipe I tried was this Chicken Piccata with Kale and Whole Wheat Penne. I was really excited to get this recipe because piccata is my husband's favorite. I was curious to see how he'd like a "healthier" version 🙂
The only change was Sun Basket sent gluten-free penne instead of whole wheat however they did send a note letting me know about that change.
This recipe also came together lightning fast. It helped to have the chicken cut into strips and the kale pre-chopped.
So, how'd it taste?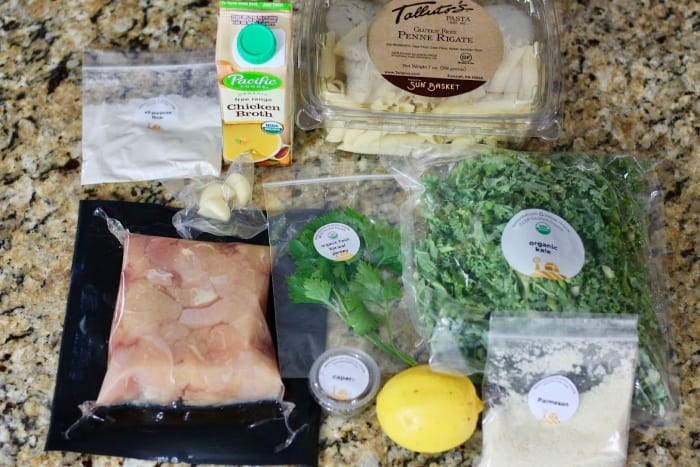 This recipe was delicious and one of my favorite Sun Basket recipes to date. My husband thought it was "awesome". He was surprised that it was made with gluten-free pasta, he couldn't tell the difference. Also, he liked the kale which surprised me. I personally find kale to be strong but it complemented this recipe great. If you get a chance to order this Sun Basket recipe do it.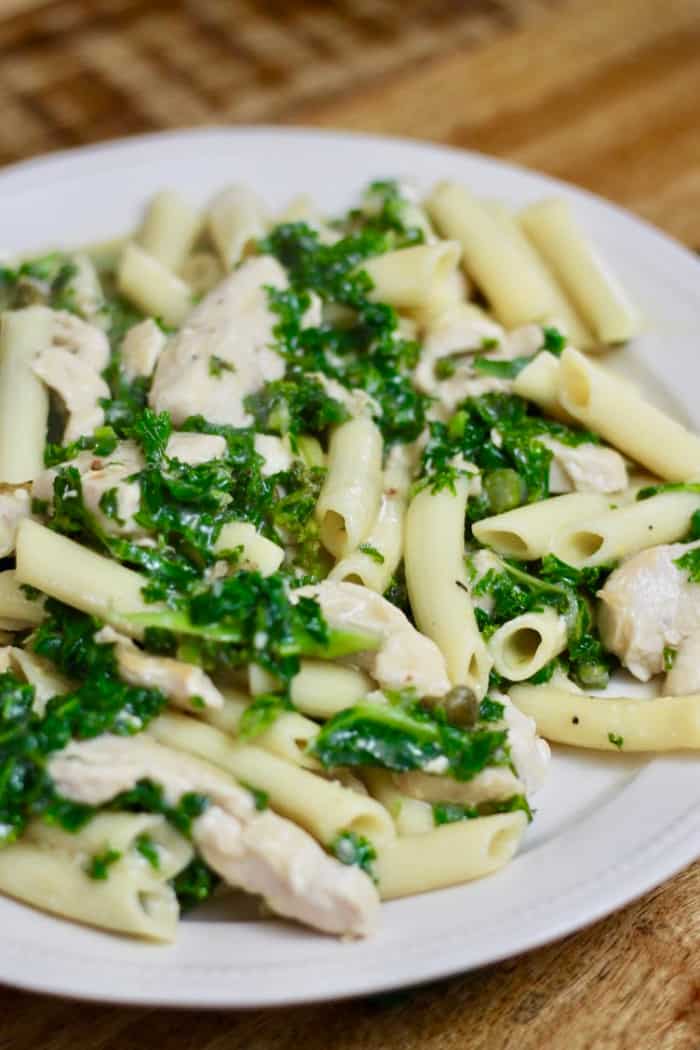 If you're ready to try Sun Basket and don't want to read my entire Sun Basket review, you can use my link to get $35 off your first order + 4 free gifts.
Overall, I was very please with the meals and all the extras I got. Of course, ordering everything from Sun Basket is going to be pricier than shopping at local stores but if your time is limited and you're struggling to eat healthier foods then this can be a great solution.
Here are my overall thoughts:
I like that they offer Paleo, Vegetarian, Clean Eating, Vegan and Gluten-free options. This is very helpful for people who already eat this way or those who want too.
I like that most ingredients are organic and NON-GMO. This might not be important to everyone but for those that want their foods to be organic and free of GMO's its good to know there's a meal delivery service that meets those needs.
I also like that they offer upgrades for meats and seafood. I prefer organic meats and like having that option.
Packaging was sturdy, and recyclable, which is important.
I think the prices are reasonable. You can find other meal delivery services a little cheaper but you won't get the organic food or sustainable food practices.
I think the recipes were tasty but many I've tried in the past have been on the eclectic side. If you're used to eating tacos and pizza for dinner then switching to some of these meals could be a shocker. However, if you're up for testing out new foods and cooking styles then this would work for you. Keep in mind, they are starting to offer more family-friendly options but you're still going to find unique twists on these recipes.
I like that there are many recipe options to choose from – most weeks there are 15 recipes.
I love ALL of the new offerings. I love that I can order breakfast, lunch, snacks, and pantry items every single week if I want.
I love they are offering pre-made dinners now.
I think Sun Basket would work great for someone who wants to eat healthier and lose weight but struggles to meal plan and isn't quite sure how to find or cook recipes. It's a great way to get started with healthier eating habits.
Who I think Sun Basket would work great for?
Someone who either wants to start eating healthy, or is already, AND appreciates the convenience of getting healthy meals delivered to their door.
Someone who follows a specialty diet such as Paleo, Vegan, or Gluten-free. Sun Basket makes it very easy to get started with these eating styles.
Someone who doesn't mind paying extra for healthy and convenient.
Someone who likes trying new cuisines.
Who I think Sun Basket wouldn't work for?
Someone who doesn't see the value in paying extra for healthy meals and/or food delivered to their door.
Someone who prefers to bargain shop for food and ingredients.
Someone who is a picky eater and doesn't like trying new cuisines.
Overall, I think Sun Basket is a top-notch full-service meal company. From their website, to recipes, to the quality of ingredients, to all of their new items, to the care they take in packaging it's clear they believe and stand by their goal to make healthy food easy.
I hope my review helped. If you're ready to give Sun Basket a try you can use my link to get $35 off your first order + 4 free gifts.
I would love to hear your opinions on Sun Basket? Have you used this meal delivery service? What's been your experience?
**This post contains affiliate links. I will receive a small commission if you decide to subscribe to Sun Basket. However, this is my completely honest Sun Basket review and you are by no means obligated to use my links. If you do thanks so much for supporting my site.
You can check out my other Sun Basket Review here.