Purple Carrot is a vegan meal delivery company that curates delicious plant-based recipes and sends all the ingredients directly to your door. They pride themselves on empowering people to eat more plants. I tested Purple Carrot out a few times, and this is my honest Purple Carrot Review.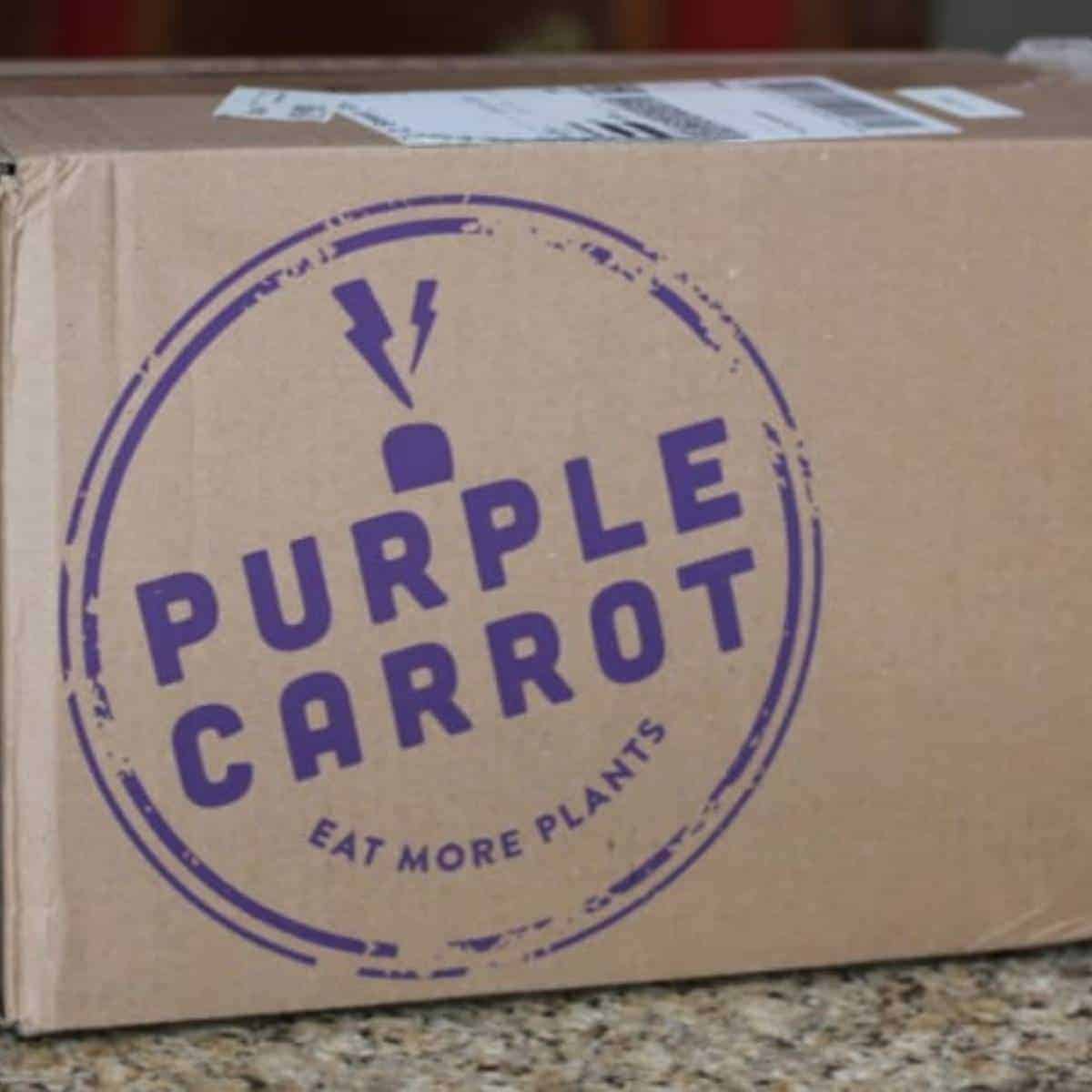 This post contains affiliate links. I will receive a small commission if you decide to subscribe to Purple Carrot. However, this is my honest review, and you're by no means obligated to use my links. If you do, thanks so much for supporting my site.
Purple Carrot Review
A question I often get about meal kit delivery services is whether they cater to a vegan lifestyle?
Some meal kit companies, like Sun Basket or Green Chef, have vegan options/plans, but their focus isn't solely on vegan meals, so choices are somewhat limited. However, if you're looking for a variety of meal plans that cater to both plant-based and meat-eaters, those meal kit companies might work for you.
However, if you want a vegan meal delivery service that only focuses on plant-based foods and no animal products, you'll be happy to know Purple Carrot has stepped up to the plate to meet your vegan needs!
Jump to:
Quick Overview
Pros
All the recipes are vegan, and the ingredients are organic. This is the perfect meal kit company for hard-core vegans!
It's a great way to introduce more plant-based recipes into your meal plan.
If your goal is to become vegan, Purple Carrot is a great way to start.
Prices are comparable to other organic meal kit delivery companies that offer vegan options (ex. Sun Basket or Green Chef).
Recipes are easy to follow and have great flavor.
Recipes are eclectic and a great way to try new flavors and cuisines.
You get a booklet with all the recipes for the week, tips, and other information on eating more of a plant-based diet.
There are breakfast, lunch, and pantry options.
Cons
While prices are comparable to similar services, they are on the pricer side than non-organic meal kit delivery services. However, like most things, you get what you pay for. Also, please keep in mind – and I say this all the time – meal kit delivery companies are not in the business to save you money. They are in the business of convenience. That convenience costs money.
It offers limited recipe choices.
The meals were more on the eclectic side. So, this could be an issue for someone without adventurous taste buds.
Purple Carrot Coupon Code
Purple Carrot is offering new subscribers $30 off. Get the deal here and use promo code carrot30
What is Purple Carrot?
Purple Carrot is a vegan meal delivery service, so they don't use animal products in any meals or ingredients. They believe that eating a plant-based diet can significantly improve your health, our environment, and animal welfare. Their website covers the scientific facts that link meat consumption with heart disease, diabetes, and high blood pressure.
However, Purple Carrot is not pushy at all with their views – which is good. They believe in the power of plants and want to provide these options to the mainstream through Purple Carrot. So, whether you are looking to go vegan or add more vegan meals into your diet, they are there to support those choices.
My Honest Purple Carrot Experience
I'll walk you through my experience and share my thoughts.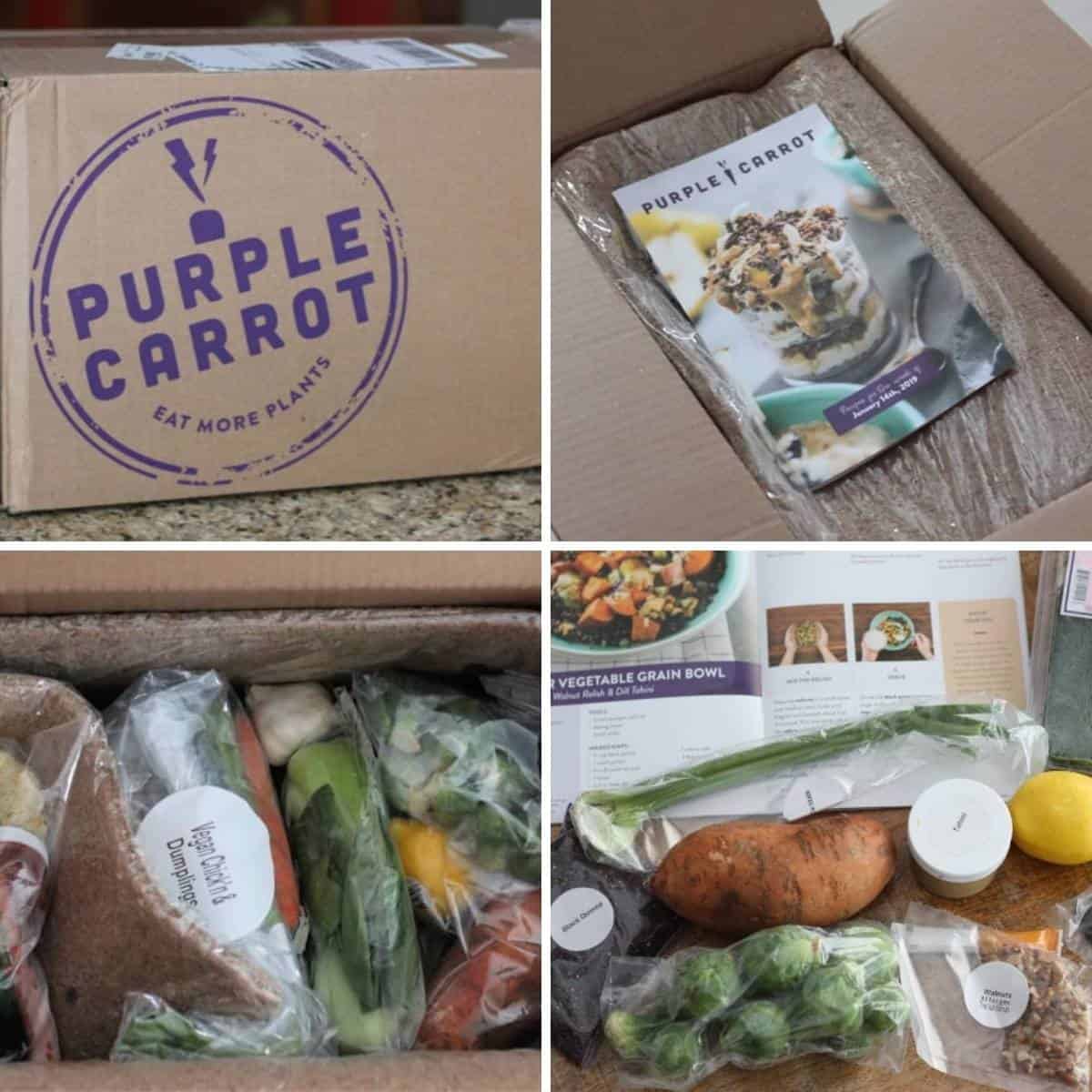 Just like every other meal kit delivery service I've tried, Purple Carrot sends all the recipes and ingredients in a sturdy insulated cardboard box complete with ice packs to keep all of the ingredients cold.
When I opened the box, there was a recipe booklet right on top. The recipe booklet had all the recipes offered for that week – not just the ones I chose. I like this perk. If your goal is to cook more vegan meals, this will be helpful.
Here are all of the ingredients packed in the box. As you can see, one recipe was in-between the box and insulation. I'm not sure if this was a packing error, or maybe it happened in transit. Regardless, everything was cold and fresh—no mushy or rotten vegetables.
Just like all the other companies, there's adequate insulation to keep everything cold and fresh.
One complaint, or criticism, I often hear about these companies is the amount of garbage from the boxes. It is a lot, but most of it is recyclable and reusable, so that's just something to consider.
I also want to point out that all of the recipes come in individual bags. I love this touch because it makes it super easy and convenient to throw it in the refrigerator until you're ready to cook.
Purple Carrot Recipes
Let's get to the good stuff! How do these vegan meals taste? Because, quite honestly, that's often the deciding factor when choosing to reorder or cancel a subscription.
The three meals I'm going to review are the:
Winter Vegetable Grain Bowl
Vietnamese Style Ramen
Vegan Chick'n and Dumplings.
Let's start with the Winter Vegetable Grain Bowl.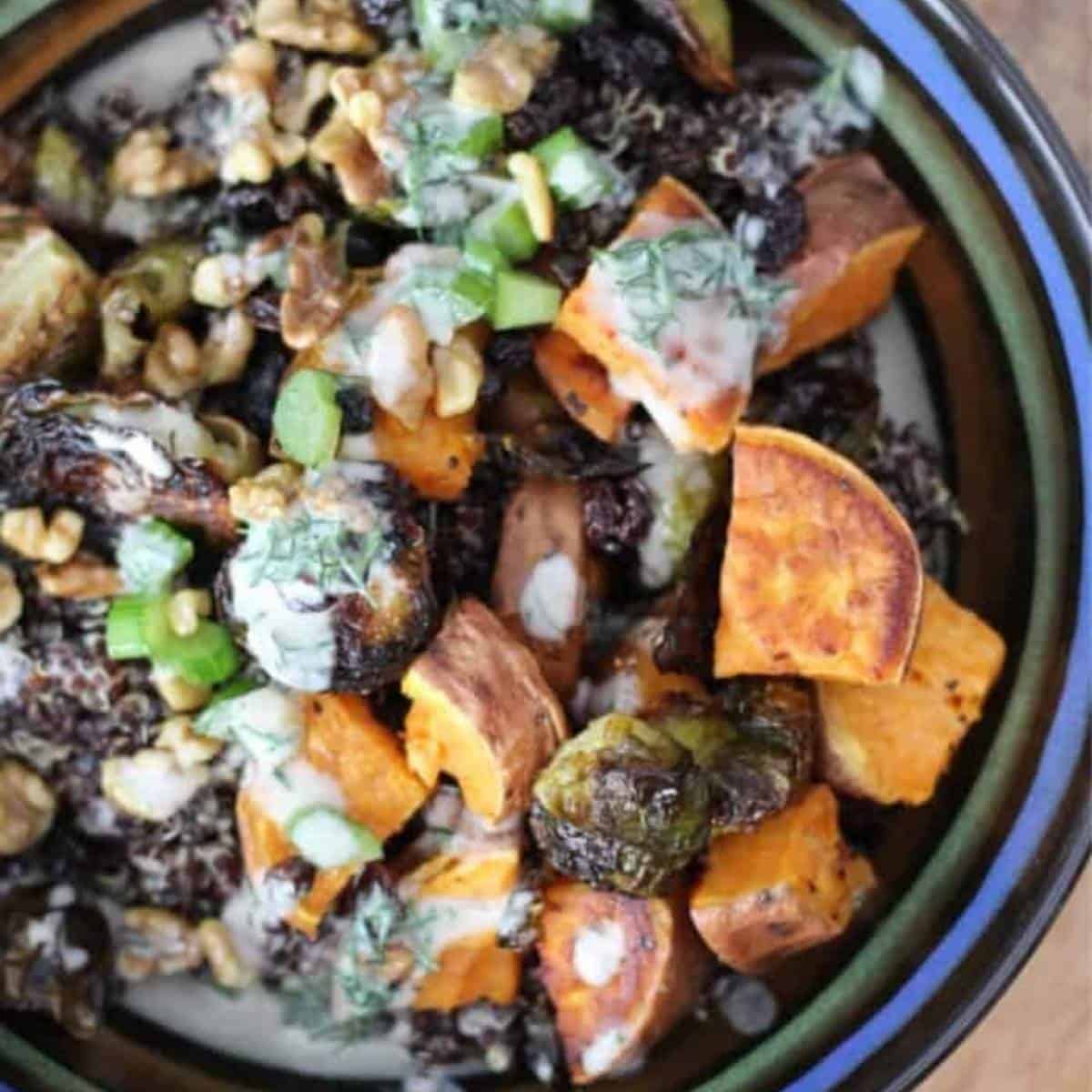 I looked forward to this recipe the most because I love roasted vegetables and quinoa.
What I liked:
Everything is portioned out and labeled.
The recipe was straightforward to follow. If you're new to cooking, the colored step-by-step photos in the booklet will be helpful.
What I didn't like:
There are a lot of steps to this recipe – it isn't a 20-minute meal.
I needed to use three different dishes for cooking this. A sheet pan to roast vegetables, a pan for the quinoa, a small skillet to toast the walnuts, and small bowls to make relish and sauce. Not a huge deal, but I just wanted to point that out.
Other thoughts:
Regardless of the pans and dishes, this was very easy to make and super tasty.
The dill sauce came together quickly and was super tasty. It called for tahini which I've only ever used in hummus. I thought it had great flavor, especially with the dill.
I wasn't sure about the "relish" because I'm not a huge celery fan, but it gave the grain bowl a nice crunch. I love meal kit delivery services because it pushes me out of my comfort zone to make a meal I wouldn't otherwise.
Overall this meal was delicious and super filling. If you want to meal prep this recipe ahead of time, you could easily prepare everything in advance, store it in the refrigerator, warm it up, and put the bowls together the night you want to eat it.
The following recipe I tried was the Vietnamese Style Ramen. First of all, I love anything ramen, and with a broth, so I was looking forward to this one.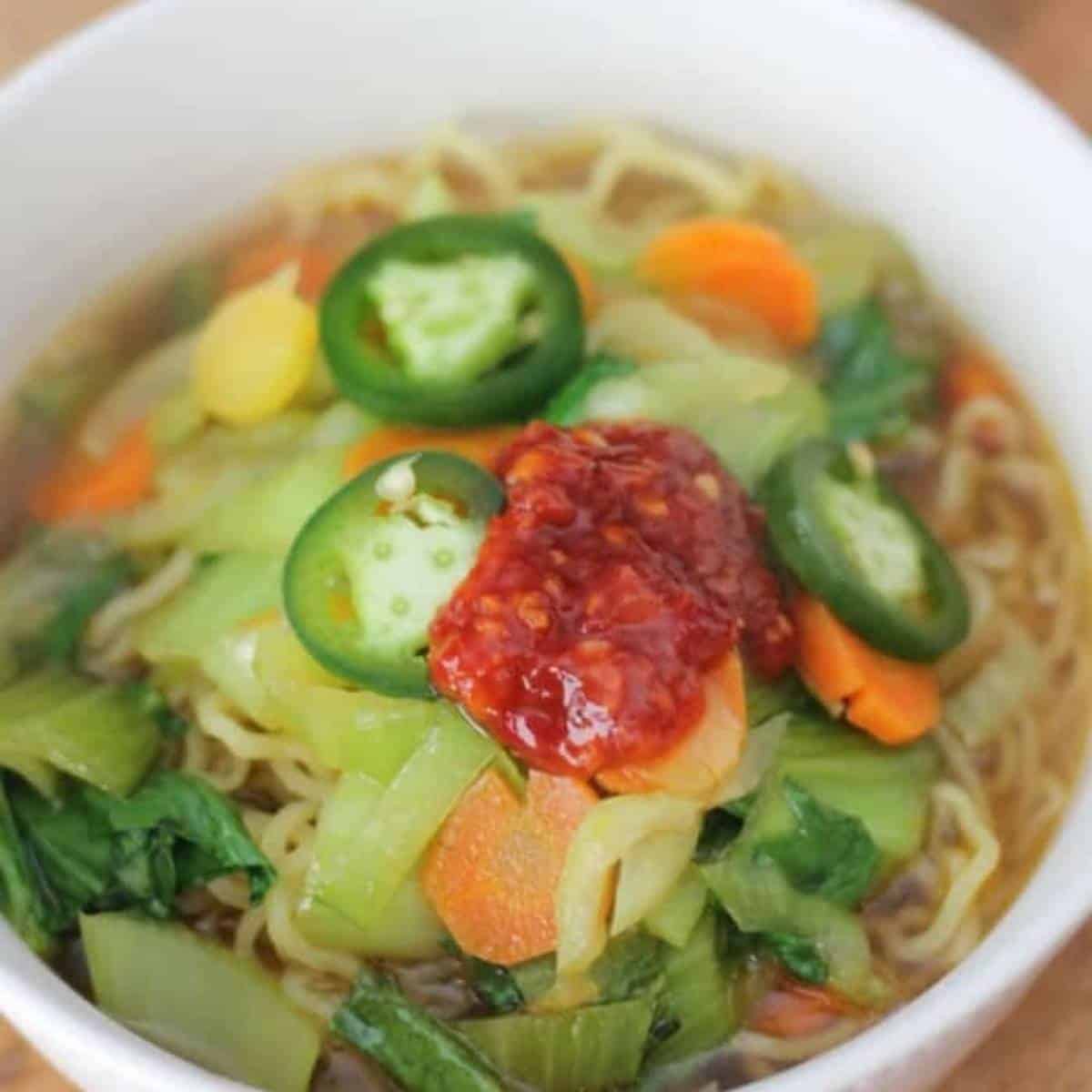 What I liked:
Just like the other recipe, everything came labeled and portioned out.
This recipe came together super fast. Of course, peeling and chopping carrots can be a pain, but even that didn't take much time.
What I didn't like:
I used two separate pans to make this – one for the ramen and one for the broth. Not a big deal, but I just wanted to mention it.
Other thoughts:
This was my favorite of the three recipes. I thought it was so comforting and delicious. I should also mention I had a sinus cold the night I ate this. The heat from the jalapeno peppers and chili sauce cleared my sinuses right out.
You can also prepare this Purple Carrot recipe in advance. I recommend keeping the broth and noodles separate until you're ready to eat – nobody likes mushy noodles.
The 3rd recipe I tried was the vegan Chick'n and Dumplings. I have mixed reviews on this recipe.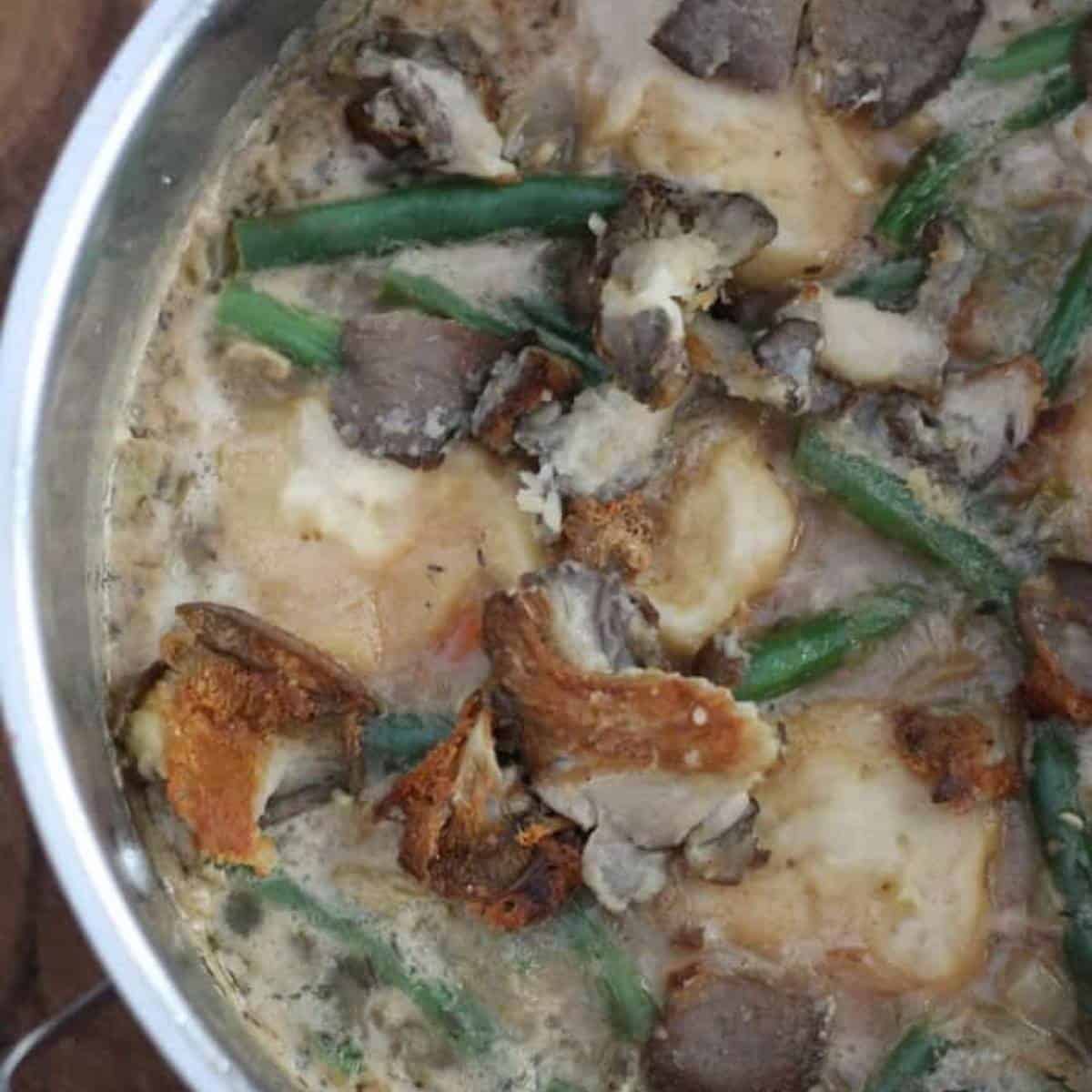 What I liked:
The vegetables were fresh, everything was portioned out, the recipe included clear instructions, and I only needed one pan.
The flavors were delicious.
What I didn't like:
It was a complicated recipe; there were a lot of steps. The good news is the recipe came out just like it should – thanks to the step-by-step instructions. However, it took about 40 minutes to cook – possibly more. I don't have that kind of time during the week.
Other thoughts:
In my opinion, this is a recipe for a Sunday dinner, not for during the week. Now, this is just my opinion.
Besides chopping the vegetables, this recipe really shouldn't be made ahead of time.
With all that said, I will say this Vegan Chick'n and Dumplings had excellent flavor. Even my oldest daughter thought it was good – and she's the picky one. It had that down-home chicken and dumplings taste but without the chicken.
Even though this recipe was more complicated than I would've liked, it took me out of my comfort zone and taught me something new. However, moving forward, I'm going to stick to recipes like the first two.
FAQs
How does Purple Carrot Work?
Purple Carrot has three meals plans – Quick u0026 Easy, High Protein, and Gluten-free. Each plan includes three dinners and serves 2 – 4 people. Depending on the number of servings, there are between 4-7 recipe choices.

You can also choose fully prepared meals. These are single-serving dinners that are heated in the microwave or oven.

You can add breakfast, lunch, and vegan pantry extras to every box.

The extras include meal options like overnight oats, green smoothies, grain bowls, and salads. If you're looking for vegan meals beyond dinner, this is a great option.
Is it expensive?
For the meal kits, prices vary depending on the number of servings you order per recipe.

For three recipes at 2-servings per recipe, each box will be 71.94. This is 11.99 per serving.
For three recipes at 4-servings per recipe, each box will be 79.92. This is 9.99 per serving.

For the prepared single-serving meals, you get six dinners in each box. The cost is 12.99 per serving and $77.94 for the box.

Purple Carrot prices are comparable to Green Chef, Sun Basket, and other high-quality meal kit companies.
Is it easy to skip weeks?
Yes, Purple Carrot makes it easy to skip weeks, select meals, and add meals. After you log in and click on "upcoming menus," you'll be able to see all the upcoming weeks. From there, you can skip a week by clicking on the checkmark. When it's skipped, it'll turn grey and will become an x. 

Please note the skip deadline, so you didn't accidentally get meals when you planned to skip them.
Can I switch meals?
Yes, you can change meals by clicking on the purple "change meals" button next to the arrival date. You'll get to choose from 6 dinner options and could add on breakfast and lunch options too at this time.

If you want to change your meal preferences at any point, you will do that in the profile section. For example, if I like quick and easy dinners instead of gluten-free, I'd need to change the meal preference section of my profile.
Who do I think would benefit most?
I think if you're trying to eat more vegan meals but not sure where to start or in a rut, then this would be an excellent option for you. There's a lot to learn about vegan cooking, and I think Purple Carrot does excellent teaching.
If you like trying new foods and flavors, then vegan meal kit will work because most of their recipes have eclectic tastes.
If you don't mind paying for the convenience of a vegan meal plan being put together for you and all the recipes delivered to your door, you'll be pleased with Purple Carrot.
Who do I think wouldn't benefit?
If you're concerned about getting the best deals on groceries, subscribing to Purple Carrot or any meal kit delivery service won't work for you.
If you don't like eclectic flavors, this might not be the best meal delivery service.
If you're looking for a meal kit delivery service that'll feed your large family, Purple Carrot might not be your best option.
Overall Purple Carrot thoughts
Of course, I think anyone can order meals from Purple Carrot, but I definitely think this meal kit delivery service has a specific customer they cater to.
Therefore, if you're already vegan, starting the vegan lifestyle, or appreciates vegan meals, Purple Carrot is a great option.
I hope my Purple Carrot Review helps you make an informed decision about whether or not it's a good fit for you. If you're ready to try Purple Carrot, sign up here and get $30 off your first box!
If you like meal kit subscription companies, check out these reviews
See all of my meal kit reviews.