I tried Home Chef 4 different times and this is my honest (unapologetic) Home Chef Review. Home Chef is a meal delivery service that prides itself on delivering everything you need to create delicious simple meals. Each week Home Chef offers 10 meals to choose from along with a lunch, smoothie, or fruit option you can add on. If you decide to give Home Chef a try then here's a coupon for $30 off your first box.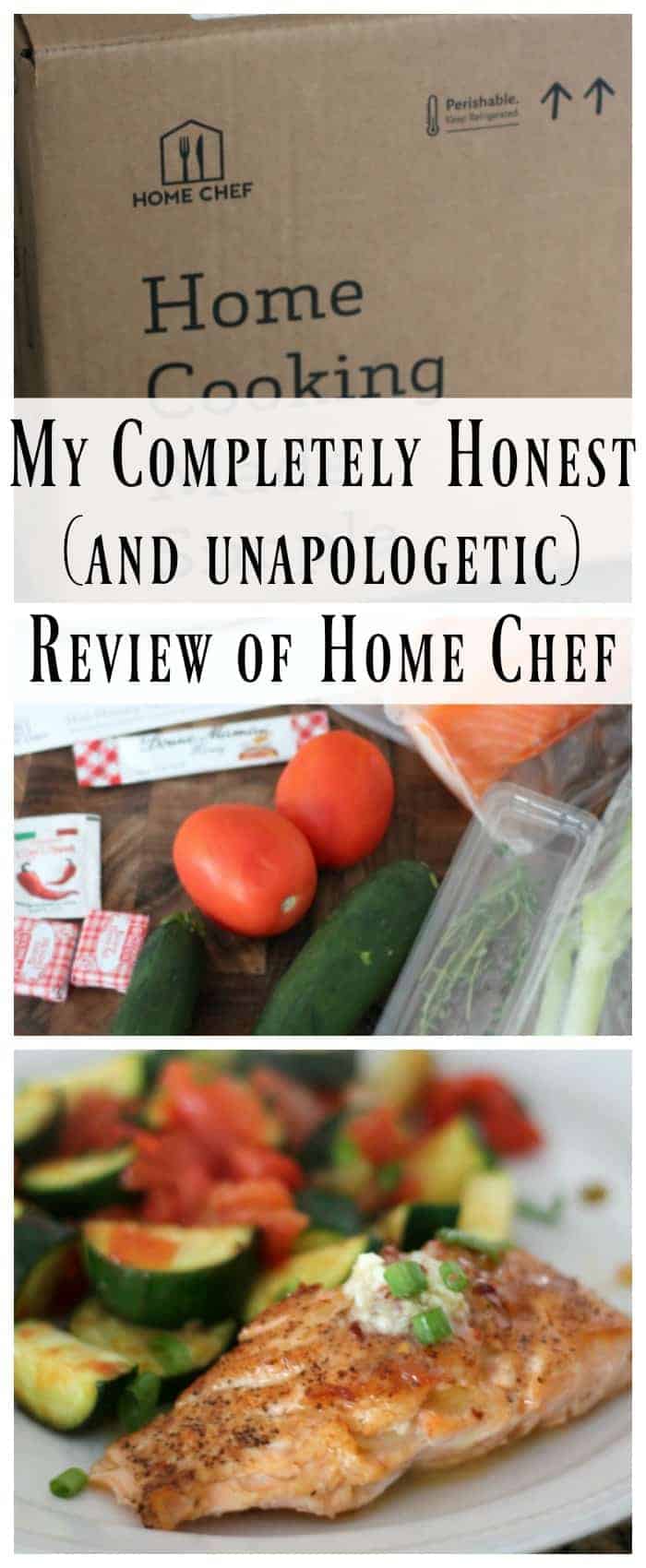 Over the past couple years, I've become quite the fan of meal delivery services. Of course they're not meant for everyone, and I talked about who shouldn't use them in this post, but for me meal delivery services fit nicely into my lifestyle. I don't use meal delivery services weekly, but I do schedule boxes at least once a month and I can tell you every time that box shows up on my door step it's like the angels sing and life just got better.
I started off using Hello Fresh and stayed loyal to them for over a year, then I decided to give others a try. Don't get me wrong, I think Hello Fresh has delicious food, but many other meal delivery companies started popping up so I wanted to test out the competition. Many readers ask my opinion on these meal delivery services (along with other companies) so I think its important for me to try them out. Basically, my job is to be your guinea pig. You're welcome!
So far I've tried Hello Fresh and Sun Basket. I know it's easy to think all meal delivery services are alike, I thought that too, but I can tell you while all send food they are in fact different. So far, I've noticed each one gives their own unique spin that sets them apart from the others.
Home Chef Review
Today I'm sharing my experience with Home Chef.
If you're ready to try Home Chef, and don't want to read my entire Home Chef review, you can use my link to get $30 off your first box.
The first impression I got when I signed up for Home Chef was they definitely cater to a more classic family style recipe. Basically, recipes that offer simple everyday ingredients. I didn't see the eclectic recipes that I found with Sun Basket and sometimes with Hello Fresh. This could be a good thing if you're looking for family-friendly recipes.
Some complaints people have with Sun Basket and Hello Fresh are with the diverse ingredients. Of course, some people love this but if you want classic family-friendly recipes similar to ones found in a Betty Crocker or Better Homes and Garden cookbook then I think Home Chef would be a good option.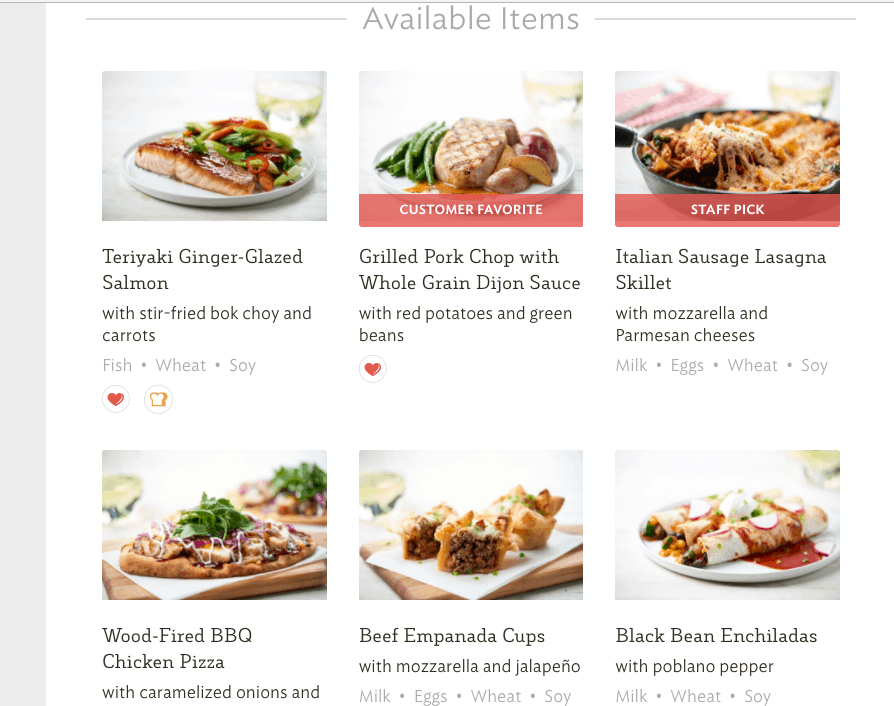 Here a snapshot of some of the recipes.
Another difference with Home Chef compared to the other meal delivery services I've tried is they don't offer specific eating plans. ( Updated 7/9/2018. This has since changed and they now offer more low-carb, gluten free, and Paleo selections.) For example, Sun Basket offers a paleo or clean eating option. I thought that was a nice touch for those who want to change their eating style but not sure where to start.
However, with Home Chef, you do fill out a taste profile and this influences the weekly menu choices offered by Home Chef.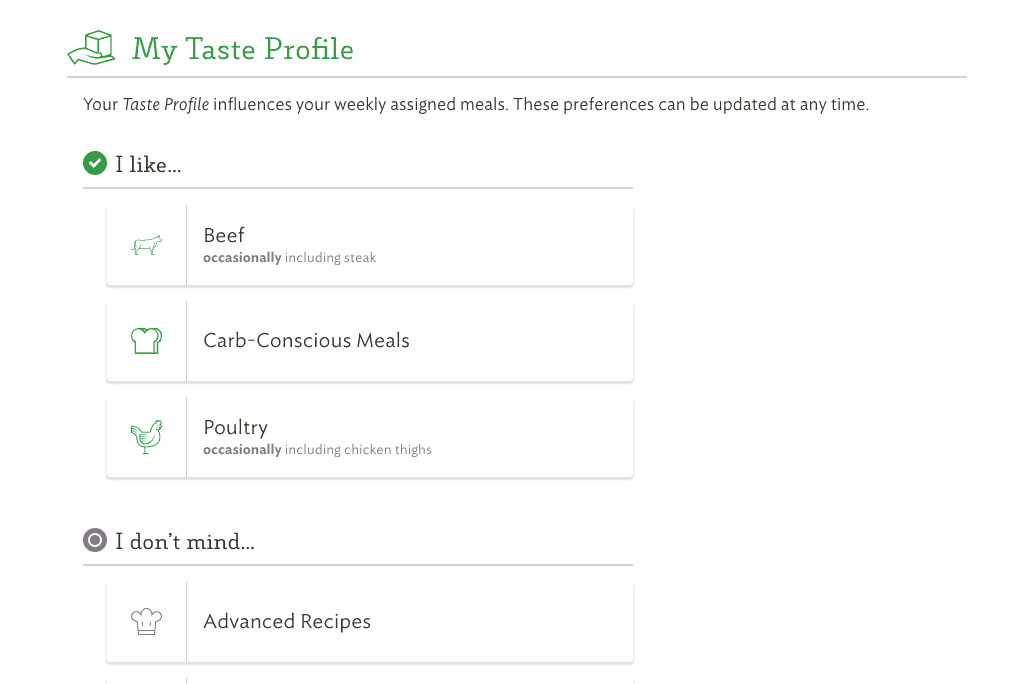 Home Chef will recommend meals based on your taste profile but if you don't like them you can choose from 7 other meals. All together Home Chef offers 12 different meals to choose from and to be honest I think they offer a fantastic selection. They also include, in addition to dinner recipes, lunch options, smoothie options, and a fruit basket. You can order everything you need for the week with Home Chef.
Another thing that sets Home Chef apart from their competition is you can order between 2-8 meals and up to 6 servings per meal. So if you're a large family this would work perfectly for you. The other meal delivery services I tried only let you order 3 meals 4 servings each.
The delivery days are Wednesday – Friday which works great if you want to prep some of the meals for the next week.
Last, Home Chef makes it VERY easy to pause and/or cancel your account. You could also skips weeks but if you want to take a break for whatever reason you can simple hit "pause your account" and you won't be accidentally charge for weeks you didn't want. Personally, I think this is a great feature.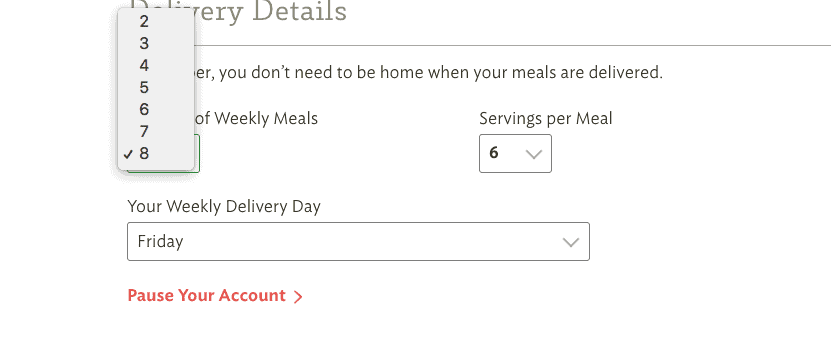 If you're ready to try Home Chef, and don't want to read my entire Home Chef review, you can use my link to get $30 off your first box.
Again, another thing that sets Home Chef apart from the others is they offer weekly smoothie, lunch, and fruit options. I haven't ordered the smoothies or lunches yet but I did order a 2 serving basket of fruit for $4.95 because I wanted to test that option out.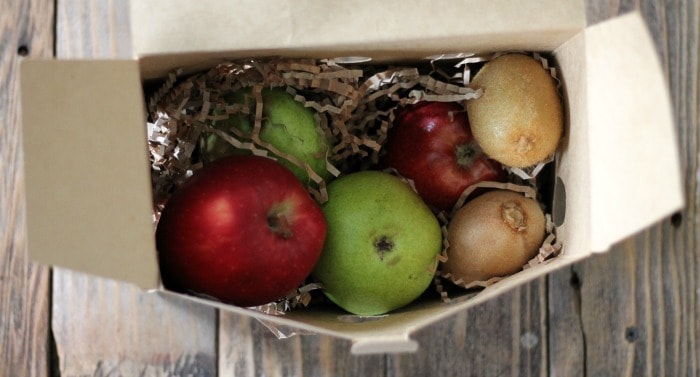 I received 2 apples, 2 pears, and 2 kiwi. Each piece was fresh and delicious. I was actually surprised because I thought for sure at least one of the pieces would be bruised but nope everything was great.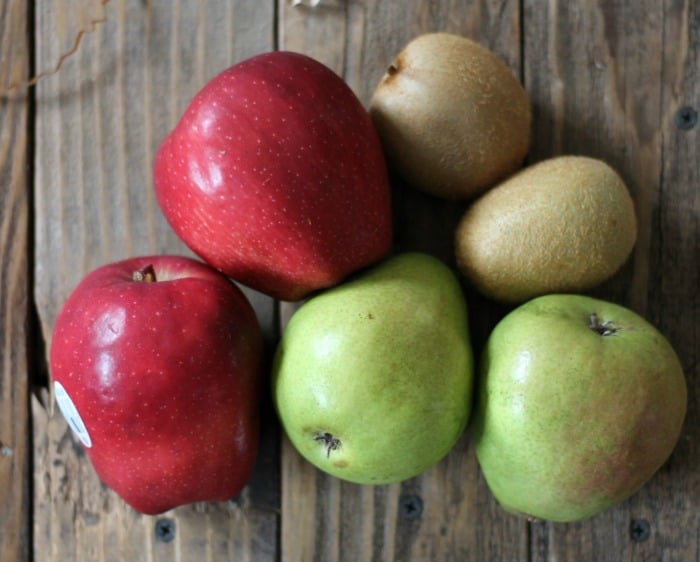 How much does Home Chef Cost?
Before I get to the meals I tried let's first talk about cost since I sure you're wondering "yes this sounds great, but how much does all this cost". Again, it depends on the numbers of meals you order and if you add on any items. Each meal is priced at $9.95. So 3 meals (2 servings each) will be $59.70.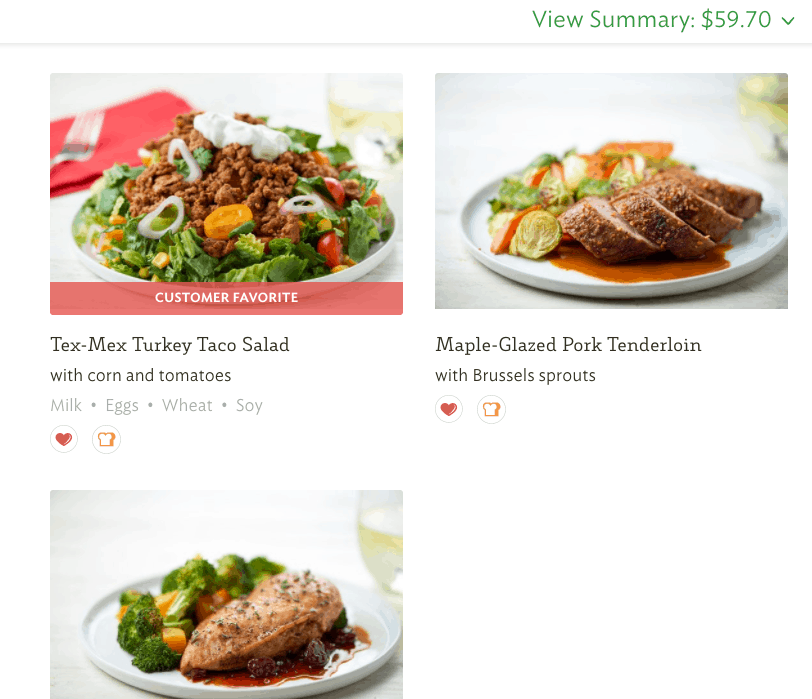 Now if I added 2 more meals, a smoothie, and a 2 serving fruit basket it would come to $119.30. If you need to change the servings with your meals then that needs to be done in the account section.
Overall, I think Home Chef is a good value. It's less expensive than Hello Fresh and Sun Basket. However, keep in mind that even though I thought Home Chef was of great quality they don't offer organic ingredients like Sun Basket or pride themselves on being sourced straight from the farm like Hello Fresh. So if this is important to you then Home Chef might not be a good option.
If you're ready to try Home Chef, and don't want to read my entire Home Chef review, you can use my link to get $30 off your first box.
Now let's talk about the food, because in the end if the food doesn't taste good then what's the point.
Okay, I tried 12 different Home Fresh Meals (everything from chicken to salmon) and picked 2 of my favorites and my least favorite.
Let's start with the delivery. Just like the other meal delivery kit services Home Chef delivers their meals in a sturdy temperature control box.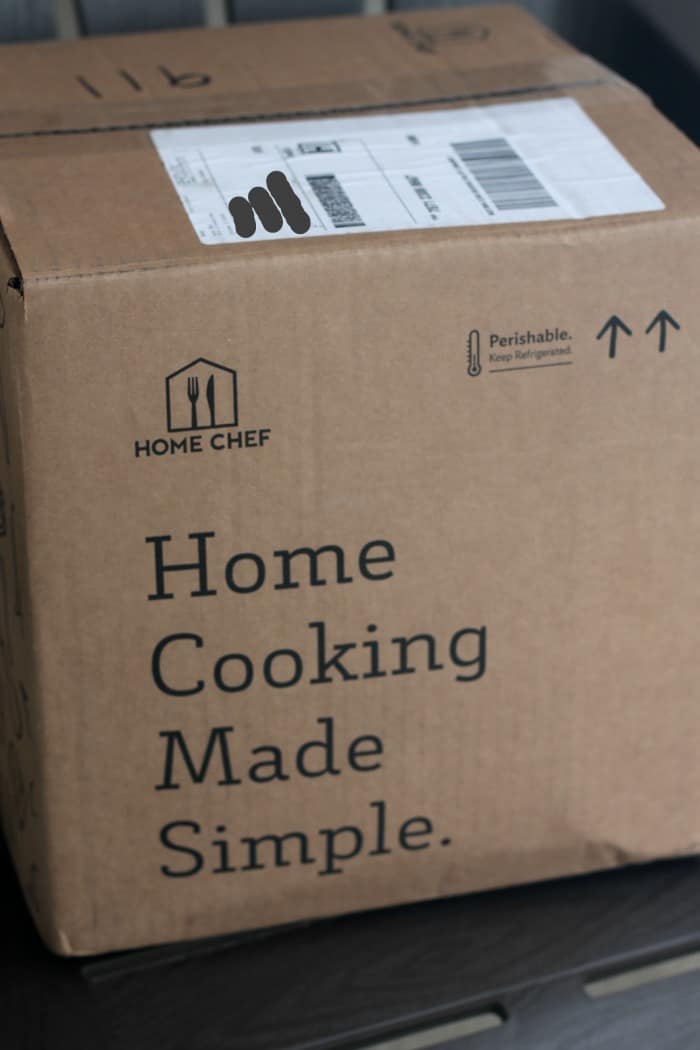 Home Chef puts all the ingredients into individual clear bags. I liked this because it takes up less room in the refrigerator than a box and you can see the ingredients in the bag.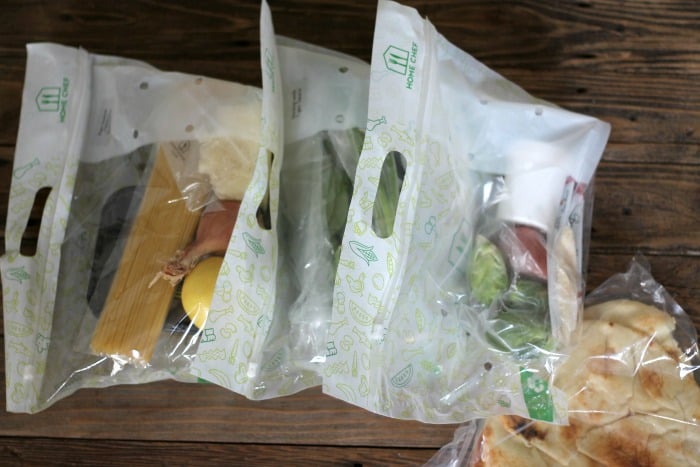 What I LOVED LOVED the most was Home Chef placed all the meats and seafood in a seperate clear plastic bag. I thought this was very insightful on their part. Hello Fresh and Sun Basket don't do this and whenever I order from them the first thing I do is grab a plastic bag to place the meat and seafood in.
This also addresses and prevents the leakage problems that some people have said happened with other meal delivery services. Personally, I never had that happened but I really like that Home Chef thought ahead to prevent this.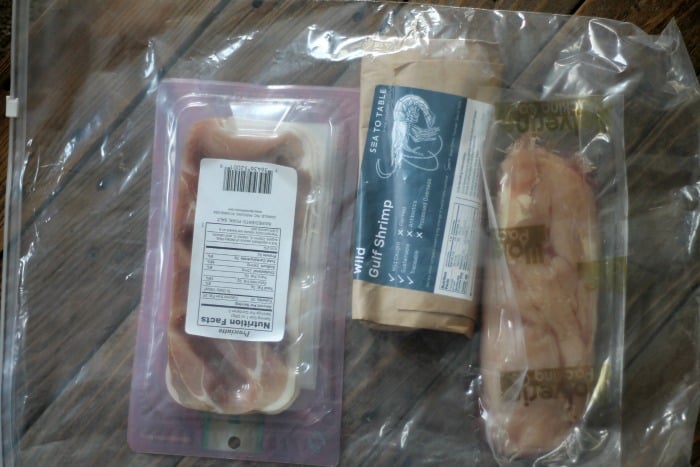 Home Chef also provides a recipe binder with your first box – again, I thought this was very helpful and smart on their part. Other meal delivery services provide recipe cards and booklets but nothing to organize everything. I don't think this makes or breaks which one I choose to order from but it is a nice touch Home Chef does.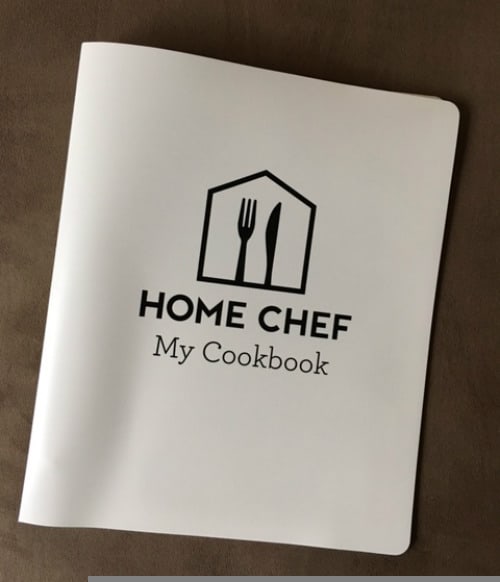 If you're ready to try Home Chef, and don't want to read my entire Home Chef review, you can use my link to get $30 off your first box.
Let's go over the recipes I tried.
I'll share my favorite Home Chef recipe first – Pan-seared Chicken Scaloppine with shallot mushroom cream.
This was a super simple recipe to make and extremely flavorful. All of the ingredients were included down to the 1/4 cup of white wine.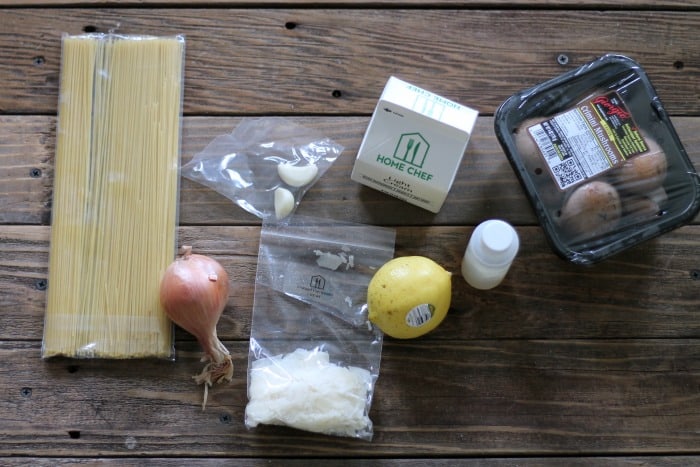 As you can see this isn't the lightest meal on the planet but if you're looking for comfort food then this recipe will hit the spot. Like I said earlier, Home Chef caters to classic American dishes the whole family will love and this recipe didn't disappoint. It was creamy and full of flavor. The chicken was of great quality. I didn't even have to trim it ahead of time, it showed up recipe ready.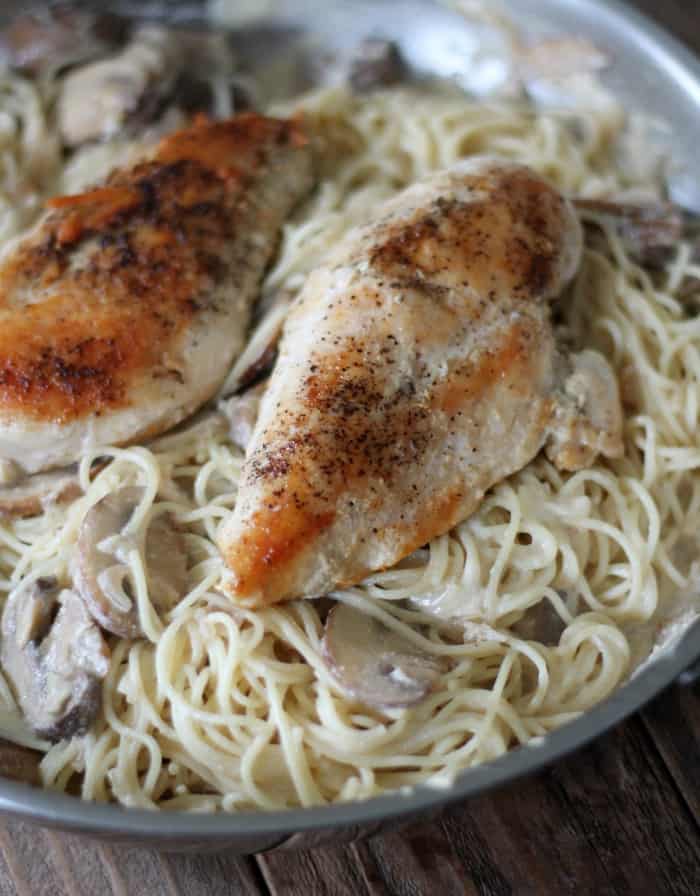 It came together in less than 30 minutes and we all loved it. Keep in mind Home Chef offers 10 recipes to choose from so if you want a recipe that doesn't include pasta there are certainly options.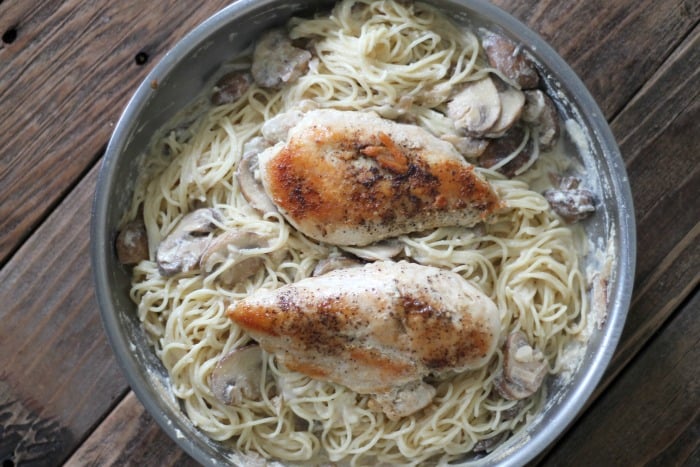 The second Home Chef recipe I want to share is the Prosciutto and Shaved Brussel Sprout Pizza.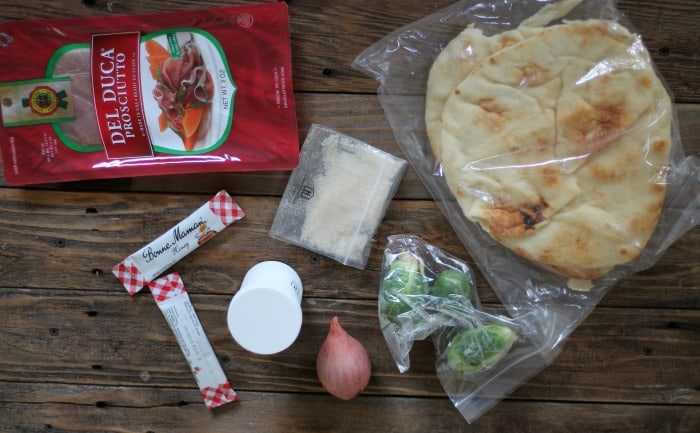 This recipe calls for the prosciutto and shallots to be cooked ahead of time and the brussel sprouts to be roasted. Honestly, during the week, I don't feel like doing extra steps with a recipe because I'm tired and just want to get food on the tables. However, in the end it was worth it because this recipe was scrumptious. Like super scrumptious! Also, the prosciutto, shallots, and brussel sprouts can easily be made ahead of time on Sunday which would make this recipe come together in less than 20 minutes during the week. So just like with most of my recipe smeal prep is key!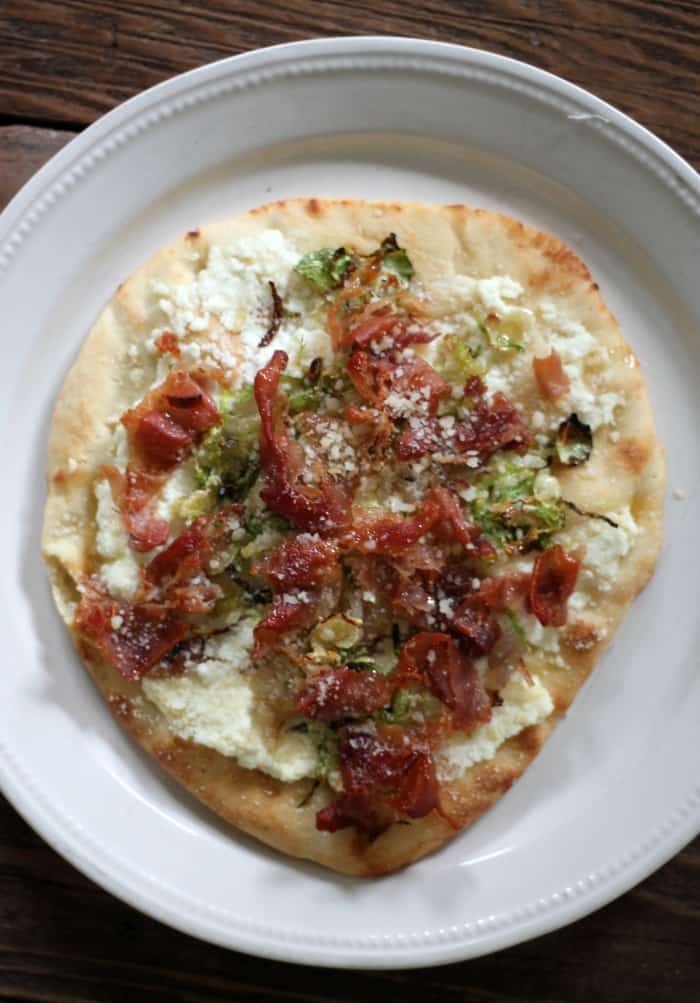 Another thing I loved about this recipe is it gave me new ideas for pizza during the week. Typically, I'm a cheese and pepperoni girl but topping Naan bread with ricotta cheese, roasted brussel sprouts, crispy prosciutto, and drizzling the top with honey was just out of this world.
If you're ready to try Home Chef, and don't want to read my entire Home Chef review, you can use my link to get $30 off your first box.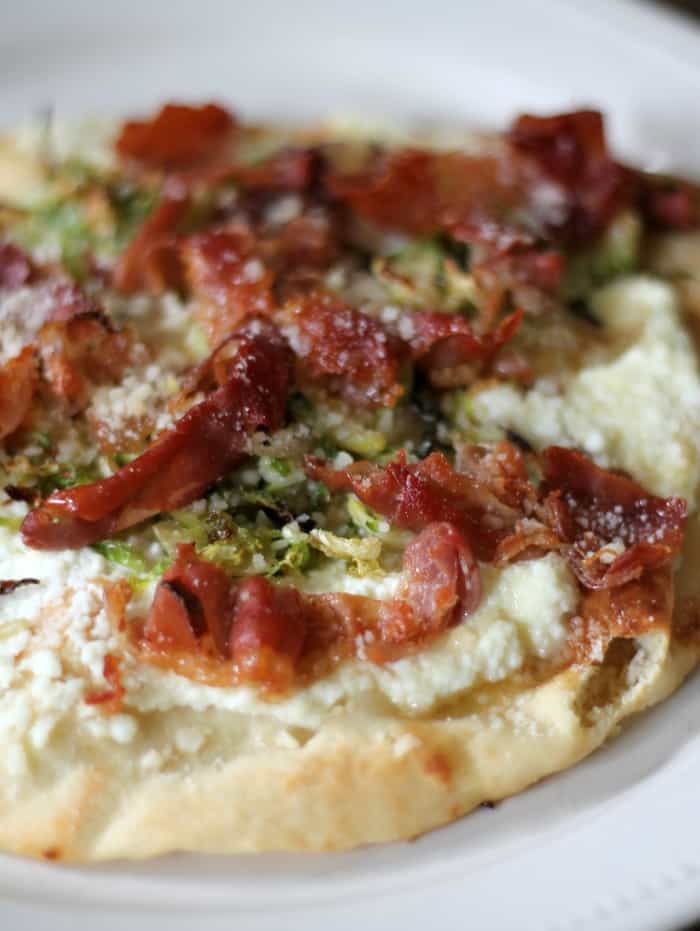 The last recipe I'm going to share is the Shrimp with Tiger Sauce. I wasn't crazy about using tomato juice in a recipe. This might not bother some people but for some reason it rubbed me the wrong way. In the future, this could be prevented by reviewing the ingredients of the recipe I'm choosing for the week.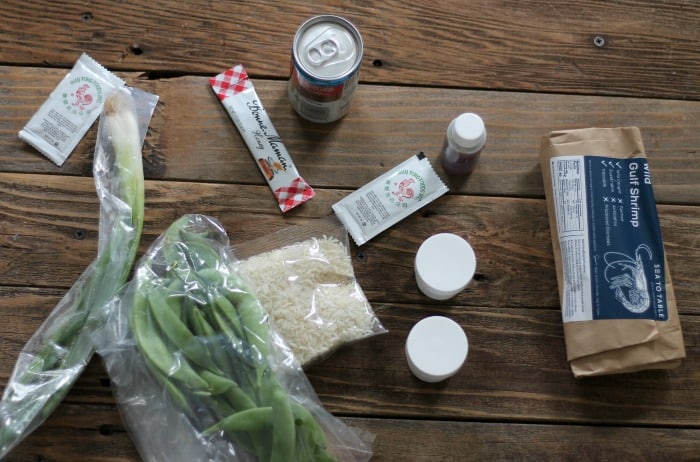 Overall, the recipe was okay. The shrimp and vegetables were of good quality. The rice of course was fine. Personally, I wasn't crazy about the flavor of the sauce. Like I said, this can just be a personal preference.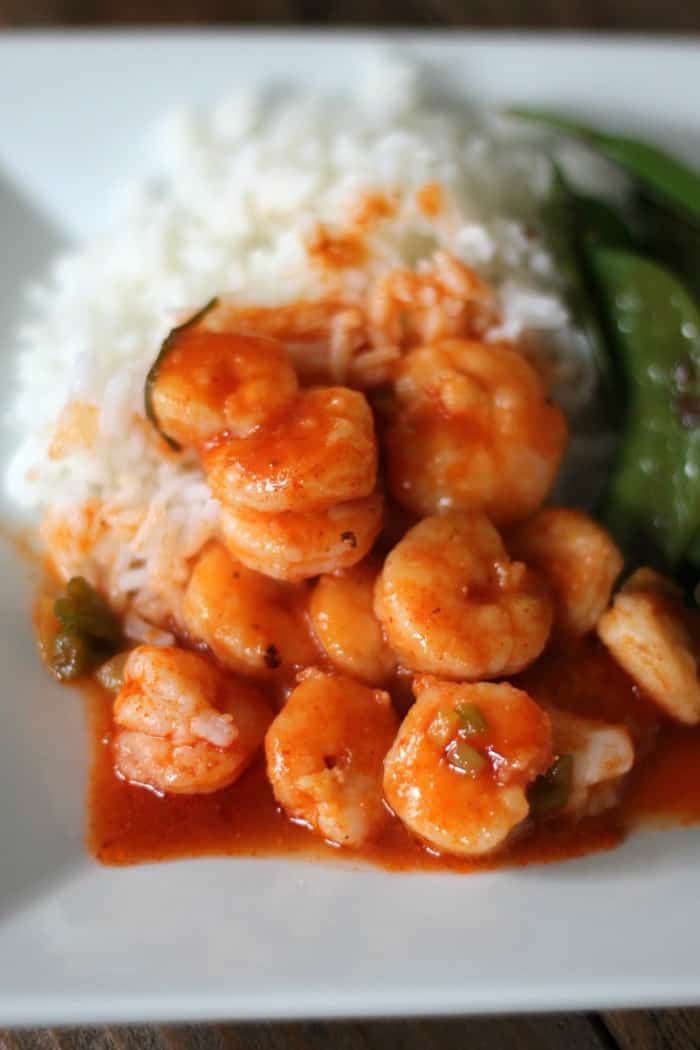 The Home Chef meals I ordered served 2 people and I would say the servings were more than enough. Even with the naan pizzas I felt the meals wear satisfying and filling.
Here is my overall Home Chef Review
I think the meals Home Chef offers caters more to classic American tastes than other meal delivery services I've tried. The recipes are simple with common everyday ingredients. Most recipes have the busy working family in mind.
I think offering 10 meal options is great for people and families to have more choice.
With the ability to add on more meals Home Chef definitely wants to cater to larger families.
Prices are comparable and slightly cheaper than other meal delivery services.
While ingredients are of good quality they are not organic. This may not be an issue to some but for others it could be. Home Chef prides themselves on making dinnertime effortless with simple recipes.
Of the 12 Home Chef recipes I've tried only 2-3 have been misses and that's only because of my personal preference. I found most of the meals to be tasty. Each one was easy to prepare and the ingredients were quality.
If you're looking for a meal delivery services that offers more classic-style recipes I recommend checking out Home Chef to see if it would meet your needs. With all the different options I think Home Chef would be perfect either for a small household or large family.
I hope my Home Chef review helps you make an informed decision about whether or not to subscribe. Here's my link to get a $35 coupon off your first box.
I would love to hear your opinions on Home Chef? Have you used this meal delivery service? What has been your experience?
**This post contains affiliate links. I will receive a small commission if you decide to subscribe to Home Chef. However, this is my completely honest review and you are by no means obligated to use my links. If you do thanks so much for supporting my site.