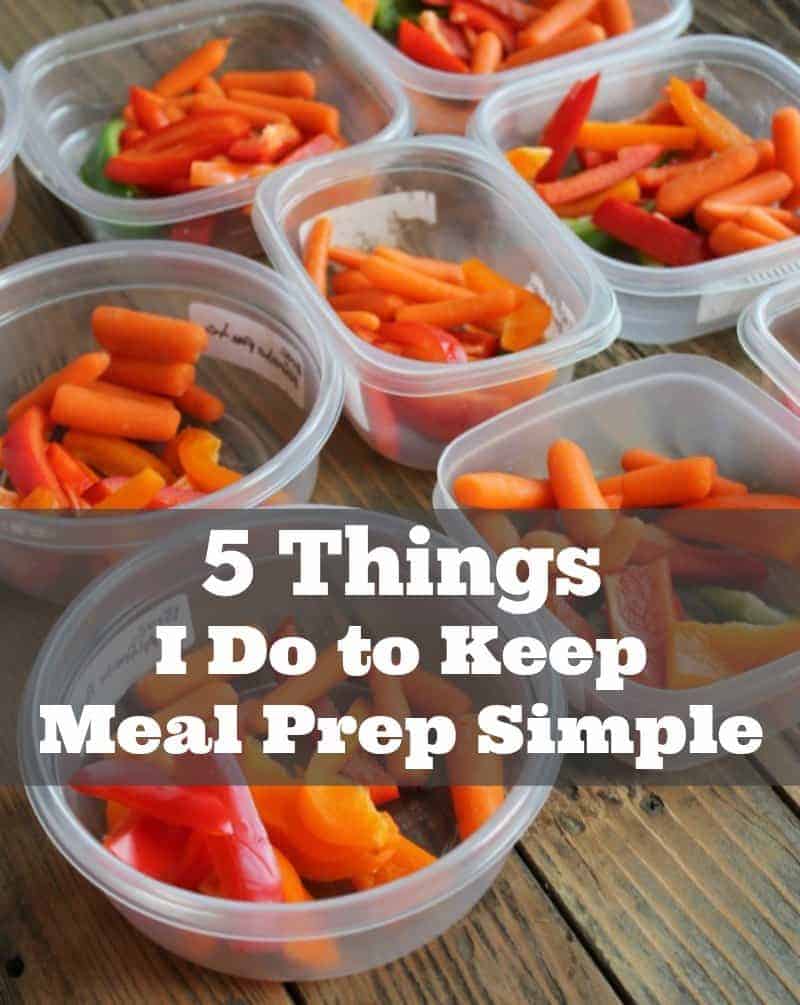 I'll say it again and again. Meal prep is the best strategy for eating healthier and losing weight. In my opinion, both are near impossible without having foods available and ready to eat. I talk all about meal prep in my ebook as one of my main weight loss strategies. I believe in meal prep and I want you to believe too!
We're all super busy, and for most us, changing our eating habits requires effort and does not easily fall into our daily routines. If it were easy I don't think I would be writing this blog or you would be reading it. Changing any habit, specifically eating habits, requires a plan. That plan needs to include meal prep.
The problem with meal prep is it can get complicated and time consuming…if you let it.
But it doesn't have to be.
I like to keep things in my life simple and meal prep is no exception. Once, something gets complicated I move on – it doesn't matter if it helps me drop 10lbs. If I can't find a way to fit a new habit seamlessly into my life I find one that will. By no means am I afraid of a challenge or hard work but I have no desire to make my life any more complicated than it needs to be. Get me? I know you do.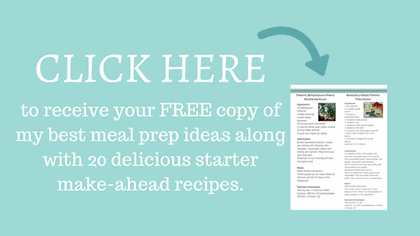 Here's my strategy for keeping food prep very simple.
#1 I eat the same meals everyday for breakfast and lunch
Do I consider this boring? No. I consider it smart. If I had to meal prep for a different breakfast, lunch, and dinner every week I would never be able to do that. I don't have that kind of time. Who does? That's like 21 different meals a week and doesn't even include snacks. Uh no, that's not gonna work for me.
Eating the same thing for breakfast and lunch keeps meal prep simple. Then I only need to meal prep for 2 different meals. Meaning I prep a different meal for breakfast and lunch. To give an example, I will plan a detox smoothie for breakfast all week and then a Greek mason jar salad for lunch. It would take me about 1/2 hour to prepare both of those meals for the entire week.
I get asked ALL the time if I get bored eating the same things. Not really. I add variety to snack and dinnertime.
If I do get bored then I will switch things up. Most of the time I have eggs in the fridge or cereal in my pantry so if I need variety I can get it. But for the most part I try to keep breakfast and lunch simple by prepare one recipe for each meal a week.
Here are some of my favorite make-ahead breakfast recipes
Sausage and Cheese Quinoa Bowl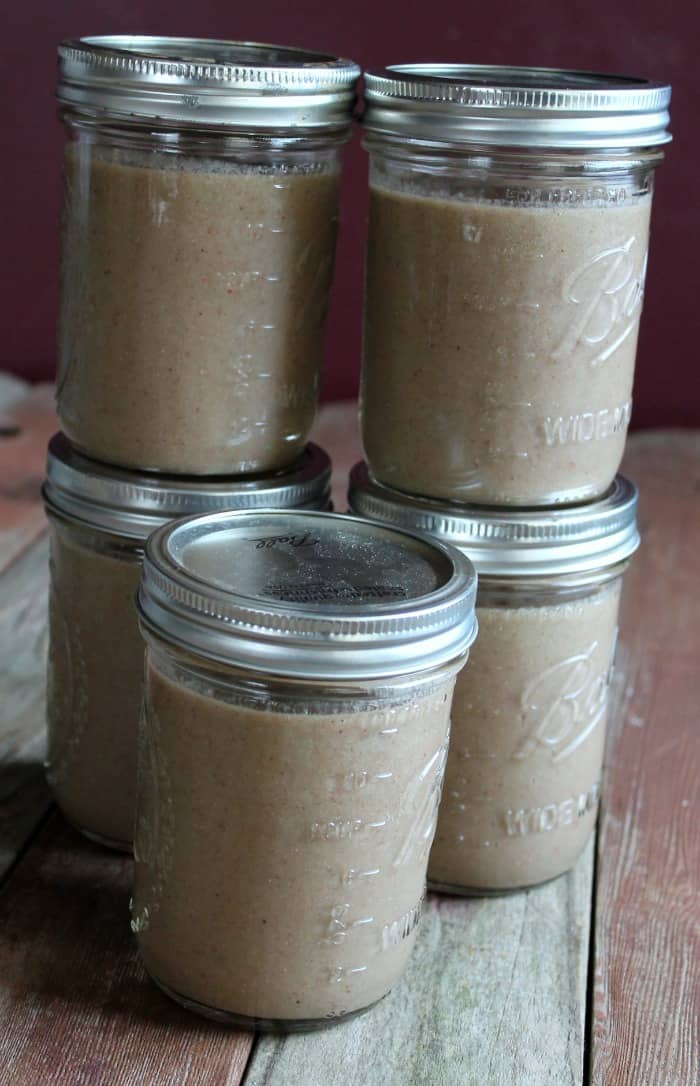 Here are some of my favorite make-ahead lunch recipes
Barbecue Ranch Mason Jar Salad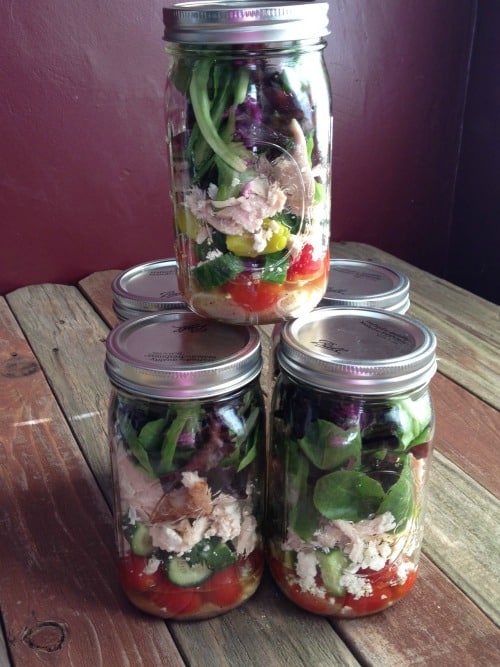 #2 I plan for leftovers
I can always count on leftovers. Sometimes it's a lot and others time not so much, it depends on the recipe. For example, if I make soup I know we will eat it for a couple days. Same with chili or basically any crockpot recipe. If I'm not feeling leftovers then I will freeze the soup or chili for an easy healthy meal later on. Often I use the muffin tin method to freeze soup and/or chili into individual portions. You can see an example in this soup recipe.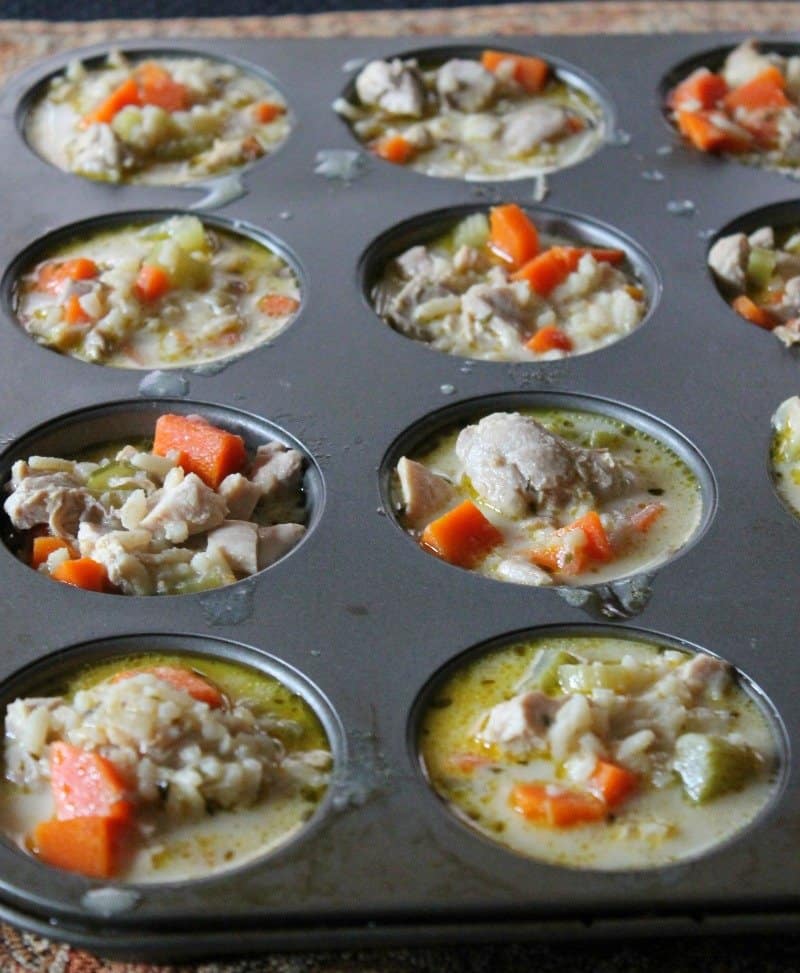 Or here is a quick tutorial from The Kitchn.
#3 I double dip recipes
This is somewhat similar to leftovers but a little different. Basically, I plan to use a part of a recipe in another recipe later in the week. Let me explain.
If I prepare tacos one night I will save a cup of taco meat to use on a taco pizza later in the week. I do the same thing with meatballs. We can eat meatballs with pasta or I can serve meatball subs. We've even put meatballs on a pizza or in a calzone before.
Another great example is when I make buffalo chicken. Buffalo chicken is a favorite in my house. First of all it's made in the slow cooker and only includes a few ingredients. After the chicken is prepared I can use it in Buffalo subs one day and Buffalo Mac and Cheese later in the week. I even used it in these mason jar salads. If you're not sure what to do with the leftovers then portion it out into 1 ½ – 2 cups servings and freeze the Buffalo chicken to use in a future recipe.
Planning recipes this way lets me cook once and eat twice.
My other favorite double dip recipes are:
Slow Cooker Chipotle Shredded Beef
Slow Cooker Sausage and Peppers
#4 Stock freezer when I have time
Freezer cooking is when you cook a bunch of meals to freeze ahead of time. Basically, you prepare foods when you have the time so you can eat healthy meals when you don't.
This is a great way to get variety into your meal plan without having to cook different foods every week. Depending on the amount of freezer space you could prepare meals and snacks to last a couple months if you chose. Sometimes, when I have the time and motivation, I will prepare 1-2 months worth of meals. This does take effort and a plan but it will make life so much easier.
Once your freezer is stocked then preparing a weekly meal plan requires just taking a peek into the freezer and deciding on meals to eat for the week. Most likely, you'll just need to purchase fruits and vegetables.
If you don't want to prepare meals every week then stocking your freezer is a good option.
Here are a few favorite freezer cooking posts/recipes
A Beginner's Guide to Freezer Cooking
Get Started with Freezer Cooking with These 10 Recipes
Freezer Cooking Basics by the Teacher's Wife
Double Chocolate Banana Muffins
#5 Fill my fridge with basics
Recently, this has become my new favorite way to meal prep. I used to be big on preparing full recipes ahead of time  and while I still do that I also see the benefit in having just basics in my fridge too. This way I'm not married to a specific recipe and can get creative with the food I have in the fridge.
Here's an example of basics I like to keep in my refrigerator…
Cooked quinoa
Quinoa can be mixed with ANYTHING and taste delicious. I can use it in a salad, stir some into my yogurt or overnight oats, and/or toss some with my eggs. I'm a huge quinoa fan and always have a bowl in my fridge. If I don't use it in time then I will portion it out and freeze for later.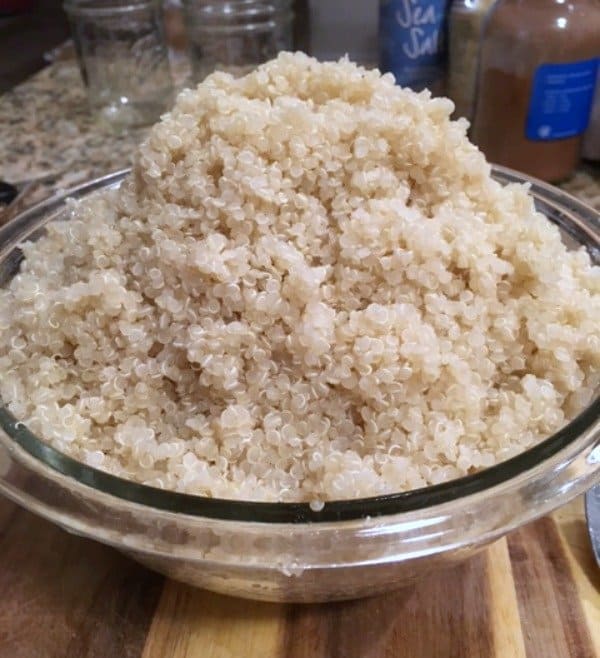 Baked chicken
Again, chicken can be used in a variety of recipes. I can prepare a wrap for lunch or toss in a salad. I can stir in some greek yogurt to enjoy this creamy chicken salad. Or if I have a little extra time I can use the chicken and quinoa to make this Cajun bake for dinner. Just having the chicken ready to eat in the refrigerator opens up many healthy recipe options.
Salad ingredients
You know I'm a mason jar salad lover. Here's my tutorial just in case you're like "what the heck is a mason jar salad?" Anyway, sometimes I don't want to commit to the same salad every single day. In this case, I'll still prepare the salad ingredients but will store them separately in the refrigerator. The food is still ready to eat but I can get creative and have variety. Check out my post on make-ahead salad bars for more information and inspiration.
Those are the 5 things I do to keep meal prep simple. Some weeks I do all of them other weeks I do one. Ultimately, my weekly meal prep depends on my schedule.
Meal prep is essential to living a healthy lifestyle but it doesn't have to be complicated and time consuming. Find what works for you and keep doing it!
What meal prep tips do you have? I would love to answer your questions too so if you have any meal prep questions then list them below.
Other meal prep posts you might find helpful:
The Ultimate List of "Once a Week" Meal Prep Containers
A Beginner's Guide to Meal Prep
How to Plan a Week's Worth of Meals in One Afternoon
Get Instant Access to the 7-Day Getting Started With Meal Prep Email Series
Are you ready to learn how to meal prep? Awesome! Sign up now for a free 7-day Getting Started Meal Prep email series that I created exclusively for email subscribers! That's you. I will teach you my favorite meal prep methods and provide lots of delicious easy recipes to get you started with weekly meal prep. You got this, I can help!